Synology WRX560 Release Date, Price and Specs now Available
WRX560 Availability
WRX560 will be available for purchase in Australia, Canada, Europe (UK, Germany, France etc.), Hong Kong, New Zealand, Taiwan, and the United States starting from 2 November 2022 with availability in Japan beginning 10 November, 2022.
WRX560 Price
You can follow the price changes here https://nascompares.com/buy/best-wrx560-price/
Should you buy it video
WRX560 Review
Youtube review https://www.youtube.com/watch?v=XHqCAbB2ep0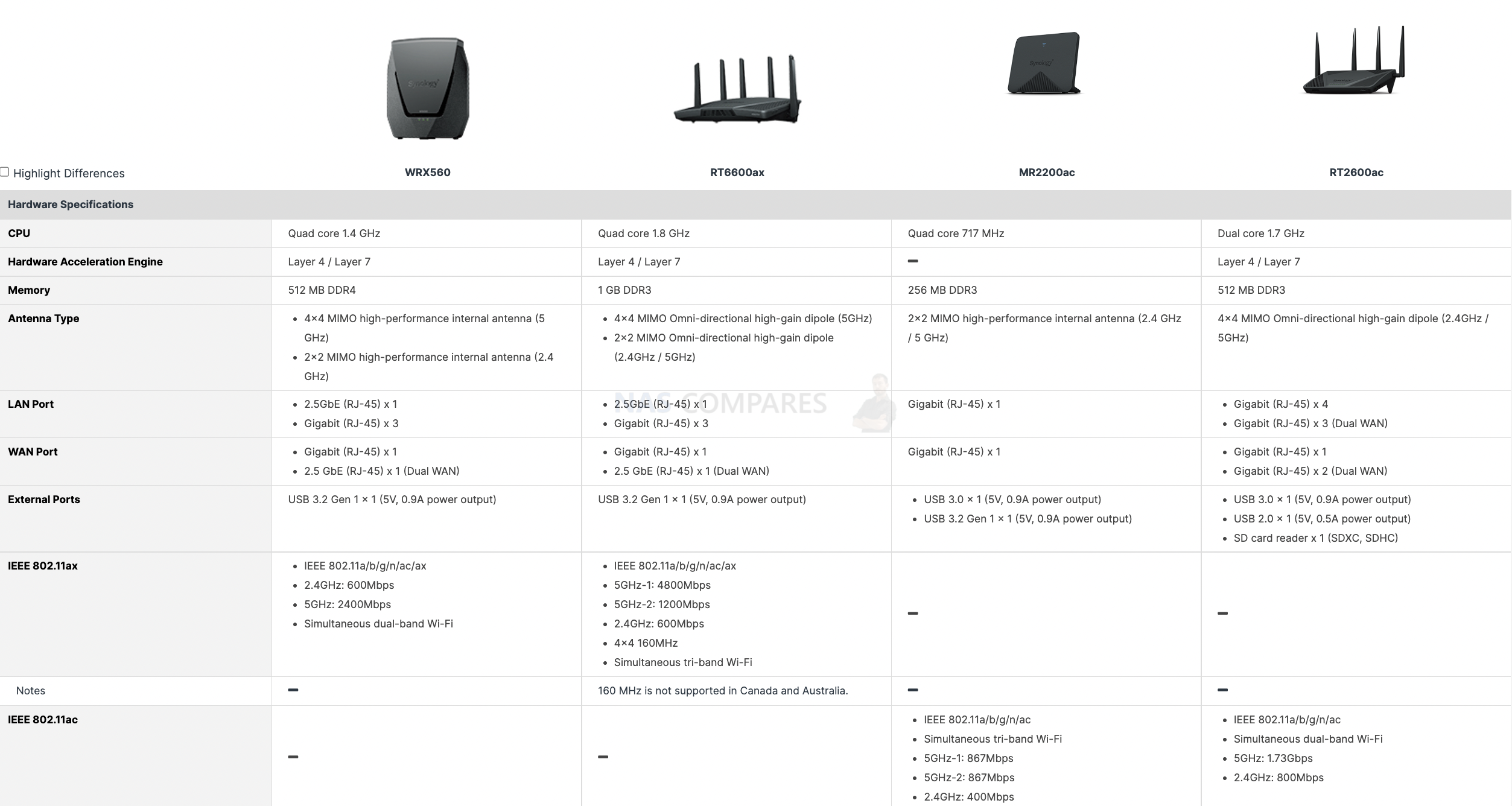 Find the official specs page here https://www.synology.com/en-global/products/WRX560#specs
CPU

Quad core 1.4 GHz

Hardware Acceleration Engine

Layer 4 / Layer 7

Memory

512 MB DDR4

Antenna Type

4×4 MIMO high-performance internal antenna (5 GHz)
2×2 MIMO high-performance internal antenna (2.4 GHz)

LAN Port

2.5GbE (RJ-45) x 1
Gigabit (RJ-45) x 3

WAN Port

Gigabit (RJ-45) x 1
2.5 GbE (RJ-45) x 1 (Dual WAN)

External Ports

USB 3.2 Gen 1 x 1 (5V, 0.9A power output)

IEEE 802.11ax

IEEE 802.11a/b/g/n/ac/ax
2.4GHz: 600Mbps
5GHz: 2400Mbps
Simultaneous dual-band Wi-Fi

Wi-Fi Encryption

WPA/WPA2-Personal, WPA/WPA2-Enterprise, WPA2/WPA3-Personal, WPA3-Personal/Enterprise, Wi-Fi Enhanced Open (OWE)

Button and Switch

WPS, Power, Reset, Wi-Fi On/Off

Size (Height x Width x Depth)

233 mm x 194 mm x 66 mm

Weight

1.35 kg

Temperature

Operating Temperature
5°C to 40°C (40°F to 104°F)
Storage Temperature
-20°C to 60°C (-5°F to 140°F)
Relative Humidity
5% to 95% RH

Certification

FCC
UKCA
CE
BSMI
VCCI
RCM
KC
iDA
TELEC
JATE
IC

Wi-Fi Certification

CE
UKCA
FCC
NCC
RCM
iDA
TELEC
KC
IC

Warranty

2 Years
Notes
The warranty period starts from the purchase date as stated on your purchase receipt. (Learn more) Synology will provide software updates until Dec 2027, and extended support may be provided.

AC Input Power Voltage

100 V to 240 V AC

Power Frequency

50/60 Hz, Single Phase

Power Consumption

10.80 W (Access)
7.94 W (Idle)

Environment

RoHS Compliant

Packaging Content

Main Unit X 1
AC Power Adapter X 1
RJ-45 LAN Cable X 1
Quick Installation Guide X 1
Wireless

Wi-Fi MAC Address Filter
Maximum MAC Filters
64
Maximum devices on per MAC filter
256
Seamless Roaming
802.11k/v/r standard support
Beamforming
DFS
WDS
Maximum Number of Wi-Fi SSID
10
Schedulable Wi-Fi
Guest Network

Guest Portal
Customized page style
Connection time limit
Password Rotation

WPS 2.0 (Wi-Fi Protected Setup 2.0)
3G / 4G Dongle & Tethering (Learn more)
Primary Wi-Fi Point
Wi-Fi Point
Recommended Maximum Number of Wi-Fi Points

1 Primary + 6 Wi-Fi points (in all wireless uplink connection environment)
1 Primary + 12 Wi-Fi points (in all wired uplink connection environment. Learn more)

Maximum Connected Devices*
150
*Notes

The numbers above are for reference only. Actual performance and behavior may depend on network environment and settings
WRX560 supports at least 150 connected devices concurrently transmitting data

Network

Internet Connection

Dynamic IP, Static IP, PPPoE, PPTP, DS-Lite (AFTR)
3G/4G LTE dongle
Android Tethering
iPhone Tethering

Operating Mode

Wireless Router
Wireless AP

DMZ
IPv6
IPv6 DHCP server/client, DS-Lite, 6in4, 6to4, 6rd, Dual-Stack, DHCPv6-PD, IPv6 Relay, FLET's IPv6
DHCP
Server/client mode, client list, MAC address reservation
Maximum DHCP Reservations
500
LAN / WLAN IGMP Snooping
Network Address Translation (NAT)
PPPoE relay
Policy route
Static route
Maximum IPv4 Static Routes
100
Maximum IPv6 Static Routes
100
Diagnosis Tools
NAT Loopback (Hairpinning)

VLAN

Maximum Number of Network Segmentation
5
Trunk

Port Forwarding

Maximum Port Forwarding Rules
64
Maximum UPnP Rules
64

Port Triggering

Maximum Port Triggering Rules
32
Minimum Port Triggering Timeout
30s
Maximum Port Triggering Timeout
3600s

VPN

VPN server (WebVPN, SSL VPN, SSTP, OpenVPN, L2TP/IPSec, PPTP, Site-to-Site)
VPN client (PPTP, OpenVPN, L2TP/IPSec)
VPN Pass-through (PPTP, IPSec, L2TP)

Traffic Control

Internet Ban, Device Speed & Priority
Application Layer (L7) Quality of Service (QoS)
Maximum Device Rules
64
Maximum Application Rules per Device
32

Traffic Monitor

Live View
Historical Statistics
Daily, Weekly, Monthly, Annual
Website History
Application Detection

Traffic Report

Country Auto Update
Schedulable
Traffic Analysis Period
Daily, Weekly, Monthly, Annual
Export Formats
.CSV, .HTML

Safe Access

User Profile
15
Network Profile
5
Customized Internet Schedule
Time Quota
IPv4 / IPv6 DNS-based Web Filter

Schedule
Database
Request to unblock

Customized Allow / Block List

Maximum blocked URLs: 100
Maximum allowed URLs: 100

Pause Internet
Reward
Log
Report
Safe Search
Bing, Google, YouTube, Duckduckgo
Threat Intelligence Database
Support in IPv4 & IPv6
Google Safe Browsing
Support in IPv4 & IPv6
Database Auto Update
Threat Intelligence Database, Google Safe Browsing, DNS-based web filter

Threat Prevention

Greatly enhance the security of your router, designed to safeguard your network against internet threats

VPN Plus Server

Easily create and manage secure VPN access through a web browser or client. Supports various VPN services — Site-to-Site VPN, WebVPN, SSL VPN, Remote Desktop, SSTP, OpenVPN, L2TP over IPSec, and PPTP
Maximum Client VPN Access License
20
Site-to-Site VPN
Maximum Site-to-Site VPN Tunnels
10
Remote Desktop (RDP + VNC)
3
Connection List
Log
Report

DNS Server

Helps users find and translate domain names into IP addresses

Download Station

Supported download protocols: BT/HTTP/FTP/NZB/eMule
Maximum Concurrent Download Tasks
20
Maximum Concurrent BT Download Tasks
20

Media Server

Media indexing
DLNA Compliance

RADIUS Server

Provides centralized authentication, authorization, and accounting for wireless network access

Mobile Apps

Supported Mobile Apps

DS router (Android/iOS)

First Time Installation
Network overview
Wi-Fi management
Wi-Fi system topology
Safe Access
Traffic Control
Network security (firewall, port forwarding, Internet ban)
Wake on LAN
System Update

VPN Plus (Android/iOS)
DS get (Android)
DS file (Android/iOS)

Management

Operating System

Synology Router Manager (SRM)

Anywhere Access to SRM

Synology QuickConnect & Dynamic DNS (DDNS)

Security

Firewall/SPI Firewall, DoS Protection, VPN Pass-through (PPTP, IPSec, L2TP), Auto block, SSL certificate, Security Advisor, two-factor authentication

Wake on LAN (WOL)

WOL over QuickConnect
Maximum Connected Devices
100

Notification

Email, SMS, push service (via DS router)

Printer Server

Maximum printer: 1

Others

Free OS Upgrade
SSH
SNMP
Configuration Backup & Restore
User Account Management

USB/SD Card File Service

File System

EXT4, FAT, NTFS, HFS+

Access Support

File explorer (via LAN only)
Web browsers: Chrome™, Firefox®, Microsoft Edge, Safari
Mobile device: DS file

Protocol Support

Windows file service (CIFS), Mac file service (AFP), FTP/FTPS, WebDAV

Others

Apple Time Machine
Shared Folder Privileges
Storage Hibernation
WRX560 Hardware Installation Guide
WRX560 and SRM 1.3 User's Guide
If you like this service, please consider supporting us.
We use affiliate links on the blog allowing NAScompares information and advice service to be free of charge to you.
Anything you purchase on the day you click on our links will generate a small commission which is
used to run the website. Here is a link for
Amazon
and
B&H
.
You can also get me a ☕
Ko-fi
or old school
Paypal
. Thanks!
To find out more about how to support this advice service check
HERE
If you need to fix or configure a NAS, check
Fiver
Have you thought about helping others with your knowledge?
Find Instructions Here