Hi! Welcome to the NASCompares Inner Circle, Members area. This is where we will be listing extra content that won't be found elsewhere online, as well as where you can have your say and help up shape the channel! In the coming months, we will begin adding access to the extra content that never aired, such as mistakes, videos that never ended up getting published, scheduled videos way in advance and extra chunks of the interviews we have conducted online with storage professionals, fellow YouTubers and with brands. Alongside this, we host a Zoom video on the 1t of every month that will be on the subject of your own choosing (the content polls), as well as what worked on the channel (and what didn't) that month, alongside discussing the plans for the coming month! Let's catch up!
(Early Access) How to Install TrueNAS on the Flashstor NAS
With the Asustor Flashstor NAS making some considerably positive waves across the consumer NAS industry, I thought it best to show you how to install the incredible TrueNAS ZFS software on this NVMe Flash-focused desktop system!
---
(Early Access) History on NAS on Indiegogo – Any Good?
After all the talk on the channel about Kickstarter NAS campaigns (I'm looking at you Storaxa, HypeRAID and more), I thought it time to look at Indiegogo. Not my favourite crowdfunding site by any means, but there have been some success/horror stories…
---
(Early Access) Every NAS Case Enclosure on AliExpress – Best/WORST
Deciding to go full 'DIY' and build a NAS from scratch can be pretty intimidating. It's hard enough deciding on the CPU…the Mobo…the HDD/SSDs… But what about the case? Will a massive growing market for value/budget NAS server enclosures over on Aliexpress, I thought it fine time to go throw them…ALL of them!
---
(Early Access) What Happens When You Use a Gen5 SSD in a Playstation 5
Ever wondered what happens if you put a new Gen5 NVMe SSD inside the Playstation 5 (a Gen4 system)? Will it be good? Will it be bad? Will it explode? Let's find out!
---
Jonsbo N2 Video (Edited Cut) Extra outtake
When the Jonsbo N2 Build video was in production, the middle transition of the video regarding how long Aiexpress takes to ship items went through several versions. Here is one of those versions. It was rejected for being too long. Enjoy (me looking like a prat!)
———–
Early Access to the Video 'Best Jonsbo Builds for $250 / $500 / $1000 (or Pounds, or Euros!)'
Learn More HERE – https://nascompares.com/guide/recommended-jonsbo-n2-nas-builds-for-250-500-750-and-1000/
This is a guide on building your own Jonsbo N2 NAS for less than £250, £500 or £750-1000. With many of us feeling the pinch these days due to global financial issues affecting most of our wallets, it's unsurprising to hear that many users looking to host their own private server are increasingly drawn to going full DIY. Despite the numerous alternatives out there in the market to build your own NAS drive from scratch, one brand has really built a great reputation for itself – Jonsbo, with its range of compact but exceptionally well-built NAS cases. One particular case that has drawn praise is the Jonsbo N2 case, a 5-6 Bay SATA enclosure that is very easy to build and of quite a high-quality standard, given the price tag. However, the case is only part of building your first NAS, and many users aren't quite sure of the best components to choose and the best power-to-price ratio they need to consider. Your device may need to be on for days, weeks, months, and years at a time, so choosing the right components on day one is going to be crucial. Today, I want to go through three distinct but impressive Jonsbo N2 builds, that can be built for less than 250, 500, and 1000 pounds. Let's go through some great Jonsbo N2 NAS builds.
---
Buying/Selling USED Hard Drives and SSDs – Is the data TRULY Gone?
Afternoon gang! Just in the process of putting the finishing touches on a video coming in the next few weeks. Have you ever had piles of unneeded storage knocking around the place and decided to make a quick buck and sell them? Or perhaps tried to save a few quid and buy HDD/SSDs preowned? Well, what about the data that WAS on the drives? Is it truly gone? Can it be retrieved? And should you be concerned? We visited CEX (a popular pre-owned technology high street chain here in the UK) and bought four 2nd hand/pre-owned drives. A 4TB Surveillance drive, two external USB drives and a Samsung SATA OS Boot drive. We went through the store's data deletion policies, then used RecoverIT (who sponsored the video, by supplying us with a software code) and deep scanned all four drives. The video is in the process of editing, but you can watch the video to get a look at the plan, the drives and the story so far.
---
Development Continues on the Ultimate NAS Builder Tool
Here's a sneak peek at what we've got so far: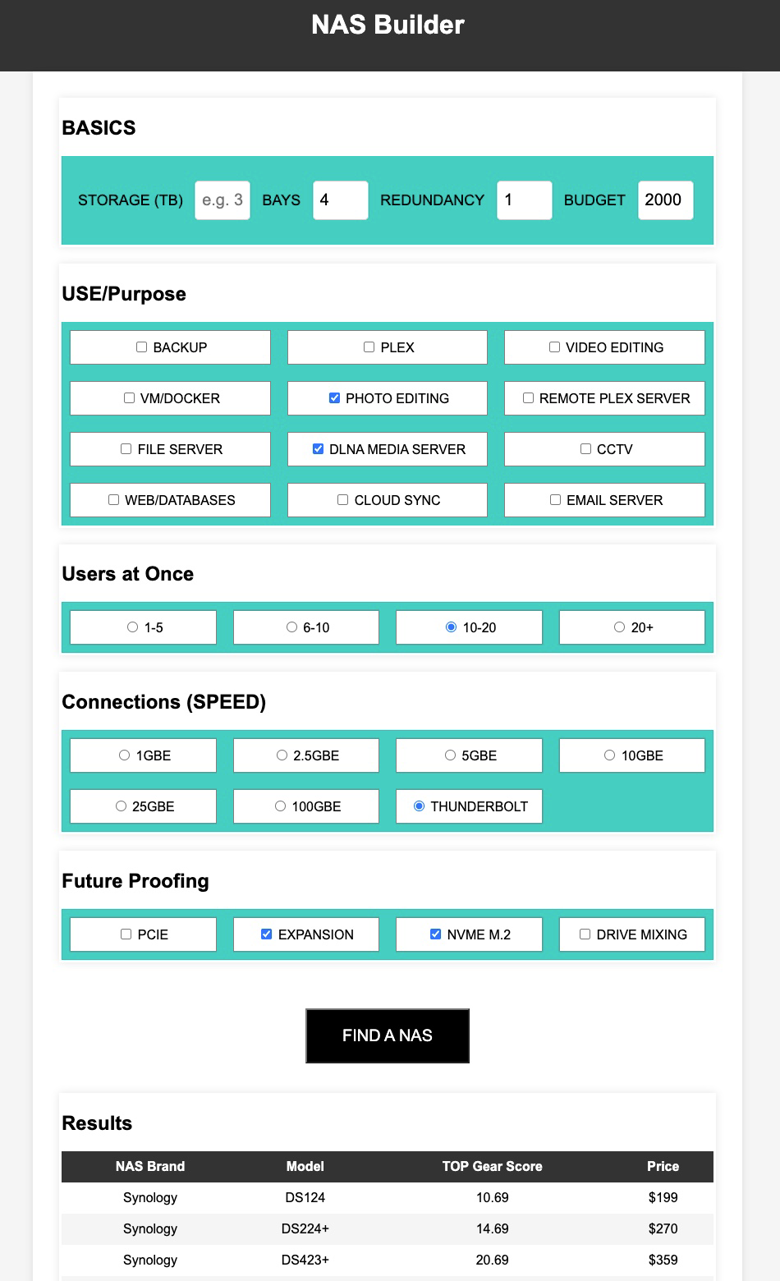 📁 Storage Essentials: Our mockup lets you visualize how easy it will be to specify storage needs in TB, the number of HDD bays, and whether redundancy is needed.
🎯 Use/Purpose Selection: Explore the possibilities with our selection of use cases, from home backup to plex, video editing to cloud syncing.
👥 User Load Options: Even in the mockup stage, you can already envision the convenience of selecting user load preferences, whether it's 1-5, 6-10, 10-20, or even 20+.
⚡ Connection Speeds: Get a glimpse of the connection speed options we're planning to offer, including 1GbE, 2.5GbE, 10GbE, 25GbE, 100GbE, and Thunderbolt.
🔮 Future-Proofing: The mockup showcases the future-proofing capabilities we're aiming for, such as PCIe slots, expansion ports, NVMe ports, and drive mixing functionality.
💰 Budget Consideration: You'll notice how we're keeping budget in mind, with a placeholder for specifying your spending limit.
Remember, this is just a mockup, and the real magic is yet to come. We're committed to refining and enhancing the NAS Builder experience to perfectly align with your needs. Thanks for joining us on this journey, and stay tuned for more updates!
#NASBuilder #TechMockup #ComingSoon #StayTuned
LET US KNOW WHAT'S MISSING!
Additionally, a further NAS Builder Update! Introducing the upcoming RAID Widget – customize your RAID setup based on available bays. No more storage surprises with 'actual space' conversion. Visualize your NAS storage too! Your feedback shaped these enhancements. Stay tuned for more! 🚀 #NASBuilder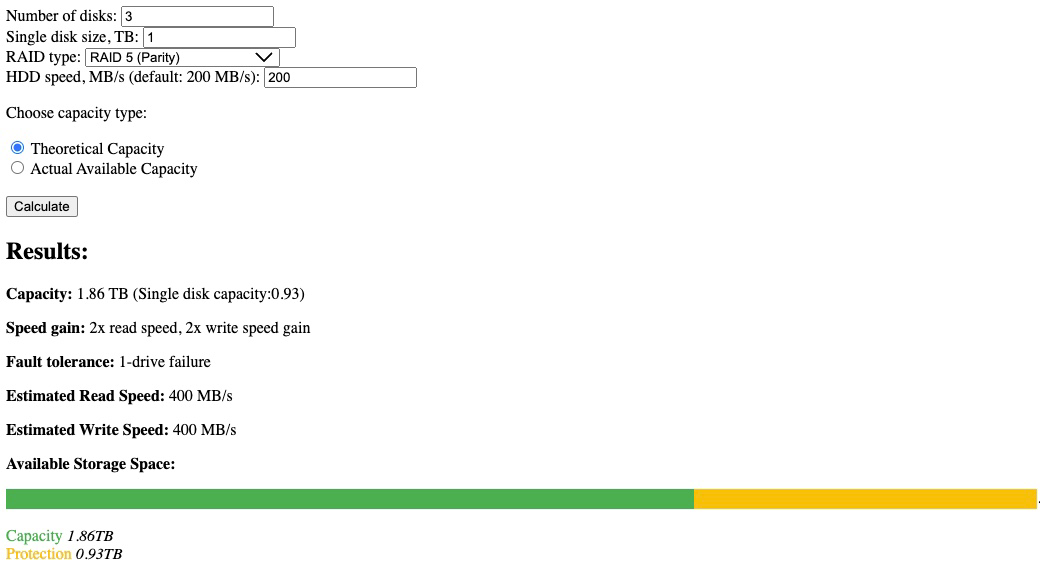 ---
Is it Pronounced Router or Router?
Get Your Kicks on Root(er) 66! It's been a discussion that has been going on for as long as the channel has been running, but… Is it pronounced 'Router' or 'Router'? Here is a montage of the intros to just a handful of the videos we have featured on the channel over the years that have tried to pre-empt the angry comments to let me know that I am saying it wrong, Enjoy/Hate appropriately.
---
NAS Security Experiment (WiP)
Just wanted to share an early preview look at a vid that me and Eddie are working on, regarding the subject of NAS security. We thought we would see what happens if we set a couple of NAS (and a router) in the most UNSAFE state possible. Ports open, passwords on default/off, admin account on, DMZ on, no auto-block AND old firmware! I am off to Edinburgh for the Fringe and Eddie is doing..well… everything! Later next week we will return to these devices to see if they have been hit by the bad old internet, whether the data is safe and ultimately (if hit) we will look at the logs to see which attack vectors were responsible! I should add, this is NOT SOMETHING you should EVER try! We are using two systems, running off a SIM/LTE router and with nothing else on the network – we are doing this VERY silly thing, as safely as we can!
Update, Completed Video HERE
(Video Still in Production)
---
Ask Me Anything Zoom Recording
Thank you to everyone that attended the zoom recording and for all your questions. Additionally, thanks for the feedback and ideas exchange in the final section, me and Eddie will definitely be pressuring a couple of those suggestions rapidly! You can watch the whole zoom recording below. Apologies for the picture quality, I have had to rely on the zoom cloud recording (the irony!) as my local OBS recording just couldn't stay on top of the zoom feeds and the frame rate constantly gutter balled down to 5FPS at times. Zoom's internal recording puts everyone's feed on FULL-SCREEN SIZE and then swaps them out as they talk – so even if you were recording and streaming in 1080p, it compresses it down to an annoying 480p. I did not expect beyond about 5 people to actual attend (timezones, niche topic, vague remit) and was utterly, utterly overwhelmed by the numbers – so you have mine and Eddie's sincerely humble thanks! Again, we will be running monthly closed doors vids, so you can sign up for these by heading here in the membership area.
Ask Me Anything (AMA) Zoom for Supports Plan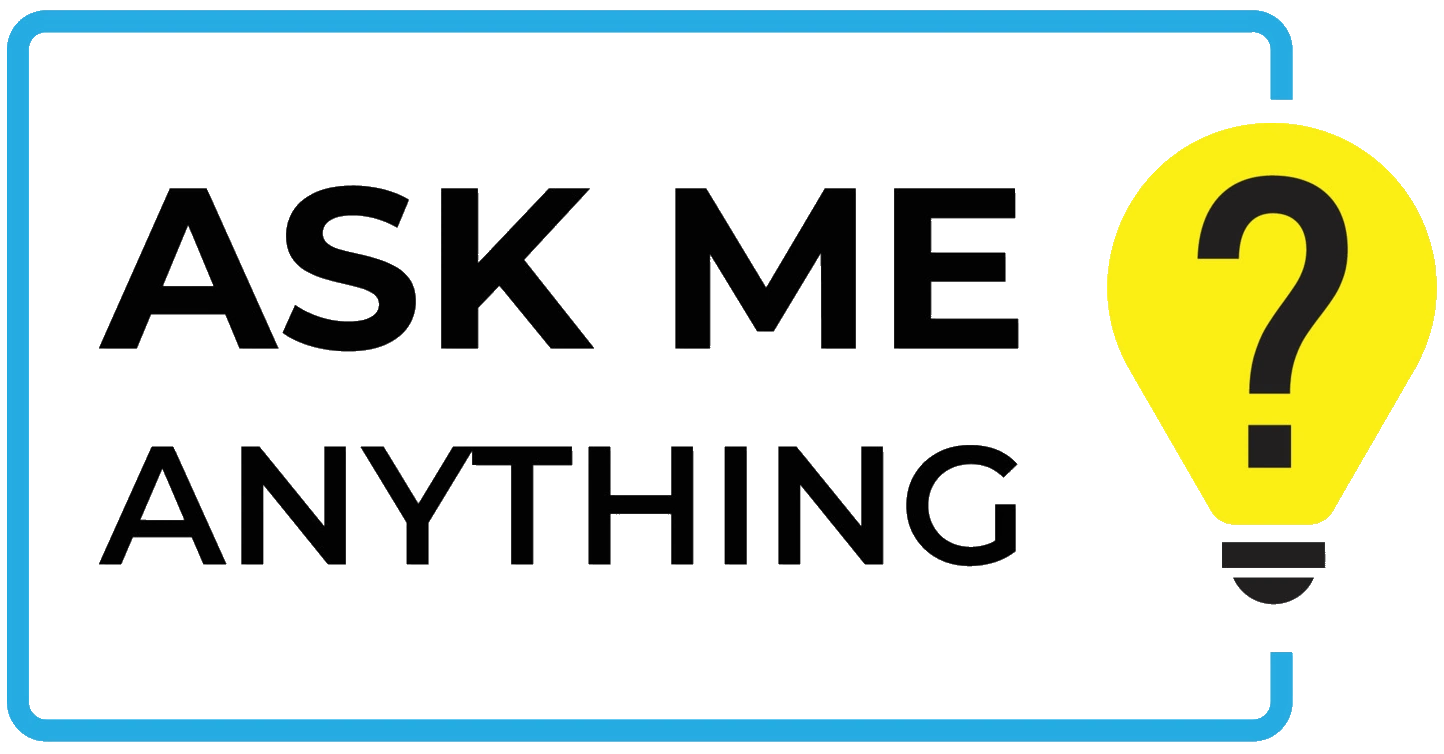 As we slowly close in on the 100,000 subscribers mark, I think it would be fair to say that me and Eddie did not see this coming! The main reason for this is that we cover some pretty niche stuff! In fact, we are a niche WITHIN a niche… Data storage and Networking is one of those areas of tech that is always there, but rarely thought of (until something is wrong!). So, the idea that something this nerdy could hit 100K subs is both incredible and INSANE! We know that an enormous reason that we have been able to do everything we could in recent years has been thanks to the people supporting us with donations via Ko-Fi, so, with that in mind, we are going to host a live zoom and invite anyone and everyone that has ever donated to support us. This zoom will be a combination of a couple of small things, but the main element will be an Ask Me Anything (AMA), a video where we will answer your questions. Wanna know how we make publish and article and video a day? Wanna know what exactly our average day looks like? Do I actually wear trousers under that table? Do I actually hate seagulls? Ideally, if you need technical support, we would recommend using the free advice section, forum or Discord, as this si going to be focused on the channel and subject of storage itself. So, if you are reading this, that means you have the means to access the zoom, On August 1st 2023. You can register (important, so we can let you in!) for the zoom, using the link HERE
Remember to use the box below to add your question, we will speak with a few people on the zoom and give you a shout when your question comes up (so we can talk to you directly if you like), but use the box below to fire your 'AMA' Question for the zoom:
Once again, NEED to register for the NASCompares AMA Zoom Video here – HERE

Plans for celebrating 100,000 Subscribers on the Channel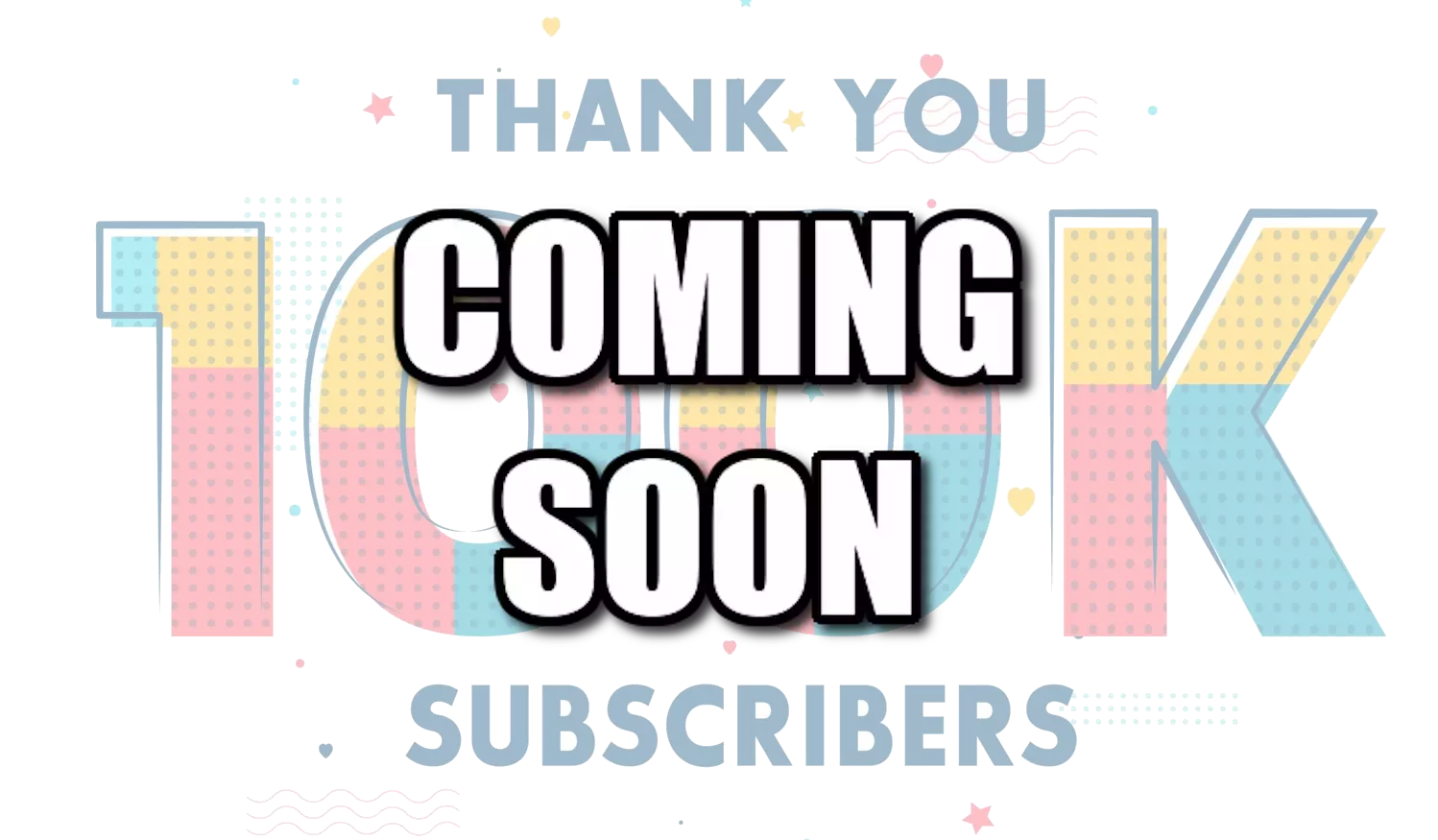 Returning to the (frankly, incredibly self-indulgent) subject of us approaching the 100K subs mark, we have already started work on a special video for the occasion. We decided to make a video on something that has been requested for a long time, but always 'pushed' back on our own to-do lists, just because stuff kept getting in the way! We are around 30% through production on this (still a couple of components still to arrive), but the introduction and first 4-5 mins or so are complete. So, as another thank you for supporting us on KoFi before now, you can watch the work in progress on this in the video below. Please leave comments at the bottom of this article (an unlisted YT video automatically has comments turned off, annoyingly) for any feedback on how it might be improved, what you would like to see in the rest of the video, etc.
---
Surveillance Videos, The LOVE / HATE Relationship Robbie has with it…
As so, SO many decide to go away on holiday (and some people look at the cost of a plane ticket these days and need a bit of a lie down), it wasn't a big surprise that a lot of people used our free advice section to ask about surveillance cameras, NAS as NVRs, why we keep banging on about Synology Surveillance station being the best (though, the gap is closing!) and how to get their surveillance setup right FIRST TIME! Me and Eddie have always had something of a love/hate relationship with making any articles or videos on the subject of surveillance. HEAR ME OUT... it's not because I don't care about it! Just ask friend of the channel RJ, its something we like to talk about. But as YouTube is an algorithm MACHINE, it has a tricky judgement call on any video that is low view #, but high engagement!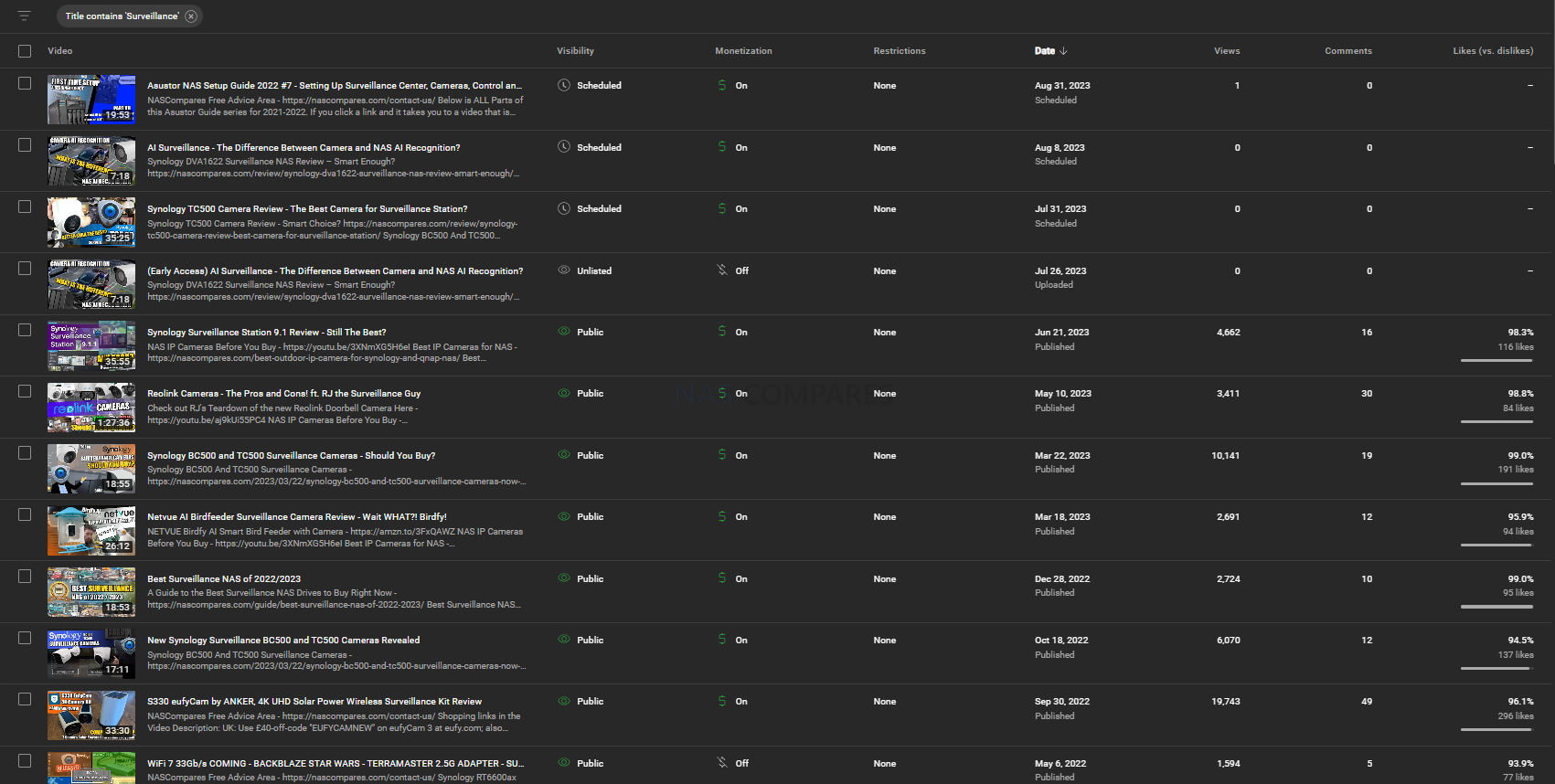 That is almost a dictionary definition of surveillance content. I could spend 3-4 days working on a piece about a specific camera/software/NVR/solution, but it will inevitably get about 20% of the usual view numbers of any other video. This is because surveillance is NICHE as all heck, but also because most users do not regularly pursue this subject… it's a 1 and done topic for them! Like buying a new TV… you spend a few days/weeks CRAMMING new information on the topic before you make a purchase… then buy it… and then you never return to this subject/resources again for 5+ years. Surveillance is even more oblique. Most buildings/homes will setup cameras and then…never even think about them (unless the worst happens!) for YEARS…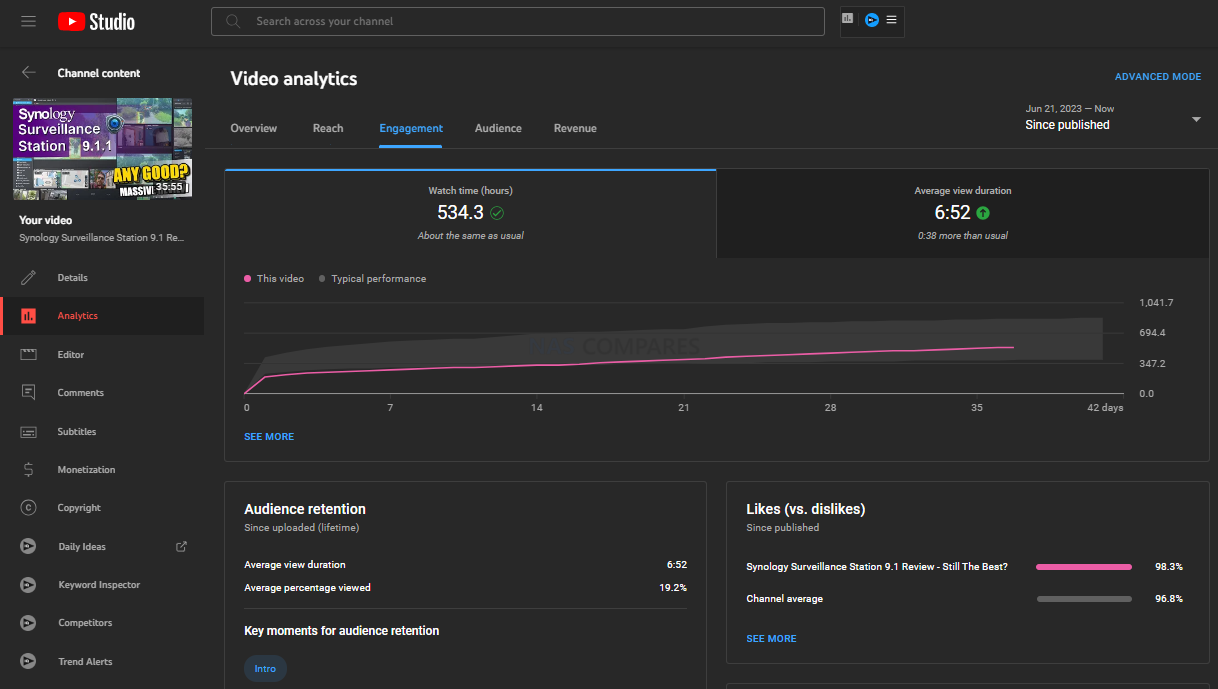 Now, this does not dull our passion for the subject (hell, its DATA!), but the result is a video with low 'view' numbers, but HIGH engagement (eg, fewer people watched, but more people watched the whole thing). Which the YouTube algorithm (urgh!) likes for that 1 piece of content, but lowers the stats across the channel and leads to damage on the channel standing inside of YouTube! If ALL our videos were this ratio, it would be ok, as it would average out. But THIS is why you see surveillance content arrive on the NASCompares YouTube arrive in 'waves'. We are currently in the middle of one of those waves, and below is an early access link to a video on AI Surveillance coming at some point in mid/late august:
---
Do More with your Asustor NAS!!!!!!!!!!!!!!!!!!!!
Seriously! I know I bang the drum on this ALOT o the channel, but as much as I like the Asustor brand for it's hardware, value, presentation and general self-awareness – the ADM platform is very much the runner-up in the world of NAS software. It is NOT bad, it is just not as advanced as the likes of Synology DSM or QNAP QTS/QuTS. Now, I have been making videos for a while now showing users how to install 3rd party OS's on the system, in order to give the easy 'ready-made solution' advantages that most 'turnkey' NAS solutions trade on, but allowing you to use the massively evolved and community supported NAS software in the market. Till recently, Asustor was always VERY anti this position, understandably concerned with having to provide support in the event of a NAS system getting knackered because of a poorly installed non-official OS. However, they have very much softened their position o this and although to not flat-out endorse 3rd party OS'.. they DO now state that they will not let it screw up your warranty support! Good news right? So, with that in mind, I am doubling down on this subject in the next couple of months (already covered TrueNAS and UnRAID installs on an Asustor) with other OS' to go on. Below is early access to my Proxmox (bare metal VM manager) installation, and we will be looking at OpenMediaVault and Chromium soon. If you have a suggestions for another OS (NAS or other suitable/desirable ones) that you would like us to look into for an Asustor install (or even terramaster/QNAP), let us know in the comments or in the Inner Circle communication portals!