What drives are compatible with Synology?
Get an alert every time something gets added to this specific article!
If you know or use a certain type of drive, share it with others in a table below!
Synology NAS and Hard Drive Compatibility in 2022
If you have been a long-running advocate of Synology NAS over the years, or have been elbow deep in the Synology eco-system for a long time, then there is every chance that you have heard that the biggest brand in the world of network-attached storage has been changing a few of the guidelines on their higher profile devices these like 18-24 months.
Synology Media – How This all Started?
Synology has been in the business of network-attached storage solutions (in software, services and hardware) for well over 20 years now and in that time have established a largely unblemished record of providing high-end hardware+software combination solutions that allow home and business users to have their own private servers. This hardware that arrived in a wide spectrum of configurations of scale, pricing and utility were provided with the understanding that the media needed (HDDs and SSDs) to store your data inside was to be sourced by popular third party brands such as Western Digital, Seagate and Toshiba. All this started to change back in 2019/2020 when Synology started offering its own range of branded hard drives and solid-state drives (the HAT5300, SNV3400/3500 and SAT5200). These drives, though engineered and built by Hard Drive and SSD manufacturing veterans, also feature Synology optimized firmware and allowed system-specific advantages that otherwise might have been unavailable using "3rd party" hard drives. Now, when this range of media was initially launched, most were perfectly positive about this move!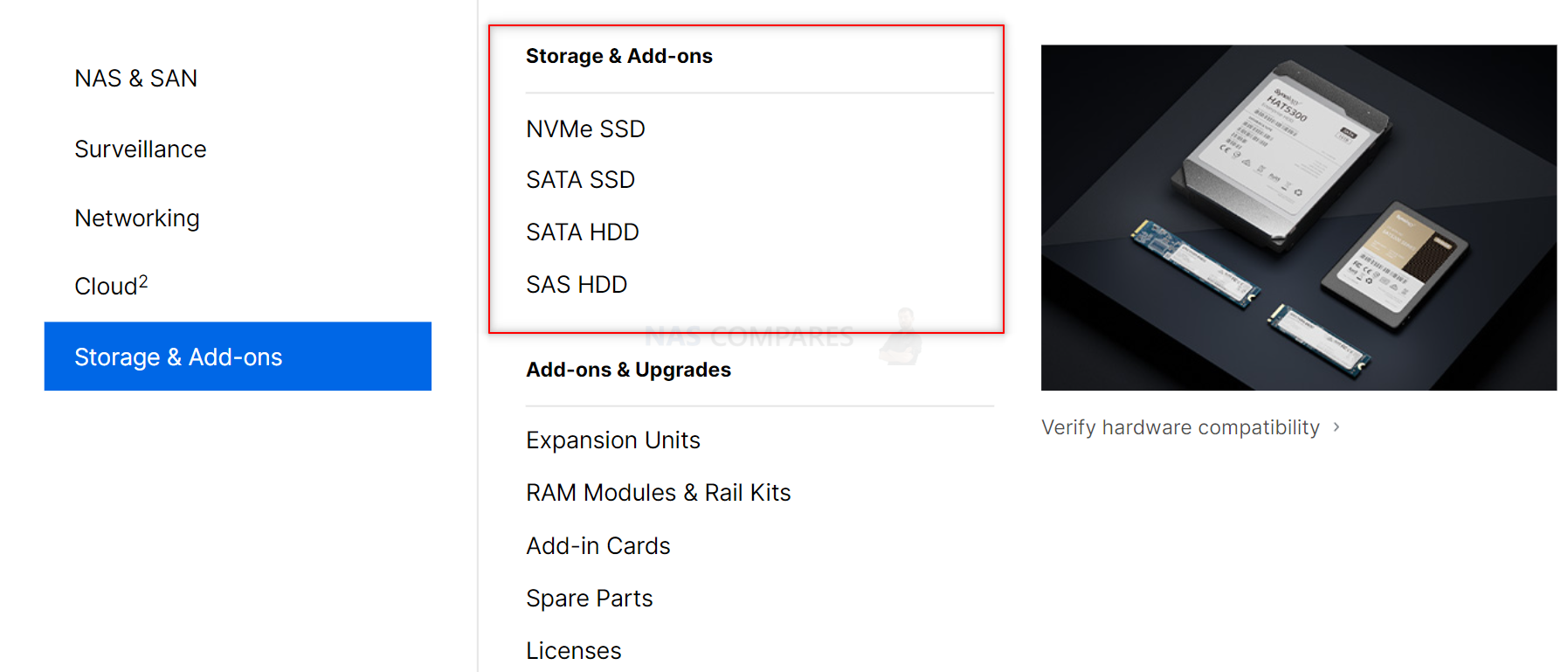 Those who already had a number of their figurative eggs in Synology baskets could see the logic – the brand produces the hardware, released their branded memory, branded PCIe upgrade cards, branded routers and therefore the move to produce their own branded media to further bolster this in-house eco-system made sense (side note – Where is the Synology Switch? Not the SG1000, but an actual Synology managed switch?). Moreover, these HDDs and SSDs were quite enterprise in design (high workloads and endurance, architecture that very much lived in the postcode of the data center user in most cases). It was only a few lone voices that raised concerns that the brand might start changing how they approached compatibility and support on their growing range of solutions.
How Support on the Synology Drive Media Changed in 2021/2022?
Therefore it came as something sharp gear change for many when Synology announced that a number of their enterprise solutions that were released in 2021 (and featured in the 2022 series) would arrive with much stricter compatibility in terms of storage media. Solutions that were very much outside the budget of home users in the XS and above ranges would now only be designed for use with the Synology branded range of media HDDs and SSDs. Utilizing the bulk of non-Synology media (such as Seagate Ironwolf, WD Red, Ultrastar DC and more) would not be formally supported by the Synology software, with the brand highlighting that this would be using the system in a means that they did not design and limiting the support they could provide to the end-user. Now, this limited media compatibility on their hardware had been somewhat foreshadowed, with the release of their 2020 generation PCIe upgrade cards, the M2D20 SSD caching card and E10M20-T1 SSD+10G combination upgrade card, both of which were rather strictly limited to Synology media. The utility of non-Synology branded HDD/SSD media at the start of 2022 is still available by the brand, but in a handful of circumstances that range from migration of media from an existing Synology NAS system to a new enterprise series device or there have been a few reports online of exceptions to this rule when media types (such as SAS SSD) were not available in the Synology media portfolio, yet supported on the system. Even then, this is not a watertight ruling and is something that comes from mixed reports online. Right now, there are give or take around 10 solutions in the Synology NAS portfolio that have this Synology-only media compatibility policy in place and although there is an argument that enterprise solutions such as these are targetted at buyers who will likely be keen on an 'all in-house' solution (such as those on offer from the likes of NetApp and EMC), there are those that are less keen on the brand shunning the use of WD/Seagate drive media that they may have been using for the better part of two decades at least.

Utilizing non-Synology media in these enterprise solutions at the start of 2022 will not entirely restrict the end-user(s) from forming a storage pool, volumes and more with this drive media installed, but the results can not really be thought of as tremendously compelling. Aside from numerous notifications from the system informing the user that they are using media that does not feature on the official compatibility list of their device and stability and support may well be undermined, there is also a persistent message on the notifications panel and in the storage manager that this area of storage is classed in 'Critical' status – i.e Danger! Many were concerned/unsure whether this would mean that ignoring this warning by the system would result in the Synology support being invalid and to clarify this, I raised this with a senior Synology manager and will touch on that shortly in the ('what happens next' section).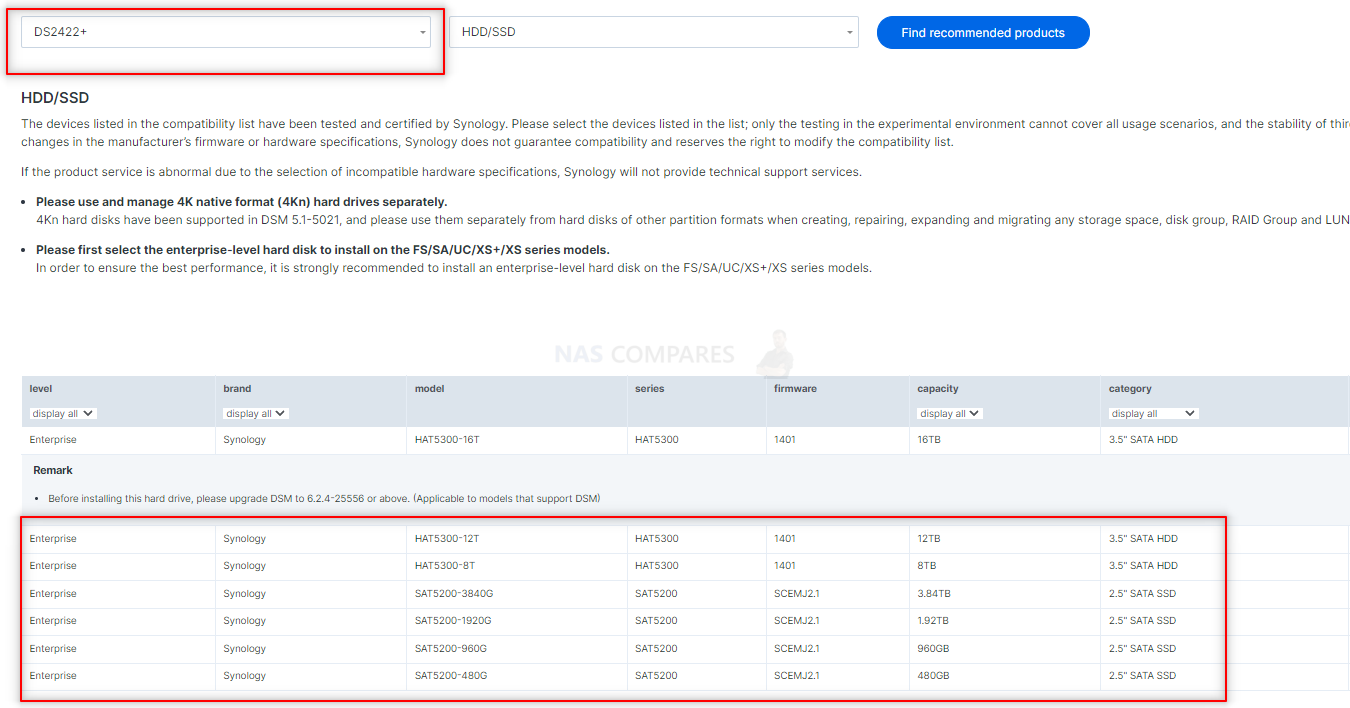 Further to this, there is the extent to which this policy and recent change in position by Synology extends. As mentioned, there is a certain degree of understanding of this being a move by the brand on the enterprise level of solutions. These are high-end business-class servers that are designed to be used practically indefinitely until their retirement for the next server after and stability, accessibility and reliability are the order of the day! Therefore the brand offering these solutions to end-users with this expectation and recommending specific media to achieve this is understood, if not fully appreciated by everyone. However, when the DS2422+ 12-Bay diskstation NAS featured this same position on compatibility, despite it being a part of the 'PLUS' series of devices and arriving with a 3-year warranty, gave many certain pauses for thought. Yes, a 12-Bay desktop solution is quite far removed from a home system for many, as well as featuring a number of hardware similarities for the beefier DS3622xs+, but it did seem like the tiniest bit of a stretch in the eyes of many and added a little bit of grey to the black and white support position of non-Synolgoy media in the 2021/2022 range of solutions from Synology.
The Logic of Synology and Their Place in the Market
Now, stepping back slightly from these changes and looking at the moves from Synology over the last 5 years, it has become increasingly clear that Synology is making considerable moves towards challenging SaaS and PaaS (Software and Platform 'as a service) hybrid users at the very top end. Before this, Synology was almost exclusively a software+bare metal provider and it was only when they released, promoted and rapidly evolved their C2 cloud platform that this ambition and long term plan became evident. Having a single in house ecosystem that manages your business data that covered your company data, client data and increased native connectivity with Google/Microsoft SaaS components is great for smaller operations, but what about multi-site ops? International setups and in situations where backups, synchronization and access need to be complex enough to ensure security, yet fluid enough to ensure that the user base can use it in their day to day operations. It was/is a bold strategy that requires them to spread themselves perhaps a little thinner than they might like (as they have a tremendously large Home/SMB user base that has little-to-no interest in these lofty services, they need to continue to support) but definitely a road they are proceeding down and it is this mixed clientele of users that has led to the friction by many of the recent moves by the brand.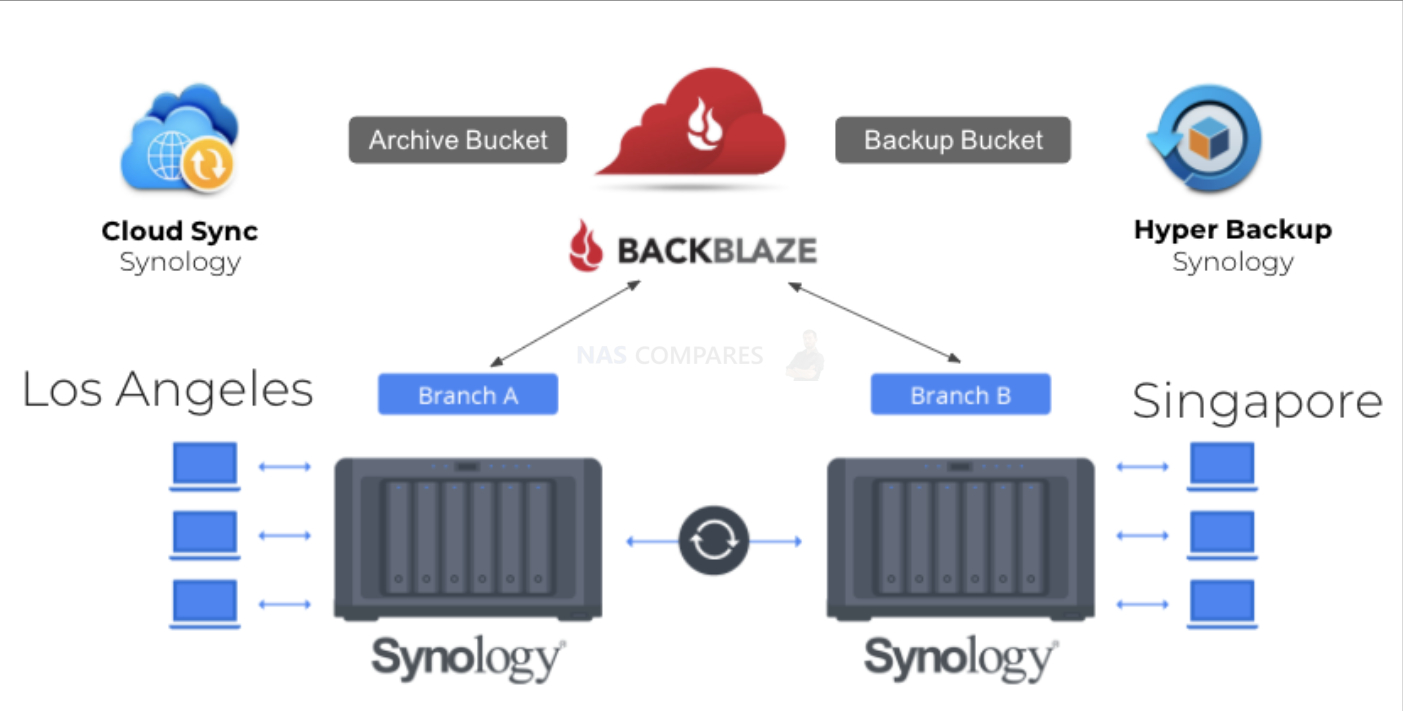 Now, if Synology is attempting to fully migrate/transform their enterprise business model into this highest of hybrid service solutions, as it stands they are still missing a few key components that the current providers offer (albeit behind further subscription services in some cases) such as 24×7 support lines, Next day replacements media, gaps in their media portfolio in interfaces and capacities to name a few). There are options to migrate existing setups in remarkably intuative and seamless ways, as well as premium-level services in some regions that close the gaps somewhat (though unfortunately are not globally available) and their C2 platform is a great deal more than just a cloud space. But if indeed Synology is making these moves to enter this market as a significant player (as all the evidence would suggest), then I do not think we are at the end of the road yet.
Synology NAS, & Drive Media in 2022 – What Happens Next?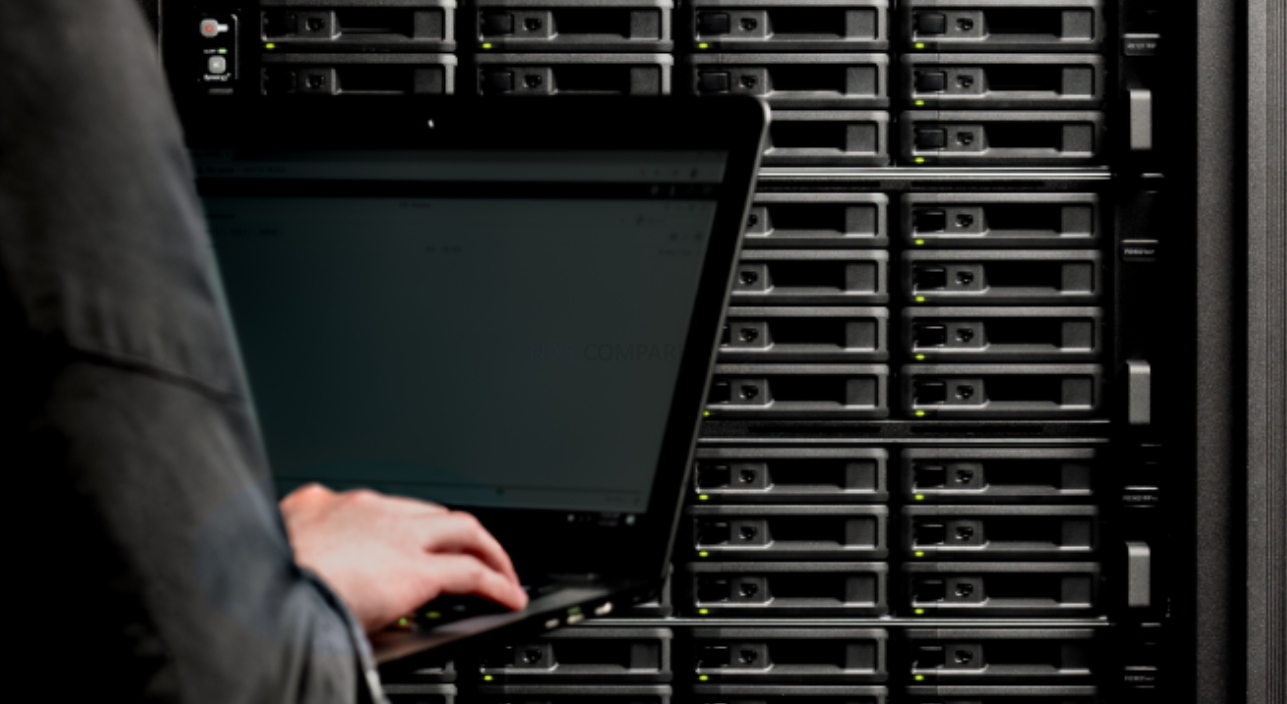 There has been noticeable discontent amoung Synology user community on this policy by the brand, which can be broken down into two key areas of focus. The first is that the brand might be shifting its gears too heavily towards the upper tears of Enterprise Hybrid storage and devices and potentially neglecting/limiting the other user groups who have chosen Synology NAS solutions because of the brand's reputation to support. The other area of discontent is the way in which the media recommended compatibility changes in these most recent generation releases has been related to the end-user. Referring to perfectly operating hard disks and SSDs as 'critical' or 'unstable' in red warning text appears somewhat of an overreaction. I reached out to a senior member of the Synology product team and they provided this reply:
We have always recommended only using the drives tested and verified by our engineers to ensure long-term system reliability many many years ago. While non-verified drives can still be used on all devices, the updated policy is being introduced on new products primarily purchased by our business and enterprise clients in an effort to highlight the potential issues with using them. The policy still allows for the use of non-verified drives but with certain restrictions, such as status indicators and alerts indicating the system is not in an officially supported configuration and certain drive metrics not being supported. At the same time we understand that there is room for improvements to the user experience while still ensuring our customers are aware of the issue. In an upcoming DSM update, we are adjusting the alert level shown and also adding drive S.M.A.R.T. monitoring for unverified drives.
So, it would look like the comments on multiple social message boards (Facebook, Reddit, Syno Forums, etc are at the very least being read), However, for many this message does not fully cover the question of detailing the level of support that the brand will indeed provide in the event of perfectly reasonable failure. I raised this matter with Synology with the following examples for guidance (as I felt they covered a cluster of existing scenarios posed by users online):
Example #1, a Synology DS3622xs+ or DS2422+ owner purchases their unit and 12 Seagate EXOs HDDs, then 36 months down the line they suffer an unexpected (but perfectly reasonable) PSU failure. Will the brand support this user and provide a replacement PSU?
Alternatively, Example #2, if the hardware failure (still within perfectly reasonable parameters of hardware that is mass-produced of course) is controller board based? Where will the utility of non-Synology media stand?
A senior Synology manager provided the following response and clarification:
When a customer makes a technical support request, our engineers will work with them in troubleshooting the cause of the issue and to find a solution to resolve it. If it is determined that a failure is directly attributable to a 3rd-party component that has not been validated by Synology, our engineers may make the decision to reject continuing the diagnostics process. This is carried out because in many cases, there is little that our engineers can do without having those exact components on hand to replicate the problem and then determine a way to workaround or mitigate them.
This clears the muddy waters a little and seems to indicate that failures that are not related to the use of 3rd party media will be handled 'as usual'. Still, the fact that some features of the storage manager might be unavailable with the use of non-Synology drive's in these recently released enterprise systems will still be a tough pill to swallow for many.
Where do I stand on Synology Hard Drive Media and Compatibility in 2022?
I have been following and publishing videos and articles on the development of Synology Hard Drive & SSD media now for a little over two years and despite the newer releases in this part of the brand's portfolio, I have largely remained the same in my thoughts and feelings on it. The HAT5300 are good quality drives which (if the price point in relation to the rest of the market, i.e. comparable to Seagate EXOS and WD Ultrastar, but arriving more at the WD Red Pro and Seagate Ironwolf Price per TB etc) and certainly should be in the lineup. When it comes to stricter system compatibility, as long as it is reserved for the enterprise tier, I can see the reasoning – though I am not convinced it should be the ONLY option and if Synology could loosen their tighter hold on this (or at least detail where unsupported HDD/SSD use could potentially impact how/where their support the end-user – Software? Hardware? Just at the Storage Pool and above?), that would be the best option for all. When the compatibility list for the DS2422+ was made available, I highlighted my reservations on this in my original initial coverage of the device (and referenced it in a few later videos around the subject) that although the Diskstation 12-Bay was still largely a business user focus device (12 bays of expandable storage is rarely something for the day-to-day user), it is still a PLUS series device. I have not got any qualms with Synology aimed their sites at the highest tiers of hybrid storage, it makes a lot of sense and although the brand is still not quite as established of have the wider resources available to the end-users to rival the top tier contenders, they DO provide the best alternative to these right now and year on year, the brand improves upon their C2 Cloud to Metal on-site synchronization with improved results.
Like many, I am awaiting confirmed details on the newer DSx22+ series of devices (if a refresh is to make it this year) and I very much doubt that Synology would limit these system's media compatibility, taking a similar position to their current one of SHR and RAID. That is to say, that they feel SHR is suitable for the Home, Prosumer and SMB tier, but the higher-end business and Enterprise user tier demand the performance of the more mature standard RAID configurations. Additionally, the HAT5300 media would be tremendous overkill in a much more modest 2-Bay or 4-Bay (DS922+, DS722+, DS222j, blah, blah, blah) both in the drive's workload/durability and just power consumption and ambient noise. However, if Synology announces a value series HDD alternative that is also based on the Toshiba NAS N300 NAS tier and compatibility on the value tier begins to emulate what we have seen so far, that is something I will have more trouble supporting. As this would place their products into a near 'pre-populated' style of solution for home users that many who have invested in the Synology ecosystem would find tremendously restrictive.
For more information on how me and Eddie the web guy feel about the Synology Hard Drive position, the brand's moves over the last few years towards the enterprise tier, brand support and more, we published a big piece on this below and although its a long video (chapters underneath), it covers EVERYTHING.
If you like this service, please consider supporting us.
We use affiliate links on the blog allowing NAScompares information and advice service to be free of charge to you.
Anything you purchase on the day you click on our links will generate a small commission which is
used to run the website. Here is a link for
Amazon
and
B&H
.
You can also get me a ☕
Ko-fi
or old school
Paypal
. Thanks!
To find out more about how to support this advice service check
HERE
If you need to fix or configure a NAS, check
Fiver
Have you thought about helping others with your knowledge?
Find Instructions Here