We have a 24TB Promise 8 drive Thunderbolt disk array & want to share it between two 2012 Mac Pro computers with Thunderbolt like speeds. Would a mac mini work well & would it need special software? A fast GPU or CPU etc?. We'd like to see a the same drive on each Mac that would act like a direct attached drive. We want to use Adobe Premiere CC2018 for Teams for 4K editing

$2,000

24TB
Promise DAS solutions are made with one purpose- speed. It is not made for teamwork. If you want collaboration functionality you need to look at NAS solution. The cheapest and yet quite fast solution is DS1817. It is 8 drive network attached storage device with 10GbE connectivity. Each network port of two has theoretical speed throughput of 1250MB/s. When link aggregated and filled with SSD drives Synology themselves have reached the speed of 1577.61 MB/s, which is quite respectable.
DS1817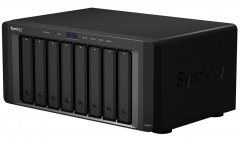 DS1817: 2 x 10GbE ports (built-in); MTU 9000; connected to client PCs via Netgear M4300-24X24F switch
 Fully loaded with Intel 535 Series 240GB SSDSC2BW240H6 SSD
Read 1577.61 MB/s
Write 739.75 MB/s
Not always speed is as important as capacity. In order to get decent speed and also enough storage capacity, you need to have more hard drives. More drive in an array will provide extra speed and will cost less in comparison with fewer drives but faster (SSD).
With WD Gold/ Pro speed can reach around 400-500MB/s with 8 drives.
What do I need for 10GbE network?
In order to enjoy 10GbE transfer speeds, you need to have compatibles NAS, switch and computer network cards. DS1817 comes with 2 X 10GbE ports built in.  So you still need 10GbE adapters on your MAC or Windows machine.
MAC TB3 to 10GbE adapter                   MAC TB2 to 10GbE adapter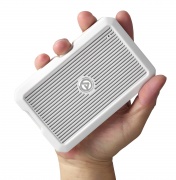 Next, you need a switch with 2 or more 10GbE ports (depends on the size of the team). You can get a dual 10GbE port switch in case if there is only one user who does heavy editing and others who do less data transfer consuming tasks (connected to other – 1GbE ports ).
2 port rj45 10gbe switch                    8 port rj45 10gbe switch
Don't forget about CAT6A or CAT7 cables – made for 10GbE networks.
Will this need a separate Mac running Mac Server software or can it run from one of our two editing Macs running Sierra?
Since the NIC's are external to the Macs & connect via Thunderbolt, I hope this will just show up as an available hard drive on each of our editing Macs.
This external NIC will just upgrade your MAC network speed 10X faster. No need for extra Mac servers or computer left on serving as host. This is a true beauty of NAS. DS1817 will be sitting somewhere in a corner and everyone will be connecting to it using 10GbE or 1GbE network connection (depends on how fast connection you want/need).
For first time setup, you will connect NAS drive to appear as an external drive (or multiple drives) and you will be ready to use it.

Related posts :
Alternative to 10GbE is 4-port Thunderbolt Solution
product/Qnap-Desktop-NAS-10GbE+TB3-TVS-1282T3-i5-16G-12-Bay-8x-3-5-4x-2-5-RAID-0-1-5-6-16GB-RAM-Core-i5-+-10GbE-+-Thunderbolt-3~60944
1282t3 with i5 or i7 as budget allows
with 4x SSDs and 2x m.2s
current projects should be dealt with on SSDs
once these are done they can be moved onto 3.5″
This will be more like 5K solution
Need Advice on Data Storage from an Expert?
We want to keep the free advice on NASCompares FREE for as long as we can. Since this service started back in Jan '18, We have helped hundreds of users every month solve their storage woes, but we can only continue to do this with your support. So please do use links to Amazon Amazon UK on the articles when buying to provide advert revenue support or to donate/support the site below.


Finally, for free advice about your setup, j
ust leave a message in the comments below here at NASCompares.com and we will get back to you.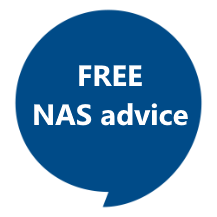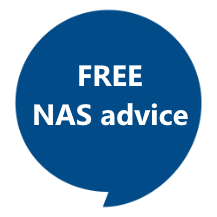 Need Help?
Where possible (and where appropriate) please provide as much information about your requirements, as then I can arrange the best answer and solution to your needs. Do not worry about your e-mail address being required, it will NOT be used in a mailing list and will NOT be used in any way other than to respond to your enquiry.
Terms and Conditions
Alternatively, why not ask me on the
ASK NASCompares forum
, by clicking the button below. This is a community hub that serves as a place that I can answer your question, chew the fat, share new release information and even get corrections posted. I will always get around to answering ALL queries, but as a one-man operation, I cannot promise speed! So by sharing your query in the
ASK NASCompares
section below, you can get a better range of solutions and suggestions, alongside my own.