I'm wondering if you could help me out. I've watched a number of your YouTube videos on both the Drobo 5D3 and Pegasus3 line of external storage solutions. I am a photographer that deals with files that are in the realm of 2-3GB in working file size, so read and write speeds are important to me.

I was thinking of the Pegasus3 R4 where I would have the top 3 bays in a RAID 5 configuration and the 4th bay would be the drive I would use a Time Machine backup, or just do a manual backup using ChronoSync or something. Then to even further the protection, I would incorporate a 5th drive that I would swap into the 4th bay once a month and keep one backup drive at an offsite location at all times. That way I would only be in jeopardy of losing one months worth of work in the event of a fire, flood, etc.

However, I'm wondering if I would be better with a Drobo 5D3 and then use yet another external bus-powered 4TB drive(s) to do my backups to. Here again, I would always keep one of those 4TB drives at an off-site location. One, is this possible with a Drobo? In other words, can I write to those bus-powered drives and have them be readable with all the files intact by any machine without having to utilize the Drobo software? Also, I've heard the Drobo's are quite slow compared to the Pegasus, even the Drobo 5D3 is slower.

My concern is how easy is the Pegasus3 in comparison? I know that Drobo's can grow with your needs much easier without having to offload all the data, put in larger drives, and then reload it all back onto the larger drives. I'm not sure how I'd even do that, to begin with.

My needs are a lot for only about 1TB of current photo storage, but I'm just trying to future proof myself. As a fine art photographer and not having any wedding clients or anything, my photography is slow and does not build up in file size that rapidly like a wedding tog would.

I hope you can provide me with some valuable insight. I've really enjoyed your videos, but just had some lingering questions. Thank you so much.
First of all, if speed is important, you need to have as many drives in a RAID as possible, otherwise instead of many drives you need fast (SSD) drives. By having a RAID of three drives out of 4, you will lose 25% of potential speed.  You don't need a separate drive for a time machine. You can create RAID across all drives and then create two logical drives (volumes) used for different purpose.
For an offsite backup, you can get cheapest NAS and do remote time machine or project folder synchronization. The DS115J will cost less than a 100 without a drive.
Speed between Drobo 5D3 or Pegasus3 R4 will not be much different. Drobo might even be faster because of one extra drive in a RAID.
Find regulary updated NAS offers here
Of course I would prefer you choose
AMAZON UK
AMAZON USA
to buy your perfect solution, however, if you would rather buy locally, please use the links used above to take you to your local Amazon store and help support this free advice service with ad revenue. More ways of supporting the blog are described
HERE
Need Advice on Data Storage from an Expert?
We want to keep the free advice on NASCompares FREE for as long as we can. Since this service started back in Jan '18, We have helped hundreds of users every month solve their storage woes, but we can only continue to do this with your support. So please do use links to Amazon Amazon UK on the articles when buying to provide advert revenue support or to donate/support the site below.


Finally, for free advice about your setup, j
ust leave a message in the comments below here at NASCompares.com and we will get back to you.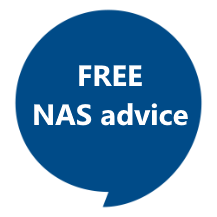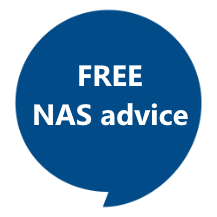 Need Help?
Where possible (and where appropriate) please provide as much information about your requirements, as then I can arrange the best answer and solution to your needs. Do not worry about your e-mail address being required, it will NOT be used in a mailing list and will NOT be used in any way other than to respond to your enquiry.
Terms and Conditions
Alternatively, why not ask me on the
ASK NASCompares forum
, by clicking the button below. This is a community hub that serves as a place that I can answer your question, chew the fat, share new release information and even get corrections posted. I will always get around to answering ALL queries, but as a one-man operation, I cannot promise speed! So by sharing your query in the
ASK NASCompares
section below, you can get a better range of solutions and suggestions, alongside my own.