What is HDMI 2.0a?
HDMI Licensing has announced the latest update to the HDMI spec, called HDMI 2.0a. It governs the transmission of new High Dynamic Range content between HDR-compatible source devices and TVs. Here's what you need to know.
Which NAS can Stream 4K HDR over HDMI 2.0?
AS6302T
A comprehensive 2 bay NAS equipped with an Intel Celeron (Apollo Lake) dual-core processor for powerful 4K output. Economical and perfect for both home and personal use.
Enhanced CPU and GPU provides comprehensive performance upgrades
2 GB of expandable dual-channel memory
Utilizes the latest HDMI 2.0 and USB 3.0 Type-C specifications
Unique WOW (Wake-on-WAN) function provides flexible power control and access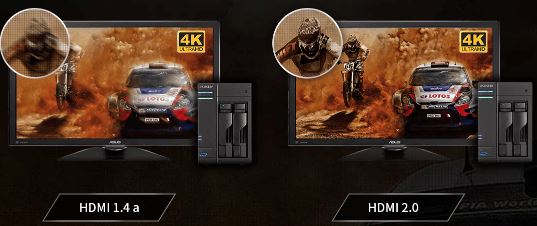 HDMI 2.0 Combined with 4K/UHD Output Provides Crystal Clear Quality Displayed Perfectly
The AS63/64 series supports next generation HDMI 2.0 specifications, featuring up to 60/50P 4K resolution video which provides twice the fluidity of 4K 30P. Combined with built-in 2GB/8GB dual channel memory, this allows for the playback of 4K/UHD with unparalleled smoothness. No matter if it's your treasured collection of Blu-ray quality movies or videos that you have recorded with professional quality cameras, ASUSTOR NAS can perfectly display all of it in crystal clear quality.
*Please note that in order to play 4K/UHD 60P videos, you will need to use a HDMI 2.0 cable
Do you need new HDMI cables for HDR?
There is no such thing as an "HDR HDMI" cable or an "HDMI 2.0" cable. That second one is important. HDMI cables don't have version numbers. The connections have version numbers. So your TV might be "HDMI 2.0a" (and indeed needs to be for HDR), but the cable you plug into it doesn't have a number. It's just an HDMI cable.
There are four basic types of HDMI cables in the home:
High Speed with Ethernet
Standard Speed with Ethernet
High Speed without Ethernet
Standard Speed without Ethernet