QNAP unleash the beast with the QNAP TVS-X82T Thunderbolt 2 range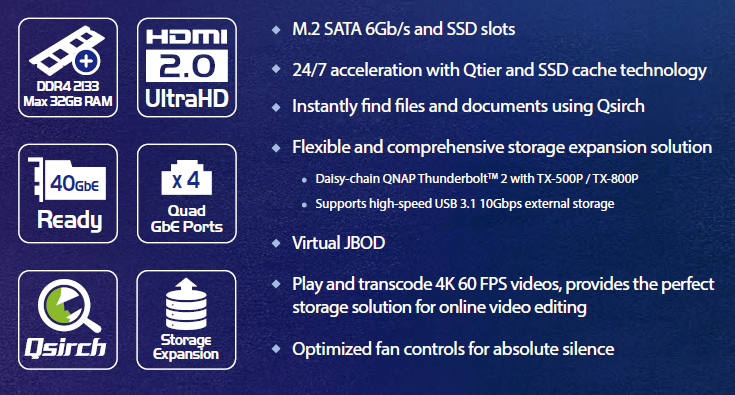 I'm sure many of you are aware that last year QNAP released a truly ground breaking and innovating NAS, The QNAP TVS-871T. QNAP NAS have always been the rebels of Network Attached Storage and their latest units do not disappoint. In the last six months we have seen the Android NAS – The QNAP TAS-168, The Dual OS Linux NAS – The QNAP TS-253A and the of course the Thunderbolt 2 NAS – The TVS-871T-i7. Now they are set to release possibly the most powerful and able NAS yet in the TVS-x82T range. Arriving in different model sizes and with some truly ground breaking hardware under the bonnet. So, let's get to the point.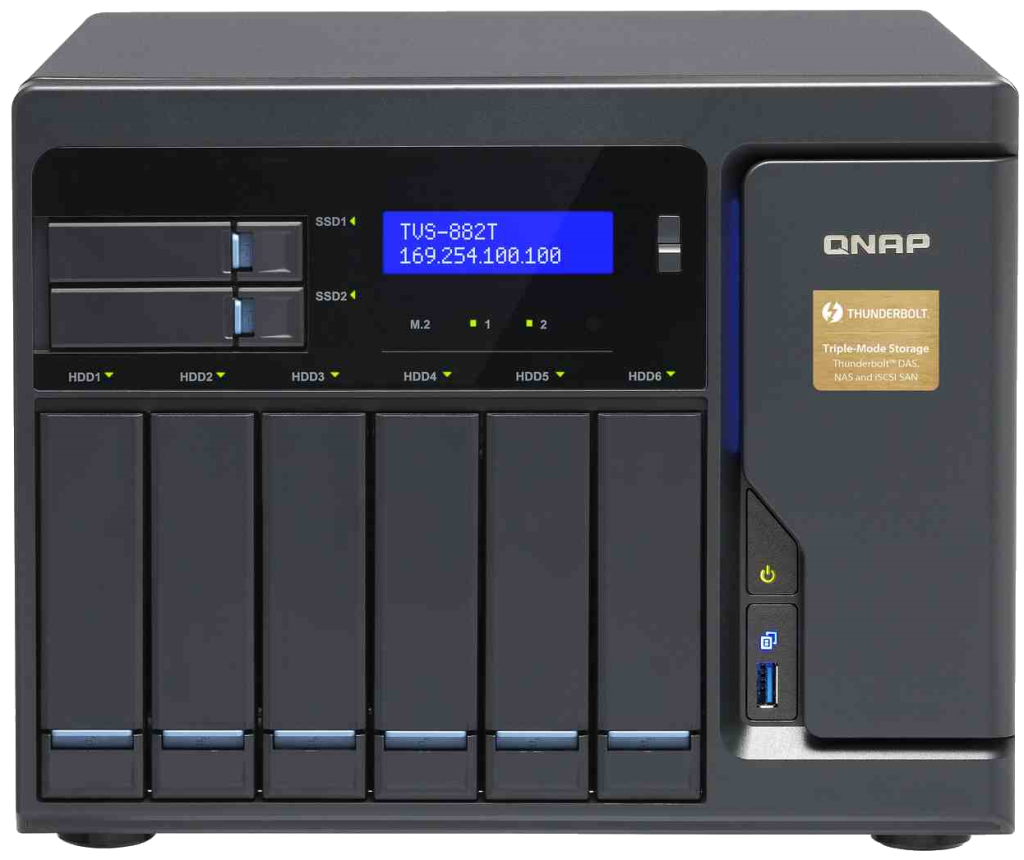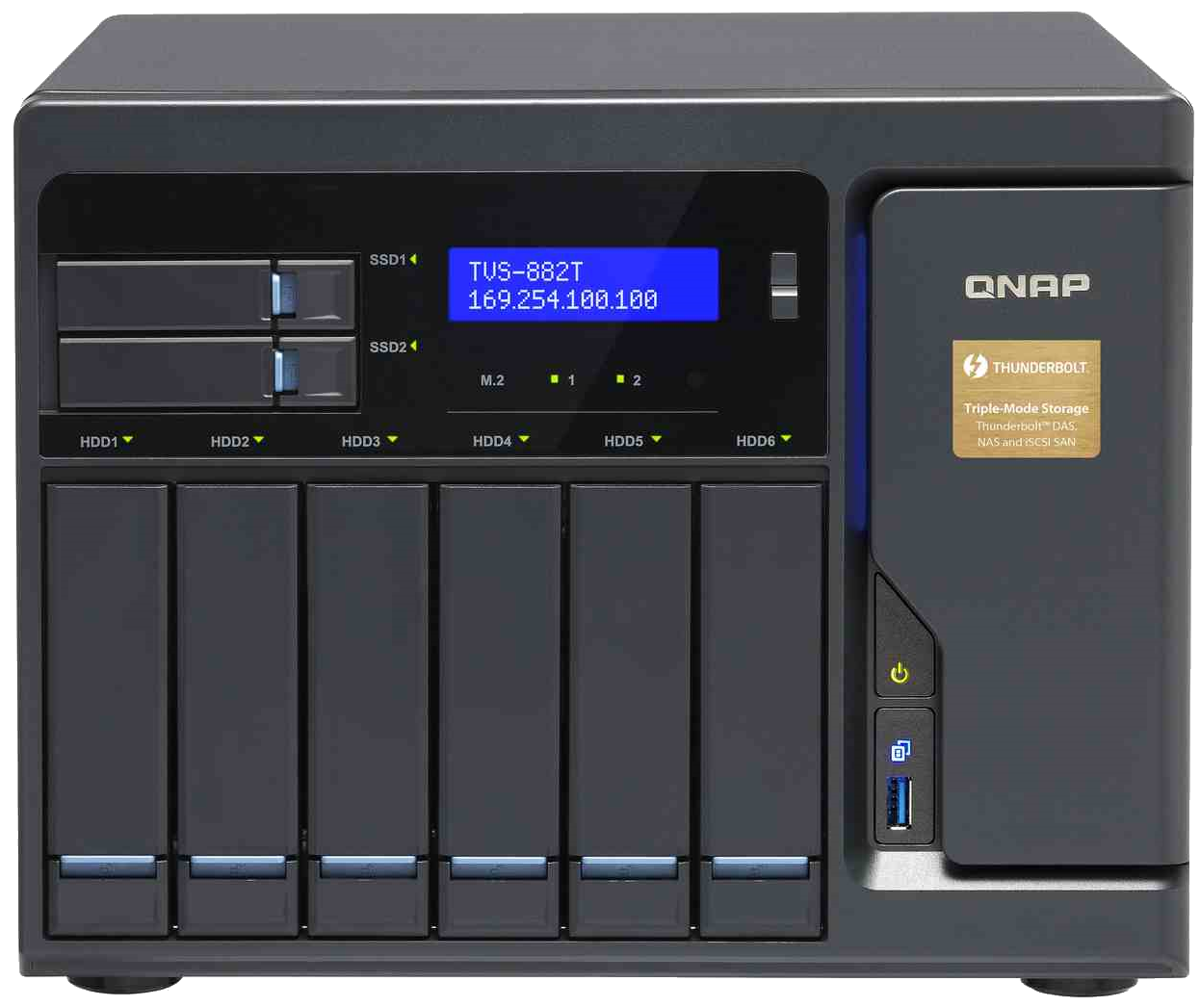 Unlike the first generation of Thunderbolt 2 NAS from QNAP, which was only available in 8 bay Models, the New QNAP x82T range arrives in 4 HDD, 6 HDD and 8 HDD models. But that is only the start of your options. Each unit arrives with SSD dedicated slots to install 2.5" form factor SSD drives for increasing Cache of fast access storage. With the TVS-682T-i3-8G arriving with 2 SSD bays, the TVS-882T-i5-16G with 2 and the 8 Bay devices TVS-1282T-i5-16G and TVS-1282T-i7-32G arriving with 4 Solid State Drive bays. Alongside this, the TVS-682T, TVS-882T and TVS-1282T all arrive with two front mounted m.2 SATA SSD slot too! Giving the 4 Bay unit an actual total of 8 available storage bays!
PCIe Thunderbolt options in the new Thunderbolt NAS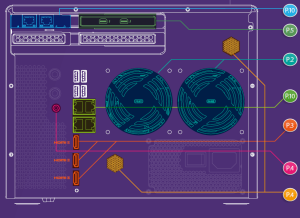 Next giant innovation we should discuss is namely the inclusion of PCIe. All units arrive with PCIe slots (with the 4 & 6 Bay arriving with one PCIe Gen3 x16 and one PCIe Gen3 x4 slots, whereas the 8 bay arrives with one PCIe Gen3 x8 and two PCIe Gen3 x4 slots). Now In the case of the four and six bay thunderbolt NAS devices, the slots arrive occupied with a dual Port Thunderbolt 2 PCIe card and a 10Gbe card, but the eight bay model arrives with an additional spare PCIe slot. What use are these slots I hear you ask? Well, QNAP themselves claim "it Supports 10/40 GbE adapters, PCIe NVMe SSD cards, External graphics cards, and USB 3.1 Gen 2 expansion cards". So you can very well install a graphics card in this slot and access it via Thunderbolt 2 as you would with a Thunderbolt 2 Expansion Chassis, such the Sonnet SEL ECHO-EXP-SEL or the Akitio Thunder2 T2PC-TIA-AKTU – very interesting stuff!
The QNAP TVS-x82T Hardware
Next we can talk about Hardware and more precisely that CPU and Memory. Take a look below:
Name
Bays
4x HDD,2x SSD, 2x mSATA
6x HDD,2x SSD, 2x mSATA
8x HDD,4x SSD, 2x mSATA
8x HDD,4x SSD, 2x mSATA
Model
TVS-682T-i3-8G
TVS-882T-i5-16G
TVS-1282T-i5-16G
TVS-1282T-i7-32G
CPU
 

Dual Core Intel i3-6100

3.7GHz

Quad Core Intel i5-6500

3.6GHz

Quad Core Intel i5-6500

3.6GHz

Quad Core Intel i7-6700

3.4GHz

Memory
8GB DDR4 RAM 2133MHz

(32GB MAX)

16GB DDR4 RAM

2133MHz

(32GB MAX)

16GB DDR4 RAM

2133MHz

(32GB MAX)

32GB DDR4 RAM

2133MHz

(32GB MAX)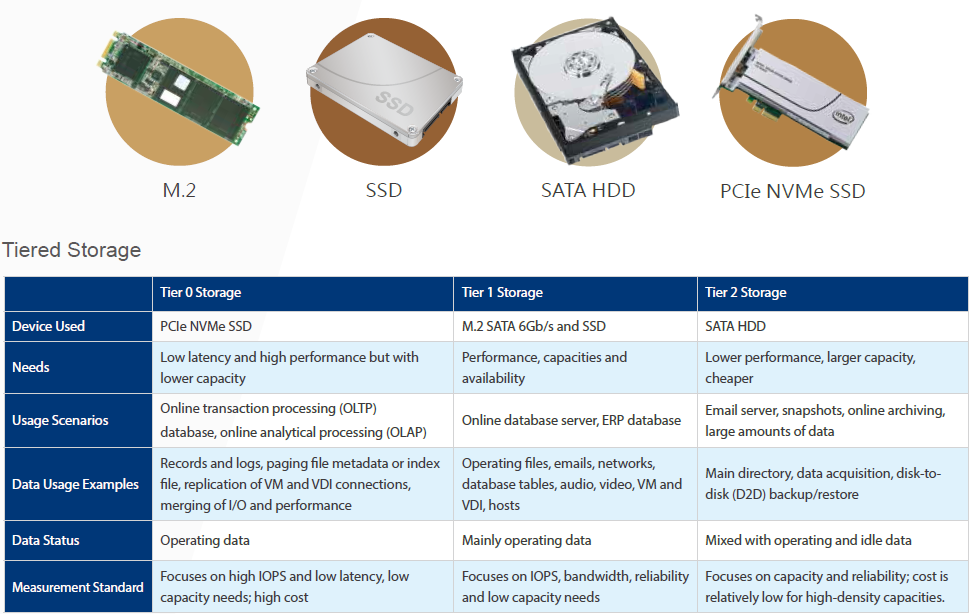 Now let's soak that in! Not only do the units all arrive with Intel i3, i5 and i7 CPUs, but take a closer look at that RAM. DDR4 RAM – Finally! With the lowest end unit arriving with a Dual Core i3 and 8GB of DDR4 RAM, this really is a different league of Hardware for the QNAP NAS market. Also, looking at the front end NAS device, the TVS-1282T-i7-32G arrives with a earth shattering Quad Core i7, 32GB of DDR4 RAM and the ability to house 14 storage bays (across HDD and SSD).
10GBe, Thunderbolt 2, PCIe, 4K HDMI and more…
Next, let's talk access and ports and these new Thunderbolt NAS' from QNAP do not disappoint. Featuring 2x Thunderbolt 2 (enabling Daisy Chaining with other Thunderbolt devices and connecting to the QNAP expansions QNAP TX-500P and TX-800P 8 bay Thunderbolt expansion), 5x USB 3.0 ports (one front mounted with one touch backup – still awaiting for confirmation on USB 3.1 Gen 2), 3x HDMI ports (two HDMI 1.4b and one HDMI 2.0), a Built in speaker on the rear of the device for direct audio output, two 6.3mm Microphone Jacks for those out in the east looking for more karaoke options (first present in the QNAP TS-253A-4G) and also a 3.5mm standard line out jack – though using this will disable the speaker, up to you!
Real Thunderbolt DAS this time in the Thunderbolt NAS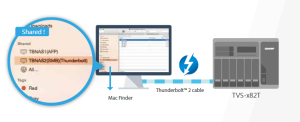 Lastly, to answer a common concern about the previous thunderbolt NAS, the QNAP TVS-871T-i5, QNAP confirm that this unit should be accessible DIRECTLY through the thunderbolt 2 port – so TRUE Thunderbolt 2 DAS this time. Whether or not this will be true at launch later this year or Thunderbolt over IP like the previous unit, we shall see – but it'll be exciting to find out.
Why not pre-order your QNAP TVS-682T-i3-8G, TVS-882T-i5-16G, TVS-1282T-i5-16G or TVS-1282T-i7-32G NOW from SPAN.COM today.