From Cheapest to Best and Most Reliable Hard Drives for a NAS
There is two kind of requests when choosing hard drives for the NAS. Some people need the cheapest possible hard drives whereas others prefer the most reliable hard drives. With cheapest ones, everyone understands that when that one year warranty runs out- drive can fail any time. Sometimes it doesn't but quite often it does. In the RAID it can be replaced and no data is lost. But for those who want to invest in a long-lasting solution need to do a few extra steps to find the most reliable drives out there. But how do you know which drives are made for high reliability?
Each HDD is designed for specific applications, workloads, MTBF (Mean Time Between Failures), and POH (Power-On-Hours). Basically, all hard drive classes can be used with Synology NAS, but we recommend choosing the right drive class to fit your needs:
Mean Time Between Failures (MTBF): MTBF is a statistic used by manufacturers to state the reliability of hard drives. Often the higher the MTBF, the lower the chance of failure. Note that there is no manufacturer of any hard drive that can absolutely guarantee zero failures.
Power-On-Hours (POH): POH is the length of time, in hours, that electrical power is applied to a device. For hard drives, two categories are usually used:

8/5: eight hours a day, 5 days per week.
24/7: 24 hours a day, for every single day in the year.

Workload: user's data transfer rate (terabytes per annum) with the drives.
Most reliable drive comparison
When choosing most reliable drives you will very often hear a model name like WD Red Pro, WD Gold, and Seagate Ironwolf Pro as well as Seagate Exos drives.
Fastest drives
| | | | | | |
| --- | --- | --- | --- | --- | --- |
| speed | WD Red Pro | WD Gold | Ironwolf Pro | Exos | Ultrastar® 7K4000 |
| 1TB | | 184MB/s | | | |
| 2TB | 164MB/s | 200MB/s | 195MB/s | 226MB/s | 164MB/s |
| 4TB | 202MB/s | 201MB/s | 214MB/s | 226MB/s | 202MB/s |
| 6TB | 227MB/s | 226MB/s | 214MB/s | 226MB/s | 227MB/s |
| 8TB | 205MB/s | 205MB/s | 214MB/s | 249MB/s | 205MB/s |
| 10TB | 240MB/s | 249MB/s | 214MB/s | 249MB/s | 240MB/s |
Best Mean Time Between Failures (MTBF)
| | | | | | |
| --- | --- | --- | --- | --- | --- |
| | WD Red Pro | WD Gold | Ironwolf Pro | Exos | Ultrastar® 7K4000 |
| 1TB | | 2mil | | 2mil | |
| 2TB | 1mil | 2mil | 1.2mil | 2mil | 2mil |
| 4TB | 1mil | 2mil | 1.2mil | 2mil | 2mil |
| 6TB | 1mil | 2mil | 1.2mil | 2mil | 2mil |
| 8TB | 1mil | 2.5mil | 1.2mil | 2.5mil | 2mil |
| 10TB | 1mil | 2.5mil | 1.2mil | 2.5mil | 2mil |
Best at Workload TB/year
| | | | | | |
| --- | --- | --- | --- | --- | --- |
| | WD Red Pro | WD Gold | Ironwolf Pro | Exos | Ultrastar® 7K4000 |
| 2TB | 300 | 550 | 300 | 550 | 550 |
| 4TB | 300 | 550 | 300 | 550 | 550 |
| 6TB | 300 | 550 | 300 | 550 | 550 |
| 8TB | 300 | 550 | 300 | 550 | 550 |
| 10TB | 300 | 550 | 300 | 550 | 550 |
Best warranty
| | | | | | |
| --- | --- | --- | --- | --- | --- |
| | WD Red Pro | WD Gold | Ironwolf Pro | Exos | Ultrastar® 7K4000 |
| 2TB | 5 years | 5 years | 5 years | 5 years | 5 years |
| 4TB | 5 years | 5 years | 5 years | 5 years | 5 years |
| 6TB | 5 years | 5 years | 5 years | 5 years | 5 years |
| 8TB | 5 years | 5 years | 5 years | 5 years | 5 years |
| 10TB | 5 years | 5 years | 5 years | 5 years | 5 years |
Load/Unload cycles
| | | | | | |
| --- | --- | --- | --- | --- | --- |
| | WD Red Pro | WD Gold | Ironwolf Pro | Exos | Ultrastar® 7K4000 |
| 1TB | | | | | 600k |
| 2TB | 600k | 600k | 600k | 600k | 600k |
| 4TB | 600k | 600k | 600k | 600k | 600k |
| 6TB | 600k | 600k | 600k | 600k | 600k |
| 8TB | 600k | 600k | 600k | 600k | 600k |
| 10TB | 600k | 600k | 600k | 600k | 600k |
Reliability Rating
| | | | | | |
| --- | --- | --- | --- | --- | --- |
| | WD Red Pro | WD Gold | Ironwolf Pro | Exos | Ultrastar® 7K4000 |
| 1TB | – | 0.44% | | 0.44% | 0.44% |
| 2TB | – | 0.44% | 0.73% | 0.44% | 0.44% |
| 4TB | – | 0.44% | 0.73% | 0.44% | 0.44% |
| 6TB | – | 0.44% | 0.73% | 0.44% | 0.44% |
| 8TB | – | 0.35% | 0.73% | 0.35% | 0.35% |
| 10TB | – | 0.35% | 0.73% | 0.35% | 0.35% |
| 12TB | – | 0.35% | | | 0.35% |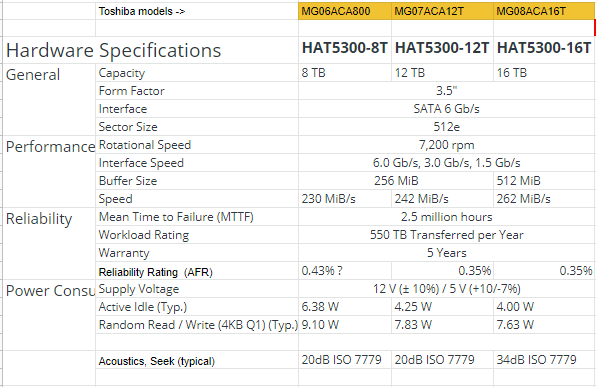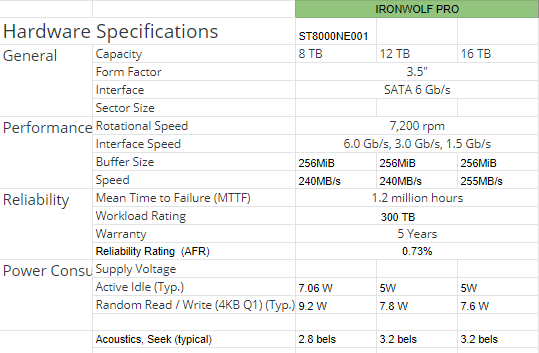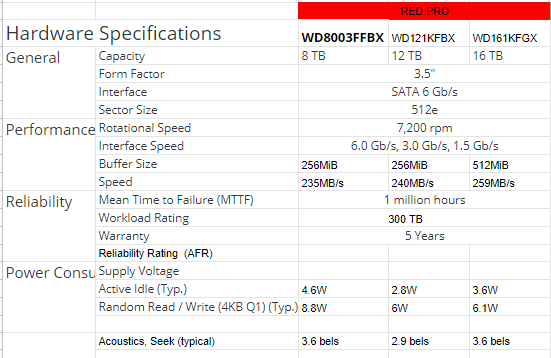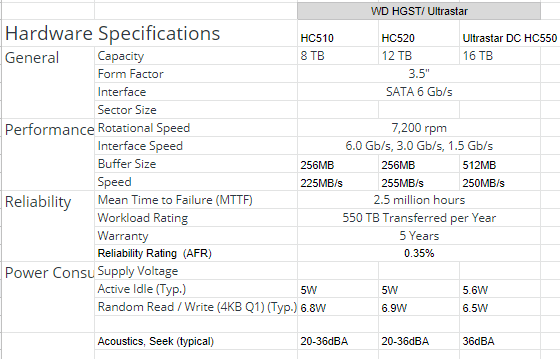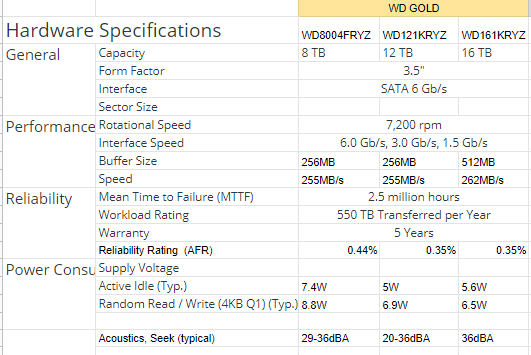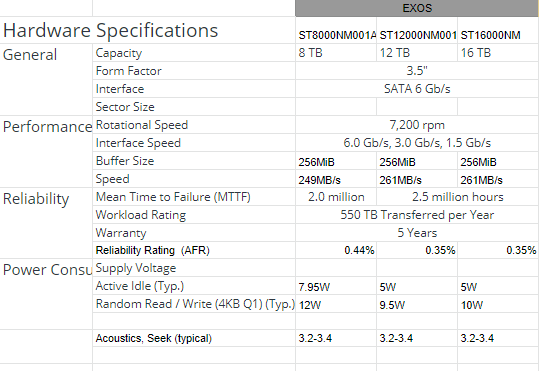 Hard drive price comparison list