QNAP is going to show what they have in store at CES 2018 tomorrow – But here is a sneaky preview
The QNAP TS-328 3-Bay NAS
A brand new QNAP's first 3-bay NAS with RAID 5 configuration with three hard drives. The QNAP TS-328 NAS features a Realtek RTD1296 1.4 GHz quad-core processor with 2GB memory and 4GB memory versions, 4K file transfer and playback, data snapshot, Cross-device file backup and synchronization, and rich multimedia applications.
The QNAP TS-128A and TS-228A NAS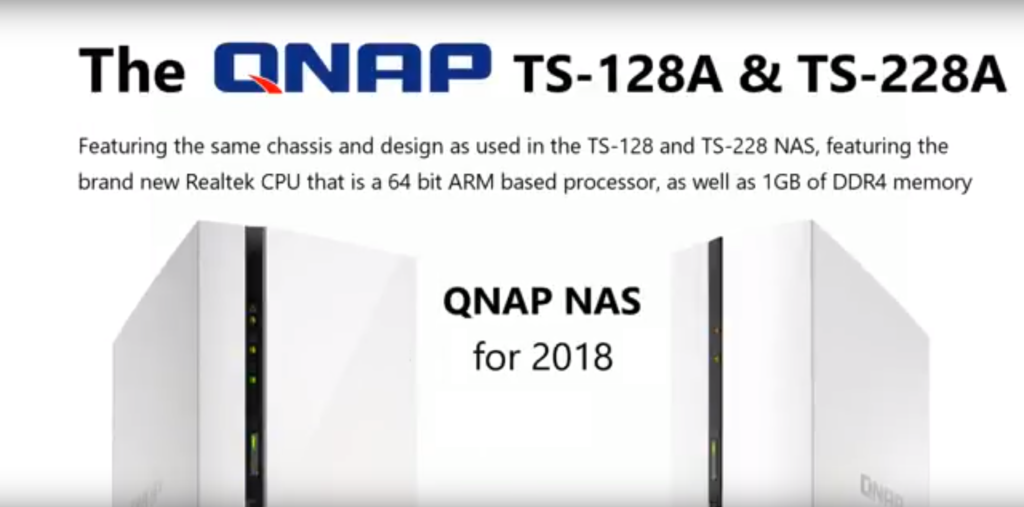 Preliminary NAS for home users with support for 1 and 2 hard disk drives (TS-128A and TS-228A); Realtek RTD1295 1.4 GHz quad-core processor and 1GB memory for diverse multimedia storage, sharing and streaming Function, and have a snapshot and other files and data protection.
The QNAP TS-253Be and TS-453Be NAS
Offering a Cost-Effective NAS Supporting 2 HDD (TS-253Be-2G and TS-253Be-4G) and 4 HDD (TS-453Be-2G and TS-453Be-4G) with Intel® Celeron® 1.5 GHz Quad-Core Processor with 2GB or 4GB Memory; Two 4K HDMI Outputs for PCIe High-Expansion Supports SSD cache expansion and 10GbE network upgrade, giving NAS excellent long-term potential.
The QNAP TVS-473e, TVS-673e and TVS-873e NAS
Provides high-performance NAS supporting 4, 6 and 8 hard disks, with AMD's top R series RX-421BD quad-core APU, up to 64GB of memory and 2 M.2 SATA 6Gb / s SSDs Port support for dual HDMI output and 4K video output and hardware acceleration engine; two PCIe expansion slots can be flexible external 10GbE NIC, QM2 expansion card or USB 3.1 10Gbps expansion card to meet the diverse needs of enterprise IT.
Did you enjoy the video? Find it helpful? Want to hear more? Of course, you want to…you're only human! Why not subscribe to save you searching next time https://www.youtube.com/user/SPANdotCOM