Synology DS416Play RAM Updgrade

Hi there… i have been watching your videos for a while, which i find very informative.
A few years ago, based on your advice, i purchased the Synology DS416Play, which i mainly use as a Media Server using PLEX. It has been doing the job, but lately i find the performance a bit lagging.
The unit still has the HW factory setting, which i believe has 1GB of RAM.
I am wondering if the RAM be upgraded, and if so, will I see an improvement in the performance of PLEX?
If that is the case, what is the memory type i need to get?
Yes, 1GB of RAM is too little to run apps like PLEX efficiently. Upgrading is not an easy task but it would surely speed things up. The process is very similar to DS916+ and DS415+.
Synology recommended max RAM size is 8GB. But if you have patience you could dismantle the unit and use Crucial 8GB DDR3 stick. Lately Synology is adding warning messages to scare people and and stop them upgrade with non-Synology RAM. But people can not justify Synology RAM price and to it anyway.
Specs of DS416PLAY
CPU Intel Celeron N3060 dual-core @ 1.6 GHz
RAM 1 GB DDR3 1600MHz

Also Pentium spec-sheet recommend to have 8GB per slot. But DS916+ has only one RAM slot.
Here is Crucial alternatives:
8GB
Crucial CT102464BF160B 8 GB (DDR3L, 1600 MT/s, PC3L-12800, SODIMM, 204-Pin) Memory
Just upgraded the DS416Play as per your video and instructions and it worked a treat. Had a bit of difficulty trying to separate the two half of the unit but I worked at and eventually they came apart otherwise it was plain sailing. I definitely see an improvement in speed between my Mac and the DS416Play and just can't understand why it doesn't come standard in all their units. Just one query, do you know if it is possible to upgrade the 8Gb of Ram to 16Gb? Or does the DS416Play just max out at 8Gbs?
Thanks again for your help and thanks for the link for the Ram I used it to purchase it
16GB
Crucial CT204864BF160B 16 GB (DDR3L, 1600 MT/s, PC3L-12800, SODIMM, 204-Pin) Memory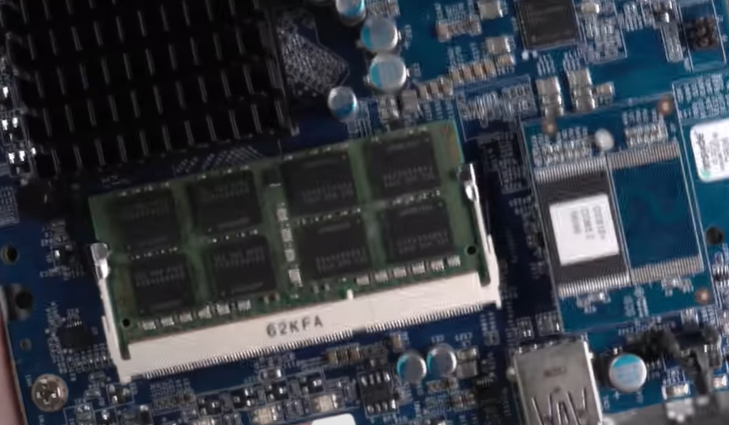 You might find this video useful as a guide to change RAM for DS916+. You can similarly upgrade the RAM on DS415+ model.
User experience:
Got the RAM, took the unit apart and replaced the RAM (took advantage to use canned air to clean it up) and put it back together. I turned it on, but after 5 minutes, nothing happened. There is power, as I can see the lights in the network cables lit, and also fans are moving. But no activity or lights on the front of the unit. Will this be normal to take time to reboot and recognize the RAM?
Actually, never mind. I think i had inserted the 4 drive in the reversed order. After i placed them in the correct order, it booted up.

Once again, thanks a million for your help. I will buy you a coffee via the link you provided.

Cheers.