MEMORY UPGRADE

I want to upgrade the RAM storage in my QNAP TVS-872XT-i5-16G-US.

I think the max ram is 32GB, it replaces the 16GB in two chips of 16GB each.

16GB DDR4-2666, SO-DIMM, 260 pin, T0 version

Please let me know the exact model of RAM that is fully compatible with the QNAP TVS-872XT-i5-16G-US.

Is the Crucial memory function exactly the same as the QNAP BRAND MEMORY? It is so much less expensive I just wanted to make sure the memory is the same speed and function and has no issues.

Please send me a model number for a kit (2x 16GB sticks) or by the stick if not available in a kit.
The CPU itself supports up to 64GB per channel. But maximum capacity you can buy is 16GB per stick. The x72XT series come with dual RAM slots which physically limits it up 32GB of RAM. This will change when bigger RAM sticks will be available to buy.
Find Qnap recommended RAM as well as compatible Crucial RAM bellow.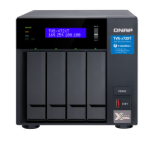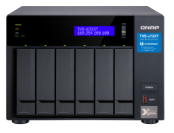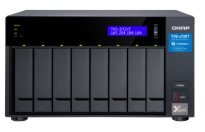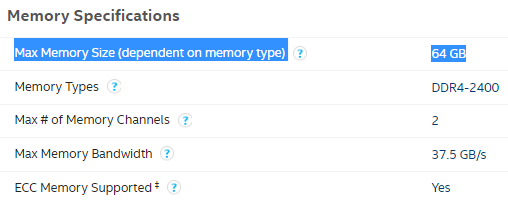 Official Qnap RAM Upgrade

RAM-16GDR4T0-SO-2666
DDR type: DDR4(260PIN)

Capacity: 16GB

Spec: 1G X 8

Manufacturer: TRANSCEND

Frequency: DDR4-2666

Form(PIN): 260PIN

Manufacturer P/N: TS2GSH64V6B

Power Supply: 1.2V

Dram Organization: 1024M*64

Temperature: 0℃~85℃

Environmental Regulation: RoHS


RAM-4GDR4K0-SO-2666
DDR type: DDR4(260PIN)

Capacity: 4GB

Spec: 512M X 16

Manufacturer: KINGSTON

Frequency: DDR4-2666

Form(PIN): 260PIN

Manufacturer P/N: CBD26D4S9S1ME-4

Power Supply: 1.2V

Dram Organization: 512M*64

Temperature: 0℃~85℃

Environmental Regulation: RoHS


RAM-8GDR4K0-SO-2666
DDR type: DDR4(260PIN)

Capacity: 8GB

Spec: 1G X 8

Manufacturer: KINGSTON

Frequency: DDR4-2666

Form(PIN): 260PIN

Manufacturer P/N: CBD26D4S9S8ME-8

Power Supply: 1.2V

Dram Organization: 1024M*64

Temperature: 0℃~85℃

Environmental Regulation: RoHS
Crucial alternative – compatible RAM
4GB DDR4-2666 260PIN
8GB DDR4-2666 260PIN
16GB DDR4-2666 260PIN
32GB DDR4-2666 260PIN
It means 2 X 32GB = 64GB