terramaster f5-221 ram upgrade

Hoping that you can help as Terramaster have not responded to my enquiry,

I have a Terramaster F5-221 that i would like to upgrade the ram on. The specifications state that it can be upgraded to 10GB of ram.

Can please advise the correct specification for compatible RAM 4GB and/or 8GB.

Any recommended brand as well?
The original built in RAM specs are:
Product Details
Brand name: TERRAMASTER
Item Weight: 40.8 g
Package Dimensions: 9 x 6.4 x 1.8 cm
Item model number: KBM20056
Processor Count: 2
RAM Size: 2 GB
Computer Memory Type: DDR3 SDRAM
Operating System: For TerraMaster Dual Core NAS
Shipping Weight: 40.8 g
2GB memory stick dedicated for TerraMaster F2-220, F2-221, F4-220 and F5-220, F5-221 Dual Core NAS ONLY. NOT compatible with other TerraMaster models.
Total Capacity: 2GB
Memory Speed: 1,333 MHz
Voltage:1.35V
But you can remove the old one replace with a 1600MHz frequency DDR3 memory.
Here is one on amazon
8GB RAM memory for TerraMaster F5-221 DDR3 SO DIMM 1600MHz PC3L-12800S
AUS- eBay
D3NS1866L-4G 4GB –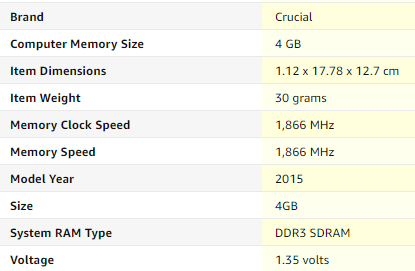 4GB Crucial alternative price: 
8GB Crucial alternative price: 
8GB Hyper alternative price: