Hi! Thanks for offering free advice. I'm not sure whether to take the plunge with NAS or not. I've been looking at the internet and going round in circles. Any thoughts gratefully accepted.

Setup:
My fairly decent hifi: DAC + Naim 102/180) and TV are both in the living room. Media Source is a (oldish) mac mini with attached hard drives, 1 for data, 1 for backup. Media Player is (currently) jRiver as does a lot of things better than iTunes or Plex, and VLC for difficult videos.
The whole house is connected by wired ethernet so in principle a NAS could go in many different rooms.

Data:
Between us we currently have approx a bit over 2TB in total. We are streaming a lot more now (Netflix, Amazon etc) so this may not grow a fantastic amount.
jriver (audio & music video): 1TB (important)
family photos: 0.3TB (critical)
films recorded on PVR in .rec and only playable on VLC: 0.5TB (could let these go)
laptop backups: 0.5TB (important)
iPhone photos: <0.1GB

Needs:
Backup HD died so at least have to get backup sorted.
Options:
1. a replacement external HD (say 4TB WD) plugged into mac mini. Pros: cheap, easy. Cons: more wires in living room
2. A simple NAS for backup only, say Synology 4TB 118j 1-bay, or similar. Pros: less wires, easy backups, quiet as out of living room. Cons: more expensive, limited future possibilities

Possible:
Bigger 2-bay NAS that also serves music through DNLA, eg Synology 6TB 2-bay 218j or similar
Pros: less wires, neat solution, my wife liked being able to use Netflix, Amazon, iPlayer etc directly from a smartTV
Cons: mostly around the serving of music. In hifi terms SmartTVs have poor quality digital audio out compared to a mac mini, so if I have to keep the mac mini I have gained little. jRiver is not supported well by either standard NAS or smartTVs, and I have a lot of playlists and smartlists in jRiver that are not easy to get out in an updateable format. It also is a quality hifi player. Had a look at Plex, apart from not getting on with the DLNA angle, it would still be limited by the output formats and audio drops of the smartTV. I could buy a music streamer to replace the ageing mac mini, but these dont handle video well. Even for streamed video (Netflix, Amaxon etc) the sound quality is better playing from a macmini than a smartTV.

This sounds long winded but is a summary of hours of going round in circles. Am I missing something? Is there a way of getting decent quality hifi in my living room without a mac mini, using a NAS in a different room? The mac mini with 2 external HDs does most of what I need, and to get a NAS to replicate this seems very difficult. Any thoughts very gratefully accepted.
What you really need is a TS-251b. This will be the cheapest solution available now. It would be easier if you had an amplifier which was Ethernet ready. This would allow you to connect to the NAS and play music directly at the best quality (even with ds118j or ds218j). Or at least if you had HDMI port on it. This would also allow you connect directly to the NAS. But if all you have is audio jack ports then TS-251b will be the cheapest model with such connectivity. There is also Asustor out there, but it is not that well recognised brand yet.
If you want to keep using JRiver, then a cheapest way of doing it would be with QNAP TS-251 or  TS-251+. These models just like TS-251B supports this app. But if you want to be able to connect to it from different room, then you may consider creating a virtual machine or fraction of it called Docker.
Virtual machine can be accessed via:
Virtualisation Station app
Remote desktop
Web Browser
Here is a Docker installation files if prefer this in order to save resources
Docker:
https://hub.docker.com/r/jatzoo/jrivermc24/
https://hub.docker.com/r/jatzoo/jrivermc25
The best JRiver NAS for transcoding reason would be with this spec:
Intel Corei3- i5 (Quad-Core) or better
Windows 7/8.1 (32 or 64 bit) or newer
4GB of RAM
AMD Radeon HD 6770, Nvidia GTX 550, or better GPU
Solid state (SSD) boot drive for installation and Library files.
This makes TVS-672N a best Jriver multimedia NAS available now.
But you can achieve the same with the models I have mentioned: TS-251, TS-251+ or TS-251B.
Here is how to set it up:
How to use JRiver Media Center to manage and play QNAP NAS media files in HD Station
JRiver Media Center supports a wide range of photo, video, and music formats and makes it easy to manage and browse media files on QNAP NAS.
System requirements and environment settings
1. Make sure your NAS QTS version is 4.2 (or above) and HD station is 3.0 (or
above).
2. Install JRiver Media Center on HD station.
Please go to "Control Panel" > "Applications" > "HybridDesk Station", then install
"Media Center"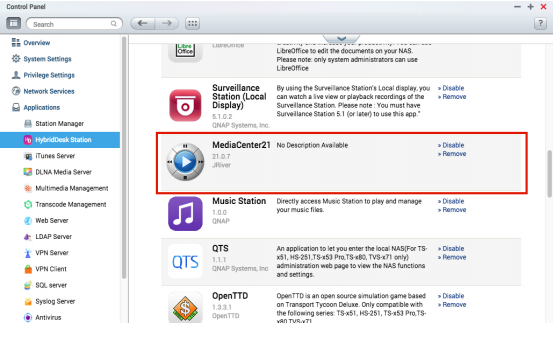 Import NAS Media files to JRiver Media Center
1. Open HD Station and run JRiver Media Center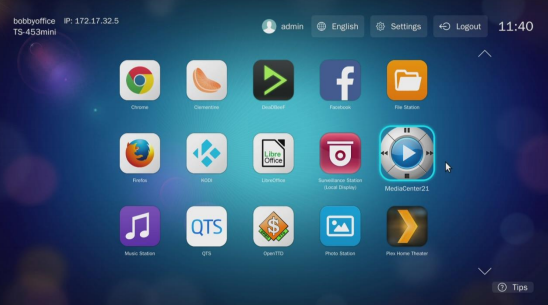 2. Go to "File" > "Library" > "Import".
 Import a single folder: Add the content of a single folder to your library.
 Configure Auto-Import: Provide a list of folders to automatically sync to
your library.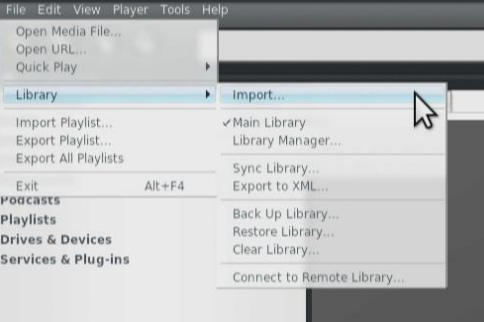 3. Choose the folder and the file type you want to import (using the NAS
Multimedia folder as an example.)
The default NAS folder path is "File System" > "Share" > "Multimedia".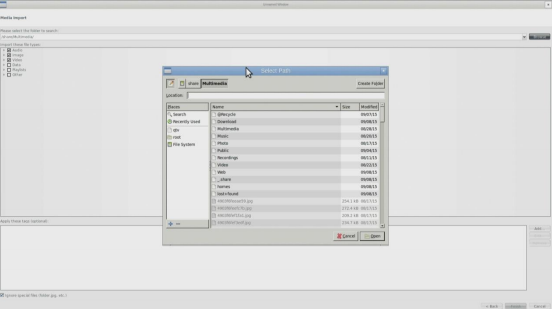 4. Select "Audio", "Images" and "Video" in the left bar to see the imported files.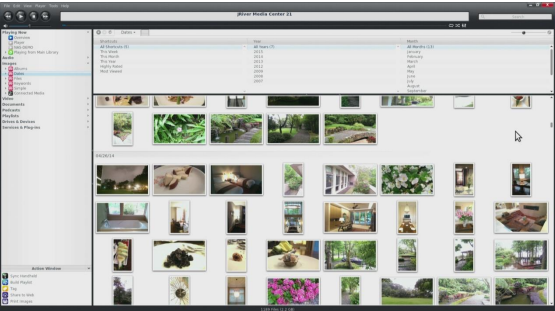 Advanced function: Audio processing
1. Go to "Player" > "DSP studio"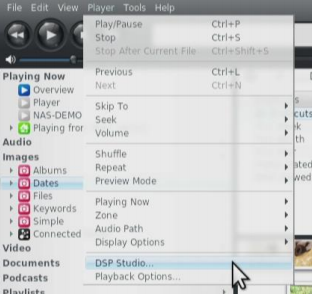 2. Change your desired settings.
Advanced function: Use DLNA function to add library from local network
Media Server
1. Go to "Services and Plug-ins" > "Media Network" then choose "Options".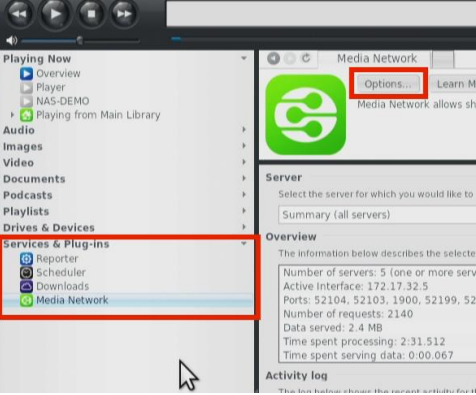 2. Enable "Use Media Network to share this library and enable DLNA"

3. Select "Playing now" > "Playing from…" and you will see all of the available media
servers on the local network.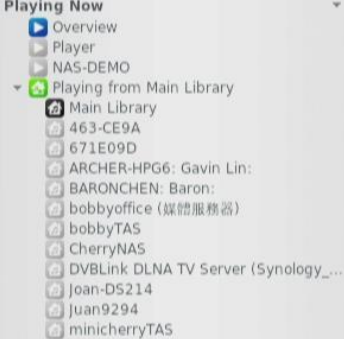 4. Choose the Media Server you want to play from and select "Load Library".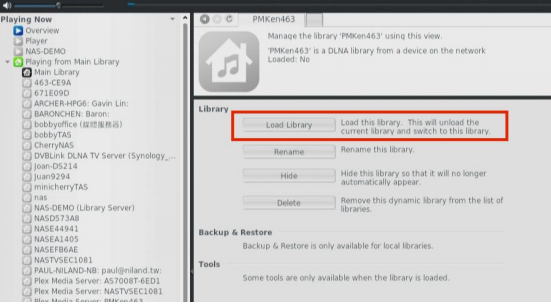 5. You will see the files in "Audio", "Images" and "Video".
Supported Media formats
 Images: http://wiki.jriver.com/index.php/Image_Formats
 Video: http://wiki.jriver.com/index.php/Video_Formats
 Audio: http://wiki.jriver.com/index.php/Audio_Formats
Source: https://download.qnap.com/QPKG/GUIDE/Jriver_ENG.pdf
Also useful : How to Get DVD/Blu-ray Collection into QNAP NAS for JRiver Media Center