Samsung 990 PRO Series NVME SSD release date
Samsung 990 PRO Series SSDs Will Be Available for Pre-Order on November 1st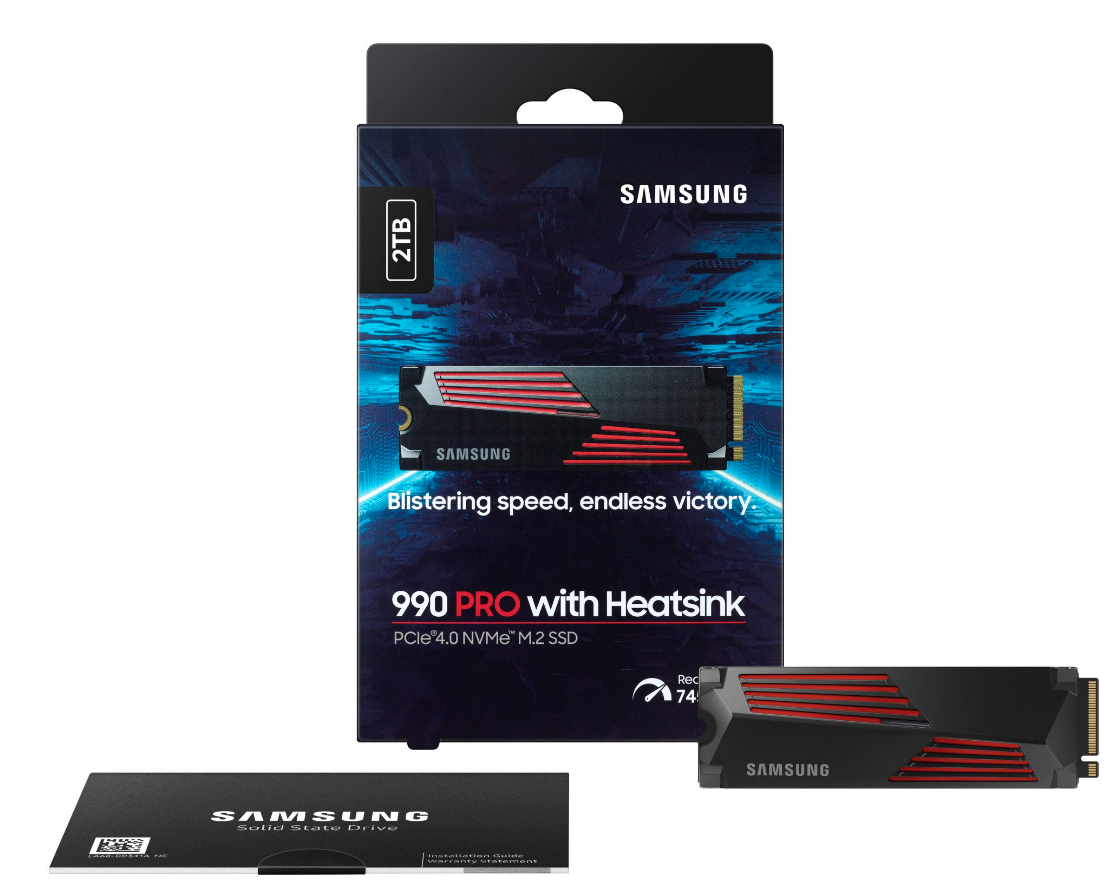 Samsung Electronics America today announced that the Samsung 990 PRO PCIe 4.0 SSD Series will be available for pre-order on November 1, 2022. Featuring breakthrough innovations in proprietary NAND, controller, and software technology, the Samsung 990 PRO and 990 PRO with Heatsink are optimized for PC and console gamers, and creators seeking storage with outstanding performance, power efficiency, and thermal control.
The drives are well-suited for heavy gaming and productivity tasks like 3D rendering, 4K video editing, and data analysis. For a smooth and fast gaming experience, the 990 PRO Series delivers sequential read and write speeds of 7,450 megabytes per second (MB/s) and 6,900 MB/s respectively. The 990 PRO Series achieves random performance up to 1,550K IOPS, which reduces loading times dramatically. The 990 PRO Series is also optimized for Microsoft's DirectStorage API software technology, which enables games to take advantage of fast NVMe SSDs.
Pre-orders for the 990 PRO 1TB ($169.99), 990 PRO 2TB ($289.99), 990 PRO with Heatsink 1TB ($189.99) or 990 PRO with Heatsink 2TB ($309.99) begin November 1, 2022 at Samsung.com.
The 990 PRO with Heatsink 1TB and 2TB are also available in a new character box – the contents of the box remain the same.
The 990 PRO Series comes with an industry-leading 5-year limited warranty[1] and will begin shipping in late November. A 4TB version of the 990 PRO Series will be available in 2023.
What is the Samsung 990 Pro price?
USA
CANADA
UK
Germany/ EU
Is it PS5 compatible?
Yes, it is
If you like this service, please consider supporting us.
We use affiliate links on the blog allowing NAScompares information and advice service to be free of charge to you.
Anything you purchase on the day you click on our links will generate a small commission which is
used to run the website. Here is a link for
Amazon
and
B&H
.
You can also get me a ☕
Ko-fi
or old school
Paypal
. Thanks!
To find out more about how to support this advice service check
HERE
If you need to fix or configure a NAS, check
Fiver
Have you thought about helping others with your knowledge?
Find Instructions Here
☕ WE LOVE COFFEE ☕

Or support us by using our affiliate links on Amazon UK and Amazon US