F5 221 ram query

I'm looking at buying one and maxing out the ram, I couldn't find a video of you doing the max ram test so thought id ask.

How much ram can it support and the faq, DDR3L is easier to find in 1600mhgz and a 16gb kit is in my price range
With j3355 CPU I have seen upgrades up to 10GB of RAM. CPU seems to allow bigger upgrades.

8GB RAM memory for TerraMaster F5-221 DDR3 SO DIMM 1600MHz PC3L-12800S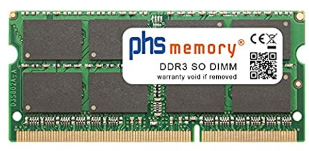 Features: 8GB RAM | DDR3 | 204 Pin DIMM | SO DIMM | 1600MHz PC3L-12800S | 1,35 volt

The main memory is compatible to 100 % for TerraMaster F5-221. The memory was tested by us. Free e-mail support for questions about memory upgrades.

5 years warranty: If the memory module is defective or fails within 5 years after the date of purchase, you will receive an adequate RAM module free of charge after returning it to us. If no suitable memory module is available, we will refund the purchase price. The return address for warranty claims can be found above under the seller link "PHS-electronic GmbH UK". This warranty does not limit your statutory warranty rights.

The main memory of the device TerraMaster F5-221 can be upgraded to a maximum of 8GB.

TERRAMASTER 2GB DDR3 RAM Stick Memory Card for F2-220, F2-221, F4-220, F5-220, F5-221 Dual Core NAS­
2GB memory stick dedicated for TerraMaster F2-220, F2-221, F4-220 and F5-220, F5-221 Dual Core NAS ONLY. NOT compatible with other TerraMaster models.
Total Capacity: 2GB
Memory Speed: 1,333 MHz
Voltage:1.35V