DS1019+and DS218+ Best Synology Black Friday Deal
You can Buy your Synology DS1019+ NAS from the link below. Please support this site with Ad revenue. It costs you just a click and keeps this site going to help others!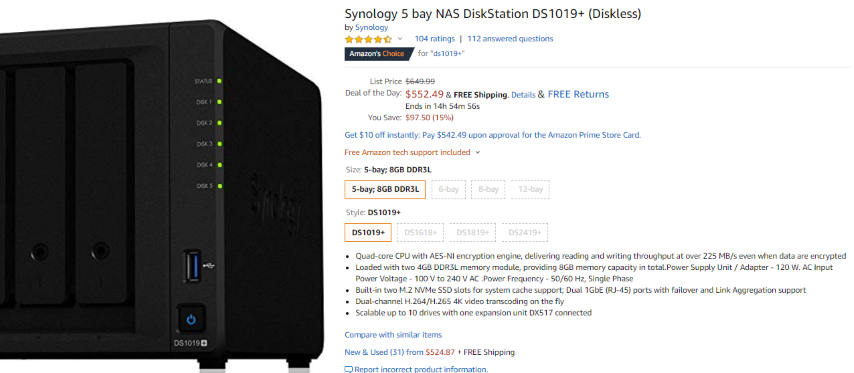 In fact, the new Synology DS1019+ bears striking resemblance to the DS918+ released in 2017 later and this has made some people wonder if the DS1019+ is just the same 4-Bay NAS with an extra media bay and 4GB more memory slapped on the end. It's a fair point and worthy of discussion, so let's find out.
Choosing the Right 4K Fully Featured NAS – DS218+ Vs DS918+?
Back in September and October of 2017, Synology NAS (currently regarded as the top NAS brand at the moment for the home desktop, SMB users and more) decided to release almost their entire desktop diskstation NAS series at once. Understandable this caused a great deal of confusion for many NAS buyers as suddenly they were no longer choosing between two or three devices, but now over ten to twenty (if you factored in the older releases too). I still don't think this was a fantastically smart idea and only time will tell if this gamble paid off for them, but after the dust settled, two particular Synology NAS devices were more popular than all the others – the Synology DS918+ 4-Bay and the Synology DS218+ 2-Bay. Somehow these two NAS servers had really appealed to NAS shoppers because all the other NAS devices released were either too expensive for the hardware, or too lacking in hardware too start with to provide the performance NAS users needed. However, despite the big margin of price and hardware difference between them, most users choose either the DS218+ for its great Price VS hardware or the DS918+ for its supreme power, performance, long-term use and expandability. But today we want to figure out which NAS device is right for you.