Can anyone suggest a USB UPS that is compatible with the DS218+ for use in the USA and under $200?
If you like this service, please consider supporting us.
We use affiliate links on the blog allowing NAScompares information and advice service to be free of charge to you.
Anything you purchase on the day you click on our links will generate a small commission which is
used to run the website. Here is a link for
Amazon
and
B&H
.
You can also get me a ☕
Ko-fi
or old school
Paypal
. Thanks!
To find out more about how to support this advice service check
HERE
If you need to fix or configure a NAS, check
Fiver
Have you thought about helping others with your knowledge?
Find Instructions Here
☕ WE LOVE COFFEE ☕

Or support us by using our affiliate links on Amazon UK and Amazon US
Cheapest UPS (Uninterruptible Power Supply) For Synology and Qnap will be from CyberPower value series. They come with USB port which need to be connected to your NAS. Then within a NAS you can set the rules what happens wen electricity is gone. There is always Cheap, cheaper and cheapest UPS- what matters is the time it will last without power.
The cheapest UPS for Synology & Qnap NAS is CyberPower VALUE 600EILCD Value Series Uninteruptible Power Supply
| | |
| --- | --- |
| Brand name | Cyberpower |
| Item Weight | 4.8 Kg |
| Product Dimensions | 30 x 10 x 14 cm |
| Item model number | 0R60007 |
| Number of USB 2.0 Ports | 1 |
| Number of Serial Ports | 1 |
| Voltage | 230 volts |
| Wattage | 360 watts |
just to let you know the information. I just went and buy budget UPS PowerWalker VI 850 SHL and it works normally with my DS-418play. The NAS recognize it. Tested and it shows it can run around 57 min in battery mode. I have two disks curretnly in my NAS and Ubee router is also connected to same UPS.
Many thanks for the info, I have purchase a PowerWalker Basic VI 600 STL UPS from Amazon for £50 (cheapest I could find)- 

UK  USA

, I'm happy for you to edit and provide my feedback if you wish to use it on your website:

Initial tests show that the DS720+ recognises the UPS, device info provides manufacturer as '1', model '600', out-of-the-box battery @ 100% charge was 2400 seconds of runtime but after a quick couple of tests, UPS battery recharge looks like it will provide at least 3600 seconds of runtime (with only basic services and a single idle docker instance running). Shutdown and unit power-on after AC power restore work flawlessly. Highly recommended for a basic and cheap line-interactive UPS.

Cheers,
To enable local UPS support on Synology:
Connect the UPS device to a USB port of the Synology NAS.
On the UPS tab, check the Enable UPS support checkbox.
Select when the Synology NAS should enter Safe Mode after power failure occurs.
Choose whether or not to send a shutdown signal to the UPS device when the system enters Safe Mode. Most UPS devices can automatically turn on when power is restored.
Click Apply.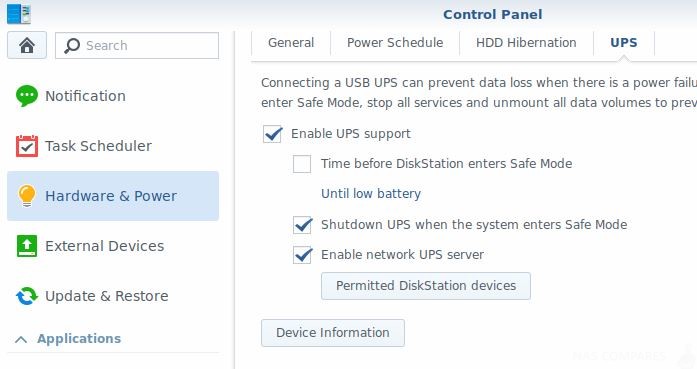 Standalone Mode – USB
To operate under USB standalone mode, follow the steps below:
| | |
| --- | --- |
| 1. | Plug in the USB cable on the UPS to the NAS. |
| | |
| --- | --- |
| 2. | Select the option "Enable UPS Support". |
| | |
| --- | --- |
| 3. | Choose between whether the NAS will shut down or enter auto-protection mode after the AC power fails. Specify the time in minutes that the NAS should wait before executing the option you have selected. After the NAS enters auto-protection mode, the NAS resumes the previous operation status when the power restores. |
| | |
| --- | --- |
| 4. | Click "Apply All" to confirm. |