Trying to figure out what to get. My criteria are:
– Low power consumption (sound, etc.) … ~ 10W
– Optimized for SSD (does it make sense to go 100% SSD)?
– Cloud service sync to Dropbox, iCloud, AWS
– Music server (iTunes or something better), videos not as important
– Streaming / archiving of 3x HD security cameras
– < $1000 USD for NAS, and then recommendations on SSDs ~ $500 each?
Energy efficient NAS
There are not many power saving NAS options. Mainly it depends on processor type. The x51+ and x53A series offers performance in energy efficient way. The x28 and x28A series offer further savings on energy, but they will not do tasks like video transcoding. But they are still good for streaming video and audio in original format.
Can I install SSD on NAS?
All NAS models support SSD as a drive option. You can either fully populate all bays with SSD or dedicate just one or few for sake of caching (keeping a copy of most often used files on SSD). There will be no increase in speed if you decide fill your NAS with SSD. You are limited to your network speed. In most cases NAS has 1Gbe network connection, which is most popular network today and most likely is featured at the back of your broadband router. To see a speed increase – you need to change your network to 10Gbe and choose 10GbE ready NAS and your PC.
Which SSD is good for NAS?
For TBS series NAS you need M.2 type SSD –  search/M_dot_2_space_2280 .
For replacing regular hard drives (HDD) with SSD – any 2.5″ SSD will do the job ( search/sata_space_ssd/32-).
Is there any benefits from SSD?
Yes, if you intend to use virtual machines or set up database server than SSD will increase IOPS (input/output operations). Data will be found on your storage volume much faster. With regular file transfers (like movies, songs), there will be no increase at speed and it will max out at around 100MB/s .
Can I synchronize my NAS with my PC and also cloud (Dropbox)?
Yes, if you want to protect your data as well as possible and also benefit from synchronization, you can easily do that. You can set up your PC, that your desktop and document folders are synchronized to your NAS and Drobox or other cloud service. If there is a team working on a same project, you can synchronize same folder on 2 computers. All changes will be applied to all devices. Also using version control, you can roll back to a previous version of the changes files.
Can I use NAS as music server?
Yes, you can set it up as iTunes server for apple devices. You can also link it to Alexa or Google home or Sonos (https://nascompares.com/how-to-play-music-from-nas-on-alexa) and use voice commands to start a playback of a song you like.
Can I use NAS as surveillance server?
Yes, you can even set up certain areas in a room – to get alerts if movement has been detected. Most NAS models offer free 2-4 licenses , but additional licenses can be purchased. ( search/qnap_space_camera)
 HS-251+
 TBS-453A
 TS-228
 TS-228A

DS216j

DS216se

DS218j

DS418j

HDMI

Full HD

2X 4K

no HDMI

no HDMI

no HDMI

no HDMI

no HDMI

no HDMI

Power Consumption: HDD Sleep Mode
(W)

7.1

13.05

6.05

5.14
W

6.95
W

5.12
W

7.03
W

8.97
W

Power Consumption: Operating Mode,
Typical (W)

15.8

15.2

13.24

12.21
W

14.85
W

13.73
W

17.48
W

21.22
W

Noise Level dB(A)

6.5

10.8

17

17.0
dB (A)

18.2 dB(A) 

18.4 dB(A) 

18.2 dB(A) 

20.6 dB(A) 

Hardware Encryption Engine (Not
available in certain countries)

–

yes

–

yes

yes

yes

yes

yes

USB One-Touch-Copy

No

Yes

Yes

Yes

no

no

no

no

iTunes Server

Yes

Yes

Yes

Yes

Yes

Yes

Yes

Yes

DLNA Media Server & AirPlay

Yes

Yes

Yes

Yes

Yes

Yes

Yes

Yes

Max Number of Cameras

Default:
2, Max.: 40 (optional license purchase)

Default:
4, Max.: 40 (optional license purchase)

Default:
2, Max.: 8 (optional license purchase)

Default:
4, Max.: 16 (optional license purchase)

10
(including 2 Free License)

5
(including 2 Free License)

14
(including 2 Free License)

16
(including 2 Free License)

Surveillance Local Display

Yes

Yes

No

No

No

No

No

No

IR Sensor (Infrared Receiver)

Yes

Yes

No

No

No

No

No

No
Where to buy:
product/Qnap-Silent-NAS-HS-251+-2-Bay-RAID-0-1-2GB-RAM-~52721
Need Advice on Data Storage from an Expert?
We want to keep the free advice on NASCompares FREE for as long as we can. Since this service started back in Jan '18, We have helped hundreds of users every month solve their storage woes, but we can only continue to do this with your support. So please do use links to Amazon Amazon UK on the articles when buying to provide advert revenue support or to donate/support the site below.


Finally, for free advice about your setup, j
ust leave a message in the comments below here at NASCompares.com and we will get back to you.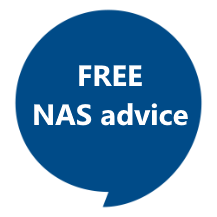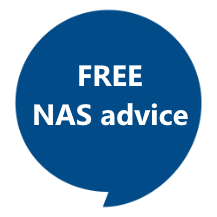 Need Help?
Where possible (and where appropriate) please provide as much information about your requirements, as then I can arrange the best answer and solution to your needs. Do not worry about your e-mail address being required, it will NOT be used in a mailing list and will NOT be used in any way other than to respond to your enquiry.
Terms and Conditions
Alternatively, why not ask me on the
ASK NASCompares forum
, by clicking the button below. This is a community hub that serves as a place that I can answer your question, chew the fat, share new release information and even get corrections posted. I will always get around to answering ALL queries, but as a one-man operation, I cannot promise speed! So by sharing your query in the
ASK NASCompares
section below, you can get a better range of solutions and suggestions, alongside my own.