Netstor NA255A-G4 PCIe 4.0×16 expansion box for 4 GPU cards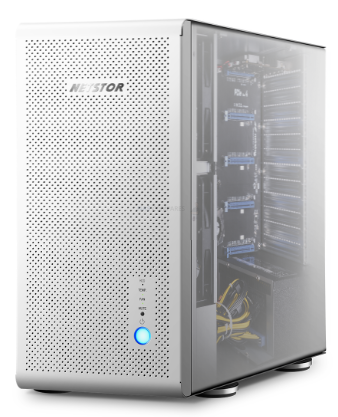 Performance Desktop PCIe 4.0 ×16 (256Gbps) upstream port PCI Express expansion chassis particularly designed for multiple GPU cards (up to 4×triple-width PCIe Gen4 slots available)
The PCIe Gen4×16 – 256Gbps Ultra High Speed Bandwidth to Create The Ultra High Performance GPUs to Computing & HPC Workflows
The Netstor NA255A-G4 GPU chassis implements the latest ultra high-speed PCIe 4.0 technology and PCIe Gen4 16-lane host interface with 16Gbps throughput per lane totally offering blazing-fast data transfer rates up to 256Gbps between host server/computer and expansion enclosure, dedicated for high-performance GPU-accelerated applications.
Supports up to Four GPU Cards with Each Graphics card within Netstor unit given PCIe 4.0×16 signal for Highest Bandwidth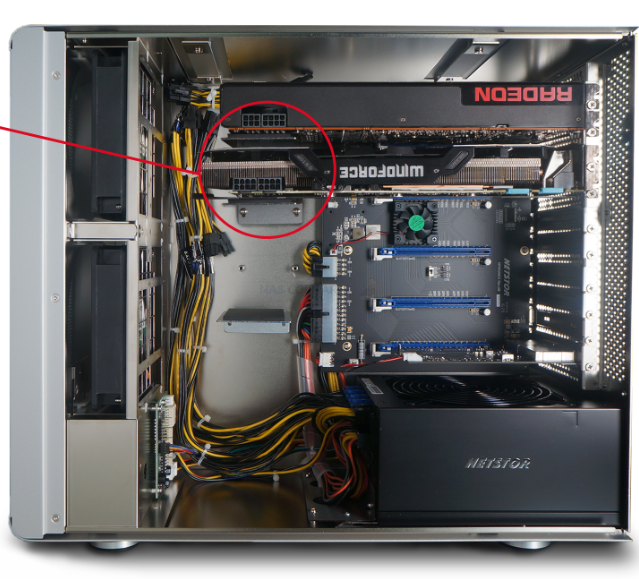 The GPU chassis is created to have four PCIe 4.0×16 slots (×16 electrically) on NA255A-G4 backplane, supporting up to four triple-width/dual-width PCIe Gen4 GPU cards, or single-width third-party PCIe cards. Additionally, the enclosure can accommodate all combinations of PCIe 4.0 ×16, ×8, ×4, and ×1 GPU/PCIe cards for every application with backward compatibility for Gen3 cards to work with server/workstation in various fields like HPC, telecom, data centers, and many more.
Each GPU card is ensured to have supplementary PCIe 8-pin cables from PSU in support of Operation and High-End GPU Application
Dedicated high watt power supply for GPU Application
Newest high-end or enthusiast GPU cards generally require high power wattage for work; in light of the hi-power requirement factors, Netstor has thoughtfully planned a dedicated, high-efficient and high watt power supply unit within the GPU chassis to allow up to four high-performance graphics cards to process and render at the same time with highest reliability and stability.
Supplementary 6+2 pin PCI-E Power Cables
Netstor NA255A-G4 GPU chassis has been considerately created to provide extra PCIe 6+2 pin power cables to meet each GPU card's supplementary power requirement; therefore, no matter which graphics card that comes with any combination of 6-pin/8-pin PCIe power connectors is fully supported by Netstor unit.
Unlimited GPU Acceleration Rendering Solutions
Conventional server just has CPU and integrated GPU to deal with professional applications; nevertheless, these processors couldn't even provide powerful enough computational rendering to satisfy present-day processing requirement. As a result, through the adding of NA255A-G4 GPU chassis with up to four enthusiast graphics cards to server can simply make it a supercomputing workstation.
8K DaVinci Resolve Configuration
NA255A-G4 provides complete solution in favor of working with latest 8K UHD DaVinci Resolve resolution, the world's most advanced color grading application software; the Netstor GPU chassis also provides high-performance processing to server/workstation in support of colorist team/studios in the digital content creation field, being the best ever solution in favor of real-time, 8K/6K Ultra HD color correction.
AI, Machine Learning, and Deep Learning
Increasing number of data scientists uses multiple graphics cards in GPU chassis for large data analytics to make better and real-time business decisions. Typical application case in big data analytics includes machine learning, deep learning, search, sorting, and many more.
If you like this service, please consider supporting us.
We use affiliate links on the blog allowing NAScompares information and advice service to be free of charge to you.
Anything you purchase on the day you click on our links will generate a small commission which is
used to run the website. Here is a link for
Amazon
and
B&H
.
You can also get me a ☕
Ko-fi
or old school
Paypal
. Thanks!
To find out more about how to support this advice service check
HERE
If you need to fix or configure a NAS, check
Fiver
Have you thought about helping others with your knowledge?
Find Instructions Here
☕ WE LOVE COFFEE ☕

Or support us by using our affiliate links on Amazon UK and Amazon US