New Netgear Orbi AX5700 WiFi 6 Mesh System (RBK843S)
Get the ultimate experience with
12 Streams of WiFi 6 and speeds up to 5.7Gbps.†
Enjoy 4K/8K UHD
streaming, lag-free gaming & smooth streaming.
Powerful, Seamless Mesh Coverage
Mesh WiFi delivers a strong connection for up to 7,500 sq. ft., from the front door to the backyard and everywhere in between.
Room for All Your Smart Devices
WiFi 6 offers 4X more device capacity than WiFi 5. Connect more than 100 devices, from your laptop and TV to your thermostat and baby monitor.
Faster than Ever
Patented tri-band WiFi with total wireless speeds of up to 5.7Gbps ensures you're enjoying the quickest speeds possible across all your devices.
Connect More Wired Devices
4 Gigabit Ethernet LAN ports on each router and satellite make it convenient to set up home offices or entertainment spaces.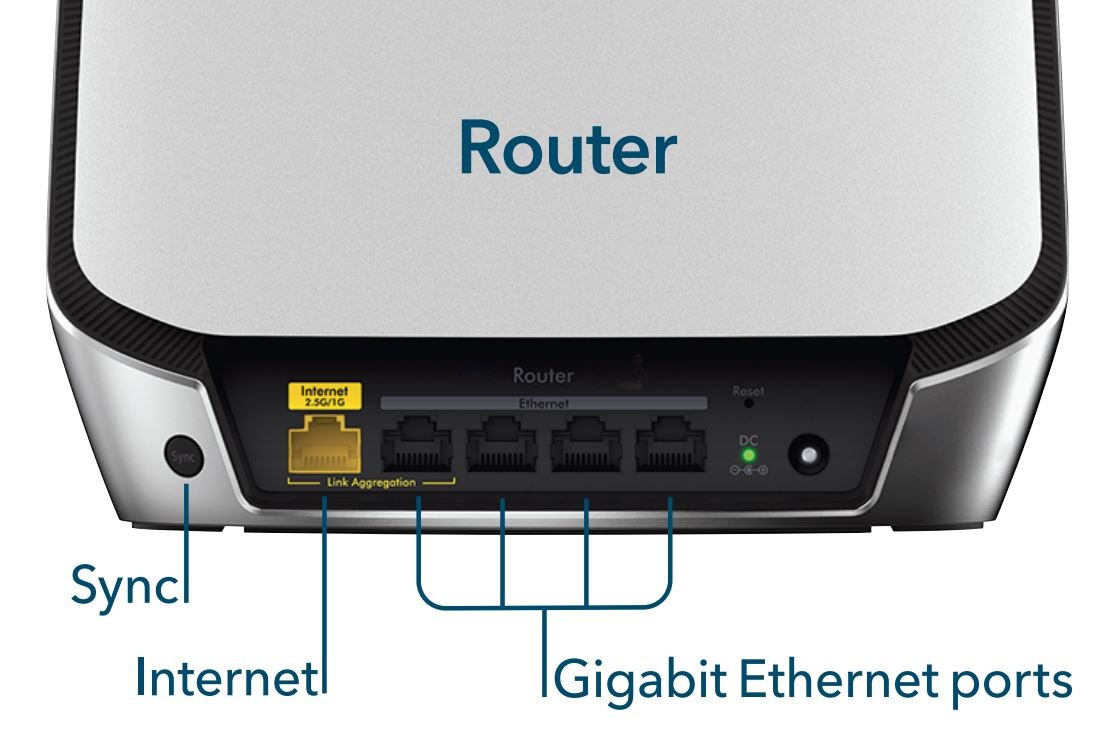 Technical Specifications
• AX5700 Router and AX5700 Satellite
(900 + 2400 + 2400Mbps)†
• Simultaneous Tri-band WiFi
– Radio 1: IEEE®
802.11b/g/n/ax
2.4GHz—256-QAM support
– Radio 2: IEEE®
802.11a/n/ac/ax
5GHz—1024-QAM support
– Radio 3: IEEE®
802.11a/n/ac/ax
5GHz—1024-QAM support
• MU-MIMO capable for simultaneous data streaming
• Implicit & Explicit Beamforming for 2.4GHz &
5GHz bands
• Processor – Router & Satellites
– Powerful quad-core 2.2GHz processor
• Memory – Router
– 512MB NAND flash and 1GB RAM
• Antenna – Router & Satellites (each)
– Eight (8) high-performance internal antennas
with high-power amplifiers
• Ports – Orbi Router
– Four (4) 10/100/1000Mbps Gigabit Ethernet
LAN ports
– One (1) 2.5Gbps Multi-Gigabit Ethernet WAN port
• Ports – Orbi Satellites
– Four (4) 10/100/1000Mbps Gigabit Ethernet
LAN ports each
• Control your WiFi using voice commands when you
have Amazon Alexa™ or the Google®
Assistant
• Security
– Comprehensive anti-virus & data theft
protection for your PC, Mac®
and mobile devices
with NETGEAR Armor™
– Standards-based WiFi Security
(802.11i, 128-bit AES encryption with PSK)
– Guest WiFi Network is easy to setup separate &
secure Internet access for guests
What's In the Box?
• One (1) Orbi Router (RBR840)
• Two (2) Orbi Satellites (RBS840)
• One (1) 2m Ethernet cable
• Three (3) 12V/3.5A power adapters
• Quick start guide
Connect your router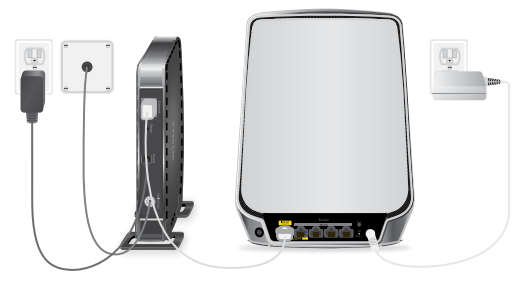 To cable your router:
1. Unplug your modem's power, leaving the modem connected to the wall jack for
your Internet service.
If your modem uses a battery backup, remove the battery.
2. Plug in and turn on your modem.
If your modem uses a battery backup, put the battery back in.
3. Connect your modem to the Internet port of your router with the Ethernet cable that
came with your router.
4. Connect the power adapter to your router and plug the power adapter into an outlet.
5. If the Power LED does not light, make sure that the power adapter is properly
connected to your router and power outlet.