QNAP released a new version of QTS 4.5.2, enhanced SNMP, added support for SR-IOV, Intel QAT, and unveiled its first 100GbE Ethernet expansion card
QNAP® Systems, Inc., an innovator of computing, Netcom and storage solutions, today announced the official version of the latest NAS operating system QTS 4.5.2, which strengthens the SNMP booster Service monitoring and management, adding support for SR-IOV (Single Root I/O Virtualization) and Intel® QAT (Intel® QuickAssist Technology) to extend to virtual machines, and launching an ultra-large bandwidth 100GbE Ethernet card to fully enhance virtual capabilities, Network capabilities and management capabilities meet the higher-speed business application performance and storage requirements of the new generation of IT.
Summary of new features in QTS 4.5.2
SR-IOV network I/O virtualization
installs PCIe network cards that support SR-IOV technology, and directly allocates the bandwidth resources of physical network cards to virtual machines, which can reduce network bandwidth loss and increase network efficiency by more than 20%. And more stable, it also helps to reduce the CPU consumption of the Hypervisor.
Intel® QAT Hardware Acceleration
Intel® processors support Intel® QuickAssist Hardware Acceleration Engine (Intel® QAT), which accelerates data compression/decompression, and can greatly improve the performance of SSL / IPsec encryption and decryption transmission operations, as well as SR-IOV to reduce Transmission loss can be passed through to the virtual machine for application.
QXG-100G2SF-E810 Dual Port 100GbE Ethernet Card (coming soon)
QXG-100G2SF-E810 uses Intel® Ethernet Controller E810, supports PCIe 4.0, and has a total bandwidth of up to 100Gbps, providing greater bandwidth to break performance bottlenecks. It supports Windows® and Linux® servers and workstations, allowing users to obtain higher-speed commercial application performance on different systems. Higher port density can also reduce the number of cables to save wiring space and operating costs.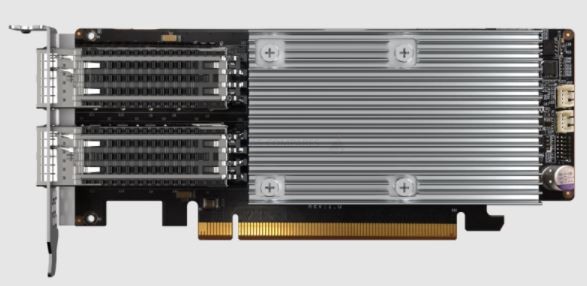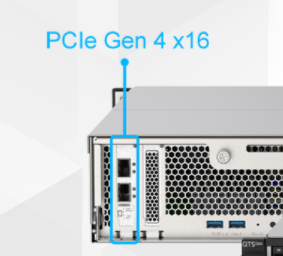 Dual-port 100 GbE network expansion card
Controller: Intel E810-CAM2 (Driver required)
Connector: QSFP28
PCIe interface: PCIe 4.0 x16 (backwards compatible with PCIe 3.0 x16)
Transmission rates: 100Gbps
Maximum total bandwidth: 100Gbps
Supported operating systems: QTS 4.5.2 / QuTS hero h4.5.2 (or later; recommend an upgrade to the latest version); Windows (Driver required); Linux (Driver required)
Supported QNAP NAS: Models with PCIe slot(s) (1 free slot required)
Bracket: Low-profile bracket pre-installed; full-height bracket is bundled
Port and cable: QSFP28 DAC cable or QSFP28 OPTIC transceiver
Package Content: 1 x Network card; 1 x QIG; 2 x Brackets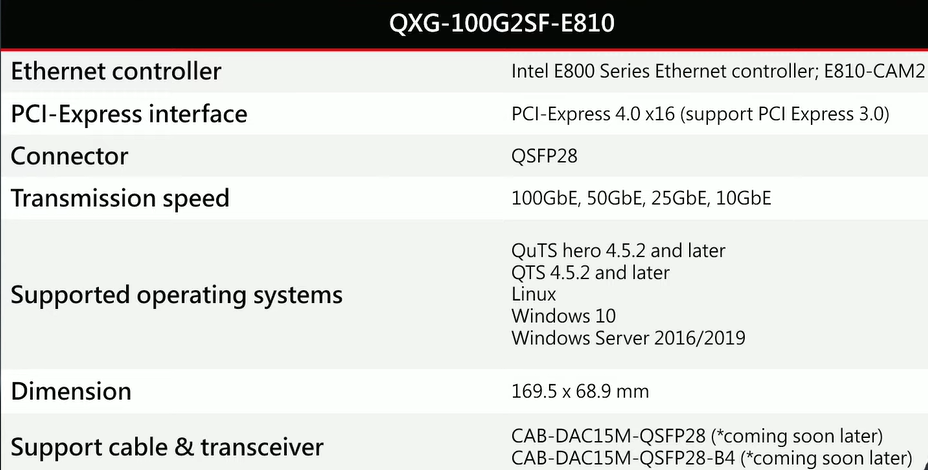 Pair with high-speed switches for high-performance, low-latency data centers
The QXG-100G2SF-E810 network expansion card can be connected to a switch either with a QSFP28 cable or a QSFP28 to (4) SFP28 cable. You can also configure network redundancy to achieve network failover via the switch for continuous service and high availability.
100GbE to 100GbE

Use a 100GbE switch. Set one 100GbE connection as the main route and the other 100GbE as a backup route.

100GbE to 4 x 25GbE (Available soon)

Use a QNAP 25GbE switch (coming soon) and a QSFP28 to (4) SFP28 cable to connect the 100GbE port on the QXG-100G2SF-E810 to four 25GbE ports on the switch. Set a group of QSFP28 to (4) SFP28 connection as the main route and the other as a backup route.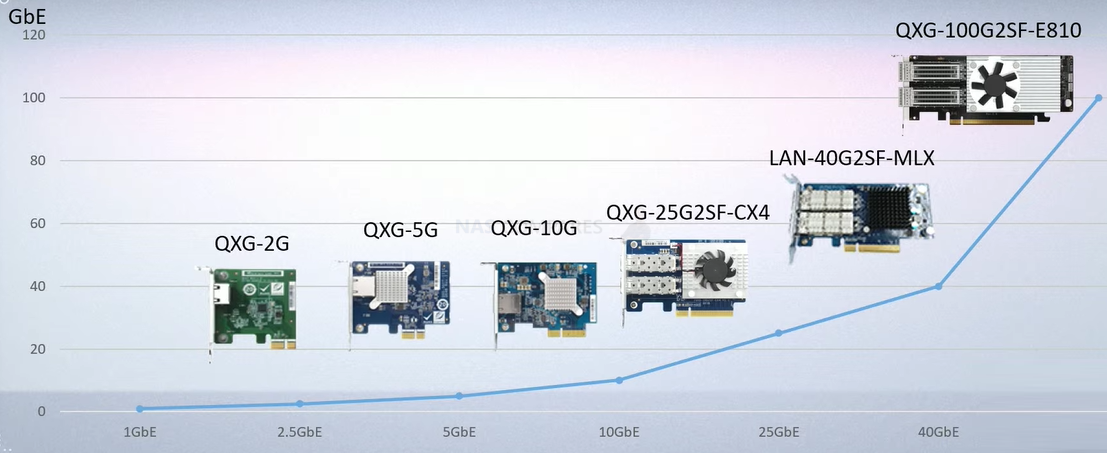 Little more about this E810 Chipset from Intel