TS-1655-8G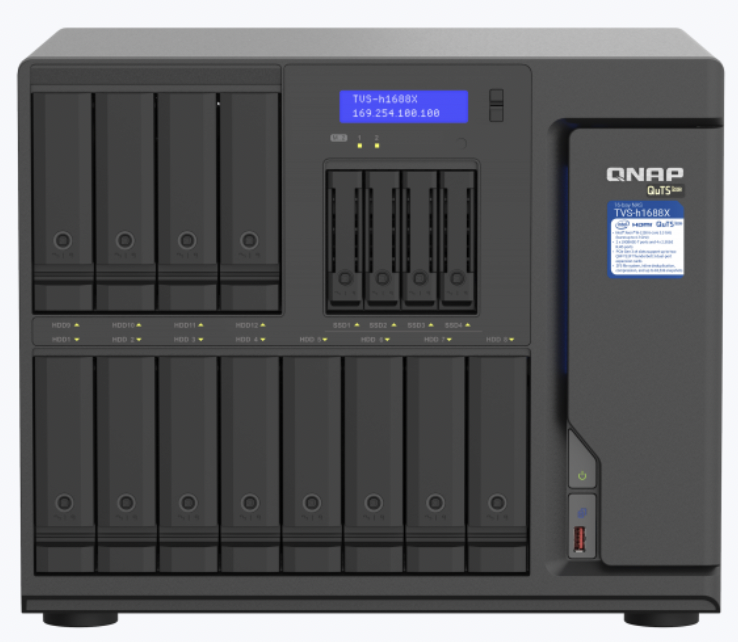 CPU

Intel ® Atom® C5125 8-core processor, up to 2.8GHz

CPU architecture

64-bit x86

graphics processor

Intel UHD Graphics

floating point operations

encryption engine

system memory

8 GB UDIMM DDR4 (1 x 8 GB)

maximum memory

256GB (4 x 64GB)

memory slot

4 x U-DIMM DDR4




Support ECC memory

flash memory

5 GB (dual-boot OS protection)

Number of hard disk slots

12 3.5″ + 4 2.5″ SATA 6Gb/s, 3Gb/s

Supported hard disk types

3.5″ slot:




3.5″ SATA HDD




2.5″ SATA HDD




2.5″ SATA SSD




2.5″ slot:
2.5″ SATA SSD

Hot-plug support

The following components are not hot-pluggable: M.2 SSDs, SSD caches, SSDs using PCIe expansion slots.

M.2 Slot

2 M.2 2280 PCIe Gen3 x2 slots

Comes standard with no M.2 SSD.

The operation of M.2 solid state drives is prone to overheating. It is recommended to install a heatsink (purchased from 

QNAP

 or a third-party supplier) on the M.2 SSD.

SSD cache acceleration support

GPU pass-through

SR-IOV

2.5 Gigabit Ethernet port (2.5G/1G/100M)

2 (also support 10M)

Wake on LAN (WOL)

jumbo frame

PCIe expansion slot

2




Slot 1: PCIe Gen 3 x4




Slot 2: PCIe Gen 3 x4




Slot 3: PCIe Gen 3 x4

USB 3.2 Gen 1 port

4

HDMI output

1. HDMI 2.0

Dimensions

desktop

LED indicator

Power/Status, LAN, USB, HDD 1-12, SSD 1-4, M.2 SSD 1-2

button

Power, System Reset, USB Auto Backup

Dimensions (HxWxD)

303.84 × 369.89 × 319.8 mm

operating temperature

0 – 40°C (32°F – 104°F)

Storage temperature

-20 – 70°C (-4°F – 158°F)

Relative humidity

5-95% RH (non-condensing), wet bulb: 27˚C (80.6˚F)

other interface

Kensington security slot

system alert

buzzer

Kensington security slot

Max. Number of Concurrent Connections (CIFS) – with Max. Memory

700
Note: Please use only QNAP memory modules to maintain system performance and stability. If the NAS device has multiple memory modules, please use QNAP modules with the same specifications.
Warning: Using unsupported modules may reduce performance, cause errors, or make the operating system unbootable.
* Noise value test environment:
Reference standard: ISO 7779; load the maximum number of hard disks according to the number of bays; measure with Bystander Position; take the average data at one meter in front of the machine during operation The
product diagram is for illustration only, and the actual product may vary. Due to screen display errors, the actual color of the product may be different from the one shown on the website.
QNAP Technology reserves the right to make changes at any time without prior notice.