If you're in search of the perfect NAS solution for your home or small office, look no further than the TerraMaster D5-320H. This innovative 2-bay NAS with 3 NVMe slots offers a unique blend of versatility, performance, and reliability that makes it a standout choice for all your storage needs.
Hybrid Storage at Its Best
The D5-320H breaks new ground with its 2+3 RAID configuration, which lets you combine the massive storage capacity of 3.5″ SATA HDDs with the lightning-fast performance of M.2 2280 NVMe SSDs. It's the best of both worlds, making it ideal for those who need to store both frequently accessed data and less-used archives. Plus, with TerraMaster's TPC Backupper backup software, you can seamlessly schedule backups of your hot data to the HDDs, ensuring your crucial information is secure.
Supercharged Transfer Speeds
With the D5-320H, you'll experience blazing-fast data transfers thanks to its USB 3.2 Gen2 protocol, providing a staggering 10Gbps of bandwidth. This means you can achieve read speeds of up to 980MB/s using M.2 SSDs, a remarkable 1075MB/s with SATA SSDs (in RAID 0), and a still impressive 521MB/s with HDDs (in RAID 0). That's the kind of speed that will have your data flying back and forth without a hitch.
Exceptional Compatibility
The D5-320H boasts a USB Type-C interface, ensuring top-notch compatibility with a variety of protocols, including USB 3.0, USB 3.1, USB 3.2, USB4, Thunderbolt 3, and Thunderbolt 4. A 1m USB Type-C cable is included, making setup a breeze. Whether you're on Windows, macOS, or Linux, the D5-320H has got you covered.
Compact Yet Capacious
Despite its modest size (measuring 222 x 119 x 154 mm), the D5-320H can hold up to 5 disks, supporting various types, including 3.5″ SATA HDDs, 2.5″ SATA HDDs/SSDs, and M.2 2280 NVMe SSDs (M Key/B&M key). This little beast can house up to 22TB HDD or up to 8TB NVMe M.2 SSD, offering a total storage capacity of up to 68TB – a perfect blend of compactness and capacity.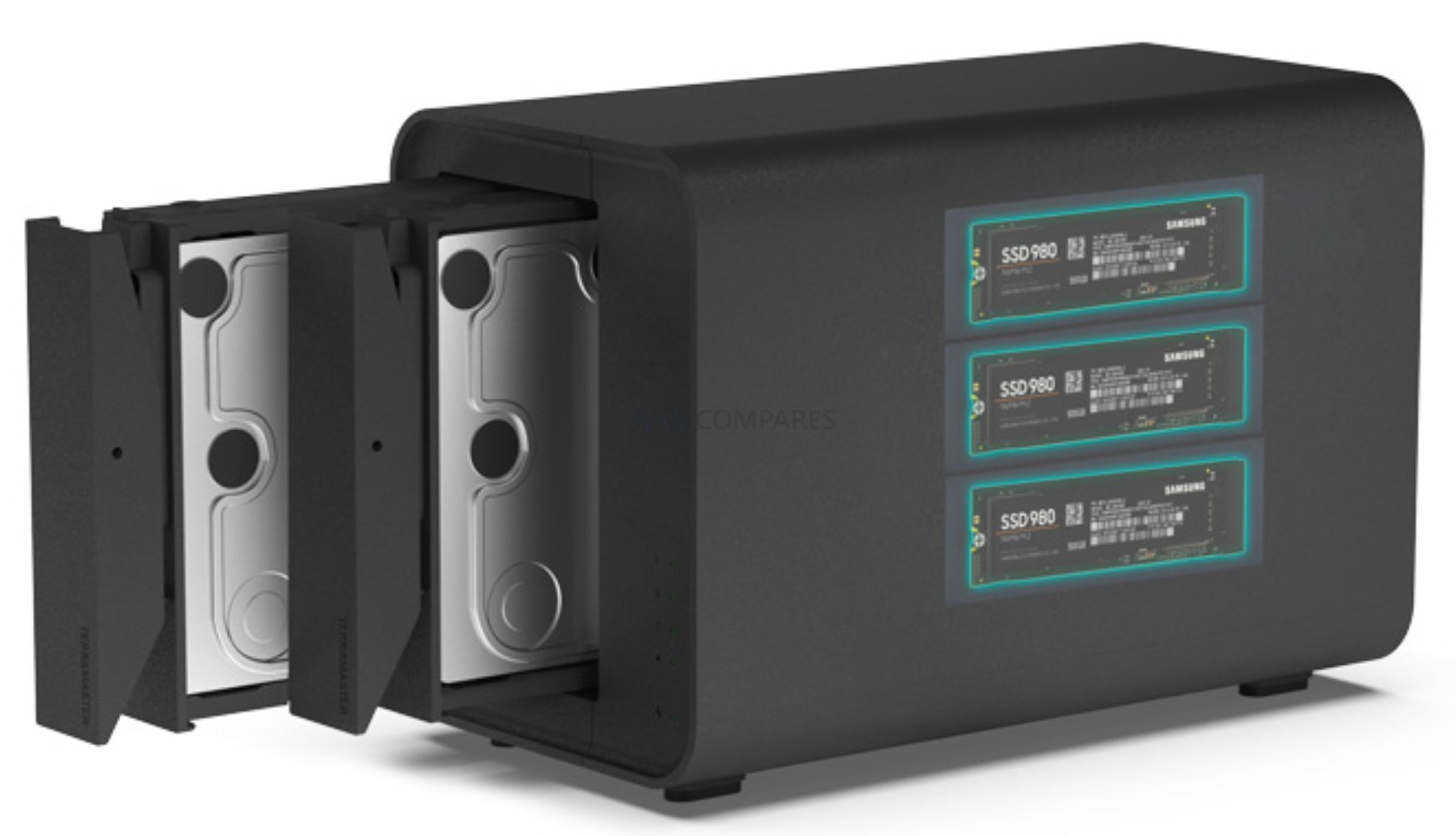 2+3 Array Mode
TerraMaster's unique 2+3 array mode empowers you to configure different RAID modes for the SATA HDDs/SSDs, such as RAID 0, RAID 1, JBOD, and Single Disk, catering to your specific cold data storage requirements. The three NVMe M.2 SSDs are designed for single-disk mode, making them perfect for hot data with the fastest transfer speeds.
Tool-Free Disk Replacement
The D5-320H simplifies hard disk replacement with its tool-free hard disk tray. Installation and removal take less than 10 seconds. TerraMaster's Push-Lock design automatically secures the hard disk on insertion, preventing any unplanned disconnections.
Effortless M.2 SSD Installation
TerraMaster has thoughtfully included a side sliding cover for easy M.2 SSD installation and removal. Additionally, hand-tightened screws make SSD installation a 5-second task.
Intelligent Hard Disk Sleep
The D5-320H supports hard disk sleep mode, synchronizing with your computer's sleep mode to reduce power consumption and extend the lifespan of your hard disks.
Enhanced Power Protection
Advanced power protection technology safeguards the D5-320H and your hard disks from damage in case of an incorrect power supply connection.
Effective Heat Dissipation
The D5-320H features an intelligent temperature-controlled fan that adapts its speed to hard disk temperature, ensuring optimal operating conditions. Dedicated ventilation for M.2 SSDs enhances heat management for hybrid storage applications.
Whisper-Quiet Operation
TerraMaster engineers have gone to great lengths to minimize noise levels. The result is a 50% reduction in noise compared to the previous generation, with a mere 19dB(A) when in standby mode, making it an excellent choice for quiet office environments.
In conclusion, the TerraMaster D5-320H stands as a remarkable and innovative 2+3 RAID NAS solution that combines the best of both worlds. With its hybrid storage, high-speed transfers, and impressive features, it's the perfect companion for your storage needs. Get ready to experience the future of NAS technology.
SPECS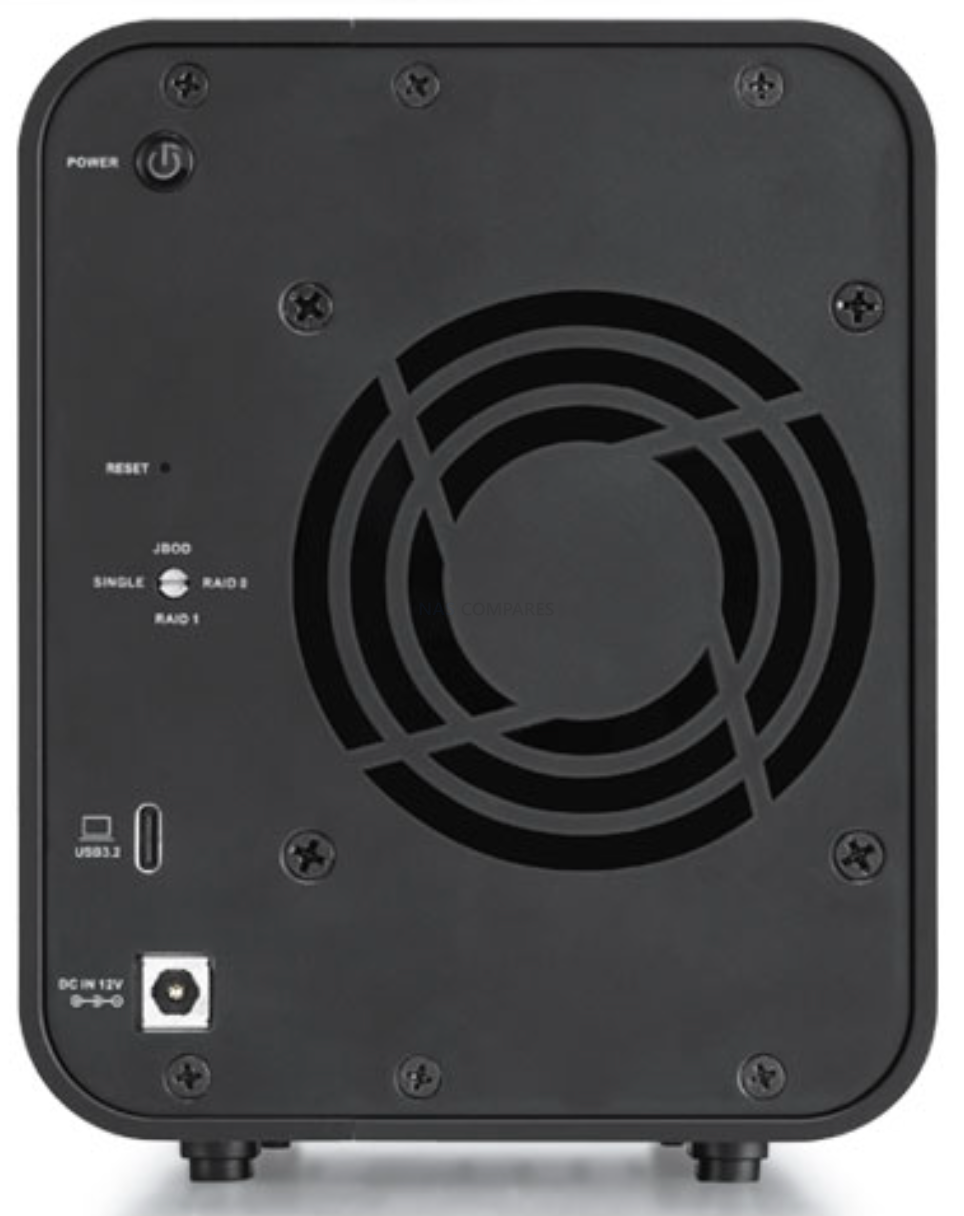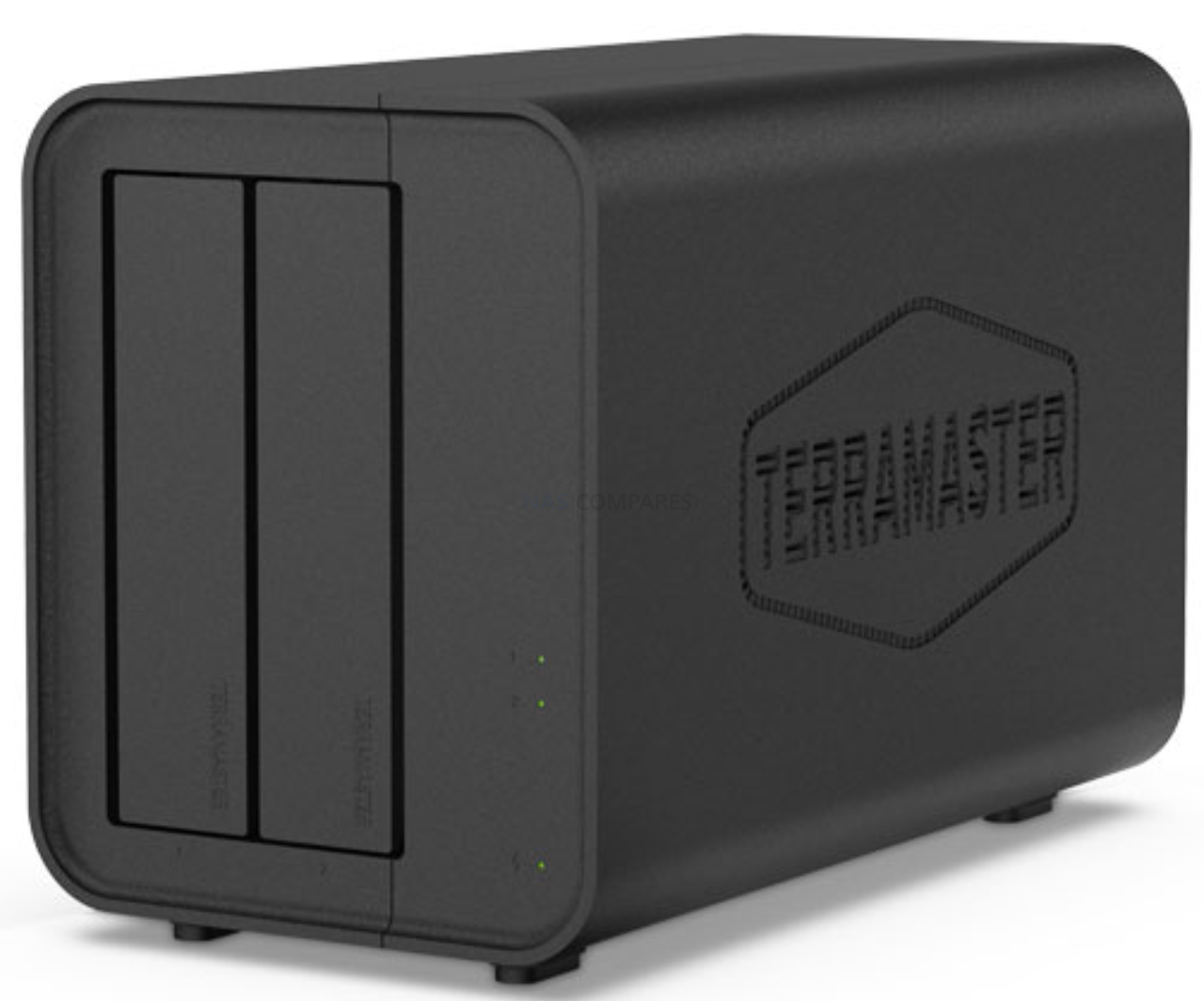 Storage
Disk Slot Number
2
Compatible Disk Types
3.5″ SATA HDD
2.5″ SATA HDD
2.5″ SATA SSD
M.2 2280 NVMe Slot
3
File System
NTFS, APFS, Mac OS,FAT32,EXT4,exFAT
Maximum Internal Raw Capacity
68 TB (22 TB drive x 2 + 8 TB drive x 3) (Capacity will vary along with the RAID type)
RAIDs Supported
SINGLE DISK,JBOD,RAID 0,RAID 1
Hardware RAID
√
RAID Manager Software
/
RAID Manager Software Language
/
RAID Online Expansion
/
RAID Migration
/
RAID Auto-rebuilding
√
Drive Hot Swap
/
HDD Sleep
√
HDD S.M.A.R.T. Inspection
/
Sector Inspection and Parity Check
/
SSD Cache
/
Daisy Chain
/
HDD NCQ Technology
/
Alert Notice
/
Event Log
/
External Ports
USB
USB3.2 Type-C gen2  10Gbps
Thunderbolt
/
DP Interface
/
Network Interface
/
USB HOST Interface
/
Power Socket
DC IN 12V
Reading/writing Speed (max.)
Reading Speed (max.)
Read:565MB/s ( SSD* 1 ); Read:1075MB/s ( SSD* 2 );
Reading Speed (max.)
Read:980MB/s (M.2 SSD*1 )
Writing Speed (max.)
Write:524MB/s ( SSD*1 ); Write:956MB/s ( SSD*2 );
Writing Speed (max.)
Write:880MB/s (M.2 SSD*1 )
Appearance
Size
222 x 119 x 154 mm
Packaging Size
258 x 220 x 170  mm
Weight
 Net weight: 1.3 Kg  Gross Weight: 2.1 Kg
Others
System fan
80 mm x 80 mm x25mm (x 1)
Fan mode
Smart
Noise Level
19.0 dB(A) ( Using 2 SATA HDDs/SSDs in standby mode)
The microphone is placed at a distance of 1 meter from the device.
Background noise: 17.3 dB(A)
Power Supply
Power Supply
40 W
AC Input Voltage
100V to 240V AC
Current Frequency
50/60 HZ, Single Phase
Power Consumption
30 W(Fully loaded Seagate 22TB ST22000NM001E hard drive(s) and SAMSUNG 980 NVMe M.2 SSD in read/write state )
10.1 W (Fully loaded Seagate 22TB ST22000NM001E hard drive(s) and SAMSUNG 980 NVMe M.2 SSD  in hibernation)
Environment Temperature
Working Temperature
0°C  ~ 40°C (32°F ~ 104°F)
Storage Temperature
-20°C ~ 60°C (-5°F ~ 140°F)
Relative Humidity
5% ~ 95% RH
Supported OS
Windows OS、Mac OS、Linux
Warranty
2 years
Certificate
CE, FCC, CCC, KC
Environment
RoHS compliance
Package Contents:
Host unit (x1)
USB Cable C to Type-C (10Gb) 1 Meter (x1)
Quick Installation Guide (x1)
Power adapter (x1)
Screws (several)
Limited Warranty Note x 1
Price: £209.99
1. When can I expect to receive my order?
–
The approximate transit time for your order will differ depending on your region. Before placing orders, Pls be noted that due to the peak season, the delivery will be delayed around 15 working days. Please be noted that all orders DO NOT include the destination tariffs
If you like this service, please consider supporting us.
We use affiliate links on the blog allowing NAScompares information and advice service to be free of charge to you.
Anything you purchase on the day you click on our links will generate a small commission which is
used to run the website. Here is a link for
Amazon
and
B&H
.
You can also get me a ☕
Ko-fi
or old school
Paypal
. Thanks!
To find out more about how to support this advice service check
HERE
If you need to fix or configure a NAS, check
Fiver
Have you thought about helping others with your knowledge?
Find Instructions Here
☕ WE LOVE COFFEE ☕

Or support us by using our affiliate links on Amazon UK and Amazon US