Best NAS for a Professional and Family Network
I would be pleased if you can give me some advice to find my personal best NAS.

I am a Professional Home User (in my eyes). My primary intentions are to sort and organize my families digital life at home consisting of streaming, photos, cloud data, Amazon Alexa things, some mail traffic and such stuff. I personally like to test new things on virtual machines, try new software, sharing data, databases. I am looking for a NAS/DAS, that is installed directly between my router and the rest of the home network. Some of my components are wired by cat6, but most are done by WLAN. I do not have a 10gb network, have 2 macs with TB2, but as far as I learned from your articles new network speeds would be nice to have and it would be good to have some options in the future. Meanwhile, I go around with 1gb and perhaps link aggregation, however it is just a feature. I need:
1. Very good and fast video streaming capabilities with fast transcoding to several clients simultaneously. I sometimes use Kodi, have some plex experiences. Both are good for me. I just don't want to wait for the NAS processes, in other words, it should work fluently even with a lot of data.2. Music server DNLA, which could be accessed by Alexa Amazon. This should be easy to be used for some female family members. I know there's is a skill from Synology and QNAP offers a workaround by IFTTT or via 3. VM software. Maybe you have some insider knowledge about the plans of QNAP to develop something like Synology.4. Fast NAS, nobody wants to wait for the computer5. Running smoothly 1 or 2 VMs (fast processor and 32gb ram)It should be 6 or 8 bay with a total of 40gb, direct HDMI is not necessary since i would not plug in another output device.  What is hard for me, even after studying your tests, the decision between QNAP and Synology. Both are easy. Qnap is more a sort of computer inside, which is something i like. QNAP seems to bring more and often new models to the market, while Synology seems to update their platform seldom. Do you know if there are plans for really new models in the consumer market this year by Synology?

I like the syn DS1019, but would like it more with 6 HD slots and at least 2 ethernet links… Is there something similar? I like TVS-672XT too, but have a little bit fear that the Alexa thing would not work good enough, my family would kill me.

Last: I find your nascompare site unique in the world, there is nothing comparable, thanks for sharing your data with us!

Thank you very much
Thorsten, Germany
Choosing the Right NAS for Transcoding, DLNA, PLEX, Kodi, VMs and More
With NAS storage becoming more popular and accessible with every passing month, the requirements we have from them are growing all of the time. As you rightly point out, the two big names in NAS (Synology and QNAP) have very different attitudes to hardware, release schedules and user environments. As little as 5 years ago, people bought a NAS Drive for home or a small business, basing the majority of their decisions on read and write speeds alone. Now that users are more knowledgable (dare I also add, that the German tech audience is especially knowledgable in their area, as a visit to CeBit last year proved to me time and time again) and people want a NAS that can do EVERYTHING. This is a problem for both QNAP and Synology. For Synology, they focus on first-party software and therefore try to get as much use out of the hardware as possible – this leads to the majority of the cost of a Synology NAS going towards great 1st party software and mid-range hardware. The result is a NAS that is excellent at 3/5 things – but a DIFFERENT 3 things with each NAS. In the case of QNAP, you have remarkably powered and hardware optimized NAS, but this results in a slightly less stable environment (the thing your family would be angry at you for!) and a higher hardware cost (to cover all that various hardware being included). The QNAP will be able to often do 4/5 or 5/5 things but in a less intuitive and user-friendly way.
Not ideal!
So, the solution for you is one of three NAS Servers. I have listed them below along with more information about them and where to buy them. I have also included a little more reading material and I hope this helps.
Budget Solution – The QNAP TVS-472XT Thunderbolt NAS
If your budget is tight, or you would rather spend your NAS budget on storage (hard drives, SSD, etc), then I would recommend the QNAP TVS-472XT. I know at this price it does NOT seem like a budget choice, but (as you have already observed) it features all the hardware you are going to need to support PLEX to a high degree, at least 2 VMs comfortably, multiple users streaming access, a PCIe slot to upgrade later, internal NVMe SSD bays to improve internal operation speed now/later as needed. Additionally, this will not run the Amazon Alexa voice control very well (you can use My Media Skill, but it still requires a container or VM setup inside the NAS) and not be as smooth as a first party app. It is a really, REALLY good NAS, but it is not perfect for your needs.
The Negatives – Only 4 Bays, but you can use the internal SSD Bays as raw storage space and move the VMs/important access data to this area. Non-intuitive Amazon Alexa voice control access to files.
Best Price – QNAP TVS-472XT NAS
Information on the TVS-472XT – https://nascompares.com/qnap-tvs-472xt-nas-review/
Mid Range Solution – The Synology RS1619xs+ Rackmount NAS
The Synology RS1619XS+ Rackmount NAS is my next recommendation. I know, I know – it's a RACKMOUNT, but hear me out. It features a powerful Intel Xeon CPU that (although not featuring a transcoding engine) is significantly more powerful/efficient than the Pentium in the TVS-472XT for all of the tasks you require. Additionally, it features the NVMe slots (just for caching this time) and ALL the support that you will need from Synology NAS. This means a user-friendly VM creation software, top Plex support, an Amazon Alexa support (natively, with their own 'skill' to download), 5 years of warranty and the Synology replacement service that will provide a next day replacement in the event of problems. In terms of hardware vs software, this is one of the best things Synology have released in years!
The Negatives – Only 4 Bays again, but can be expanded later with the RX1217 as your time/budget/space allows.
Best Price – Synology RS1619xs+ NAS
Information on the RS1619xs+ – https://nascompares.com/synology-rs1619xs-rackstation-nas-review/
Top Tier Solution – The Synology DS3617xs+ Tower NAS
If you have the cash to splash and want to tick as many boxes on your 'requirements' list as possible, then I would recommend the DS3617xs+ Synology NAS. Featuring almost EVERYTHING that the RS1619xs+ have, this 12 Bay Desktop NAS ticks all the boxes very well indeed. It is bigger than you wanted, but then you can just think of it as future proofing. Plus, although it lacks the NVMe support, it still arrives with enough bays to install individual SSDs for cache or for the VMs in their own fast access volume, It has all the software and warranty of the RS1619xs+ covered too, as well as 4 LAN, a PCIe slot too. I know it is a big unit, but it is still one of the best desktop NAS they have ever released and there is still zero confirmation of an upgrade to this (a DS3619xs or DS3620xs right now)
The Negatives – Lack of NVMe is a bit of a shame, it is massive!
Best Price – Synology DS3617xs NAS
Information on the DS3617xs+ – https://nascompares.com/top-3-most-powerful-nas-of-2018/
Thank you for visiting NASCompares. This site needs your help to keep people informed for free. If you found this advice helpful, why not help keep it alive by clicking one of the links in the pages (just a click is all it takes) or donate to the running of this site below. This will help me help as many users as possible and keep people informed on how storage can be used in every area of their lives.
Thank you for Reading
📧 LET ME KNOW ABOUT NEW POSTS 🔔
Join 1,406 other subscribers
Get an alert every time something gets added to this specific article!
This description contains links to Amazon. These links will take you to some of the products mentioned in today's content. As an Amazon Associate, I earn from qualifying purchases. Visit the NASCompares Deal Finder to find the best place to buy this device in your region, based on Service, Support and Reputation - Just Search for your NAS Drive in the Box Below
Need Advice on Data Storage from an Expert?
We want to keep the free advice on NASCompares FREE for as long as we can. Since this service started back in Jan '18, We have helped hundreds of users every month solve their storage woes, but we can only continue to do this with your support. So please do choose to buy at Amazon US and Amazon UK on the articles when buying to provide advert revenue support or to donate/support the site below.

Finally, for free advice about your setup, j
ust leave a message in the comments below here at NASCompares.com and we will get back to you.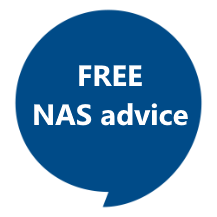 Need Help?
Where possible (and where appropriate) please provide as much information about your requirements, as then I can arrange the best answer and solution to your needs. Do not worry about your e-mail address being required, it will NOT be used in a mailing list and will NOT be used in any way other than to respond to your enquiry.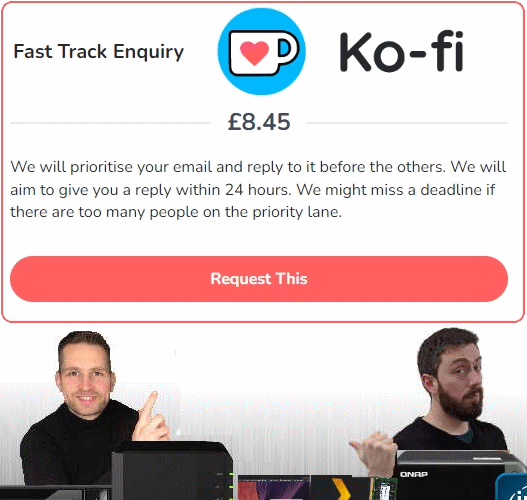 Terms and Conditions
Alternatively, why not ask me on the
ASK NASCompares forum
, by clicking the button below. This is a community hub that serves as a place that I can answer your question, chew the fat, share new release information and even get corrections posted. I will always get around to answering ALL queries, but as a one-man operation, I cannot promise speed! So by sharing your query in the
ASK NASCompares
section below, you can get a better range of solutions and suggestions, alongside my own.
This description contains links to Amazon. These links will take you to some of the products mentioned in today's video. As an Amazon Associate, I earn from qualifying purchases