Bargains and Deals on QNAP NAS Drives this Black Friday 2019
Black Friday has come around again and that means that the prices on the Current and older generation QNAP NAS will come down a bit briefly, which seems reason enough for us to take the plunge and investing in some new IT hardware. A QNAP NAS was once a rather niche item, however, in 2019 the ability to have your very own cloud storage for home and business storage has fast become something that can be very affordable, very useful and very appealing. Buying a NAS has many advantages to those of you who want to ensure the pictures of their friends and family are safe from accidental loss, that their records are backed up, that their boxsets are accessible and that their IP cameras are protecting their home from burglars. The growing use of NAS drives by families, students, small offices, shops and professional industries are now at a point that you can really find some great bargains if you shop around. If you are looking for a QNAP NAS deal this Black Friday 2019, I recommend that you check out the bargains below. I have even separated them into different uses, so you can be sure to get the right NAS drive for your needs. Be quick though, as deals can be fantastically brief, often have limited stock or are on strict time limits.
Black Friday 2019 – QNAP Network Accessories on Offer
With the QNAP NAS range arriving in 1Gbe, 2.5Gbe, 5Gbe and 10Gbe network solutions, we have seen a huge rise in the number of accessories that the company have produced. Thanks to QNAP fast becoming the innovators of the NAS industry, this Black Friday 2019 we are seeing some very appealing prices on their 5Gbe adapters, their Thunderbolt Adapters and their ever-expanding range of 10Gbe switches. Below are the best of the QNAP Black Friday deals to go for if they are available.
% Price Drop
QNAP QNA-UC5G1T 5Gbe-USB Adapter

USB 3.0 USB-C to 5Gbe Copper

Good news for anyone who wants to upgrade their connectivity to the speed on their NAS, but does not have connections like 10Gbe or a PCIe slot at their disposal, with the announcement of a brand new kind of ethernet adapter from the guys at QNAP.  As the designated innovators of NAS and with a well-established history of outside-of-the-box thinking, if any brand was going to challenge the way we access and connect with our data, it was always going to be QNAP. The QNA-UC5G1T is a USB 3.0-to-RJ45 bus-powered device that once connected to a host device via USB-C, then allows you to connect an ethernet device to the other end.
% Price Drop
QNAP QSW-308-1C

8 Port Switch, with 3x 10Gbe SFP+ and 1x 10GBASE-T – Fanless

The QSW-308-1C is a 3-port 10G SFP+ and 8-port Gigabit Unmanaged Switch, providing three 10GbE SFP+ ports (with one 10GbE SFP+/RJ45 combo port) and eight Gigabit ports. The QSW-308-1C allows you to instantly upgrade to a hybrid high-speed network environment at a cost-effective price and is compatible with 10GbE and NBASE-T technologies to support up to five speeds (10G / 5G / 2.5G / 1G / 100M). The SFP+/RJ45 (copper) combo port also provides higher transmission speeds when used with existing cables. With its desktop size and silent operation, the QSW-308-1C perfectly blends into homes and offices while providing high performance, low latency and superb functionality.
% Price Drop
QNAP QNA-T310G1T Adapter

1x Thunderbolt 3 Port to 1x 10Gbe Copper – TB3 Powered – Fanless

The QNAP QNA series is a cost-effective Thunderbolt 3 to 10GbE adapter that empowers your Mac® or Windows® computers with blazing-fast 10GbE network connectivity using a Thunderbolt 3 type-C port. With the portable QNA series adapter, a 10GbE network can be created between your Thunderbolt 3 computer and another 10GbE-capable device or NAS to facilitate high-speed data transfer for large files and help to streamline collaborative workflows to improve efficiency.
Black Friday 2019 – Lowest Priced QNAP NAS Drives
If you are new to QNAP NAS and don't want to spend much this Black Friday, then that's ok. QNAP has a great selection of fantastically low price NAS available to buy this Black Friday in 1 hard drive, 2 hard drive and 4 hard drive sizes. Below is the best 3 Budget NAS that QNAP features this Black Friday 2019:
% Previous Series Clearance
QNAP TS-128A 1-Bay NAS

Quad-Core 1.4Ghz ARM 64bit CPU – 1GB – 1-Bay

Equipped with a Realtek RTD1295 quad-core processor, the TS-128A provides home users with powerful features including snapshot-based backup, file synchronization, and private cloud services. The TS-128A is also a one-stop home entertainment portal for streaming photos, music, and videos to multiple devices throughout your home and beyond. With energy-saving and quiet operation, the TS-128A is especially suited for home users and provides easy-to-use and convenient functionality for file storage and multimedia needs.
% Previous Series Clearance
QNAP TS-228A 2-Bay NAS

Quad-Core 1.4Ghz ARM 64bit CPU – 1GB – 2-Bay

QNAP TS-228A features a Realtek RTD1295 quad-core 1.4GHz processor, 1 GB RAM, and a 1GbE network port to provide the performance of up to 112 MB/s. If you decide to encrypt your files with AES-256 encryption, the performance is still an impressive 112 MB/s – allowing you to ensure your privacy without sacrificing performance.  he minimal and streamlined design of TS-228A makes it fit easily into your home. Featuring a unique, tool-less design, setting up the TS-228A is so easy that it doesn't even need a screwdriver!
% Limited Reduction
QNAP TS-351 3-Bay NAS

Dual Core 2.4Ghz x86 64bit CPU – 2GB – 3-Bay

0% of QNAP users choose to build RAID 5 array for their NAS for higher data protection, better system performance and more available storage space. The TS-328 is QNAP's first 3-bay NAS, allowing you to build a RAID 5 array on your NAS with the fewest disks. Powered by an Intel Intel Celeron J1800 dual-core 2.41 GHz processor, the TS-328 features a minimalist design that easily fits into your home or commercial space. With a variety of multimedia applications, transcoding capabilities and cross-device file backup and synchronization, the TS-328 provides a highly cost-effective solution for storage, backup, file management, and sharing. As well as featuring 3 additional M.2 SSD Bays
Black Friday 2019 – QNAP NAS Drives for PLEX
One of the big appeals of a QNAP NAS drive is to use it as a Plex Media Server. Plex (if you didn't know) is just as slick, fast and beautiful in design as Netflix, Prime Video and HBO Now, but instead of streaming/renting your content, you play the movies, tv shows and music that you own! Having your own Plex Media Server QNAP NAS is fantastically appealing and a much more financially appealing choice than paying monthly for content you do not get to own. Below are the best 3 QNAP NAS deals this Black Friday for a Plex Media Server in 2019.
% Price Drop
QNAP TS-251B 2-Bay NAS

Dual Core 2.0-2.5Ghz 64bit CPU – 2/8GB – 2-Bay – HDMI – PCIe

The TS-251B combines secure data storage and multimedia entertainment into one device. Featuring a PCIe slot, the TS-251B is QNAP's first home/SOHO NAS that allows you to flexibly extend its functionality and potential applications. You can install a QNAP QM2 card to provide M.2 SSD caching/10GbE connectivity and use with Qtier auto-tiering storage to enhance overall system performance; or install a wireless network card (such as the QNAP QWA-AC2600) to turn the TS-251B into a wireless access point and to wirelessly stream your multimedia throughout your home. The TS-251B supports dual-channel H.264 hardware decoding and transcoding, allowing you to enjoy watching NAS media files smoothly across various devices
% Limited Reduction
QNAP TS-453Be 4-Bay NAS

Quad Core 1.5-2.3Ghz 64bit – 2/8GB – 4-Bay – PCIe Slot – HDMI

The TS-453B comes with a sleek new look, featuring an OLED panel and two capacitive touch buttons. The TS-453B also features a PCIe port for boosting the potential applications of your NAS: the QNAP QM2 expansion card can be installed for adding an M.2 SSD cache/10GbE connectivity, a compatible wireless card can be installed to use the TS-453B as a wireless access point, and a USB 3.1 10Gbps card can be added for easier backup to/from multiple external storage devices. With a USB Type-C QuickAccess port and a SD card slot, the TS-453B simplifies transferring and sharing files without needing a network connection. The TS-453B also provides feature-rich multimedia functionality, such as 4K video playback and real-time transcoding. The multi-zone multimedia management app Cinema28 and popular web automation app IFTTT Agent also enrich your multimedia experience and NAS automation.
% Limited Reduction
QNAP TVS-872XT 8-Bay NAS

Quad-Core 8th Gen  i5 CPU – 16/32GB – 8-Bay – TB3 –  PCIe Slot – 2 LAN – HDMI 4K – 10Gbe

Powered by an 8th generation Intel® Core™ processor, the high-performance TVS-872XT NAS features both 10GBASE-T and Thunderbolt™ 3 high-bandwidth connectivity for tackling heavy workloads and smoothly transferring, displaying and editing 4K videos in real-time. The TVS-872XT has an HDMI 2.0 port which supports 4K (3840 x 2160) 60Hz output, providing great benefits for applications like video production/editing, industrial design and professional photography that demand on-image resolution and color realism as well as intensive media storage, transfer and display. By connecting the TVS-872XT to a HDTV via the HDMI output, you can directly view multimedia content saved on the NAS on a bigger screen. You can also download and install versatile multimedia apps from Ubuntu® Software Center through QNAP Linux Station. QNAP's HD Station also allows users to directly enjoy multimedia using the HD Player or third-party players such as Plex® Home Theater.
Black Friday 2019 – QNAP NAS Drives for Photo and Video Editing
Storing your photography or Video Editing archive for post-production on a QNAP NAS is something taht has grown in popularity in the last few years. Now in 2019, not only can a QNAP NAS be used to store your photos/video, but with upgraded connections to 10Gbe, Thunderbolt 3 to 10Gbe Adapters and link aggregation becoming more affordable, buying a QNAP NAS this Black Friday 2019 for your post-production and live editing is easier than ever before Below are three great options for editors looking for a QNAP NAS Deal today.
Exclusive Offer
QNAP TS-453BT3 4-Bay NAS

Quad-Core 1.5-2.3Ghz 64bit – 2/8GB – 4-Bay – 10Gbe – m.2 SSD – TB3 – HDMI

Featuring dual Thunderbolt™ 3 ports, coupled with M.2 SSD caching and 10GBASE-T connectivity, the TS-453BT3 provides an ideal environment for professional collaborative media editing and high-speed file sharing. The TS-453BT3 features a sleek new look with an OLED panel and two capacitive touch buttons. With powerful hardware capabilities and feature-rich productivity tools, the TS-453BT3 provides the best NAS solution for media studios or small creative workgroups looking to greatly simplify their workflows. Powered by an Intel® Celeron® J3455 quad-core 1.5GHz processor (burst up to 2.3 GHz), with up to 8GB DDR3L RAM, dual Gigabit LAN ports, and SATA 6Gb/s drives, the TS-453BT3 delivers up to 683 MB/s read/write speeds and up to 683 MB/s with AES-NI encryption.
% Limited Reduction
QNAP TVS-1282T3 8/12-Bay NAS

Quad-Core 7th Gen i7 CPU – 32GB – 8 HDD Bay  – 4x 2.5 SSD – 2x M.2 Bay – 4 LAN – HDMI 4K – 10Gbe – TB3

Exclusively providing a Thunderbolt™/NAS/iSCSI SAN triple solution, the TVS-1282T3 features four Thunderbolt™ 3 ports to enable seamless collaboration between up to four Mac® and Windows® devices. Coupled with its higher bandwidth to smooth 4K video transfer and online editing, the TVS-1282T3 is a perfect match for Thunderbolt-equipped Mac® and Windows® users for 4K workflows, file storage and high-speed sharing. The TVS-1282T3 leverages 7th Generation Intel® 14nm multi-core processors and was designed around the concept of tiered storage, application-based partitioning and network traffic distribution, providing exceptional performance to fulfill critical tasks.
Black Friday 2019 – QNAP NAS Drives for 4K Video
4K TVs and High Definition media production have now reached a point that buying the right QNAP NAS for storing, watching and adapting 4K Ulta High definition media in 2019 can be alot of work. True 4K media arrives in HUGE file sizes and you will need a more powerful QNAP NAS drive to handle this kind of media all the way from the hard drives inside, to pumping it out to your 4K Display. Luckily a few of the more powerful QNAP NAS solutions are on offer this Black Friday and if you are lucky enough to get a deal on one of these three, you will have a great NAS to enjoy 4K in your home or business environment.
% Price Drop
QNAP TVS-673e 6-Bay NAS

Quad Core 1.5-2.3Ghz  AMD 64bit CPU – R7 Graphics – 8/32GB – 6-Bay – USB Direct Access – 4 LAN – PCIe

The TVS-673e is powered by a high-end AMD R-Series APU that incorporates an exceptional CPU with AMD Radeon™ R7 Graphics performance, delivering a high-performance and energy-efficient NAS solution. Built with a state-of-the-art metal design and topped off with a stylish gold finish, the highly-capable TVS-673e provides PCIe expandability, the unique USB QuickAccess port, HDMI 4K@ 30Hz output, and 4K H.264 video decoding and encoding acceleration for an optimum audiovisual experience. AMD Embedded R-Series SoC uses "Excavator" x86 CPU cores, and supports AMD Radeon™ 3rd-generation GCN and DDR4. The AMD RX-421BD APU, featuring an integrated Radeon™ R7 series Graphics Processing Unit, provides the TVS-673e with the high-end model of the AMD R-Series family. The TVS-673e also provides two PCIe Gen3 x4 expansion slots for boosting the potential for 10GbE network performance.
Exclusive Price Reduction
QNAP TVS-1582TU 15-Bay NAS

Quad-Core 7th Gen i7 CPU – 32GB – 12 HDD Bay  – 2.5 SSDs – M.2 Bays – 4 LAN – HDMI 4K – 10Gbe – 6 TB3 Ports

The TVS-1582TU is a perfect match for Thunderbolt™ 3-capable MacBook Pro®, and is backward-compatible with Thunderbolt™ 2 devices via Thunderbolt 3 (USB-C) to Thunderbolt 2 converter. The higher bandwidth is especially suited for creative professionals and enthusiasts from photographers, filmmakers to graphic designers who focus more on 4K or 3D workflows. The latest Final Cut Pro® X 10.3 adds support for the SMB protocol, allowing you to easily store files in the TVS-1582TU and share files with Windows®, and other devices using Thunderbolt™, 10GbE or 1GbE connection. Up to 4 Thunderbolt™ devices can connect to the TVS-1582TU to process real-time video editing simultaneously without impacting NAS performance, while 4K videos can be directly displayed using the NAS HDMI output. The TVS-1582TU's large capacity potential provides an ideal storage solution with unmatched performance for high-resolution file storage and I/O-intensive tasks to increase productivity in multi-workstation environments.
Note: Final Cut Pro X 10.3 (and later) supports file sharing using Samba on NAS
Black Friday 2019 – QNAP NAS Drives for Business
Businesses in 2019 are producing so, SO MUCH DATA! Customer information, Web site images, legal documents, online marketing, internal communication, surveillance and security – it all adds up! With the majority of this data being highly confidential, copywrite or both, it is imperative that a business has a secure place to keep this data. QNAP NAS drives have been used in business for a number of years and Diskstation Manager (DSM) arrives with every NAS, packed with applications and licenses for those enterprise applications (QNAP Active Backup, Surveillance, Virtual Machine Manager, Drive, Office, Chat, Calendar, mail and more). Below are the best QNAP NAS drive deals this Black Friday for those who want to invest in a business class server to protect their data and ensure high productivity in 2019.
Price Drop
QNAP TS-963X 5-Bay NAS

Quad Core 2.0Ghz 64bit AMD CPU – 2/16GB – 5-Bay – Multi-Gigabit Ports – 4 SSD Bays

he TS-963X is an affordable NAS for small and medium-sized businesses (SMBs) with AMD Embedded G-Series GX-420MC quad-core 2.0 GHz processor, 9 drive bays and a built-in 5-speed 10GBASE-T port for up to 10Gb connectivity. Four 2.5-inch drive bays can be used to install SSDs to enable caching and Qtier technology. One built-in 5-speed 10GBASE-T port (10G/5G/2.5G/1G/100M) also increases productivity of businesses with existing Cat 5e/6 cables, without extra costs or additional installation procedures. Combined with several QNAP technologies including VJBOD, Container Station, and Virtualization Station, the TS-963X has the potential to empower a wide range of business applications and can also be easily expanded to fit future data storage requirements.
Limited Reduction
QNAP TVS-972XU 4-Bay NAS

Quad Core 64bit I3 4-Core CPU – 4/32GB – 4-Bay – PCIe Slot – 2 1Gbe LAN – NVMe – 2 10Gbe SFP+ – HDMI 4K

Designed for diversified business IT environments, the TVS-972XU-RP features an 8th generation Intel® Core™ processor, Mellanox® ConnectX®-4 Lx 10GbE controller, and PCIe expansion for 25GbE / 40GbE connectivity to boost intensive large file sharing, heavily-loaded backups, or virtualization applications. Its hybrid storage architecture with four 3.5-inch HDD and five 2.5-inch SSD drive bays allows for enabling SSD caching and Qtier™ auto-tiering technology for a significant performance boost. PCIe expandability also allows for installing graphics cards to empower AI workflows and video transcoding, and the 4K HDMI 2.0 output can display surveillance videos on a monitor or TV to improve surveillance management. The TVS-972XU-RP also features a redundant power supply to ensure maximum system uptime.
Enterprise NAS Offer
QNAP TS-1283XU 12-Bay NAS

Quad Core Xeon 64bit CPU – 8/64GB – 4x PCIe Slot – 4 LAN – 2x 10Gbe – 2x PSU

The high-end enterprise TS-1283XU-RP features Intel® Xeon® E processor and DDR4 ECC (Error Correcting Code) error correction memory (up to 64 GB), demonstrating the power of the server class while maintaining system stability. The TS-1283XU-RP has built-in Mellanox® ConnectX®-4 Lx SmartNIC smart network chip dual-port 10GbE SFP+ network, which not only provides high-bandwidth high-speed network transmission, but also supports iSER offload to enhance virtualization application performance. Reduce the CPU load. You can also use the PCIe expansion slot of the TS-1283XU-RP to flexibly connect external GPU graphics cards to provide high computing power and transfer capability for image monitoring, virtualization applications, and AI artificial intelligence. The TS-1283XU-RP supports a variety of advanced software applications, such as SSD external reservation space, software-defined virtual and real network configuration, and multiple network management tools to make system configuration more convenient and smoother and faster.
---
Hot Tips when you Buy a NAS this Black Friday 2019
In order for you to get the very best NAS deals this Black Friday, here are some hot tips that I have personally used for the last few years to get the very best deals..
Amazon Warehouse Deals are 20% lower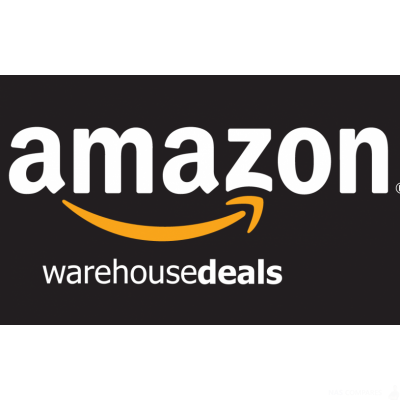 For those that aren't aware, Amazon has a whole section of their website that is dedicated to pre-owned and opened items. This includes both NAS, hard drives, SSD and more for your storage. During Amazon Black Friday 2019, the discount on these broken-seal items will be increased by an additional 20% and for those looking for an insane bargain, this will be irresistible.
Another tip when buying NAS or Hard Drives from Amazon Warehouse is that although (as they are broken seal/used/returned items) they have a shorter warranty from Amazon, you will almost certainly be able to claim the FULL warranty coverage from QNAP, QNAP, WD or Seagate. They just want your serial number and a receipt of purchase – this will not state the amazon reduced warranty.
Amazon Warehouse for different countries can be found below:
Amazon Warehouse USA
Amazon Warehouse UK
Amazon Warehouse Germany
Latest Deals Update and Notifications


If you want to make sure you see the LATEST Black Friday deals for NAS (as new ones are added every hour) then I would recommend checking the official Amazon Prime page here regularly. It will also include the very latest Lightning Deals too
US Amazon – Amazon Black Friday Page
UK Amazon – Amazon Black Friday Page
Amazon Prime for FREE
The prices listed on Amazon for NAS during the Black Friday event are only available to Prime members. If you are not a member, don't worry, as you can use the 30-Day free trial to sign up for a Prime, or just pay for 1 month of Prime as a student and get it at 50% off. Then after you finish your purchase, you can cancel your subscription. The other bonus of this is that you will qualify for fast, next day delivery for free. I would recommend however that you do not cancel your subscription until you have received your order and tested your item.
As then you will still be able to take advantage of the fast and free return policy extended to Prime members. This is especially useful when buying NAS Hard Drives and you are worried about broken drives!
Improved Delivery on your NAS Black Friday Deal
It is a well-known fact that Prime membership includes free next day delivery and has even upped the stakes by stating that they will be providing the fastest-ever Black Friday delivery of just 14 minutes between the cart and the courier, last year we saw and heard numerous examples of delivery issues with Black Friday deals, adding 2-3 days on supposed next-day shipping.

If any of your Amazon Prime delivery dates are not the 24 hours turn around that they promise, then definitely complain to Amazon after you receive your goods (not before) as they will almost certainly have a deluge of customer enquiries after Black Friday 2019 and  in an effort to conclude the matter, you might get an additional discount, a gift vouchers or more. Currently, the trending 'gesture of goodwill' gift is a free month of Prime membership.
📧 LET ME KNOW ABOUT NEW POSTS 🔔
Join 1,406 other subscribers
Get an alert every time something gets added to this specific article!
This description contains links to Amazon. These links will take you to some of the products mentioned in today's content. As an Amazon Associate, I earn from qualifying purchases. Visit the NASCompares Deal Finder to find the best place to buy this device in your region, based on Service, Support and Reputation - Just Search for your NAS Drive in the Box Below
Need Advice on Data Storage from an Expert?
We want to keep the free advice on NASCompares FREE for as long as we can. Since this service started back in Jan '18, We have helped hundreds of users every month solve their storage woes, but we can only continue to do this with your support. So please do choose to buy at Amazon US and Amazon UK on the articles when buying to provide advert revenue support or to donate/support the site below.

Finally, for free advice about your setup, j
ust leave a message in the comments below here at NASCompares.com and we will get back to you.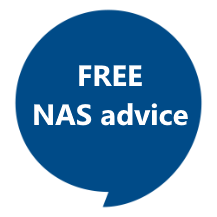 Need Help?
Where possible (and where appropriate) please provide as much information about your requirements, as then I can arrange the best answer and solution to your needs. Do not worry about your e-mail address being required, it will NOT be used in a mailing list and will NOT be used in any way other than to respond to your enquiry.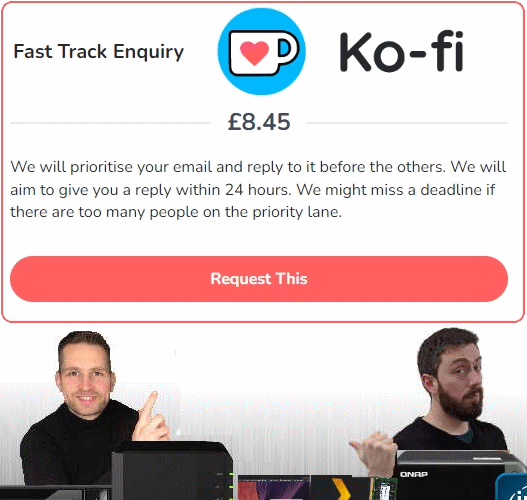 Terms and Conditions
Alternatively, why not ask me on the
ASK NASCompares forum
, by clicking the button below. This is a community hub that serves as a place that I can answer your question, chew the fat, share new release information and even get corrections posted. I will always get around to answering ALL queries, but as a one-man operation, I cannot promise speed! So by sharing your query in the
ASK NASCompares
section below, you can get a better range of solutions and suggestions, alongside my own.
This description contains links to Amazon. These links will take you to some of the products mentioned in today's video. As an Amazon Associate, I earn from qualifying purchases