Review of The Synology DSM 7 Software and Services
It's been more than 3 years in development but finally, users are getting the chance to experience the full and official version of Diskstation Manager 7 (DSM 7) on their Synology NAS drives. Many users chose to invest their money and their data in a Synology NAS because the brand has an incredible reputation in the industry for their software and services, included with the hardware purchase – with DSM being one of the biggest draws. What once started as a slightly rudimentary network file manager tool, has now evolved dramatically over 20 years into its own fully-fledged equivalent operating system with applications, multi-user management and a wide range of inclusive software and services. The latest full version, DSM 7, was first previewed way back in 2018 at Synology's annual launch event and has been in constant development all this time. With numerous massive changes between DSM 7 and DSM 6.2, ranging from the way applications are handled and backend tweaks to performance and security throughout, DSM7 is the equivalent of upgrading from Windows 7 to Windows 10 for many users, and I am pleased to say that it accomplishes ALMOST everything it promises. Today I'm going to give a full and detailed review of Synology's DSM 7.0 system software update, the highs, the lows and ultimately whether now is the time to upgrade your Synology NAS to this new and impressive version.

Synology DSM 7 Review – The Quick Conclusion
Let's not mince words, the Synology DSM 7 software is easily the best experience you are ever going to have when accessing your decades of data! From huge upgrades in the graphical user interface, the layout of options and even managing to improve the already exceptionally user-friendly design, DSM 7 is unquestionably the king of network software right now. Aside from a few areas of design conflict between DSM 6.2 services and DSM 7 UI, questionable changes on USB compatibility and contention over migration between in photo station and Synology photos, DSM 7.0 still very much rules the roost when it comes to the best you can get in network-attached storage software in 2021/2022.
PROs of DSM 7.0
CONs of DSM 7.0
Genuinely Impressive Latency

Very Appealing GUI

Unbeatable First Party App Support

Near Perfect Single EcoSystem

Makes DSM 6.2 Look Dated

Fast RAID Repair and RAID6 Improvements

Surveillance, VMs, Backups and Media Handling all still 10/10

Feels JUST as Secure & Safe as Ever

Hyper Backup & Cloud Sync Still Support MANY Clouds

Active Insight, Active Backup, C2 & HybridShare = Business Win

Reduced USB Support Currently

Some 3rd Party Applications have not migrated well

Synology Photos Still Lacks some Photo Station Services

Hybrid Share ONLY Supports Synology C2 (Paid Sub)

Occasional Conflict of DSM 6.2 to DSM 7 Designs at times

Synology Drive File Pining & Active Backup Still not Available for Mac
Synology DSM 7 Review – The New User Interface
DSM 7 makes a very early positive impact on the user after the update has been installed, with the new login screen and improved login options. The previous DSM 6.2 login screen was clear and functional, but might have been a bit tame (though customization was possible to a small degree). Synology has scaled up the new login screen on this new diskstation manager software to remember a much more modern and slick UI, with the username and password entry being separated across slides – rather than together. Whether this is a layered security measure or this was necessitated by those using OTP login (2 step authentication etc) or Synology's own secure signin application, it's still a very, VERY clear UI straight off the bat!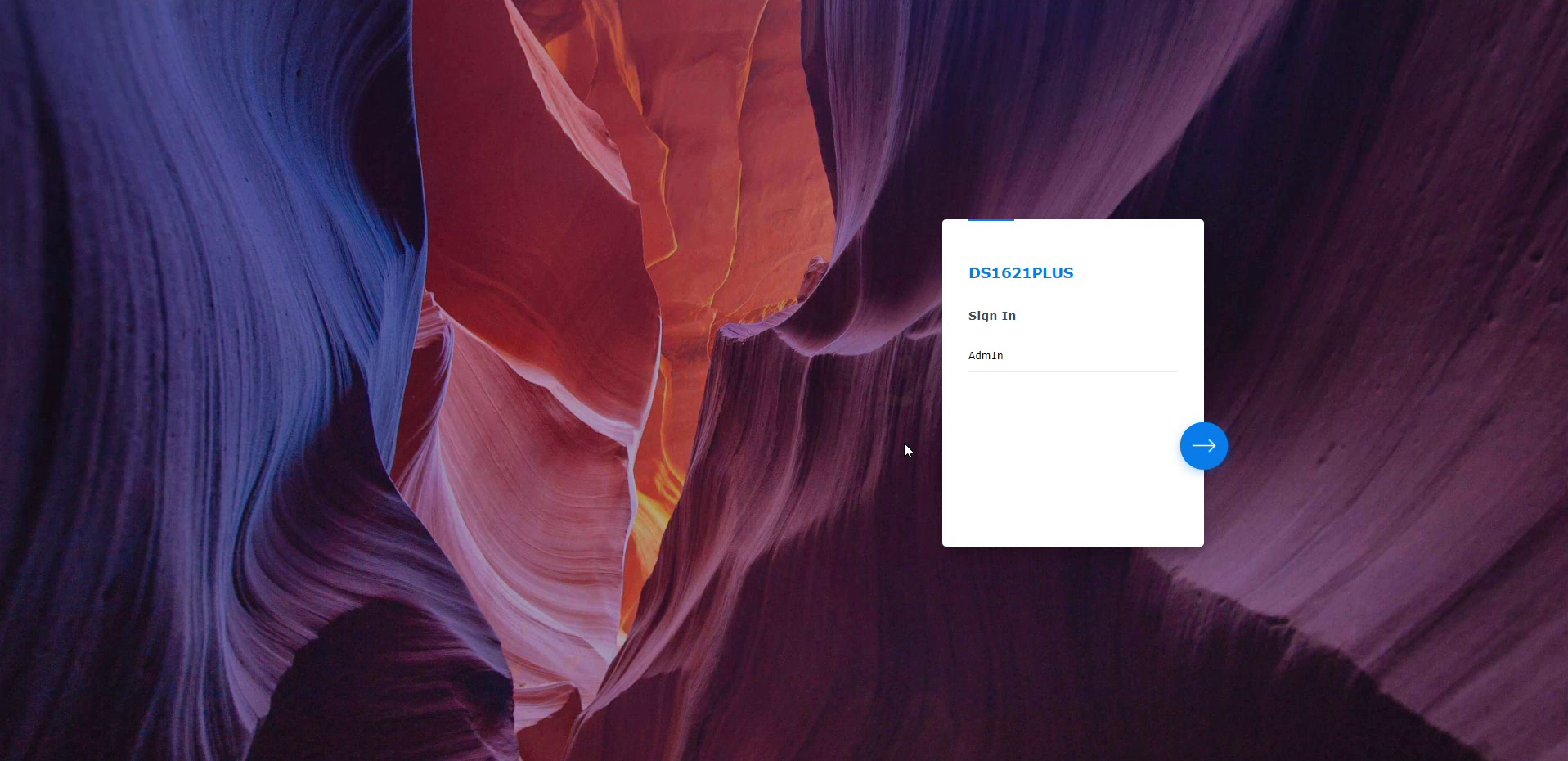 As mentioned, Synology has released together with DSM 7, the secure sign-in application for Android/iOS to allow 'in-house provided' 2 step authentication into the NAS. Although this is a nice extra and I can see a lot of larger businesses who use the Synology NAS platform for their teams/staff using this, I think most other users will continue to use their existing authentication tools (e.g Google Authenticator) for simplicity across their own software environments. However, these are still very much supported in DSM 7 (as they are in DSM 6.2) with increased OTP support on this update.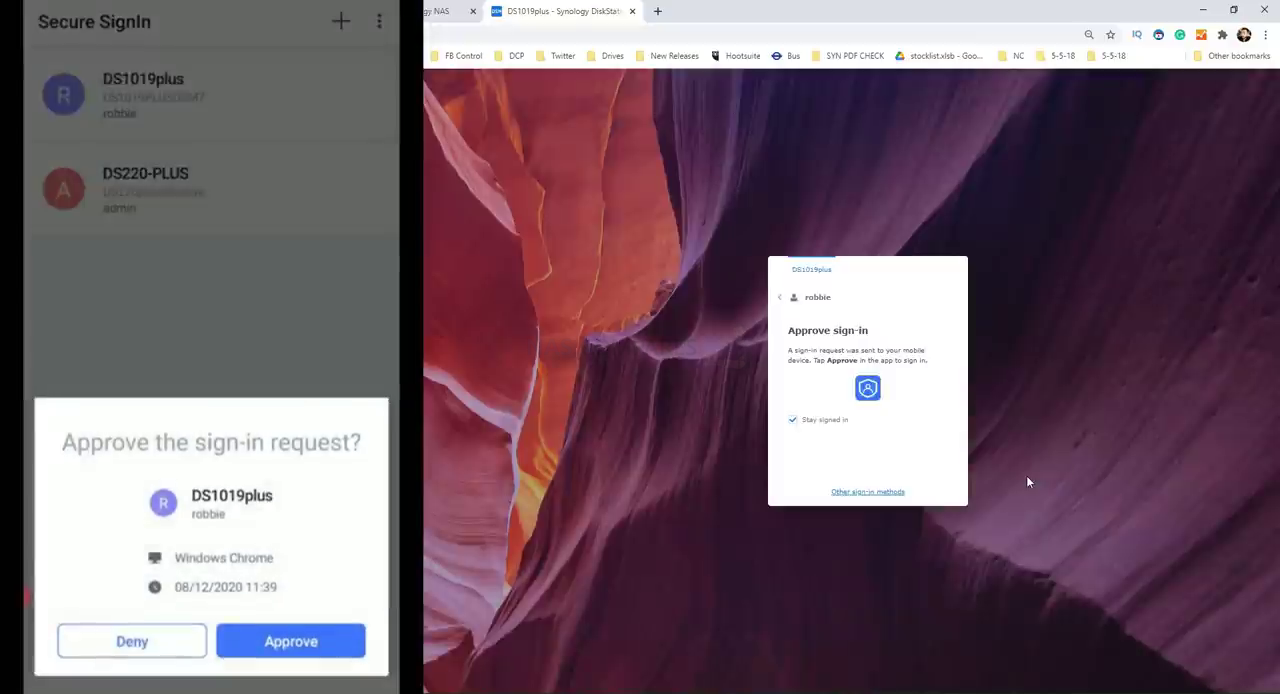 The login speed of DSM 7 is still something I think deserves ALOT of attention. The localized feel of DSM 7 is something that is impossible to ignore. It is easy to forget that when you are interacting with the Synology NAS via your web browser (Chrome, Mozilla, Safari, etc) that you are only accessing a portal/tunnel to the NAS via the network/internet – which given the responsiveness of the GUI, moving windows, changing tabs, crisp quality of the layout and low latency is easily where a lot of work in DSM 7 development went. Not just reducing any delays, but doing so whilst still maintaining the same/higher level of secure and encrypted transmission. A quick look at the range of supported applications on DSM 7 shows that pretty much all of the applications that people use on a Synology NAS are available here (with a few applications being renamed e.g iSCSI Manager>SAN Manager, whereas others have been merged together, e.g Synology Photos).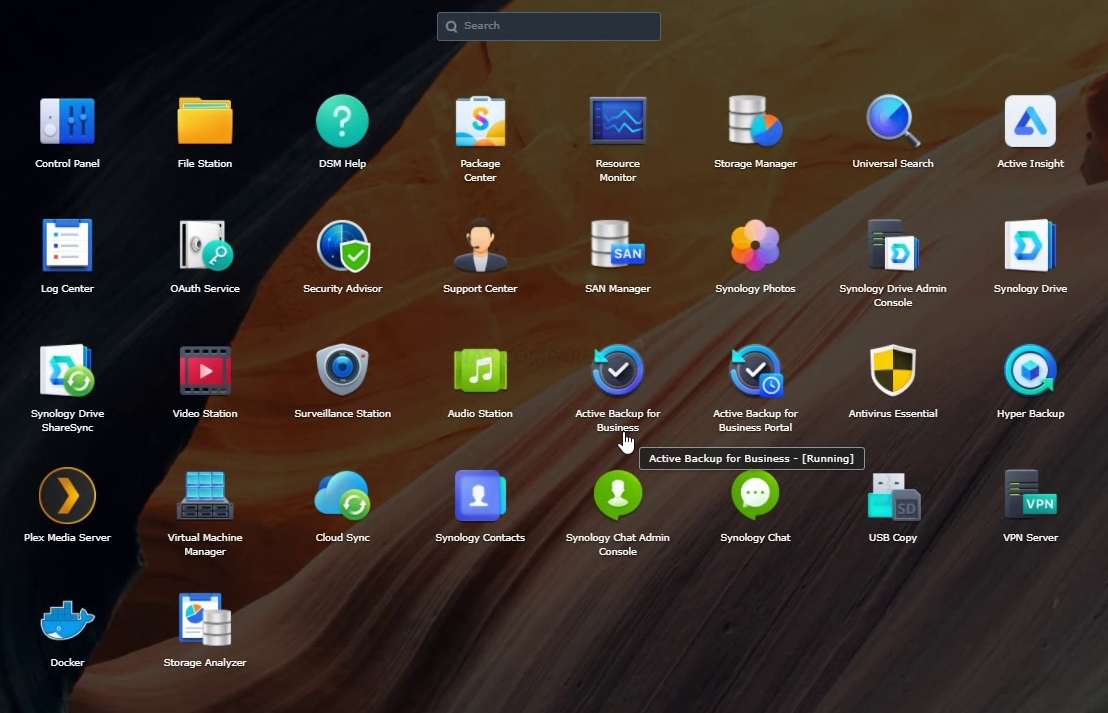 The applications listed in the Synology Application center are all where you would expect them to be for the most part, though HybridShare still remains in the Beta category (which is actually quite advantageous when I was reviewing the final version as the Synology C2 Cloud Beta capacity was still available for testing). Much like DSM 6.2, in DSM 7 you can install numerous applications at the same time and still use the rest of the system, with a few minor exceptions where key background services needed to be installed/downloaded and this prevents simultaneous app installation for a period.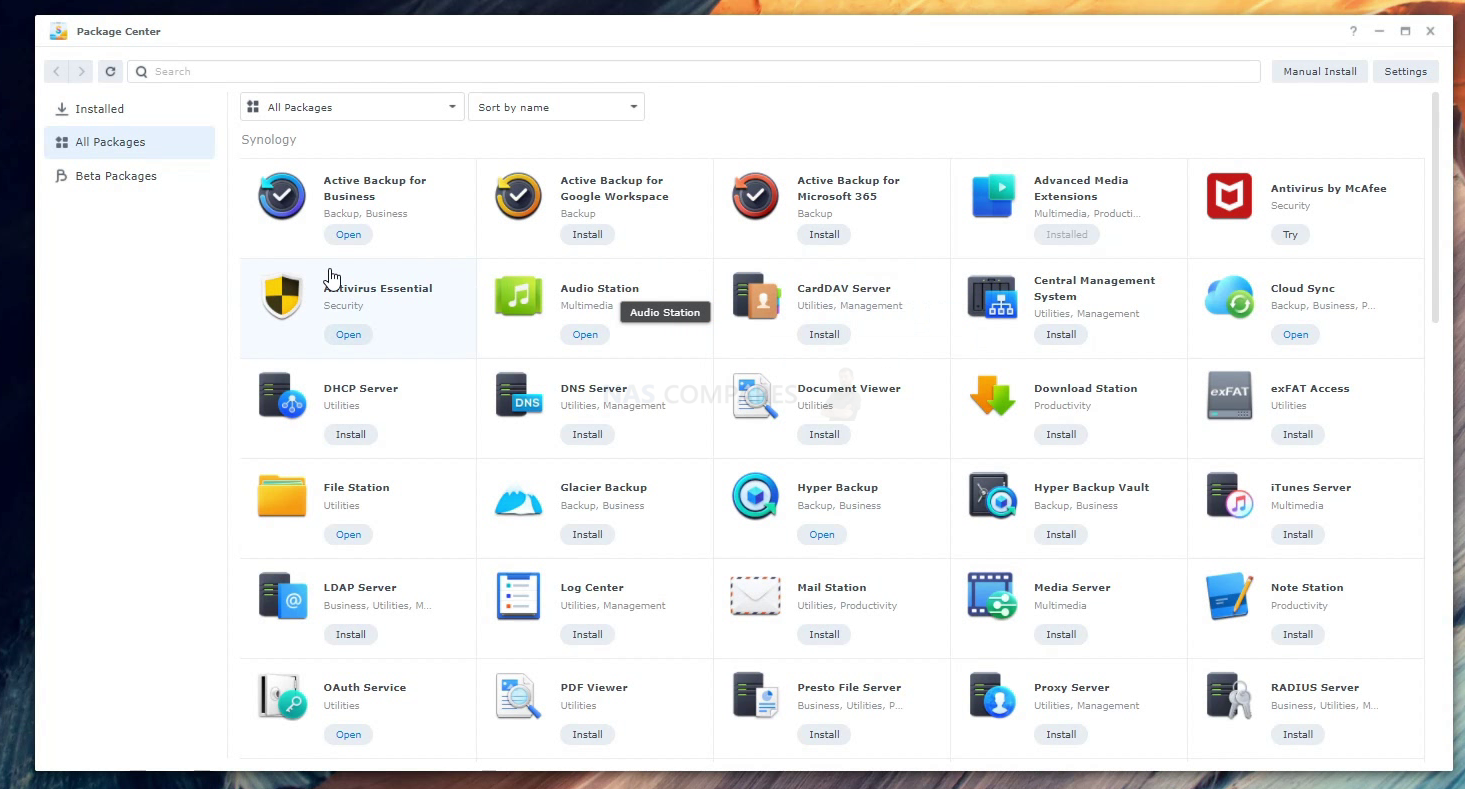 The only gripe I could find with regard to DSM 7 and application installation was first that Plex Media Server (currently version 1.22) was still in the Beta applications list and installation was not quite as clear cut as other applications (understandable for a 3rd party app) and some users have raised complaints that their existing Plex Media Server setup in DSM 6.2 was in need of fix/repair during migrations to DSM 7.0 (I did not experience this personally, but I have used DSM 7 in beta for a while and larger changes may have occurred in other versions of this software. Additionally, the range of 3rd Party applications that are supported has been noticeably trimmed down. This might well be because DSM 7 is such a modified/changed platform over DSM  6.2, that these applications are in need of re-tooling by their respective brands, but still – some of the lesser-known apps were still used in the absence of docker/container alternatives.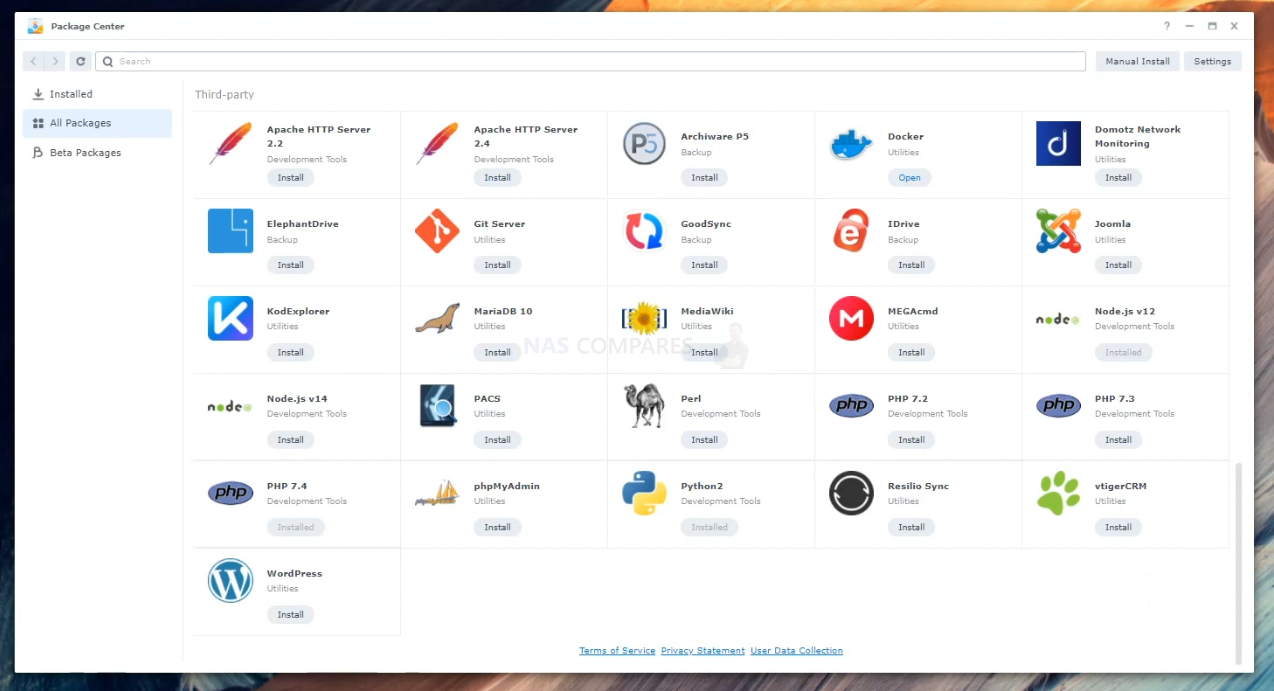 The control panel of DSM 7.0 is very similar to DSM 6.2, with a few small changes in where options are located (both in the primary menu and sub-menus), and once again the simplicity, ease and user-friendly design of the Synology Diskstation Manager Settings menus are top-notch – however, I can still see more seasoned storage professional having gripes with more customizable and configurable options being heavily buried or unavailable outside of SSH. Nevertheless, it is a VERY clear layout and intuative.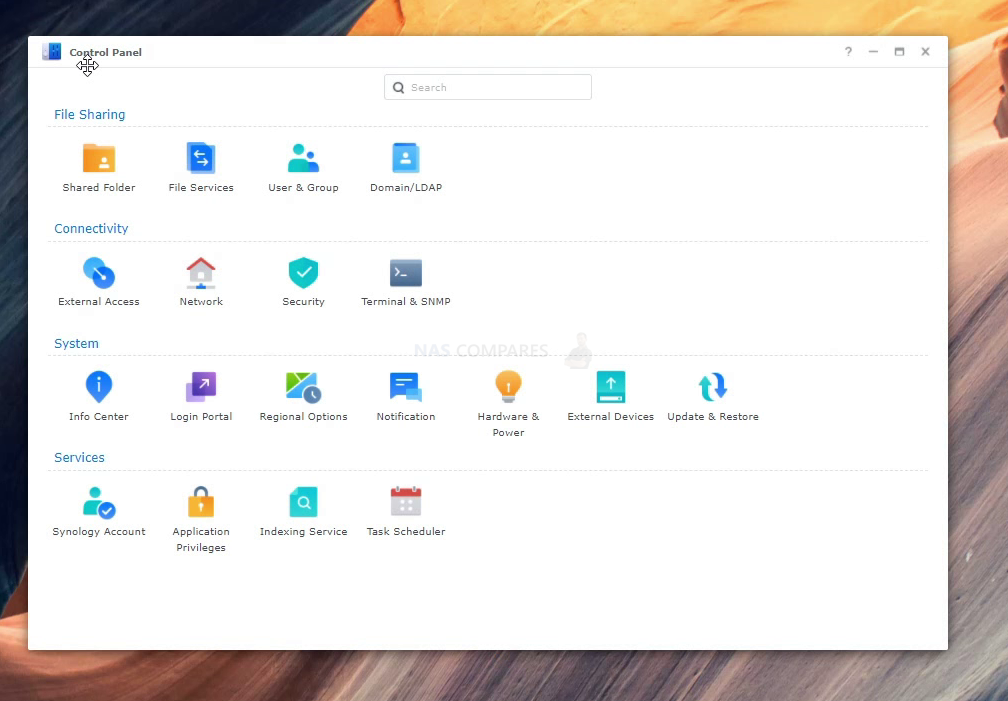 The resource monitor in DSM 7 has also received an update and is now a fraction more information than its predecessor, with more historical data options and ways to par down the stats to get more information. It's a smaller upgrade over DSM 6.2 resource monitor, but always a change for the good to have more system health and consumption of the hardware info at hand.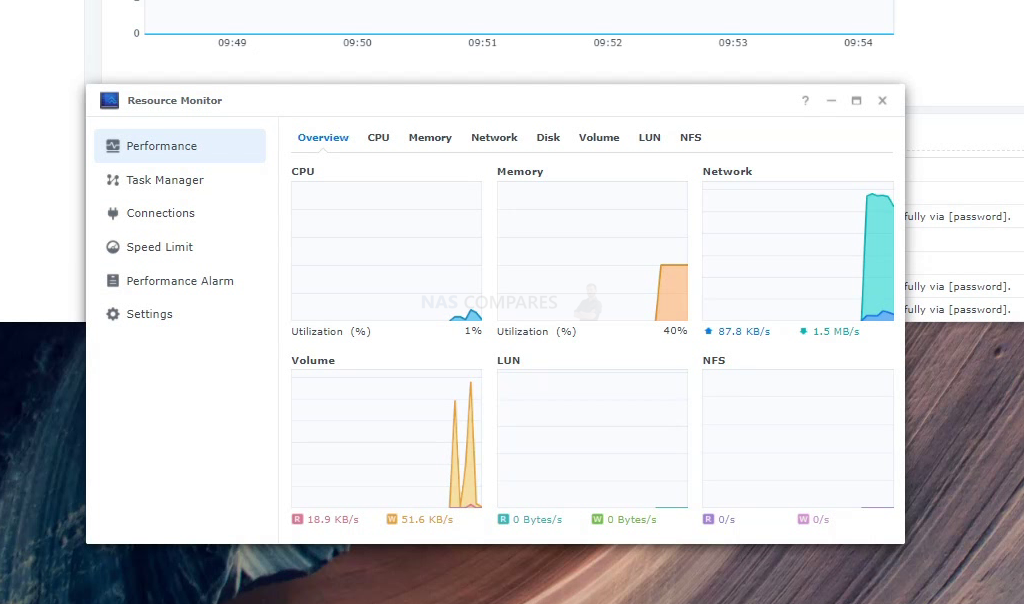 Talking of system hardware, it is worth discussing another area of DSM 7.0 that some are less happy with. The USB support (i.e the range of compatible USB devices) that you can connect to a DSM 7 enabled NAS is far less than previously, with numerous network adapters, office hardware and lite client devices no long being supported. Synology has highlighted that in some cases this is because they need updated drivers/software from manufacturers to work with DSM 7.0, but in other cases, we have already seen a trend of reducing compatible USB devices on Synology DSM. Luckily the majority of USB storage devices are compatible (2 connected in the image below), but EXT3 is no longer supported in DSM 7.0.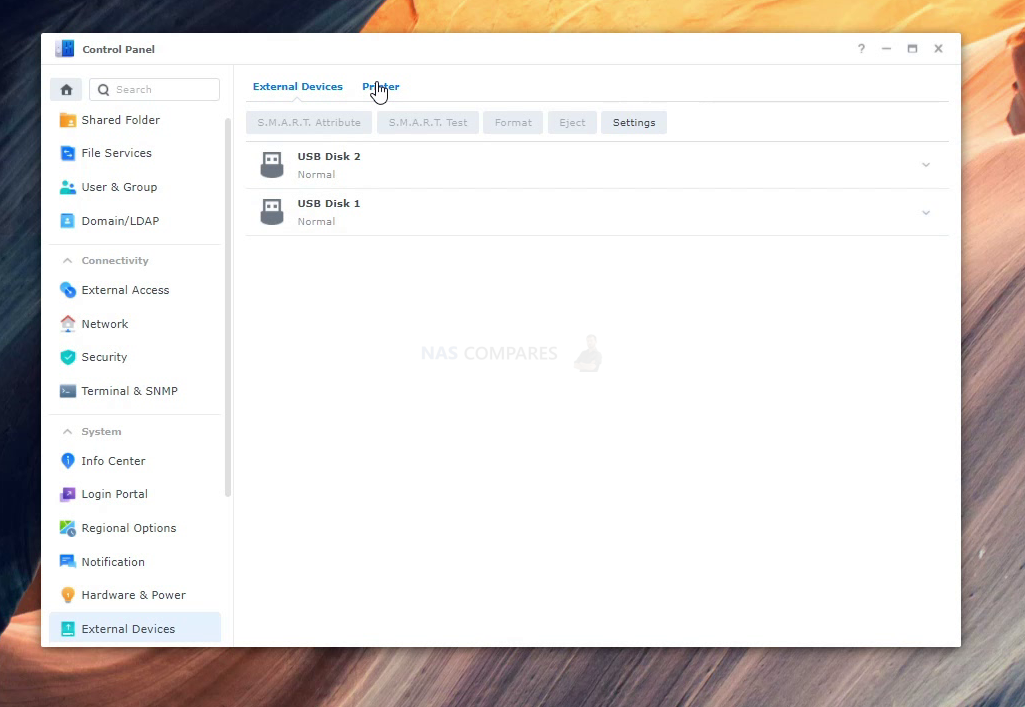 The system also has improved logs/records windows that are available to track the goings-on within the system and has incorporated a lot of this into the security center – providing updates/notifications to the end-user to pre-empt any potential vulnerabilities that open up.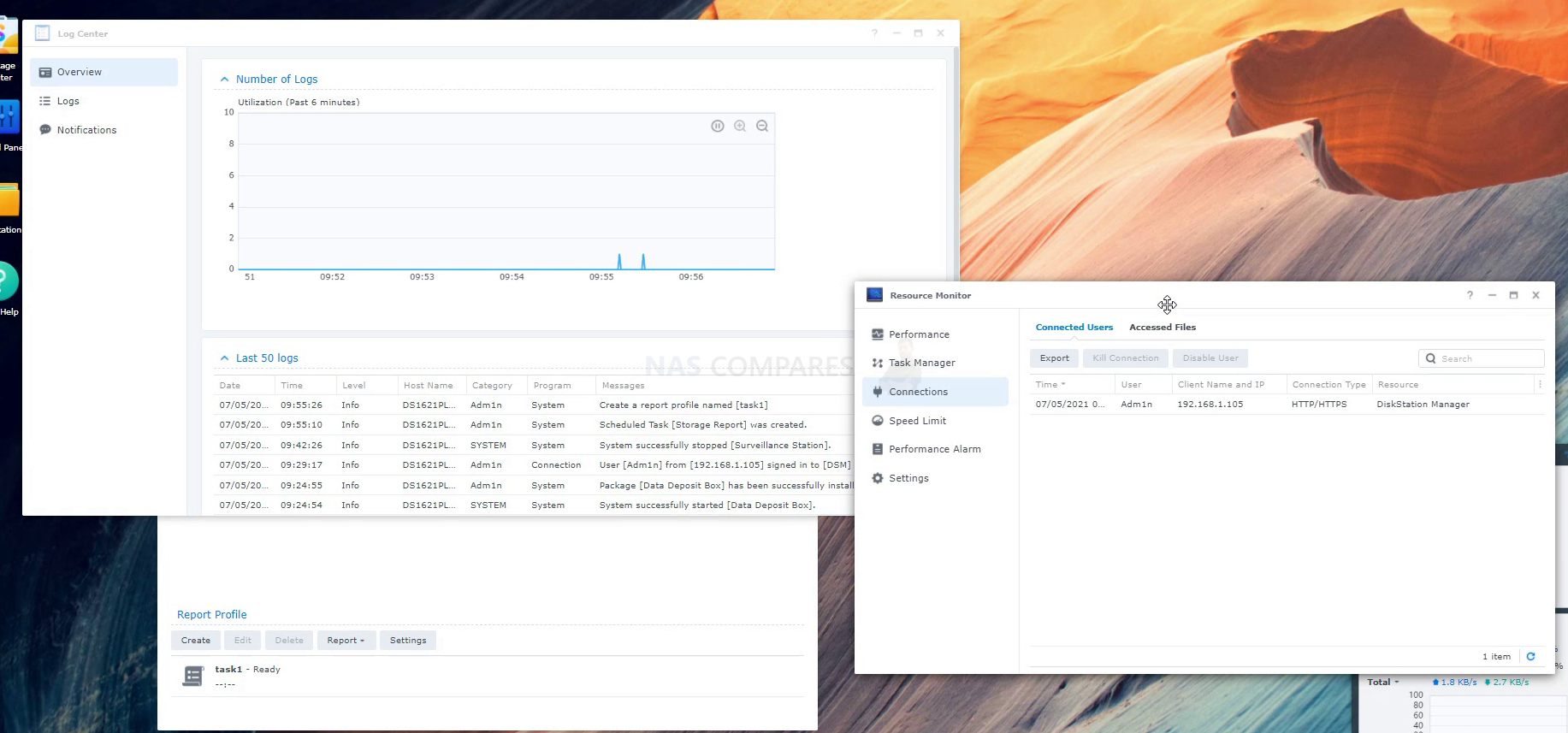 Along with numerous backend improvements in DSM 7 and the improvements of encryption in a bunch of areas, the system still has the same Security Advisor and Antivirus scanning systems built into the software. These can be set up the first time and then can do their high on a schedule, regular as clockwork. They seem a little thin on details, but they do their job and that's what counts.

All in all, the user interface and interaction with Synology DSM 7.0 is a big, big upgrade over DSM 6.2 in design and responsiveness, though there is the occasional blip where you can see the layout/structure of DSM 6.2 at odds with DSM 7.0 – but this will likely be ironed out as the bulk of Diskstation development shifts over to DSM7 exclusively. When we first explored the DSM7 GUI and system interaction at the beta stages (video below) the clear improvements in operation speed and latency were clear:
Synology DSM 7 Review – Storage & File Management
Moving aside from shiny graphics, modern UX and responsive browser access, let's take a good look at the storage and file management of DSM 7 and what has changed from DSM 6.2 The storage manager in DSM7 has been given a lot of attention, with the overview being given a large graphical overhaul. The more topographical list of storage pools, volumes and SSD cache bays is exceptionally clear and gives you the bulk of important information you need to know immediately. On the whole, I much prefer this new UI in the storage manager, however, I did notice that the layout of the NAS storage bays and SSD cache bays would only display correctly if I was using a web browser at 90-100% screen size. Anything less (as I believe most people use 70-80% on Laptops and MacBooks) and the SSD cache bay would display incorrectly.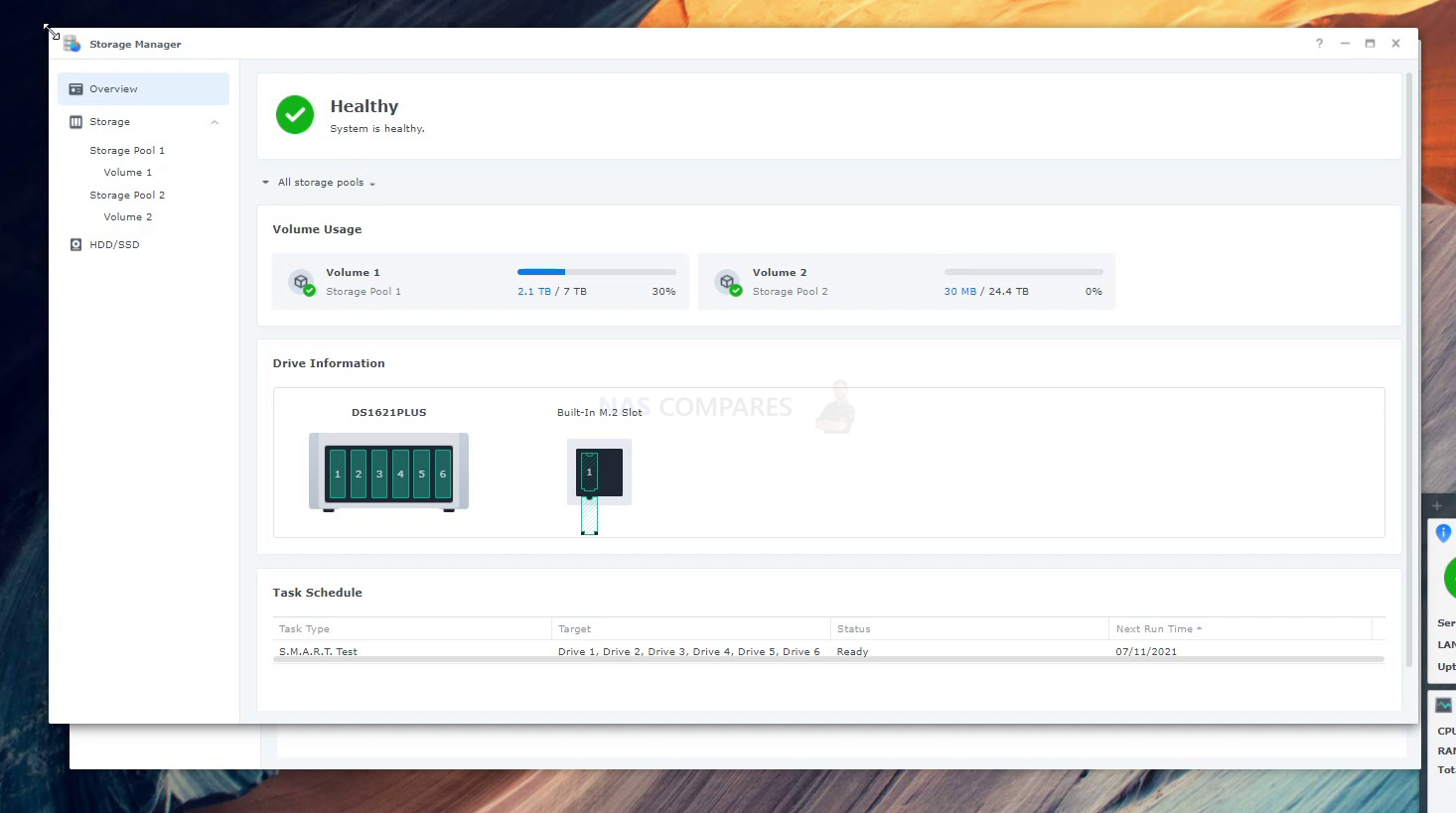 Changing the zoom (tested on numerous browsers) to closer to 100% would resolve this, but it does seem like an odd thing to have missed at the design stage. Still, it is an incredibly pedantic point I know!
The drives tab shows us a slightly more familiar list that shows us the available storage drives on the system, along with SSD caching bays (as appropriate to the NAS hardware) and from here you can find out a wealth of information on each drive.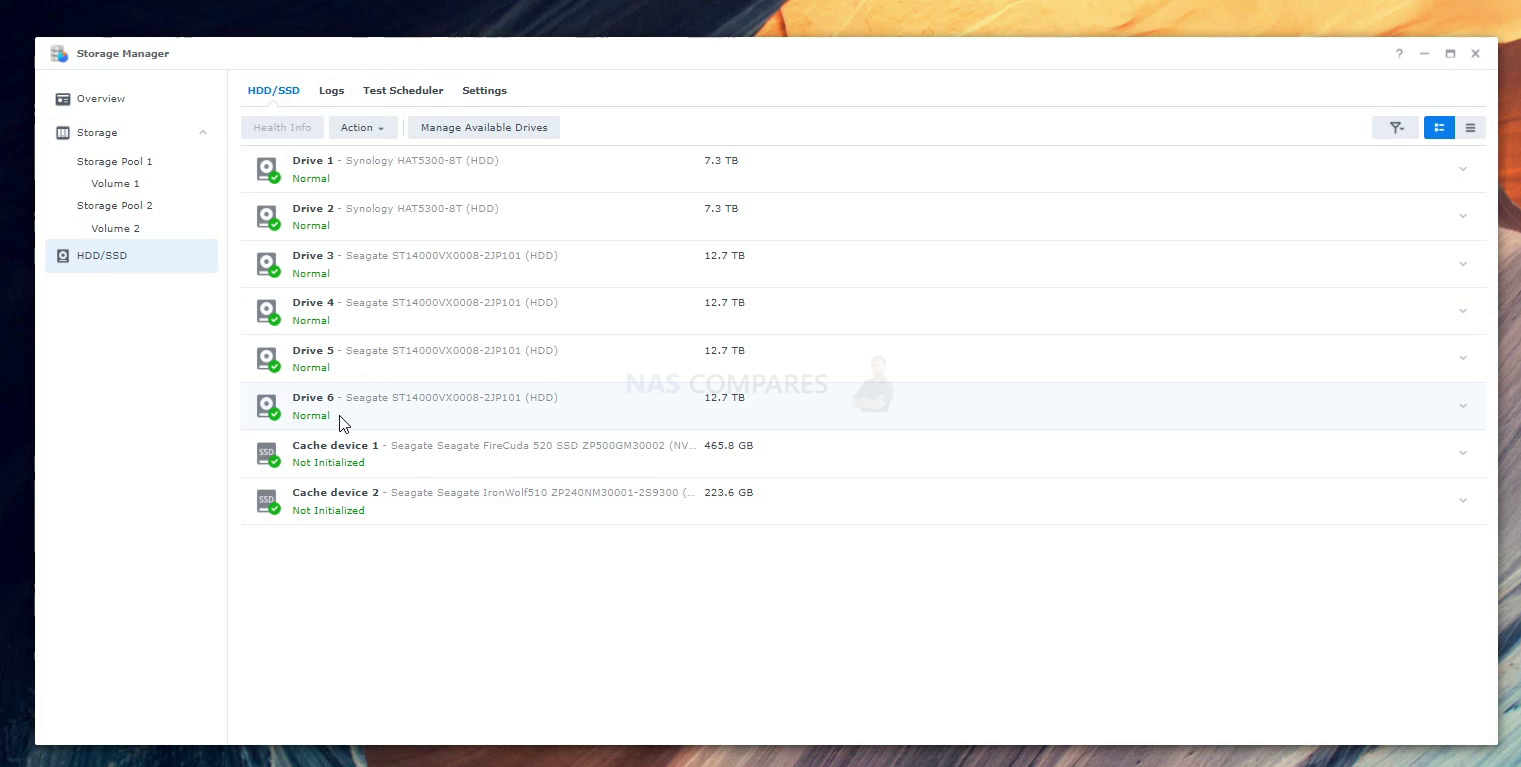 Information on each drive includes its health, SMART tests, temp, initialization status, model ID, serial, RAID group and much more. Once again, if you use Seagate Ironwolf Hard Drives, you have the option of utilizing the Health Management tool too.
Once Hard drives are configured to a RAID (and yes, Synology Hybrid RAID is still an option on plus series devices and below), you can then examine a lot of the newer options of DSM 7 with regard to RAID management and how extra drives are handled. The has already been a lot of mention of the RAID 6 performance when degraded/rebuilding in DSM 7 (video tests coming soon), but there is also the new fast repair option that allows users to only have to factor the build of areas of the drives where data resides. In practice, that means that during a RAID rebuild, the areas of the drives (As dictated by the parity blueprint etc) that contain data are built, and the rest is just zero'd (whereas a normal RAID rebuild would build each block one by one, even the empty ones). This is also joined by the already available RAID resync/rebuild priority control to allow the scaling of resources as needed.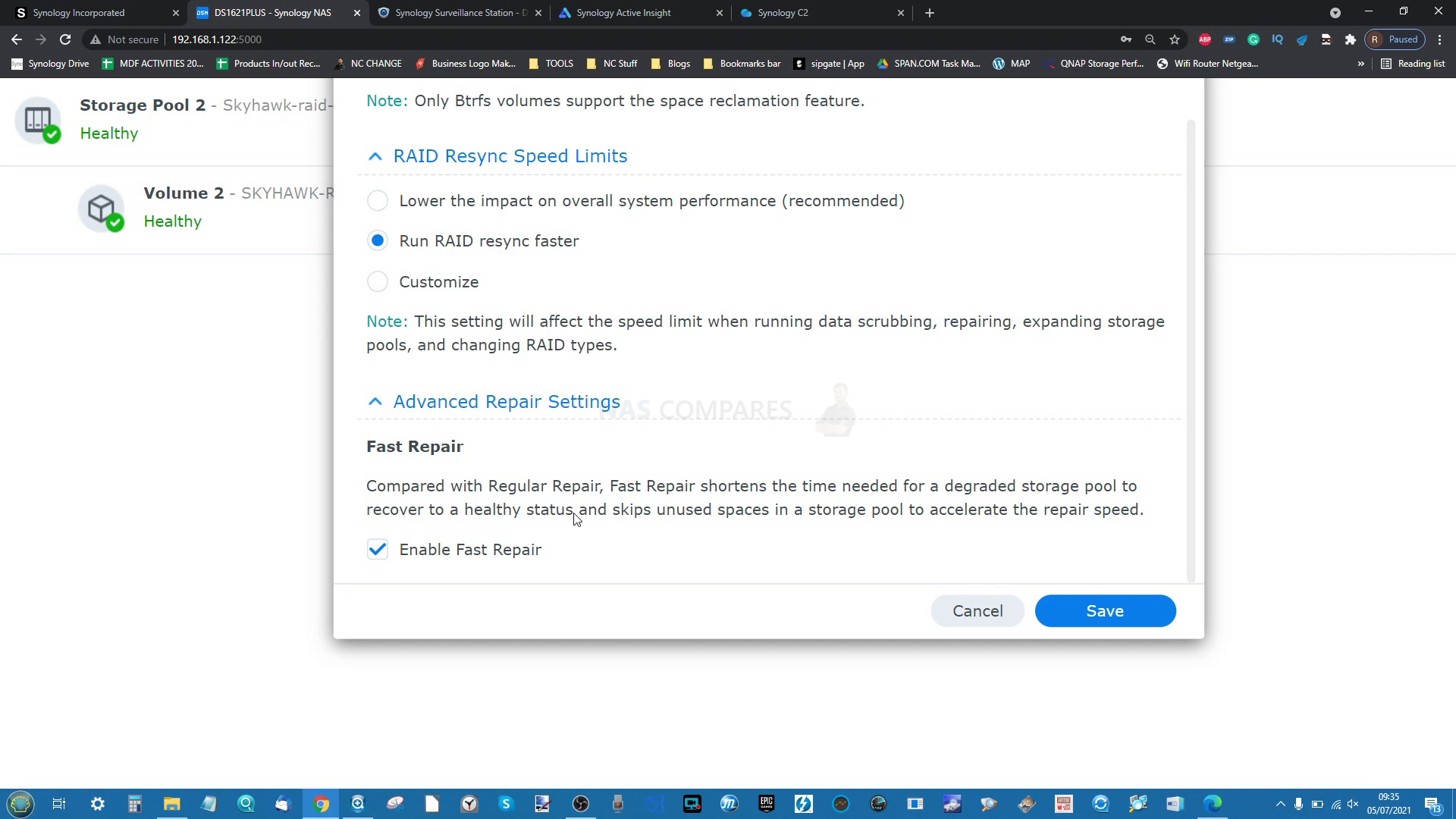 In the event of a new drive being inserted into a NAS with DSM 7, there is an improved display of options of what you can do with this drive with the existing RAID array, making the initialization of a drive to the system much more intuitive and easy to conclude.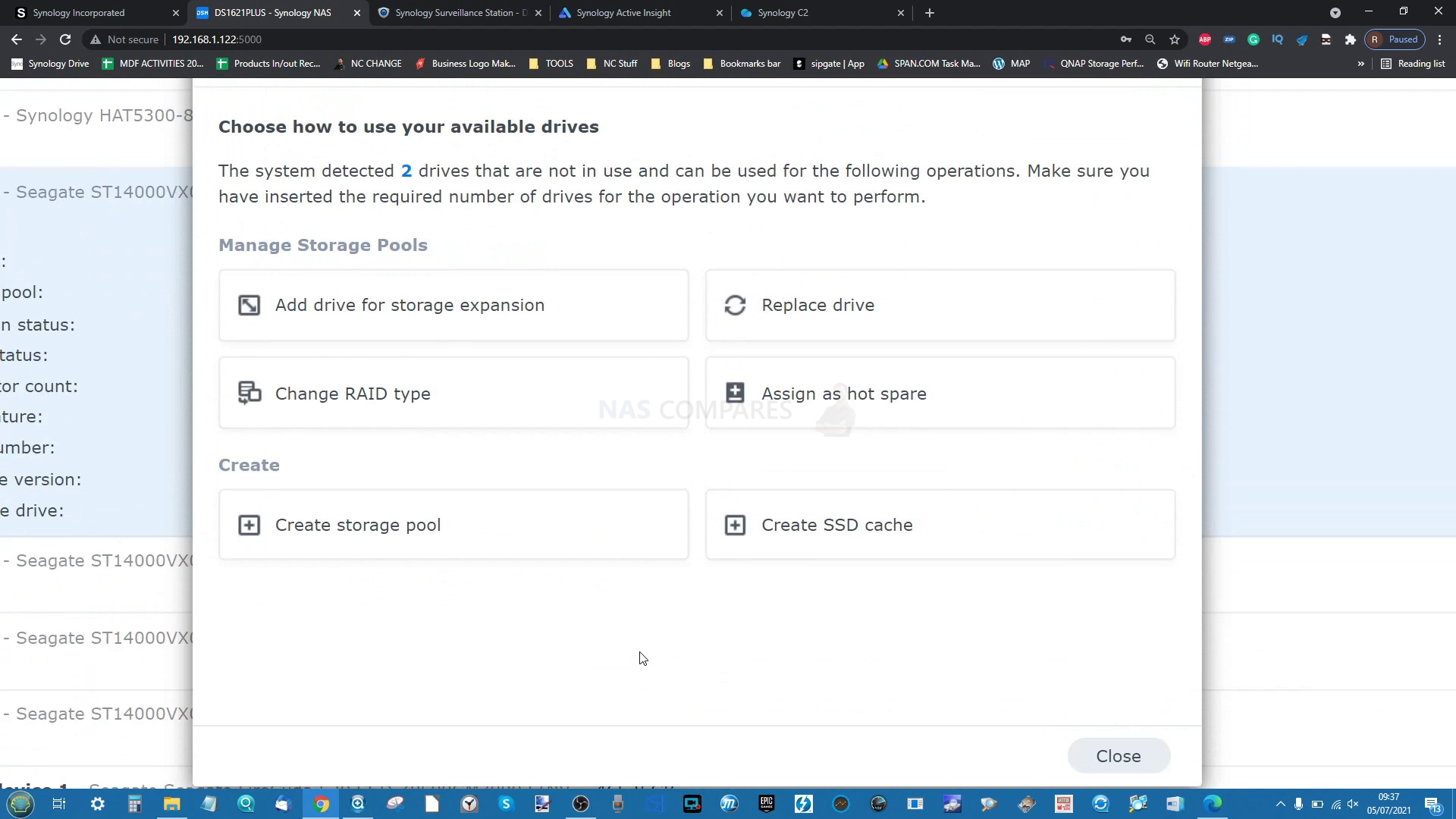 Outside of the storage manager, when it comes to interacting with your NAS, its volumes and contents at a file/folder level, the File Station application still provides all the functionality you are going to need. Perhaps looking a tad dated compared with other DSM 7 improvements in UI and the Synology Drive application, but still a very functional tool.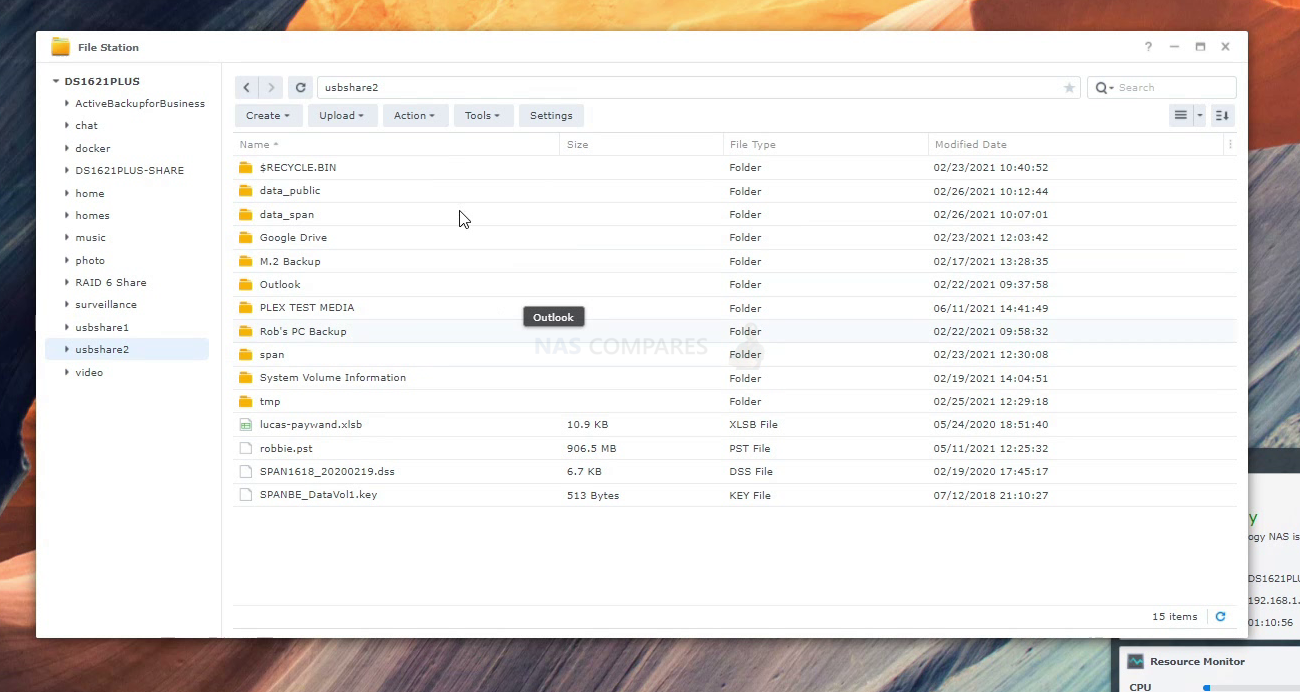 You can still create, control, modify and clone shared folders very quickly and this is still especially true on BTRFS systems – as well as when mounting C2 cloud storage using the Hybrid Share application (covering later). Though I would also highlight that DSM 7.0 requires at least 1GB of memory to fully utilize the system software smoothly and although it IS available as an update to more modest hardware systems like the DS120j (512MB memory), if you are running a DS218play and above (2GB memory) with DSM 7 and BTRFS, I would expect resource utilization to rise up notably.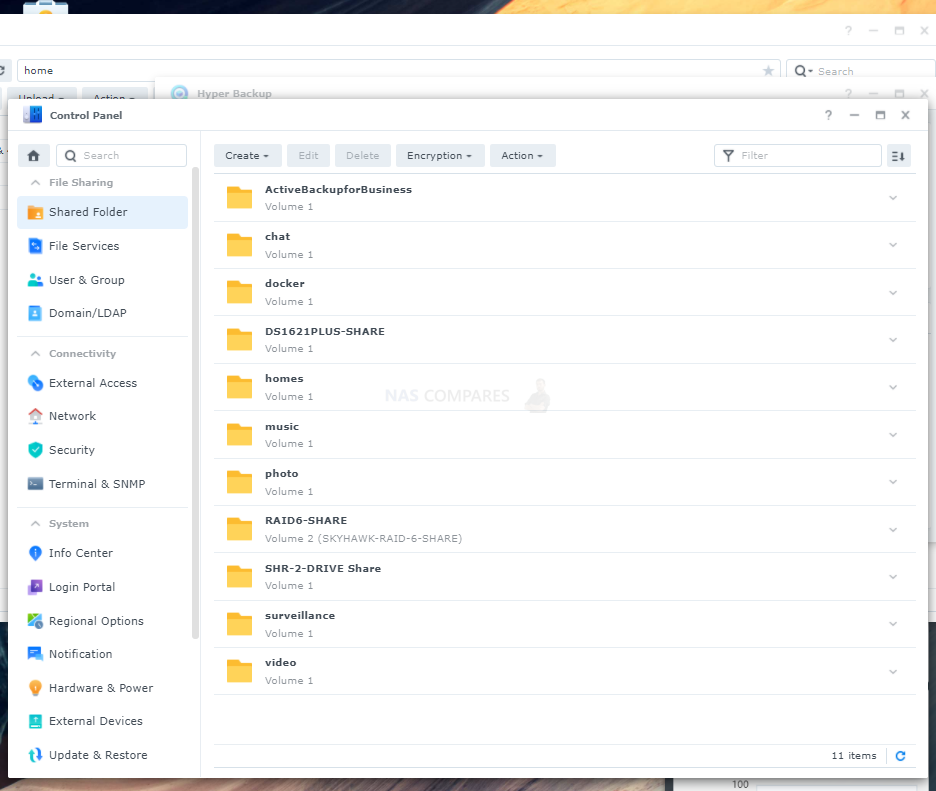 Another change that is mostly cosmetic is the change by Synology in making the iSCSI Manager tool (for creating logical targeted storage on the NAS that can be added to remote client systems much more natively) into SAN Manager. The integration of SAN tools into NAS in recent years has grown dramatically and although SAN manager and iSCSI Manager are mostly the same in utility and layout, they have made a few changes to the available options and defaults that make it easier to create your next business target and LUNs.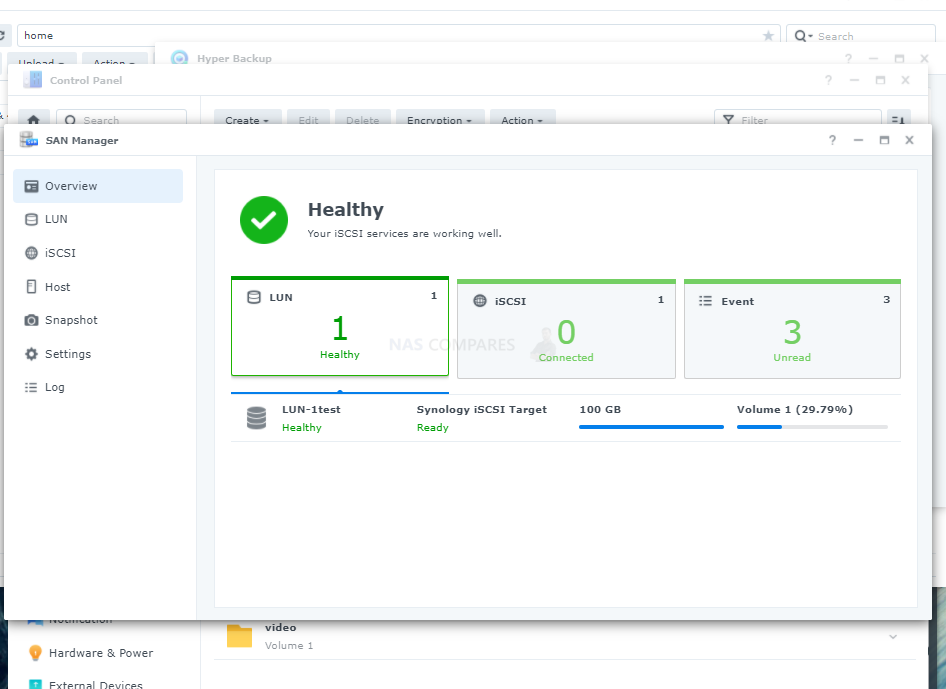 Synology Drive is another application that has changed very little in design between DSM 6.2 and DSM 7, but that is more likely because it has already evolved significantly in the last few years. Originally promoted as the Synolgoy NAS based alternative to the 1-portal UI available in Google Drive and Dropbox (i.e 1 window, can option all/most file types), but has now become a behemoth of a tool for home and business users to backup, sync and access their NAS in a far, far more native way. As mentioned earlier, its design is far, FAR more preferable to that of File Station and it would have been nice to see a similar level of design and access be afforded to File Station in DSM 7.0 as found in Synolgoy Drive.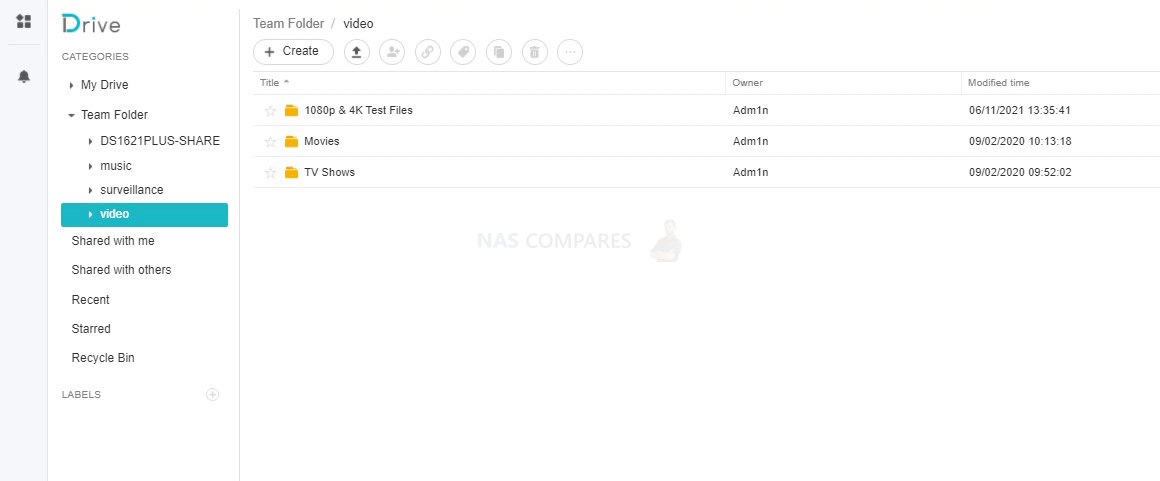 The client application for Synology Drive (that you install on your client computer) allows you to sync folders between your NAS and your system and allows you to interact with your NAS data (multiple users can share team folders too) without the web browser and inside your own native computer OS. However, the popular file pinning and file streaming on-demand feature is still only available on Windows client machines and although there was mention of support of Mac OS in DSM 7 in 2021, this is still yet to arrive (also the same for Mac OS support in Active Backup Suite).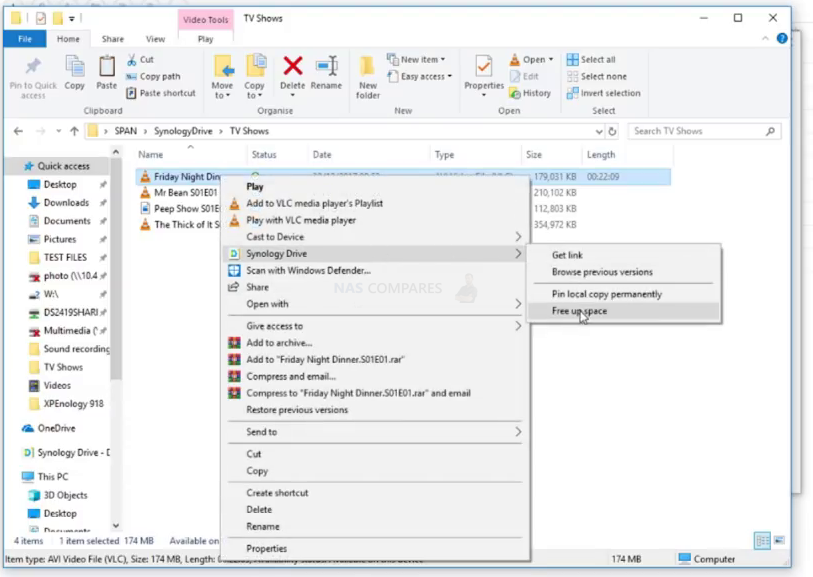 For those users who have made the jump from Google Drive and DropBox and onto Synolgoy NAS, the Synology Drive Client app and those additional file management services in Windows context menus are incredibly popular and it is a shame that the Mac OS functionality was not ready at release. Here is a video below (base don DSM 6.2) that gives you a better idea of how file pinning and file streaming on Drive works.
Synology DSM 7 Review – Multimedia Management
For those of you who own a Synology NAS or are considering making the move towards the brand for your data, the applications, services and support of multimedia on their platform is impressive, if a teeny bit rigid. Synology has a dedicated music management tool (Audio Station and iTunes server), dedicated video tool (Video Station), and photo management tool (Synology Photos). There is also multimedia extension add ons, media server extras and a few service extras, but in DSM 7 the only real BIG change is the move by the brand to consolidate the photo tools 'Photo Station' and 'Moments' into a single tool, Synolgoy Photos.

It would be fair to say that Synology Photos' design is much more influenced by Synology Moments before it, but whereas Moments were a much more simplified album/strict-folder interface, Synology Photos has a little bit more customization available in terms of that albums and folders that are available to view. This is done by the Synology Photos app having a 2-Door/tab system for personal space and shared space. The former being your personal photo collection and all of the browsing, categorization and customization that you would expect. The shared space however will show the individual photos/albums/collection that you are sharing. This is much more familiar to Photo Station users, with a control that allows professional photographers and business users to craft and control the images they share.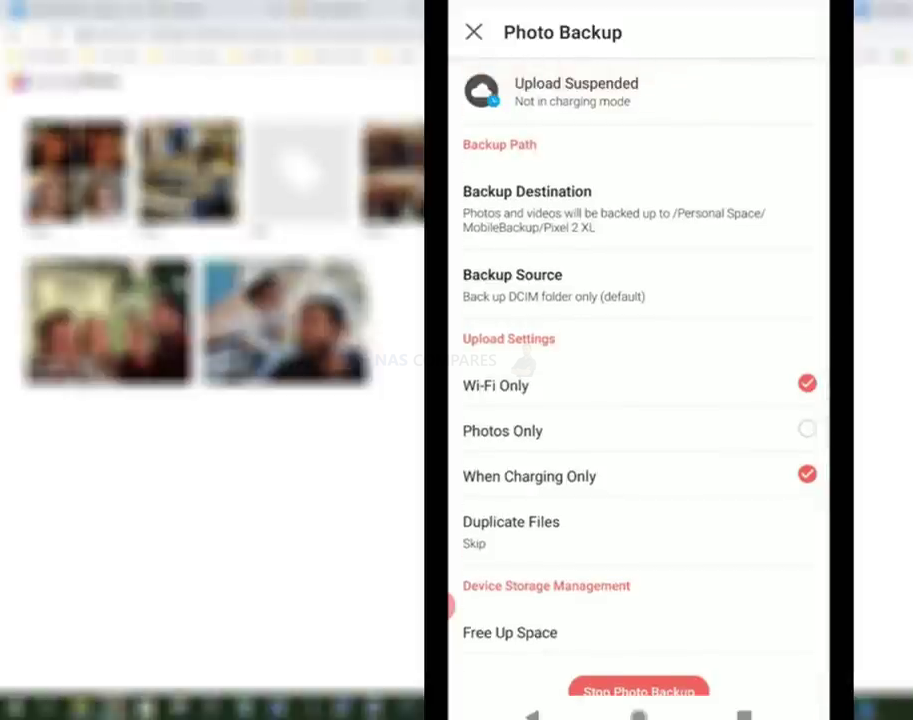 Synology Photos is a very impressive upgrade over Synology Moments (which always felt like had its wings clipped so it would not cross over Photo Station too much), but many Photo Station users how raised complaints about the simplified UI of Synology Photos. Likewise, the design of Photo Station seemed to resonate better with professional photographers, compared with the more chewable/easy Moments UI – so the fact that Synology Photos has heavily embraced the latter design has ruffled a few feathers. Equally, the slightly more restrictive target folders that are used Synology Photos is the same as Moments/Photo Station before it and in most cases, you will need your albums to reside in pre-designated areas of your NAS storage (you cannot tell the app to 'index from X location' easily). Likewise, a few of the AI-powered functions and menus are required to be manually turned on at the first time app launch, which seems an off choice.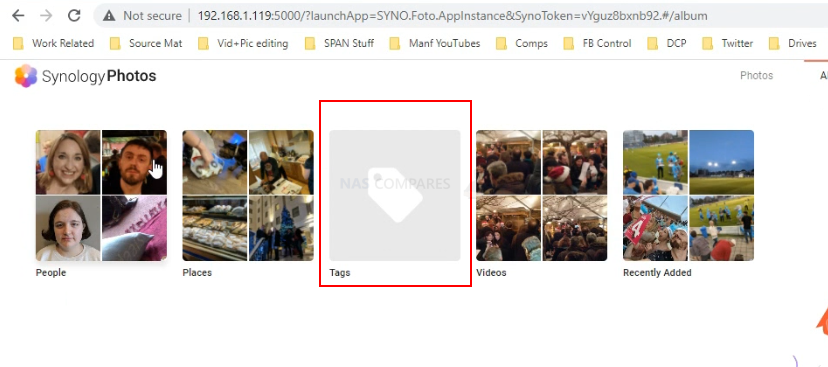 That said, Synology Photos is still a big, BIG jump over Moments and the amount of information in the photo metadata that you can pull in the app is SIGNIFICANTLY better. This information, along with photo tagging can be used in the new improved filter search system to a noticeably high degree, not only to find photos a great deal more precisely but also to immediately reach smart albums based on those search results. So, for example, you can search for photos that MUST contain photos of person X, Y and Z, but have to have been taken between data A-B, on camera C, in location D – not only will it spit the results out to you very quickly from your collections, but you can then create a brand new photo album in 2 clicks from these results. VERY handy.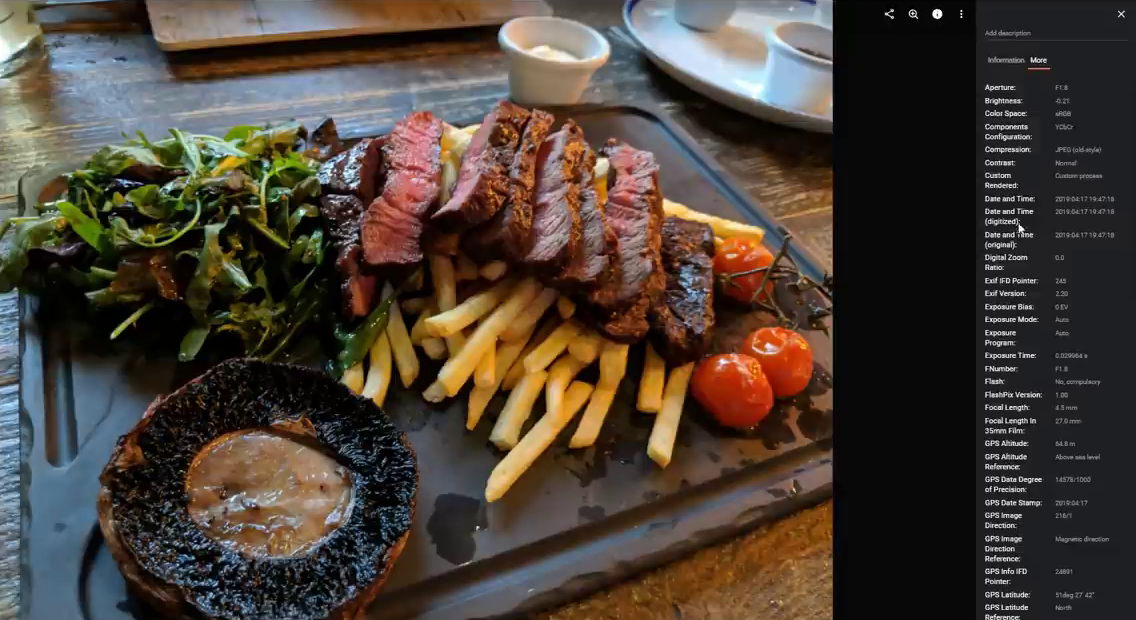 The AI-powered photo recognition and people, faces and things are still available in DSM 7 and do not require an internet connection in order to operate. Though it and the Subject recognition were areas where the visibility of these albums needed to be activated on the menu (odd choice) and I am also pleased to confirm that not only did it do a good job, but photo data was carried over from the DSM 6.2 system before.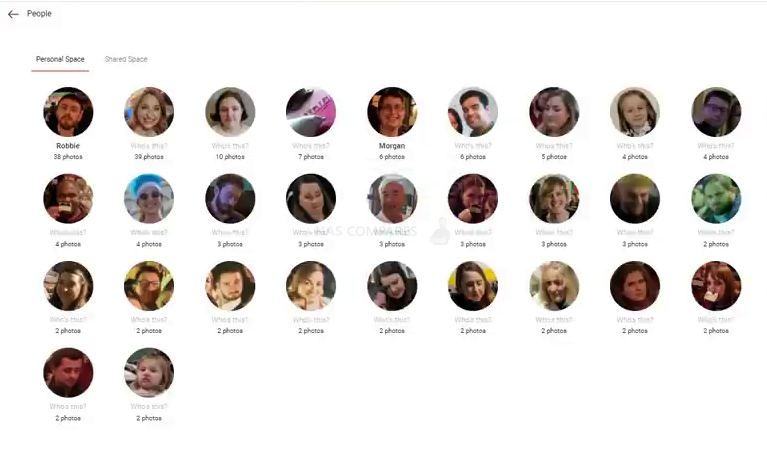 We have discussed Synology Photos at length when the application was included in the DSM 7 beta and the core system build remains the same in this new full DSM7 release. You can find out more on Synology Photos in the video below:
The rest of the media applications in DSM7 have not really changed much since DSM 6.2, but this is by no means a bad thing. Synology is still one of the only brands that have a 1st party application for Amazon Firetv (DS Video, DS Audio and DS Photo for Native NAS access from your sofa) as well as a 1st party application/skill for Amazon Alexa (DS Audio) for voice-activated audio playback.  They are all very good applications and still very much some of the best you will find in NAS in 2021/2022, but I will highlight that the UI of Audio Station is long overdue for an upgrade, as it already looked a bit 'Winamp' and in DSM 7, the conflict between DSM 7 design and Audio station is pretty glaring.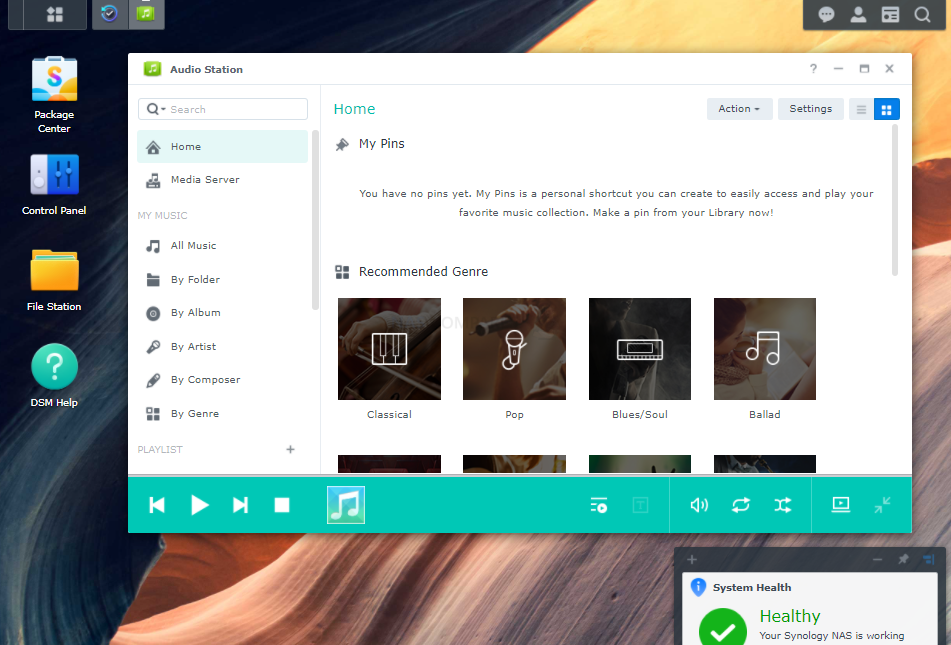 The video station application on the Synology NAS platform is still first class, giving the likes of subscription access on Plex Media Server and Plex Pass a run for their money. DSM 7 has not changed anything by the looks of things and the UI on your browser still opens in a new tab outside of DSM7, as it did in DSM 6.2.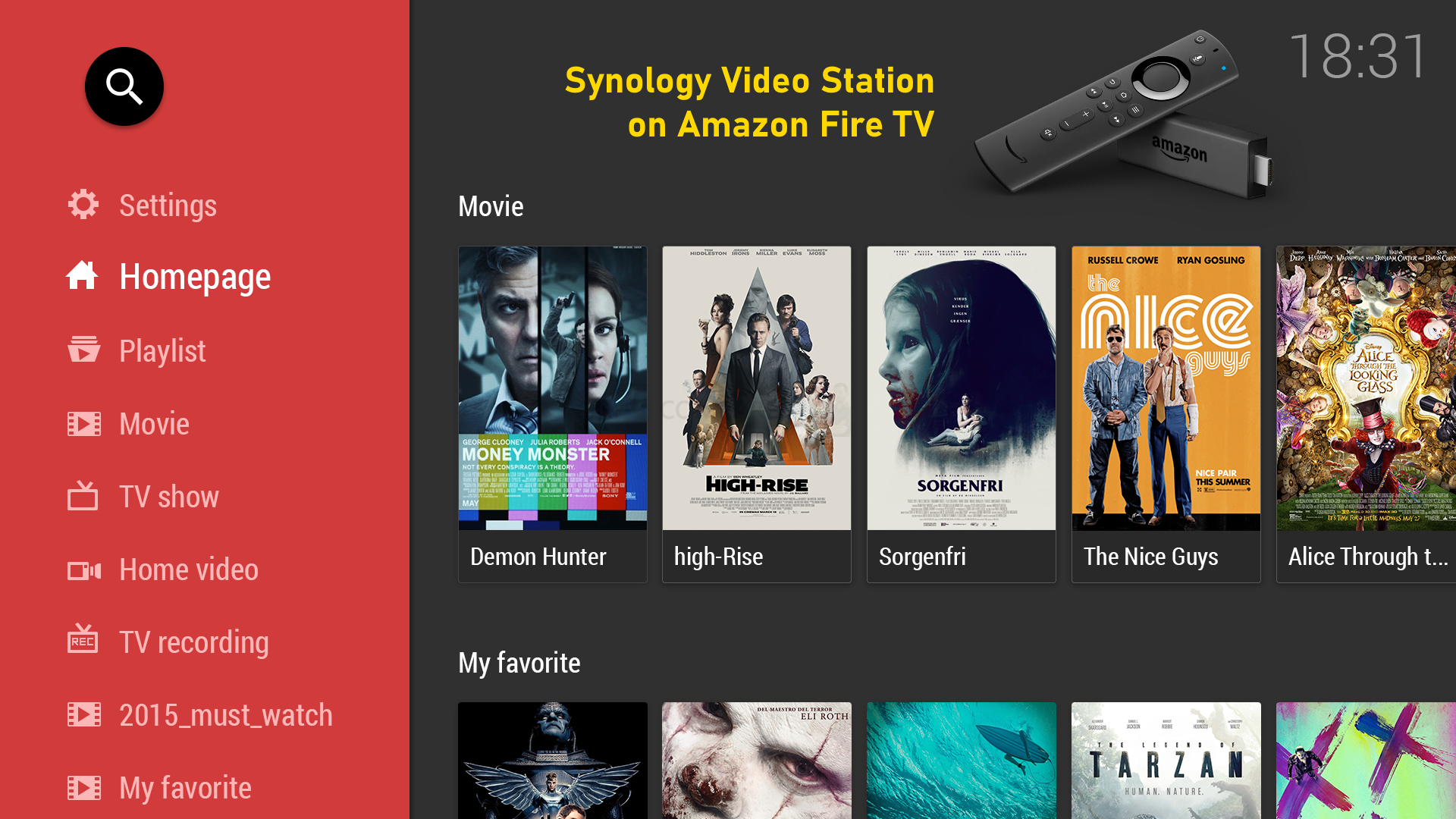 The only minor point I would raise is that Synology Video Station on DSM 7 seems to require the IMDB/Movie-Database API key a lot more readily than it seemingly did in DSM 6.2. I have tested Synology Video Station on numerous occasions and always using the same media files, yet in DSM 7 the metadata was not scraped automatically as it has done previously. This could well be an oversight on my part whereby metadata on media in DSM 6.2 NAS scenarios was already on the disk, but I am less convinced – currently investigating.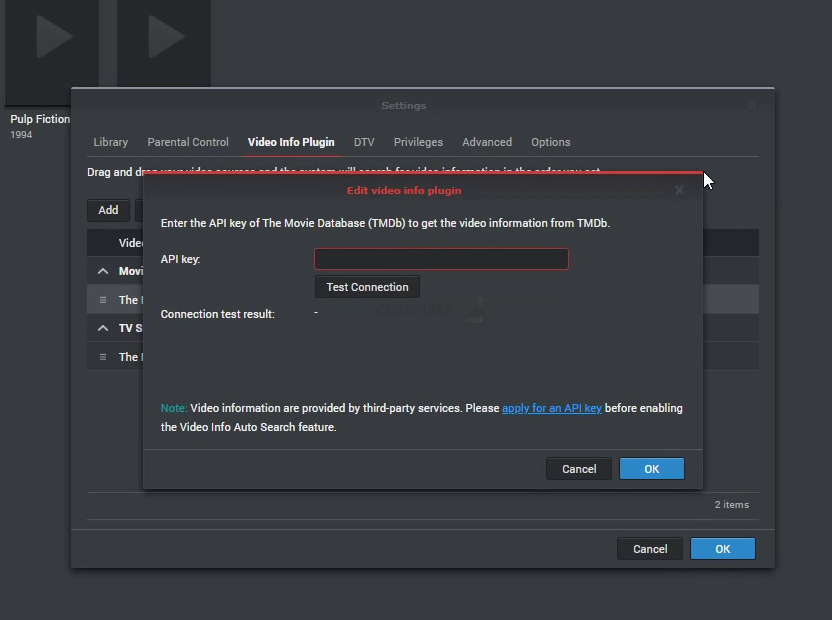 Nevertheless, DSM7 has still got fantastic support of multimedia on the Synology NAS platform and aside from a few niggling areas of complaint in the Audio Station GUI, Photo Station upgrades and that API key issue in video station (still possibly an issue on my side, so the jury is out!), DSM 7.0 still keeps it smooth as silk!
Synology DSM 7 Review – Backups, Backups, Backups!
Most people buy a NAS system for backup purposes so that all the data on their PCs, Laptops, Phones and tablets is all safely contained in another location. However, all too often as soon as space becomes limited on their client device, they start deleting files feeling that it's 'ok, because that data is backed up to the NAS', however now that data is no longer a backup, but is the ONLY copy of the data they have! That is not a backup and that is why most NAS devices arrive with numerous means to back up the data that is inside the NAS to a USB device, another NAS, another area of the same NAS or onto a cloud platform – so that they have ANOTHER layer of backup to rely on. DSM 7 features ALL of the backup options that are available from Synology on DSM 6.2, as well as presenting them in a slightly tidier way. There are very few new features and functionality extras in DSM7 over DSM 6.2 (aside from how HybridShare integrates Synology C2 as an available storage area and the promised upgrades to Synology Drive/Active Backup for Mac OS later in DSM 7 development), but what is available is still very good indeed and scales well between home and business users. The original OG backup tool from Synology, Hyper Backup, is still very functional and covers a very wide range of backup targets/destinations ranging from local to cloud.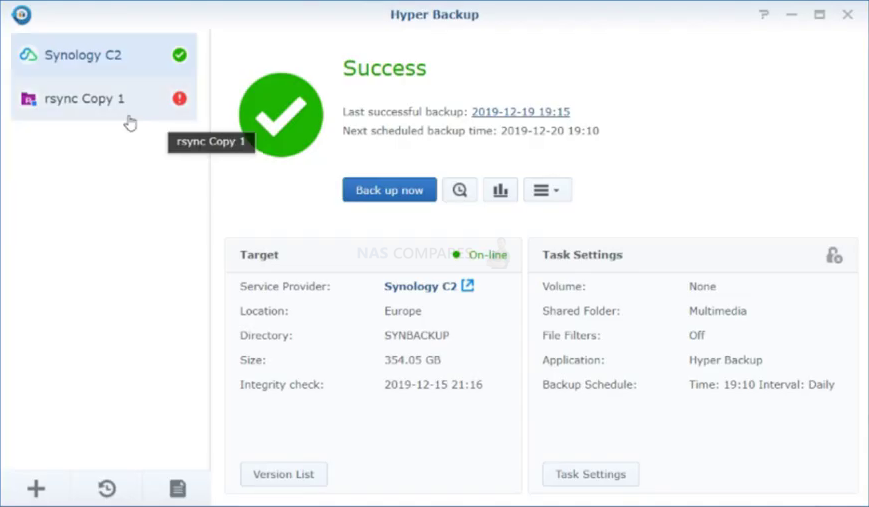 Hyper backup is (luckily) not restricted to Synology C2 (their own cloud service) in the range of cloud services that it supports, however the available cloud providers supported in Hyper backup does seem a little thin on the ground (only 4-5 supported cloud providers, in weaker contrast against the platforms supported in Cloud Sync later) and although there is plenty of general server backup options using rsync between NAS systems and iSCSI targets within Hyper Backup and other networks/internet systems (inc. WebDav thankfully), I am surprised at the small range of supported targets. However, Hyper Backup is still a VERY good tool and sits well in the hierarchy of Hyper Backup, Cloud Sync and Active Backup as your backup/sync demands scale-up.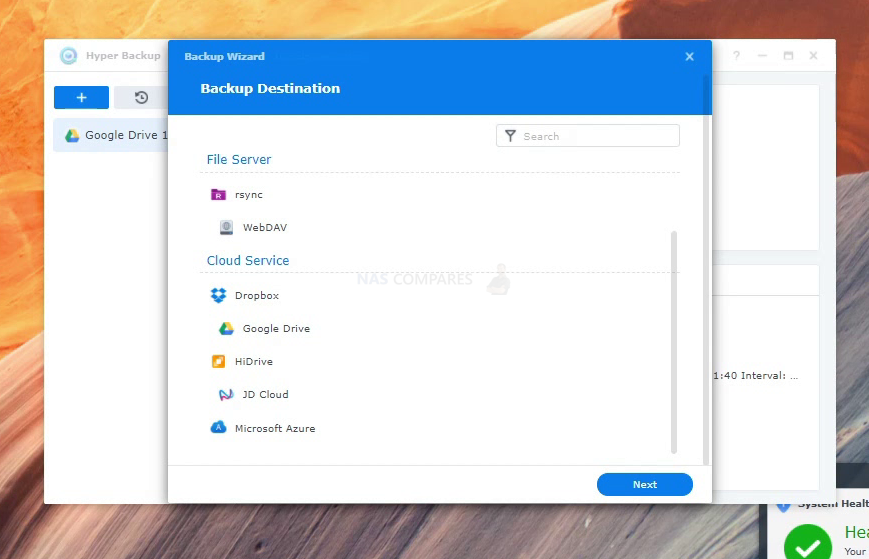 Moving up from Hyper Backup, we can look at the far more business targetted Active Backup Suite application that is a far more enterprise tool than Hyper Backup, acting as a single portal backup management point for your numerous physical/virtual client devices. As previously touched on, the support of Active Backup of DSM 7, although improved and expanded greatly with Software as a service platforms (SaaS), Virtual/Physical machine integration and 3rd Party servers, but the long-awaited Mac OS updates are still 'TBC' later in 2021/2022. I have praised Active Backup on DSM 6.2 numerous times and it continues to impress me in DSM 7.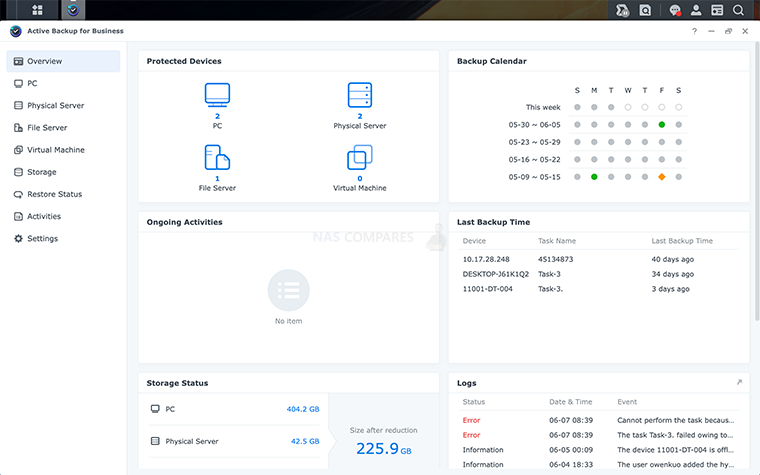 Although Active Backup is a License free software that arrives with your Synology NAS in DSM 6.2/7.0, it is worth mentioning that it does now require you to register with your Synology Account (again, this was apparent in 6.2), but this is perfectly fine and a constant internet connection is not required for its operation, just required for its registration. However, this will be impossible for users using Active Backup for VMware or Hyper V environments/VMs remotely for snapshots and recovery at all times.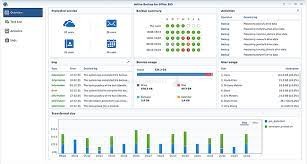 Another feature of Active Backup is that it can be used to support your existing Microsoft Office 365 and/or Google Workspace (formally G-Suite) services (file hosting, accounts, shares, mail, etc) to not only sync and backup those remote services locally in a native way, but also to allow access to them when your internet connection is interrupted/suspended and then synchronize changes when internet connectivity is restored. Once again, not a DSM 7 only feature, but still worth highlighting.

Finally, in terms of backup, although it is still possible in the Hyper Backup tool to a lesser degree, the USB Copy tool is still available in DSM 7.0 and allows a large degree of customization and rigidity in your local USB backup routine. Much like the Active Backup Options mentioned previously, there is a wide range of methods available that range from time managed backups and Differential backups (jsut the changes) to widespread versioning configuration, integrity checks and large filter control.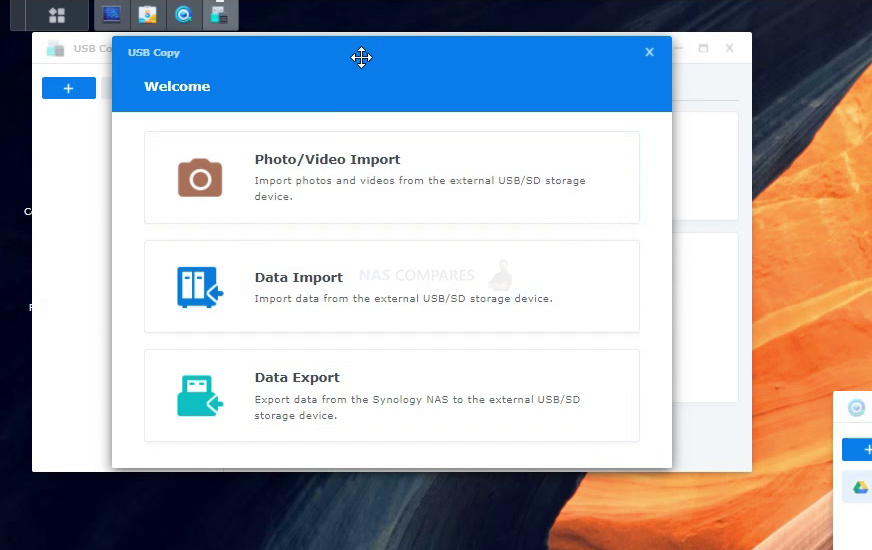 These three tools, along with the Synchronization tools that we will cover in the next part have changed very little between DSM 6.2 to DSM 7.0 at this time of writing, but are still MASSIVELY useful tools to those who bought/buying a Synolgoy NAS and want to know their data is safe. Below is a video that completely covers all of these applications and how they work together to easily create a multi-tiered backup strategy in minutes.
Synology DSM 7 Review – Cloud Storage, Gateways and Sync
Cloud gateways and the combination of internet-based storage services working together with a bare-metal NAS server is not new and in recent years we have seen a big, BIG increase of these services – especially as SaaS and PaaS (Platform as a service) has grown in popularity. The ease of accessing files on your existing cloud service provider (the simplicity etc) cannot be understated and although most of them lack the customization and bespoke security of a NAS drive, they certainly still have a place in home/business. Most NAS brands are coming around to the idea of providing their local/network/individual server systems into a parallel sync set up with Google and Microsoft cloud platforms (see Active Backup Suite earlier) but Synology is one of the ONLY brands in NAS that takes it once step further by supplying their very own cloud service in the form of Synology C2. Synology C2 Backup has been around for a few years now and although it was always an option in DSM 6.2, things are certainly scaled up in DSM 7.0. This is especially apparent in the new HybridShare application that allows you to bolt on the Synology C2 storage to your DSM7 NAS and then access it with the same level of localized/native control as you would your NAS RAID etc. This is done with intelligent caching and synchronization in the background of DSM7 and allows your C2 cloud space to be accessible by multiple users and other NAS drives, providing a secondary access point to the same area of storage.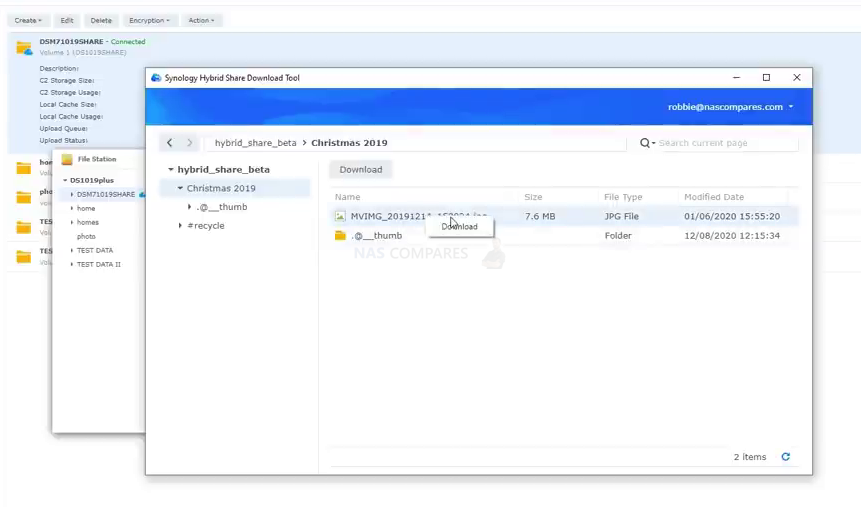 HybridShare is much like connecting Dropbox and/or Google Drive to your Synology NAS storage, however with C2 connected, you have a greater degree of control on versioning from the C2 portal and through your NAS. Likewise, C2 integrates better with your existing DSM 6.2/7.0 applications. However, I am still a little disappointed that HybridShare does not support other cloud services, as although this would limit the range of control options available to your Synology NAS, many business users may have active larger 3rd Party Cloud space subscriptions that they want to use in a more native way to the NAS (as HybridShare allows) and not just via Cloud Sync (which syncs the storage on 3rd party cloud, but limits the integration). This could be marginally mitigated if the Synology C2 platform arrived with X amount of space for Free with DSM 7/Synology NAS (eg 10-50GB for X years at launch to let users test the advantages), but as it stands you need to pay a subscription fee for Synology C2 at even the lowest capacity tier.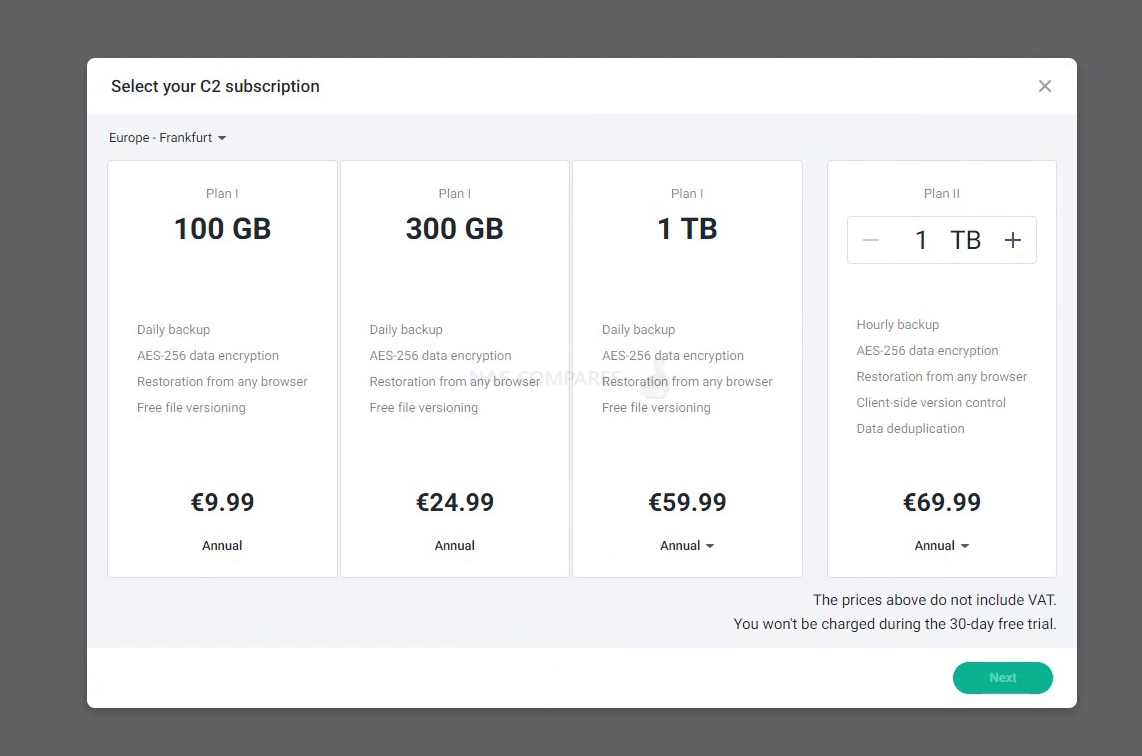 Features such as the versioning on the files that reside in C2 can be managed and restored without the NAS, a feature I genuinely like and will be especially useful when your C2 storage is pooled between multiple devices that are using Backup, Sync or HybridShare setups on multiple bare-metal Synology NAS.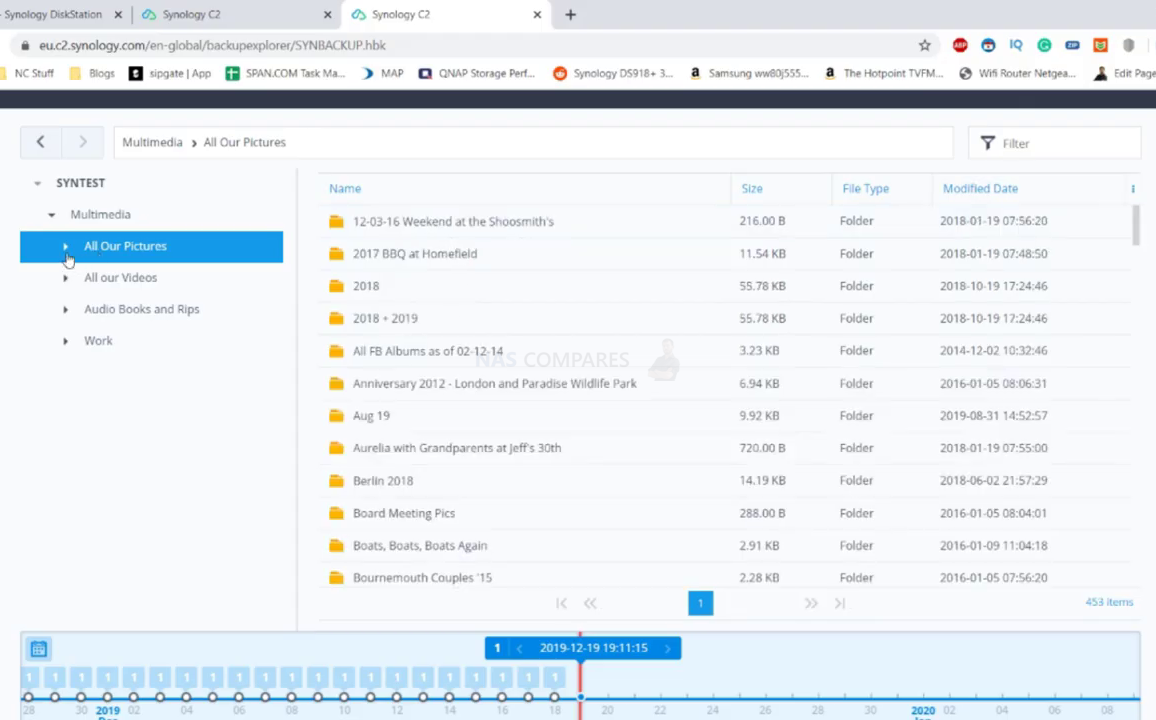 The Synology C2 portal is still a very good cloud service and provides a very good GUI via the web browser, displaying all the real-time storage information, synced devices and access logs. A noticeably jump on information available compared with 3rd party clouds at the Home/SMB level, but still a shame that it does not even have a free tier to slowly ease in users on Day 1, even in DSM 7.0 (which makes the most of C2).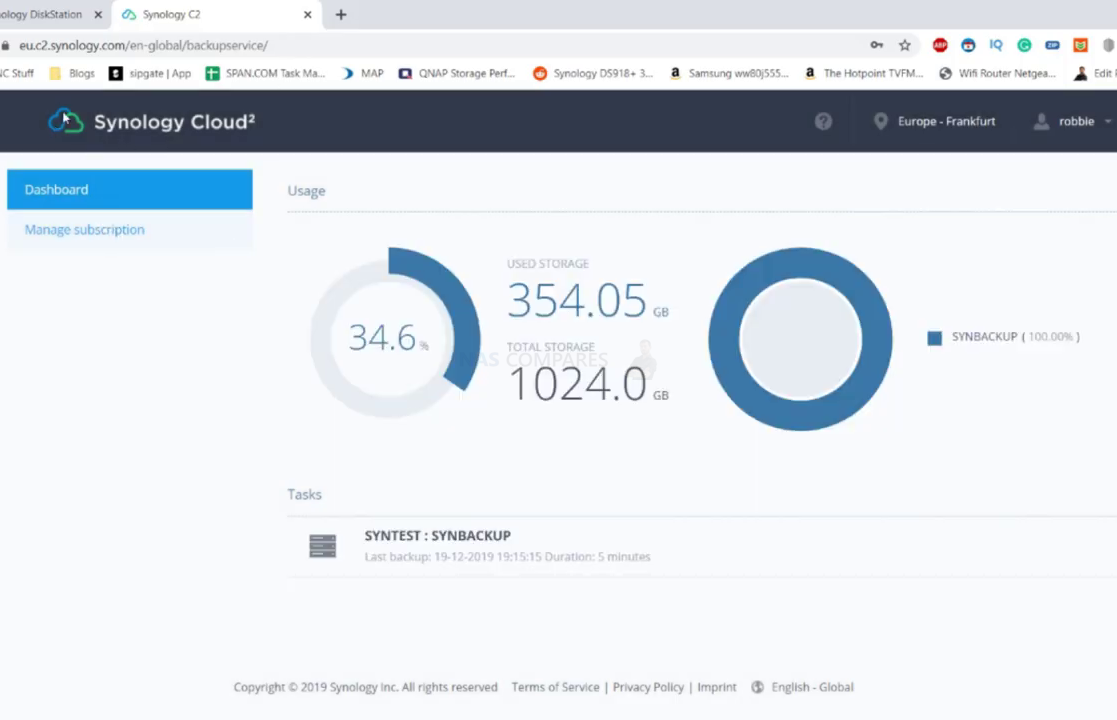 However, if Synology C2 and the improvements in DSM7 with HybridShare do not appeal to you, there is always Cloud Sync, which has carried over from DSM 6.2 and has a much, MUCH larger supported range of cloud services that you can connect with.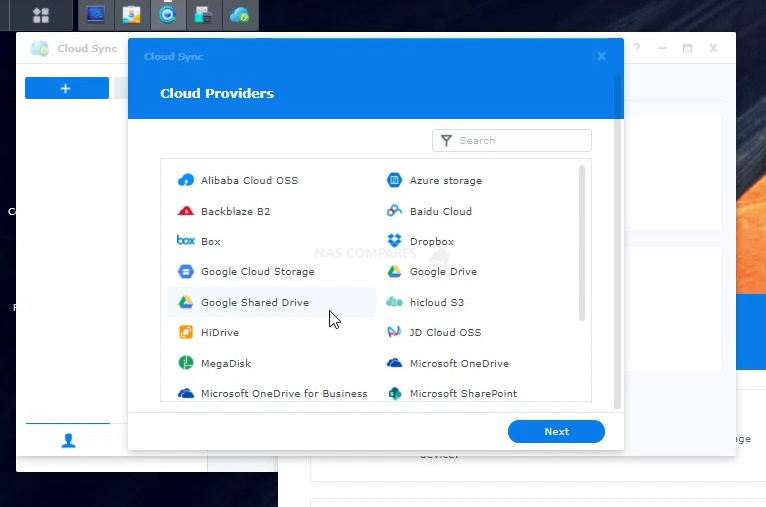 Cloud Sync is still a very versatile tool in DSM 7.0, even if it has had little change other than adding on those new services mentioned from C2/HB, with numerous filter options, version options (less detailed than C2 of course) and no limits on # of jobs/tasks you want to create and schedule with which you want them to run on. I hope that Synology does not choose to clip the wings again on cloud support later in DSM 7 in efforts to move users onto their 1st party ecosystem, but initial support on DSM 7.0 at launch is still good!
Synology DSM 7 Review – Remote System Monitoring and Management
Synology has always featured a bank of tools for remote monitoring their NAS hardware in DSM, with the Central Management tool (CMS) being the best tool for monitoring multiple NAS hardware systems remotely and check their system activity etc. In DSM 7.0, Synology has improved these control and access options to a wider network significantly and added numerous new options. However, the biggest upgrade on this score is Active Insight, a single portal access point to monitor numerous NAS systems all at once, to compare and contrast their behaviour, produce bespoke reports, receive health reports that are tailored to the Synology system history and help pre-empt failure/issues.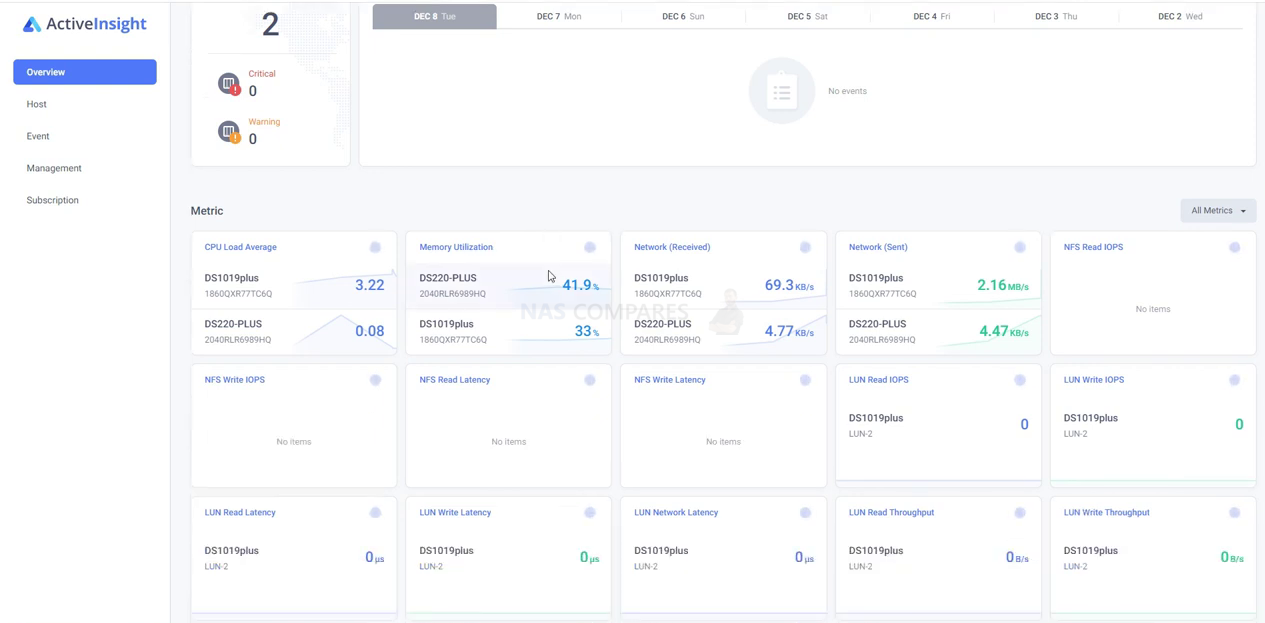 The service which has been running throughout the Synology DSM 7 beta earlier last year and into the RC version earlier in 2021, is now fully available to DSM 7 users. However it is not a free and inclusive service with your Synology NAS and much like Synology C2, does not have a freemium/inclusive X year subscription with DSM 7.0 – which does make it a bit of a leap of faith as a service in terms of business integration. It does allow you, once your subscription is started, to add a huge number of systems and create very, very bespoke alerts and access/usage stat reports that will be massively useful to any business that has a high data turnover at their respective branches but has a central IT/Data management team to oversee the lot.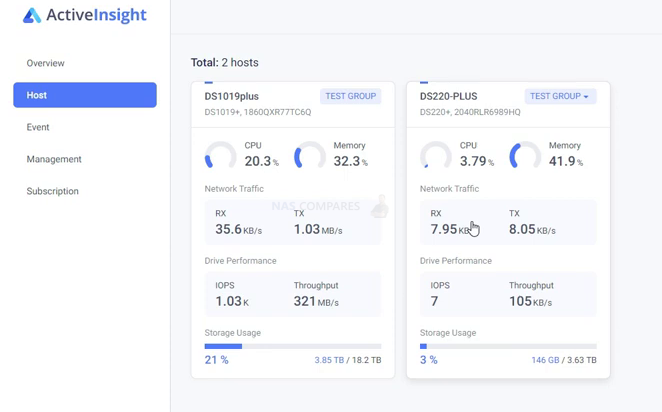 The reports mentioned earlier are highly customizable and along with a lot of customization for the business' own presentation around the reports, they also allow a lot of bespoke alerts to be covered – either as periodic daily/weekly/monthly reports or ad-hoc alerts based on particular system activity, access and/or health.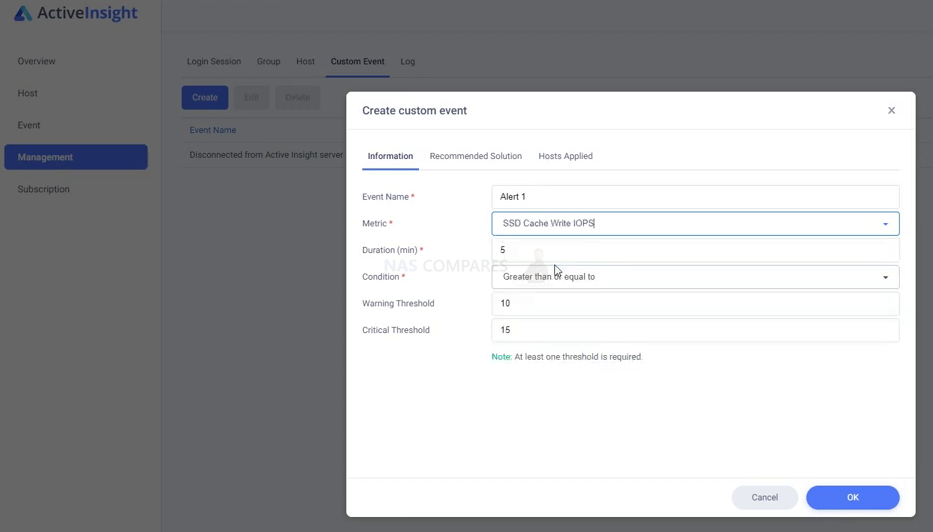 The Active Insight system also allows access via a dedicated mobile application (Android/iOS) which allows you to see practically everything you can see on the browser-based GUI, but also allows all of the security precautions to be in place too – VERY useful for monitoring or implementing changes on the fly in less convenient locations. The view can get a little squished with even a handful of NAS (as you might expect) and even with 4 systems being monitored, the mobile GUI became a tad too limited compared with the Browser access in testing, but still a very useful tool.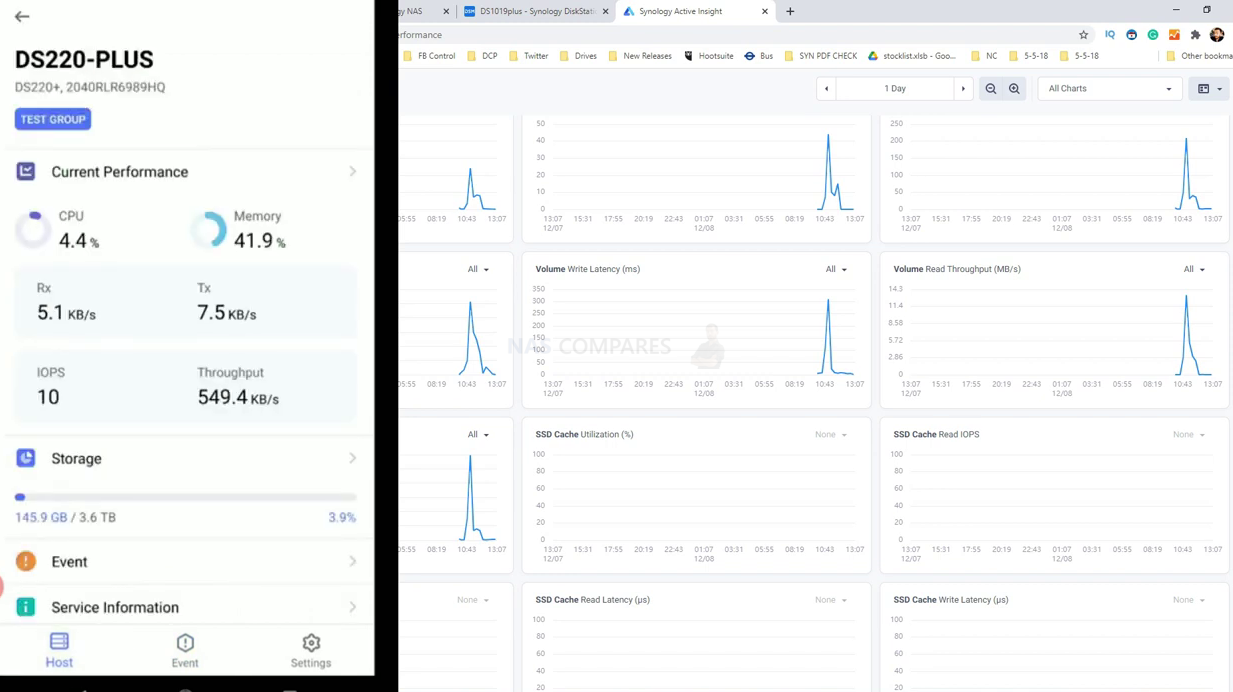 Active insight is a very difficult tool to describe its virtues for without experiencing it or yourself (again, hence why I am surprised by Synology, not including a 1-year subscription or a Free X NAS licence as found in their Surveillance platform with cameras), but the video below of Active Insight testing on desktop and Mobile with DSM 7 from last year will give you a much better idea of what the service can provide business users in 2021/2022.
The Synology CMS application has had a few tweaks and improvements in functionality and design in DSM7 and although it can easily be confused with Active Insight in terms of function, it is very much different in terms of purpose in the end. Active insight is about providing reports and statistical information on one or more Synology NAS Systems and getting them into the hands of those who need them or can action resolutions. Whereas you have to think of Synology CMS as a much more proactive tool for implementing instructions, controlling the NAS server devices, their applications, system updates and actually actioning widespread changes.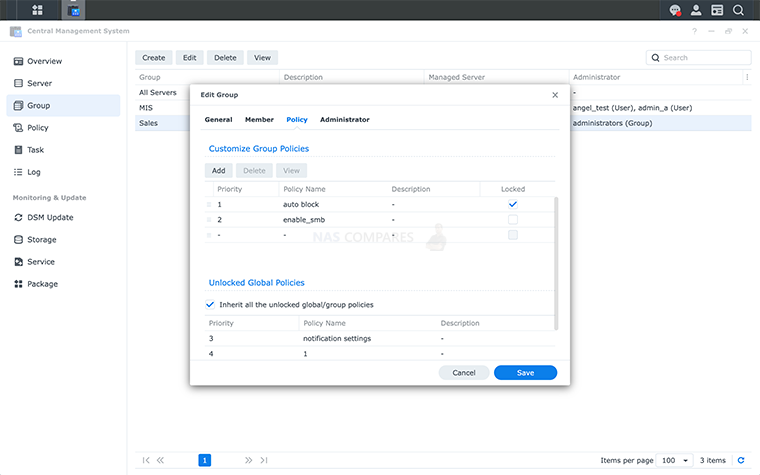 DSM 7.0 brings the same level of control as found in DSM 6.2, but seems to introduce new options, as well as cleaning up the UI a bit. CMS has always been a bit of an intimidating tool, as it allows remote control of updates, changes, reboots and more of numerous devices and right the way down to the app and storage config level too. Although both Active Insight and Synology CMS are powerful business tools, it seems odd that their functionality seems to be separated in this way (though there is some control cross-over), moreover that Active Insight is a paid-for tool and CMS is inclusive within your NAS.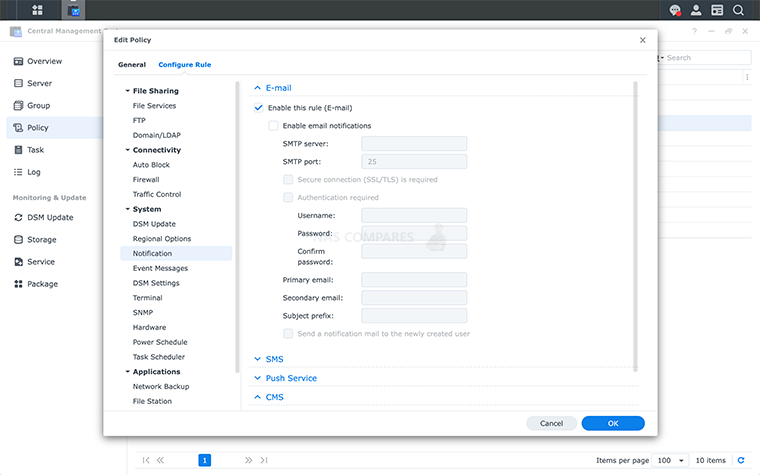 All this said, DSM 7 does a great job of highlighting the viability of a Synology closed software ecosystem, doing a very good job of showing how a multi-site oriented business could be managed by a single user/team, with completely customizable information being available at the frequency that you need. Perhaps it could be said that in DSM 7.0, Synology has shifted focus away from the home and SOHO market and towards bigger targets in SMB, Enterprise and Hyper Scale environments – but this was something we could already see in their latest HDD/SSD releases, so shouldn't come as a massive surprise really. There is no arguing that DSM7 has ramped up its business support, but so far DSM 6.2>DSM 7.0 has been a little less rewarding on home/Prosumer users. Let's talk about the last few business killer apps that Synology includes in Diskstation Manager and how/if DSM7 has changed much.
Synology DSM 7 Review – Business Applications
Synology has spent the last few years retooling and ramping up the range of modern business and network storage applications in DSM, clearly making 1st party software and services a HUGE priority. Alot of these upgrades and changes to the key software took place in the last 3 years as DSM 6.2 became established and although in some cases DSM 7.0 has applied a few improvements in the UI of each of them, they remain largely the same in DSM7 as they did to their DSM 6.2 versions. One that has become a big part of the Synology architecture for business is Virtual Machine Manager (VMM) and although little change is apparent, I will highlight though that recent upgrades in VMM in conjunction with Active backup have significant improved how the software can import/migrate existing VMware/Hyper-V environments that are backed up to be mounted within the Synology VMM system.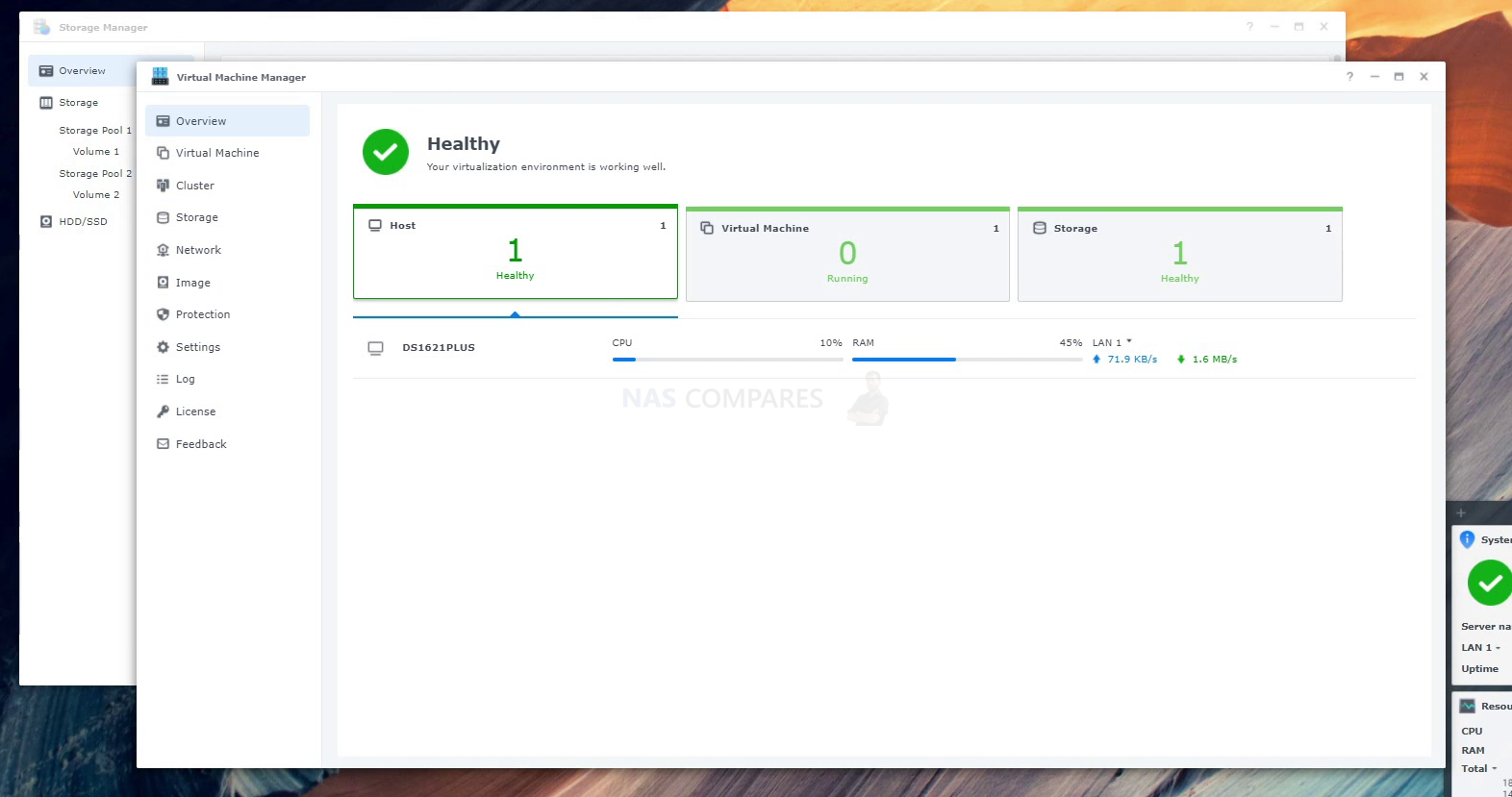 Likewise, the ability to export your existing virtual machine or virtual conversion/image of an existing bare metal machine to the Synology VMM platform is still incredibly straightforward, as seen in my guide to test Windows 11 as a VM on a Synology NAS Video in less than 15mins.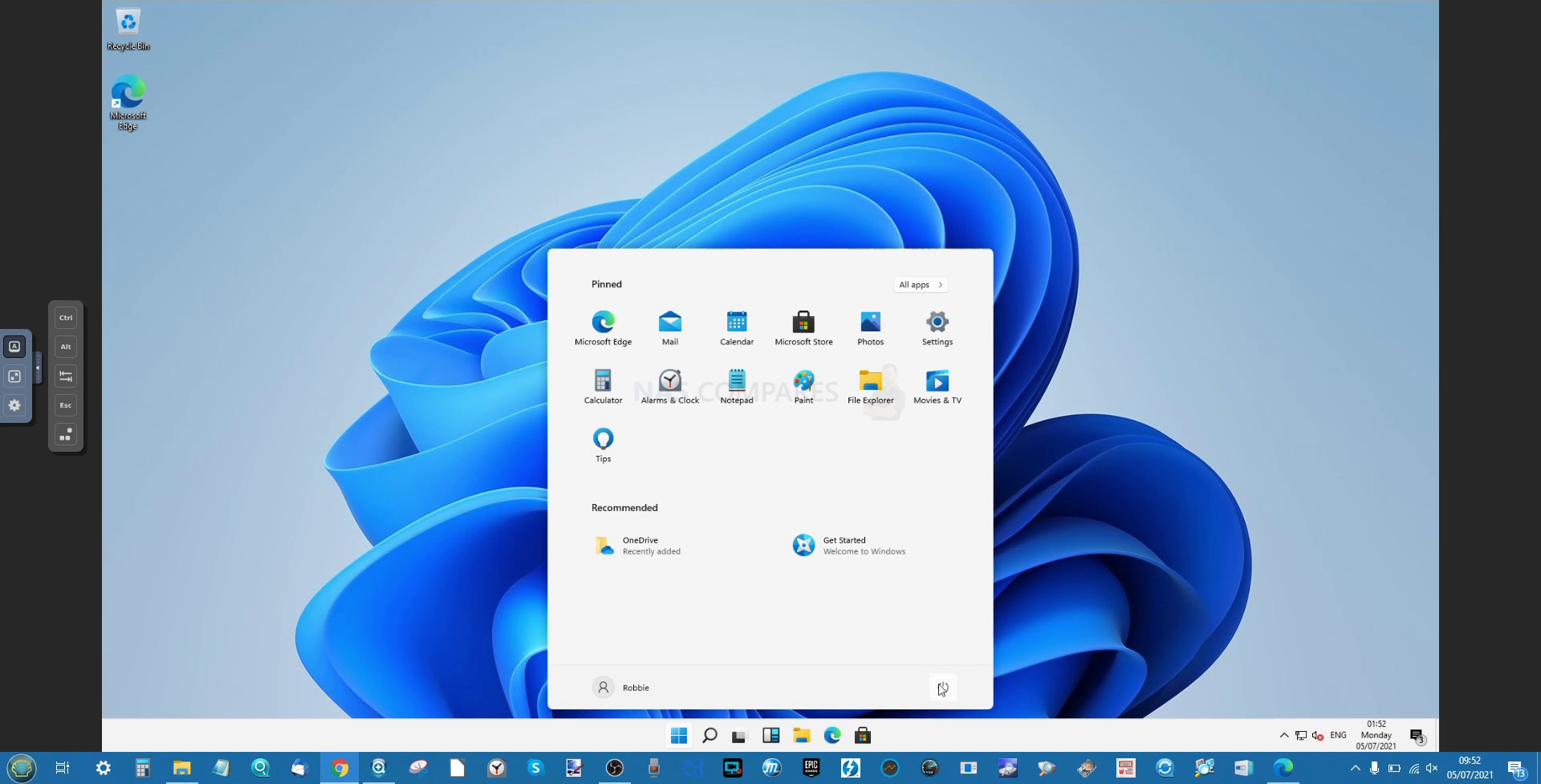 The Surveillance platform on DSM is another area that has received very few visible changes in DSM7, with perhaps the background responsiveness and latency being tweaked in the browser in line with the DSM7 kernel improvements. The Surveillance Station application still runs like an absolute hero in the browser and desktop client application on DSM7 just as it did on DSM 6.2, with full access, configuration and control to all your camera feeds via a Chrome browser as you would like in a local app!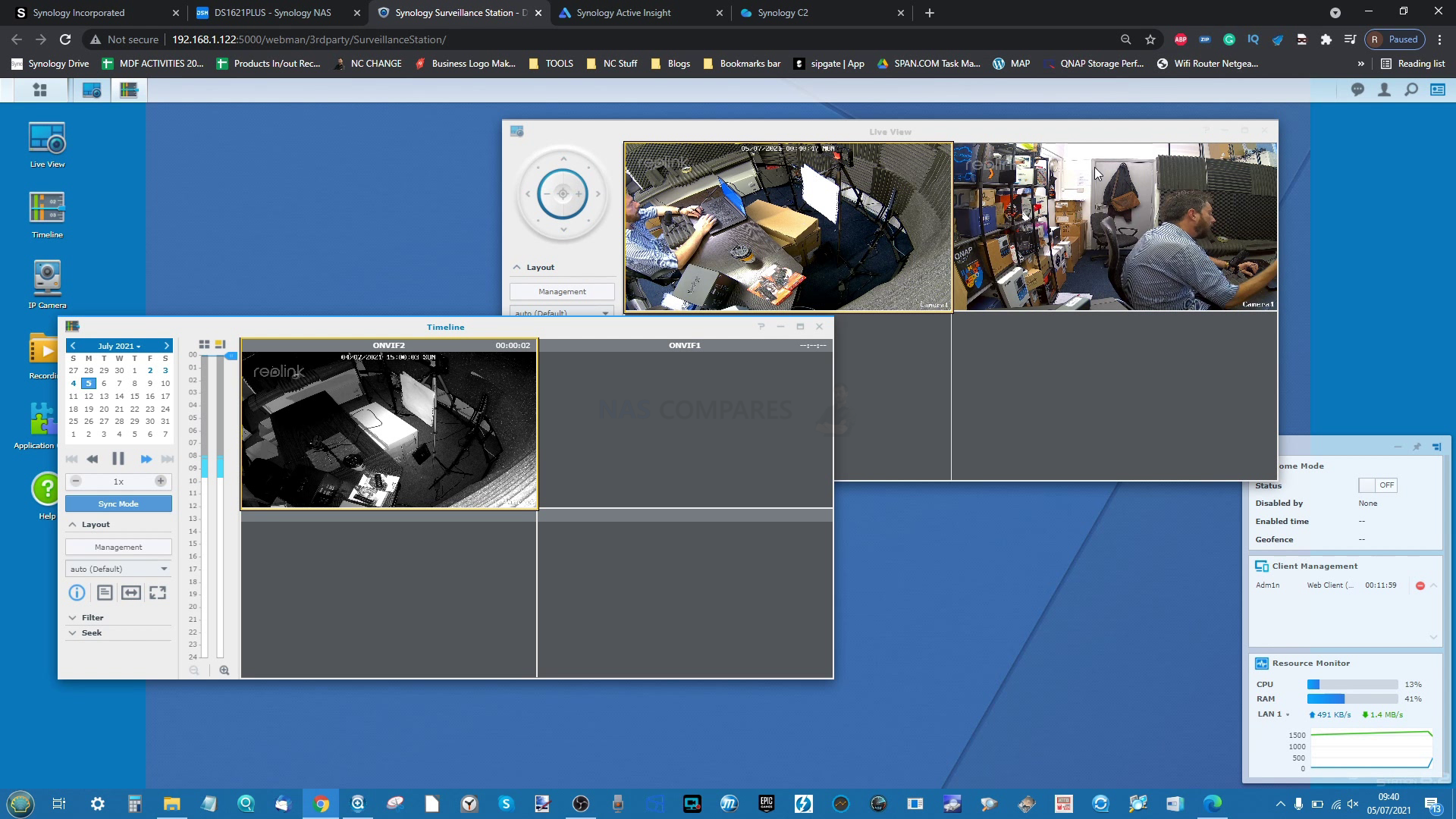 Indeed, even when I tested DSM 7 on a remarkably low powered and low hardware equipped system like the DS120j (2 Core ARM CPU and 512MB memory), Surveillance Station 8.2 ran perfectly well and that was with the more memory-hungry DSM 7 running on it. See how DSM 7 and surveillance, media and storage management ran on this incredibly modest NAS system (along with others) in the videos below
Finally, there is the Synology Collaboration suite of applications (a few already mentioned) that, although not changed a great deal from DSM 6.2>DSM7.0 with the exception of Synology Drive, are still mighty impressive to be included with your NAS drive purchase. These applications include:
First-Party Applications included with your NAS system
Synology Office – Create documents, spreadsheets, and slides in a multi-user environment. Real-time synchronization and saving make collaboration a breeze.
Synology Chat – Aimed at businesses, Synology Chat is an IM service that transforms the way users collaborate and communicate.
Synology Drive – Host your own private cloud behind the safety of your NAS with 100% data ownership and no subscription fees.
Synology Calendar – Stay on track, share calendars, and schedule meetings, while ensuring sensitive information remains safely stored on company premises.
Again, although these applications have not received a significant change between DSM 6.2 and DSM 7, it is still worth highlighting that Synology is STILL the only brand out there that provides BOTH the hardware server system AND a full collaboration suite of applications that can rival that of Microsoft Office 365 and Google. Even if you choose to remain with DSM 6.2, you cannot really fault Synology for developing and releasing this range of applications and including them in your NAS software package a no additional cost – I just wish this was extended to other areas of the more recent DSM7 services, as I am convinced it would make their integrations into even low-level NAS network environments more palatable and home users make the switch more readily.
Synology DSM 7 Review – Conclusion
Unsurprisingly I have almost exclusively positive things to say about DSM 7. Throughout the years of development, this upgrade to diskstation manager has maintained a high standard of quality and features at each level and each beta preview stage, with this final product living up to ALMOST all of its promises. There are still a few key features that have yet to arrive, such as drive failure prediction and promise Mac OS support in Synology drive (file pinning, streaming) and support of Mac OS in active-backup, but practically all other promises have been maintained and DSM 7 does the impressive job of almost immediately making you feel that DSM 6.2 is dated -not a small task. Additionally, it is hard to forget that DSM 7.0 is equivalent to an entire operating system and some users are quick to forget that this is included within the cost of your NAS Purchase, so when the hardware warranty of a NAS system passes (2, 3 or 5 years) the software warranty and support continues for years and years after, with DSM 7.0 giving way to DSM 7.1 and onwards. So, it is hard to be critical of software and services that will likely change and improve over time.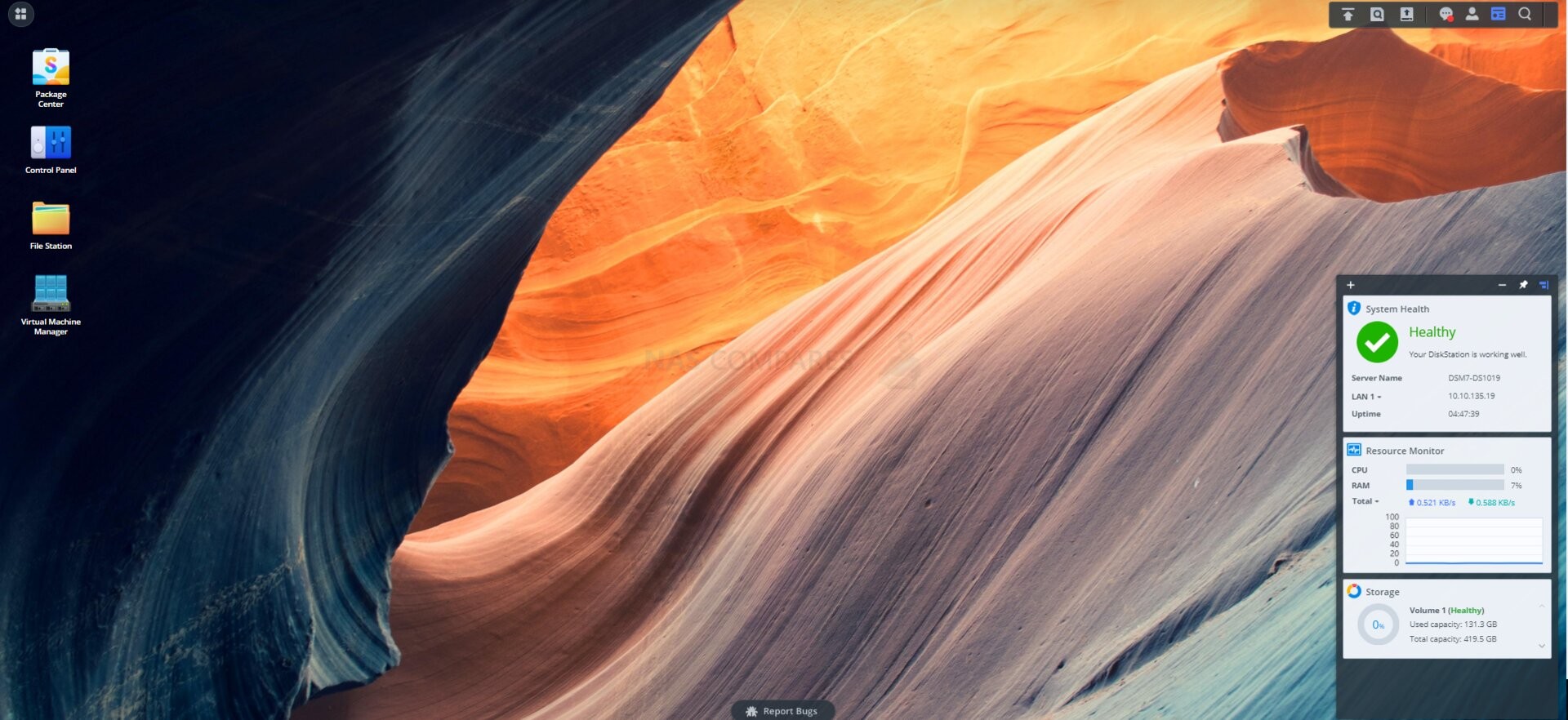 That said, there are things that I think Synology DSM 7 could perhaps improve upon, the steadily more open move by Synology to graduate out of SOHO/SMB NAS and into the Enterprise and HyperScale data center environments has the potential to leave those lesser user tiers getting left behind. This is amplified when several of these new DSM 7 and new-gen services arrive with restricted or paid subscription-based models at the ground level (like HybridShare only supporting their own cloud, Active Insight being a paid subscription service and Synology C2 not having a free tier at a smaller GB bracket). Synology DSM 7.0 is of benefit to ALL users and the vast improvements in responsiveness, design, security and further tweaks to the UX for ALL users cannot be understated – it's a triumph. Likewise, the storage improvements, inclusive collaboration suite, Surveillance tools, VM manager and integration with 3rd party cloud in most areas is 10/10 for me. The lack of support of USB devices, missing config of Photo Station and the where Synology stand on 3rd party applications in DSM 7.0 still seems a little murky, but it's still very early into DSM 7.0s life to make sweeping judgements on these. Overall, I like it, DSM 7.0 is almost perfect!
PROs of DSM 7.0
CONs of DSM 7.0
Genuinely Impressive Latency

Very Appealing GUI

Unbeatable First Party App Support

Near Perfect Single EcoSystem

Makes DSM 6.2 Look Dated

Fast RAID Repair and RAID6 Improvements

Surveillance, VMs, Backups and Media Handling all still 10/10

Feels JUST as Secure & Safe as Ever

Hyper Backup & Cloud Sync Still Support MANY Clouds

Active Insight, Active Backup, C2 & HybridShare = Business Win

Reduced USB Support Currently

Some 3rd Party Applications have not migrated well

Synology Photos Still Lacks some Photo Station Services

Hybrid Share ONLY Supports Synology C2 (Paid Sub)

Occasional Conflict of DSM 6.2 to DSM 7 Designs at times

Synology Drive File Pining & Active Backup Still not Available for Mac
Articles Get Updated Regularly - Get an alert every time something gets added to this page!
This description contains links to Amazon. These links will take you to some of the products mentioned in today's content. As an Amazon Associate, I earn from qualifying purchases. Visit the NASCompares Deal Finder to find the best place to buy this device in your region, based on Service, Support and Reputation - Just Search for your NAS Drive in the Box Below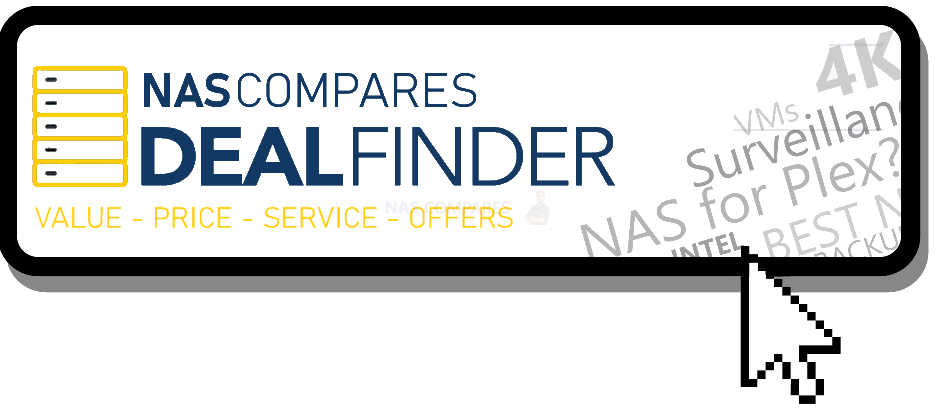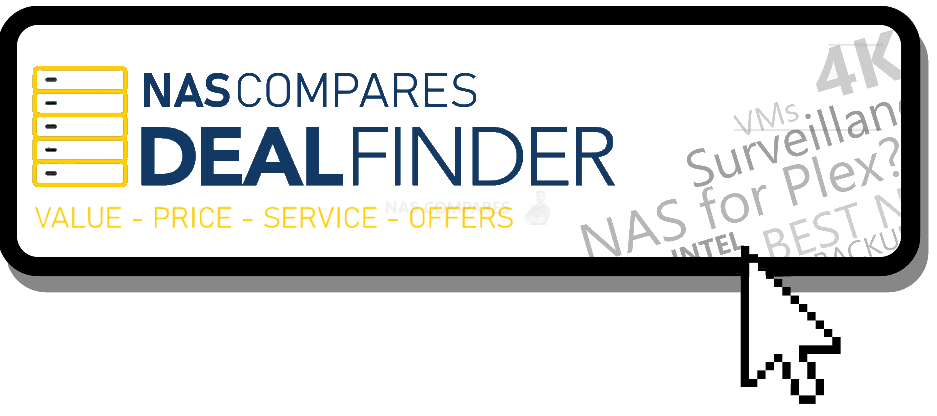 SEARCH IN THE BOX BELOW FOR NAS DEALS
Need Advice on Data Storage from an Expert?
We want to keep the free advice on NASCompares FREE for as long as we can. Since this service started back in Jan '18, We have helped hundreds of users every month solve their storage woes, but we can only continue to do this with your support. So please do choose to buy at Amazon US and Amazon UK on the articles when buying to provide advert revenue support or to donate/support the site below.


Finally, for free advice about your setup, j
ust leave a message in the comments below here at NASCompares.com and we will get back to you.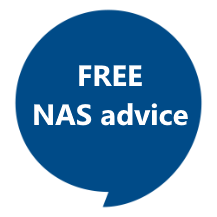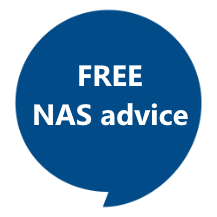 Need Help?
Where possible (and where appropriate) please provide as much information about your requirements, as then I can arrange the best answer and solution to your needs. Do not worry about your e-mail address being required, it will NOT be used in a mailing list and will NOT be used in any way other than to respond to your enquiry.
Terms and Conditions
Alternatively, why not ask me on the
ASK NASCompares forum
, by clicking the button below. This is a community hub that serves as a place that I can answer your question, chew the fat, share new release information and even get corrections posted. I will always get around to answering ALL queries, but as a one-man operation, I cannot promise speed! So by sharing your query in the
ASK NASCompares
section below, you can get a better range of solutions and suggestions, alongside my own.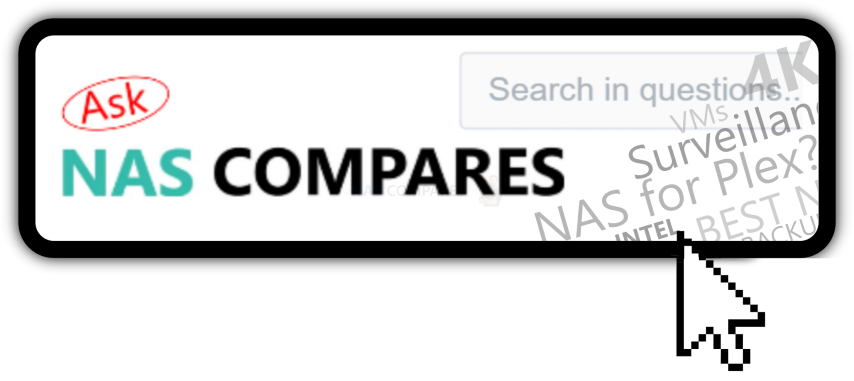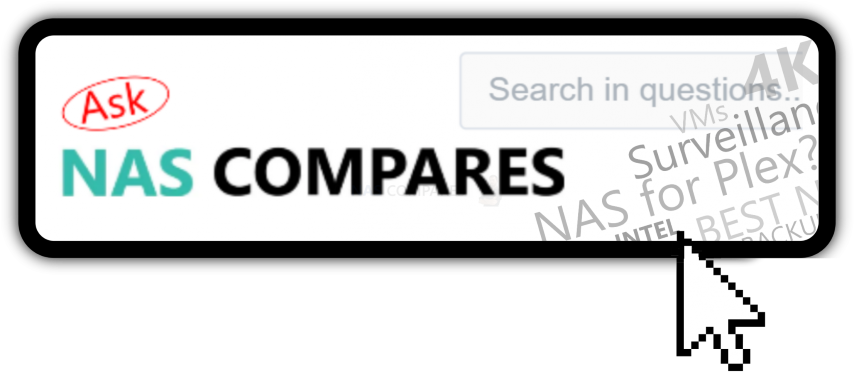 This description contains links to Amazon. These links will take you to some of the products mentioned in today's video. As an Amazon Associate, I earn from qualifying purchases