Is the Newest MR2200ac Router from Synology worth it?
As 2018 draws to a close, we were starting to wonder where all the hardware from Synology revealed back in June had got to! One particular Synology device that has been in the pipeline for well over a year, is the newly released  MR2200ac mesh router   MR2200ac Mesh Router. Now released, we have got our hands on this new addition to the Synology router department and with it, a new evolution of the Synology Router Manager (SRM) software. But from a company that is so highly geared towards NAS, it is still odd getting used to this move into network and internet management in the home or office. The Synology MR2200ac is a device that (although can be used as a typical home router to replace the basic one provided by your ISP with one that has better software) is geared towards Mesh enabled network systems. We will discuss mesh in a second and why it is such it is getting such a boost in popularity in 2018/2019, but for now, let us aim to answer three main questions in this article:
1, Is the Synology MR2200ac a good product
2, If you are considering Mesh, should you buy the MR2200ac?
3, Is the Synology MR2200ac worth the price?
But before we start, a quick reminder about what a Mesh Router is and why it is different/better than a wireless powerline adapter or WiFi extender. Never forget that a Mesh Router is designed to improve Wireless connection coverage.
Pros
Cons

Excellent Software Support in SRM 1.2
VERY fast setup
USB Storage Support for near-NAS file streaming abilities
The mobile app, desktop access and User Interface are faultless!
Network Management for Network Noobs
Great analytical options for those that want to keep track of their data internally
Great Control and reward system with the profiles abilities

Only sold in x1 quantities, no multi-pack of x3 or x5
More expensive than most, largely because of software
Only 1 LAN and one WAN – severely limits use as a primary router or desktop use without a 4/8 Port Switch
Not a huge fan of the clip PSU
What is a Mesh Router?
Many people are tired of their router not reaching all areas of their home or running into "dead spots" where either the internet access is low, or your device starts looking for other networks. Enter the mesh network principle. Instead of one router generating a Wi-Fi signal for your entire home, mesh networks use multiple, smaller routers  AKA "nodes". One of these nodes gets plugged into the modem used by your Internet provider, just like your current router. The additional nodes will then pick up the wireless signal and extend it to the area around wherever they are placed. Alternatively, you can add the Synology MR2200ac mesh router with your existing WiFi network and router network and your mesh router will see it as another node and extend THAT network instead.
Why not use a Powerline Adapter or WiFi Extender instead of Mesh?
At first, a Mesh router does sound suspiciously like a Wi-Fi extender, then you're close but not quite right. With an extender, you usually have to manually connect to the network it creates in order to get the benefit of increased Wi-Fi coverage. Your devices won't seamlessly switch over as you move around your home. IN real terms that means that as you walk through your home or offices, your device will remain connected to the first wifi point until you sever the connection getting too far, or manually. You can literally be stood next to the wifi powerline adapter/wifi extender, but if your device can still find the original wifi spot since you first connected to it, it will remain connected. With a mesh system, however, you only have one network name and you can take advantage of what is called "seamless roaming": or the ability to stay connected to the strongest signal wherever you are within the network without having to manually switch over to another Wi-Fi name. So all the switching between wifi points/nodes is done in the background and you just see consistent high connectivity.
Synology MR2200ac Mesh Router – Packaging
A slight change of scene from the guys at Synology who have revamped the external labeling of the MR2200ac with something alot cleaner and crisper. Maybe because of the more technical/network area that this device is geared for.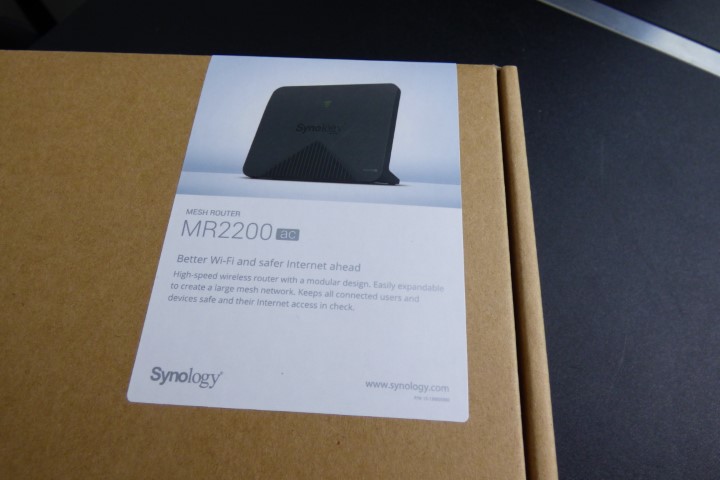 Much like our unboxing of the Synology DS119j, it is worth highlighting that the packaging is a little more minimalist, contained and direct.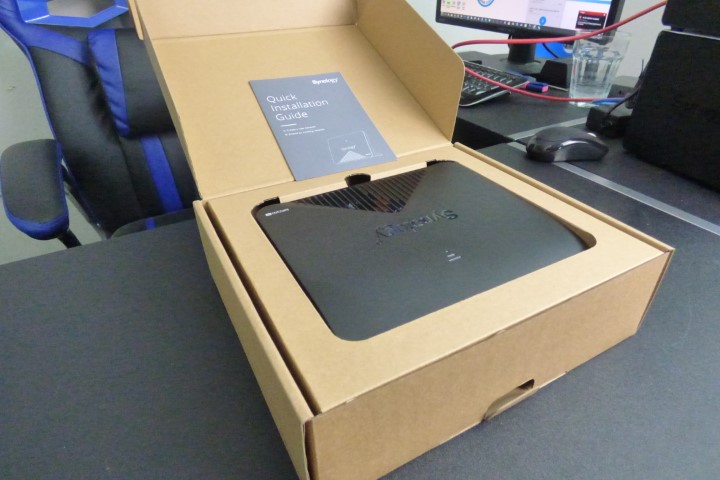 Once we opened up the retail packaging, we found that it contains:
Main MR2200ac Mesh Router x1
AC Power Adapter (includes 1 regional clip) x1
RJ-45 LAN Cable x1
Quick Installation Guide x1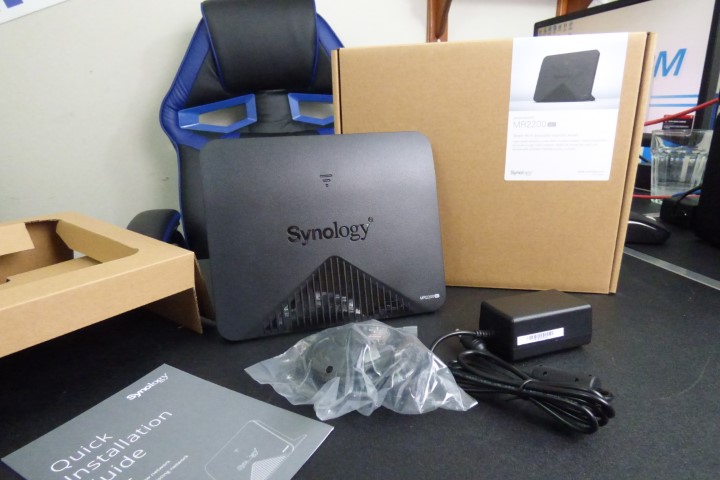 Not a vast amount of accessories, but then again there does not need to be.
Synology MR2200ac Mesh Router – Design
The chassis/case design of the MR2200ac is definitely something to take note of. Many mesh router systems from companies like Netgear (enterprise) or TP-Link (budget) are designed to be discreet wall mounted devices, almost always in white and sold in multipacks (to push the mesh aspect). The Synology MR2200ac differs in a number of these ways. For a start, the highly ventilated casing is designed in black and chiefly designed for desktop placement.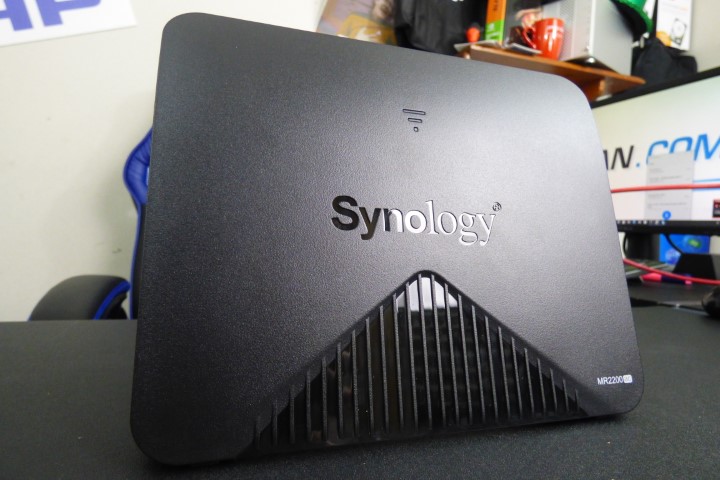 There is definitely a Synology feel to the MR2200ac design, in terms of the chassis material, shape and feel, as well as the odd the attention to the surface area. It is definitely worth remembering that you are not looking at a NAS here (though there are a few features that have carried over present) and at its side profile, we see just how thin the device is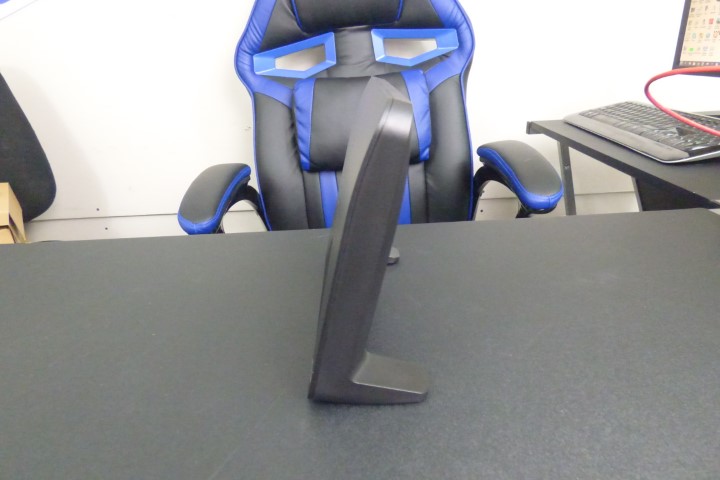 Ventilation carrier on all the way under the device too, with the slitted air vents running all the way, under the base of the MR2200ac mesh device.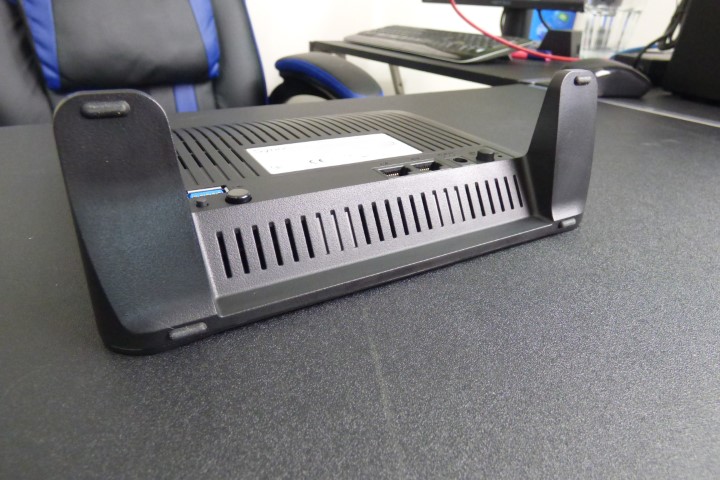 If we take a closer look at the front of the device, we are able to find the multiple LEDs that denote system health. This is hardly unusual, but unlike a NAS, these lights are used to denote coverage health and cooperation with the surrounding nodes – i.e. your coverage overall!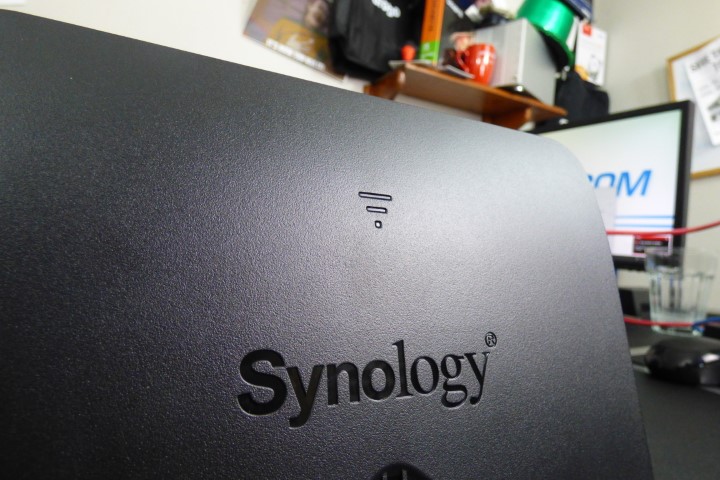 If we turn the device around, we can take a closer look at the connections and ports featured on the Synology MR2200ac. I really have to remember that this is NOT A NAS and therefore bare in mind that a mesh is designed to be discreet, have a small footprint in your home/office environment and is therefore very understated.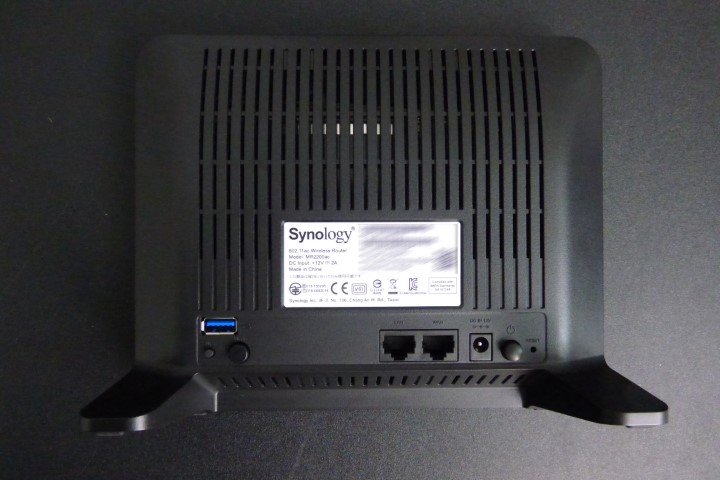 Synology MR2200ac Mesh Router – External Hardware
The first thing that hits me when looking at the MR2200ac is that they really want to ventilate it! The slits of ventilation have continued across the rear of the device and in much bigger scale and I will certainly look at temperatures in the MR2200ac software overview in my next article, but it is great to see that the Synology ethos towards efficiency and hardware cooling continues. The device uses passive cooling (no fan) so the need for this level of cooling for the internal hardware (covered later) is understandable to maintain optimal transmission.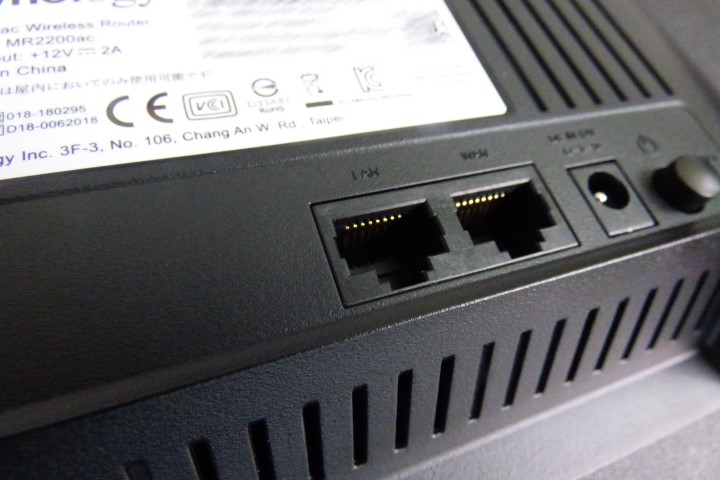 The first thing that struck me (in a bad way, unfortunately) is the twin RJ45 network ports. One is a general network LAN (for connecting devices to a network) port and the other being a WAN (for connecting Internet-enabled connectivity directly). Now, if this was a WIRELESS-MESH-ONLY device, I can understand the lack of ports needed, as they would never be used to any real degree. However the fact that the MR2200ac arrives with primarily desktop design, as well as utility as your primary wireless router if needed, it seems a little short sighted to not feature more network ports.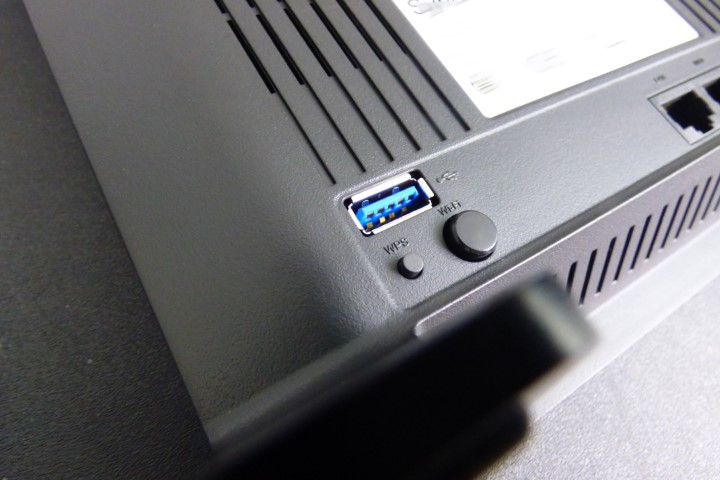 The internal hardware is certainly geared to support it and the desktop design lends the option for direct access when needed. Lastly, if used as a primary router in your home/office (as this price point is around 30% higher than other mesh devices), you will need to purchase an additional 4-8 port switch to accommodate devices such as NAS and 4K TVs that perform poorly VIA WiFi. This is not a huge criticism of the MR2200ac, but definitely, something to bear in mind if you have considerations of replacing your Virgin, Comcast or BT internet service provider router. One thing I was glad to see was the humble USB 3.0 port. Yes, it's USB 3.1 Gen 1 (5GBps), but by connecting an external USB Drive or Flash key, you can make that storage network accessible to connected users (with permissions). Alongside this, it can be used for backups and additional storage use for the MR2200ac. The Synology mesh router is NOT a storage-enabled device, so if you are hoping to use the Synology MR2200ac as a budget alternative to a Synology NAS Drive, then don't bother. Aside from USB file access to-and-from the mesh network users, you can hardly use any of the cool stuff that the Synology DSM software can do.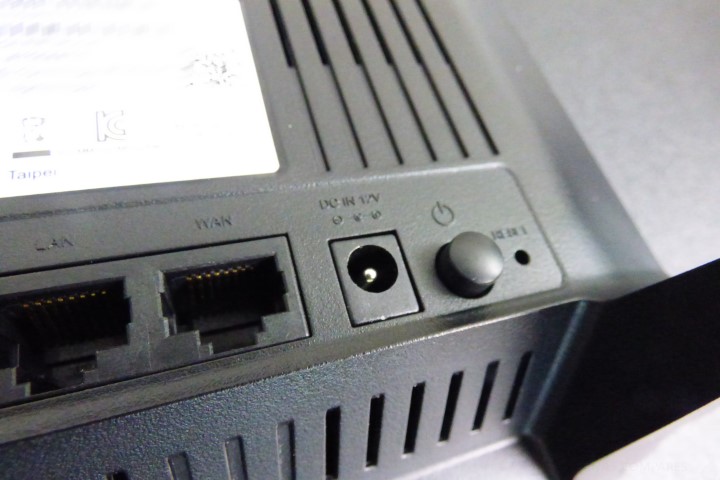 Under the USB port, we find both a 'Wi-Fi' button and a WPS enabling button. The 'WPS button' on the Mesh router gives you an easier and quicker way to add wireless devices to your network (such as a printer, other MR2200ac Mesh node or speaker device). You can press the WPS button on your router and then press the WPS button on your wireless device to connect to the network rather than searching for the network and typing in a password. The WiFi button serves as a means to enable or disable connectivity if required. Another important consideration of the Synology MR2200ac mesh router is one of power, namely what it needs to run!
Some mesh router systems are built around being built into a plug point at skirting board level or have customizable power functions that mean it can be wired directly into your mains power as you would more technical devices. The Synology MR2200ac mesh router is mains powered and arrives with a discreet power plug and you will need to ensure the MR2200ac is near a mains power point. This is fairly common for desktop mesh devices.
One area I was less keen on was the power plug clip. I have handed ALOT of tech over the years and the growing trend towards a single PSU that has multiple clip options for changing the regional connection, so the same device can be sold worldwide (but with your European, American, Eastern connection included as appropriate) is a bit disappointing. I can see the benefits to production and a companies bottom line, but these clips are a little cheap and make me feel a pinch less confident in the PSU. I know this is a very, very minor point, but I see this trend growing more and more.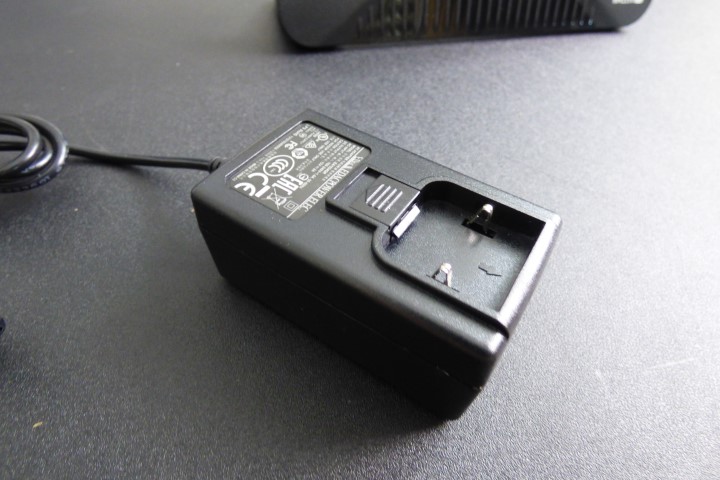 Synology MR2200ac Mesh Router – Internal Hardware
If you did not catch our coverage of the MR2200ac Mesh Router previously, below is a quick reminder of the most important hardware and software specs.
Qualcomm IPQ4019 quad-core CPU
Tri-band Wi-Fi – Single SSID with 802.11 k/v/r
1x USB, 1x WAN and 1x LAN
Arrives with Synology Router Manager 1.2
Dedicated Mobile App
WPA 3 Support
Full Specifications and Details are available HERE for the real technical boffins! But below is exactly what the MR2200ac looks like INSIDE. Everything from the placement of aerial points, to the heatsinks and motherboard placement. The key thing is whether the Synology MR2200ac does what it promises, but it is worth taking a look under the hood:
This slideshow requires JavaScript.
Synology MR2200ac Mesh Router – Software
The Synology MR2200ac Mesh router can function as an extension of your existing network or standalone. Though it is designed with mesh usage as it's primary function, it can still support a home or office network on its own, arrives with SRM 1.2 and has most of the same features and functionality of the RT1900ac and the RT2600ac (though lacking the aerial functionality to the same degree of singular coverage. In an idea use can scenario, you would use the device paired with your existing router to better cover your devices. The Synology Mesh MR2200ac features a number of very interesting safety and guideline appliances in its software. It all surrounds enhanced provisions for safe and secure access for everyone sharing a network, with or without the Mesh router. It all arrives with SRM 1.2.
What Can Synology Router Manager 1.2 and the MR2200ac Mesh do?
We will be providing a FULL breakdown to the Synology router manager (SRM) 1.2 software in a NASCompares article coming very soon, but there are lots you can do with the MR2200ac to protect you and all your users, as well as produce some rather details analytical reports. You can:
The ability to define and characterize individual devices to a single user to give bespoke control, access and priority to these devices via the Mesh router point
The ability to assign access time limits (hour, day, week, etc) to individual users. Once a user has their network devices recognized and defined by the MR2200ac (see above), then you are able to give them time managed access. It is even smart enough not to automatically add the time up together, even though multiple devices (TV, Laptop and phone for example) are connected at the same time – thereby providing much fairer allotments of access to users (family, clients, etc)
Not only are you able to blacklist and whitelist certain websites from a selected mesh router point in the network (e.g. only give your child access to Wikipedia or school supported websites, but block distracting social media and online games servers), but you can also cross-reference this against devices and time frames. So, one you quickly set up a routine on for your relative/guest/client, you can then easily set up which devices can access what and at what time they can do it.
i.e. you don't want your staff having access to social media in your office, but you need to let your social media staff have access to certain machines and at certain times of the day. This would let you set that up easily and quickly.
Arriving with an impressive user-interface that is not intimidating to the novice, you can get general data on all contented devices and either disconnect, reassign priority or increase/decrease access in just two clicks, to any device.
You can monitor and protect your network against threats and intrusions. This is something most routers provide BUT not to this extent and not at a mesh connected level. The mesh router provides blanket protection across all devices, whilst still monitoring individually. Most devices will only monitor from the internet point to the router – this goes several steps further.
For added benefits, the Synology MR2200ac mesh also incorporates Google Safe browsing with its vast knowledge of current and older threats types, so you can stay up to date.
Synology MR2200ac Mesh Router – Conclusion
As soon as Synology entered the router market, they were always going to be judged by their software, not their hardware. They are a brand that prides itself on EASY-NETWORKING and taking the hassle out of your data. SRM 1.2 delivers ALOT and gives it to you in a way that companies like Netgear, TRENDnet, Linksys and TP-Link could learn a lot from! After the rather heroically priced RT2600ac and RT1900ac MIMO routers, getting access to the SRM 1.2 platform at this price point is very impressive indeed and almost justifies the price tag in itself. The hardware of the MR2200ac is a tad underwhelming and despite promises of it being supportive as a mesh OR standalone router, I think it is an EXCELLENT mesh router, but below par replacement for your primary router. The MR2200ac Synology Mesh router is an excellent device, just a few details seem to have been skipped at a marketing and packaging level. I recommend it to anyone looking to branch out into mesh environments at home or work, but have minimum network experience.
Pros
Cons

Excellent Software Support in SRM 1.2
VERY fast setup
USB Storage Support for near-NAS file streaming abilities
The mobile app, desktop access and User Interface are faultless!
Network Management for Network Noobs
Great analytical options for those that want to keep track of their data internally
Great Control and reward system with the profiles abilities

Only sold in x1 quantities, no multi-pack of x3 or x5
More expensive than most, largely because of software
Only 1 LAN and one WAN – severely limits use as a primary router or desktop use without a 4/8 Port Switch
Not a huge fan of the clip PSU
Bottom line:
1, Is the Synology MR2200ac a good product
Yes it is. It is a great Mesh Router and a fantastic software enabled device. It just is a rather mediocre 'regular' router. If yo uare looking for a router, I strongly recommend the RT2600ac. If you want NAS o na budget, skip this and go for the DS119j or DS218j NAS.
2, If you are considering Mesh, should you buy the MR2200ac?
Yes, unless you are going to use the software on your primary router/modem device.
3, Is the Synology MR2200ac worth the price?
If you want full control, analytics, support – yet not be bamboozled by techie numbers and a learning curve, the Synology MR2200ac is definitely worth the price
Interesting in buying your Synology MR2200ac Mesh Router? Buy Below from your own region.
Buy from Amazon in your Region
(Clicking here supports this website)


📧 LET ME KNOW ABOUT NEW POSTS 🔔
Join 1,406 other subscribers
Get an alert every time something gets added to this specific article!
This description contains links to Amazon. These links will take you to some of the products mentioned in today's content. As an Amazon Associate, I earn from qualifying purchases. Visit the NASCompares Deal Finder to find the best place to buy this device in your region, based on Service, Support and Reputation - Just Search for your NAS Drive in the Box Below
Need Advice on Data Storage from an Expert?
We want to keep the free advice on NASCompares FREE for as long as we can. Since this service started back in Jan '18, We have helped hundreds of users every month solve their storage woes, but we can only continue to do this with your support. So please do choose to buy at Amazon US and Amazon UK on the articles when buying to provide advert revenue support or to donate/support the site below.

Finally, for free advice about your setup, j
ust leave a message in the comments below here at NASCompares.com and we will get back to you.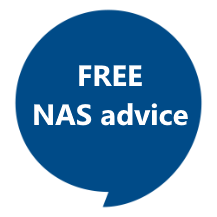 Need Help?
Where possible (and where appropriate) please provide as much information about your requirements, as then I can arrange the best answer and solution to your needs. Do not worry about your e-mail address being required, it will NOT be used in a mailing list and will NOT be used in any way other than to respond to your enquiry.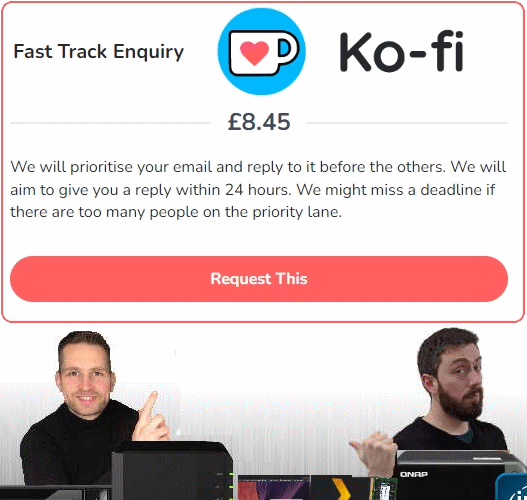 Terms and Conditions
Alternatively, why not ask me on the
ASK NASCompares forum
, by clicking the button below. This is a community hub that serves as a place that I can answer your question, chew the fat, share new release information and even get corrections posted. I will always get around to answering ALL queries, but as a one-man operation, I cannot promise speed! So by sharing your query in the
ASK NASCompares
section below, you can get a better range of solutions and suggestions, alongside my own.
This description contains links to Amazon. These links will take you to some of the products mentioned in today's video. As an Amazon Associate, I earn from qualifying purchases
Summary
Reviewer
Review Date
Reviewed Item
Synology MR2200ac Mesh Router Review
Author Rating