Is the Synology RS2418+ the Solid Storage Solution you need?
When it comes to business storage, one company that has really turned things around in the last two years is Synology NAS. With their award-winning software platform and an impressive range of NAS hardware, it is strange to think that not so long ago they were having difficulty holding on tight to the business market. A lot of this difficulty stemmed from the brand producing hardware that lacked the power and ability of their rivals QNAP. Synology has always been a brand with a priority on software, producing many, many first-party applications that compare very well with well established third-party apps. But the problem was that most users wanted to use their own software and this left a NAS as little more than a basic file server – and in that realm, power is important! Fast forward to 2018 and two things have
really changed.
The Synology software has become both acceptable and very desirable to business users, as well as the hardware has improved rapidly. Today I want to review the
Synology RS2418+
, as this device serves as a fantastic middle ground for those who need a great NAS server on a modest budget. Arriving at around £1200-1300 and with 12 bays of storage, this NAS sits comfortably for buyers in hardware vs software, but is it any good? Let's find out.
Quick Conclusion
PROS

CONS


Well Priced
Dual PSU Option
Fantastic 1st Party Apps
Reliable internal hardware for business users
SHR and BTRFS
Supports multiple RAID levels and separate volumes
4 LAN
Expandable
Connectivity with host PCs
Plex Support
Upgradable RAM and PCIe slots.

Single PCIe slot – limits potential
Modest Intel Atom CPU
No 10GBe Option, seperate Upgrade
The Synology RS2418+ RackStation NAS – Design
Once we unboxed this rackmount NAS, we found that the accessories were few but important.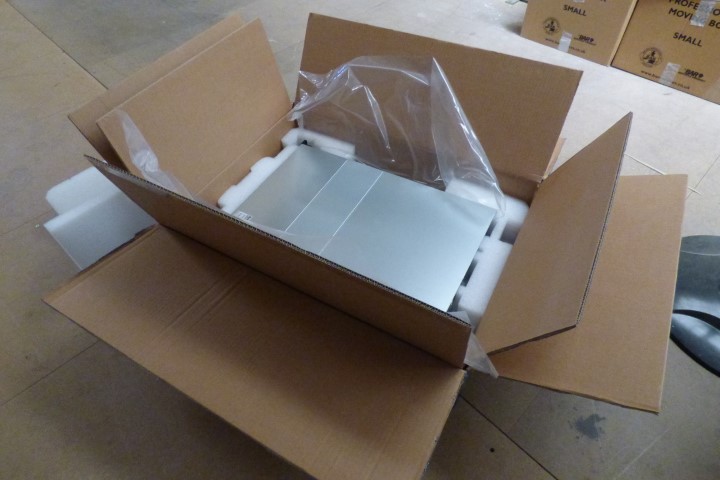 Inside the (huge) retail box we find a UK mains lead, screws for hard drives and SSD, keys for the hard drive trays and a first-time instruction manual. This also includes details regarding the 3 years manufacturer's warranty that the RS2418+ arrives with.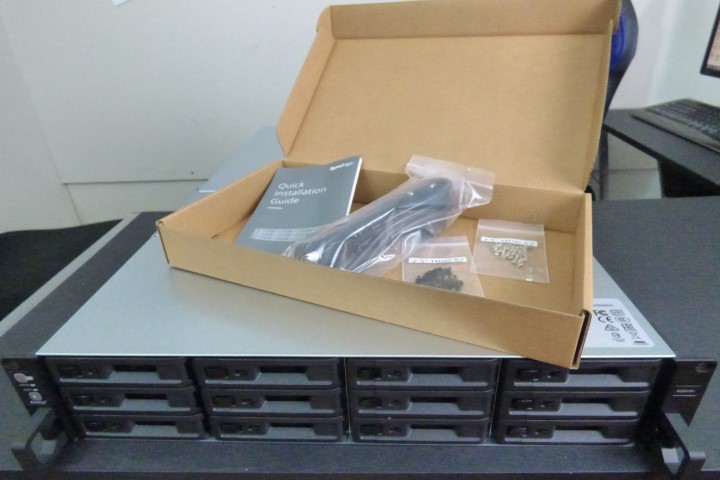 Once we have the unit unboxed, we took a good look at the front of the device and those 12 hard drive bays.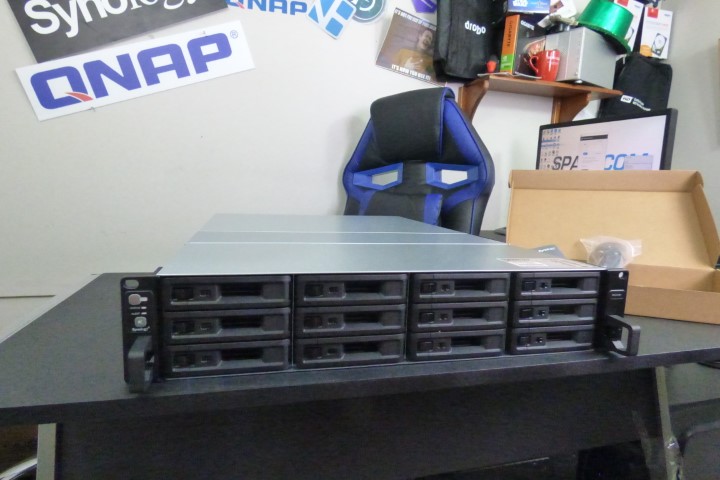 Each bay supports both hard drives and SSD, supporting the very latest 12TB and 14TB drives. The internal hardware (that we will talk about later) also support multiple raid configurations from RAID 0 to Raid 5 and RAID 6 (and more), as well as Synology Hybrid RAID. Additionally, this device does not need to be fully populated in order to function and in fact can run on a single hard drive leaving you to add drives as and when you need them.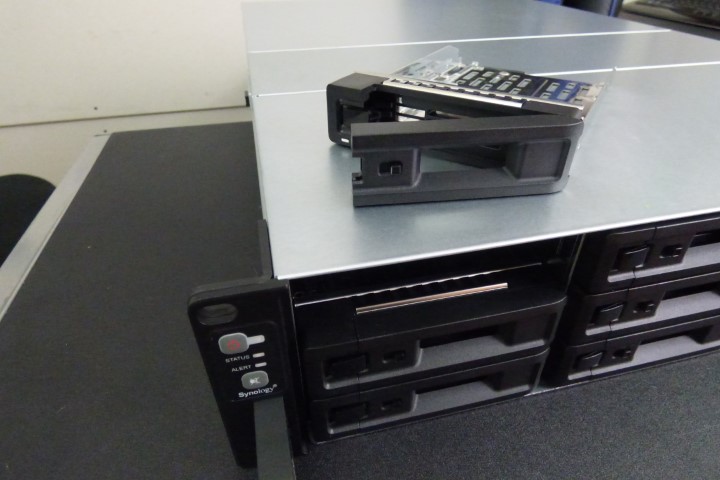 Each hard drive tray is metal in design, requiring each drive to be screwed in with four supplied screws. Additionally, each tray has an LED light to denote drive health and can be locked individually to ensure it is not removed in error.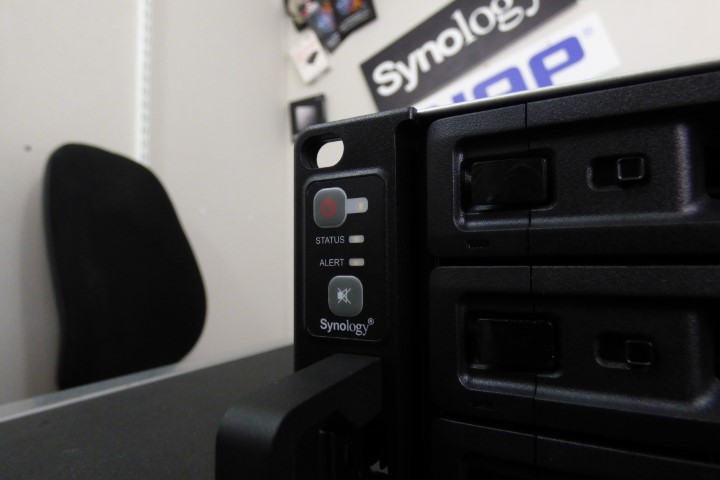 One corner of the front of the Synology RS2418+ NAS shows us both the power button and a mute button, for when the system has alerts and more audio output.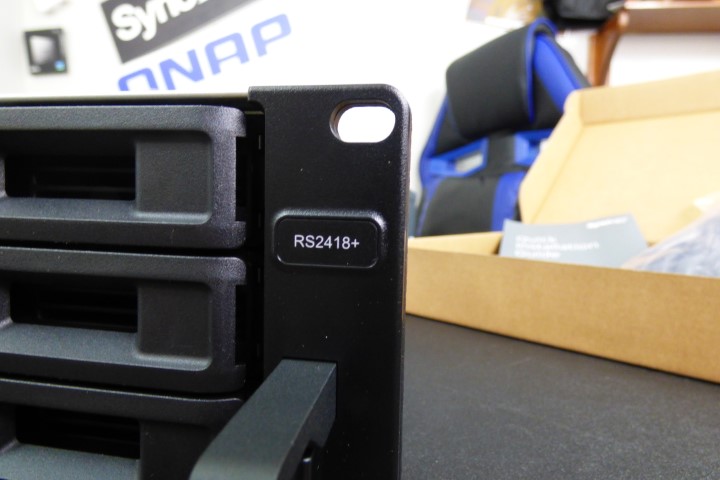 The other corner is a touch more underwhelming and merely shows the model ID and no further USB ports.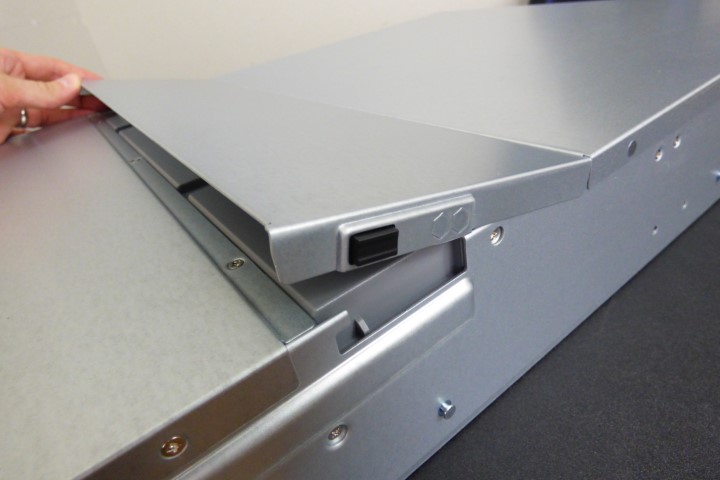 As this is a rackmount device, it is not designed to be pretty. However, there is a button located on either side of the Synology RS2418+ that lets us lift a small internal compartment.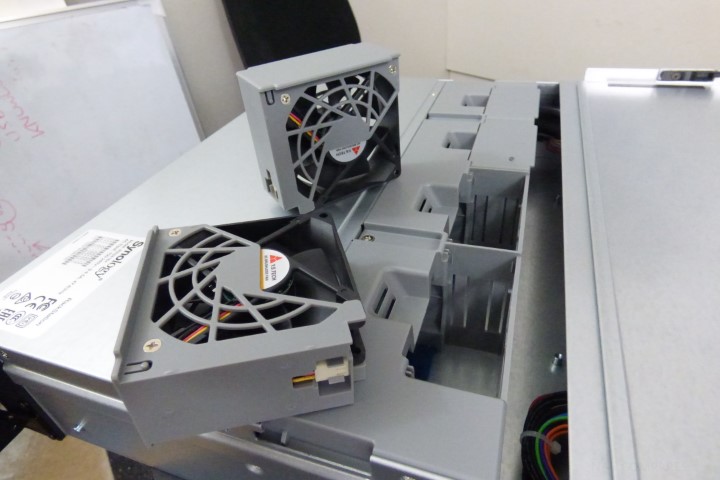 In this compartment, we find four hard drive fans that can be removed and cleaned as needed. These supply valuable active cooling to the hard drives to bolster productivity and speed.
The Synology RS2418+ RackStation NAS – Ports and Connections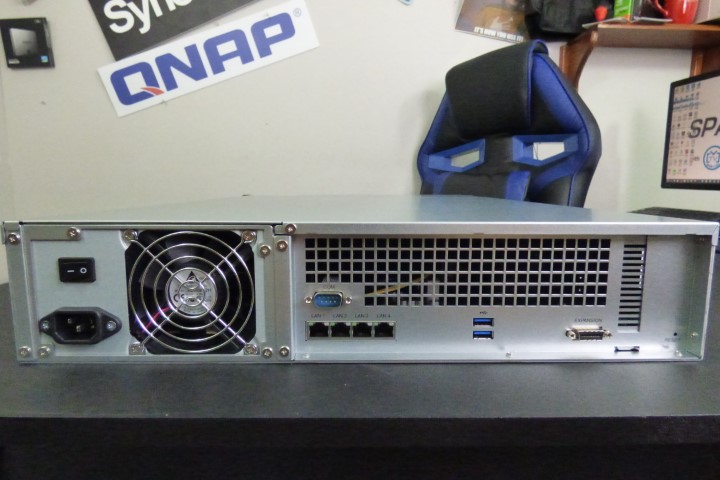 At the rear of the device, we find both a large amount of ventilation and a large variety of connections and ports, to take advantage of all of that RAID ready storage.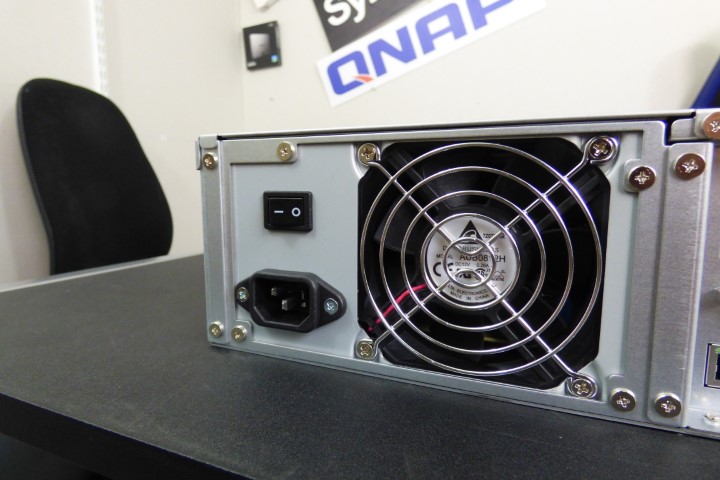 The PSU on this device is a single 250W power supplier, however, there is a dual power supply version available for an additional £400. For those that take storage and power failure seriously, this may be a solid investment for you.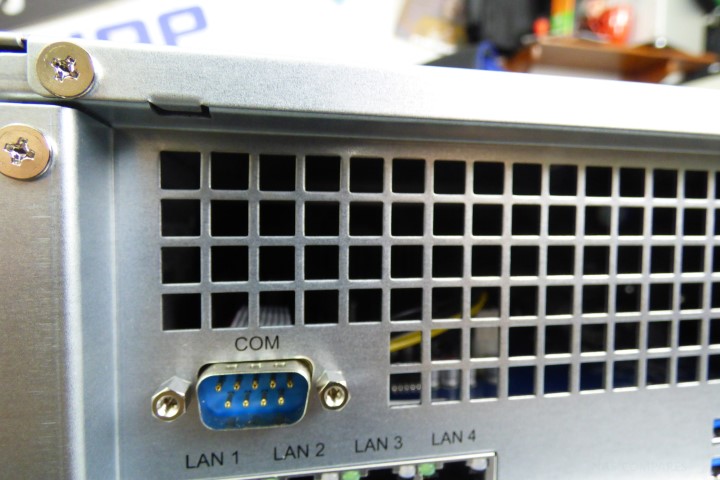 Regarding ports, we find a com port (not VGA – I made that mistake before!) that let us integrate the Synology RS2418+ NAS with existing hardware systems in your storage environment (security or older storage systems).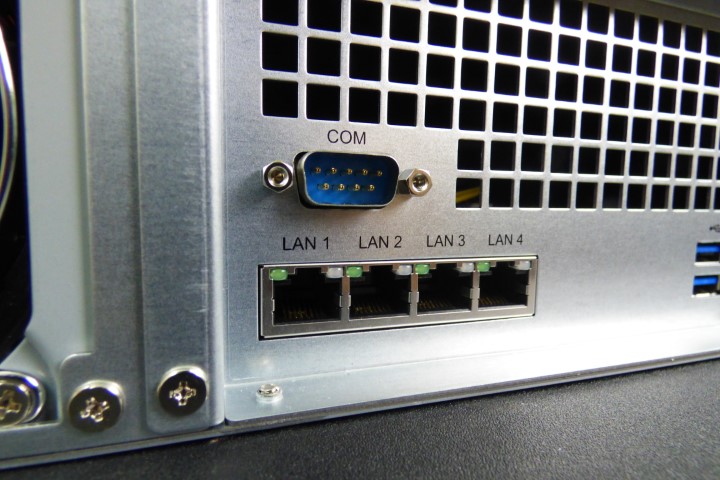 Next, we find four 1GB LAN ports (RJ45 based) for network and internet connectivity, that can be linked aggregated (port trunked) in order to effectively quadruple the upload and download speeds to this NAS device. Do remember that you will need computer connected devices to have multiple LAN ports in order to also enjoy this speed. Alternatively, connect the NAS via 4 LAN to a switch to ensure that more 1Gbe conencted devices get the best possible speed from their connection at the same time.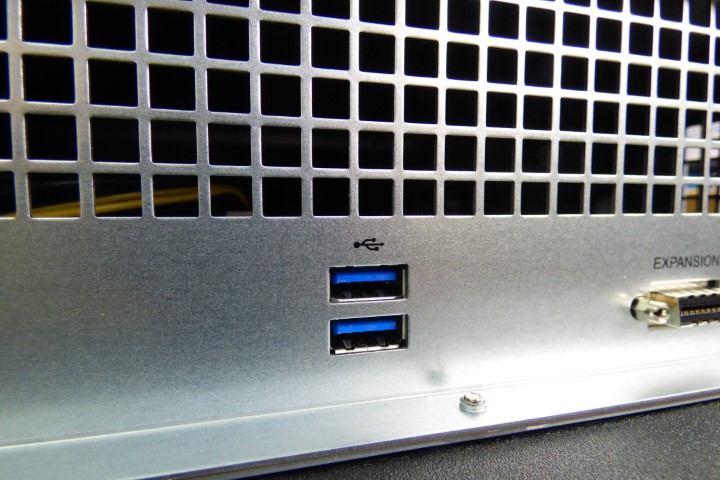 We find additional USB ports that let us add external storage to the RS2418+ NAS device. These can be used to connect portable storage and back them up to the Synology, or to back up the contents of a file, folder or volume on the NAS to an external drive, or just to make a standard USB drive network accessible to your users. All this can be actioned in an ad hoc fashion or set up default actions for when a drive is connected.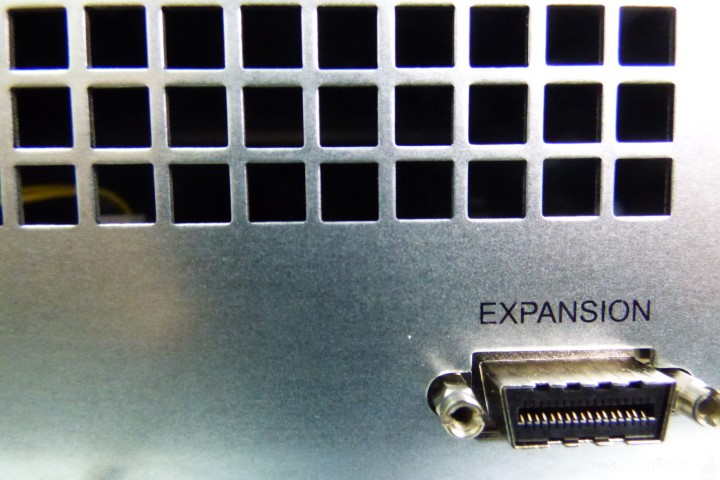 Continuing with the theme of adding space, additionally around the vast amount of ventilation on this device we find an expansion port that allows us to connect an official Synology expansion rackmount chassis and add a further 12-Bays of storage to our existing 24 bays. Once this storage is connected, you have the option of adding it to your existing RAID array on the RS2418+ (Also letting you change your RAID to adapt to this storage increase), alternatively you can set it as a completely new RAID enabled Volume for network access or (commonly) use it as a backup for the primary storage volume.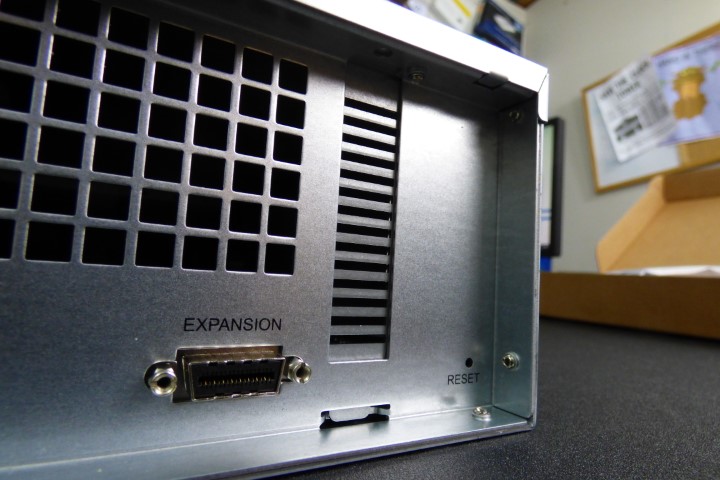 Finally, on the rear, we find an available PCIe expansion slot. With this slot, we are able to introduce a plethora of supported first and third-party PCIe cards such as the newly available M2D18 NVMe/SATA SSD Cache card or the brand new 10Gbe E10G18-T1 and E10G18-T2 upgrade cards from Synology available in 1 and 2 Ports.
The Synology RS2418+ RackStation NAS – Internal Hardware
If we remove the screw located on the rear of this Synology RS2418+ NAS, as we are able to remove the top panel and get a better look at the internal hardware of this NAS.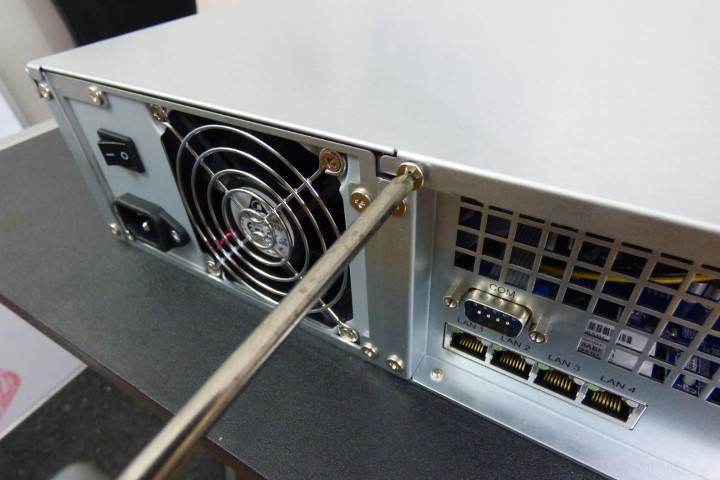 Inside we find a motherboard, not dissimilar to that of a desktop computer.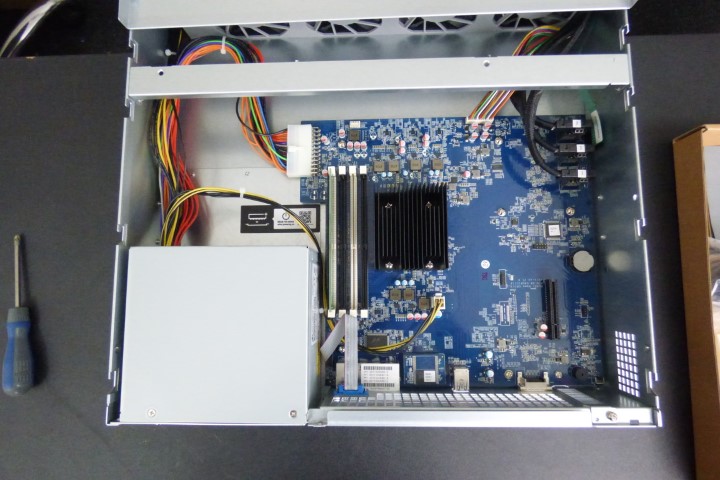 The CPU in this device is an Intel Atom-based C3538, that features a 2.1Ghz clock speed in each of its 4 cores. Which means it can handle everything from multimedia (Synology Apps and Plex), Virtual Machines, Fast and intuitive file management, large scale backups and network surveillance.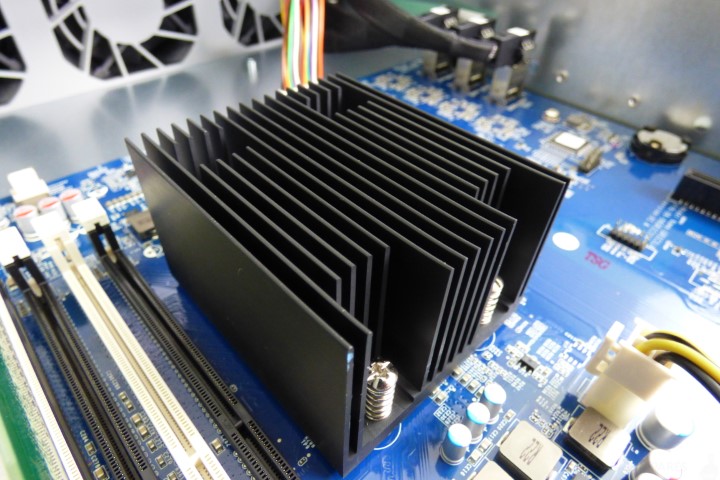 This is further supported by 4GB of DDR4 memory that can be expanded up to 32GB over multiple slots. You will need to consider upgrading this device for 4GB if you want to use my graphically enabled applications or expanding the number of connected users to 99+.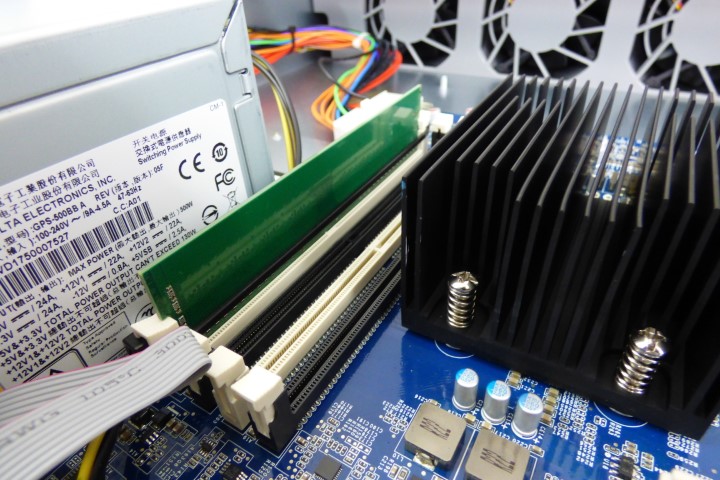 At the top of this internal controller board, we find SAS connections that run into multilane cables. These are so this awesome number of drives are handled with ease by the Synology RS2418+ NAS and that intel CPU.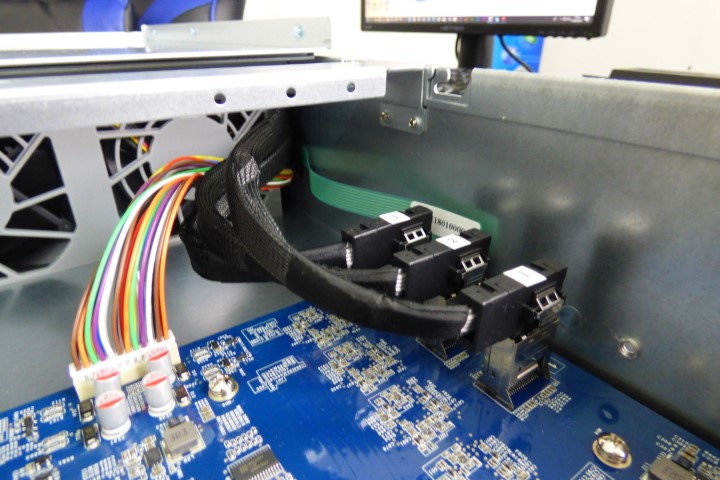 Finally, we find the PCIe slot which on this device is the real deal-breaker for those looking at a rackmount NAS that can be upgraded at a later date.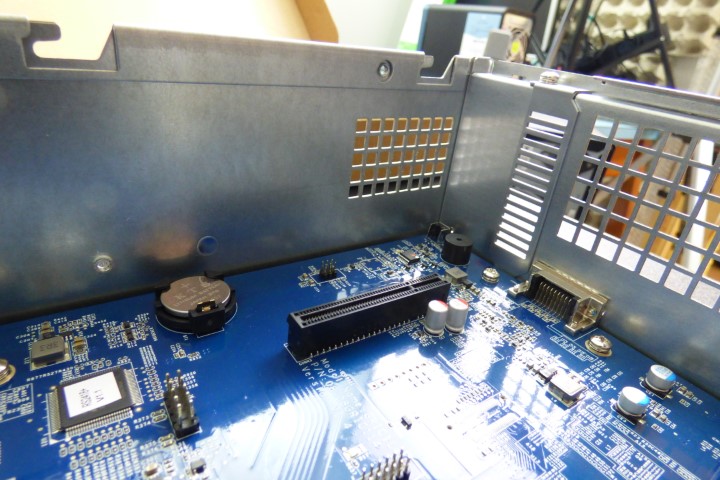 The Synology RS2418+ RackStation NAS – Software
The
Synology RS2418+
arrives with the latest version of diskstation manager. This software arrives with literally hundreds of applications covering both first and third party requirements, so this NAS can handle numerous utilities for the home and business environment ranging from:
Synology Virtual Machine Manager
Synology Surveillance Station
Plex Media Server
Synology Video station
Synology Photo station
Free Sugar CRM
Numerous CMS option
Synology File Station Management
Multiple third-party cloud migration tools with Dropbox, Google Drive and more
Alongside these, there are also numerous Synology Busines applications that mirror many of those third-party applications that businesses use right now. It is with these applications that Synology compete in NAS and over the last 2 years have succeeded very well. these apps are:
Synology Chat the alternative to Skype communication in your office and internet environment
Synology Office an alternative to both Microsoft Office applications and Google Docs
Synology Calendar serving as an alternative to Google Calendar and the Microsoft calendar application
Synology Drive that serves as a NAS based alternative to the third party cloud apps Dropbox Amazon S3 and Google Drive
Active backup sync which is an alternative to numerous cloud-based backup software such as backblaze and CrashPlan, for your servers and PC systems
Synology Moments, the photo cataloguing and facial recognition software that arrived with its own AI component serving as an alternative to Google Photos, Picasa and Facebook albums
Synology Virtual Machine manager, which serves as a virtual machine deployment tool to rival that of Windows and VMware applications
The Synology RS2418+ RackStation NAS – Conclusion
The
Synology RS2418+ NAS
really does give you a whole host of options for your home and business needs when it comes to how you store your data, where you store your data and how safe your data is. With security measures such as RAID protection, AES-NI 256bit encryption, the BTRFS file platform for easy storage snapshots and background file integrity checks on all Read/Write operations and user account control with two-step verification for all of your hundreds of connected users, this NAS gives you so much for just over £1,300.
Finally, if you are a mid-range photo or video editor and looking for large RAID-enabled storage array to edit on live in real time, then this device with a connected 10gbe PCIe card will really perform for you, as well I simplify your workflow for distributing your finished work. All in all, the
Synology RS2418+ 12 Bay RackStation NAS
serves as a positive example of how Synology have changed their Enterprise storage over the last few years and leaves me excited to see what they will do next.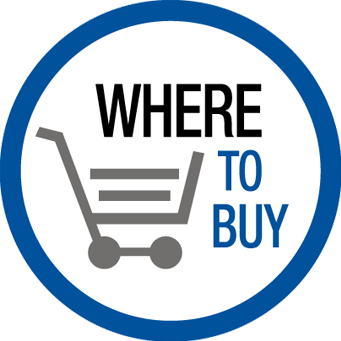 Articles Get Updated Regularly - Get an alert every time something gets added to this page!
This description contains links to Amazon. These links will take you to some of the products mentioned in today's content. As an Amazon Associate, I earn from qualifying purchases. Visit the NASCompares Deal Finder to find the best place to buy this device in your region, based on Service, Support and Reputation - Just Search for your NAS Drive in the Box Below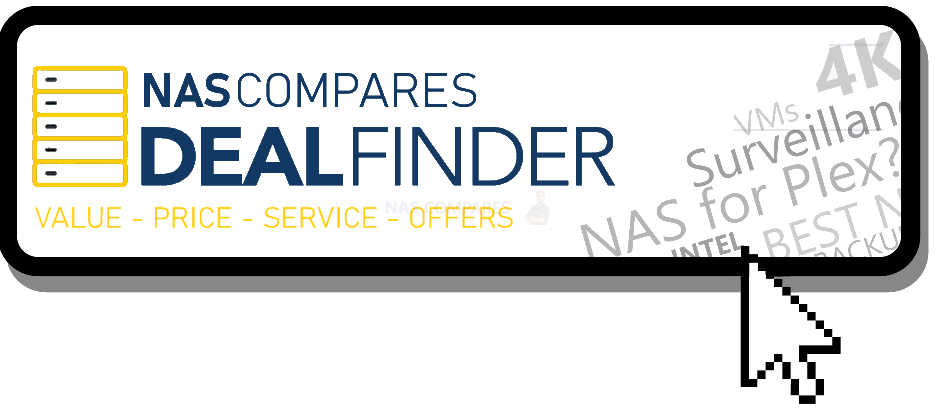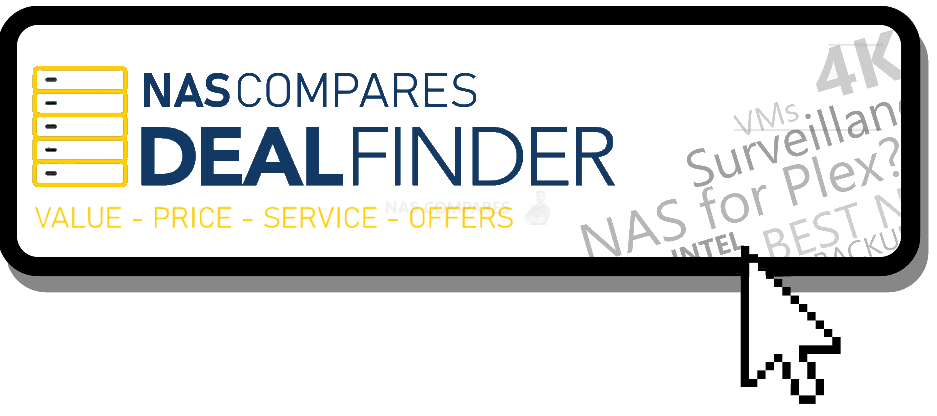 SEARCH IN THE BOX BELOW FOR NAS DEALS
Need Advice on Data Storage from an Expert?
We want to keep the free advice on NASCompares FREE for as long as we can. Since this service started back in Jan '18, We have helped hundreds of users every month solve their storage woes, but we can only continue to do this with your support. So please do choose to buy at Amazon US and Amazon UK on the articles when buying to provide advert revenue support or to donate/support the site below.


Finally, for free advice about your setup, j
ust leave a message in the comments below here at NASCompares.com and we will get back to you.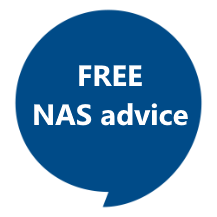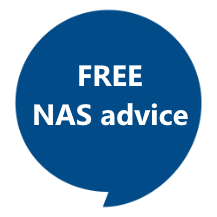 Need Help?
Where possible (and where appropriate) please provide as much information about your requirements, as then I can arrange the best answer and solution to your needs. Do not worry about your e-mail address being required, it will NOT be used in a mailing list and will NOT be used in any way other than to respond to your enquiry.
Terms and Conditions
Alternatively, why not ask me on the
ASK NASCompares forum
, by clicking the button below. This is a community hub that serves as a place that I can answer your question, chew the fat, share new release information and even get corrections posted. I will always get around to answering ALL queries, but as a one-man operation, I cannot promise speed! So by sharing your query in the
ASK NASCompares
section below, you can get a better range of solutions and suggestions, alongside my own.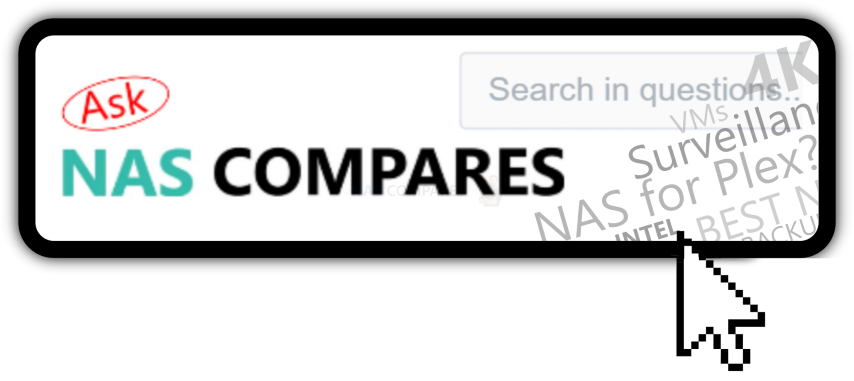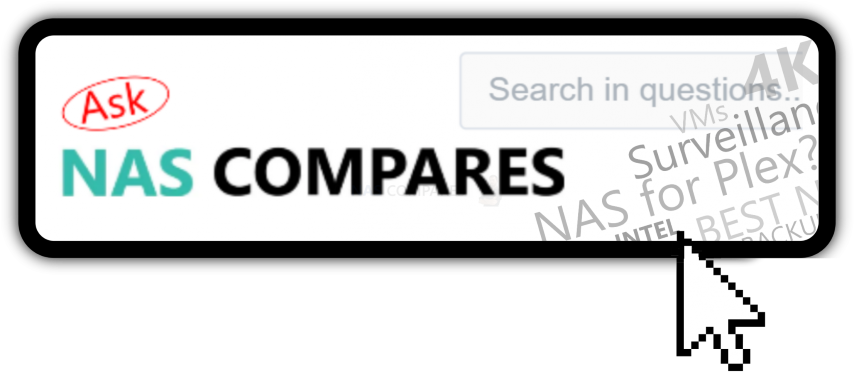 This description contains links to Amazon. These links will take you to some of the products mentioned in today's video. As an Amazon Associate, I earn from qualifying purchases
Summary
Reviewer
Review Date
Reviewed Item
Synology RS2418+ RackStation NAS Review
Author Rating