Is the Drobo 5Dt Turbo DRDR5A31-T  the answer to your Thunderbolt 2 problems?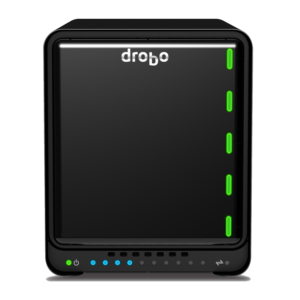 The 5-Bay RAID Drobo 5Dt Turbo DRDR5A31-T is a DAS (direct attached storage) enclosure featuring the ever constant USB 3.0 connection, as well as the far more sought after and ever growing in popularity Thunderbolt 2 connection. There are a few reasons that this unit improves on it's predecessor, the Drobo 5D, as it should do being almost £200 more expensive. But why the increase in cost? It can't all be because of Thunderbolt 2?! Moreover, why not Thunderbolt 3? Today I want to give you a quick overview of the new Drobo for Mac and Windows users and let you know why maybe you should be excited to see this new release from those partially overlooked giants, Drobo.

 The Drobo 5D Turbo is available to order from .COM and everything they know about it has really left me curious. As mentioned, that retail price of £748 ex.VAT without HDD/SSD storage media is quite a jump from the Drobo 5D at £536 without VAT). So, let's talk about what is the same and what's changed between the Drobo 5Dt and the Older Drobo 5D.

BeyondRAID® – Comparable to Synology's SHR system
Like the older Drobo 5D and many Drobo DAS and NAS, this unit features their patented BeyondRAID system meaning you are not limited when installing drives to them all being the same. With beyond RAID you can go rogue! Perhaps you have a drawer filled with unused drives or want to install drives gradually as your budget permits, or perhaps you want to upgrade your existing storage capacity. With BeyondRAID you can use and mix ANY 3.5″ SATA HDD, regardless of RPM speeds, Capacities, Brand and the software will do the calculations to ensure you have excellent parity in your RAID (hard drive failure protection in the form of checksums distributed among the disks)
Designed for with enhanced Backup Time Machine support
 Let's face it, most people who buy the Drobo 5Dt Turbo RAID box are Mac / Apple users! And it is with those in mind that the great support for the popular Apple time machine software is paramount. If you are looking for a large scale RAID enabled storage enclosure (remember, USB or Thunderbolt… the choice is yours) to store multiple time based images of your host system or perhaps many machines in a studio or office, this unit is ideal. Why is it better than the Drobo 5D at this? Read on.
DroboCare 3 year Licence included
As if it isn;t clear enough, the Drobo 5Dt is an enhanced "Turbo Edition" Drobo. This label is about more than the adoption of Thunderbolt 2. For a start the unit includes 3-Year DroboCare coverage free of charge with product registration. Support direct from Drobo themselves that normally retails around £80 without VAT. No this doesn't quite make up the £200 price jump… but I am not done yet.
Additional mSATA SSD Included, already installed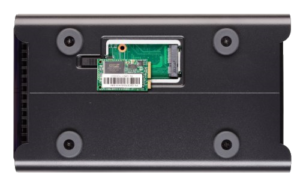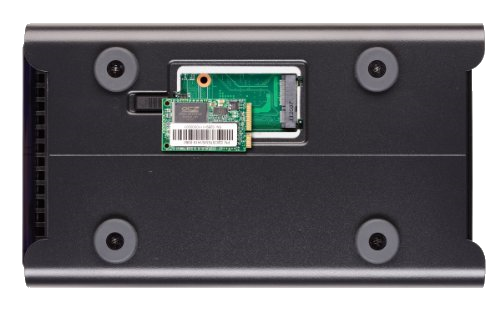 Good news also arrives in the form of the inclusion of an additional SSD insde the Drobo 5Dt. This mSATA SSD card is included to enable their Drobo Accelerator Caching Meaning that those who wanted to install an SSD or to in the 5 available Bays to speed up access to regular files and thumbnails no longer need to lose a HDD/SSD need to do so. It arrives pre-installed and Drobo claim increases performance of up to 30% on streaming video as well as 3x read performance via Drobo's Hot Data Cache.
Two Thunderbolt 2 ports and One USB 3.0 port on the back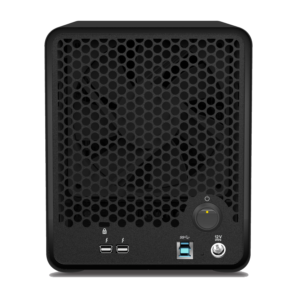 Of course we cannot skirt over possibly the biggest change when comparing the Drobo 5D and Drobo 5Dt, namely that Thunderbolt 2 Port. Drobo have been slower than others on taking advantage of this connection and it is about bloody time they got involved! Featuring 20GB/s transmission compared with the 10GB/s of Thunderbolt 1. Many Brand faithful Mac users have been waiting for this leap from TB1 to TB2. What about Thunderbolt 3 I hear you ask? Well that is hard to say. A large number of hte big brands of being slower on the uptake than you would expect about releasing a Thunderbolt 3 RAID storage device. Some brands like Akitio and Startech have released cost effective solution with some more on their way before the end of the year. However in all honesty, I dont think we will see a 5-Bay RAID enclosure from Drobo featuring Thunderbolt 3 till the end of next year at the very least!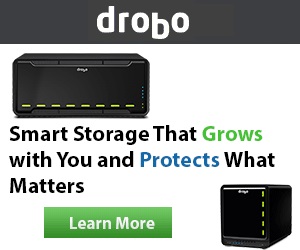 And that is about it! There are other factors such as the Carrier-less (trays) Drive Bays and the fact the unit arrives with a Thunderbolt 2 cable included (something a lot of brands such as Promise and Lacie often skip) as well as a USB 3.0 cables included. So, if you are interested in a Thunderbolt 2 RAID Storage device with Free mSATA cache SSD, free brand support software and the ability to mix your media, as well as run systems of Mac OS X 10.9 or higher & Windows 7/8/10, then this may every well be the Thunderbolt 2 RAID for you.