The QNAP TVS-473, TVS-673 and TVS-873 Gold Series NAS are now Available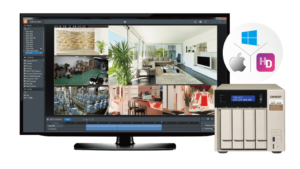 We know a number of your have been waiting for it and we are pleased to tell you that the highly anticipated AMD R-CPU Quad-Core NAS, the TVS-x73 Series is arriving with us and we expect demand to be high! We thoroughly recommend early ordering now prices and lead times are available as we will be one of the first worldwide to stock this item and orders will be handled in a first order, first ship basis. If you require additional Hard Drives and or SSD with your TVS-x73 purchase, add additional drives to your cart or select the recommended capacity options on the product pages. You can find each unit and their configurations below:
What Hardware does the QNAP TVS-473, TVS-673 and TVS-873 have on offer?
Embedded

Radeon™ R7 Graphics

Processor

8GB, 16GB and 64GB DDR4 RAM options available (across 4 slots)

2 x PCIe Gen 3 (x4)

USB 3.1 Gen 2

Type A port (10GB/s)

Front Mounted

DAS

(Direct Attached Storage enabled)

USB 3.0

port

for network/internet free file access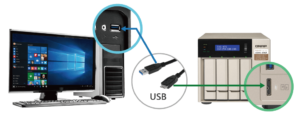 4 Gigabit LAN ports supporting Link Aggregation for hugely improved Upload/Download speeds

Metal modern chassis with Gold finish and improved click and load HDD/SSD trays

2x internal

m.2

SATA ports for increased cache and tiered storage

with QTier

Dual

HDMI

ports with

4K

output

on both

10GBe ready

and reaching speeds of 1570MB/s Download and 664MB/s Upload

Improved front mounted LED and LCD display

An additional 3x USB 3.0 port for external Drives and peripherals

Dual 3.5mm Microphone Jacks

3.5mm Audio Socket

Compartmentalised internal cooling
What is the software of the TVS-x73 series?
Huge Virtualisation and Container options

Supports the latest QTS 4.3 NAS Operating System (with hundreds of install on demand applications)

Plex

Transcoding at 1080p

AES-NI Encryption for faster and safer data transmission

With 4 IP Camera Licences included, can support upto 72 simultaneous camera recordings

Supports

QVR Pro

(beta) for Professional Surveillance solutions at no additional cost

Connect a compatible PCIe Wireless Adapter and convert the devise into a Wireless AP / Hotspot for devices that are WiFi

but lack an access point

Multiple Home and Business Support apps from QNAP on iTunes and Google Play

Synchronise

between multiple devices on conflicting platforms (

Mac

, Windows, Mobile) easily with Qsync

House upto 256 snapshots per volume to Backup and/or restore your data to a chosen point in time for extra piece of mind

Install and operate multiple Linux Virtual machines from a single TVS-x73 device

Connect a

Keyboard

, mouse and HDMI visual device to turn the NAS into a standalone PC – whilst still maintaining full NAS access and services to other users in the background – simultaneously!

The TVS-x73 and Free

Virtualization Station

software supports multiple operating systems, fast VM creation, VM backup & restoration, VM import/export, snapshot, and Device Management for centrally managing VMs

Improved business and internal communication options with

Qcontactz

,

QmailAgent

and

Qsirch

for the perfect and centralised workflow environment.

Numerous security options, such as encrypted access, IP blocking, 2-step verification, and more

Hybrid

Backup Sync

for consolidating backup, restoration and synchronization functions (using RTRR, rsync, FTP, CIFS/SMB) into a single app for easily transferring data to local, remote and cloud storage spaces as a comprehensive data storage and disaster recovery plan

3rd

Party Cloud

migration and

communication

across the most popular clients such as Dropbox, Google Drive, Azure, iCloud, OneDrive and more

Supports Acronis True Image,

Apple Time Machine

, Symantec Backup Exec, Commvault and more
As you can see, this is going to be another ground-breaking and innovative NAS server from QNAP, still one of the front runners of NAS. You can view the entire QNAP TVS-473, TVS-673 and TVS-873 and configuration options below: