10Gbe for QNAP NAS Surveillance

We have already purchased a TVS-672XT for media storage for our property in Baja, Mexico. One of the main uses for which we purchased the NAS is for a multi-camera surveillance system, and the QNAP option seemed an excellent choice. My query is about the suitability of a 10GBe switch to use with the security cameras, and whether this switch would also work as a PoE unit? We envisage having the majority of cameras (probably around 12 in total) hard wired, with some being wireless where hard wiring is not possible. We would require remote viewing, as obviously I live in the UK most of the time, which should not be a problem despite slow internet speeds in Mexico.  Any advice you can offer about the suitability of a 10GBe switch with our proposed surveillance system, or even if it is required at all, would be very much appreciated.
​​​​​​​There is no truly 10GbE POE switch out there. This is because none of the cameras will ever need this much of bandwidth as today. But if you need 10GbE connectivity as well as POE. You can dual 10G port switches where you can connect other 10GbE switch for other computers. But cameras would be connected over 1GbE POE ports. I have copied Reolink poe switch finder guide bellow hoping this could help.
Qnap also will release their first PEO switch at the end of this year. It will deliver up to 90W per port and also will feature PCIe slots for 10GbE card upgrade. This looks very promising.
In meantime you can look at my findings bellow.

Dual 10GbE POE switches + 1GbE POE
NETGEAR 24 Port Gigabit Ethernet 380W PoE L2+ Smart Switch with Insight Remote Management, 2 Port SFP, 2 Port 10Gb SFP+ (GC728XP)
D-Link Systems 28-Port SmartPro Stackable PoE/PoE+ Switch & 2 Gigabit SFP Ports and 2 10GbE SFP+ Ports (DGS-1510-28P)
Twenty-four (24) 10/100/1000BASE-T PoE/PoE+ Ports

Two (2) 10-Gigabit SFP+ Ports

Two (2) Gigabit SFP Ports

Supports PoE/PoE+ (802.3at) with 193W Power Budget

Ideal for SMB networks with large bandwidth demands requiring 10G uplinks, Physical Stacking, and L3 Static Routing

Security features include IP-MAC-Port binding, Safeguard Engine, ACL, and ARP Spoofing Prevention

IPv6 management / IPv6 Neighbor Discovery / IPv6 static routing

Advanced management and security features similar to those of a fully managed switch, but at the price of a smart switch
NETGEAR 24-Port Gigabit Fully Managed Switch M5300, 4xSFP, 2x10GBASE-T, 2xSFP+, Stackable, PoE/PoE+ 380W, ProSAFE Lifetime Protection (GSM7228PS)
24 PoE+ Gigabit Ethernet ports and 4 shared SFP + 2 10GBASE-T ports and 2 shared 10 Gigabit SFP+

Layer 2+ (static routing) w/ Optional Full L3 License (RIP, OSPF, VRRP, PIM)

24 PoE+ (802.3at) ports, 380W PoE Budget (Up to 720W w/ EPS)

Virtual Chassis Stacking Technology stacks up to 8 units adding redundancy and load balancing

Easy to manage via web-based GUI, industry standard CLI, or NMS300 for multi-switch deployment

Comprehensive networking features such as VLAN, QoS, auto-Voice, auto-iSCSI and MVR, Link Aggregation, ACL

Redundant Power Supply (RPS) + Modular PSU further enhances reliability

LIFETIME WARRANTY/Next Business Day Replacement/ 24/7 Advanced Tech Support via Chat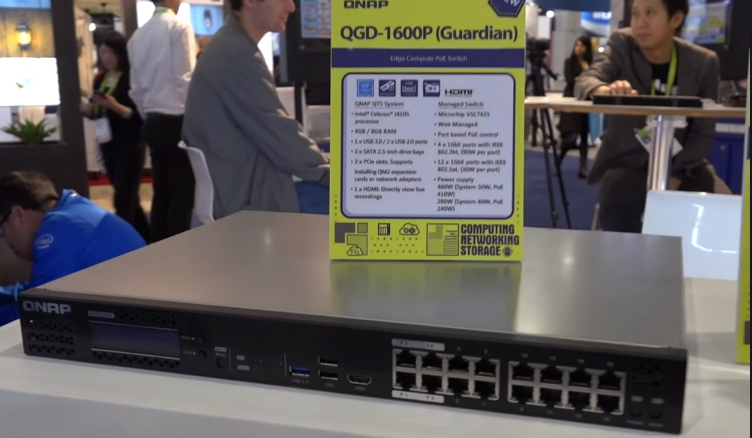 What makes the QNAP Guardian QGD-1600P so unique?
Although at this time we do not have an image (I will update as and when I do) this new QNAP Guardian QGD-1600P NAS switch-based hardware is designed to combine the features and functionality of a managed PoE switch for optimizing your network, as well as the storage, media, RAID and application support of a mid-range NAS (Plex, containers, Surveillance, Backups, DLNA, etc). QNAP is revealing this device to promote their QVR Pro surveillance platform alongside HDMI out to push its use as a standalone KVM Surveillance station. Below is everything we know so far:
-Intel J3455 QuadCore 1.5Ghz – 2.5Ghz CPU
-2 SSD Bays (SATA 6Gbs 2.5")
-1x HDMI Port for HD Station (Plex, Kodi Unofficially, Surveillance and more)
-2x PCIe Slots for 10Gbe, Cache Upgrades and more
-Internally managed 16LAN ports for switch use
-4X Power over Ethernet (PoE) upto 90W per port    -12X Power over Ethernet (PoE) upto 30W per port
-Microchip® VSC7425 Network controller supporting IEEE 802.3bt
-VLAN, QoS, and port-based PoE Control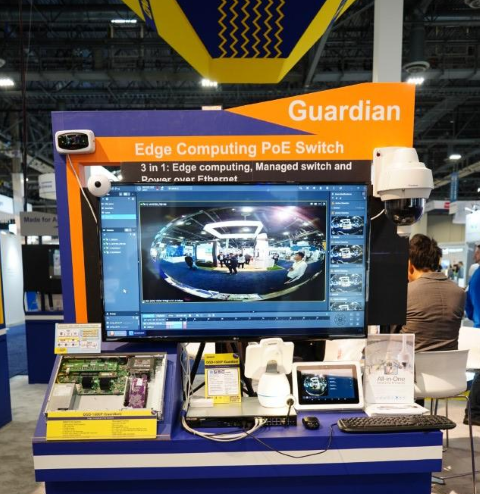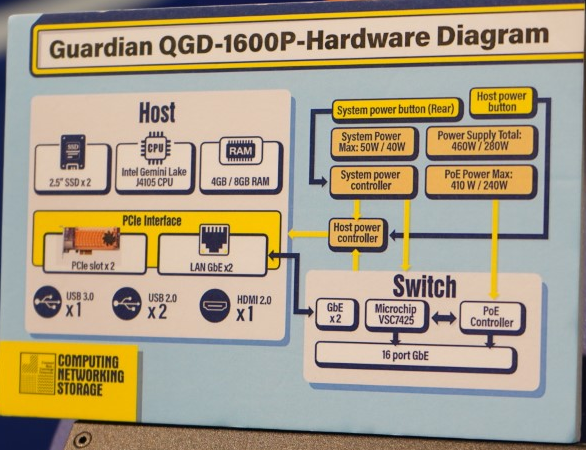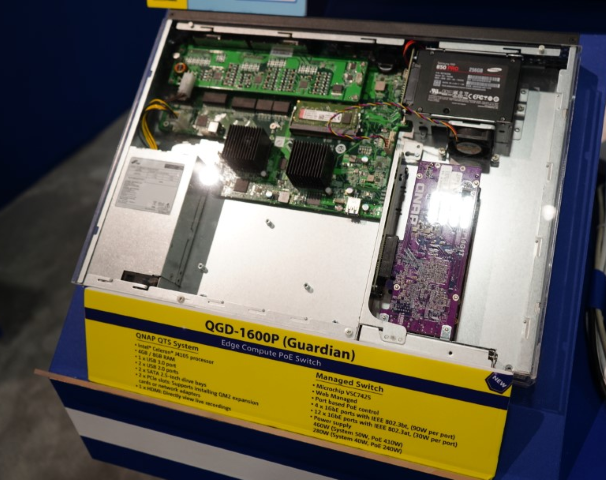 How to Select, Choose or Buy a PoE Switch for IP cameras
To choose a suitable, reliable and best PoE switch for your IP security cameras, there are few factors you need to consider: PoE standard, PoE IP cameras' power consumption, PoE switch maximal power supply, PoE switch port number, cable length and etc.
Factor 1. PoE IP Camera Power Consumption
A PoE switch not only carries network connection but also supply power to Power over Ethernet (PoE) IP cameras. However, IP cameras power consumption varies; some could draw up to 20 Watt such as PTZ IP cameras RLC-423 while others could consume as little as 3 or 4 Watt.
Therefore, a PoE switch should be able to provide enough power for different types of IP camera via Cat 5 or Cat 6 cables.
There are mainly two types of power over Ethernet (PoE) standards, theoretically, the PoE standard (IEEE802.3af) could provide up to 15.4W of DC power on each port. In practice, only 12.95 W will be supplied to the IP cameras or other PoE devices given the power loss that dissipates in the network cables.
Similarly, the PoE+ standard (IEEE802.3at) can pump out up to 30 W per port while only 25.5W could transmit to Network-enabled devices in real time.
Choose a PoE Switch that suits your surveillance needs and makes sure to double check your PoE IP camera power consumption ether in the user manual or technical specification spreadsheet.
Factor 2. PoE Switch Maximal Power Supply
Meanwhile, the maximal power supplies of your PoE switch matters as well. If the maximal power supply of the all your cameras exceeds your PoE switch power cap, then the PoE switch won't provide enough power for all your PoE IP cameras, pan-tilt-zoom (PTZ) IP cameras in particular.
Insufficient power supply to the IP cameras are the common culprits for video loss and IP camera poor performance.
That being said, when buying a PoE switch for IP cameras, it's important to go for a PoE switch with more power juice or reducing the number of PTZ IP cameras plugged into the PoE switch as PTZ cameras draw more power than other IP cameras.
Factor 3. PoE Switch Power Supply Voltage
Many security cameras run either 12V or 24V power, if not supplied with the proper power voltage, the IP camera either won't work or even be overloaded.
For example, 12V IP security camera is powered by a 24V power source or vice versa, the IP cameras would likely to be burnt out or fried.

To provide the proper amount of power for the PoE IP cameras, one of an important feature to look for in a PoE switch for IP cameras is its abilities to automatically adjust voltage accordingly.
For example, a PoE switch with 802.3af compatibility is able to accommodate the power input of your IP security cameras, for example, GS308P PoE Switch comes with IEEE 802.3af compliant.
Factor4. PoE Switch Port Number
If you are looking for PoE switch for more than 4 cameras, it's important to check the port number, such as a PoE switch with 8 ports, PoE switch with 16 ports, PoE switch with 24 ports, or PoE switch with 48 ports.
While the port number largely depends on your actual need as well as the overall power consumption of your IP cameras.
For example, a 24-port PoE switch with 370W power supply could power 24 IP cameras with IEEE802.3af standard (15.4W per port) while it could only power 12 IP cameras with IEEE802.3at standard (30W per port).
Factor 5. Gigabit PoE Switch or Not
As mentioned before, a PoE switch not only supply power to the IP cameras but also carries network connection.
A gigabit switch is getting an upper hand in comparison with a 10/100 Mbps switch because you do not want the switch to become the data bottleneck when you are powering 4 PoE IP cameras in addition to other devices on the switch. (Learn whether IP security cameras slow down your home network)
Factor 6. Unmanaged or Managed PoE Switch
The main differences between an unmanaged and managed PoE switch lie in functionality, configurability, and of course, the price tag.
Unmanaged PoE switch (cheaper) is a plug-and-play with no setup required while managed PoE switch allows you to configure networking protocols, as features such as VLANs, IGMP Snooping or more.
For most homeowners, an unmanaged PoE switch fits the budget and works to meet the needs for powering PoE IP cameras.
Here is a source guide from Reolink how to choose PoE switch- https://reolink.com/choose-select-buy-best-poe-switch-for-ip-cameras/