Can I mesh only RT2600ac Synology routers instead of mixing with MR2200ac? I have big area to cover.
Yes, new SRM update came out with extra functions added – including mesh support. If you have much bigger area to cover, you may consider mashing together RT2600ac. Synology mesh system is more attractive because of its back-haul functionality- which will allow uninterrupted streaming even with access point switching in the background.
Version: 1.2-7742
This is the are you can cover with Synology routers:
RT2600ac  can cover 3,000 ft2 / 279 m2 84 ping — good for 2-3 bedroom house
MR2200ac can cover 2,000 ft2 / 185 m2 / 56 ping — good for 3-4 bedroom house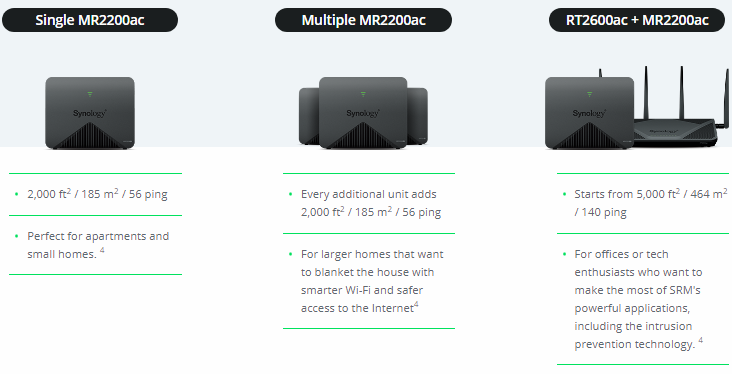 If you like this service, please consider supporting us.
We use affiliate links on the blog allowing NAScompares information and advice service to be free of charge to you.
Anything you purchase on the day you click on our links will generate a small commission which is
used to run the website. Here is a link for
Amazon
and
B&H
.
You can also get me a ☕
Ko-fi
or old school
Paypal
. Thanks!
To find out more about how to support this advice service check
HERE
If you need to fix or configure a NAS, check
Fiver
Have you thought about helping others with your knowledge?
Find Instructions Here