Port 32400 configured for this package is either used by another service or reserved for system use. Please disable or modify the conflicting service, or contact the developer to modify the package configuration.
Uninstall the app in Package Center
Control Panel – Users – Delete user – Plex
Control Panel – Shared Folders – Delete the Plex share.
Restart the NAS
Now Plex and all support mechanisms have been completely removed
If that didn't help. You need to find out what is using this port and deactivate it. Here is how you find out about all ports used on Synology:
Use a command "sudo netstat -lp" on Putty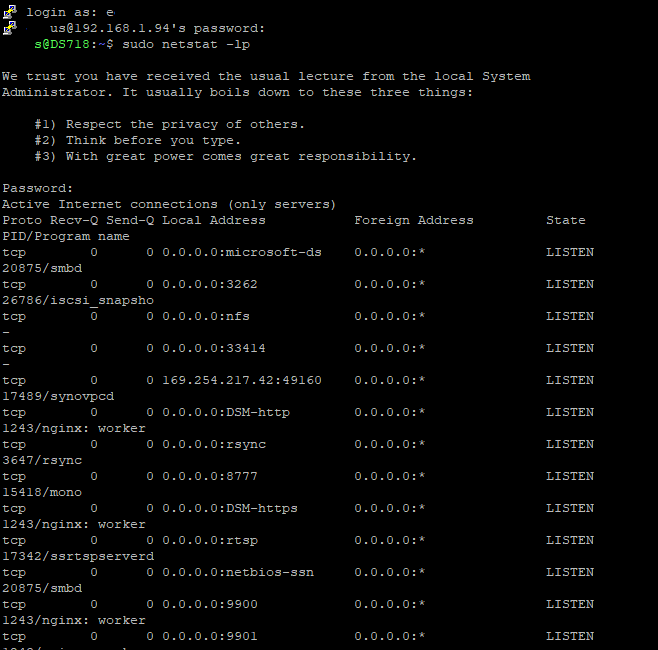 Here is how to enable Terminal : https://www.synology.com/en-global/knowledgebase/DSM/help/DSM/AdminCenter/system_terminal
You can also see default ports Synology use here: https://www.synology.com/en-global/knowledgebase/DSM/tutorial/Network/What_network_ports_are_used_by_Synology_services
If you like this service, please consider supporting us.
We use affiliate links on the blog allowing NAScompares information and advice service to be free of charge to you.
Anything you purchase on the day you click on our links will generate a small commission which is
used to run the website. Here is a link for
Amazon
and
B&H
.
You can also get me a ☕
Ko-fi
or old school
Paypal
. Thanks!
To find out more about how to support this advice service check
HERE
If you need to fix or configure a NAS, check
Fiver
Have you thought about helping others with your knowledge?
Find Instructions Here