It transcoded all these files with no hiccups. Remotely from PMS [150Mbit broadband] to the destination – 4K HDR TV [60Mbit broadband].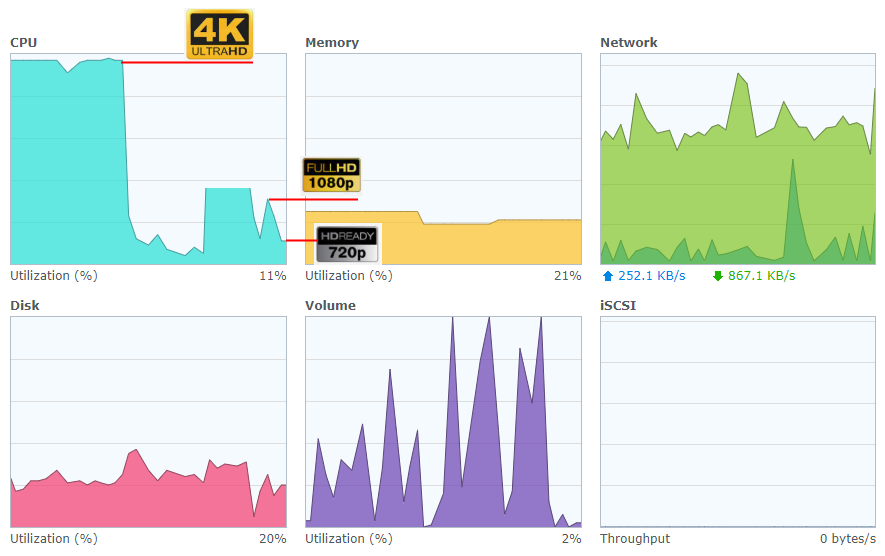 4K file         –  2160p.4K.WEB.x265.10bit.AAC5.1.mkv  2:22  6.38 GB  3824 x 1600  hevc  aac_lc  6240.2 Kbps  [24FPS]

1080p file   – 1080p.WEBRip.x264-RARBG.mp4  1920 x 804  2.05 GB    h264  aac_lc  2665.1 Kbps
720p  file    –  .WEBRip.x264-ION10.mp4  534 x 400   4:02:08  h264    1329.5 Kbps
720p  file    -x264 AAC 1.2GB .mkv



PLEX Multiple Users




Wanting to create a Plex Media Server so that me and 5 to 8 friends can all watch movies together remotely using Plex.




How many users could a DS920+ support playing 1080p files?




If money was no option (but a full sized PC isn't preferred) what NAS is recommended to provide the maximum number of consecutive streams? (1 film, 8+ people, using Plex "watch together" feature)



You need to check your upload speed and do a little bit of math. Check an average video bitrate and multiply that by 5 or 8 people. If your broadband is fast enough you will be able to have all of these streams ruing simultaneously.
DS920+ is limited to around 800Mbit speeds (100MB/s).
Hardware transcoding would also allow converting these videos on the fly which would allow even more streams.
The next level up would be models with core i5 CPU such as Qnap 72N.
I hope this helps.