How to set up Terramaster time machine backup
First Step: To Set Up Time Machine
1.  Go to TOS desktop> Backup > Time Machine > Settings
2.  Check "Enable Time Machine Service"
3.  Set "Backup Path"
4. Enter the storage space limitation for Time Machine. If you need more space, you can enter 0 (indicating no limitation);
5. Set "Authorized User". Users who are not on the "Authorized User" list will not be able to use this feature;
6. Click "Apply".
If you want to view the backup list, please go to TOS Desktop> Backup> Time Machine> Backup List. You can check the backup data size, date, and delete the backup file. If you want to delete a backup, check the backup name and click "Delete".
Note:
1. Factory settings have Time Machine disabled by default;
2. Backup Path: This refers to the folder allocated to Time Machine backup;
3. Authorized User: Only authorized users have the right to use the backup function of the TNAS Time Machine.
Map Network Drive On MacOS
Map network drive on macOS
In Finder, click Go > Connect to Server from the menu bar.

In the Server Address field, enter your Terramaster NAS device's IP address. You can find it in the web browser URL bar when accessing admin panel.
Click Connect to continue.

Enter your DSM user name and password in the Name and Password fields. Then click Connect.

Now you should be able to see the shared folders on your NAS in Finder.

To Set Up Time Machine on your Mac:
1. Open System Preferences on Mac Desktop> Time Machine;
2. Select TNAS as the backup disk;
3. Select "Registered User" at "Connect As", then enter your TNAS username and password.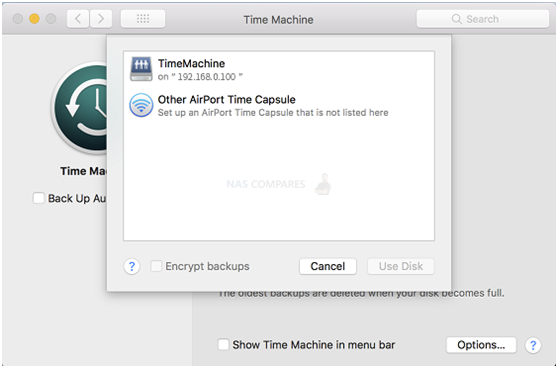 If you like this service, please consider supporting us.
We use affiliate links on the blog allowing NAScompares information and advice service to be free of charge to you.
Anything you purchase on the day you click on our links will generate a small commission which is
used to run the website. Here is a link for
Amazon
and
B&H
.
You can also get me a ☕
Ko-fi
or old school
Paypal
. Thanks!
To find out more about how to support this advice service check
HERE
If you need to fix or configure a NAS, check
Fiver
Have you thought about helping others with your knowledge?
Find Instructions Here
☕ WE LOVE COFFEE ☕

Or support us by using our affiliate links on Amazon UK and Amazon US