Probably the most complicated task I am looking to be able to do with a NAS is to use iTunes Match. In order to continue to use

that service I have to have iTunes installed on a Mac or a PC. My understanding is that if I use a distribution like Ubuntu and a WINE compatibility layer I could install the Windows version of iTunes. I have also read the the app PlayOnLinux will do the job. Do you see any issues with these solutions? Do you have a simpler way to get this done? I"m completely unfamiliar with Linux. I can do a decent job getting a few things done behind-the-scenes in Windows, but am not someone who does a lot of customization of the OS.

When I reached out to QNAP with these questions they recommended the TS-253Be. The reasoning the rep gave me was that another solution for iTunes Match would be to create a Virtual Machine using their app Virtualization Sation. The rep did say that I would need to upgrade to 8GB of RAM in order to dedicate some RAM to the VM.
Yes, the TS-253B /453B as well as Synology DS718+ will let you create virtual machines. It is not limited to a Linux. It can also be a Windows virtual machine or even Android. You can also set up an iTunes server on the NAS as an app and stream music this way.
The fact you can use a Qnap as a PC is also true. Just plug in the mouse and keyboard and connect screen over HDMI. And you have a computer. There are models available with 4GB RAM and this will be enough. Or get a spare stick for an upgrade.
Here are steps to install Windows on Synology: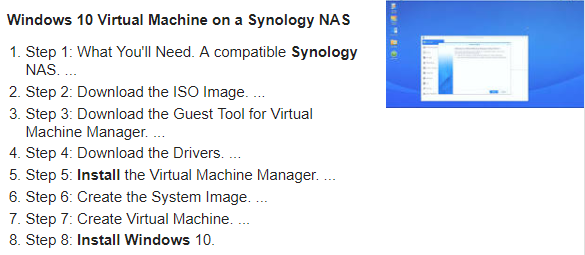 And on Qnap
Find regulary updated NAS offers here
Of course I would prefer you choose
AMAZON UK
AMAZON USA
to buy your perfect solution, however, if you would rather buy locally, please use the links used above to take you to your local Amazon store and help support this free advice service with ad revenue. More ways of supporting the blog are described
HERE