NAS for Lossless audio streaming including these file formats DSD & FLAC & WAV
Not that long ago most popular music storage format was a CD. Than MP3 took over because of its comparably tiny file size. But there are many people who can actually hear the difference between CD quality or compressed format audio. Also, it is not easy to find the favorite song when you keep hundreds of disks. With a NAS you store all CD music in an uncompressed format. Qnap and Synology will let you store thousands of CDs on a RAID system and also play using free music app. Using DLNA you can cast songs to smart speakers or other audio systems and enjoy ultimate quality soundtracks. I have listed few most popular choices for lossless audio storage and streaming.
Synology Supports AAC, AIF, AIFF, APE, Apple Lossless (ALAC), FLAC, M4A, M4B, MP3; WAV, Ogg Vorbis, WMA, WMA PRO, WMA VBR, DSD.
https://www.synology.com/en-uk/dsm/6.1/software_spec/mobile#DSaudio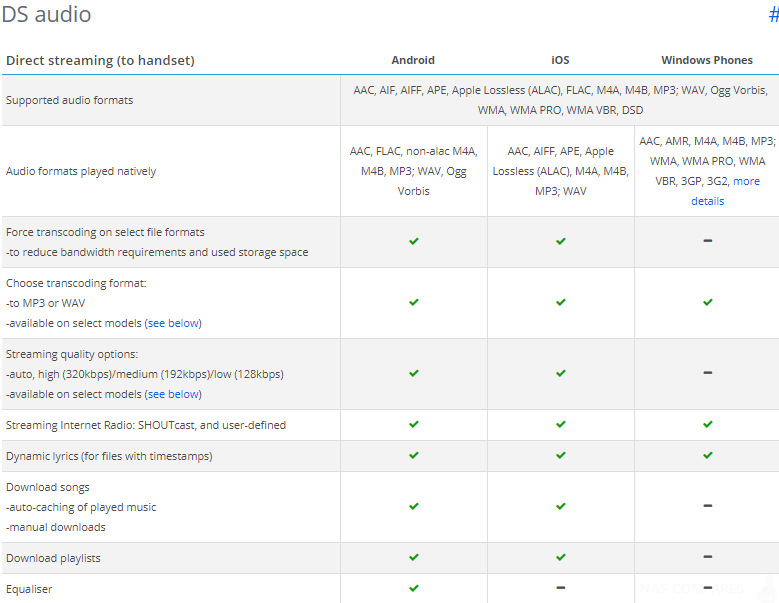 Qnap Supported audio format: AIFF, APE, FLAC, M4A, M4A Apple Lossless (ALAC), MP3, Ogg Vorbis, WAV (PCM, LPCM), WMA, WMA PRO, WMA VBR
https://www.qnap.com/en/how-to/tutorial/article/how-to-manage-and-play-music-with-music-station
Qnap NAS for DSD & FLAC & WAV
HS-251+
Supported audio format:  AIFF, APE, DSD (DSF, DFF), FLAC, M4A, M4A Apple Lossless (ALAC), MP3, Ogg Vorbis, WAV (PCM, LPCM), WMA, WMA PRO, WMA VBR
TS-253A
Supported audio formats4: AIFF, APE, DSD (DSF, DFF), FLAC, M4A, M4A Apple Lossless (ALAC), MP3, Ogg Vorbis, WAV (PCM, LPCM), WMA, WMA PRO, WMA VBR
TS-328
Supported audio formats: AIFF, APE, DSD (DSF, DFF), FLAC, M4A, M4A Apple Lossless (ALAC), MP3, Ogg Vorbis, WAV (PCM, LPCM), WMA, WMA PRO, WMA VBR
Synology NAS for DSD & FLAC & WAV
DS118
AAC, AIF, AIFF, APE, Apple Lossless (ALAC), FLAC, M4A, M4B, MP3; WAV, Ogg Vorbis, WMA, WMA PRO, WMA VBR, DSD
DS218j
AAC, AIF, AIFF, APE, Apple Lossless (ALAC), FLAC, M4A, M4B, MP3; WAV, Ogg Vorbis, WMA, WMA PRO, WMA VBR, DSD
DS418
AAC, AIF, AIFF, APE, Apple Lossless (ALAC), FLAC, M4A, M4B, MP3; WAV, Ogg Vorbis, WMA, WMA PRO, WMA VBR, DSD
Find regulary updated NAS offers here
Of course I would prefer you choose
AMAZON UK
AMAZON USA
to buy your perfect solution, however, if you would rather buy locally, please use the links used above to take you to your local Amazon store and help support this free advice service with ad revenue. More ways of supporting the blog are described
HERE