6 Video Editors at 4k

Right now were looking into a video solution for 6 video editors to work on Macs with 4k footage simultaneously.
Were a small video team in a large company and would like to keep out footage and workflow locally, hence the need for a NAS

I have been looking into the Qnap tvs-1282t3 as a solution, but I am a bit … confused
If I use a switch like the NETGEAR-XS505M– 10-Gigabit
I still think the Qnap unit will max out at five 10GBs connections, Is that right ?
I came to this conclusion after seeing it has 3 thunderbolt and 2 10GBs ethernets in the unit.

Is there a solution I am missing or have I miss understood the whole thing ?
Do you have any recommendations as to what we should be using ?

We also have been looking into a Lumaforge Jellyfish Tower , It might be the solution, Have you heard anything about it ?
With so many direct high speed connections, it seems to good to be true.
Ive heard very little myself so I am reluctant to take such an expensive gamble on a product I've never seen a production house use.
Jellyfish towers are much overpriced solutions with limited functionality. Don't let those numerous 10GbE LAN connections fool you. Yes it is very nice that you don't need a switch and you can connect directly. But you can do the same thing with Qnap but in much easier fashion. Qnap Qfinder app will set up your network drive connection automatically. But there is still one problem. Each port comes with it's on IP address. Some software is very sensitive and will not let multiple people work on the same projects because IP location is different. Or some software doesn't let you work on network drive in general.
Sounds like an advert, but Qnap have found ways around these problems. You can trick your editing PCs that network drives is actual physical drive on your computer. And it gets even better. You can combine several LAN connections into a one funnel (so called Link aggregation/ port trunking). Then you can connect your editing machines using the same IP address.
And there is something else you should know. To edit 4K you don't need entire bandwidth of 10GbE connection. This means, that with only 5LAN ports on the server you can actually connect and edit from 10machines. You will need a switch for this but it will work. You can get a switch for just under 1000. This will give you many ports to connect to as well as possibility to link aggregate ports. And most importantly- this will allow you to work from different offices in the building. There is no need for everyone to sit in one room.
You can find switch comparison here: https://nascompares.com/2018/01/19/cheapest-10gbe-switches/
Qnap Thunderbolt models do not limit you to a certain number of users just because there is no more ports available. You should look at Thunderbolt connections as a cheaper way to connect. Because you don't need a 10GbE card for your computer nor the 10GbE switch. Rest of the machines can connect through a 10GbE port connected to a switch. Or you can even install 40GbE card. This connected to a switch will allow 8 user to connect via 10GbE on the other end.
For 6 editors I would suggest 3 machines to connect via Thunderbolt and 2G ports link aggregated and connected to a smart 10GbE switch. Then 3 or more editors can connect to it via the switch and benefit still from a great bandwidth available.
There are severeal versions of TVS-1282- Thunderbolt and 10GbE only. If you need more storage space, you can also look at the rackmount models. Which is the same thing just in the different shape (also much louder). You can install 4 card with dual 10GbE ports giving you total of 8 conections. But potentialy allowing to conect even 16machines. But I would recomend 24 bay solutions for such number of conections.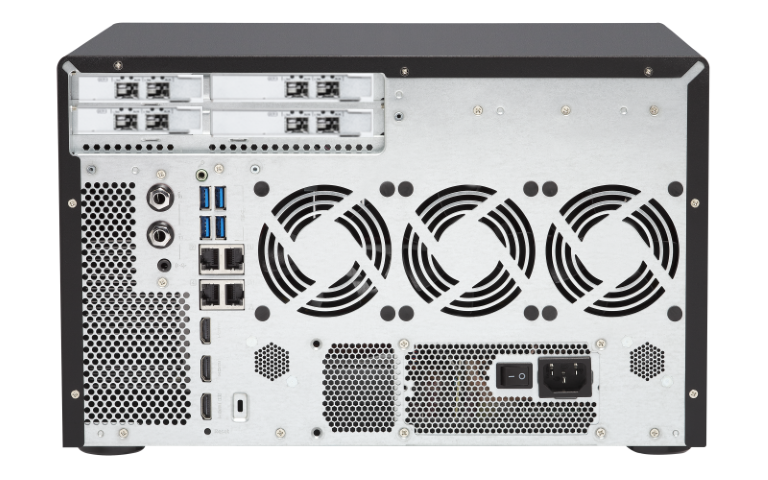 Here are the best rackmount models. Ready for 10GbE or 40GbE card installation.
Embedded Linux

Intel® Core™ i3-8100 4-core 3.6 GHz Processor
Intel® Core™ i3-8100 4-core 3.6 GHz Processor
Intel® Core™ i3-8100 4-core 3.6 GHz Processor

Memory (RAM)

4 GB UDIMM DDR4 (1 x 4GB)
4 GB UDIMM DDR4 (1 x 4GB)
4 GB UDIMM DDR4 (1 x 4GB)
8 GB UDIMM DDR4 (2 x 4GB)

Flash

4GB (Dual boot OS protection)
4GB (Dual boot OS protection)
4GB (Dual boot OS protection)
4GB (Dual boot OS protection)

Number of RAM Slots

4 (Max 64GB)
4 (Max 64 GB)
4 (Max 64 GB)
4 (Max 64 GB)

Max. number of HDDs/SSDs

4 x 3.5-inch + 5 x 2.5-inch
8 x 3.5-inch
12 x 3.5-inch
16 x 3.5-inch

Hot-Swappable HDD Tray

Gigabit LAN Ports

2
4
4
4

Jumbo Frame (GbE)

10GbE

2 x 10GbE SFP+ SmartNIC port
2 x 10GbE SFP+ SmartNIC port
2 x 10GbE SFP+ SmartNIC port
2 x 10GbE SFP+ SmartNIC port

Expansion Slot (PCI-E)

1 x Gen3 x16
4
Slot 1: PCIe Gen2 x4 (PCH)
Slot 2: PCIe Gen3 x8 (CPU)
Slot 3: PCIe Gen3 x4 (CPU)
Slot 4: PCIe Gen3 x4 (CPU)
4
Slot 1: PCIe Gen2 x4 (PCH)
Slot 2: PCIe Gen3 x8 (CPU)
Slot 3: PCIe Gen3 x4 (CPU)
Slot 4: PCIe Gen3 x4 (CPU)
4
Slot 1: PCIe Gen2 x4 (PCH)
Slot 2: PCIe Gen3 x8 (CPU)
Slot 3: PCIe Gen3 x4 (CPU)
Slot 4: PCIe Gen3 x4 (CPU)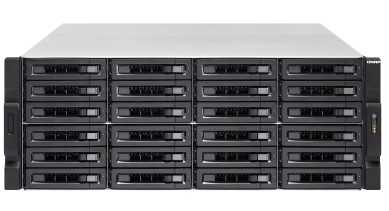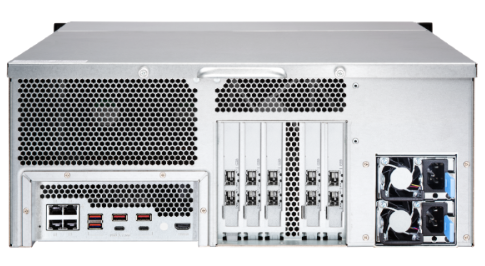 Or go with  40GbE cards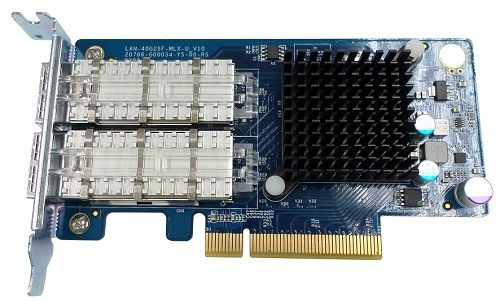 Cheapest 10gb 1 Port PCI Express network cards (NIC) RJ45 inc. Low profile
Find regulary updated NAS offers here
Of course I would prefer you choose
AMAZON UK
AMAZON USA
to buy your perfect solution, however, if you would rather buy locally, please use the links used above to take you to your local Amazon store and help support this free advice service with ad revenue. More ways of supporting the blog are described
HERE