Synology 2-bay NAS range compared

Model
DS220j
DS218play
DS223
DS220+
DS723+
Estimated Price
$186 (18th Jan)
$229 (18th Jan)
$249 (18th Jan)
$299 (18th Jan)
$449 (18th Jan)
Processor model
Realtek RTD1296
Realtek RTD1296
Realtek RTD1619B
Intel Celeron J4025
AMD Ryzen R1600
Number of CPUs
1 (benchmark score: <1000)
1 (benchmark score: <1000)
1 (benchmark score: <1000)
1 (benchmark score:

1708

)
1 (benchmark score:

3246

)
processor architecture
64-bit
64-bit
64-bit
64-bit
64-bit
processor clock
4-core 1.4 GHz
4-core 1.4 GHz
4-core 1.7 GHz
2-core

2.0 (base) / 2.9 (burst)

GHz

2-core (4 threads)

2.6 (base) / 3.1 (turbo)

GHz

hardware encryption
YES
YES
YES
(AES-NI)
(AES-NI)
Hardware Transcoding Engine
10-bit H.265 (HEVC), MPEG-4 Part 2, MPEG-2, VC-1; maximum resolution: 4K (4096 x 2160); maximum frame rate per second (FPS): 60
10-bit H.265 (HEVC), MPEG-4 Part 2, MPEG-2, VC-1; maximum resolution: 4K (4096 x 2160); maximum frame rate per second (FPS): 60
10-bit H.265 (HEVC), MPEG-4 Part 2, MPEG-2, VC-1; maximum resolution: 4K (4096 x 2160); maximum frame rate per second (FPS): 60
H.264 (AVC), H.265 (HEVC), MPEG-2 and VC-1; maximum resolution: 4K (4096 x 2160); maximum frame rate per second (FPS): 30
NONE
Memory
system memory
512 MB DDR4 non-ECC
1 GB DDR4 non-ECC
2 GB DDR4 non-ECC
2 GB DDR4 non-ECC
2 GB DDR4

ECC

RAM slots
soldered
soldered
soldered
2Gb soldered + 1 slot free
1 slot 2GB +

second slot

free
MAX RAM upgrades
NO
NO
NO
6 GB (2 GB + 4 GB)

32 GB (16 GB x 2)

storage device
Expansion Unit
NO
NO
NO
NO

DX517

x 1
Number of HDD bays
2
2
2
2
2
Compatible Disk Type
3.5″ SATA HDD
2.5″ SATA HDD
2.5″ SATA SSD
3.5″ SATA HDD
2.5″ SATA HDD (with optional 2.5″ HDD bay)
2.5″ SATA SSD (with optional 2.5″ HDD bay)
3.5″ SATA HDD
2.5″ SATA SSD
3.5″ SATA HDD
2.5″ SATA HDD
2.5″ SATA SSD
3.5″ SATA HDD
2.5″ SATA SSD
M.2 2280

NVMe SSD Gen3 x1

M.2 Drive Slots
NO
NO
NO
NO

2 (NVMe) (2GB/s per slot) (

CACHE

OR

STORAGE

)

PCIe slot
NO
NO
NO
NO

1 x Gen3 x2 for 10gbe NIC

external port
RJ-45 1GbE LAN port
1
1
1
2
2
USB 2.0 port
USB 3.2 Gen 1 port*
2
2
3
2
1
USB / SD Copy
Remark
file system
internal disk
EXT4
EXT4
Btrfs
EXT4
Btrfs
EXT4

Btrfs


EXT4
Power
Noise value*
18.2 dB(A)
19.9 dB(A)
14.6 dB(A)
19.3 dB(A)
19.3 dB(A)
Power Supply / Transformer
60W
60W
60W
60W
65W
power consumption
12.46 W (access)
5.06 W (disk hibernation)
16.79 W (access)
5.16 W (disk hibernation)
17.343 W (access)
4.08 W (disk hibernation)
14.69 W (Access)
4.41 W (HDD Hibernation)
21.07 W (Access)
8.62 W (HDD Hibernation)
BTU
45.52 BTU/hr (access)
17.27 BTU/hr (disk hibernation)
57.29 BTU/hr (access)
17.61 BTU/hr (disk hibernation)
59.19 BTU/hr (access)
13.92 BTU/hr (disk hibernation)
50.12 BTU/hr (Access)
15.05 BTU/hr (HDD Hibernation)
71.85 BTU/hr (Access)
29.39 BTU/hr (HDD Hibernation)
APPs and limits
Maximum number of local user accounts
1,024
2,048
1,024
2,048

2,048

Maximum number of Hybrid Share folders
none
none
5
10

10

The maximum number of cameras
12
15
20
25

40

The maximum number of snapshots
none
none
256
1,024

1,024

SSD TRIM
NO
YES
YES
YES

YES

Synology High Availability
NO
NO
NO
YES

YES

Synology MailPlus / MailPlus Server
NO
NO
NO
YES

YES

Virtual Machine Manager
NO
NO
NO
YES

YES
Tell me more about this Realtek CPU
The RTD1619B is a SoC (system on a chip) developed by Realtek, a Taiwan-based company that specializes in the design of semiconductor solutions for a wide range of applications, including IoT, multimedia, communications, and more.
The RTD1619B is built on a 64-bit architecture, meaning it can handle 64-bit instructions and data and can address a larger amount of memory than a 32-bit CPU. It has 4 cores, meaning it can process 4 concurrent threads, and it operates at a clock speed of 1.7 GHz.
The RTD1619B is also equipped with a Mali-G51 GPU. Mali-G51 is a part of the Mali family of GPUs developed by ARM. It is a Bifrost GPU, which is the middle tier of ARM's Mali GPU offerings and has a performance of 1.5 Gpix/s. It also included with NPU (Neural Processing Unit) which is able to perform 1.6TOPS of AI operations.
It's likely that this SoC is targeted at embedded and IoT applications that require some level of real-time processing and AI capabilities, such as smart home devices, cameras, and other similar products.
RTD1296 vs RTD1619B
The RTD1296 and RTD1619B are both SoCs developed by Realtek, both with 64-bit architecture, and both with 4 cores. However, there are a few key differences between the two:
Clock speed: The RTD1619B has a higher clock speed of 1.7 GHz compared to the RTD1296's 1.4 GHz. This means that the RTD1619B will generally perform faster than the RTD1296 for tasks that rely heavily on the CPU's processing power.
GPU: The RTD1619B comes with a Mali-G51 GPU, while the RTD1296 comes with a Mali-T820 MP3 GPU. Both are developed by ARM, Mali-G51 is Bifrost architecture and have a performance of 1.5 Gpix/s, meanwhile, Mali-T820 is Midgard architecture and have a performance of 1.2 Gpix/s. In general, the Mali-G51 GPU has higher performance than the Mali-T820 MP3, thus the RTD1619B is better equipped to handle tasks that require graphics processing, such as video decoding and gaming.
NPU: The RTD1619B comes with a NPU (Neural Processing Unit) that is able to perform 1.6TOPS of AI operations. This gives the RTD1619B an edge over the RTD1296 in tasks that require AI-related processing, such as image recognition and machine learning.
Power consumption: The RTD1619B may have higher power consumption than RTD1296 because of it's faster clock speed and additional functionality.
It's worth noting that these are general comparisons, and the performance of each SoC can also depend on other factors such as the memory, storage, and specific implementation of the software.
What about Intel Celeron J4025 
The Intel Celeron J4025 is a budget processor and therefore its multimedia capabilities are limited compared to more powerful processors. However, it does support hardware decoding of H.264 and H.265 video codecs, which allows for smooth playback of high-definition video. It also supports Intel Quick Sync Video, which is a technology that uses the processor's integrated graphics to accelerate video encoding and decoding.
When used in a NAS (Network Attached Storage) device, the J4025 would be able to handle basic multimedia tasks such as streaming video and audio to multiple devices simultaneously. However, it may not be able to handle more demanding tasks such as transcoding multiple high-definition videos at the same time or running multiple virtual machines.
Additionally, it is important to note that the capabilities of the processor are only one aspect of a NAS's multimedia capabilities. The performance of the storage, memory and network interface, as well as the software running on the NAS will also play a role in determining the overall multimedia performance of the device.
How does it compare with AMD Ryzen R1600? 
The AMD Ryzen R1600 is a 2-core (4 threads) processor with a base clock speed of 2.6 GHz and a turbo boost frequency of 3.1 GHz. This means that it is less powerful in terms of processing power and multimedia capabilities than what I previously stated.
In comparison to the Intel Celeron J4025, the Ryzen R1600 has a slightly higher base clock speed and boost frequency, but it only has 2 cores and 4 threads, compared to the J4025's 2 cores and 2 threads. So in terms of processing power, the J4025 and Ryzen R1600 would be quite similar.
In terms of multimedia capabilities, the Ryzen R1600 would still have an advantage over the J4025, as it supports hardware decoding of HEVC, VP9 and AV1 codecs which is not supported by J4025. But in general, the J4025 would be better suited for low-power, low-cost devices and entry-level network appliances, while the Ryzen R1600 would be better suited for embedded and industrial applications that require more processing power.
What apps will not work?
You will need 2GB of memory to be able to run things like:
Hybrid Share combines local Synology NAS and C2 Storage cloud storage space to cache frequently used files locally to provide a low-latency file access experience.
The Replication Service is a core service that provides replication of snapshots taken from the source to the destination. This package cannot work alone, it must be used in conjunction with other core packages that provide snapshot functions.
Snapshot Replication is a point-in-time replication mechanism designed specifically for data backup and restoration. Businesses need to protect data against accidental deletion, application or data corruption, and data loss due to viruses.
This means that DS220+j and DS218play will not support these apps. You will need DS223 or a more powerful NAS to run these apps.
Here is something ds220j, ds218play and ds223 will not support. You will need a plus series NAS such as ds220+ or DS723+ to get this additional functionality:
Active Backup for Business
Active Backup for Business is designed to provide a comprehensive while centralized data protection solution, helping you back up business PCs, VMs, physical servers, and file servers all alike.
Active Backup for Business Agent (DSM)
Active Backup for Business Agent (DSM) allows you to back up your entire Synology NAS, including its system configurations, packages, and data to a remote Synology NAS. Before you start to protect your Synology NAS data, install Active Backup for Business on the remote Synology NAS as your backup destination.
Active Backup for Google Workspace
Active Backup for Google Workspace provides a centralized interface coming with auto-discovery for easy backup and management of My Drive and shared drives, the continuous backup mode for minimizing the risk of data loss, Active Backup for Google Workspace Portal for efficient restoration, and so much more.
Active Backup for Microsoft 365
Active Backup for Microsoft 365 provides a centralized interface coming with the auto-discovery service for efficient data backup and management, the continuous backup mode for minimizing the risk of data loss, Active Backup for Microsoft 365 Portal for easy restoration, and so much more.
Antivirus by McAfee
Powered by one of the most comprehensive engines in the industry, Antivirus by McAfee safeguards the valuable data and system partitions on your Synology NAS. Virus scans can be performed manually or according to a schedule, and the automatic update feature ensures you are protected with the most up-to-date virus definitions.
C2 Identity Edge Server
C2 Identity Edge Server retrieves directory information from C2 Identity. By setting it up, C2 Identity users' access to on-prem resources can be rapidly authenticated by your Synology NAS.
Central Management System
Synology CMS (Central Management System) allows you to efficiently and conveniently manage multiple Synology NAS servers. It provides a single interface to monitor the status of multiple servers, create policies for batch editing the settings of server groups, and keep each server in your fleet up-to-date and running smoothly. Administrator permissions for groups or individual servers can be delegated to specific users or groups, allowing each administrator to control and manage certain configurations, further increasing administrative efficiency and flexibility.
Docker
Docker is a lightweight virtualization application that gives you the ability to run thousands of containers created by developers from all over the world on DSM. The hugely popular built-in image repository, Docker Hub, allows you to find shared applications from other talented developers.
Document Viewer
Document Viewer displays documents of various types, from Microsoft Office to OpenOffice, with ease and rapidity. You can even share documents simply with an encryptable link.
Migration Assistant
Migration Assistant seamlessly migrates data and system settings from your old Synology NAS to a new one, while ensuring maximized service availability. (Please ensure Migration Assistant is installed on the destination device for migration.)
PACS
PACS (Picture Archiving and Communication System) is a clinical data management system that consists of multiple open source medical imaging technologies, archive application with its user interface (dcm4che), DICOM viewer (weasis), Identity and Access Management function (Keycloak), and required environment (Wildfly). PACS can be used to store, access, transfer and manage medical images and digital reports in DICOM (Digital Imaging and Communications in Medicine) format.
Presto File Server
Presto File Server is a package designed to deliver high-speed file transfer, regardless of latency and distance between a Synology NAS server and a computer or between any two Synology NAS servers when transferring over WAN. With Presto File Server, you can monitor user connections in real-time, better control the data arrival time with bandwidth settings, and schedule your tasks with Synology Presto Automator. Presto File Server License is required for package use, and a one-time 30-day free trial can be activated on every Synology NAS model.
All Downloads
Synology Application Service
Synology Application Service provides a framework to enrich features and services of Synology packages, including push notifications and profile settings. With Synology Application Service, coherent configurations can be shared across different packages.
Synology Directory Server
Synology Directory Server provides Active Directory (AD) domain service powered by Samba. It supports commonly used Active Directory features such as user accounts, group memberships, domain-joining Windows, Linux and Synology DSM, Kerberos-based authentication, and group policies. This makes it easier to manage computers and devices running Synology DSM, Linux, Windows, and deploy Windows applications.
Synology High Availability
Synology High Availability leverages the ability of two Synology NAS to maximize service uptime. With the cluster design, the active server is responsible for running all services and sync data to the passive server, which stands by and takes over the services when the active server becomes unavailable.
Synology MailPlus
Synology MailPlus is a powerful webmail service with rich features. You can send and receive emails to and from any mail server and centrally manage all the incoming and outgoing emails. You can compose a beautifully formatted email with built-in stickers and text tools. MailPlus also provides the label and smart search functions to help you easily find and manage emails.
Synology MailPlus Server
Synology MailPlus Server provides a cost-effective mail solution for enterprises requiring high-level security and stable performance. The high-availability architecture provides single server fault tolerance to maximize service uptime.
Virtual Machine Manager
Virtual Machine Manager integrates various virtualization solutions in a centralized and refined interface, allowing you to easily create, run, and manage multiple virtual machines on your Synology NAS. With Virtual Machine Manager, you can allocate hardware resources more flexibly, build a virtualization environment for the purpose of the enterprise-level deployment and maintenance, migrate your virtual machines among hosts without disruption and provide a full range fault tolerance protection.
NAS 2-bay range performance compared
1GbE Web Server – Nginx PHP Response Performance (using HDD)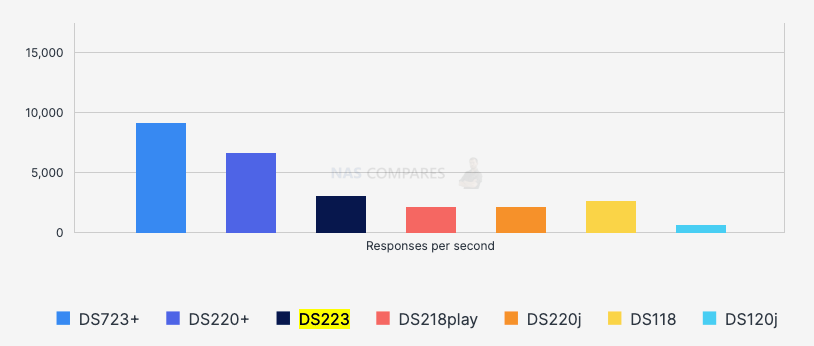 | | | | | | | | |
| --- | --- | --- | --- | --- | --- | --- | --- |
| model | DS723+ | DS220+ | DS223 | DS218play | DS220j | DS118 | DS120j |
| Responses per second | 9,131.47 | 6,683.60 | 3,064.45 | 2,120.55 | 2,167.36 | 2,623.93 | 626.21 |
SMB 1GbE – Windows File Transfer (using HDD)

| | | | | | | | |
| --- | --- | --- | --- | --- | --- | --- | --- |
| model | DS723+ | DS220+ | DS223 | DS218play | DS220j | DS118 | DS120j |
| download for windows | 86.54 | 86.79 | 80.18 | 82.5 | 81.85 | 83.39 | 67.35 |
| Windows upload | 79.21 | 77.23 | 67.49 | 68.56 | 68.28 | 69.26 | 46.51 |
Conclusion
DS220+j is the weakest NAS with 512MB memory which basically only allows to use it for file storage and backups. Anything else will be a slow and painful experience.
DS218play is a slightly faster model with 1GB RAM which already allows you to do a little more than basic backups. You can also use it for multimedia.
DS223 (replacement for DS218) Can do everything mentioned above. But you also get few extra things like Hybrid Share, snapshots and more CCTV camera support.
DS220+ is a dual-core model that supports full range of functionality. Having additional two CPU cores or threads would allow more VM, and more apps running simultaneously. This is also the only NAS left in a 2-bay range that also has video transcoding functionality alongside the other features. Value series app scope is not as wide.
DS723+ is a whole different-level NAS. It can not transcode 4k videos remotely (movies, phone-recorded home videos, 4k CCTV), but it can do it all in a local network. Remote access is limited to 1080p videos. But you get big upgrades like ECC error-correcting memory, NVMe cache + storage pools. You also get 10GbE upgrade option. More virtual machines and docker. And overall just a faster NAS and its transfer speeds.
Amazon USA 37.06 OFF (WAS 158)
[LINK HERE]
If you like this service, please consider supporting us.
We use affiliate links on the blog allowing NAScompares information and advice service to be free of charge to you.
Anything you purchase on the day you click on our links will generate a small commission which is
used to run the website. Here is a link for
Amazon
and
B&H
.
You can also get me a ☕
Ko-fi
or old school
Paypal
. Thanks!
To find out more about how to support this advice service check
HERE
If you need to fix or configure a NAS, check
Fiver
Have you thought about helping others with your knowledge?
Find Instructions Here
☕ WE LOVE COFFEE ☕

Or support us by using our affiliate links on Amazon UK and Amazon US