I am trying to work the best NAS for my needs. I am looking for a NAS that can give me virtualisation with possibly two vm's. But also need the ability to run & transcode 4k files. I currently own a DS509+, which cannot play all file formats in terms of video and is now stuck on the older version of the DSM iOS, so cannot take advantage of the newer applications that are available.

I listened to one of your reviews where your colleague said the DS3617XS was the best transcoding NAS that he had come across. How does the DS3018XS & DS918+ compare to that?

Once decided I will be looking to buy two machines as I have a client who will be following my recommendation.

Note I use my DS509+, heavily for the video, photo, back up features, DS Cloud, data storage. etc
We have done transcoding tests which proved that DS3617xs is best performing NAS. We also did Plex transcoding test which proved that it also does 4K transcoding in Plex (with few exceptions). You can have a look at the test result in the table below.
DS918+ has built-in transcoding engine, which helps with file conversion on the fly without affecting other users with their tasks. This NAS comes with Quad-core Celeron CPU which is powerful but not enough to handle all 4K media. It will struggle with some really high bitrate videos and 10bit formats. With Plex, it will be even worse. It will do only a few 4K video format transcoding. But remember, you might not need transcoding at all. For just streaming the original file, DS918+ will o good job with any file.
DS3018xs is powerful but not as good as DS3617xs. It does not have transcoding engine which means CPU need to work harder to do transcoding tasks. In the tests, you can see that it will do transcoding for all 4K media, but CPU will be working at 100%. Any other tasks and users will be affected during the transcoding process. With Plex – it will perform as good as DS3617XS (almost there).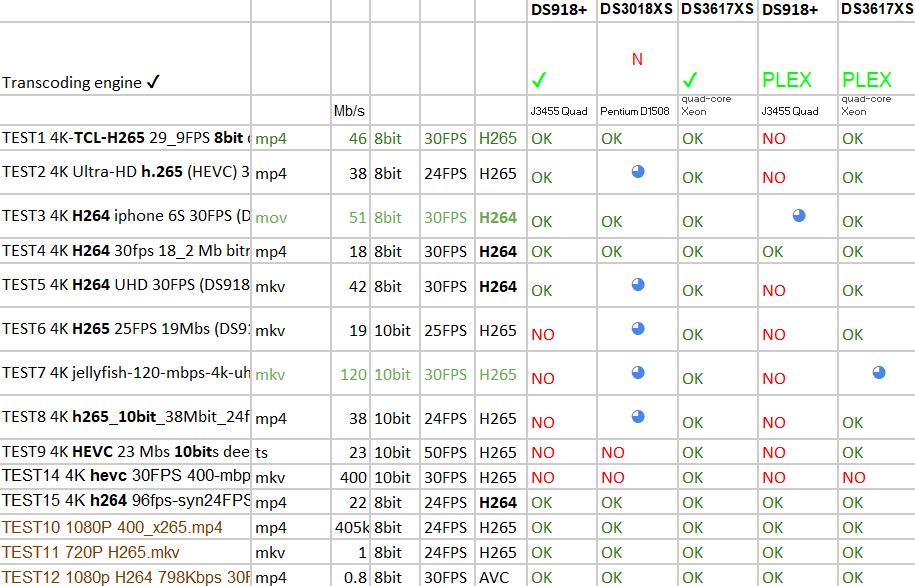 Find regulary updated NAS offers here
Of course I would prefer you choose
AMAZON UK
AMAZON USA
to buy your perfect solution, however, if you would rather buy locally, please use the links used above to take you to your local Amazon store and help support this free advice service with ad revenue. More ways of supporting the blog are described
HERE
Home: https://www.backblaze.com/cloud-backup.html#af9rgr
Business: https://www.backblaze.com/business-backup.html#af9rgr
Comparison with other service providers: https://www.backblaze.com/best-online-backup-service.html#af9rgr
If you like this service, please consider supporting us.
We use affiliate links on the blog allowing NAScompares information and advice service to be free of charge to you.
Anything you purchase on the day you click on our links will generate a small commission which is
used to run the website. Here is a link for
Amazon
and
B&H
.
You can also get me a ☕
Ko-fi
or old school
Paypal
. Thanks!
To find out more about how to support this advice service check
HERE
If you need to fix or configure a NAS, check
Fiver
Have you thought about helping others with your knowledge?
Find Instructions Here
☕ WE LOVE COFFEE ☕

Or support us by using our affiliate links on Amazon UK and Amazon US