My goal is to have a Plex Server capable of transcoding 10bit 4K and hosting 3-4 Virtual Machines without having performance issues.

Currently I have several devices, HP DL20 Gen9 Xeon E3-1200v6 48GB RAM 10GB Ethernet Server running VMWare, DS1817+ 10GB ethernet, a handful of Windows/Ubuntu VMs, and a Plex Ubunutu VM. Currently Plex is the most important thing to me but none of the NAS's seems to be able to handle transcoding effectively. The newer devices with Intel QuickSync seem to be able to leverage the built in GPU for offloading some transcoding at a cost of quality. I'm a Synology Fan tride and true but their hardware frankly just makes me cringe. This Atom CPU in my DS1817+ is good for basic file storage but anything beyond that suffers under any load. This brings me to the ulitmate NAS to replace my DS1817+. The DS3617xs really seems like it would be the NAS for me, but at a $2500 price tag it seems so high with what you are getting. The CPU is a Xeon D-1527 i believe and I cannot find any benchmarks on CPUBenchmark for it. Then there is the DS3018xs with the Dual Core Xeon…this was the one i wanted…but the CPU still seems very low for Plex Transcoding @4K. Have you tried Plex transcoding with the DS3018xs? 4K Plex Transcoding?

This brings me to QNAP. I have a TS-251+ I toy around with to get familiar with the UI but I really dislike their interface. It just doesnt seem very clean and there are some things that are lacking. Ie. No built in DDNS (Synology.me), Mobile Apps kind of suck compared to Synology IMO. The new TS-877 series has really caused me to re-evaluate my decision about Qnap. Supposedly this CPU and unit is frankly everything you need and more. But again, dealing with their UI that I don't really care for. Do you know if the Ryzen 5 1600 is more than capable of serving up 4K Transcoding in Plex? Or if your spending this much money go ahead and get the more expensive Ryzen 7 1700?

I know I have been on a roller coaster on this post but am I really better off building my own (I dont mind FreeNAS but i need the mobile apps for things like Surveillance Station, DSPhoto and I don't feel as comfortable knowing it has my Data over a reliable Synology)? Is the TS-877 a much better value over the DS3617xs? I would love a comparison video/article between the two.

$1200-$2200  12TB
CpuBenchmark
TS-877      12307
DS3617xs  8000
DS3018xs  5000 
There is enough performance in all these NAS models to have quite few Virtual machines running simultaneously.
TS-877 , DS3617xs and DS3018xs Transcoding DS Video & Video Station
During native app transcoding test DS3617XS really stood out. It does not feature transcoding engine, but neither do other NAS models in this comparison. But this processor is so powerful and Synology software is so good, that it did not struggle even with 10-bit 400Mb/s 4K video file transcoding. Really amazing results (I wish it was same with Plex test).
DS3018xs performed noticeably worse. It kind of did transcode most of the 4K test files, but occasional buffering worries me. It might struggle with some full-size 4K video files. If you plan to transcode simple 4K movies, that this is an affordable middle way.
TS-877 results were completely opposite what I expected. It struggles with most of the 4K video formats. And when it does transcode, buffering again doesn't give trustworthiness in native app transcoding. But look at the Plex results – they will surprise you.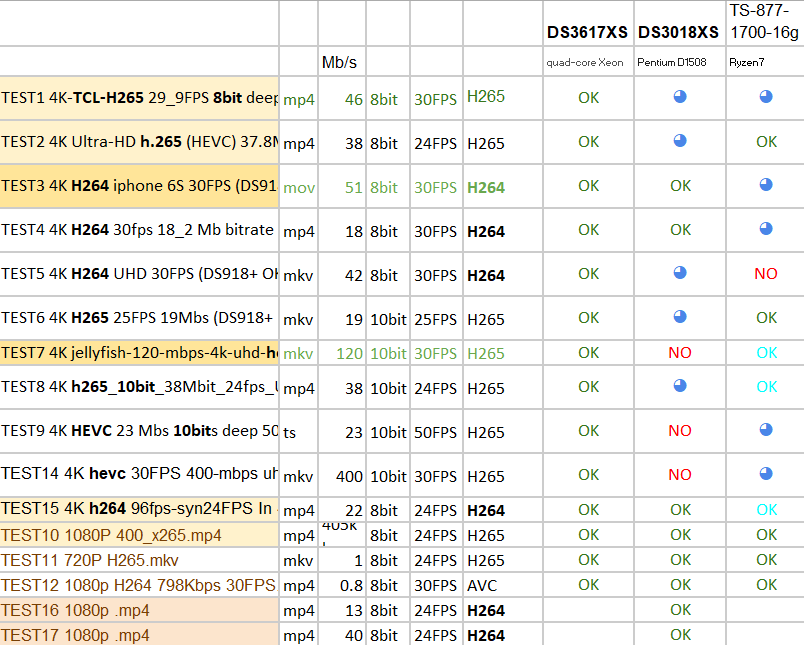 TS-877 , DS3617xs and DS3018xs Transcoding on PLEX
Plex app has been designed for amazing transcoding results as long as NAS feature Pentium, Xeon, i7 or Ryzen processor. DS3617XS pretty much transcode any file. DS3018xs did struggle with quite a few H265 compression formats. But TS-877 performed amazingly good. Whatever I tried to make this NAS suffer, it just transcoded on the fly with no questions asked. If Plex 4K transcoding is what you need, 877 will be the best choice.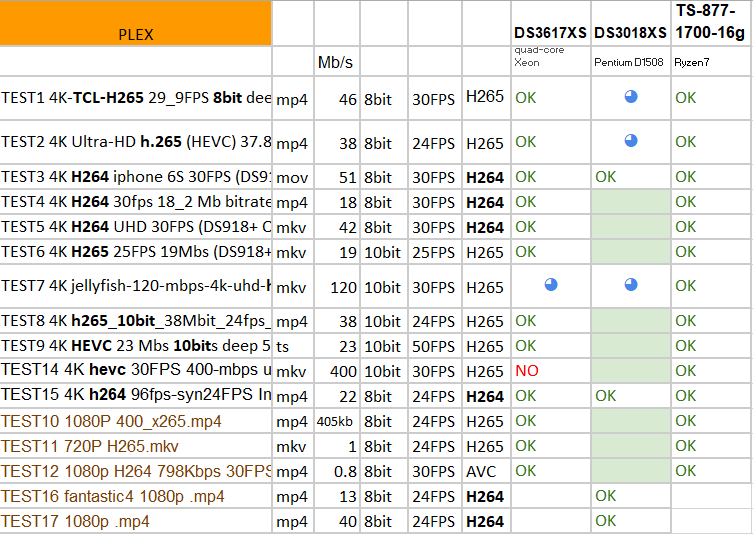 Find regulary updated NAS offers here
Of course I would prefer you choose
AMAZON UK
AMAZON USA
to buy your perfect solution, however, if you would rather buy locally, please use the links used above to take you to your local Amazon store and help support this free advice service with ad revenue. More ways of supporting the blog are described
HERE
What can I connect to a NAS?
Wireless Speaker Sonos
The great thing about Sonos is that you don't need to pay for music subscription service. With the cheapest NAS at home like budget 2-bay or any other, you can have your backups done for all of your devices and still use your network drive as a Sonos music library. Sonos will connect to your NAS via your network and let access your provided music library. If you have little more of IT knowledge, you can even set up your Alexa or Sonos with Alexa built in to play music on your voice commands ("Alexa! Ask DS Audio to Play Music!").
Casting devices
Nowadays it is so cheap to upgrade your old TV and make it smart. All you need is Google Chrome or EZcast alternative plugged into your HDMI port at the back of your TV. Now you have great functionality added to your TV to send a video file directly from your NAS to a TV. No need for wires and chargers and other mess. You can use your phone as a remote to go to your movies or family videos and cast that content on your TV during family or friend gatherings.
Amazon Fire TV
You may not have a smartphone, or you just simply prefer to control your content with a remote in that case Amazon Fire TV will be a great addon to get to your TV. It also plugs into your HDMI port and will play content from your NAS to a TV. No wires no mess.
nVidia Shield TV
It gets even better! If you want some more entertainment and all previously mentioned functions – nVidia TV is a great thing to get. You can use it for playing games and watching movies from your NAS. The greatest thing is – shield TV does video transcoding. So even if you have a cheap NAS with a weak CPU, in a combination of shield TV you can now automatically on the fly change video file size and format for a destination device. It is a great way to reduce network load and let older devices to play video content which normally was not supported on the device.
Find regulary updated NAS offers here
Of course I would prefer you choose
AMAZON UK
AMAZON USA
to buy your perfect solution, however, if you would rather buy locally, please use the links used above to take you to your local Amazon store and help support this free advice service with ad revenue. More ways of supporting the blog are described
HERE