Which brand/model USB Keyboard with mouse tab works for TS-251D
Here is what Qnap users are saying:
All keyboard, mice, pointer, trackpads, and combos coming with a USB human interface device class (USB HID class) dongle are workable.

Not workable are ie. pure Bluetooth devices intended to be associated with a host based Bluetooth stack, for notebooks, for iOS or Android devices.
Wired
Microsoft 3J2-00001 Wired Desktop 600 USA  UK  AUS

Wireless Keyboards with Trackpad
– Rapoo E2800 – Amazon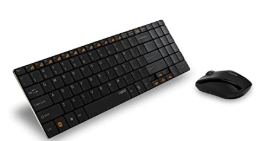 – Logitech Illuminated Living Room Keyboard K830 – with Built-in Touchpad – Amazon

– Logitech Wireless Touch Keyboard K400 Plus – Amazon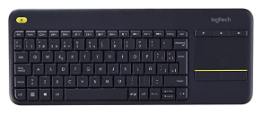 – Microsoft All-in-One Media keyboard – Amazon

I am using a minix airmouse. A mouse and keyboard in one device. UK  USA  AUS
QvPC Use your NAS as a PC with HybridDesk Station (HD Station)
QNAP virtualized Personal Computer (QvPC) Technology allows you to use your QNAP NAS as a PC. All you need to do is plug in a monitor, keyboard and mouse. HybridDesk Station (HD Station) will be displayed on your connected monitor.
HD Station provides various applications for multimedia, web browsing, surveillance and more. You can also directly access the QTS interface for managing the NAS.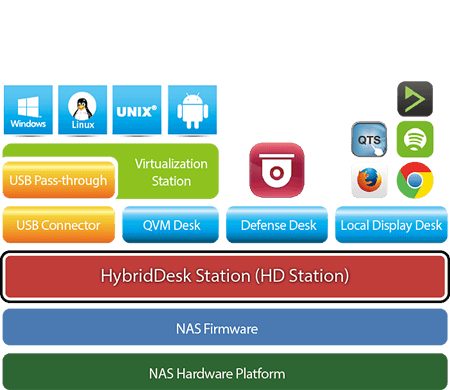 HybridDesk Station is a platform that allows you to connect your NAS to an HDMI-compatible TV or monitor and enables you to directly access your multimedia content and use other applications.
Before you can start using HybridDesk Station, you must first install the application on your NAS.
Log on to QTS
Go to .
Click 

Get Started Now

.
Select 

I agree

 and then click 

OK

Check the list of selected applications and then click 

Apply

.

HybridDesk Station and the selected applications are installed.

Before playing multimedia content on HybridDesk Station, verify that multimedia functions are disabled. Go to Control Panel > Systems > General Settings > System Administration and deselect Disable and hide multimedia functions .

You must also ensure that HD Player, Photo Station, Music Station, and Video Station are installed on the NAS.
Start your Linux Station
Follow these steps to initiate Linux Station
Upgrade your QNAP NAS to firmware QTS 4.2.1 (or newer).

 

Visit the QTS App Center and find Linux Station. Click "Install".

 

Open Linux Station, and choose the Linux OS to install.

 

After the Linux OS is completely downloaded, click "Enable", and then you can start using it with an HDMI display, USB keyboard and mouse.

Please note: HD Station will be disabled when Linux Station is enabled (and vice versa).