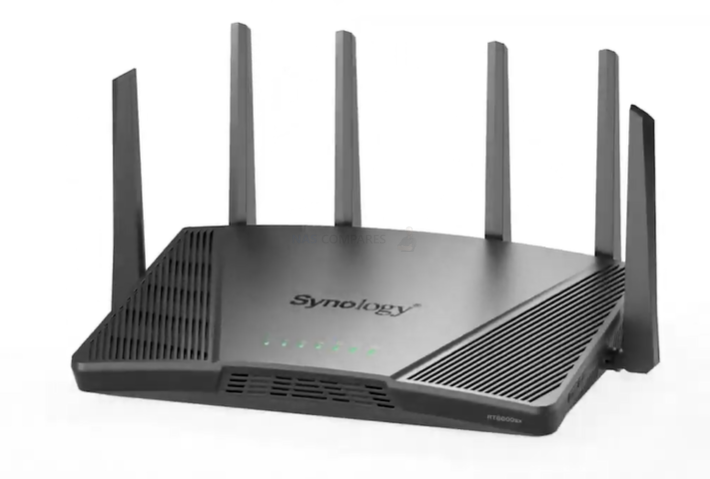 Where to Buy the Synology RT6600ax Router
Ultrafast and secure wireless connectivity for your home, office, and everything in between. Powered by Synology Router Manager (SRM), an intuitive OS built for security and performance, the Synology RT6600ax is Synology's highest-performing and largest bandwidth router to date. Create up to 5 separate networks and 15 Wi-Fi SSIDs to distribute your devices based on their role or purpose. Alternatively, you can isolate networks or set one-way access rules to limit connectivity to and from vulnerable devices. Finally, you can integrate the RT6600ax into existing networks with full VLAN support in router, AP, and mesh configurations. In terms of hardware, the RT6600ax arrives with Tri-band Wi-Fi for easy distribution of your devices between radios, optimizing range and performance while avoiding bottlenecks. Quad-core 1.8 GHz processor for snappy management and fast connection speeds, even with multiple devices connected and all features enabled Support for the new 5.9 GHz band, resulting in more dependable high-speed networks using clearer 80 and 160 MHz channels and 2.5GbE port configurable for WAN or LAN use supports superfast internet plans or high-performance devices.
Who Offers the Best Price and Service for the
Synology RT6600ax

NAS?

Below are the stores we recommend your new RT6600ax. Each is selected for being the best Price, Value and Service available online right now.
•Fast Leadtimes •Buy now Pay Later

•

Next Day

[Yodel][Hermes]

 
•Price bidding •Local sellers

•

Next Day

[Various]
•Price bidding •Local sellers

•

Next Day

[Various]
---
To be kept upto date on the latest price changes on the RT6600ax, use our Amazon price watch tool to get regular, tailored updates on when it is at the best price for your budget.
Your email will ONLY be used to update you. It will never be given to a third party without your consent!
ON YOUTUBE
Getting latest videos with a keyword: RT6600ax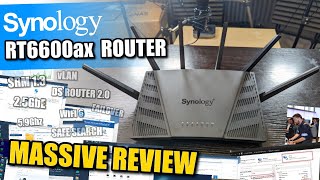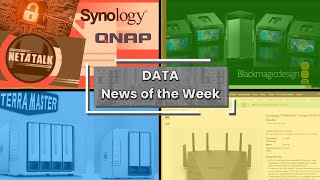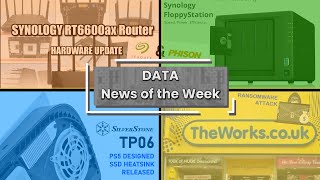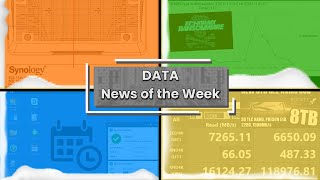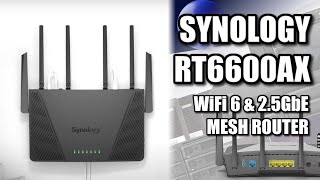 RELATED POSTS

Synology RT6600ax Router Review, Part II - Connections & Internal Hardware
Synology RT6600ax Router Review, Part I - Unboxing & Design
Synology RT6600ax Router Review, Part 2 - Connections & Internal Hardware
Synology RT6600ax Router Review, Part 1 - Unboxing & Design
Synology RT6600ax Router MASSIVE Review - Too Little, too late?
Synology RT6600ax Router Review - Next Gen Networking?
Best RT6600ax price
When is the release date of the RT6600ax and SRM 1.3 ?
Update on the Synology RT6600ax WiFi 6 Router
Synology RT6600ax WiFi 6 & 2.5GbE Router Revealed




PERFORMANCE:


Hardware Highlights of the Synology RT6600ax Router
Arrives with Synology Router Manager 1.3 with new features and services included
Quad-core 1.8 GHz Qualcomm Processor
DDR3 1 GB Memory (2x 512MB on-board)
Tri-Band WiFi 6 Support 6600Mbs Bandwidth Potential:
2.4 GHz: Up to 600 Mbps
5 GHz-1: Up to 4800 Mbps
5 GHz-2: Up to 1200 Mbps
6 x High gain adjustable antennae (4×4 MIMO antennas)
5.9Ghz / 160MHz channel Support
Four 1GbE (Gigabit Ethernet ports) (1x WAN 3x LAN)
1x 2.5GbE LAN/WAN Port
Multi-Network creation in SRM 1.3 later in 2022
Improved DS Router Mobile Application and Browser GUI in SRM 1.3 in 2022
Mesh Support with future AX devices, as well as MR2200ac over 5Ghz Backhaul
USB 3.2 Gen 1 (Type A 5Gb/s) Port supporting several SRM applications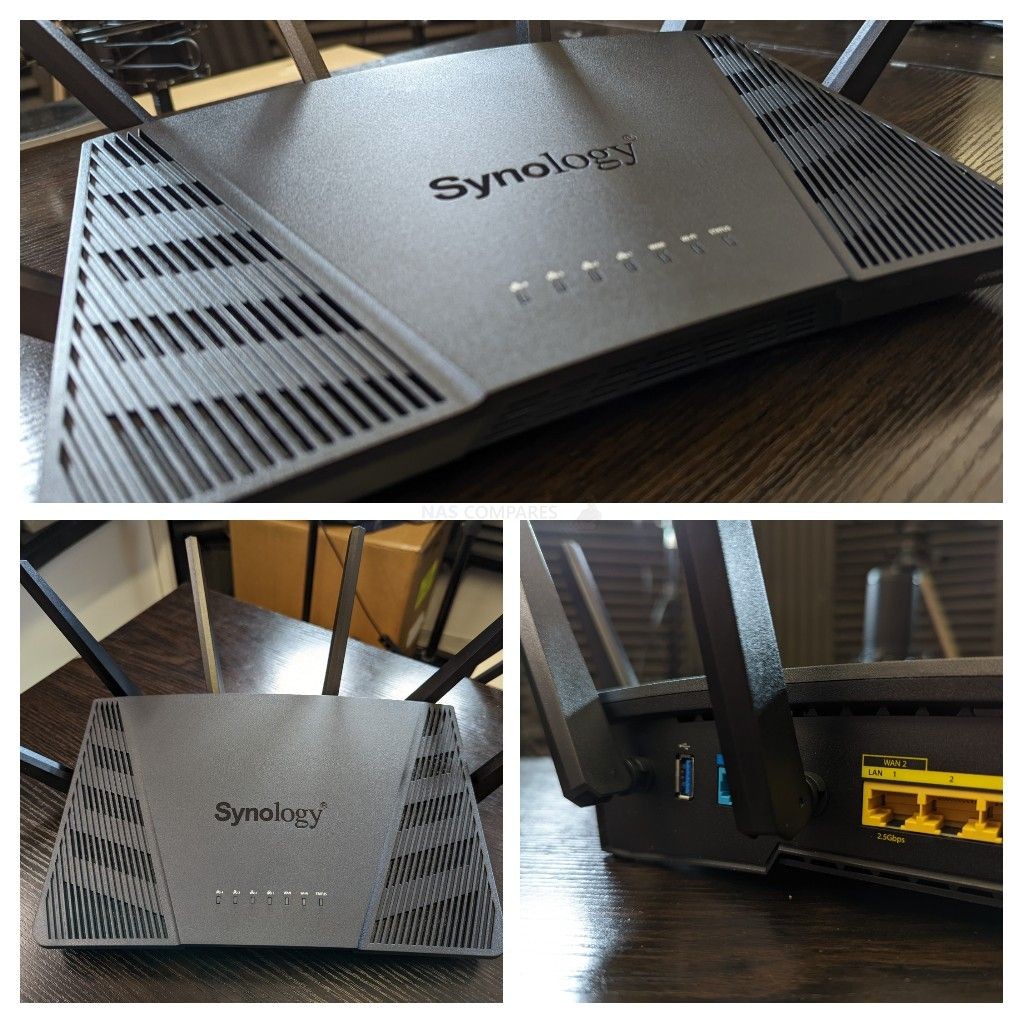 What we said in our review about the Synology RT6600ax Router:




The Synology RT6600ax IS a very, very good router. So many users will never graduate from their ISP router and never understand the benefits of a premium solution, gauging the Synology RT6600ax as something of an indulgence. However, as WiFi 6 continue to rise in popularity, more client hardware arrives with 802.11ax support and adapters to upgrade towards AX wifi over PCIe and USB appear, the RT6600ax is something that family/business users are going to want to consider to monitor and customize their own networks. That said, although the hardware the RT6600ax arrives with is a big jump up compared with the RT2600ac and MR2200ac, the software is a tad less ambitious and given that SRM 1.2 will likely upgrade towards 1.3 on those legacy devices, the Synology RT6600a is less appealing as an immediate upgrade over the RT2600ac right now. Ultimately, if you were a first-time adopter of the Synology 6600ax router, you cannot fault the software and hardware right now and it more than justifies the price tag for its software alone. Add to that the increased bandwidth potential of 5.9Ghz and greater 160Mhz support and you are getting a tremendously future proof product. That said, if you are already an owner of the RT2600ac or an existing MR2200ax mesh router owner, you might find that recent improvements in virtual networks and SSID creation are not enough to justify the upgrade (unless you are already well into your WiFi 6 environment upgrade). The RT6600ax is EASILY the most powerful and capable router that Synology has ever produced and with great software to boot. Even if it is slightly overshadowed by WiFi 6E, it still stands tremendously proud in the existing prosumer router solutions in the market right now, despite its higher price tag. Robbie, 11/05/22, Read the FULL Review HERE



---
Synology Software Review – Is SRM 1.3 Any Good?
What we said about SRM 1.3 in our review:



When reviewing and judging Synology Router Manager 1.3, you have to somewhat separate your feelings about Synology router hardware (the RT6600ax, RT2600ac and MR2200ac) a little. This is because, although the Synology router hardware may seem a little safe-to-middling at times vs current hardware in the market, the software they provide has always been absolute class. SRM 1.3 continues this pedigree with a user interface that manages to do the nearly unthinkable – it manages to make the process of managing your network easy and actually ENGAGING! That's one of the biggest hurdles of managing a router and your network security in general, it's a massive chore that is fraught with technical jargon, hurdles and screens saying 'no', 'invalid' or 'not available'. Synology has crafted a genuinely intuitive and accessible router software system here and although a lot of that is thanks to their years in NAS software, they have certainly improved upon previous revisions in SRM too. When it comes to the features that SRM arrives with, clearly 'Safe Access' is one of the killer apps of the SRM 1.3. But it doesn't stand alone and thanks to the integrations of 'network switch' style controls and a wide array of custom network settings, it really feels like more of a complete version in 1.3. Additions of long-overdue features such as vLAN and customs, custom SSIDs and the DS Router application's improved layout/controls are smaller steps in SRM 1.3's development than some would like, but with the software feeling that pinch more responsive and the layout of the controls getting tweaked to be more intuitive, that just means that SRM 1.3 is just adding polish to an already fantastic management system. Additionally, the latest generation of Synology router hardware means that new configuration options and the extent to which you can use SRM 1.3's services have been drastically increased in time for version 1.3. At the time of writing, we are still awaiting the SRM 1.3 update to extend to the full Synology router series (thereby enabling mesh with the likes of the MR2200ac), but that shouldn't be too long and with that, the option for SRM 1.3 to manage a grander mesh wireless network in your home/office will be hugely beneficial. In short, still highly recommend it SRM 1.3 in 2022/2023. Robbie, 11/05/22, Read the FULL Review HERE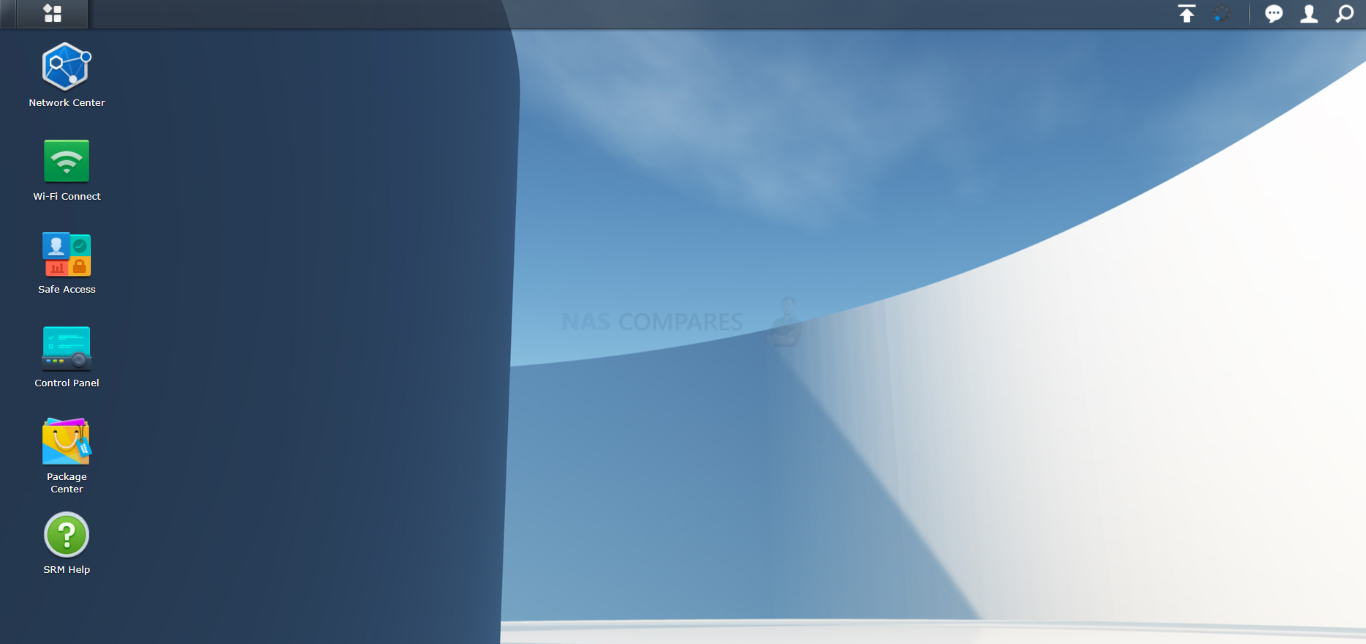 Synology Router Manager 1.3 Review Chapters

SRM 1.3 Synology Router Software Review, ALL Parts - HERE
SRM 1.3 Synology Router Software Review, Part 1, Design & Control - HERE
SRM 1.3 Synology Router Software Review, Part 2, Safety & Security - HERE
SRM 1.3 Synology Router Software Review, Part 3, Network Management - HERE
SRM 1.3 Synology Router Software Review, Part 4, Safe Access - HERE
SRM 1.3 Synology Router Software Review, Part 5, USB Storage Services & Conclusion - HERE 

---
What Are the Specifications of the Synology RT6600ax Router?
Here are the official specifications of the Synology RT6600ax Router:
Specs
Value
Notes

The numbers above are for reference only. Actual performance and behavior may depend on network environment and settings
RT6600ax supports at least 200 connected devices concurrently transmitting data

Operating Temperature
5°C to 40°C (40°F to 104°F)
Storage Temperature
-20°C to 60°C (-5°F to 140°F)
Relative Humidity
5% to 95% RH
Wi-Fi MAC Address Filter
Maximum MAC Filters
64
Maximum devices on per MAC filter
256
Seamless Roaming
802.11k/v/r standard support
Beamforming
DFS
Maximum Number of Wi-Fi SSID
15
Schedulable Wi-Fi
Guest Network

Guest Portal
Customized page style
Connection time limit
Password Rotation

WPS 2.0 (Wi-Fi Protected Setup 2.0)
3G / 4G Dongle & Tethering (Learn more)
Maximum Connected Devices*
200
Primary Wi-Fi Point
Recommended Maximum Number of Wi-Fi Points

1 Primary + 6 Wi-Fi points (in all wireless uplink connection environment)
1 Primary + 12 Wi-Fi points (in all wired uplink connection environment. Learn more)

Internet Connection

Dynamic IP, Static IP, PPPoE, PPTP, DS-Lite (AFTR)
3G/4G LTE dongle
Android Tethering
iPhone Tethering

Operating Mode

Wireless Router
Wireless AP

DMZ
IPv6
IPv6 DHCP server/client, DS-Lite, 6in4, 6to4, 6rd, Dual-Stack, DHCPv6-PD, IPv6 Relay, FLET's IPv6
DHCP
Server/client mode, client list, MAC address reservation
Maximum DHCP Reservations
500
LAN / WLAN IGMP Snooping
Network Address Translation (NAT)
PPPoE relay
Policy route
Static route
Maximum IPv4 Static Routes
100
Maximum IPv6 Static Routes
100
Diagnosis Tools
NAT Loopback (Hairpinning)
Maximum Number of Network Segmentation
5
Trunk
Maximum Port Forwarding Rules
96
Maximum UPnP Rules
96
Maximum Port Triggering Rules
64
Minimum Port Triggering Timeout
30s
Maximum Port Triggering Timeout
3600s
Internet Ban, Device Speed & Priority
Maximum Device Rules
64
Maximum Application Rules per Device
32
Live View
Historical Statistics
Daily, Weekly, Monthly, Annual
Website History
Application Detection
Country Auto Update
Schedulable
Traffic Analysis Period
Daily, Weekly, Monthly, Annual
Export Formats
.CSV, .HTML
User Profile
15
Network Profile
5
Customized Internet Schedule
Time Quota
IPv4 / IPv6 DNS-based Web Filter

Schedule
Database
Request to unblock

Customized Allow / Block List

Maximum blocked URLs: 200
Maximum allowed URLs: 200

Pause Internet
Reward
Log
Report
Safe Search
Bing, Google, YouTube, Duckduckgo
Threat Intelligence Database
Support in IPv4 & IPv6
Google Safe Browsing
Support in IPv4 & IPv6
Database Auto Update
Threat Intelligence Database, Google Safe Browsing, DNS-based web filter
Maximum Client VPN Access License
40
Site-to-Site VPN
Maximum Site-to-Site VPN Tunnels
20
Remote Desktop (RDP + VNC)
5
Connection List
Maximum Concurrent Download Tasks
20
Maximum Concurrent BT Download Tasks
20
DS router (Android/iOS)

First Time Installation
Network overview
Wi-Fi management
Wi-Fi system topology
Safe Access
Traffic Control
Network security (firewall, port forwarding, Internet ban)
Wake on LAN
System Update

VPN Plus (Android/iOS)
DS get (Android)
DS file (Android/iOS)
WOL over QuickConnect
Maximum Connected Devices
100
Free OS Upgrade
SSH
SNMP
Configuration Backup & Restore
User Account Management
Apple Time Machine
Shared Folder Privileges
Storage Hibernation
Specs
Value
---
Synology Router Portfolio
Below are the current available Synology Router solutions available in the brand's portfolio and how they compare in hardware:
RT6600ax





RT2600ac





MR2200ac





Class / band
compatible standards
AX6600 / Tri-band
IEEE 802.11ax / ac / a / b / g / n
AC2600 / dual band
IEEE 802.11ac / a / b / g / n
AC2200 / Tri-band
IEEE 802.11ac / a / b / g / n
Maximum communication speed
(5GHz band 1)
4800Mbps


(160Mhz)

1,733Mbps
(4str / 80MHz)
867Mbps
(2str / 80MHz)
Maximum communication speed
(5GHz band 2)
1200Mbps
incompatible
867Mbps
(2str / 80MHz)
Maximum communication speed
(2.4GHz band)
600Mbps
800Mbps
(4str / 40MHz / 256QAM)
400Mbps
(2str / 40MHz / 256QAM)
WAN terminal
1000BASE-T x 1
1000BASE-T x 1
1000BASE-T x 1
LAN terminal
2.5GBASE-T x 1 * 1
1000BASE-T x 3
1000BASE-T x 4 * 2
1000BASE-T x 1
USB terminal
USB 3.0 Standard-A x 1
USB 3.0 Standard-A x 1
USB 2.0 Standard-A x 1
USB 3.0 Standard-A x 1
CPU
Qualcomm IPQ6018
Arm Cortex-A53 4-core 1.8GHz
Qualcomm IPQ8065
Qualcomm Krait 300 2 core 1.7GHz
Qualcomm IPQ4019
Arm Cortex-A7 4 core 717MHz
RAM
1GB DDR3
DDR3 512MB
DDR3 256MB