Synology Router Manager (SRM) 1.3 Software Review
I think it would be fair to say that Synology is not a company primarily known for its routers, but more for their range of network-attached storage solutions. Nevertheless, with the release of the brand's fourth Router (technically their 3rd generation) solution, they still manage to garner a tremendous amount of interest and attention. This is largely down to their routers arriving with one of the most user-friendly, fully-featured and polished outer software in the market, known as Synology Router Manager (SRM). Built with the same attitudes of design, user experience, safety and security, SRM is a great example of making the rather tech-savvy subject of network/internet management CONSIDERABLY easier to comprehend and engage with the methods presented by many mainstream router manufacturers (Netgear, ASUS, Fritz, etc), as well as giving the user many more features than a bog-standard internet service provider (ISP) router would. All this said, SRM (aside from regular security and database updates) does not have the system-wide software updates at the same regularity of Synology's NAS software, DSM. In fact, despite SRM being released in 2016 (with the RT1900ac), we are only on SRM version 1.3. In that time we have seen 3 versions of Windows in mainstream use, a couple of big apple updates, DSM making its way through several versions and more. So, in today's review, I want to take a close look at the strengths and weaknesses of SRM 1.3 and guide you on why Synology feel it justifies the lion's share of the price tag of their fully-featured routers. Let's begin.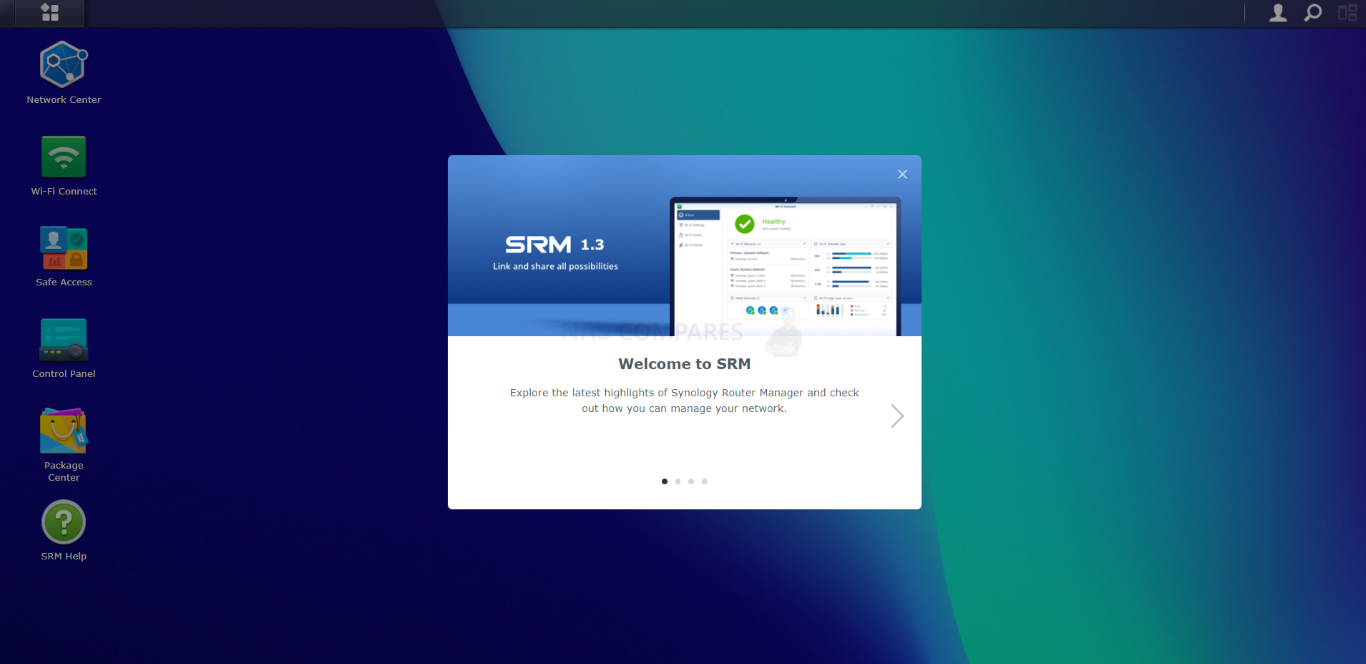 Synology SRM 1.3 Review – Quick Conclusion
When reviewing and judging Synology Router Manager 1.3, you have to somewhat separate your feelings about Synology router hardware (the RT6600ax, RT2600ac and MR2200ac) a little. This is because, although the Synology router hardware may seem a little safe-to-middling at times vs current hardware in the market, the software they provide has always been absolute class. SRM 1.3 continues this pedigree with a user interface that manages to do the nearly unthinkable – it manages to make the process of managing your network easy and actually ENGAGING! That's one of the biggest hurdles of managing a router and your network security in general, it's a massive chore that is fraught with technical jargon, hurdles and screens saying 'no', 'invalid' or 'not available'. Synology has crafted a genuinely intuitive and accessible router software system here and although a lot of that is thanks to their years in NAS software, they have certainly improved upon previous revisions in SRM too. When it comes to the features that SRM arrives with, clearly 'Safe Access' is one of the killer apps of the SRM 1.3. But it doesn't stand alone and thanks to the integrations of 'network switch' style controls and a wide array of custom network settings, it really feels like more of a complete version in 1.3. Additions of long-overdue features such as vLAN and customs, custom SSIDs and the DS Router application's improved layout/controls are smaller steps in SRM 1.3's development than some would like, but with the software feeling that pinch more responsive and the layout of the controls getting tweaked to be more intuitive, that just means that SRM 1.3 is just adding polish to an already fantastic management system. Additionally, the latest generation of Synology router hardware means that new configuration options and the extent to which you can use SRM 1.3's services have been drastically increased in time for version 1.3. At the time of writing, we are still awaiting the SRM 1.3 update to extend to the full Synology router series (thereby enabling mesh with the likes of the MR2200ac), but that shouldn't be too long and with that, the option for SRM 1.3 to manage a grander mesh wireless network in your home/office will be hugely beneficial. In short, still highly recommend it SRM 1.3 in 2022/2023.
---
NEWS UPDATE on Mesh Support on the Synology RT6600ax, MR2200ac and SRM 1.3
Synology has addressed questions regarding the timeline on SRM 1.3 for the MR2200ac and RT2600ac (enabling mesh support between their routers, currently not possible between SRM 1.2 and SRM 1.3 systems). Below is their current message on this:
While SRM 1.3 in the current phase will remain restricted to our newest router, we can now confirm that all the software advancements available on the RT6600ax will be made available for the RT2600ac and MR2200ac early in the third quarter of this year, when we stand to release the SRM 1.3.1 update. With the upcoming update, both the RT2600ac and the MR2200ac will support up to 5 VLANs and 5 associated Wi-Fi SSIDs, essentially allowing users to create separate wired and wireless networks for management or security purposes, and set up rules to allow conditional one or two-way traffic between these.

SRM 1.3.1 will also allow using several RT2600ac units as Wi-Fi access points as part of a mesh network. Previously, only MR2200ac units could be used with the RT2600ac to provide seamless Wi-Fi connections throughout larger buildings and spaces. Combinations of RT6600ax and RT2600ac/MR2200ac are also supported.
I will continue to update this article where possible and make a follow-up video on mesh support in the RT6600ax / MR2200ac /RT2600ac when they all have SRM 1.3 available
---
Synology SRM 1.3 Review – Design, Control and GUI
The big thing about SRM that Synology make a real song and dance about is the ease of use of their software. If you are familiar with their NAS software and services, you will know that the brand has a client tool for PC and Mac that allows you to scan your local area network for devices. The tool, Synology Assistant is also used for finding the router on your network for the first time and as long as you are on the same wired network with the router OR are connected t other default wifi of your Synology router on day 1, it will appear and the setup and installation process is incredibly straight forward and you just need a web browser (like Chrome or Safari).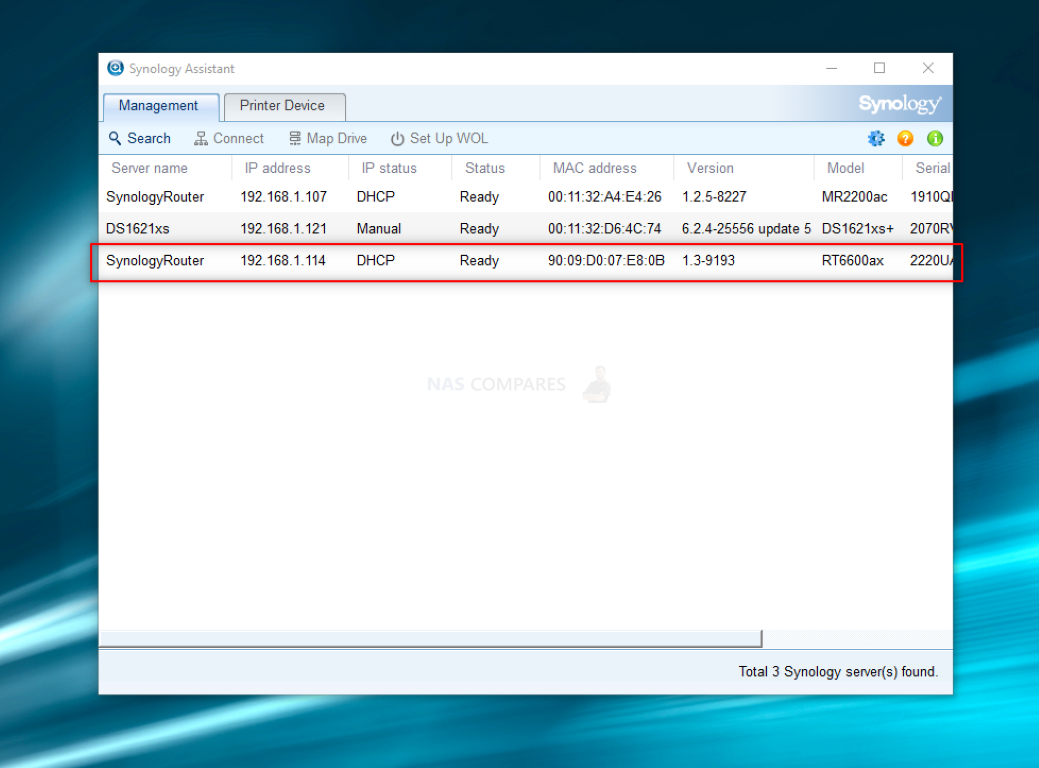 It's also worth highlighting that you do not need to use a PC/Mac to set up the router either, as Synology provide a free mobile tool for iOS and Android that allows you to set up the router with ease, as well as allows control of almost all of SRM'S features and services.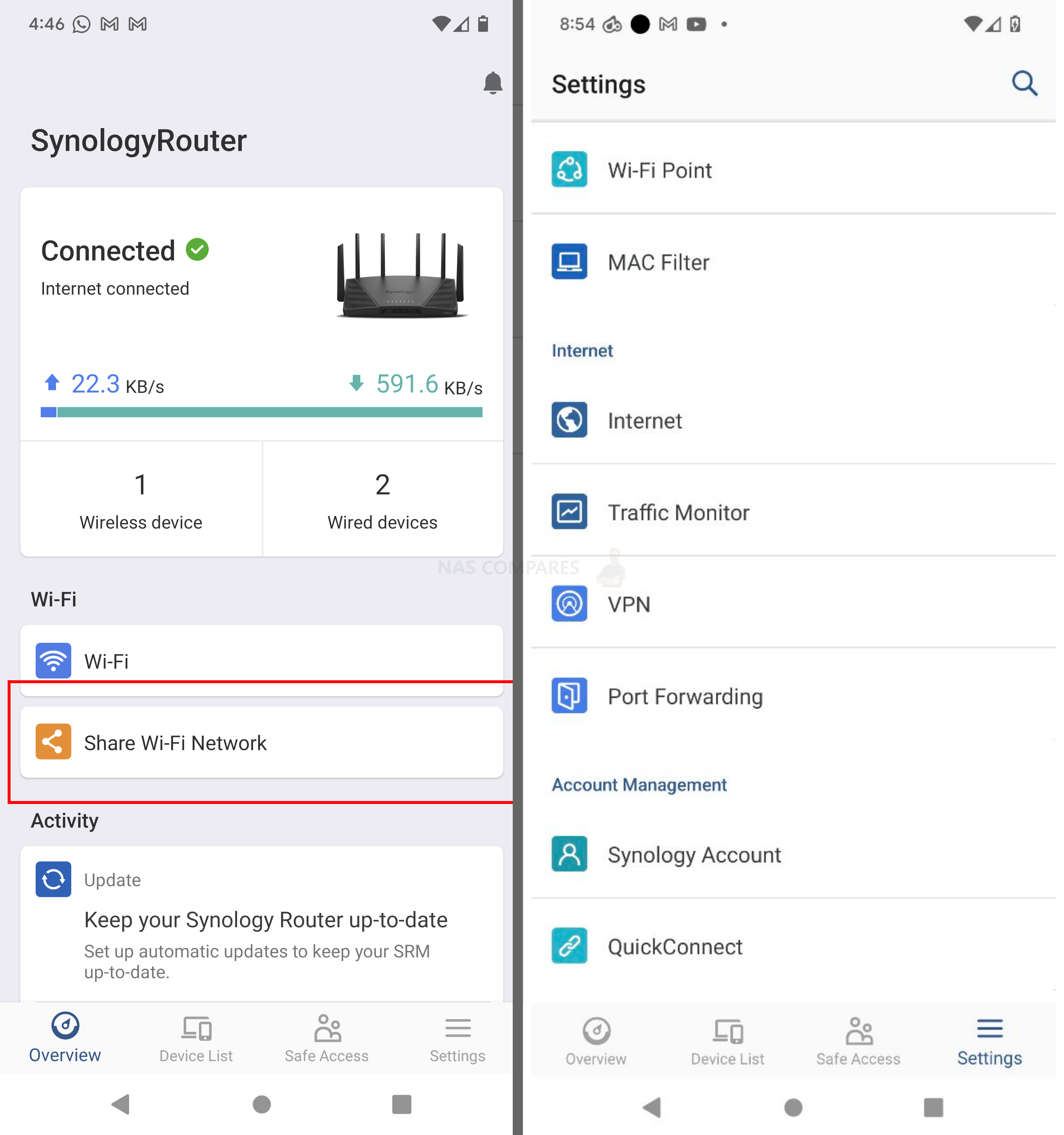 Setting up SRM 1.3 and your router is very, VERY easy and although its not strictly 'plug n play' as your ISP router might be, SRM is a much more powerful and heavily featured tool, so a plugin and run setup would be hugely limiting in the grand scheme of things. You will be able to set up your router in around 4-5 minutes and the standard settings such as setting up wireless identities, user credentials and how you plan on setting up the device (eg connected to an existing router/modem or as your primary router) need to be addressed here. However, ALL of these settings can be changed at any time in the main SRM 1.3 web/phone user interface. It is also worth noting that the Admin account is disabled by default – something I hugely applaud!
The design of the user interface between SRM 1.2 and SRM 1.3 has seen very little change between these two versions. There are additional software options/features added in 1.3 (such as the vLAN control and SSID creation tools, which I will touch on later) but the layout of the GUI, fonts, colour scheme and sizing remains largely unchanged. Some control options and general periodic admin tools have been moved around to new areas (eg in/out of the network center and control panel) and the responsiveness of the software, in general, feels much sharper, but this could also be the result of the almost double increase in hardware afforded to the RT6600ax over the RT2600ac in the 2-3 years between them. Regardless, SRM doesn't try to re-invent the wheel, but it certainly adds a few handy spokes to the frame.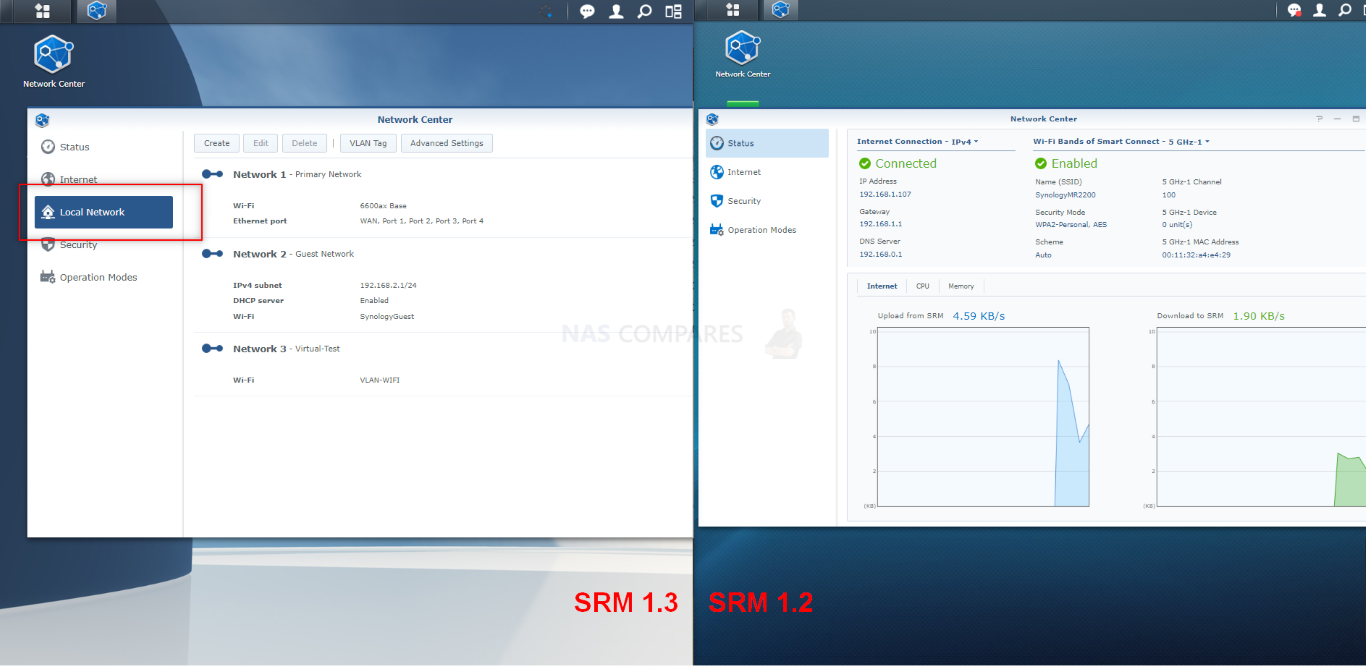 The general user interface SRM 1.3 is very slick, appearing as a slight cross of the MacOS desktop simplicity and the Android icon and menu arrangement. This user interface is what you will see when logging into the router via a web browser and, with options to create many, many users in the control centre (as well as for network controls when we get to the Safe Access feature later), this user interface wallpaper, text and default layout can be changed in a few ways in the control panel.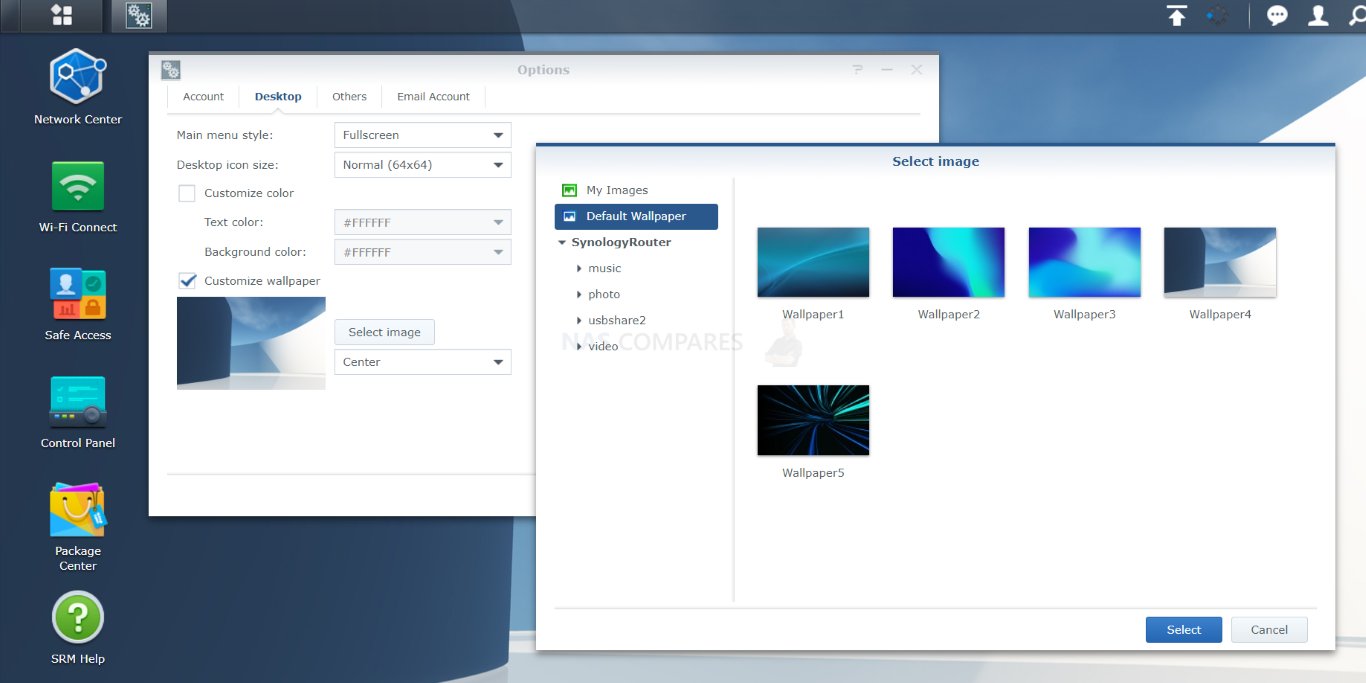 Alternatively, there is the user control option at the top right to change lots more user options (including rotational passwords, 2-Step authentication and more). The depth of these individual configuration options is still pretty light (as this is still quite a niche piece of equipment for those looking to deep-dive into it) but there are certainly many more configurations available to you in SRM than any other router software platform I have reviewed in the last few years.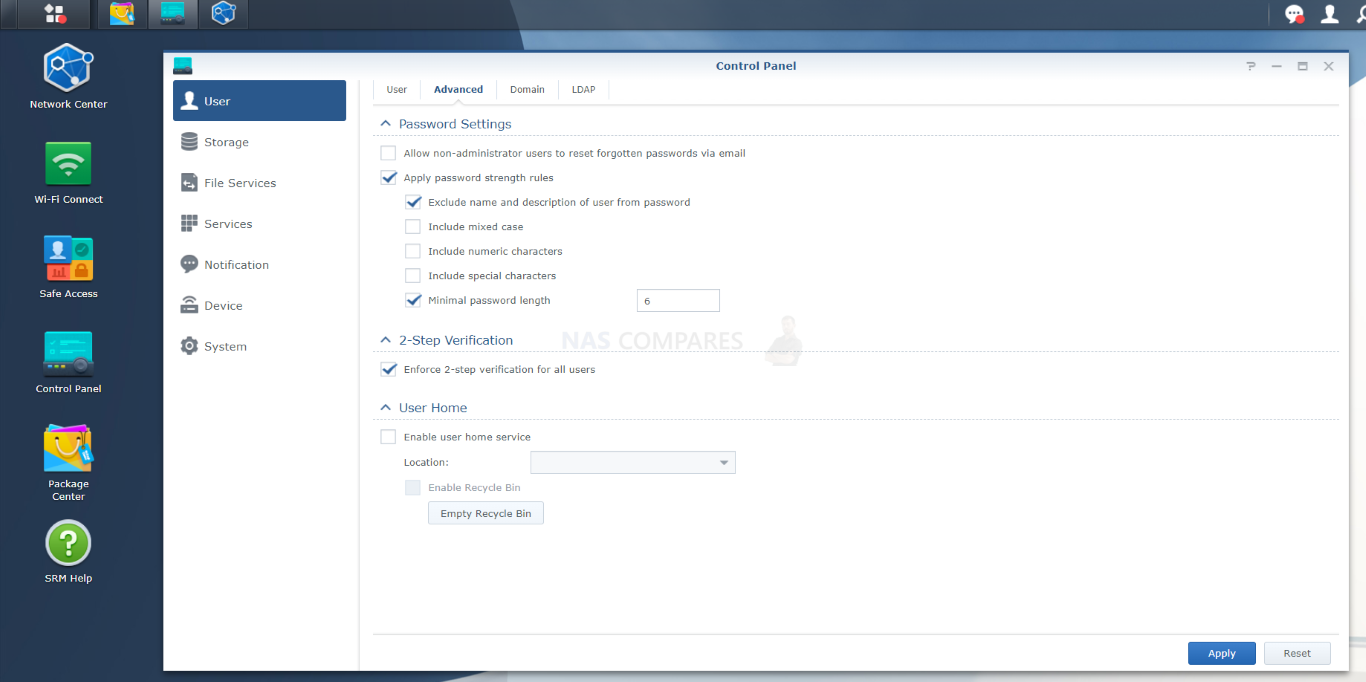 The interface at a glance is very minimalist, but at the same time, it is going to be very easy for any novice/experienced IT user to navigate. With more routers on the market still adopting a 2000's style of left-side-loaded breadcrumb options, SRM still continues to be a breath of fresh air in ver.1.3. That said, the system does lack any kind of easy/advanced switch when navigating. Not a massive deal, but later when we discuss network and security settings, the chewable/easy/simple menu style can only go so far.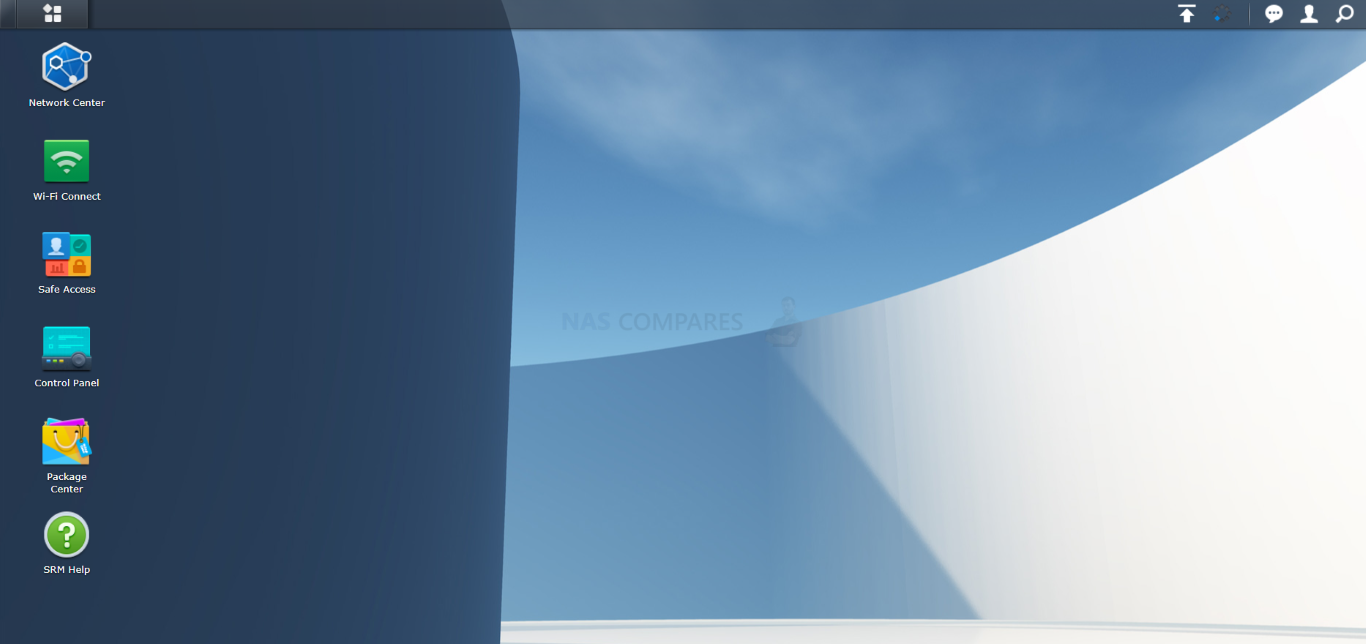 Clicking the menu tap at the top left opens up the larger application panel and from here you can access pretty much every feature and function included in SRM 1.3. Options are all fairly intuitive and if you are looking for a particular feature, function or service of your Synology router, it will be in the option you would expect. However, sometimes that is not enough and there is every chance that you are looking for a specific on/off switch of a service, or direct access to a config option that is a little more nuanced than these few icons can direct you to. Eg would Firewall control come under Network Center? Network Tools? Control Panel?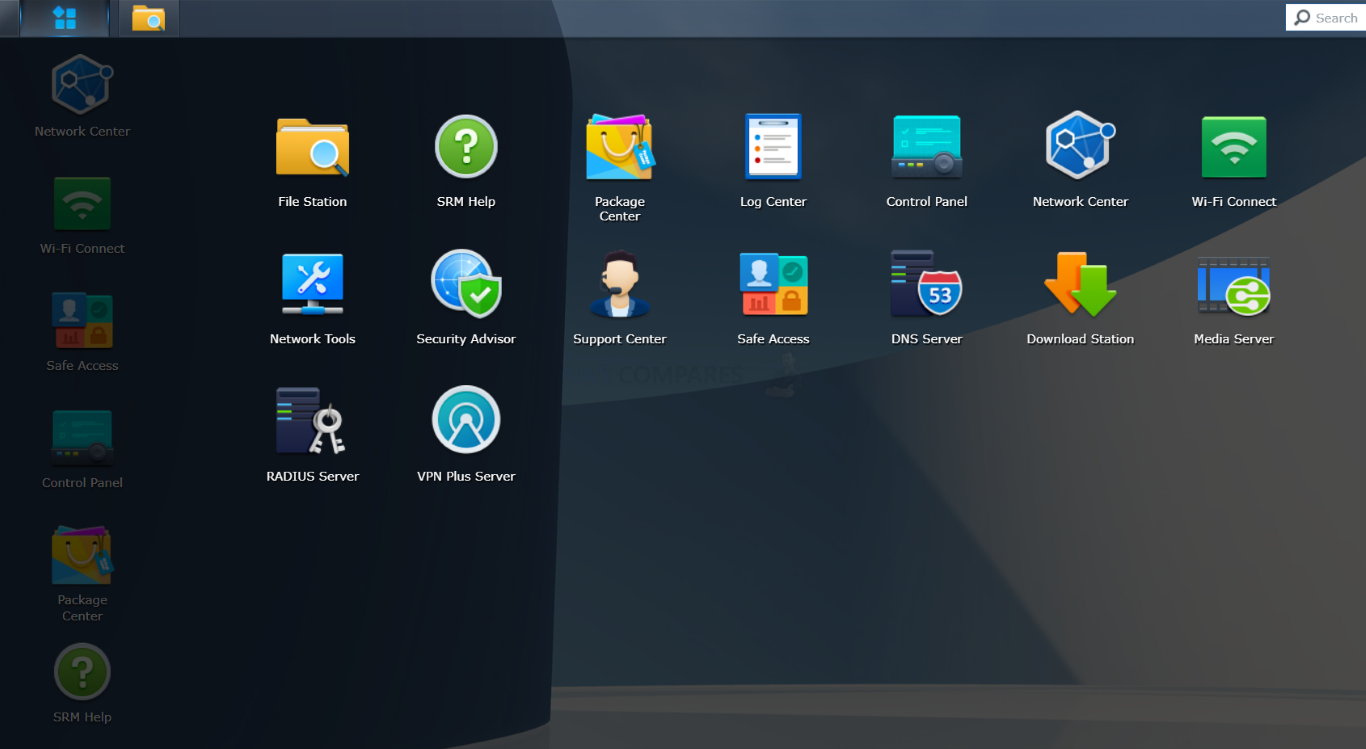 In this case, SRM 1.3 has a very quick and easy to use search feature that is incredibly responsive to your search queries. You can even be pretty specific/vague in your search terms and this is much, MUCH faster to work through than ideally clicking through the main menu. You might be surprised to hear that this kind of system-wide router search functionality is pretty rare with most routers either providing a settings-only search function that needs quick precise heading-only search terms, or simply no search function at all.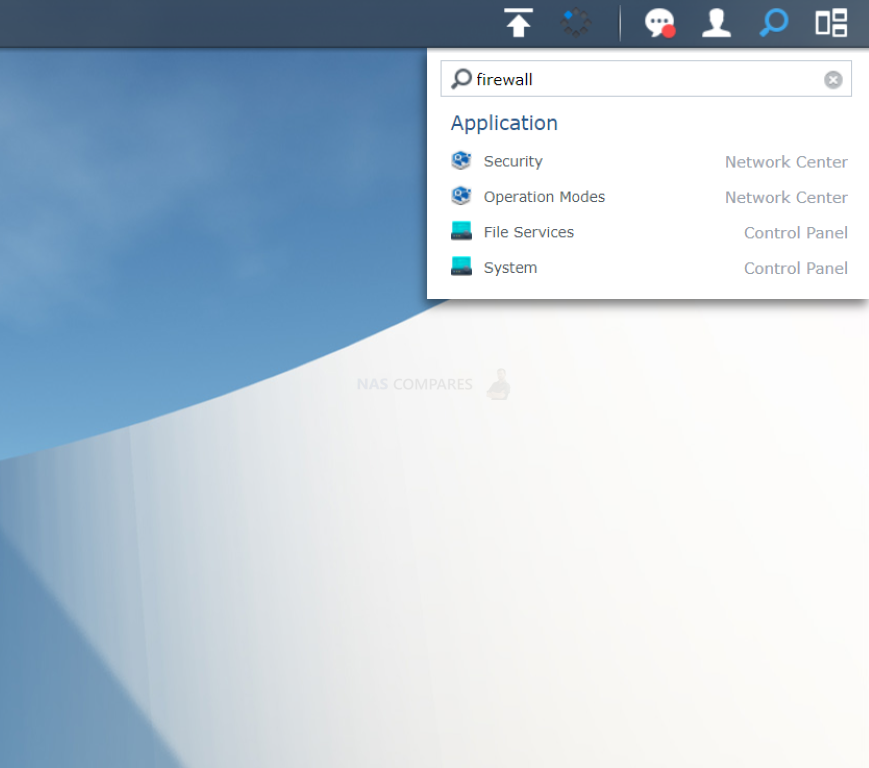 The web GUI also shows you a quick breakdown of recent system events (good, bad or just regular things) that can be accessed easily from this dropdown. If you head into the alerts and notifications center, you can tailor many of these to be tied to direct email or pushed alerts to your phone/desktop as needed. Also, these notifications will also include occasional recommendations for your setup to improve the wider network as a whole.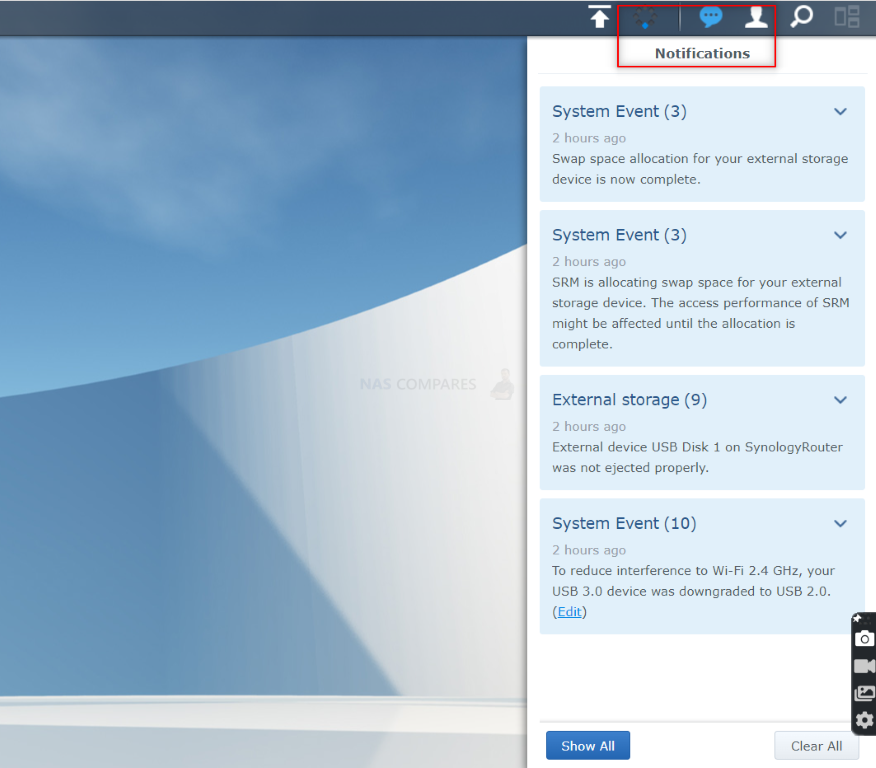 In the event you experience difficulties navigating SRM 1.3, the system also includes a Help section that is actually surprisingly large, featuring graphics and diagrams and also sports a fast and responsive search functionality. Also, CRUCIALLY, it does not require the internet to provide it's resources. It probably goes without saying that having a help section on a router that needs the internet to pull guides/recommended actions, especially if that issue is 'I cannot connect with the internet', is not going to be hugely useful. That said, you might be surprised just how many software/services i have seen that still have this innate contradiction in place!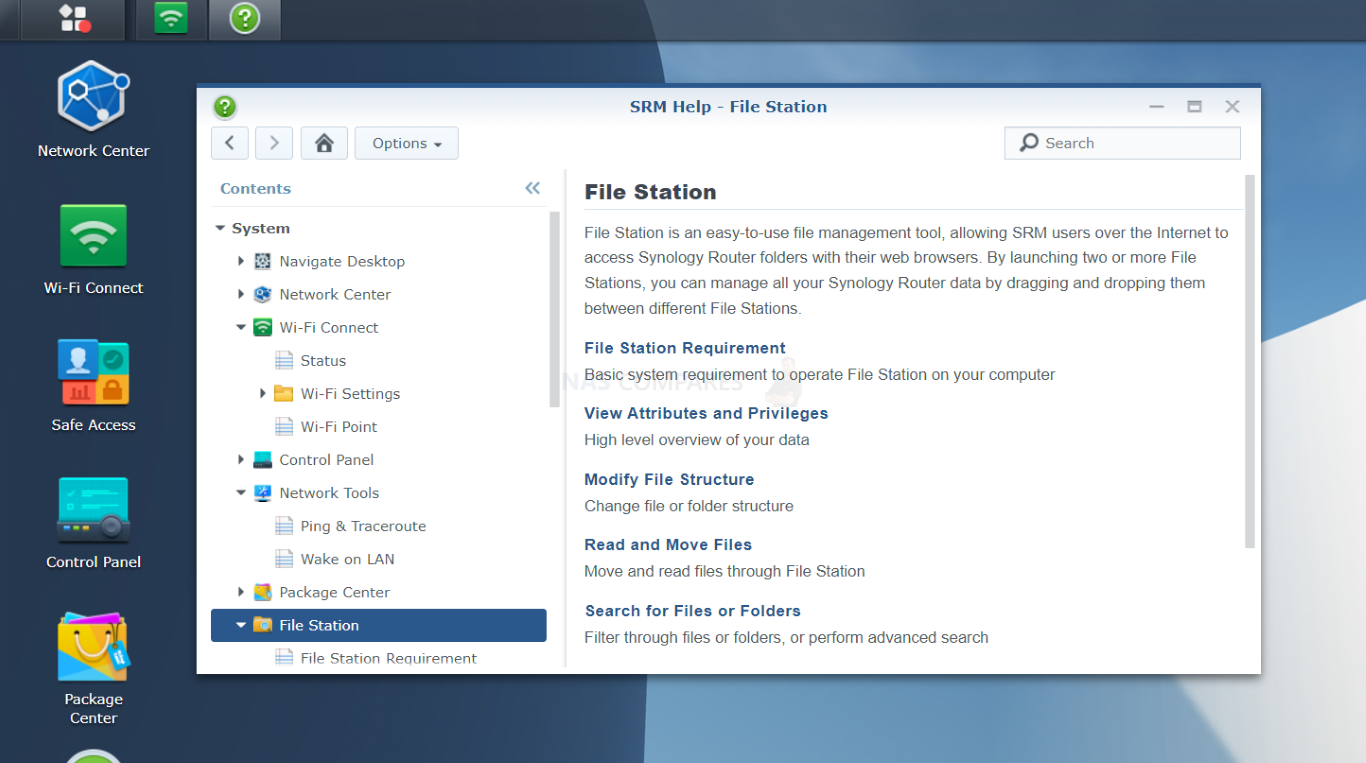 Overall, I was always going to give SRM 1.3 high marks in its controls, user interface and design. Synology is a brand that CLEARLY knows the value of these things in their solutions and 20+ years of design in their NAS solution software has taught them a few useful things that are clearly visible here. Making network/internet management user-friendly is never going to be without it's hurdles, but SRM 1.3 in design is as close as it gets right now in 2022/2023. Let's discuss Safety and Security in SRM 1.3. Your router might well be the ONLY THING between you and the big and occasionally intrusive internet!
Synology SRM 1.3 Review – General Security & Safety
Regardless of whether you are a home or business user, the security of your network is going to be one of your priorities very early on. Both internal network security with the devices that are exchanging packets of data via the router, right the way to how the router governs and manages the stream of data coming from your internet connection, if a router isn't particularly secure, you will all too quickly find out! Worse still, if you are an inexperienced network technology user or a business lacking in-house IT support, then the ease of configuring a router to be as secure as possible within your specific network environment is going to be even more of an uphill battle. SRM 1.3 tackles this in several very clear ways. First off, despite its incredibly user-friendly browser GUI, the majority of its more potentially insecure architecture elements (i.e those that if you mishandle them or let them open could be disastrous in the wrong hands) are either disabled by default or are locked behind more advanced configuration windows/portals. Some are more obvious than others, such as port forwarding (common to all routers and not something anyone should touch without reason) settings and IP/Mac address blocking, which are all quite useful, but common. However, there are little things of note that are impressively specific to SRM 1.3, such as the power-use admin account being disabled by default. Something that even now in 2022 is still not the case for many routers (including ISP ones) and with those same power user crenedtials printed on the base of the router.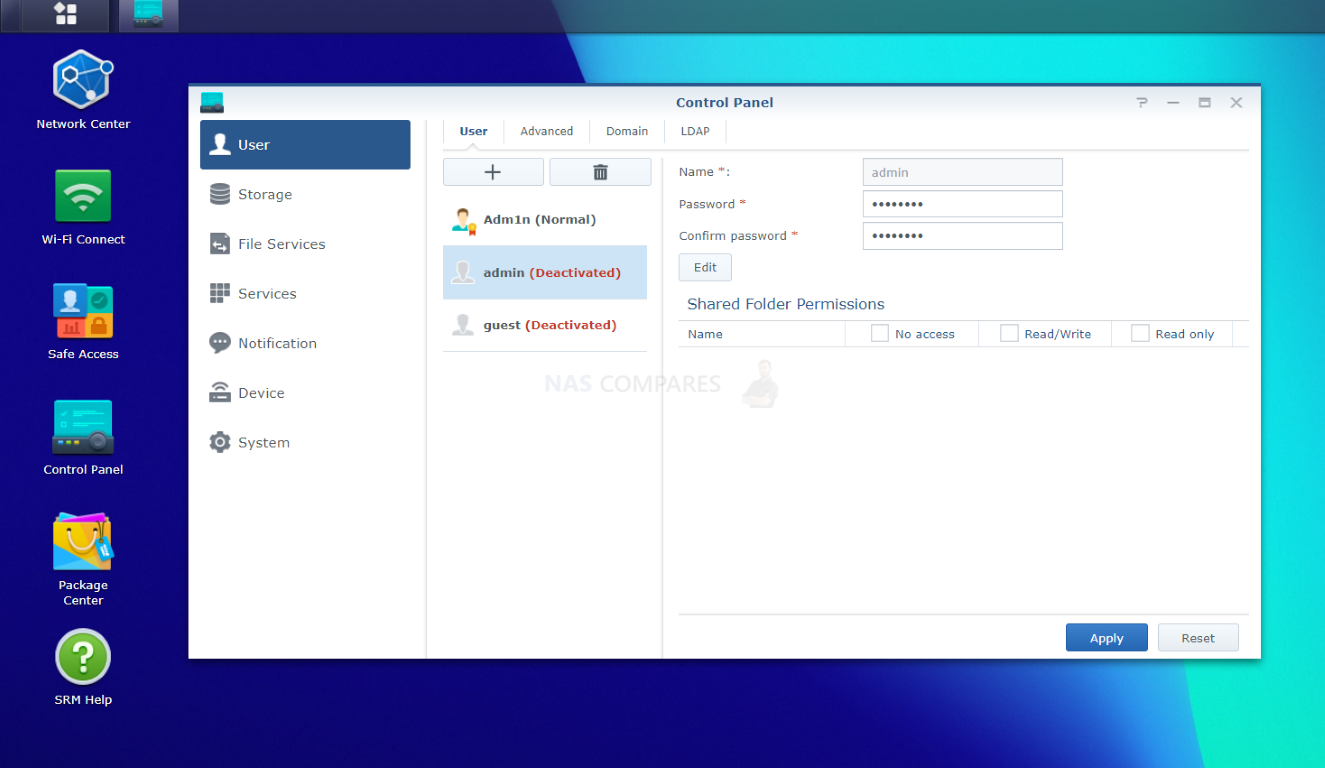 Additionally, all devices (both current and for a period, historical) are monitored in SRM and this allows you to monitor their behaviour, block them, label for for later use in 'Safe Access' or simply keep an eye on their behaviour.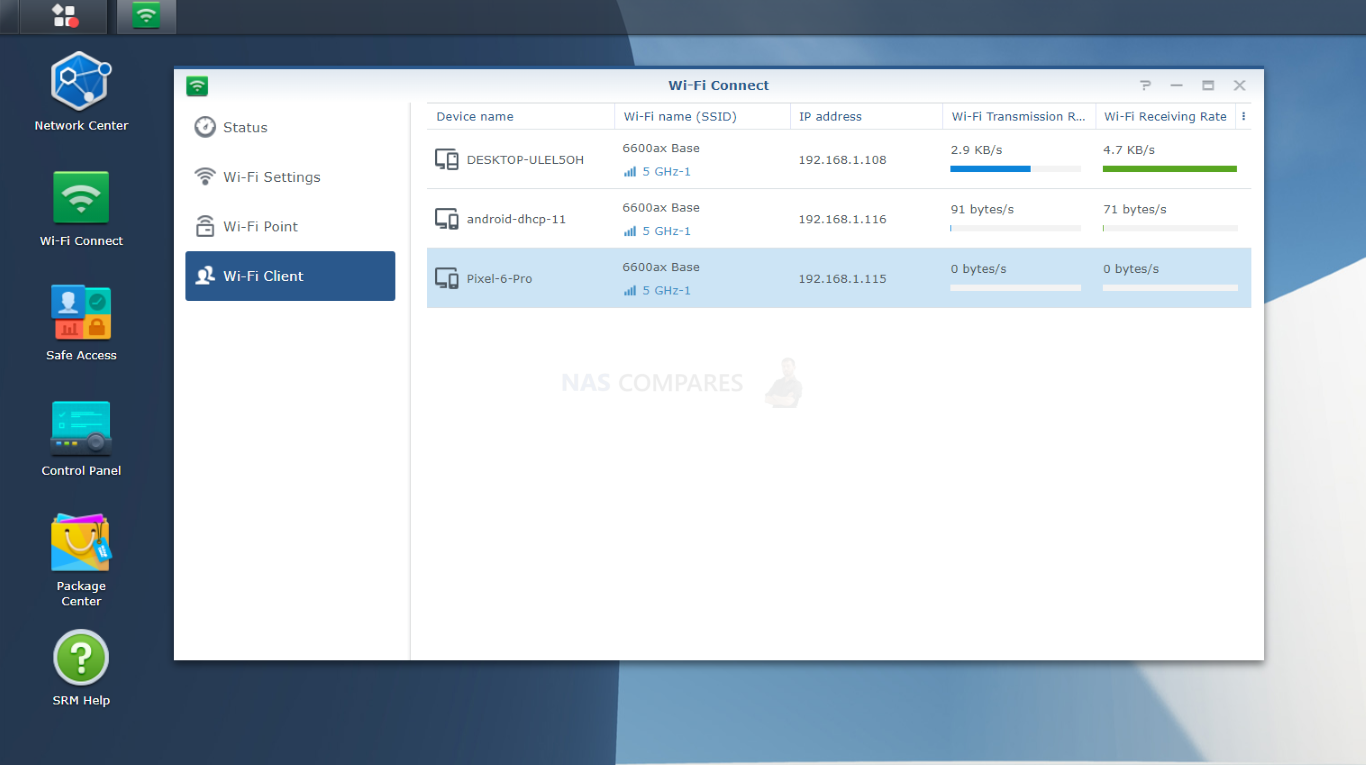 If you had additional SRM 1.3 software user accounts, there are several options for restricting an accounts access (IP locking, resritcing individual app/storage access, removing SRM 1.3 dashboard access, etc) and that also extends to auto-block methods that will change the parameters for a scenario where someone is trying to log into an account erroniously.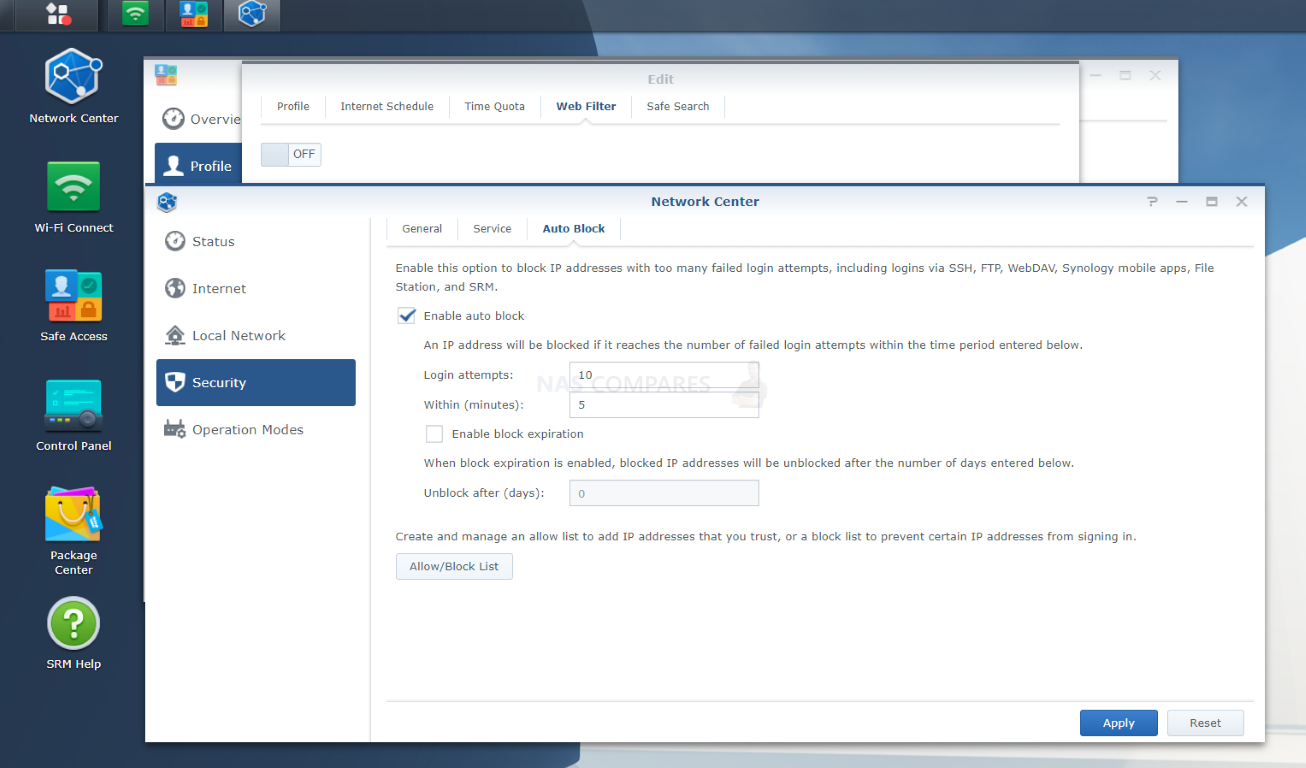 When it comes to what services, features and applications the router with SRM 1.3 is running, there is a single portal full control list that allows you to quickly disable these quickly in the event you need to shut everything down tight or just want to troubleshoot each service one by one. This list of services and level of control will differ on whether you are using the router as a primary or secondary system, but this single page means to shut down any active internet/network service is really handy.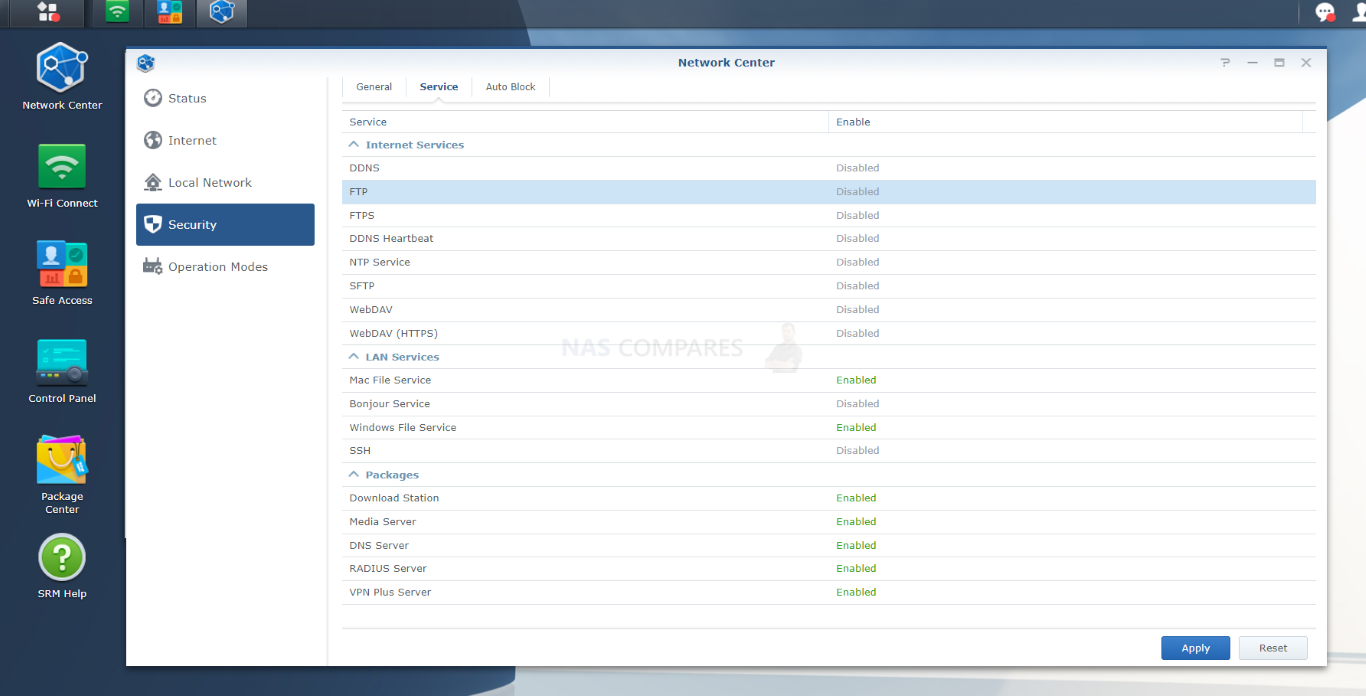 Then there are the inbuilt firewall settings that allow you to use present configurations for securing your internet access point, as well as the means to create a much more customized set of firewall rules. It has to be said that the bulk of things covered in security in SRM 1.3 so far are available on the bulk of prosumer routers, just not presented in a way as user-friendly as here and not to the same extent in most cases.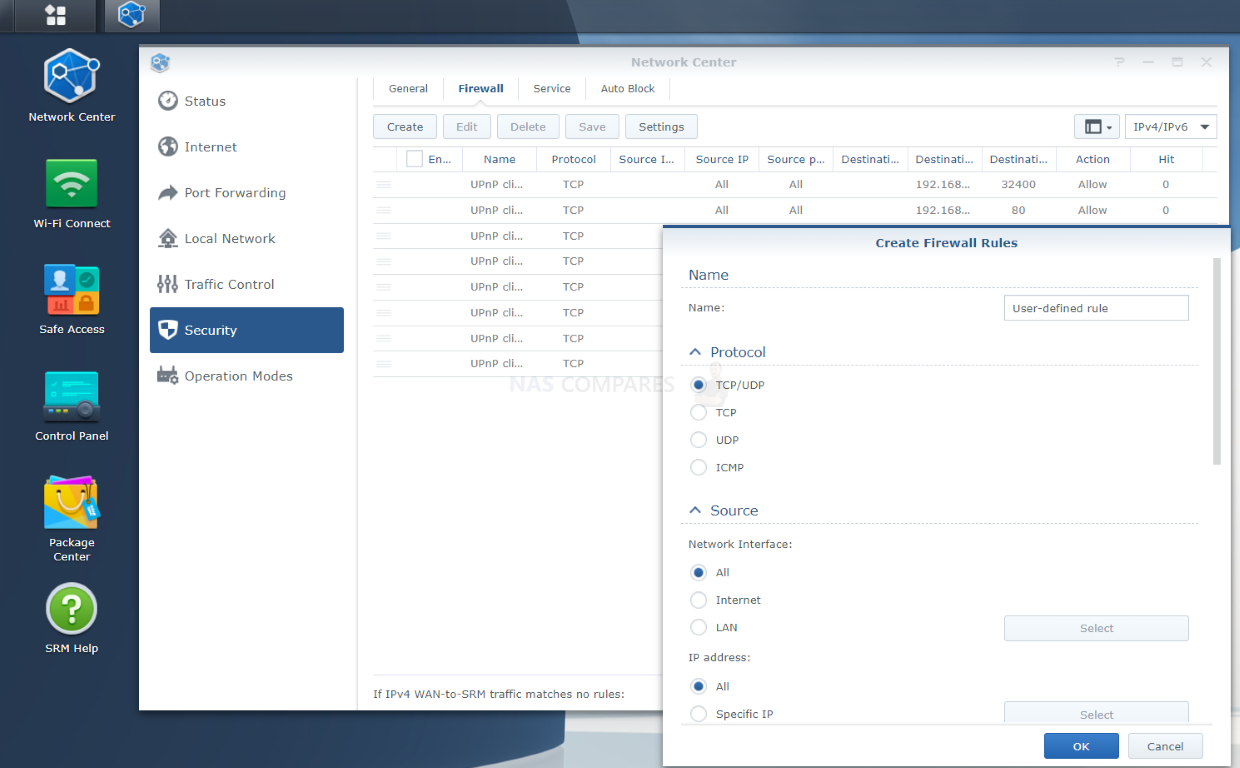 Then there is the inclusion of the Synology VPN software within SRM 1.3. VPN Plus allows your Synology Router to host a powerful VPN server that is easy to set up and manage. It supports SSTP, OpenVPN, L2TP over IPSec, as well as Synology's own SSL VPN protocol and lightweight desktop client. Web-based portal VPN gives users direct access to company intranet sites and there is even an option to provide employees with browser-based remote desktop access. The Synology VPN is a service that supports SSL fast authentication and encryption access to webpages, files, and applications on the Internet (as well as local networks). Here, you can customize things like the Client IP range, Self-owned domain name, ports, security level, authentication, and others. You can also enable split tunnelling, which allows users to connect to destination webpages, applications, and servers in certain local subnets or local IP ranges.
Each Client VPN Access License allows one concurrent user account to use Synology WebVPN, SSL VPN and SSTP, with permanent validity upon activation. Every Synology product that supports VPN Plus comes with a free license. To add more concurrent user accounts at no additional cost, simply sign in to Synology Router Manager (SRM) as an administrator to activate additional free licenses. You can assign permissions to more user accounts than installed licenses. All the accounts are given access on a first-come, first-served basis. When the license quota is reached, no more accounts will be given access until other accounts are disconnected from all Synology SSL VPN, WebVPN, and SSTP services. Once a user account is connected to VPN Plus and starts using any of the three features, it will be allowed to use any of the other features on the same or different devices at once without requiring extra licenses. Each additional connection beyond the first requires registration of a free license.
Features
Pre-installed free license
Additional free client VPN access licenses
Service
Synology SSL VPN
1 concurrent account
Up to product specifications
WebVPN
SSTP
OpenVPN
Unlimited connections (up to product specifications)
L2TP over IPsec
PPTP
Management
Real-time traffic monitor
V
Connection history
V
Service-based permissions
V
Bandwidth control
V
Block list
V
For those that want to get even more beefed up in the security stakes when accessing the controls and complete GUI of SRM 1.3, you also have the option to create/install a secure tunnel with free and easy installation of the Let's Encrypt certificates from within the control panel. This is a small extra that you can of course manage for the most part with many other paid certificates if you prefer, but it is still good to have this option available from within the software and that it guides you through the process too.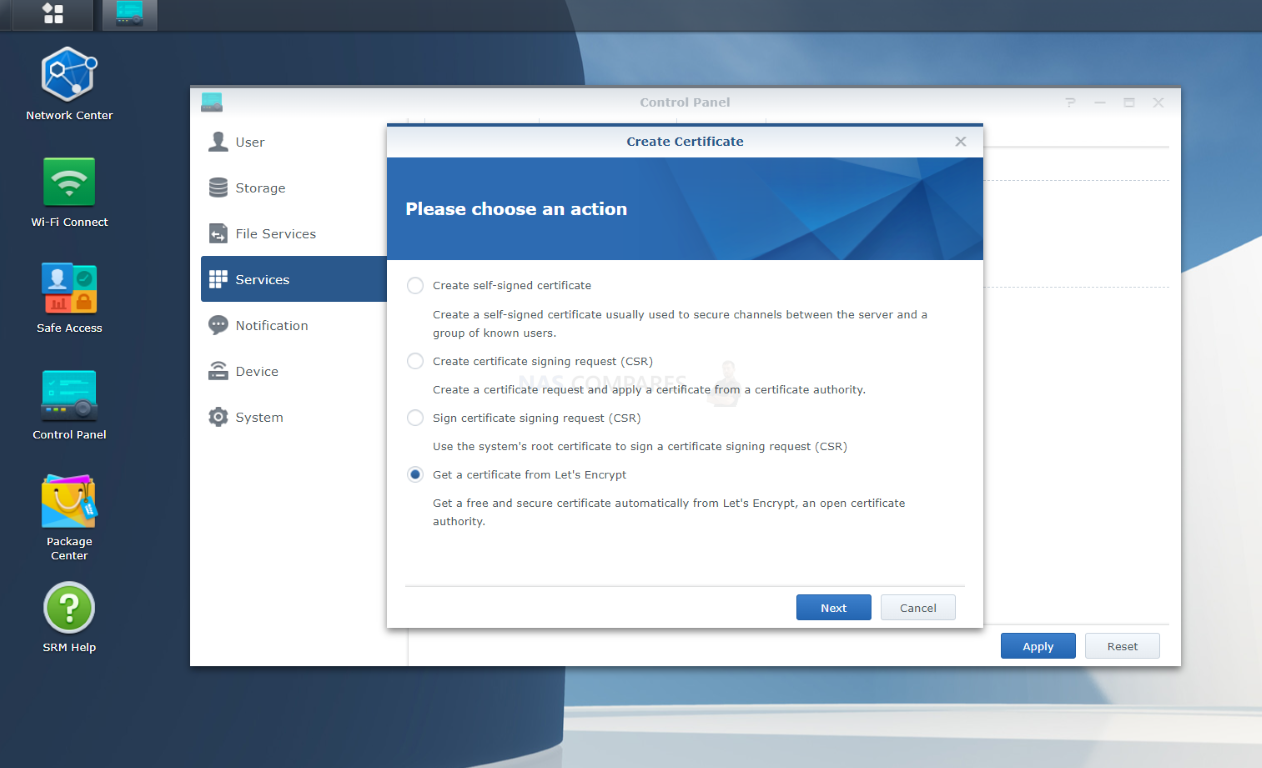 Speaking of guiding the user through the process, SRM 1.3 also includes the Security Advisor tool (much like the one found in NAS and DSM) that analyzes your system and then provides you with details on how you can strengthen the safeguards, settings and setup of your router. The extent to which it will check and report can be configured in its settings menu, but even in the default configuration, it is quite thorough.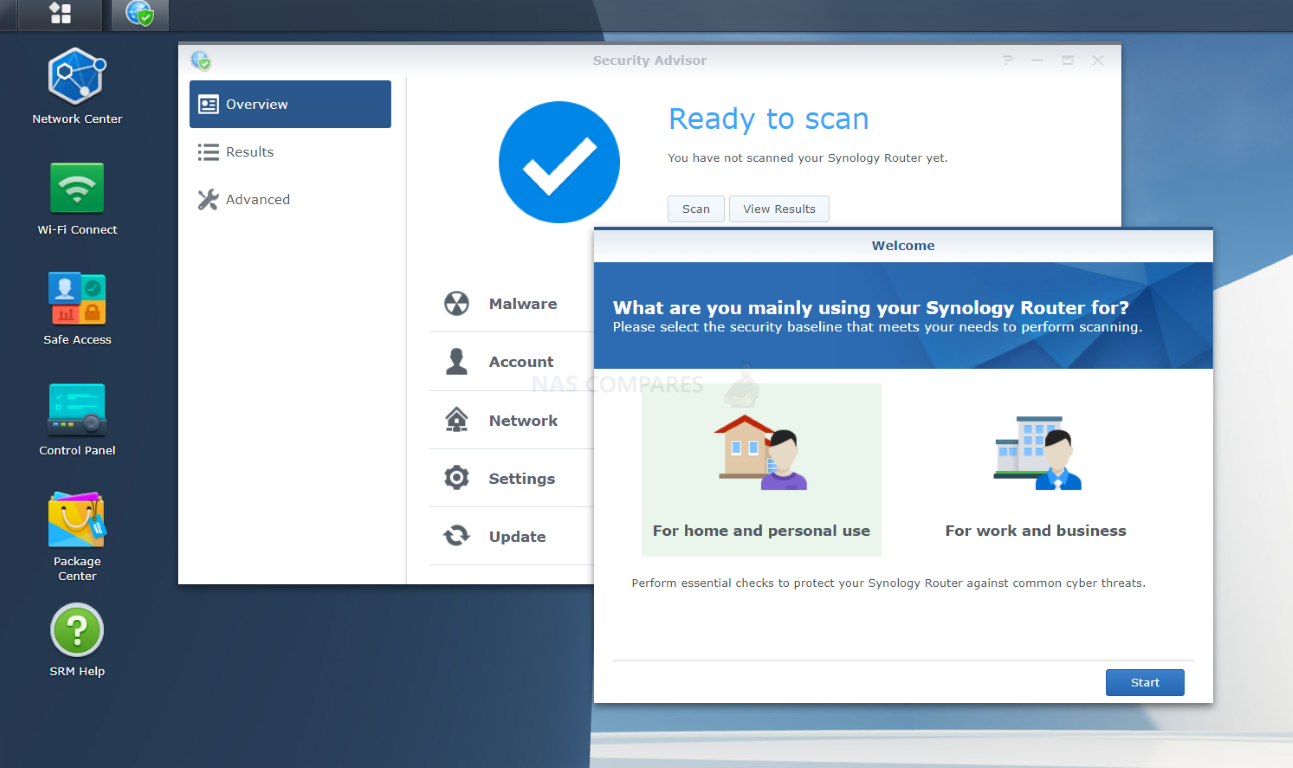 Upon completion of a scan, SRM 1.3 will then provide suggestions on what you need to correct/improve upon. Again, a lot of this is going to be a bit comment-internet-sense-101 (eg don't use 'password' as your password), but it does include several more business-focused recommendations if you chose that level of scanning. The scanning with the security advisor can be triggered manually or set to a regular schedule from with the software and can also be linked to notifications if a potential vulnerability or router weakness is highlighted. This then allows you to connect with the router, access the severity of it and then proceed accordingly.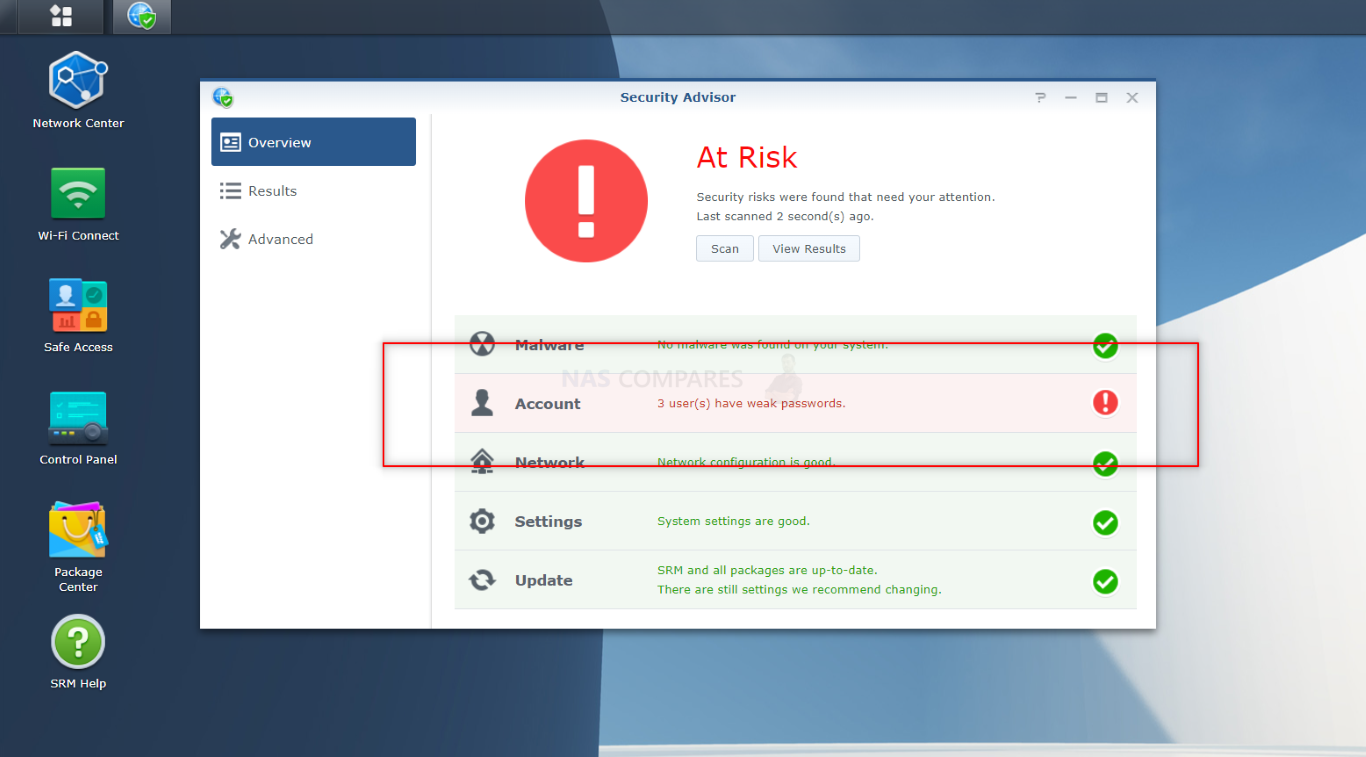 When it comes to accessing the router and SRM 1.3, local access (eg from on the same network) will be relatively straight forward and unless you have blocked SRM access on a specific account or your IP/Subnet/etc are different to the system, you should have fairly direct and secure access up to this point. But what about remote/internet access? Sometimes you will want to access the router and SRM 1.3 to quickly access a setting/service (perhaps for IT troubleshooting or simply a family memory having difficulty with the network). In that case, you can use the popular Synology Quick Connect service (much like their NAS) to tunnel into the router and SRM 1.3 securely from anywhere in the world, via Synology's encrypted servers. This is a completely free service that is included with ALL Synology products and can also be customized to only allow access via very specific means and by very specific people too.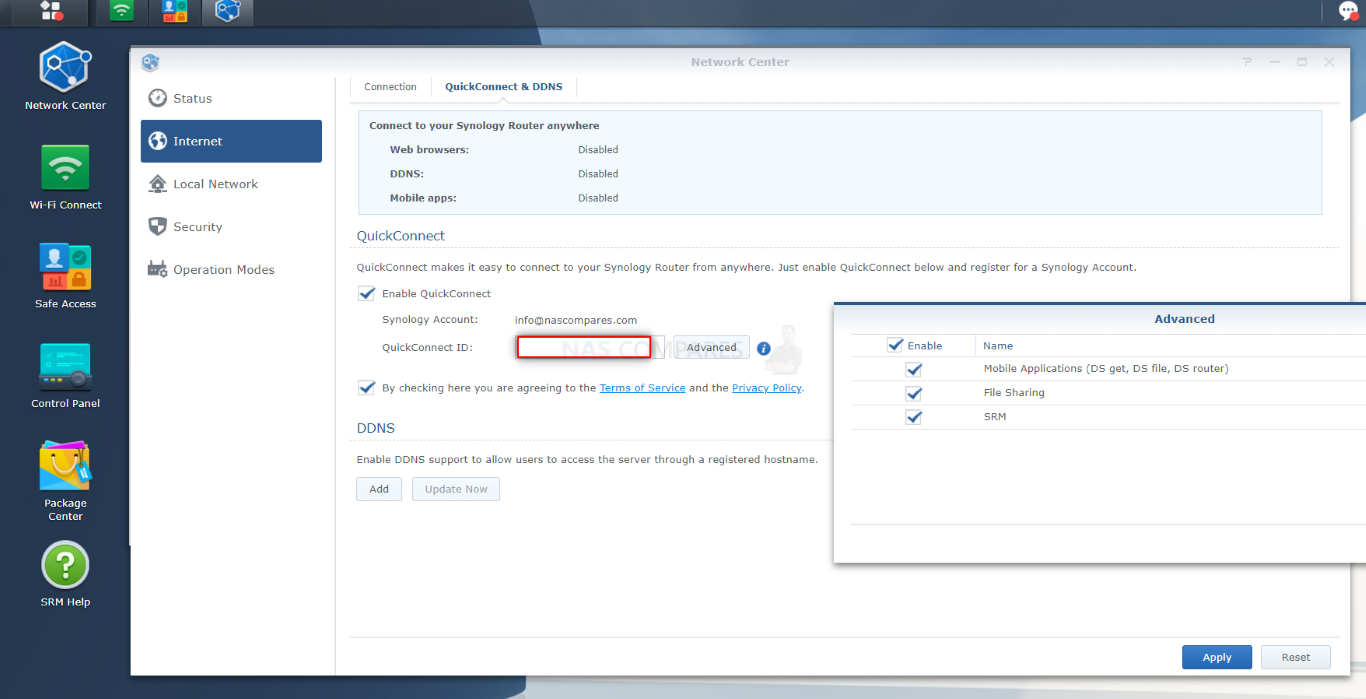 Then you have 'Safe Access', one of the jewels of the crown in SRM 1.3. I will go into more detail on the Safe Access service later on, but in terms of security, alongside a whole bunch of ways to craft a safe and trusted internet access point for your router users, Safe Access also allows you to enable forced Google Safe Browsing and enable the Threat Intelligence database tool. So, let's go through these two forms of network protection, what they do and how they help.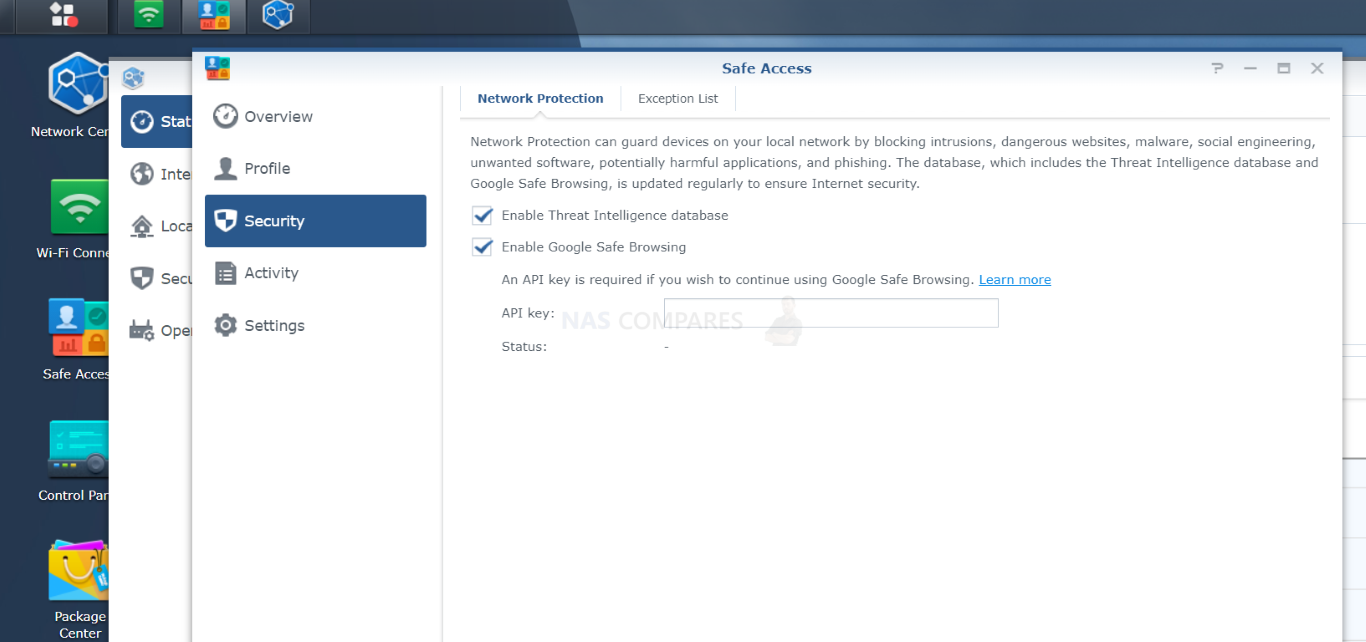 The safe search functionality allows you to automatically shift the results of popular internet search tools and some social platforms to automatically enable 'safe' mode or disable any NSFW content. This will also overwrite any custom policies that users logged into those sites will have (i.e having a Google account logged in and set to show all results' will be overwritten by the router enforcing safe search rules). This is a feature that is widely available on ISP routers and other paid premium routers, HOWEVER, on those you lack the scaled options of off/low/moderate/high, as well as the option to scale these to individual users/devices on the system and different policies to different sites. Eg you want your employees to have full and unrestricted access to YouTube and Social sites for marketing purposes, but want adult content restricted on typical Google search results in the workplace.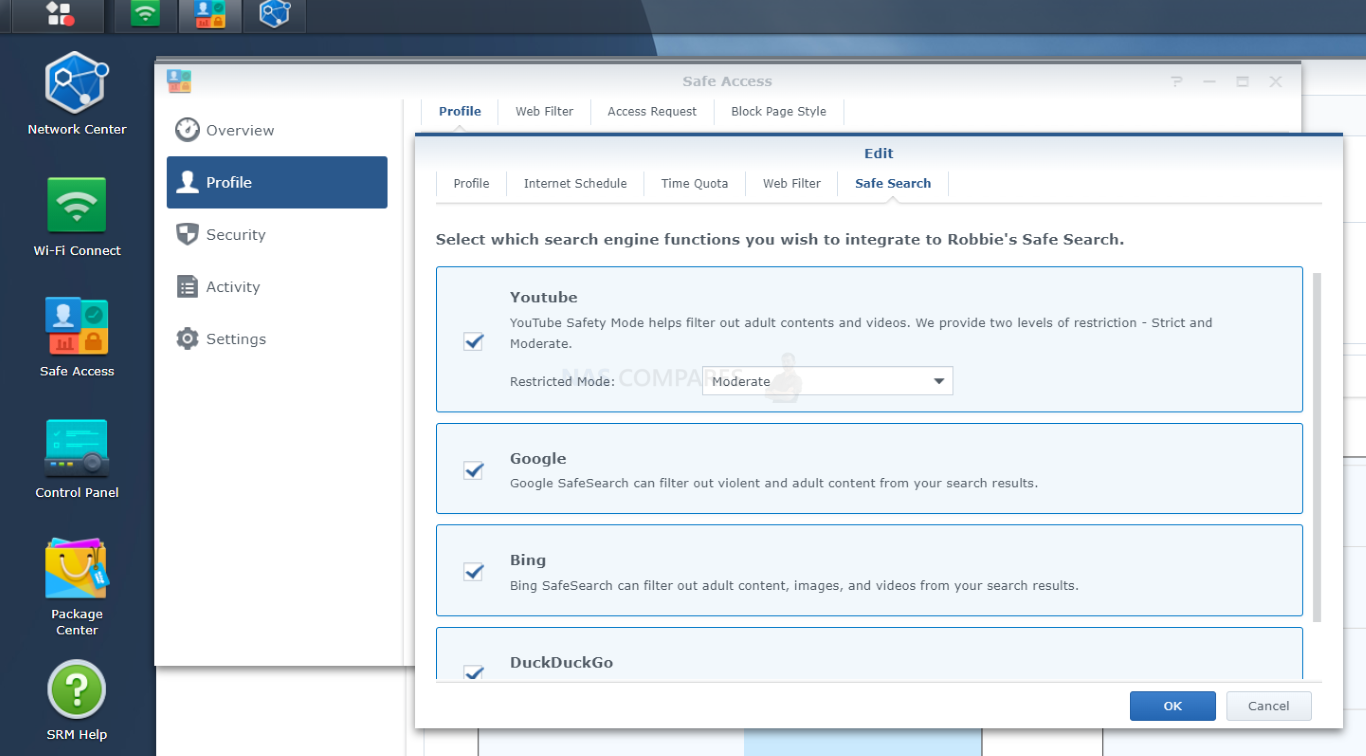 Now Synology's Threat Prevention dynamically guards the security of your Synology Router as data is handled and manages packets on network devices by inspecting Internet traffic to detect and drop malicious packets and also records network events, for statistical analyses regarding malicious sources to check their severity. Threat prevention is arguably less advanced in its architecture compared with Safe Access, ut is still a great tool in a much broader way.
Understanding the difference between these two approaches to protect your network and your network client base is quite straightforward. They represent two different approaches to your network security. Safe Access is DNS-and IP-based. It integrates several external databases (including Google Safe Browsing) that identify domains and IPs related to malware, phishing, botnets, command and control servers, social engineering, etc. When a device in the network attempts to access the blacklisted destinations, Synology Router prevents the connection from even being established. Threat Prevention, on the other hand, is signature-based. It monitors incoming and outgoing traffic using Deep Packet Inspection (DPI) – not just checking the domain or IP – and is able to drop any malicious packet detected in real-time. In addition to Internet attacks, Threat Prevention can alert you to inappropriate user behaviour, such as sending passwords through unencrypted HTTP traffic. Both packages work automatically. You can review the event logs and adjust the actions, but even if you don't, they still silently protect you in the background.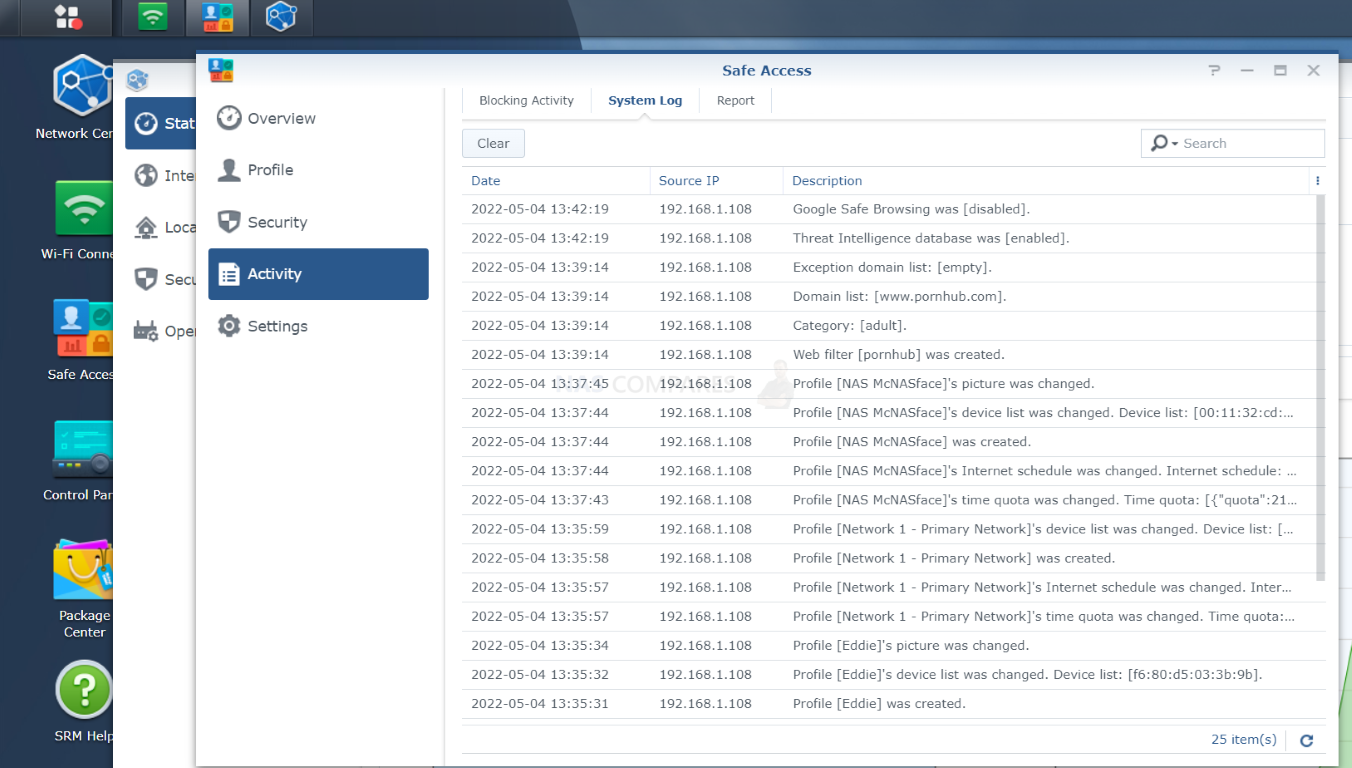 The know target lists and algorithms that each of these tools (and other connected databases that feed into the intelligent actions and alerts) are updated regularly in the system database and by default, these are automatically downloaded to their latest versions. It is recommended that you never change these settings.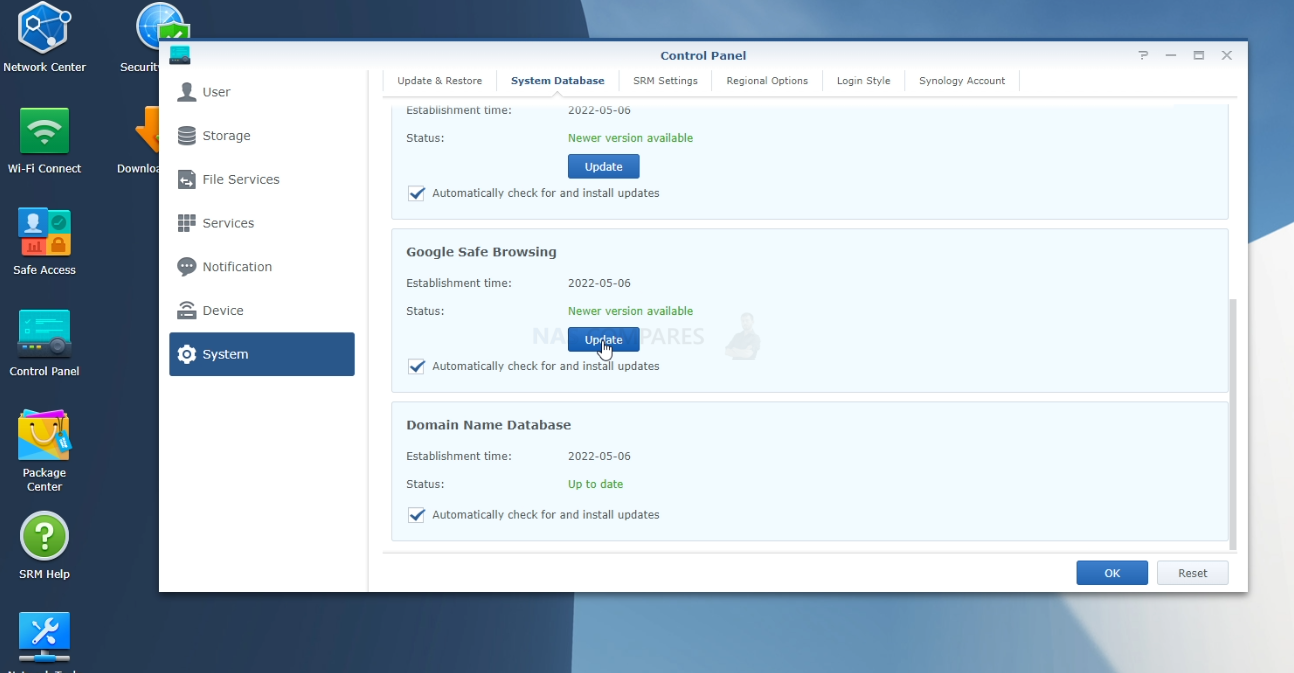 Overall the background and passive security settings that are configurable in SRM 1.3 are not an enormous leak, at least in terms of the broad result, than more premium routers in the market. What sets SRM 1.3 out from them though is that it is presented in a much more user-friendly fashion, is considerably more scalable and provides a considerable amount of flexibility that most other routers would limit to an ON/OFF switch. The Threat Prevention tool is can be a little underwhelming (perhaps needing more attention than it has, especially compared with Safe Search) but overall the security and safety of internet connectivity via a Synology router and SRM 1.3 is still very good.
Synology SRM 1.3 Review – Network Management
The more premium a router is (i.e expensive!) the more you find that they start to feature features and services that are more often found in switches. Indeed, it still surprises me that Synology has yet to make the jump towards its own range of switches in the way that the other NAS brand QNAP has. That said, the network management and control that is featured in SRM 1.3 is quite extensive for a router, even if the complaints surrounding how long it has taken Synology to feature virtual network creation have been fairly constant these last few years. The Network Center application largely provides the bulk of network management resources, opening up into a brief overview of available connectivity and enabled SSIDs. There is also a live graph of activity covering uploads, downloads, system hardware resources and the status of those individual physical ports.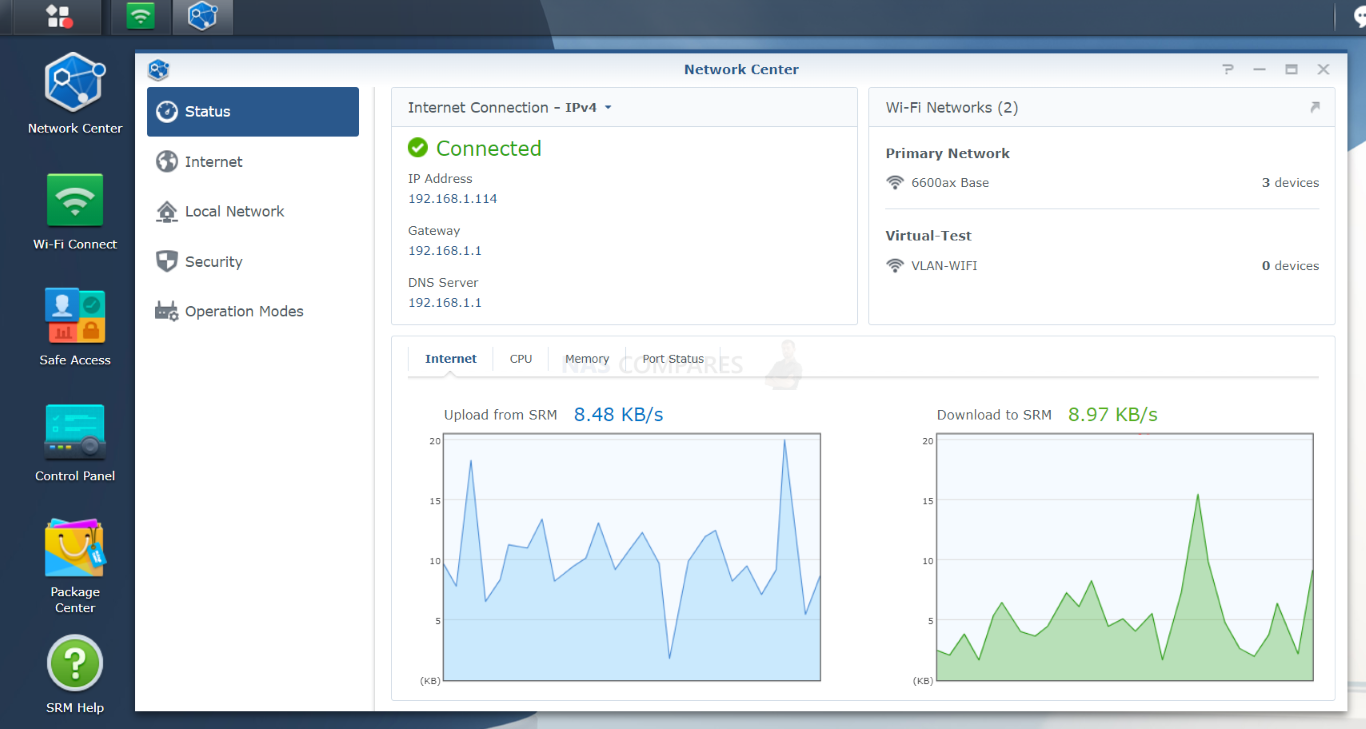 If you dig a little into the Port Status area, you are able to see any live connections and the bandwidth currently available on that connected line. This was one area of design that I was a little underwhelmed by on Synology's part. Aside from the user interface in the Network Center application featuring a few different options whether you used the router on its own or as an additional access point (which makes sense logically), SRM 1.3 still lacks a larger topographical overview of the network, virtual networks and SSIDs. I appreciate that this would fall more into 'network switch' territory, but with the RT6600ax router with SRM 1.3 supporting 5 virtual networks, 15 SSIDs on a network, 4 LAN ports and the ability to bond them together in a custom way – that would be MUCH easier to comprehend graphically or in a breadcrumb/tree style.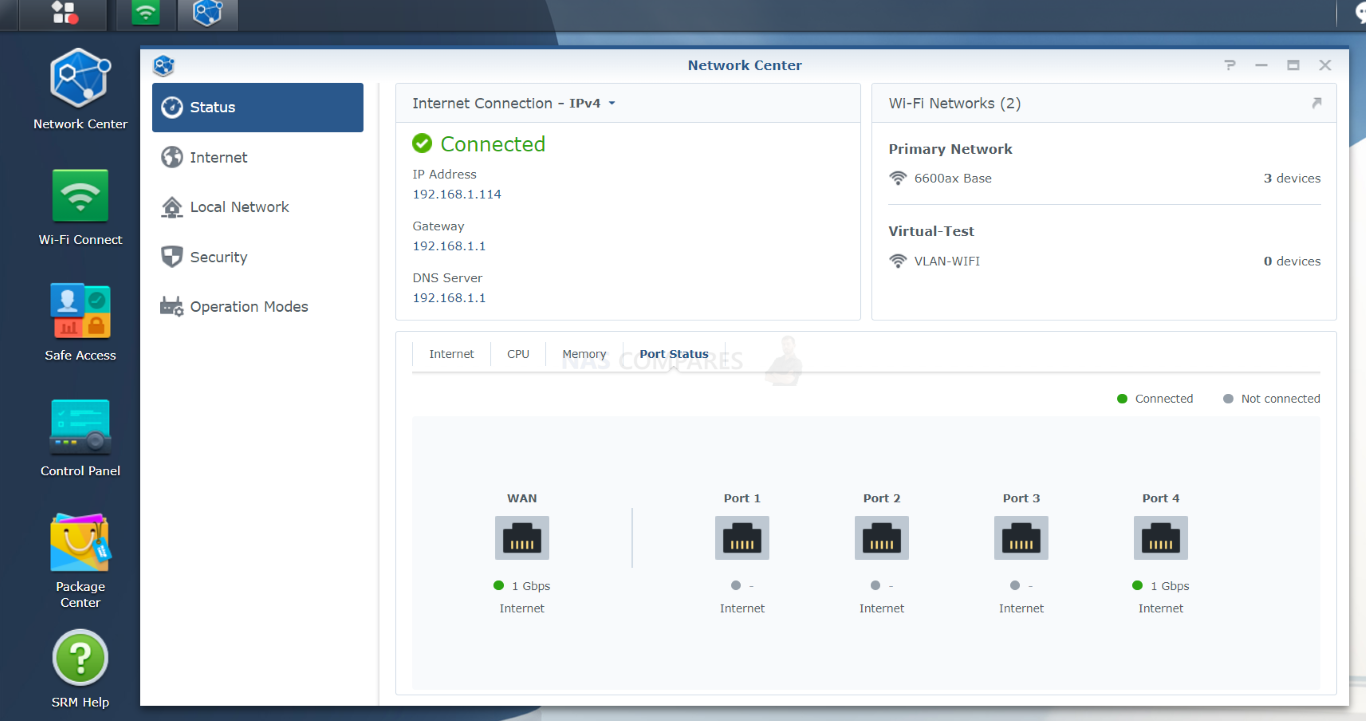 There IS however a clear and quick-to-setup means to create a failover connection involving multiple ports. Although in the diagram below WAN and LAN 1 were featured, this is customizable via dropdowns. Additionally, you can factor in the USB SIM dongle or Mobile Phone USB tethering services to be used as a failover for the WAN and a wired internet connection. This failover also has a few straightforward rules and system policies for how the switch would take place in the event of your primary connection dropping, as well as what happens when it gets stored. Fairly straightforward stuff, but presented very well in SRM 1.3 and makes having a backup internet connection a lot more justifiable and easy to implement.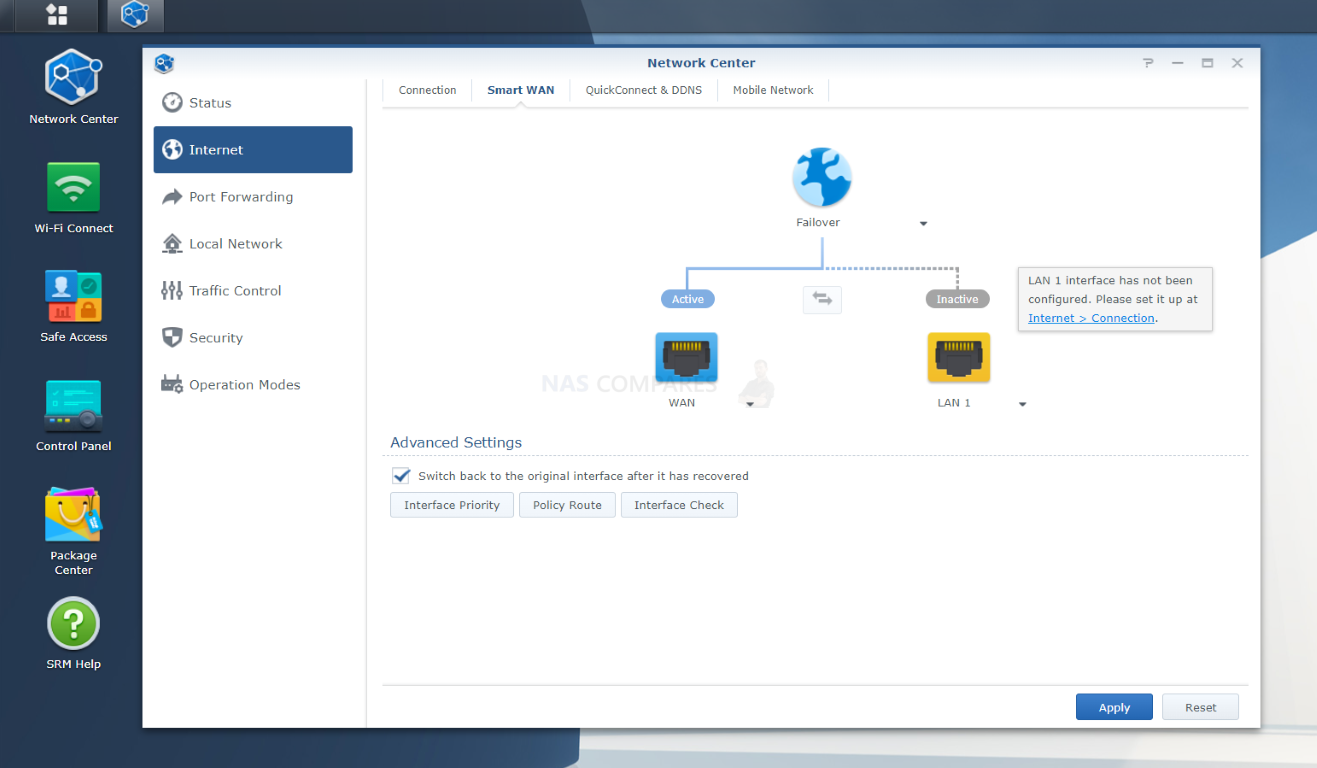 The newly added virtual network creation (vLAN) support in SRM 1.3 is pretty straightforward and (as this system is a router) also benefits from a few extra things (as well as supporting a few things you might expect), such as:
The ability to assign custom VLAN IDs
The option to completely block a vLAN to access the SRM 1.3 Controls/GUI
The option to block any communication/visibility between one vLAN and all other networks
The option to bond (attach) a physical port to a specific vLAN
The option to connect the vLAN with an existing SSID or create a new one during the creation wizard
Later in the access and user panels, you can permit levels of access to virtual networks
Again, this is all not really groundbreaking stuff, but 1) it's something people have requested in SRM for a while, 2) brings a lot of network switch functionality to a router and 3) is presented in that special Synology ay that makes it remarkably straight forward. Bearing in mind we are talking about vLAN creation (something very few domestic users will ever know how/need to do) being made as easy as setting up an old Hotmail email account, I respect the effort.
Once additional networks have been created, they are displayed in a list on the main Network center page, each able to be completely reconfigured or their identities and ports changed with ease. Again, I am surprised that Synology was not able to show this information in a bit more of a pictorial fashion (something the likes of Netgear and QNAP have shown on their routers and switches for years).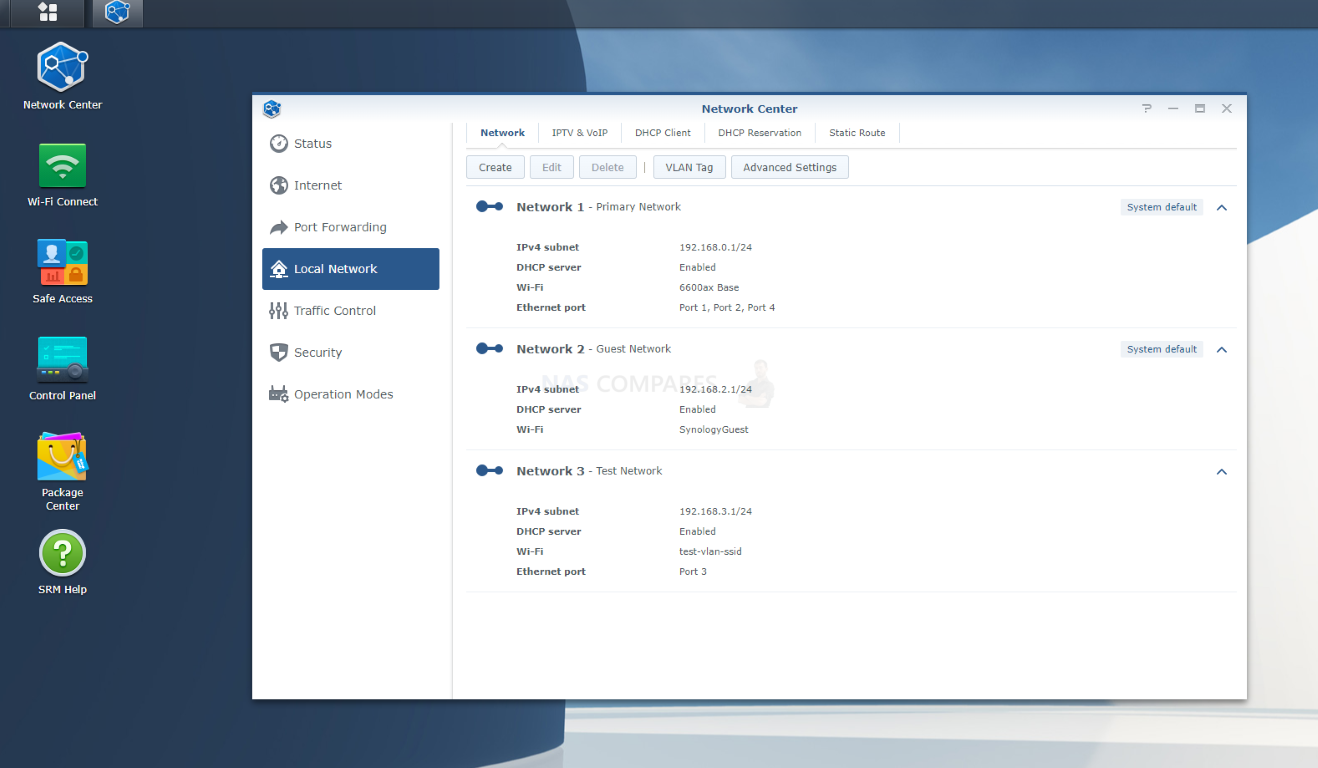 As you might expect, creating a new SSID is INCREDIBLY easy in SRM 1.3 and you can create a whole lot of them too. Each can have its own identity, security protocol (eg WPA 3 Enterprise style or something more modest for legacy devices), and assignment to a specific frequency or band (eg 2.4-5Ghz and/or over 80Mhz or 160Mhz) to ensure that the right wireless connections are getting the benefits of the better coverage. That really is just scratching the surface of it and it's impressively detailed in its configuration options.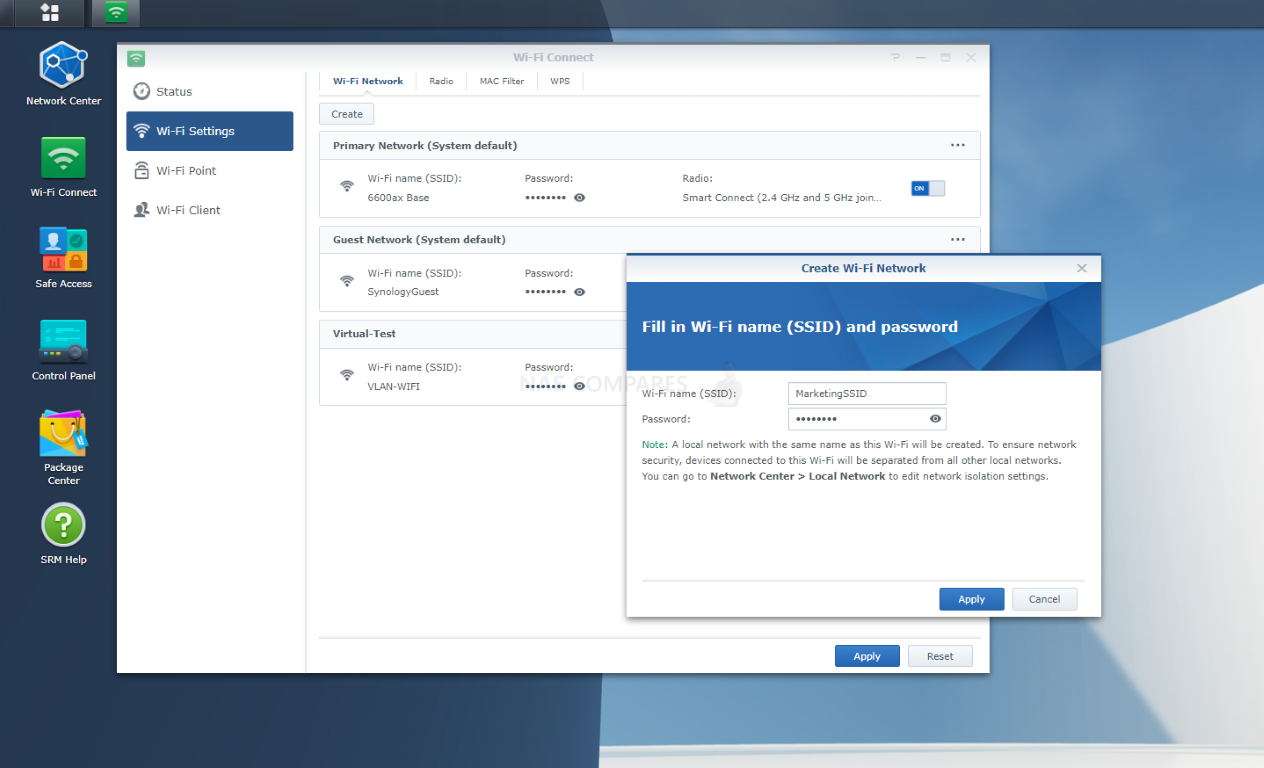 As you might expect, SRM 1.3 (of course) features port forwarding rules that can be changed and allows you to create those more targeting but tactically placed means of accessing your network when needed, whilst keeping the safeguards in place. This is something that Synology cannot really make very user friendly and frank it should not be! Aside from the fact that a basic-mid level of understanding of port placement and protocol is needed, too much bad news surrounding ransomware injections from the likes of Asustor and QNAP in the last year or two has demonstrated the folly of inexperienced users punching holes in their firewalls etc (or worse still, brand's offering to do it for you with little warning to the consequences). A standard by often vital feature, that is getting the respectful treatment it deserves here.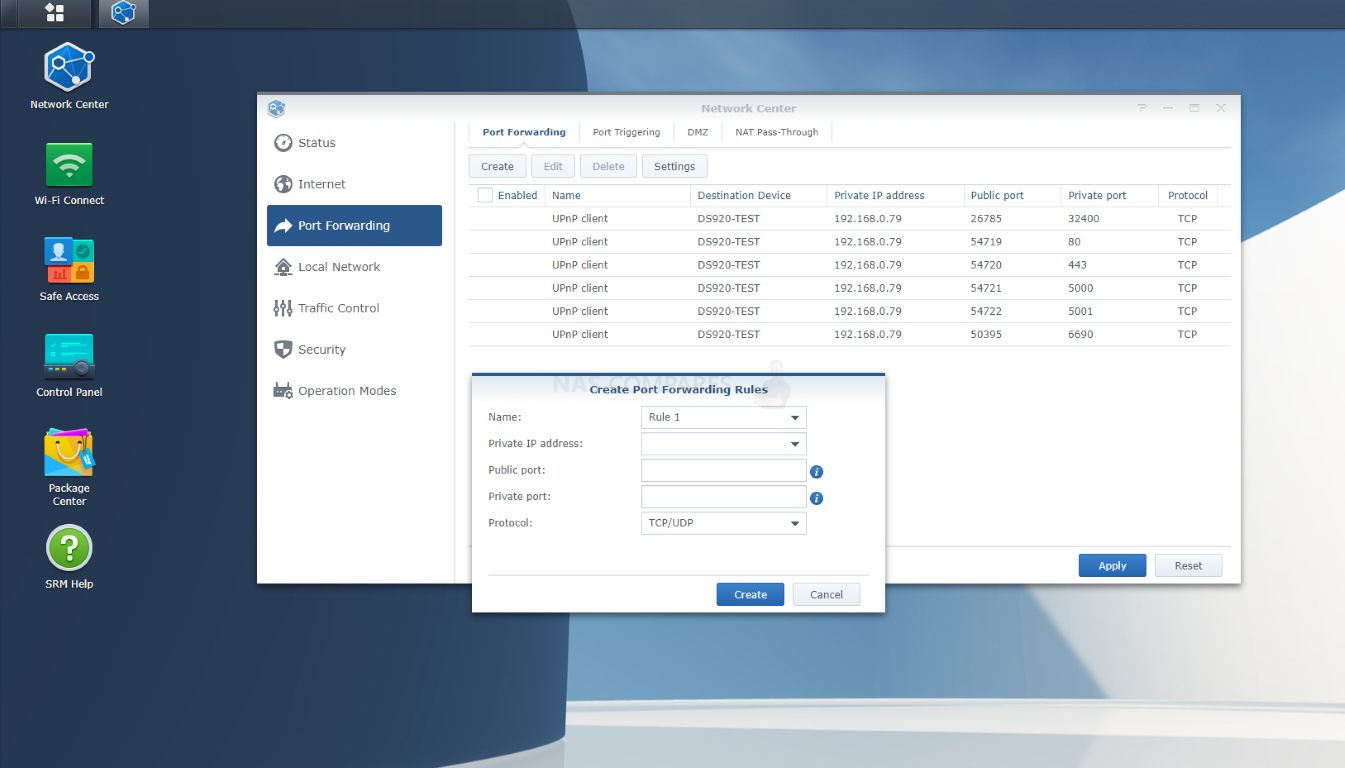 For those of you that have high priority internet connections running into your home or business premises, there is a specialized setting for giving PoS to IPTV (so online TV services and VoIP (voice over IP) phone lines. Along with numerous profiles for each that can be selected from a drop-down, you can also create custom profiles manually. This will likely be only of use to specific users and perhaps a greater range of external internet services might be added over time (as they increase in popularity) but still a handy feature for some and a nice extra for business lines certainly to ensure that phone calls over the internet are clear as/when needed, rather than giving a specific port priority of service generally, which might lead to unnecessary network throttling for everyone else accidentally. Better to identify a service specifically, rather than the port.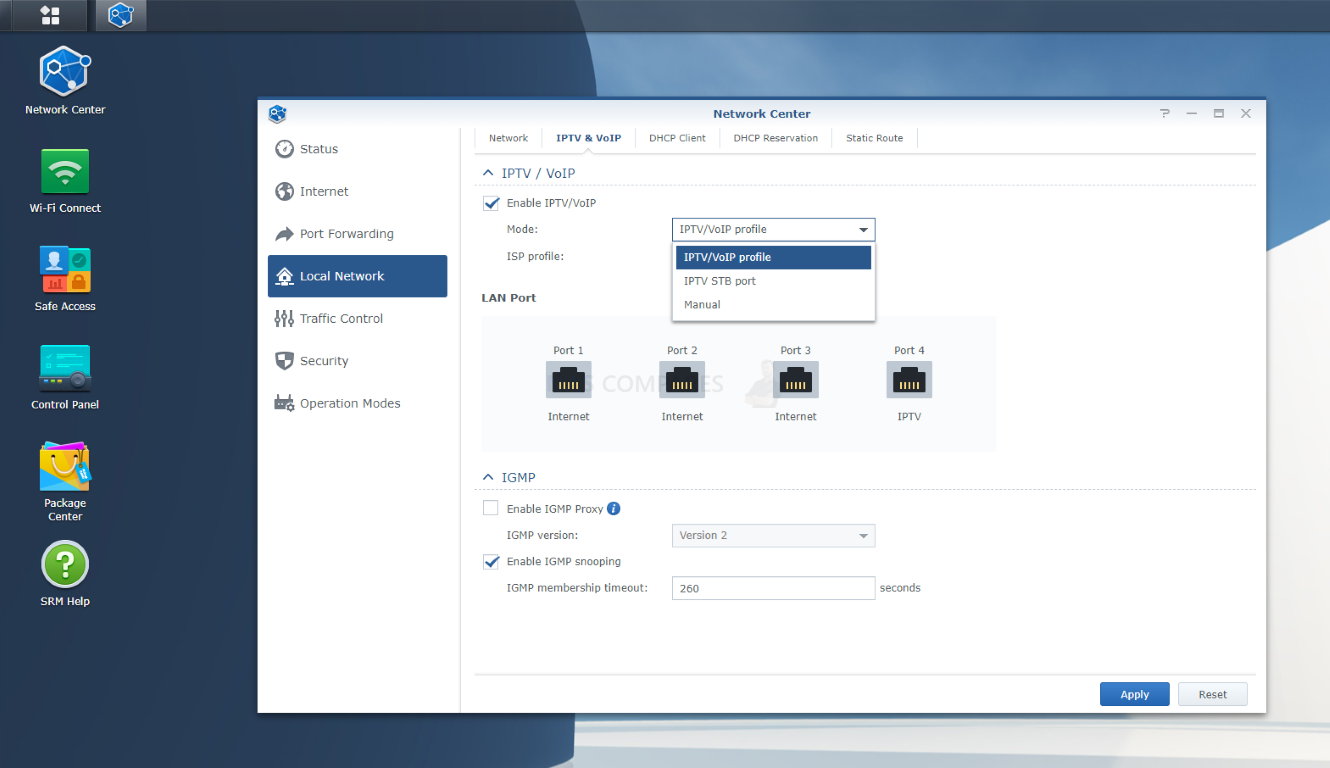 Talking of identification, as devices are connected and disconnected from the machine SRM keeps a record and along with names, will try to assign a device identity (classing it as a phone, laptop, printer, NAS, etc), which will be useful later to know what devices are on which network (As well as assigning access to these later in the 'Safe Access' tool. This is by no means full proof in how accurate it will identify devices and you can add custom icons as needed.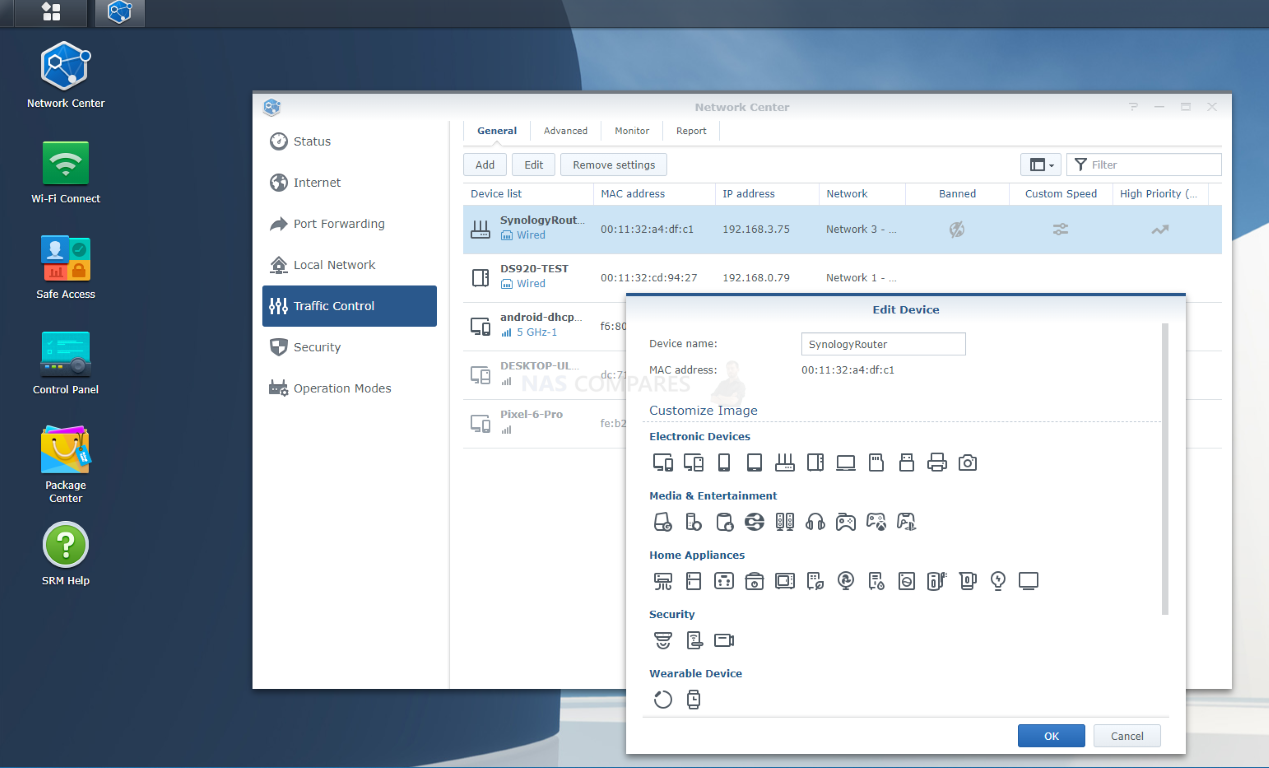 Returning to external checks and monitoring, SRM 1.3 also includes a few bits and bobs in the 'Network Tools' area for monitoring how packets of data are moving externally. These include a Traceroute service for when you connect with a website, so that you can see where data you get travelled along the way, particularly routers. A traceroute provides a map of how data on the internet travels from its source to its destination and although is often limited by connections along the route, can be a handy way to troubleshoot, as well as test site identities. Next, there is a ping measurement tool that allows you to measure the reply speed in milliseconds from a site to test your connection to/from a given internet location. Finally, there is an incredibly easy to use Wake on LAN (WoL) service that will automatically list available devices that are on the network and allow you to power them on/off if they support that feature. Again, this is now exactly groundbreaking, but it is presented in a very easy to understand way, which is what SRM 1.3 seems to constantly strive for and (for the most part) succeed at.
The last thing I want to touch on is the ability to generate remarkably professional reports of system activity (as well as internet, user, device and specific network service activity) in a scheduled and repeatable form. These generated reports can be tailored to a specific date or time, and can also have the range of data/services that they include be customized too. So, if you want a once a day, or once a week report that details the network behaviour of your staff, this can be set up automatically to be emailed to you on the frequency of your choosing.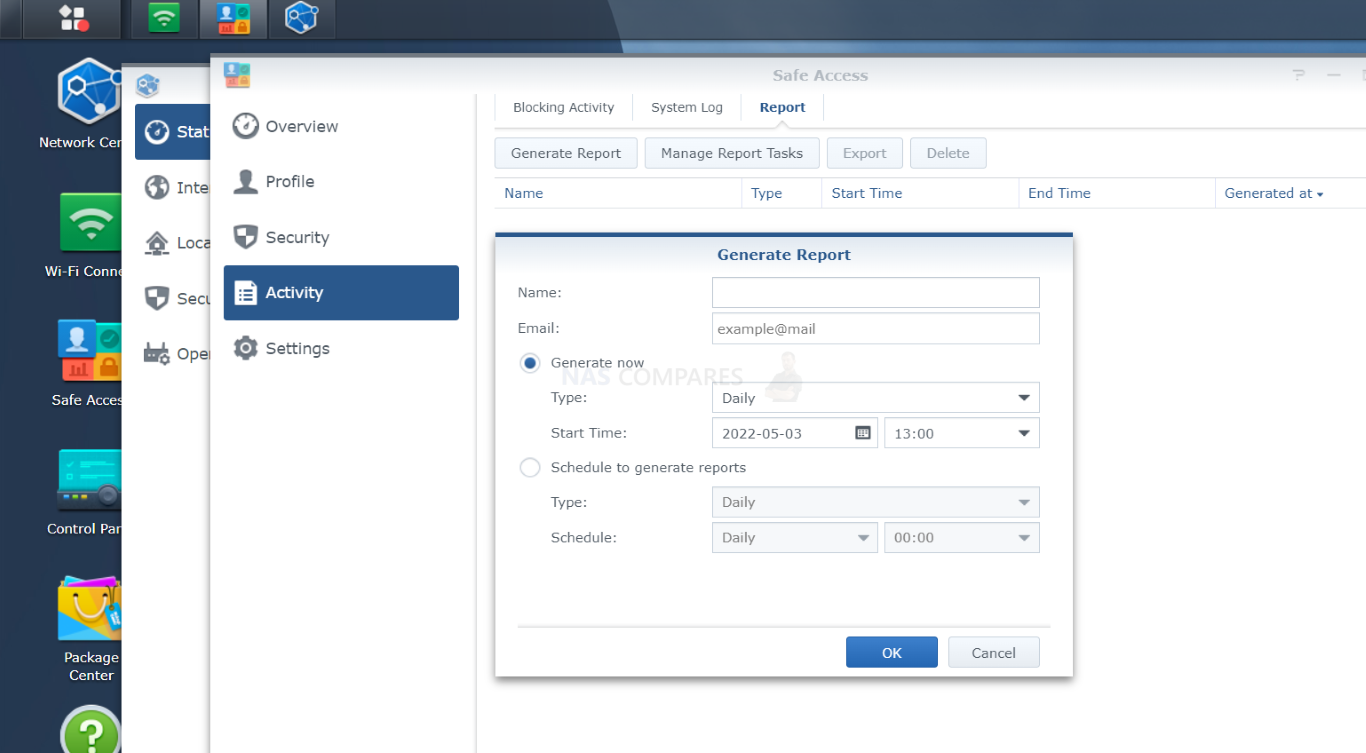 Alternatively, you can create a much more general and system/network-wide report that covered the activity of everything in-house (as well as external connections where appropriate) and from there get a good understanding of the main active users/devices. This is all presented in a great balance of textual and graphical language and is something that IT admins will be able to use and learn from. Synology provides an even better and more dynamic version of this kind of reporting in their multi-site/system monitoring platform 'Active Insight' (a paid subscription platform), so I am impressed that Synology has not attempted to play this tool behind a license or cloud wall.
There is also a fairly common feature in SSRM and on the Synology routers to create a guest WiFi SSID that allows you to create a network that has lower network importance, access and connectivity to the rest of the system. This is hardly new, but it is worth highlighting that this Guest WiFi mode is a great deal more customizable than many I have seen and you can change a great deal of the rules, timing and allowed behaviour permitted on it.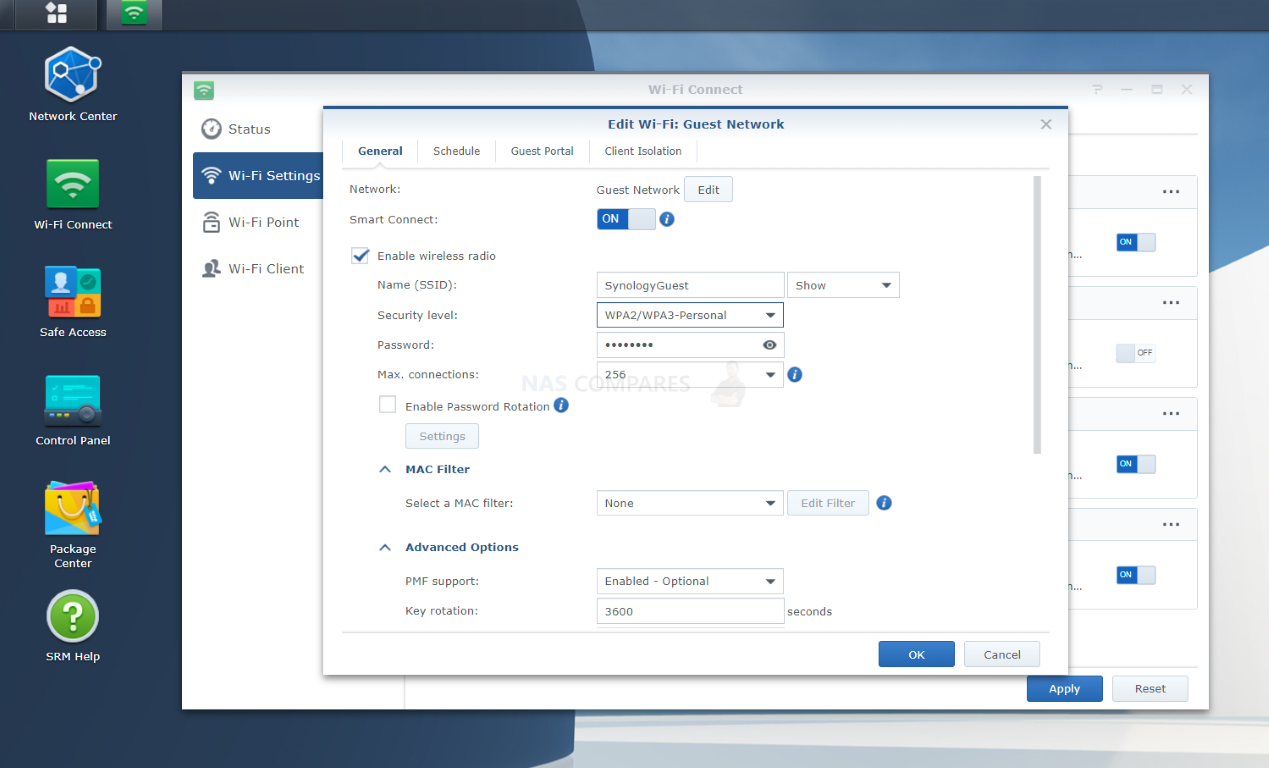 You can even very quickly create a custom login portal screen (much like many of the public WiFi spaces you may have logged into previously) with SRM 1.3 and this adds an interesting extra degree of policy to your business class router operation.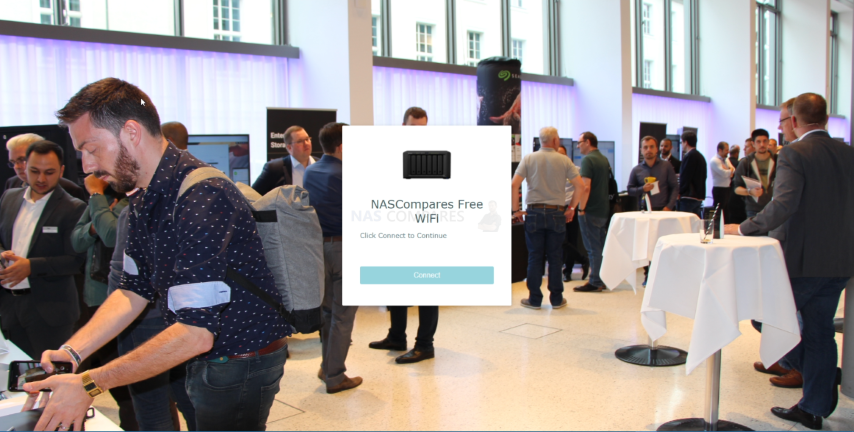 The network management of SRM 1.3 is still good and something that those inexperienced in this rather double-niche area of I.T will certainly find beneficial. Those more aware of this subject are likely to want to look past the user-friendly GUI and ask for the more aggressive customization tools (many of which are absent and/or are more at home in a network switch, such as port trunking or even semi-automated loop detection when switches are introduced to the router LANs), but when you have here is still remarkably well presented, very responsive, more customizable than I thought it would be and you are still getting a decent mix of a router and switch features packed into a single software platform in SRM 1.3. Let's sink our teeth into Safe Access – possibly one of the main reasons that mainly look at the Synology Router series.
Synology SRM 1.3 Review – Safe Access
Synology has featured 'Safe Access' in SRM pretty much since the beginning. It takes the basic logic that most routers have of being able to 'see' devices that are connected to the network and change how, what, where and when they can access ANYTHING. I know that sounds a bit 'control freak', but this is more commonly referred to as Parental Controls in more basic routers. However, 'Safe Access' is so far ahead of this in terms of its design, control and deployment that what you actually have here is something hugely suited for home and business that most routers barely come close to (with some companies such as TP-Link and Linksys charging monthly subscription fees for on top of the router purchase). At its core, Safe Access allows you to create profiles of users (so, your family or professional employees for example), band their connected devices under that profile, and then allow you to create custom levels of access to everything (internet or network) that suits their role/maturity. This logic can also be applied to creating profiles that suit network hardware (NAS, Switches, IP Cameras, etc) which can be duplicated and/or amended as needed.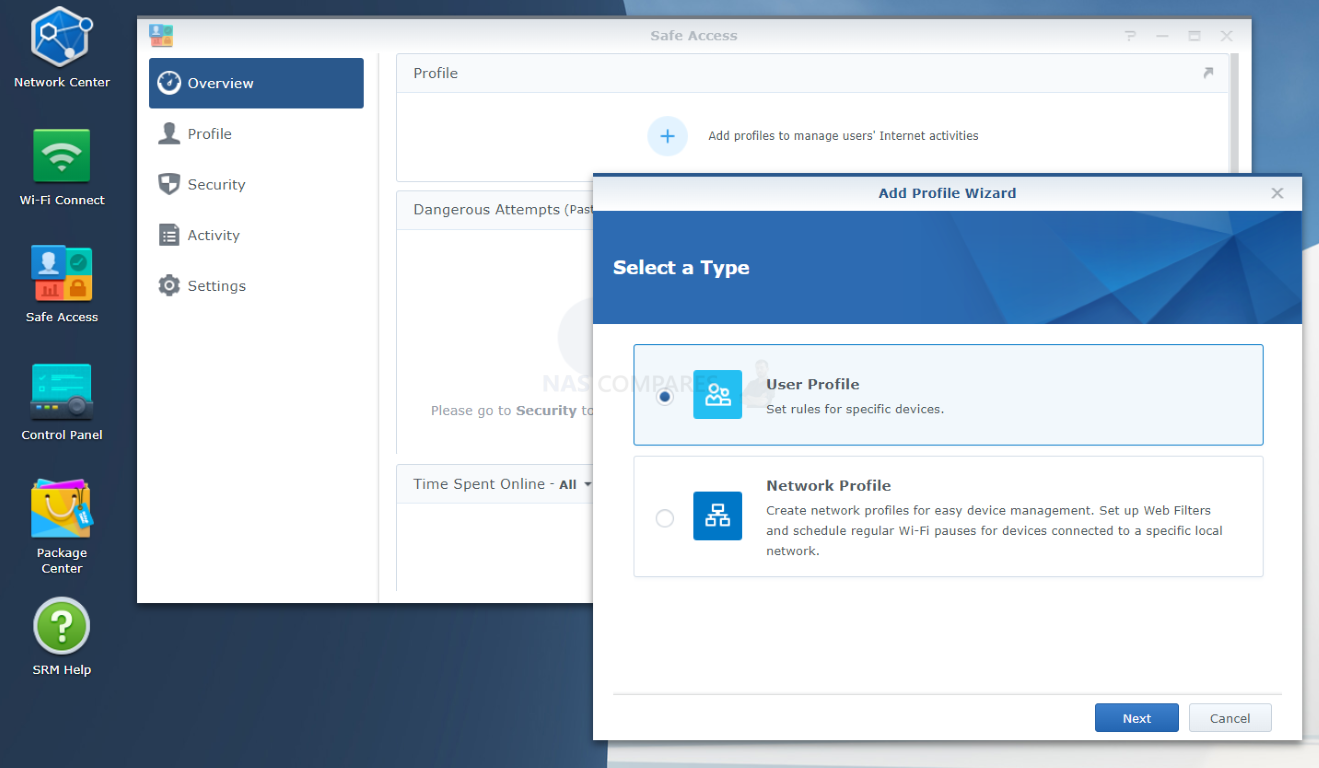 Once a profile is created (and even during the process) you can ensure that the user/hardware it is intended for will only be able to access specific networks/SSIDs on the hardware that is connected with their profile. As new devices appear on the device history page, these can be assigned to the existing profiles or you can start a new profile up at any time.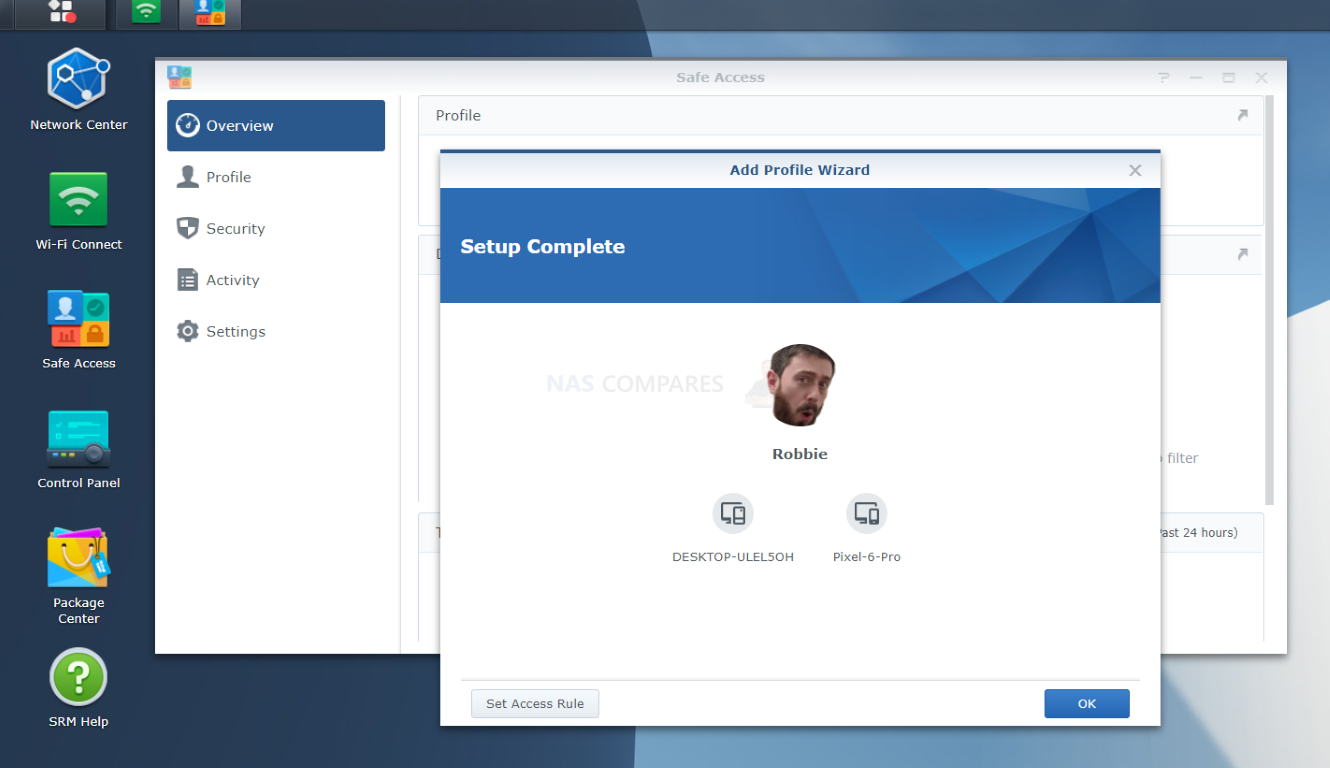 Once a range of profiles for the devices and people in your router network, Safe Access allows you to monitor their access (both Live and historical information if you have enabled the feature) and start to change the rules of their access, which genuinely has a large amount of advantages for home users with young children in the house that needs their web access to be more structured and/or employees that need enough access to do their job, but not enough not too!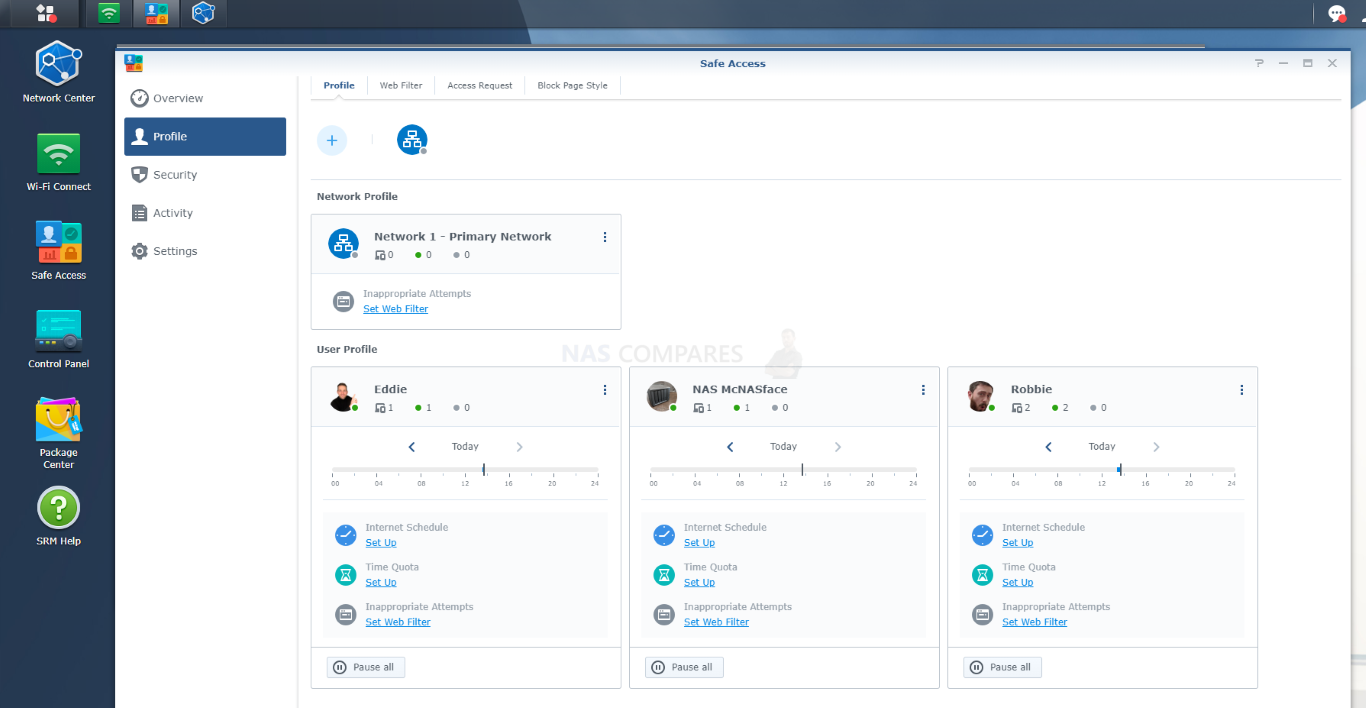 The full range of controls and access protocols that you have the ability to adapt/limit/restrict access to is pretty awesome. These include pre-set site filtering options (with databases updated regularly) that quickly create blanket access rules for sites online (As well as the option to customize and add/remove pages that you want). Then there are scheduled access times that will bar that profile/users from complete access at pre-set times. Interestingly, you CAN set rules that allow a profiled user to, upon hitting an access-rule that was the result of restrictions and guidelines you put on that profile, request access and that will be pushed to the appropriate admin/power user to allow/deny (linked with notifications) and can be accessed and actioned from in the DS Router 2.0 mobile app too.
However the most intriguing for parents looking at this router will be the Time Quota feature. This is a system that allows you to bestow X amount of time per day to a profile that can be strictly shared to all their devices (i.e a 3-hour quote cannot be repeated on 3 devices if all three come under 1 profile user, it is shared).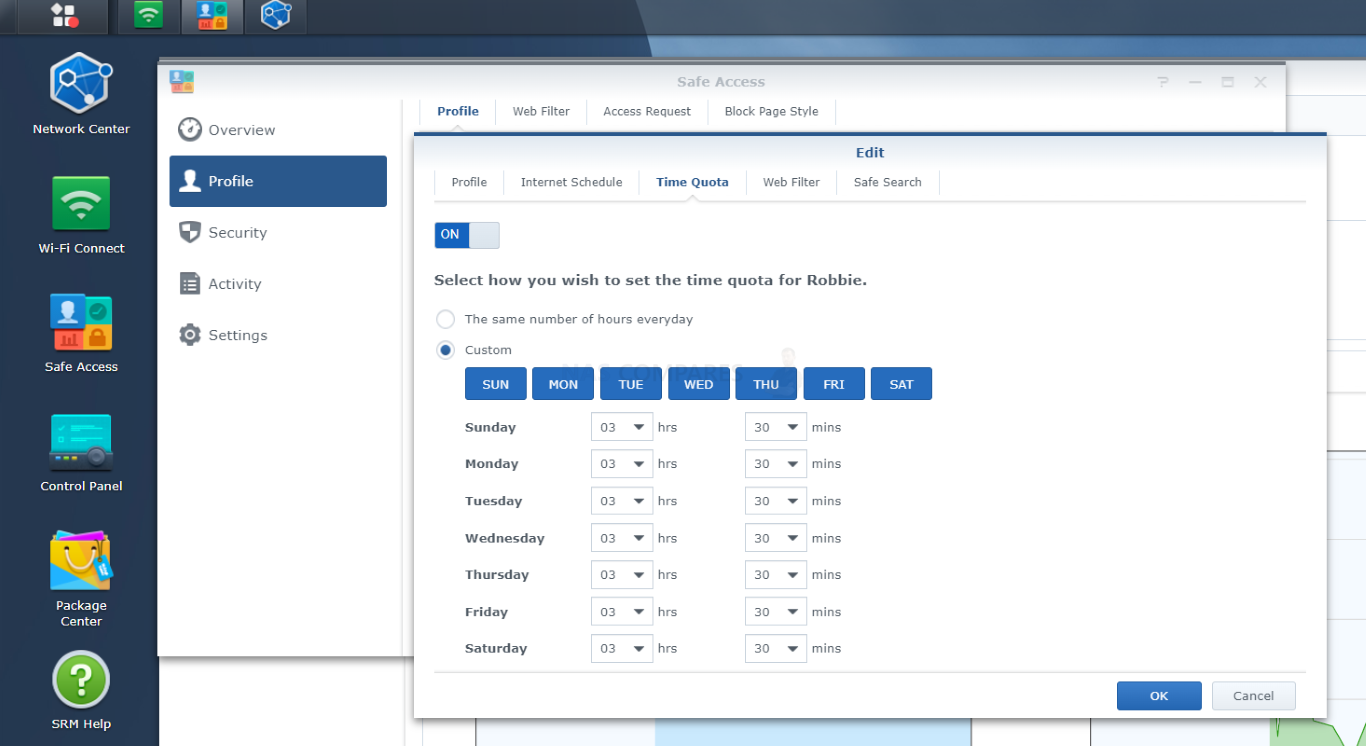 Safe Access still continues to be a great feature even several versions into SRM and after years of testing and measuring against the parental controls of many other routers I have reviewed, this still wins by a country mile! Before we conclude this review, let's discuss the storage support of SRM 1.3 and see what the famous NAS brand Synology brings to the table here.
Synology SRM 1.3 Review – USB & Storage Services
One feature of Synology routers and SRM 1.3 in general that I really, REALLY think doesn't get anywhere near the respect it deserves is the USB support. Coming from the network storage pedigree that Synology has, you would expect their router to support some level of storage by adding a USB drive. Hell, most ISP routers and $50 amazon unbranded routers have USB ports. However, unlike the painful simply breadcrumb and white screen file list arrangement that most routers with a USB port provide, SRM 1.3 provides several personal NAS class storage management tools. This combined with a number of the router service tools able to use the storage for their records and logs (as well as the use of the USB for failover/phone-tethering), you might see why I am also super annoyed that the latest generation Synology RT6600ax router only has one port. Ultimately though (short of that niche failover support for business), SRM 1.3 is at its best when that USB is used with a storage drive.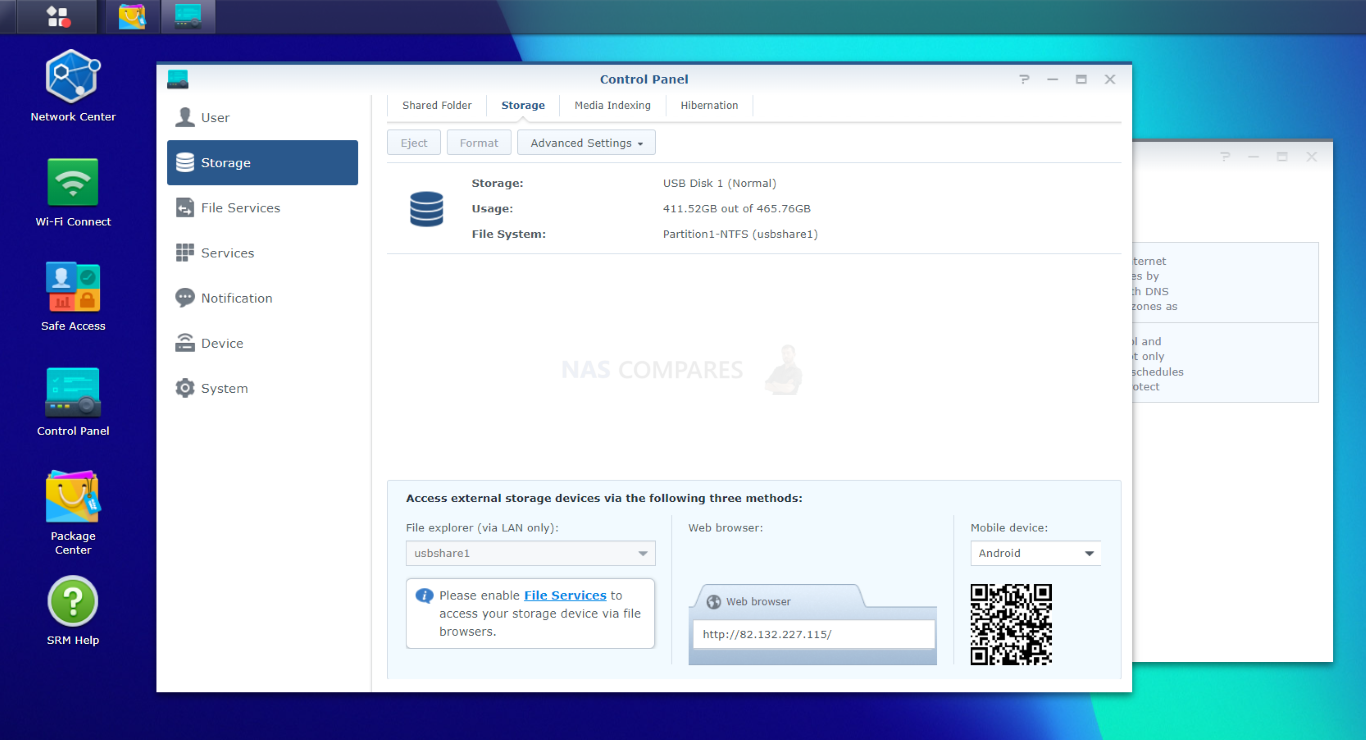 A connected drive can be accessed and interacted with by both Windows and Mac operating systems, with access being made possible in a bunch of different ways, ranging from network access to web browser targets and even WebDav for remote internet access.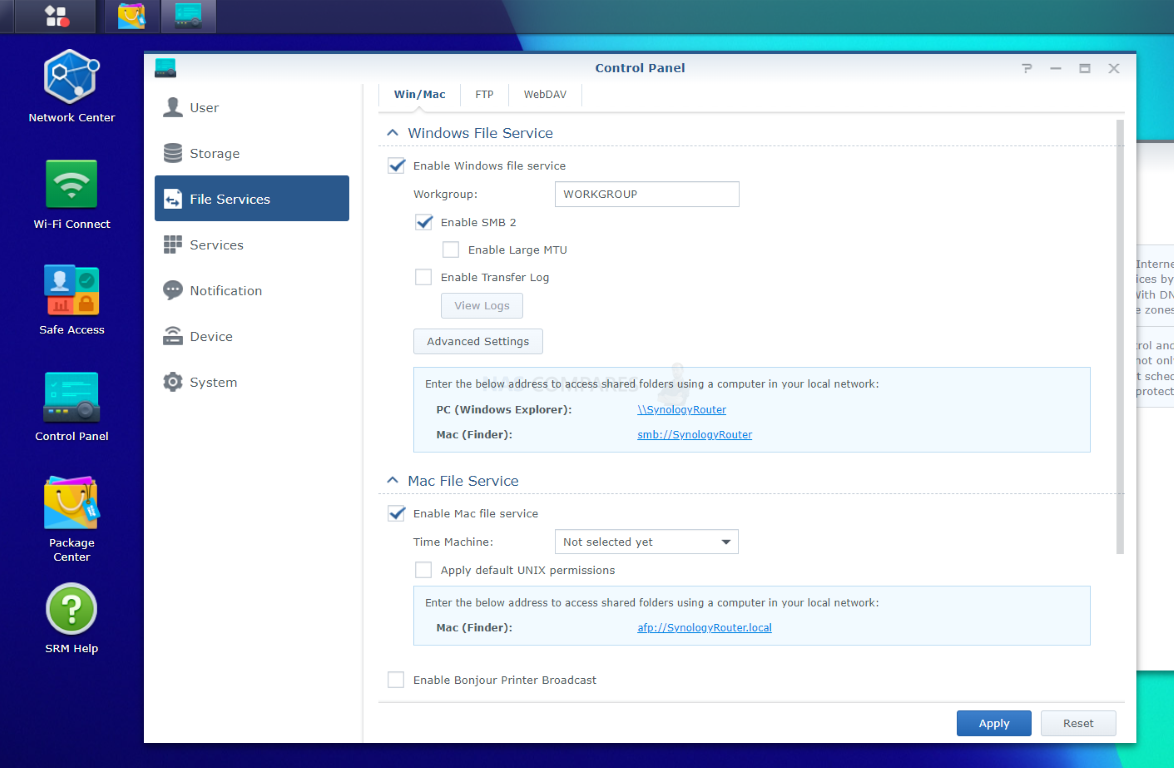 Much like Synology NAS, you can set the system to periodically index the storage drive for multimedia, as well as regularly scan the media for creating thumbnails. SRM 1.3 allows the connected media to be visible by DLNA/uPnP network players (so most home consoles, smart TVs, sound systems and phones), though remote access and any kind of transcoding if completely off the table with this level of hardware of course!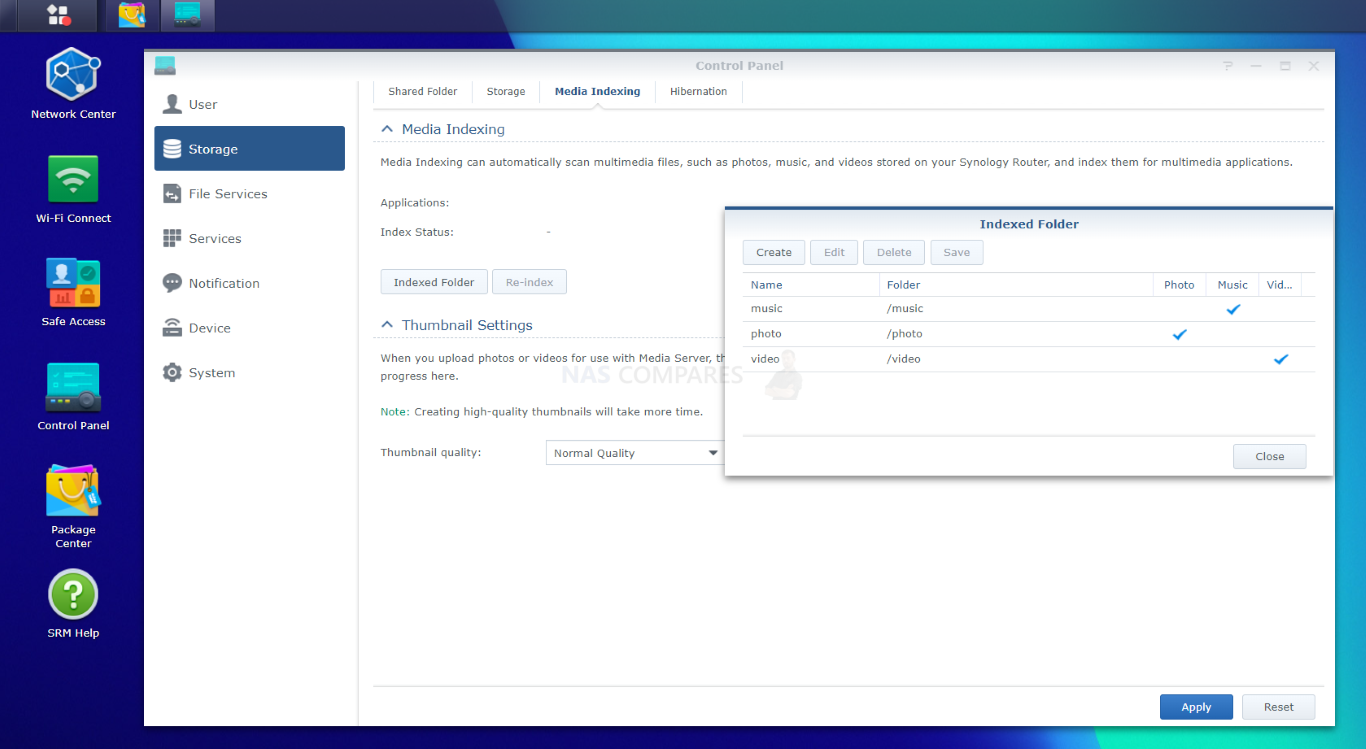 Using the File Station application provides you with a genuinely complete file management tool, that allows you to intuitively browse the files, create shared folders, Copy, Paste, Archive, extract and view media files in the web browser. It is completely the same as the File Station tool that is included with every Synology NAS and is a joy to use!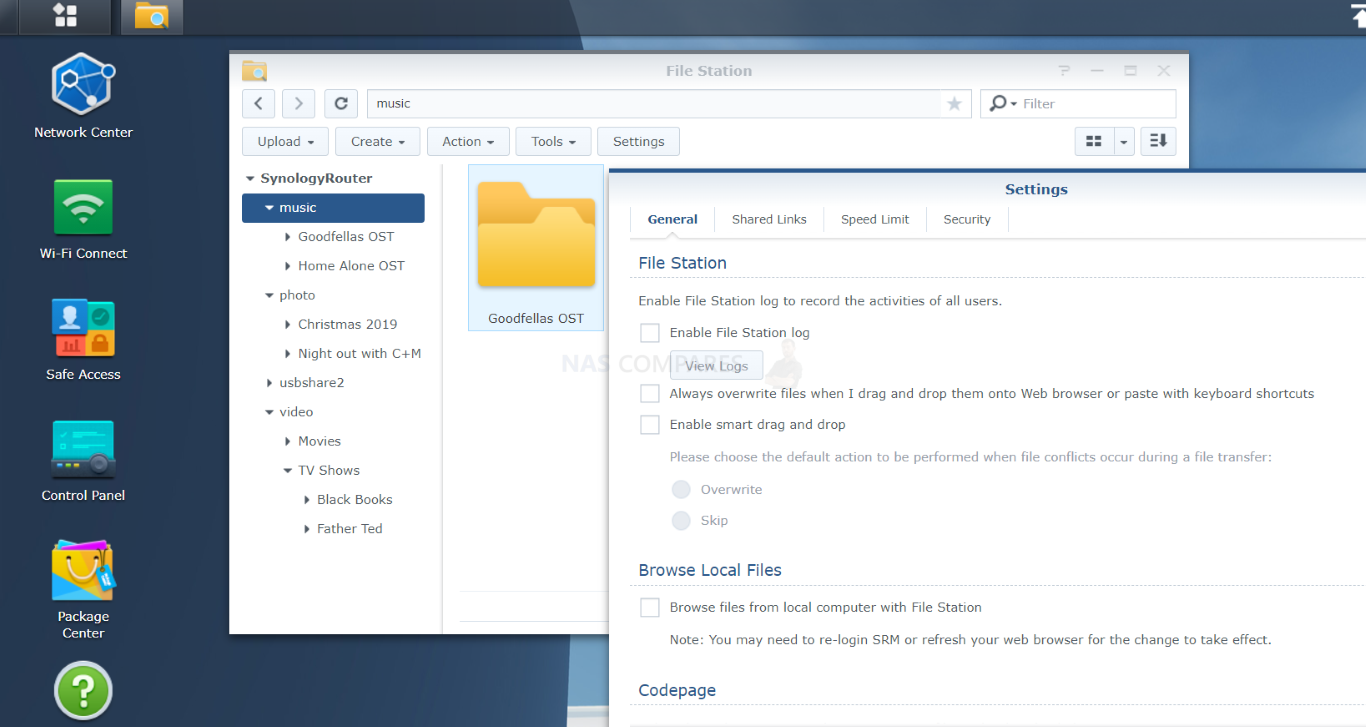 Although using USB storage via a router (when cloud storage and NAS storage are now very mainstream) seems a bit old skool, if you are placing this router in your home network and do not have any form of network-attached storage or substantial cloud space available (eg in the terabytes), this port serves as an excellent alternative. Plus, given the low cost of USB external drives that are bus-powered (available in up to 4-5TB currently), this drive can be used as a backup drive for all/most of your devices when combined with the Synology mobile apps available, as well as a means to share those files locally or remotely over the internet with colleagues and family in just 2-3 clicks.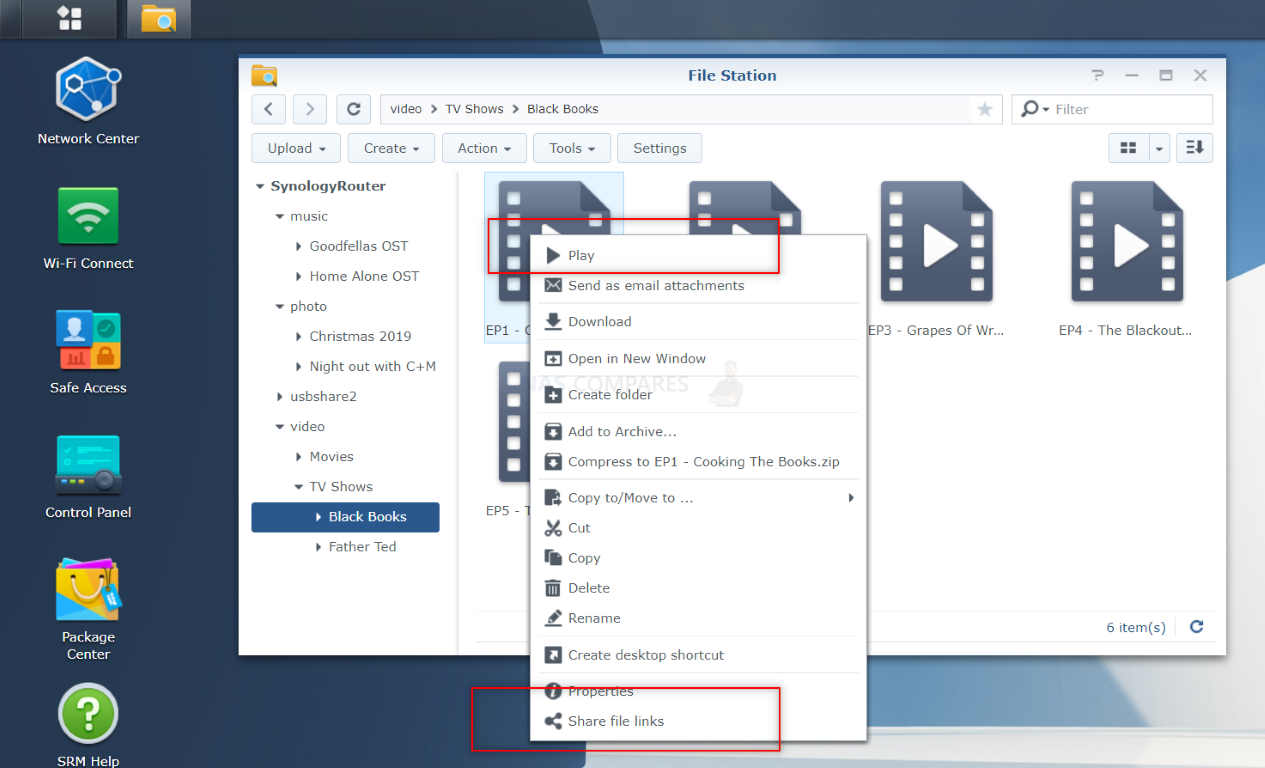 Additionally, you can map the storage as a network drive on both Windows and Mac systems, so you do not even need to log into the SRM 1.3 GUI interface to read/write to it. Even if an external USB drive will only hit around 120-160MB/s (unless it's SSD based of course), that will be fine as a single WiFi 6 80-160Mhz connection will saturate between 120-240MB/s under perfect conditions.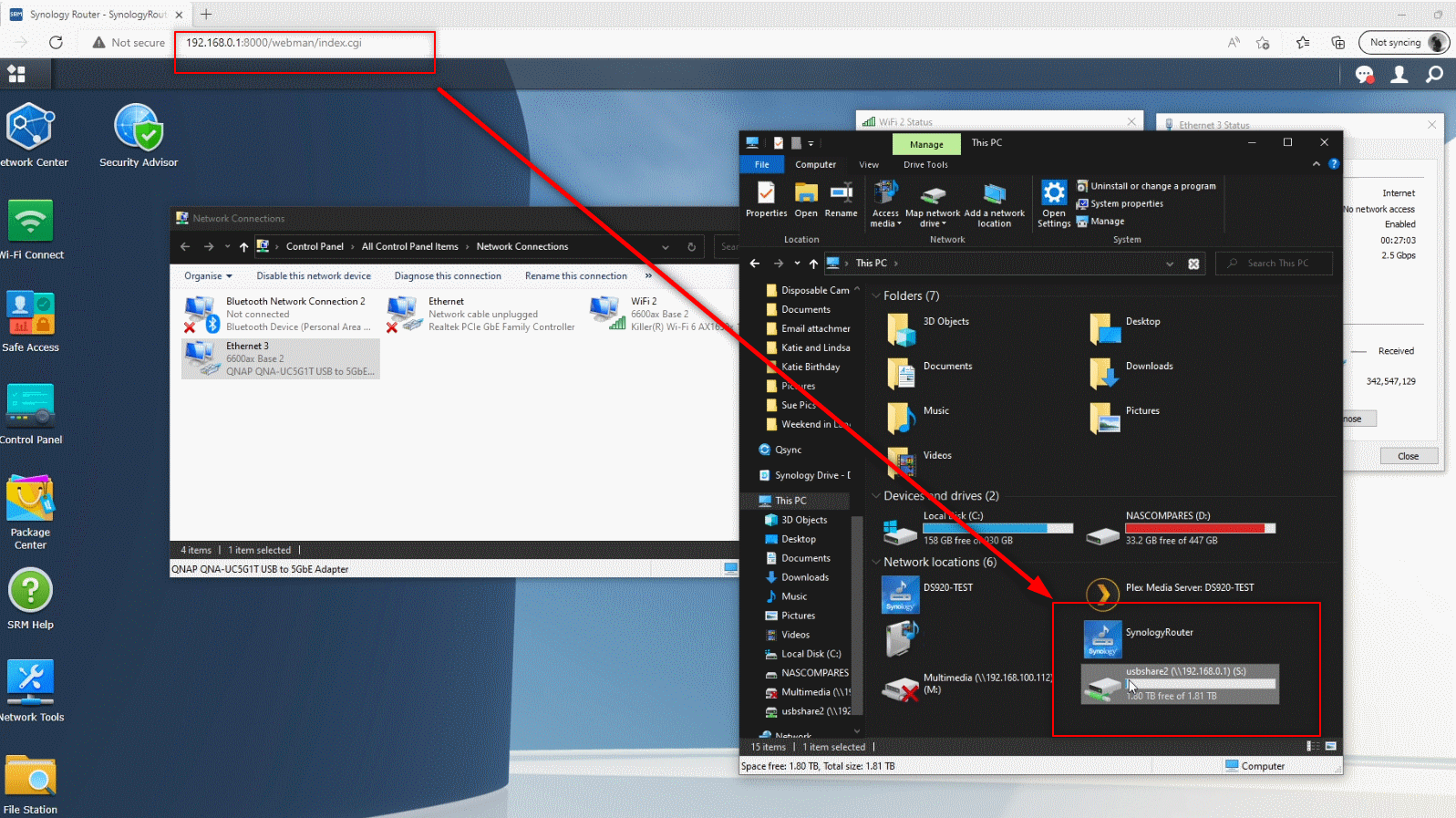 You can even access the storage on the UB storage connected to the Synology RT6600ax, RT2600ac and MR2200ac router with the DS File mobile application for iOS and Android, meaning you can interact with your files on the go, as well as trigger automated photo backups from your phone with the extra options built into File Staton/DS File.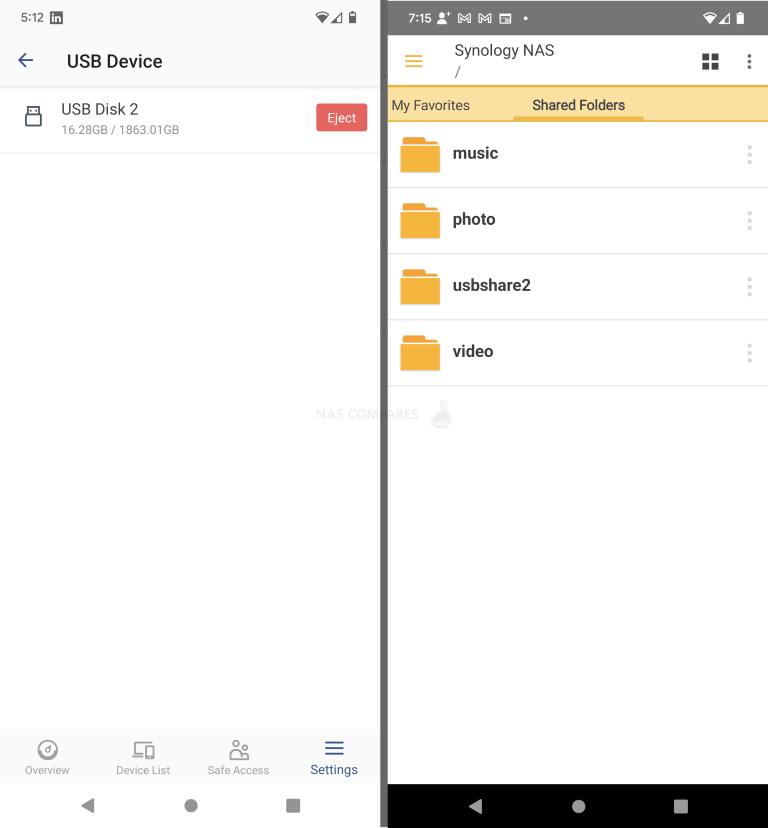 SRM 1.3 also supports the brand's download station tool which allows you to action files to be downloaded from anywhere on the internet onto your connected USB drive. These download options take many forms (FTP, HTTP, RSS feeds, Torrents, NZB, etc) and can be managed from this single portal in the web browser or via the DS Get application for iOS and Android. I have been using Download station on my NAS for downloading the latest episodes of podcasts for years now and always found Download Station on Synology to be one of the best tools out there for managing internet-wide downloads. It does have a search functionality built-in, but (like more download manager applications like this on other NAS brand's systems), I would use caution, as Synology cannot fully verify the sources (though you can list others, such as the InternetArchive which is an ever-growing rich source of historical data).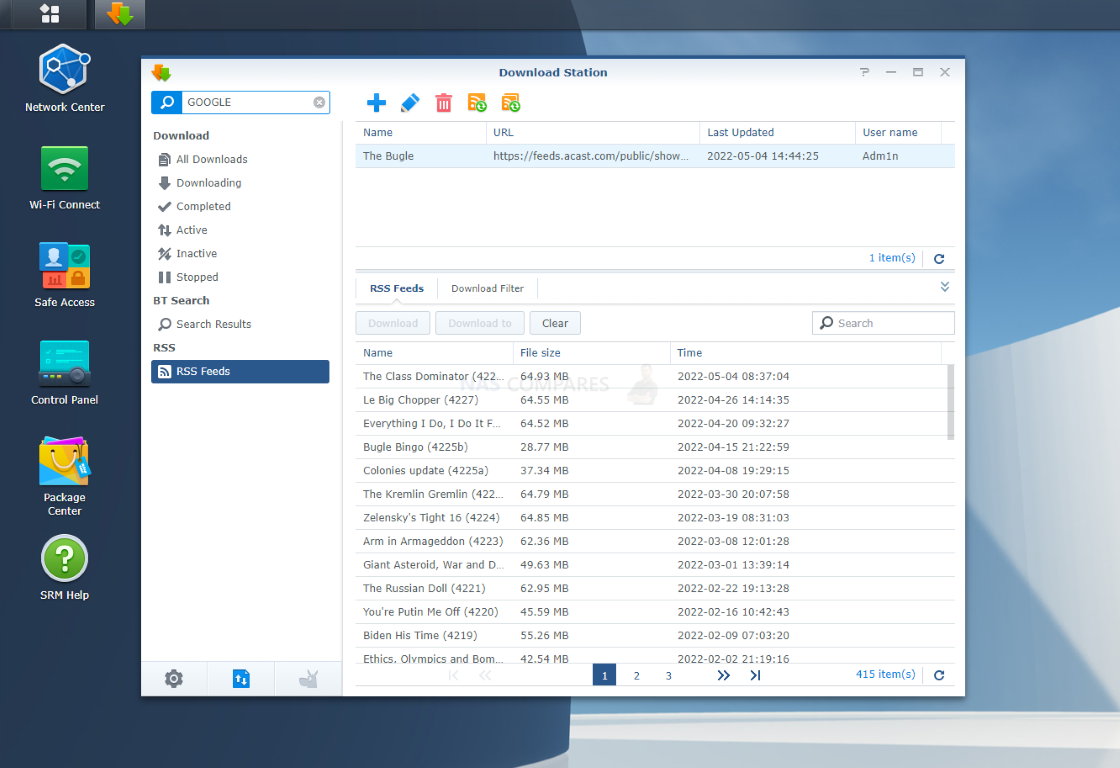 The support of USB storage on SRM 1.3 might sound a little archaic in the age of Google Drive, DropBox and NAS drives becoming increasingly affordable, but I am still hugely gratified to know that the development that Synology has made into their storage systems has been extended to SRM. As mentioned earlier, you might well be looking at a Synology router for your home for its Safe Access, performance and coverage, but it also means you have the option for a surprisingly robust and multi-featured storage system too by just adding a USB Drive. Plus SRM also features the means to backup your existing router configuration in case you need to experiment with your ports/settings and want to roll back easily, which can be stored on your local client machine or the USB. It's just a shame that the most recent RT6600ax that has SRM 1.3 onboard only has a single USB (forcing users to have to make a tough decision on storage vs a phone sim dongle/tethered-phone for a WAN failover, but nevertheless the USB support in SRM 1.3 is unparalleled.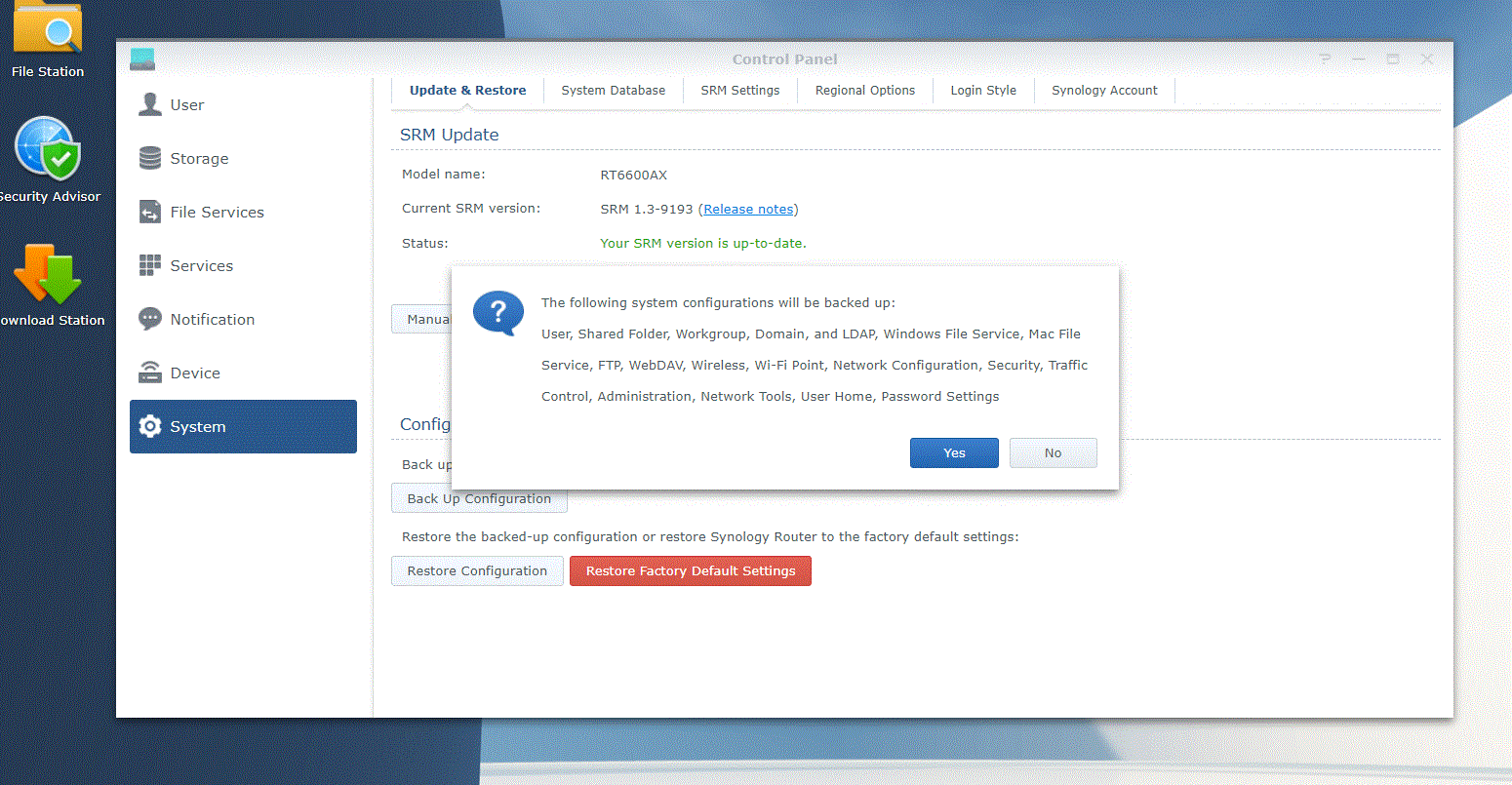 Synology SRM 1.3 Review – Conclusion & Verdict
When reviewing and judging Synology Router Manager 1.3, you have to somewhat separate your feelings about Synology router hardware (the RT6600ax, RT2600ac and MR2200ac) a little. This is because, although the Synology router hardware may seem a little safe-to-middling at times vs current hardware in the market, the software they provide has always been absolute class. SRM 1.3 continues this pedigree with a user interface that manages to do the nearly unthinkable – it manages to make the process of managing your network easy and actually ENGAGING! That's one of the biggest hurdles of managing a router and your network security in general, it's a massive chore that is fraught with technical jargon, hurdles and screens saying 'no', 'invalid' or 'not available'. Synology has crafted a genuinely intuitive and accessible router software system here and although a lot of that is thanks to their years in NAS software, they have certainly improved upon previous revisions in SRM too. When it comes to the features that SRM arrives with, clearly 'Safe Access' is one of the killer apps of the SRM 1.3. But it doesn't stand alone and thanks to the integrations of 'network switch' style controls and a wide array of custom network settings, it really feels like more of a complete version in 1.3. Additions of long-overdue features such as vLAN and customs, custom SSIDs and the DS Router application's improved layout/controls are smaller steps in SRM 1.3's development than some would like, but with the software feeling that pinch more responsive and the layout of the controls getting tweaked to be more intuitive, that just means that SRM 1.3 is just adding polish to an already fantastic management system. Additionally, the latest generation of Synology router hardware means that new configuration options and the extent to which you can use SRM 1.3's services have been drastically increased in time for version 1.3. At the time of writing, we are still awaiting the SRM 1.3 update to extend to the full Synology router series (thereby enabling mesh with the likes of the MR2200ac), but that shouldn't be too long and with that, the option for SRM 1.3 to manage a grander mesh wireless network in your home/office will be hugely beneficial. In short, still highly recommend it SRM 1.3 in 2022/2023.
PROs of the SRM 1.3
CONs of SRM 1.3
Incredibly easy to use, intuitive and very responsive

'Safe Access' puts all other Parental Control and filtering services to shame (and it's included subscription-free)

vLAN and multiple connected SSID created are now available

Multiple Failover Options available

USB Support in SRM 1.3 is huge and shouldn't be overlooked

Guest WiFi Portal and Generated reports have a real business/enterprise feel to them

The free VPN Plus licence is pretty generous vs other routers/platforms

Good range of support, guidance and suggested setup tools

Can be setup, accessed and controlled locally & remotely. As well as via multiple mobile apps, desktops web browsers or SSH

Mesh Support with MR2200ac is still not available at the time of writing as the SRM 1.3 update is not on all routers yet

Similar hardware routers from Netgear (even older NightHawk generations) allowed container applications (plex, smart home tools, etc)

Not strictly plug n play
Synology Router Portfolio
RT6600ax

RT2600ac

MR2200ac

Class / band
compatible standards
AX6600 / Tri-band
IEEE 802.11ax / ac / a / b / g / n
AC2600 / dual band
IEEE 802.11ac / a / b / g / n
AC2200 / Tri-band
IEEE 802.11ac / a / b / g / n
Maximum communication speed
(5GHz band 1)
4800Mbps

(160Mhz)

1,733Mbps
(4str / 80MHz)
867Mbps
(2str / 80MHz)
Maximum communication speed
(5GHz band 2)
1200Mbps
incompatible
867Mbps
(2str / 80MHz)
Maximum communication speed
(2.4GHz band)
600Mbps
800Mbps
(4str / 40MHz / 256QAM)
400Mbps
(2str / 40MHz / 256QAM)
WAN terminal
1000BASE-T x 1
1000BASE-T x 1
1000BASE-T x 1
LAN terminal
2.5GBASE-T x 1 * 1
1000BASE-T x 3
1000BASE-T x 4 * 2
1000BASE-T x 1
USB terminal
USB 3.0 Standard-A x 1
USB 3.0 Standard-A x 1
USB 2.0 Standard-A x 1
USB 3.0 Standard-A x 1
CPU
Qualcomm IPQ6018
Arm Cortex-A53 4-core 1.8GHz
Qualcomm IPQ8065
Qualcomm Krait 300 2 core 1.7GHz
Qualcomm IPQ4019
Arm Cortex-A7 4 core 717MHz
RAM
1GB DDR3
DDR3 512MB
DDR3 256MB
You can watch the FULL review of the latest WiFi 6 Router from Synology, the RT6600ax, over on YouTube below:
Alternatively, you can watch my full review of Synology SRM 1.3 on this NAS in the video below:
My FULL review of the Synology DS Router application will be available on NASCompares shortly. You can find the video below:
📧 SUBSCRIBE TO OUR NEWSLETTER 🔔
🔒

Join Inner Circle
Get an alert every time something gets added to this specific article!
This description contains links to Amazon. These links will take you to some of the products mentioned in today's content. As an Amazon Associate, I earn from qualifying purchases. Visit the NASCompares Deal Finder to find the best place to buy this device in your region, based on Service, Support and Reputation - Just Search for your NAS Drive in the Box Below
Need Advice on Data Storage from an Expert?
Finally, for free advice about your setup, j
ust leave a message in the comments below here at NASCompares.com and we will get back to you.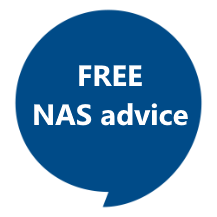 Need Help?
Where possible (and where appropriate) please provide as much information about your requirements, as then I can arrange the best answer and solution to your needs. Do not worry about your e-mail address being required, it will NOT be used in a mailing list and will NOT be used in any way other than to respond to your enquiry.
TRY CHAT
Terms and Conditions
If you like this service, please consider supporting us.
We use affiliate links on the blog allowing NAScompares information and advice service to be free of charge to you.
Anything you purchase on the day you click on our links will generate a small commission which is
used to run the website. Here is a link for
Amazon
and
B&H
.
You can also get me a ☕
Ko-fi
or old school
Paypal
. Thanks!
To find out more about how to support this advice service check
HERE
If you need to fix or configure a NAS, check
Fiver
Have you thought about helping others with your knowledge?
Find Instructions Here

ASK NASCompares forum
, by clicking the button below. This is a community hub that serves as a place that I can answer your question, chew the fat, share new release information and even get corrections posted. I will always get around to answering ALL queries, but as a one-man operation, I cannot promise speed! So by sharing your query in the
ASK NASCompares
section below, you can get a better range of solutions and suggestions, alongside my own.
Summary
Reviewer
Review Date
Reviewed Item
SRM 1.3 Synology Router Software Review
Author Rating