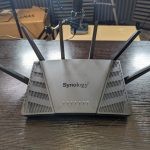 Synology Router Manager 1.3 Review Chapters

SRM 1.3 Synology Router Software Review, ALL Parts - HERE
SRM 1.3 Synology Router Software Review, Part 1, Design & Control - HERE
SRM 1.3 Synology Router Software Review, Part 2, Safety & Security - HERE
SRM 1.3 Synology Router Software Review, Part 3, Network Management - HERE
SRM 1.3 Synology Router Software Review, Part 5, USB Storage Services & Conclusion - HERE 

Synology SRM 1.3 Review – Safe Access
Synology has featured 'Safe Access' in SRM pretty much since the beginning. It takes the basic logic that most routers have of being able to 'see' devices that are connected to the network and change how, what, where and when they can access ANYTHING. I know that sounds a bit 'control freak', but this is more commonly referred to as Parental Controls in more basic routers. However, 'Safe Access' is so far ahead of this in terms of its design, control and deployment that what you actually have here is something hugely suited for home and business that most routers barely come close to (with some companies such as TP-Link and Linksys charging monthly subscription fees for on top of the router purchase). At its core, Safe Access allows you to create profiles of users (so, your family or professional employees for example), band their connected devices under that profile, and then allow you to create custom levels of access to everything (internet or network) that suits their role/maturity. This logic can also be applied to creating profiles that suit network hardware (NAS, Switches, IP Cameras, etc) which can be duplicated and/or amended as needed.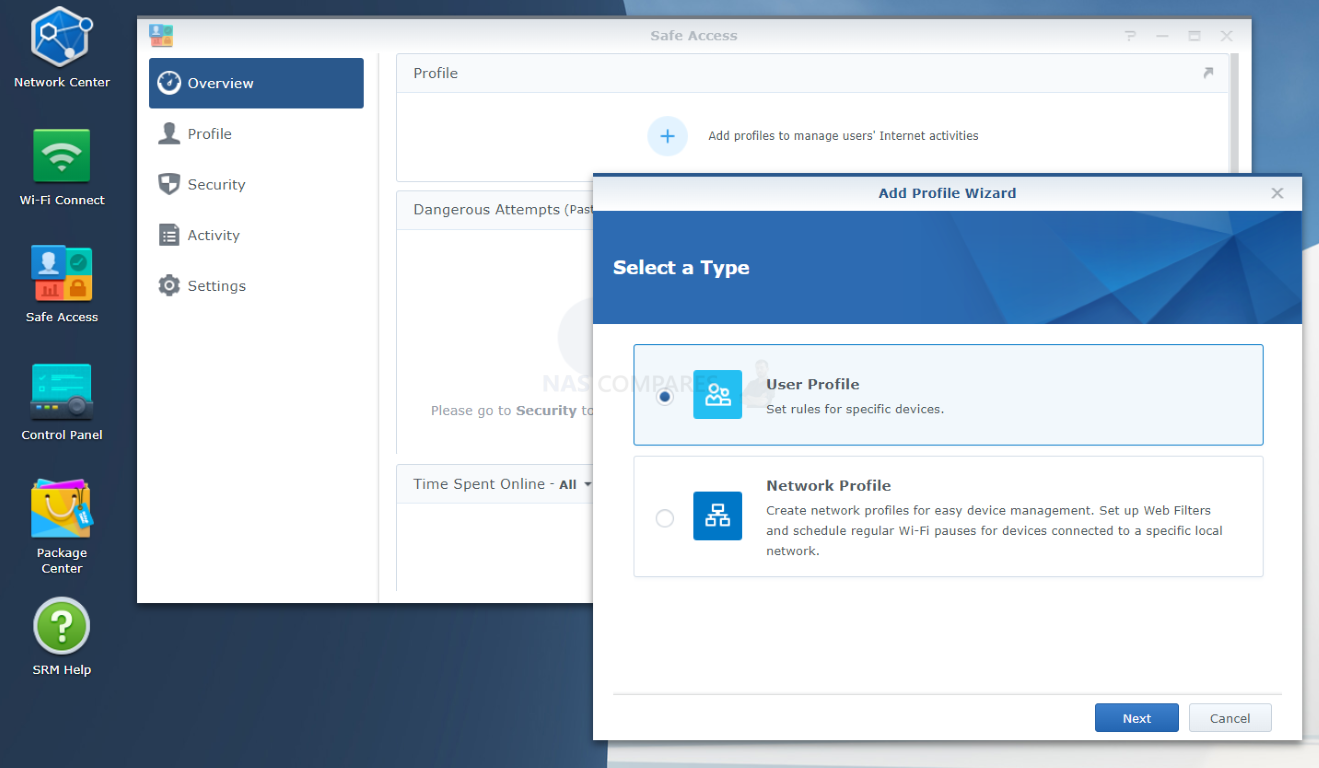 Once a profile is created (and even during the process) you can ensure that the user/hardware it is intended for will only be able to access specific networks/SSIDs on the hardware that is connected with their profile. As new devices appear on the device history page, these can be assigned to the existing profiles or you can start a new profile up at any time.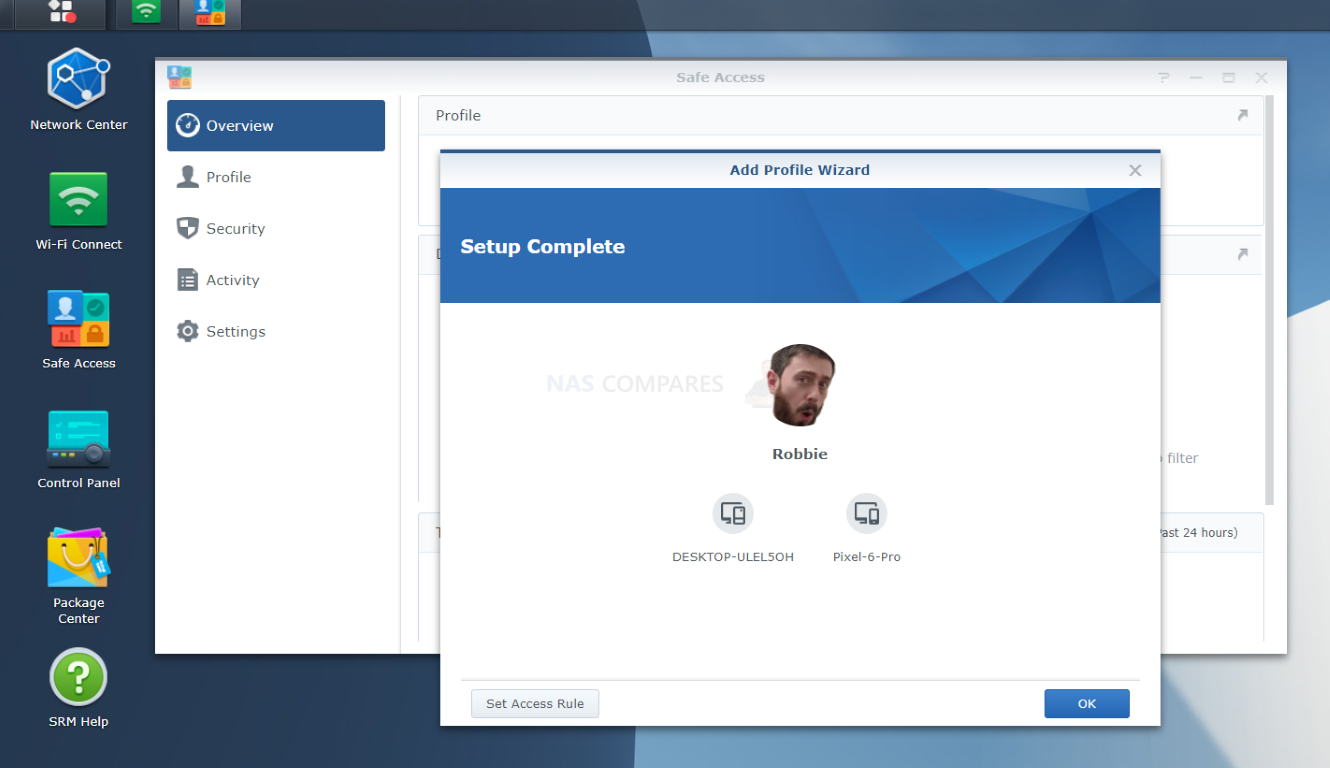 Once a range of profiles for the devices and people in your router network, Safe Access allows you to monitor their access (both Live and historical information if you have enabled the feature) and start to change the rules of their access, which genuinely has a large amount of advantages for home users with young children in the house that needs their web access to be more structured and/or employees that need enough access to do their job, but not enough not too!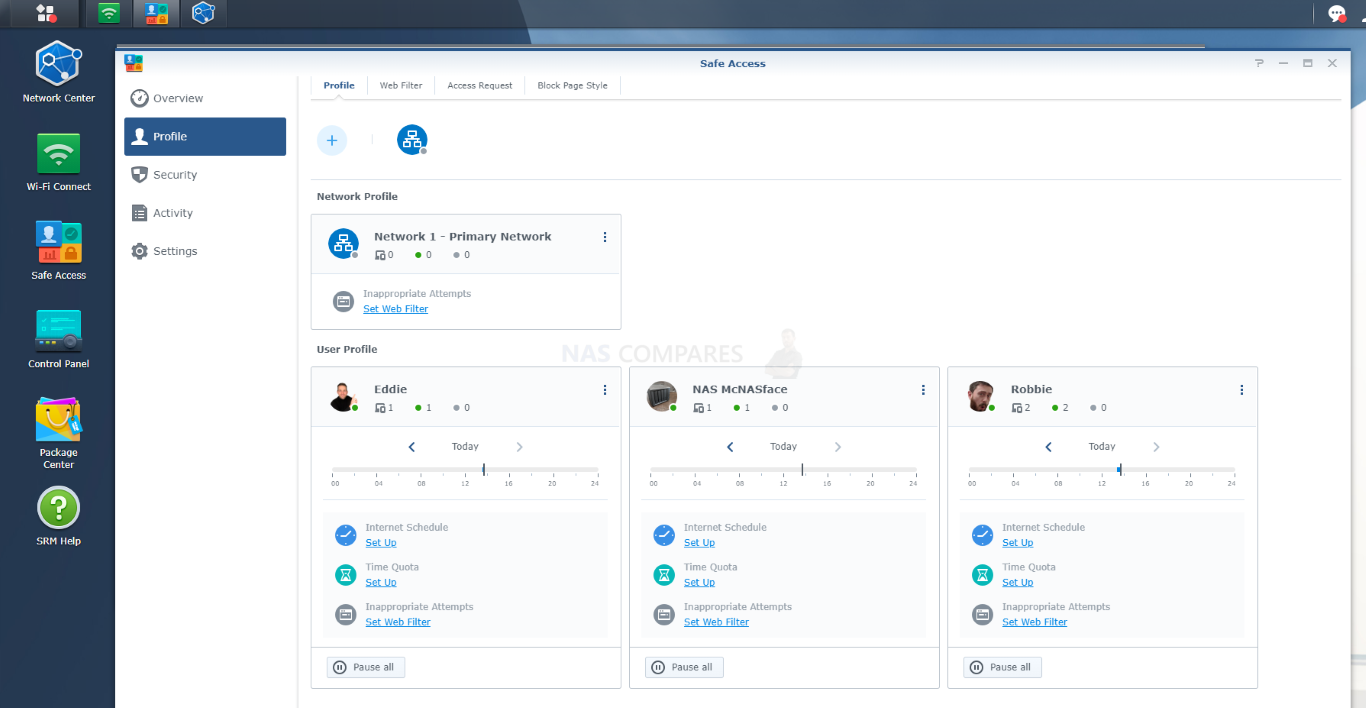 The full range of controls and access protocols that you have the ability to adapt/limit/restrict access to is pretty awesome. These include pre-set site filtering options (with databases updated regularly) that quickly create blanket access rules for sites online (As well as the option to customize and add/remove pages that you want). Then there are scheduled access times that will bar that profile/users from complete access at pre-set times. Interestingly, you CAN set rules that allow a profiled user to, upon hitting an access-rule that was the result of restrictions and guidelines you put on that profile, request access and that will be pushed to the appropriate admin/power user to allow/deny (linked with notifications) and can be accessed and actioned from in the DS Router 2.0 mobile app too.
This slideshow requires JavaScript.
However the most intriguing for parents looking at this router will be the Time Quota feature. This is a system that allows you to bestow X amount of time per day to a profile that can be strictly shared to all their devices (i.e a 3-hour quote cannot be repeated on 3 devices if all three come under 1 profile user, it is shared).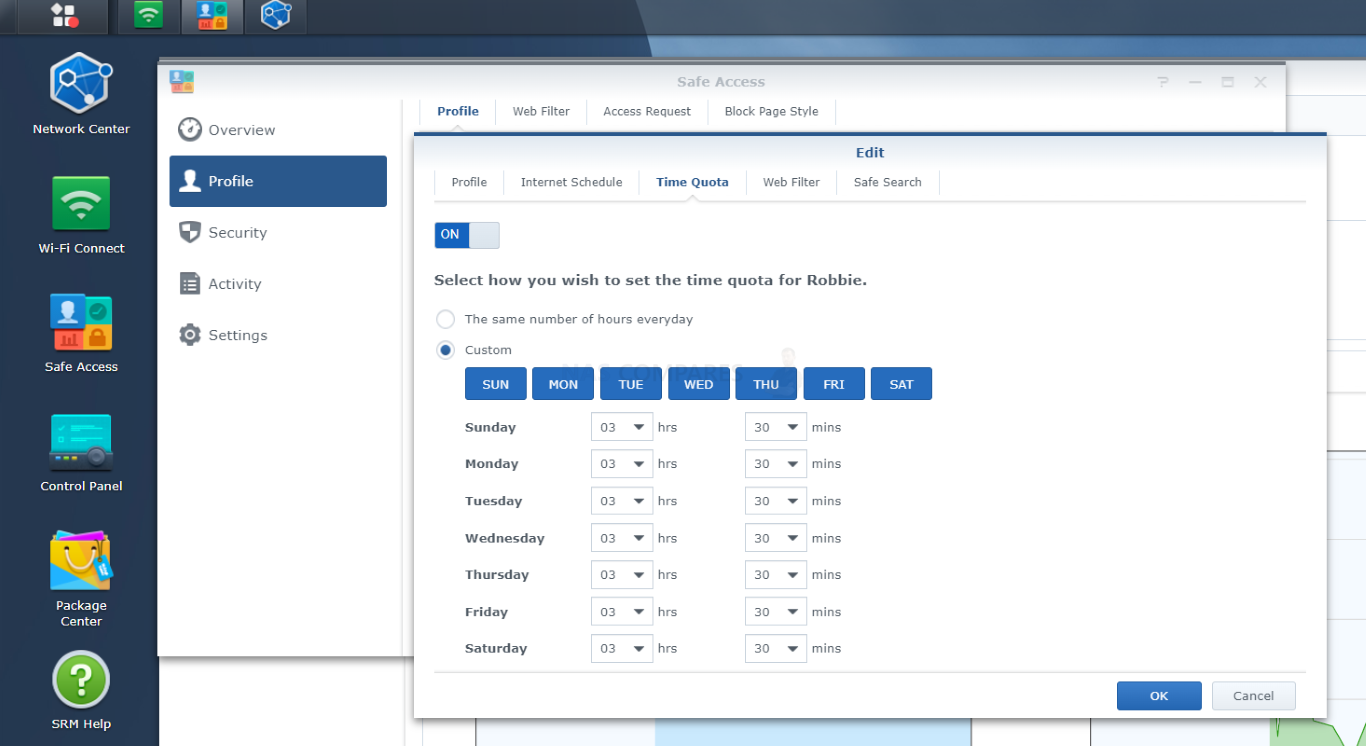 Safe Access still continues to be a great feature even several versions into SRM and after years of testing and measuring against the parental controls of many other routers I have reviewed, this still wins by a country mile! Before we conclude this review, let's discuss the storage support of SRM 1.3 and see what the famous NAS brand Synology brings to the table here. When reviewing and judging Synology Router Manager 1.3, you have to somewhat separate your feelings about Synology router hardware (the RT6600ax, RT2600ac and MR2200ac) a little. This is because, although the Synology router hardware may seem a little safe-to-middling at times vs current hardware in the market, the software they provide has always been absolute class. SRM 1.3 continues this pedigree with a user interface that manages to do the nearly unthinkable – it manages to make the process of managing your network easy and actually ENGAGING! That's one of the biggest hurdles of managing a router and your network security in general, it's a massive chore that is fraught with technical jargon, hurdles and screens saying 'no', 'invalid' or 'not available'. Synology has crafted a genuinely intuitive and accessible router software system here and although a lot of that is thanks to their years in NAS software, they have certainly improved upon previous revisions in SRM too. When it comes to the features that SRM arrives with, clearly 'Safe Access' is one of the killer apps of the SRM 1.3. But it doesn't stand alone and thanks to the integrations of 'network switch' style controls and a wide array of custom network settings, it really feels like more of a complete version in 1.3. Additions of long-overdue features such as vLAN and customs, custom SSIDs and the DS Router application's improved layout/controls are smaller steps in SRM 1.3's development than some would like, but with the software feeling that pinch more responsive and the layout of the controls getting tweaked to be more intuitive, that just means that SRM 1.3 is just adding polish to an already fantastic management system. Additionally, the latest generation of Synology router hardware means that new configuration options and the extent to which you can use SRM 1.3's services have been drastically increased in time for version 1.3. At the time of writing, we are still awaiting the SRM 1.3 update to extend to the full Synology router series (thereby enabling mesh with the likes of the MR2200ac), but that shouldn't be too long and with that, the option for SRM 1.3 to manage a grander mesh wireless network in your home/office will be hugely beneficial. In short, still highly recommend it SRM 1.3 in 2022/2023.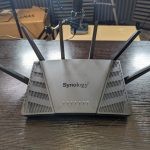 Synology Router Manager 1.3 Review Chapters

SRM 1.3 Synology Router Software Review, ALL Parts - HERE
SRM 1.3 Synology Router Software Review, Part 1, Design & Control - HERE
SRM 1.3 Synology Router Software Review, Part 2, Safety & Security - HERE
SRM 1.3 Synology Router Software Review, Part 3, Network Management - HERE
SRM 1.3 Synology Router Software Review, Part 5, USB Storage Services & Conclusion - HERE 

You can watch the FULL review of the latest WiFi 6 Router from Synology, the RT6600ax, over on YouTube below:
Alternatively, you can watch my full review of Synology SRM 1.3 on this NAS in the video below:
My FULL review of the Synology DS Router application will be available on NASCompares shortly. You can find the video below:
Summary
Reviewer
Review Date
Reviewed Item
Synology SRM 1.3 Software Review Part 4 - The Safe Access Application
Author Rating