A Beginners Guide to Buying the Right Switch for your Network
There comes a point in any mildly tech-savvy users life when the limitations of their ISP router and how it manages the exchange of data between your network of devices, is just not cutting it anymore. It starts off simple, when you get the router from your internet service provider, you connect one or two devices and everything is fine. However, as time rolls by, you realise that connecting devices via a wired connection is just faster and more reliable than any more fluid Wi-Fi connection. Many users who were forced to work from home during the pandemic needed to adjust their home hardware environment in order to include new pieces of office kit that, although perfectly suitable for the office, were somewhat strangled by a lack of ethernet connectivity in the home. For most users in the last 12-months, this is the point at which they need for a network switch in order to support more wired devices on the network, as well as facilitate vastly improved exchanges of data, become paramount. Much like buying a regular domestic mains plug adaptor that converts a single socket into 4 sockets, it just makes things easier! However, network switches are often one of the earliest and most intimidating steps for the less technologically aware and given that network switches can cost as little as £25 or go as high as £1000's, it can be incredibly difficult to understand what is the best network switch for your own hardware environment without fearing that you spend too little or too much. Today I want to help you choose the right network switch for you by going through the key features and buying points to make sure that the first switch you buy is perfect for years to come.
IMPORTANT, Routers and Switches are not the same thing – It is important to remember that a switch is NOT the same as a router. A router is a device your internet service provider gave you in order to connect with the internet over a wired connection or Wi-Fi signal. Although it shares a number of hardware characteristics of a network switch (such as Ethernet ports), a router is predominantly the device that can allow a small number of devices to communicate and manages the gateway to the internet for them. A network switch connects to an available router or modem and this device creates an additional number of Ethernet ports that then allows significantly more users to communicate data with one another, as well as connect to the internet via connection to the router. Think of a router as a mains power plug outlet on your wall and a switch as an extension lead that you connect to the original mains connector to increase the number of plugs available, as well as the distance they cover. In short, the extension cable allows power to be provided to numerous connected devices, but it still requires connection to the mains wall socket in order to do this. I hope that makes it clear.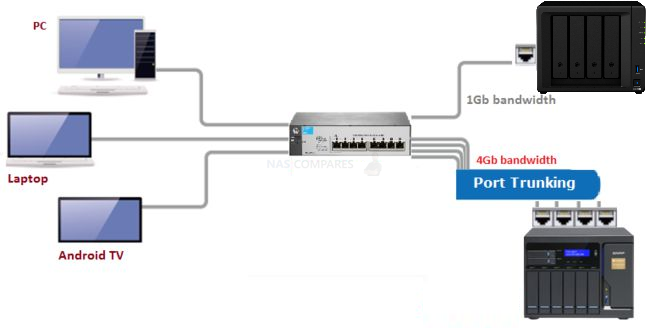 Buying The Right Network Switch – Number of Ports You Need
It sounds spectacularly obvious, but it is really, really important to know how many additional Ethernet ports you are going to need before purchasing your new network switch (ie the network ports that are RJ45). Do not just count the number of devices in your home or business environment and go from there are, as you have to be a little bit more future proof in your planning. For a start, remember that at least one port of your switch needs to be connected to your router or modem, so you lose a port there immediately. Indeed if you are running a failover system (whereby you have multiple connections between the switch and internet service hardware in case 1 drops) you will need to factor these individual ethernet port in too. Next, you need to make sure that you are provisioning for the future 'if and when' new hardware arrives, I generally as a rule of thumb will double the number of ports I am currently using for future-proofing, I e-commerce if I want to connect 5 devices and a router, I will get at least a 10 or 16 port switch to ensure that I still have connectivity for other devices down the line, without disconnecting priority hardware are along the line.
Buying The Right Network Switch – Difference Between Managed and Unmanaged
This is one of the two main areas whereby the price of your networks switch can differ wildly. Network switches predominantly arrive in two software types. namely managed and unmanaged. A managed switch is a device that allows an admin or another authorised user to access a control panel visually displayed in the web browser or a supported mobile app, to configure numerous settings inside the switch and create a much more tailored, superior network environment for their own needs. Ranging from configuring which ports and devices have priorities, combining network ports for larger bandwidth (known as link aggregation or port trunking), creating security rules to prevent network invasion and numerous other unique and customisable configuration options. It can be intimidating to configure these settings and although things have become a little more user-friendly in recent years, it is still pretty overwhelming at first to configure your own network connection in a managed switch.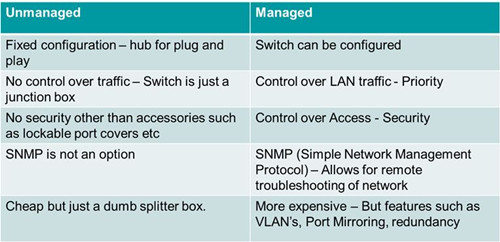 An unmanaged switch, as you probably have already guessed, does NOT allow users to configure the network in any kind of unique way. Unmanaged network switches arrived with more rudimentary internal processes that have numerous default settings for network access, security protocol and how to behave as more client hardware connect to the network. You lose a number of key and popular features such as link aggregation, priority of service, quality of service, failover configurations and more. However an unmanaged switch arrives at a noticeably lower price point due to its more cost-effective internal hardware requirements and if you are a home or even low-level business user who does not require a particularly unique network setup, an unmanaged network switch can often be perfectly fine. It should also be highlighted that smaller, unmanaged switches are often fanless and near-silent in operation too. In short, if you are not particularly tech-savvy, have no interest in learning the ins and outs of your network management, are on a tight budget or are running a fairly rudimentary setup, then an unmanaged switch should be perfectly ok for you and your network requirements. However, in almost every other regard, a managed switch is always better in the long run.
Learn More About Managed VS Unmanaged in the Article Below: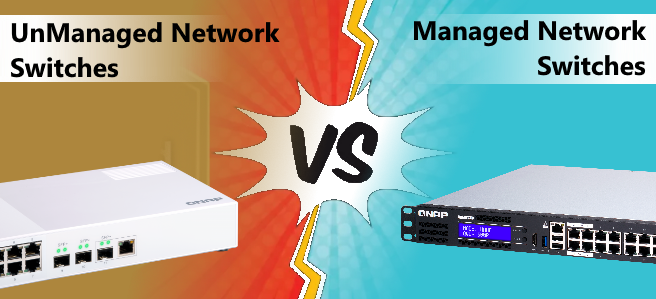 Buying The Right Network Switch – Considering 10Gbe / 10G
A lot of people, when they purchase a new switch, find out about the superior ethernet connectivity known as 10Gbe, or 10-gigabit ethernet. As the name might suggest, 10Gbe is 10 times the bandwidth and speed potential of the traditional gigabit ethernet still widely available on most modern network hardware. Given the more recent price drops in 10Gbe network hardware as technology becomes more efficient, it can be very tempting to buy a 10Gbe equipped network switch in efforts to maintain future-proofing in order to take advantage of this 10 times ethernet bandwidths potential down the line. It can certainly be attractive to do this as in 2021, there are even more modern affordable network switches available that arrive with a single 10Gbe port as an extra alongside an array of 1Gbe ports. I have always heavily recommended that both prosumer home users and business users move over to 10Gb, as both the demand for data in 2021 grow larger and the speed at which we want it grows shorter, however, it is not quite that simple.
Recommended 10Gbe Switches
Likely the most important part of the 10Gbe network upgrade, the switch is what manages traffic between your client devices.
| | | |
| --- | --- | --- |
| Budget Unmanaged 10Gbe Switch | Budget Managed 10Gbe Switch | Best Budget Dedicated 10G |
| QNAP QSW-308S | QNAP QSW-M408-4C | TRENDnet 8x 10G TEG-7080ES |
It is important to know that upgrading your switch to a 10Gbe model in order to take advantage of those faster speeds still requires the connected network hardware (such as computers, laptops, media devices, NAS and more) also features a 10Gbe connection. Some hardware arrives with 10Gbe by default and others support upgrades via PCIe cards, USB, thunderbolt accessories or via official first-party add-on devices. If you connect a non 10Gbe network device to a 10Gbe port, it will immediately be bottlenecked to whatever the maximum potential bandwidth of the connected device is – almost certainly 1Gbe .so around 100Megabytes. So as attractive as purchasing a network switch with 10Gbe can be, just remember that either now or in the future you will need to upgrade partially/fully some network hardware that you use in order to take advantage of it.
Buying The Right Network Switch – What is PoE/PoE+ and Do I Need It?
PoE, or power-over-ethernet, is something that used to be exclusively the purview of business users and has only now in recent years become something that home users can factor into the purchase of a network switch with any degree of affordability. In its most basic form, a PoE equipped switch allows live power to be delivered to a connected Ethernet cable between the switch and the hardware are you want to use. The power delivered is by no means enough to charge a laptop, a mobile phone or power any device really of significant size. However, the power delivery of a PoE network switch is enough to supply full power to a network surveillance camera, security speakers and several other more surveillance-based devices. Often this can be hugely advantageous for home or business users that want to put IP cameras around the perimeter of there are building, but do not have available mains power outlets. a PoE camera and Power other ethernet enabled networks switch can deliver enough power via affordable ethernet cables that cover many, many metres of distance. Additionally, most outdoor PoE IP Cameras are waterproof, so this makes the use of a power equipped switch for both data and power delivery even more attractive.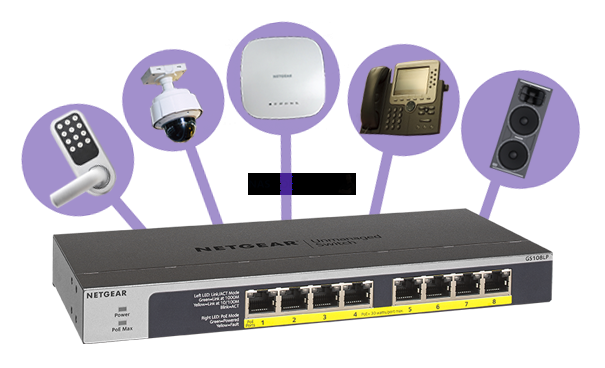 PoE equipped switches, although rather niche in-demand, still have tremendous utility. It is worth remembering however that not all PoE network switches are built equally and different devices have different power delivery available both to the individual ports and the entire network switch as a whole. So if you want to buy a PoE switch, make sure that you work out properly just how much power you need for your client devices (again, cameras, alarms, etc) before going out and purchasing a switch. Once again, bear in mind that the total available power delivery of a PoE/PoE+ equipped switch does not mean that full power will be delivered over a single port and in almost all cases each individual ethernet port has a maximum power delivery (eg a 185W 8 Port switch, may delivery a MAXIMUM 15W per port, not a total 185w to a single port that diminishes as more devices connect).
Buying The Right Network Switch – Warranty and Its Importance
This is a tremendously overlooked point when it comes to buying a network switch for the home or business. The warranty is a period of time whereby if the system fails (through no fault of your own), the brand or manufacturer is honour bound to issue you with a repair or replacement. Warranty is not a new thing and indeed is available in one shape or form with pretty much any hardware purchase you make. What makes network switch warranties different is that they are one of a small band of computer devices that occasionally arrived with lifetime warranties included. That means that if this device fails in 5, 10 or even 20 years, the brand or manufacturer will be able to supply a free repair or replacement.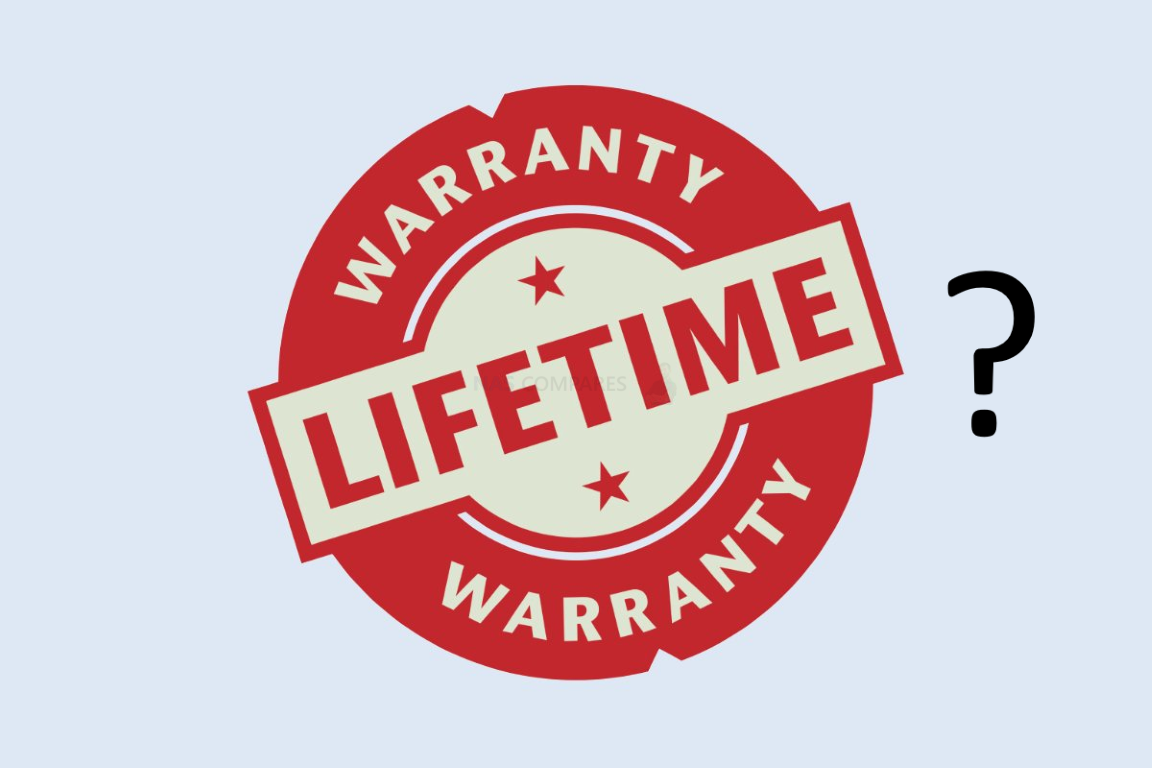 These lifetime warranties are not bulletproof and are subject to understandable fair usage terms and expectations for physical materials, but a lifetime warranty on network switches is ultimately a brands way of saying that this device will last effectively indefinitely without failure. Netgear, above many others, are a brand that has a tendency to include lifetime warranties on a number of their business class products and as good as that sounds, do bear in mind that their products are also notably more expensive than everyone else too.  Aside from lifetime warranties, most network switches should arrive with at least 2 to 5 years of the manufacturer's warranty, especially in managed switches. Avoid ones that are less than this!
Buying The Right Network Switch – Noise, Should You Worry?
A massively overlooked factor when buying a new network switch, often to the detriment and disappointment of an end-user, is the consideration of the noise that is generated by it – hugely important! This is much less of a problem with unmanaged and non-PoE Class network switches, but in most others, the noise that is generated by internal cooling fans and the light electrical buzz inside a managed and or PoE switch can be quite significant and, unsurprisingly, the more ports that the switch has, the noisier it gets. 
So please take into consideration that if you are in close proximity with the network switch that you intend to deploy in your home or business environment, or will be utilising PoE based devices with the switch in a central and close proximity location, that the noise level of these devices is a huge consideration. Most enterprise-level users will have dedicated rooms or closed off locations for the server cabinets, enterprise routers and network switches due to this level of unpleasant ambient noise in their operation. So if you are sensitive to this sort of thing, you need to closely inspect the hardware specifications on the brand's website as they are obliged to provide average ambient noise levels of when the switch is in operation 
Buying The Right Network Switch – Anything Else? SFP? Combo Ports? Layers?
And there you have it, my buyers guide on choosing the right network switch for your home or business needs the first time. Though it is worth remembering that I have barely scratched the surface here and there are numerous other more niche subjects that you may need to consider. Such as do you require copper or fibre-based Ethernet connectivity? Do you have a mixed ethernet environment that requires a combo port in order to balance connectivity? And moving away from 10G, do you require the support of some of the auto-negotiation settings of 2.5G and 5G? If you need further assistance in choosing the right network switch for your home or office setup, take advantage of the free advice section below. This is not a sales platform or eShop, it is a free advice service to help people choose the right technological network and data storage solutions for their needs, is unbiased and is provided simply to benefit the community as a whole. It might not be the quickest service and it may take me an extra day or so to respond to your enquiry, but I do answer them all. Thanks for reading.  
| | | |
| --- | --- | --- |
| Best Unmanaged 2.5Gbe Switch | Best Managed 2.5Gbe Switch | Best Business 2.5Gbe Switch |
| QNAP QSW-1105-5T | QNAP QSW-M2108R-2C | QNAP QGD-1602P |
📧 LET ME KNOW ABOUT NEW POSTS 🔔
Join 1,410 other subscribers
Get an alert every time something gets added to this specific article!
This description contains links to Amazon. These links will take you to some of the products mentioned in today's content. As an Amazon Associate, I earn from qualifying purchases. Visit the NASCompares Deal Finder to find the best place to buy this device in your region, based on Service, Support and Reputation - Just Search for your NAS Drive in the Box Below
Need Advice on Data Storage from an Expert?
We want to keep the free advice on NASCompares FREE for as long as we can. Since this service started back in Jan '18, We have helped hundreds of users every month solve their storage woes, but we can only continue to do this with your support. So please do choose to buy at Amazon US and Amazon UK on the articles when buying to provide advert revenue support or to donate/support the site below.

Finally, for free advice about your setup, j
ust leave a message in the comments below here at NASCompares.com and we will get back to you.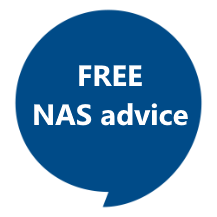 Need Help?
Where possible (and where appropriate) please provide as much information about your requirements, as then I can arrange the best answer and solution to your needs. Do not worry about your e-mail address being required, it will NOT be used in a mailing list and will NOT be used in any way other than to respond to your enquiry.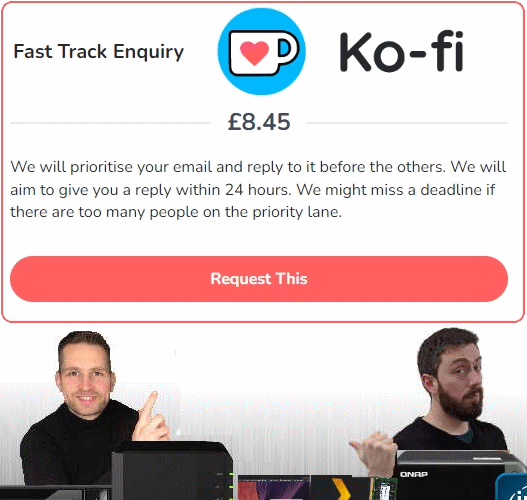 Terms and Conditions
Alternatively, why not ask me on the
ASK NASCompares forum
, by clicking the button below. This is a community hub that serves as a place that I can answer your question, chew the fat, share new release information and even get corrections posted. I will always get around to answering ALL queries, but as a one-man operation, I cannot promise speed! So by sharing your query in the
ASK NASCompares
section below, you can get a better range of solutions and suggestions, alongside my own.
This description contains links to Amazon. These links will take you to some of the products mentioned in today's video. As an Amazon Associate, I earn from qualifying purchases