Choosing Between Smart and Dumb Switches in 2020
First things first, before we go ahead and explain the differences between Managed and Unmanaged Switches, let's talk about what a Switch is. A Switch, in networking terms, is a piece of networking hardware that connects multiple devices together on one Local Area Network (LAN), by using packet switching to filter and forward data to a destination device. So that we can understand this in a working environment, a business might have four PCs on a desk which all need to communicate with each other, in the way of sharing folders. To do this, the PCs are connected to a switch via Ethernet cables which create a communication hub (the Switch) allowing all the PCs to connect and share data. Depending on the size of the business or the number of devices that need to be connected, a Switch can come in various sizes ranging from 5-ports to 48-ports. Hopefully, you now get the picture on what a Switch is. Now we've got that out of the way, we can dig a little deeper and explain the difference between Managed and Unmanaged Switches.
What is the Difference Between a Router and a Switch?
The easiest way to know the difference between a router and a switch is that on is designed to control your external connections primarily – a Router, and the other is designed to control your internal connections – a Switch. That said, both routers and switches have been utilising a number of the abilities of the other for a number of years, but ultimately each one is the very best at its job.  A router sends and receives data packets in and out of the network (so the internet connectivity) and sends them to 1-4 (typically) LAN ports built into the router. Data is then sent and received to he connected machines and the router protects the user from unwanted/unsolicited connections via such means as firewalls, encryption and user credentials. A Switch is a means to add more LAN connects to your router, to have better control of access, priority and bandwidth (the maximum data flow – like a water pipe) and to vastly improve the internal connect of your devices. Most moderns routers can do this, but to a much, much lesser degree and it is advised that those that want to do this effectively, safely and efficiently should use a network switch.
What Can an Unmanaged Switch Do?
As mentioned above, an Unmanaged Switch simply allows Ethernet devices to communicate with one another, such as a PC or network printer, and those are typically what we call plug and play. They are shipped with a fixed configuration and do not allow any changes to this configuration. An Unmanaged Switch is typically used in small networks or to add temporary workgroups to larger networks. The key difference between Managed and Unmanaged Switches is the ability to configure the Switch. In real terms, it gives you the ability to create a very bespoke network environment, where some devices will have priorities, and others can be made to be faster/slower as needed for the health of the overall network.
What Can a Managed Switch Do?
Managed Switches provide all the features of an Unmanaged Switch, but also provide the ability to configure, manage, and monitor your LAN. Furthermore, a Managed Switch gives you more control over your LAN traffic and offers advanced features to control that traffic. Now that we know what an Unmanaged Switch is capable of, let's check out what features a Managed Switch has.
Link Aggregation, Port Trunking and Load Balancing
Link aggregation addresses two problems with Ethernet connections: bandwidth limitations and lack of resilience. With regard to the first issue: bandwidth requirements do not scale linearly. Ethernet bandwidths historically have increased tenfold each generation: 10 megabit/s, 100 Mbit/s, 1000 Mbit/s, 10,000 Mbit/s. If one started to bump into bandwidth ceilings, then the only option was to move to the next generation which could be cost-prohibitive. An alternative solution, introduced by many of the network manufacturers in the early 1990s, is to combine two physical Ethernet links into one logical link via channel bonding. Most of these solutions required manual configuration and identical equipment on both sides of the aggregation. The second problem involves the three single points of failure in a typical port-cable-port connection. In either the usual computer-to-switch or in a switch-to-switch configuration, the cable itself or either of the ports the cable is plugged into can fail. Multiple physical connections can be made, but many of the higher-level protocols were not designed to failover completely seamlessly.
Load balancing differs from link aggregation, in that load balancing divides traffic between network interfaces on a network socket (OSI model layer 4) basis, while channel bonding implies a division of traffic between physical interfaces at a lower level, either per packet (OSI model Layer 3) or on a data link (OSI model Layer 2) basis with a protocol like shortest path bridging.
Customized and Automated Quality of Service (QoS)
Quality of Service (QoS) allows you to prioritise network traffic and manages available bandwidth so that the most important data traffic goes first. You can configure a Managed Switch to implement rules that allow different devices to prioritise packets of data. This would be very useful if you need to give particular devices the most bandwidth when transferring data between them.
Easy Communication with Simple Network Management Protocol (SNMP)
Another feature which comes with a Managed Switch is Simple Network Management Protocol (SNMP). It's a widely accepted protocol which allows network managing and monitoring. This feature is great for keeping an eye on network status and performance. I.T. Managers can use SNMP to flag potential network problems and fix them without touching the Switch.
Create Separate Virtual Local Area Networks (VLANs)
VLANs allow network administrators to group devices together without having to run new cables or make changes to their network infrastructure. Virtual Local Area Networks help to reduce unnecessary traffic and allow network administrators to apply additional security measures to network communications.
Network Redundancy
Keeping your network safe should be a high priority for businesses and Redundancy helps with that. The goal of redundancy is to prevent or recover from the failure of a specific component or system. Redundancy is a feature designed to duplicate data so if something fails there will be a backup.
Port Mirroring for Safety and Analysis
Port Mirroring is a feature used on Managed Switches which helps to diagnose network problems. A Managed Switch allows you to configure Port Mirroring to send copies of traffic to a single port on the same switch for analysis by a network analyser. The network analyser then allows you to diagnose and fix problems without taking the network out of service, reducing downtime.
Choosing Between a Managed Switch and Unmanaged Switch
Now that you know the difference between Managed and Unmanaged Switches you should be able to decide which type of Switch is best suited to your needs. A network switch is a smart means to manage, control, configure and connect all of your network devices. Many people often get routers and switches confused and this is perfectly understandable. At first, second and third glance they seem near enough identical. A both that lives in the corner of a room, with internet (I know… but let's keep this light…RJ45 LAN in most cases) cables running out of it to all of your devices and they seem to receive internet connectivity from them. However the truth is a bit more than that and they are actually designed to work together, rather than one or the other. If you haven't heard of 10 gigabit Ethernet yet, you WILL soon enough. 2020 is going to be MASSIVE for 10Gbe. I know I keep saying it, but it is true. With file sizes becoming bigger on a daily basis and everything for virtual machines and large-scale snapshot backs becoming increasingly more mainstream, the need for an internal network speed between your business (large or small) devices is not only becoming more affordable, but much easier too. Below are my current top 3 NAS Switches of 2020 so far, covering both managed and Unmanaged.
QNAP QSW-308-1C Copper and Fiber 10Gbe Network Switch –

£

££
8x 1Gbe Ports (RJ45), 3x 10Gbe Ports (3x SFP+ 1x RJ45), Combo Setup, Fanless, Quiet £180+ ex.VAT
QNAP QSW-308-1C Hardware Review – https://nascompares.com/2019/08/15/qnap-qsw-308-1c-10gbe-switch-review/
The QNAP QSW-308-1C unmanaged switch is quite a work of art. I know that is a grand statement for a review, but in order to understand why I think that, you have to take a moment and look at QNAP as a manufacturer. If you are new to the world of 10Gbe and are still just getting to grips with the necessity of a switch, then the importance of the QNAP QSW-308-1C might be lost on you. However, for those that have accepted that standard 1Gbe is becoming a problem, need a gradual upgrade (whilst maintaining the existing infrastructure) but their budget is tight, the QNAP QSW-308-1C promises alot. Equally, with them releasing very affordable upgrade in the USB-to-5Gbe adapter, Thunderbolt 3 to 10Gbe Adapter and £90 10Gbe Upgrade Card, it is now fantastically easy to upgrade your network to better speeds without getting your hands dirty or breaking the bank. Let me take a minute to explain.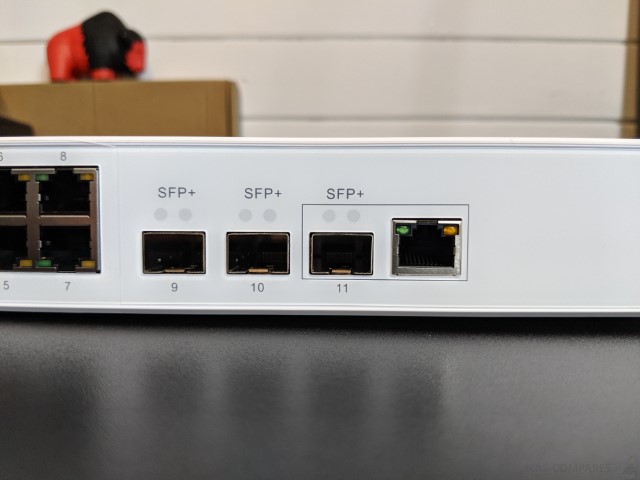 The QNAP QSW-308-1C switch definitely lives up to what it promises and has a very clear target user in mind. It does not pretend to be more than it is and because of that can maintain a high performance and low price-tag for users looking to move to the next level of networking without spending thousands. The QSW-308-1C serves as a great upgrade for users moving from gigabit ethernet and towards multi-gigabit environments and with fantastic growth in 2019 towards 2.5G, 5G and 10Gbe in affordable hardware, the need for a more palatable and affordable upgrade to this tier is not only hugely welcome but fast becoming an inevitability.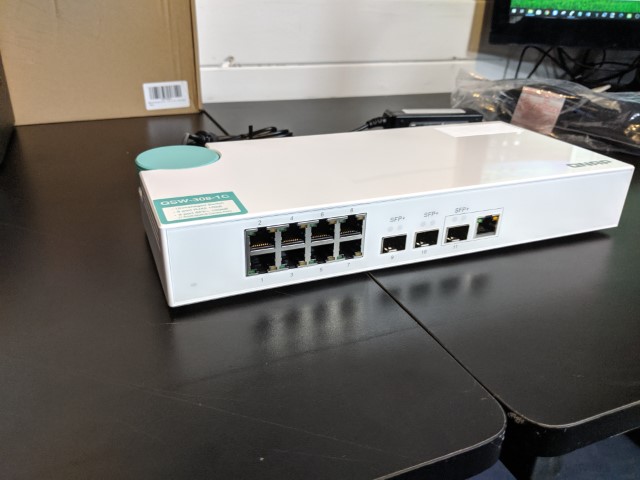 That said, the QSW-308-1C is not for everyone, as if you already have a multi-gigabit network environment in place or have need of a more controllable and priority defining network environment in mind, you will probably find the QSW-308-1C a backstep and limiting in its scope. But the QSW-308-1C is not designed for that and does not pretend to be so, and with QNAP having released and in the process of releasing switch options to cater to an ever-evolving network clientele, whether this is the switch for you or not, by the end of 2019 QNAP will almost certainly have a switch that suits your needs and budget. Bottom line, I really like this device and couldn't see myself finding many uses for this device for aspiring YouTubers like me as well as day-to-day data work in general.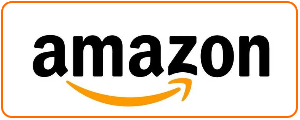 ---
Nighthawk SX10 Copper Based Gamer 10Gbe Network Switch –

££

£
8 x 1Gbe Ports, 2 x 10Gbe Ports, Custom LEDs, Managed, LAG/Port Trunking Supported, Compact £190 ex.VAT
Unlike the QNAP QSW-308-1C, the Nighthawk Pro Gaming SX10 nowhere near as affordable. However it is also not designed to be hidden behind closed doors in a machine room, but to sit on the desk between a bevy of monster PC gaming rigs that look equally mean and glow with multi-coloured LED lighting. From the moment you unpack it, there's no doubt that it's a premium device. It looks and feels great and sturdy. With it, you can get 10GbE capabilities into your SOHO and gaming environment. While it isn't full 10Gbe, it's a great start. With 2 ports for multi-gigabit Ethernet, you're well set. In most cases, you'll need one for your high-speed NAS and another for your workstation. Or you can use them for an uplink of the rest of the ports without speed limitations. Whatever your setup will be, the SX10 will do great. Feature-wise, you get the most important switching capabilities, from VLANs to LAGs. Its wrapped in an easy-to-use interface that doesn't require you to have a whole lot of knowledge about the networking. The user interface is also optimised for use on mobile systems which is a vital feature these days. From port prioritising to bandwidth limits and monitoring, IGMP snooping and LAGs with 8 members. You get it all.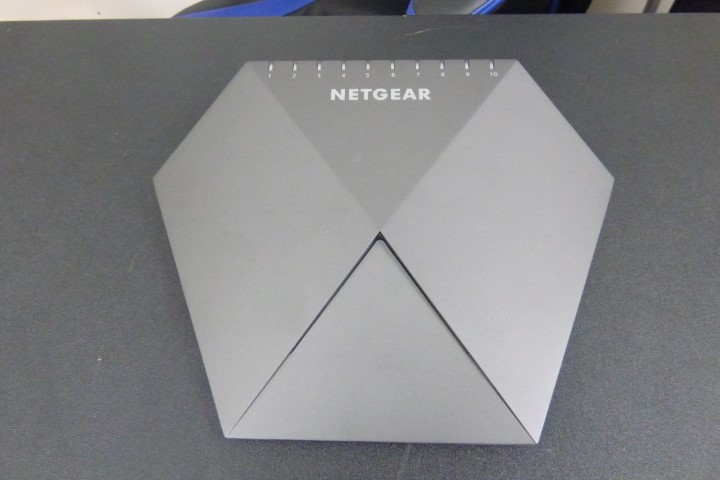 The Nighthawk Pro Gaming SX10 isn't just style over substance, however. It sports ten Ethernet ports, so you could create a ten-system LAN, although more likely one of the ports will be an uplink to an Internet router. In fact, two of the ports are 10Gbit Ethernet and can be aggregated, so you could have a 20Gbit uplink to your gaming server, an Internet router, or another switch for an even bigger LAN. The pair of 10Gbit ports are ideal for chaining switches together for a really big LAN, and the port aggregation abilities mean you can increase bandwidth beyond this as well as provide failover backup to prevent an outage. That way, your network gaming will be both fast and dependable.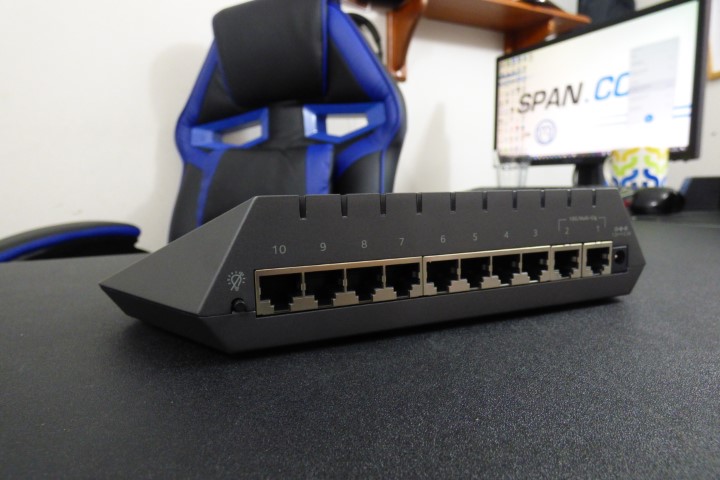 The graphical Gaming bandwidth readouts will show you when a client is hogging the bandwidth, and the Quality of Service options are on hand to rein a greedy system in so other users aren't swamped. The ability to customise the LED lighting isn't exactly essential, but since the Nighthawk SX10 is unusually aesthetic for a switch, it's the icing on the cake and matches the LED lighting fetish amongst gamers.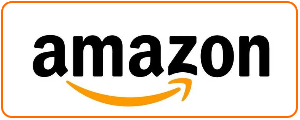 ---
QNAP QGD-1600P Guardian NAS+PoE 1Gbe Network Switch –

£££
0-10TB, 2 Bays, J4115 4 Core Celeron CPU, 4/16GB DDR4 Memory, 16 1Gbe Ports, Managed Switch, PCIe Slots, HDMI 2.0a, SFP+ Port, QNAP QTS Software and QNAP QuManage Switch Software  £540+ ex.VAT
Right, so this one may seem like a little bit of cheating, as it is technically a 1Gbe switch, however with its potential 10Gbe PCIe upgrade slot, support for faster WiFi cards, a plethora of LAN ports, PoE support and NAS Component make it just too good to ignore The Guardian QGD-1600P NAS Server. Aimed at SMB (small business) and home users who are looking for a little more power and functionality at their fingertips, as well as combining the power of a NAS with the functionality and accessibility of a PoE switch – in ONE BOX! If this is not enough, it features a brand new CPU in the NAS industry too.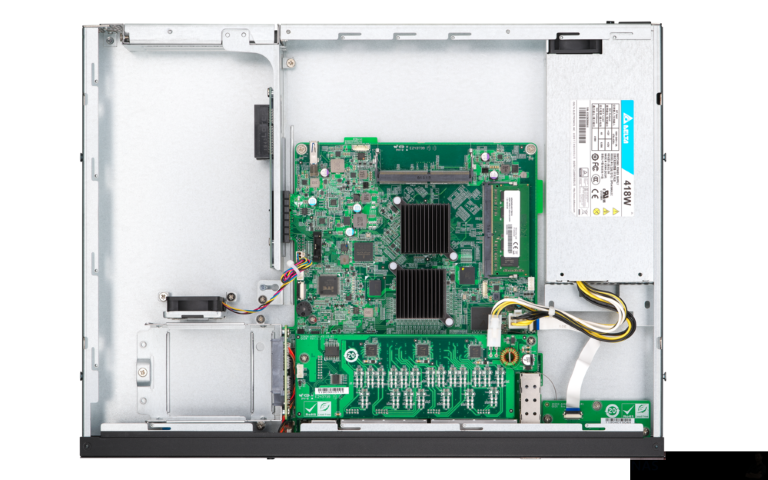 The hardware that is featured in the QNAP Guardian QGD-1600P NAS drive is a good mix of architecture found in other existing QNAP NAS and comparative upgrades of its predecessor (that CPU especially). Thanks to its appearance at Computex, we are able to share a fair-sized amount of hardware information on the Guardian QGD-1600P
CPU: Intel J4115 1.8Ghz Quad Core CPU
Memory: 4/8GB Memory
Number of Bays: 2
Drive Support: SSD 2.5″
LCD Panel:
HDMI: Yes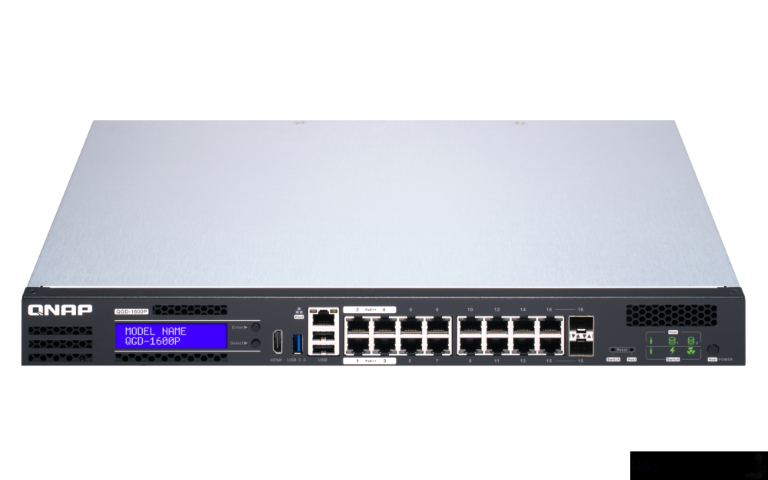 USB Ports: 2xUSB 2.0 and 1x USB 3.0
PCIe Slots: 2x
Expandable Storage: USB Based
1Gbe Ports: 12x (4x 90W Power)
SFP: 2x for combining with RJ45 Blocks
10Gbe Ports: No, but PCIe allows Many NICs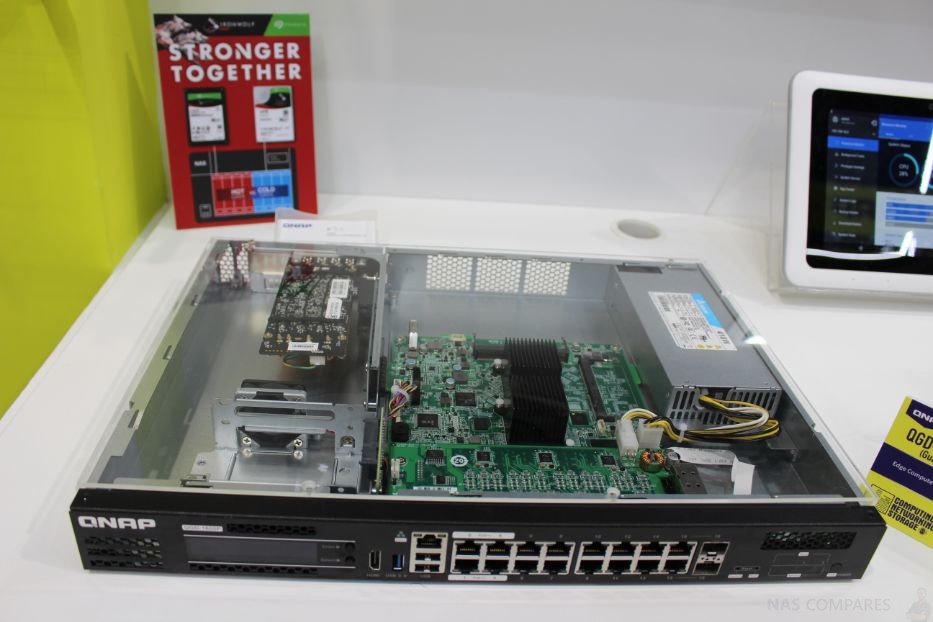 There has certainly been a move towards the more prosumer buyer from QNAP this year, with its selection of affordable 25Gbe cards and getting more out of the Aquantia controller processors, therefore the Guardian QGD-1600P makes a lot of sense in this framework. But where do YOU come in? Is this going to answer your storage needs? Does this mean you will never need a switch ever again? QNAP boosts networking efforts to roll out a refreshed Guardian QGD-1600P that integrates managed switch, Power over Ethernet (PoE) capabilities, and NAS into one device. The QGD-1600P is a 16-port managed switch based on the Microchip VSC7425 that features port-based PoE control and is IEEE 802.3bt ready with power level up to 90W, and supports VLAN and QoS. The QGD-1600P also features an Intel Celeron J4105 processor, two 2.5-inch SATA drive bays, two PCIe slots, HDMI output, and runs the QTS operating system with the App Center to realize various applications including virtual machines, containerized apps, and video surveillance. So, in short, this is a serious switch that is backed up with a serious amount of NAS – or vice-versa!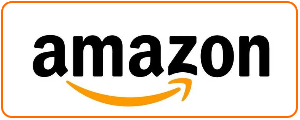 📧 LET ME KNOW ABOUT NEW POSTS 🔔
Join 1,570 other subscribers
Get an alert every time something gets added to this specific article!
This description contains links to Amazon. These links will take you to some of the products mentioned in today's content. As an Amazon Associate, I earn from qualifying purchases. Visit the NASCompares Deal Finder to find the best place to buy this device in your region, based on Service, Support and Reputation - Just Search for your NAS Drive in the Box Below
Need Advice on Data Storage from an Expert?
We want to keep the free advice on NASCompares FREE for as long as we can. Since this service started back in Jan '18, We have helped hundreds of users every month solve their storage woes, but we can only continue to do this with your support. So please do choose to buy at Amazon US and Amazon UK on the articles when buying to provide advert revenue support or to donate/support the site below.

Finally, for free advice about your setup, j
ust leave a message in the comments below here at NASCompares.com and we will get back to you.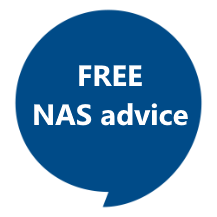 Need Help?
Where possible (and where appropriate) please provide as much information about your requirements, as then I can arrange the best answer and solution to your needs. Do not worry about your e-mail address being required, it will NOT be used in a mailing list and will NOT be used in any way other than to respond to your enquiry.
Support What We Do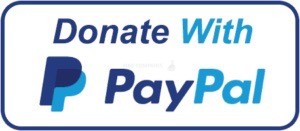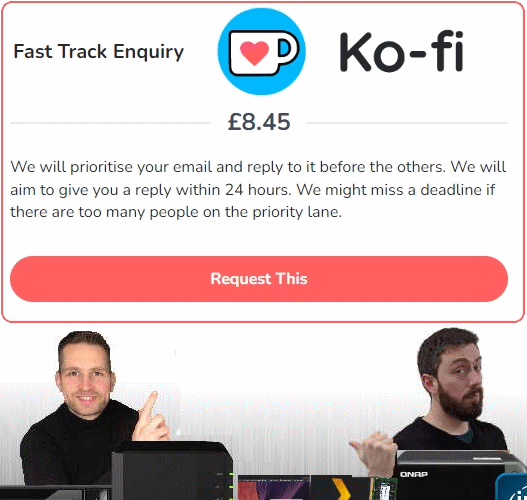 Terms and Conditions
Alternatively, why not ask me on the
ASK NASCompares forum
, by clicking the button below. This is a community hub that serves as a place that I can answer your question, chew the fat, share new release information and even get corrections posted. I will always get around to answering ALL queries, but as a one-man operation, I cannot promise speed! So by sharing your query in the
ASK NASCompares
section below, you can get a better range of solutions and suggestions, alongside my own.
This description contains links to Amazon. These links will take you to some of the products mentioned in today's video. As an Amazon Associate, I earn from qualifying purchases
Summary
Reviewer
Review Date
Reviewed Item
The Difference Between Managed and Unmanaged Switches
Author Rating