Is the TerraMaster TD2 Affordable Thunderbolt 3 RAID DAS Worth Your Data?
Terramaster is a NAS and DAS brand that will often feature here on NASCompares once or twice a month. This is mainly because although they are not at the very, very top of the industry, they always seemingly produce some of the most affordable alternatives to mainstream storage brands. For the most part, I have featured their NAS devices, but now with them moving into the Thunderbolt 3 enabled hardware RAID solution portfolio growing, I thought it was time that we shed a little light on their series of direct-attached storage devices. Today we are looking at the Terramaster TD2 (also known as the D2-330) 2-Bay Thunderbolt 3 RAID solution, arriving at a significant;y lower price point than the most established G-Tech and LaCie 2 disk solutions, this Amazon favourite purchase is one that has been requested for review a few times already in 2020. So, here we are, what does the Terramaster TD2 give you, what does it not, and does this 2-Bay DAS drive deserve your data?
TerraMaster TD2 Thunderbolt 3 2-Bay – Quick Review
If you need external storage but on a tight budget, then it's hard to argue at the value of the Terramaster TD2 thunderbolt box. Alongside hardware RAID, it is also one of a diminishing number of Thunderbolt brands that provide unpopulated solutions, or uncomplicated storage that the most modest and novice data storage enthusiast will like the sound of. However, with certain design choices that won't please everyone, along with a read and write speed a touch below what the top end competitors are offering, there are reasons why it arrives at this price point.
TerraMaster TD2 Thunderbolt 3 2-Bay – External Packaging
Much like every Terramaster solution, the Terramaster TD2 arrives in the familiar blue box packaging. It's quite brand-focused, as well as quite appropriate for Thunderbolt solutions – even if that is more luck than design. There's not a vast amount I can say about it that I haven't already said in previous terramaster reviews. It's functional, a little plain, but does the job.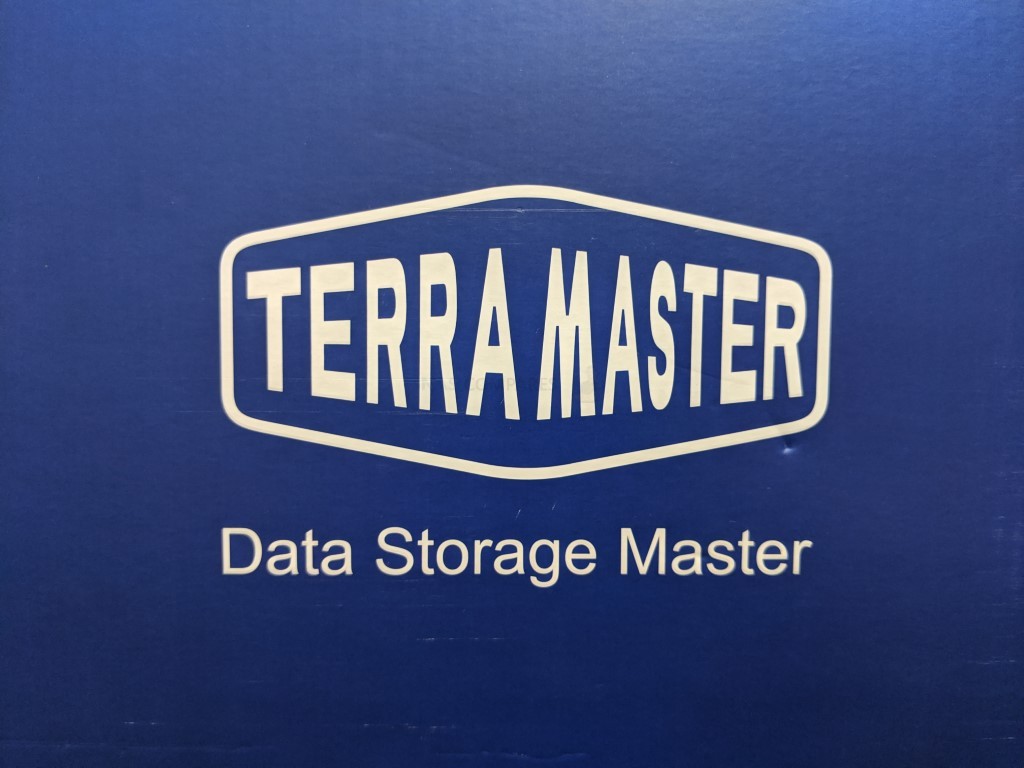 In fact the only way to tell the difference between this and other terramaster NAS/DAS solutions is by the model ID label at the side of the box. This at least denotes what is inside the box and though that is enough, it is a little underwhelming,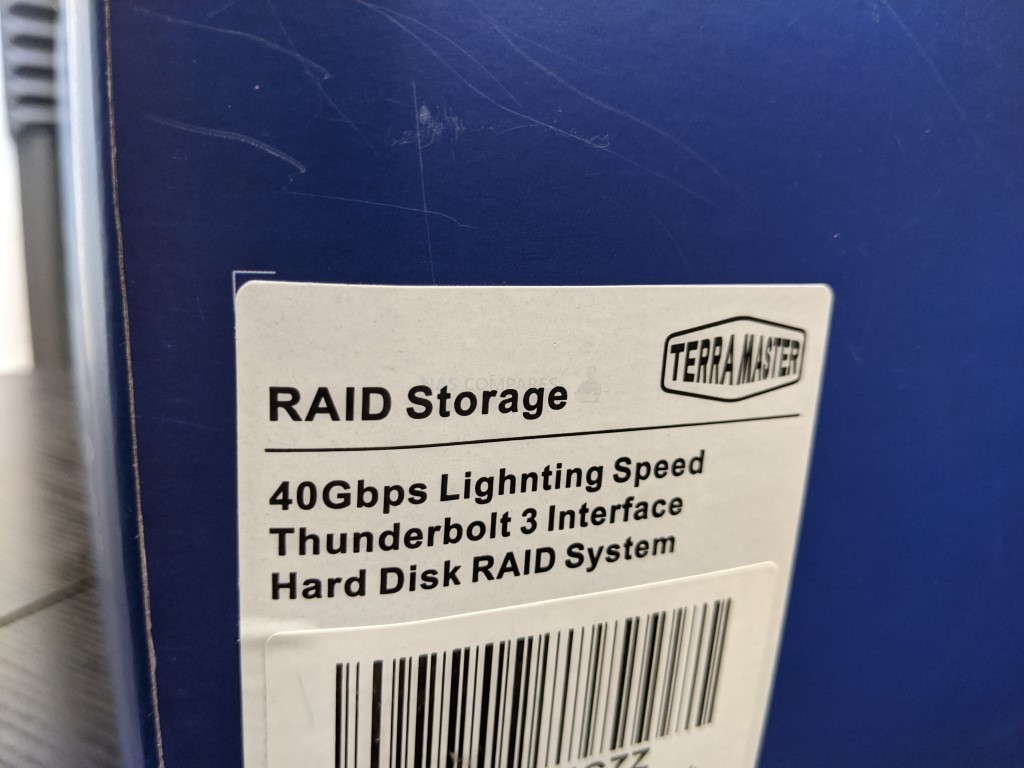 If we open up the box we find quite a well structured and kitted out retail kit, with everything well packed and secured for transit. Terramaster products are pretty much all constructed out in the east and are shipped by the pallet load! So consequentially, transit protection is something that they obviously spent a little more time on.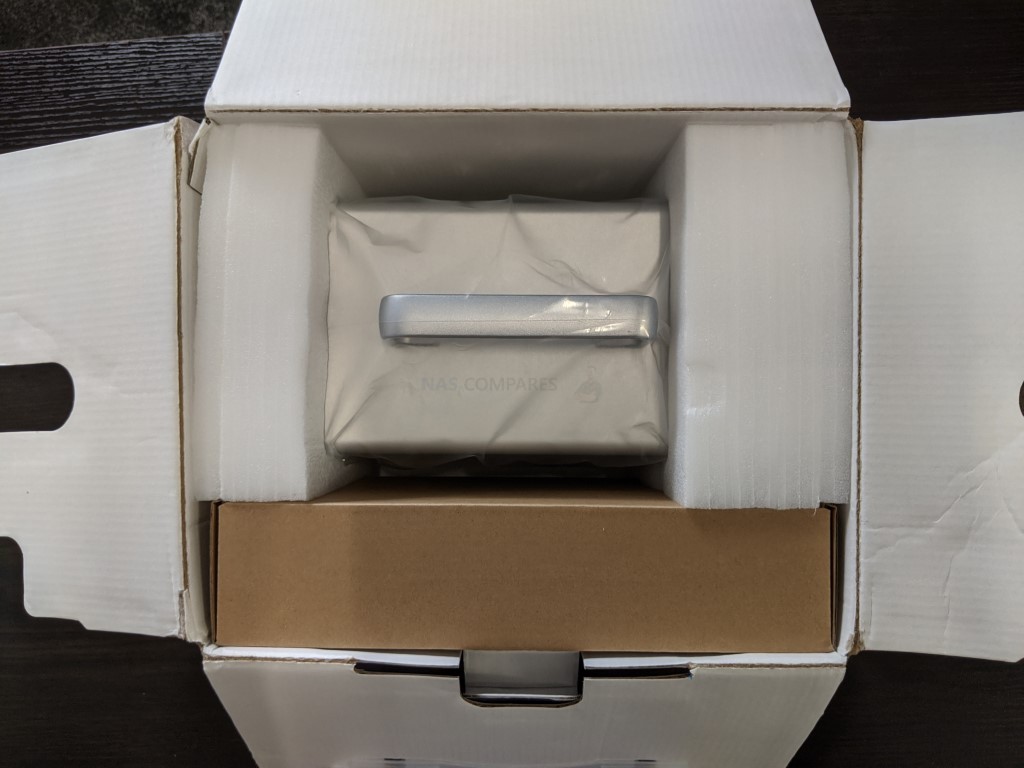 The contents of the box are pretty thorough too, with a whole bunch of key setup accessories available straight off the bat (not including HDD/SSDs though of course). Inside we find a good selection of accessories for first-time setup and even an extra screwdriver. A tiny extra, but it is worth highlighting that I STILL use the screw driver that was included with an older F4-220 NAS I reviewed back in 2018 and it's actually surprisingly sturdy. A small extra, but something I actually noticed.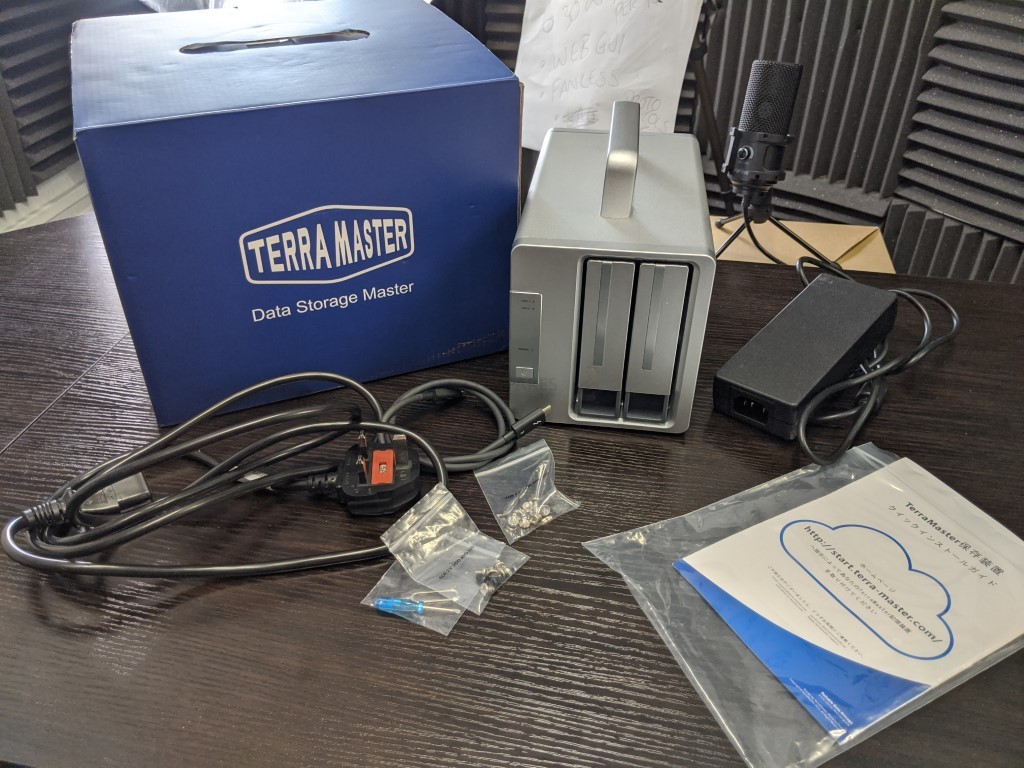 The full contents of the TD2 DAS retail kit are:
TerramasterTD2 RAID DAS
Thunderbolt 3 USB-C Cable
First Time Setup Guide
Warranty Information
External PSU
Screws
Screwdriver
Drive Labels
It's a fairly standard selection of accessories, that has a few extra bits thrown in.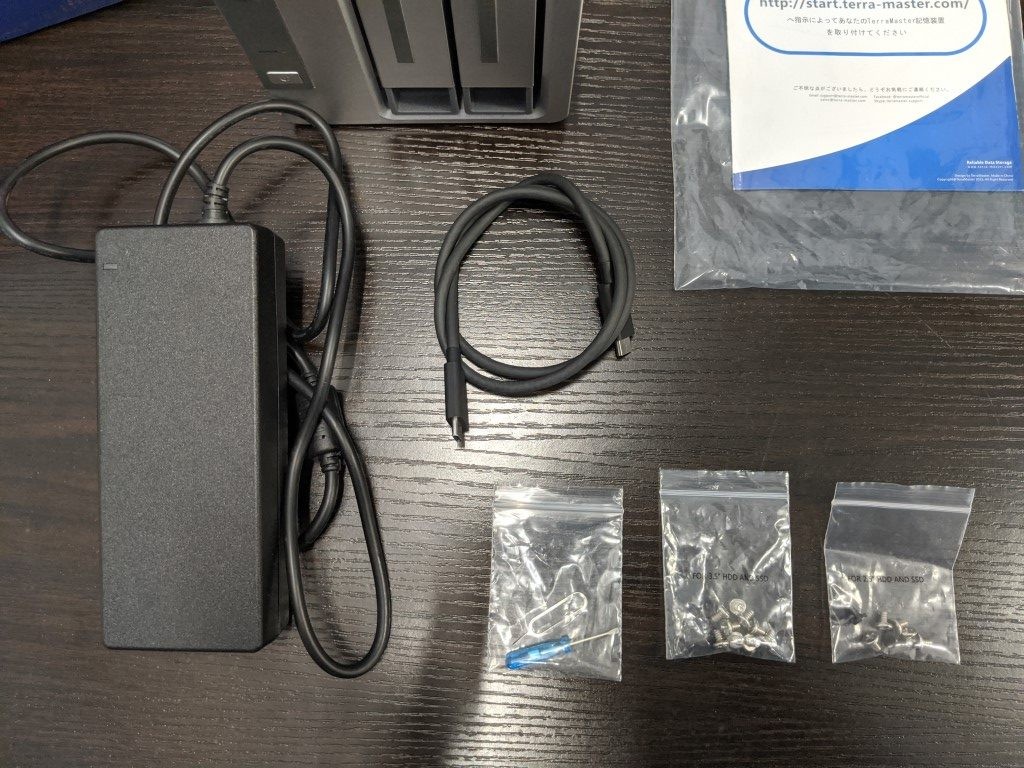 The PSU of this 2-Bay does seem a bit large for a simple two drive DAS RAID enclosure, but that is largely because this is a Thunderbolt-enabled device (plus Display Port for a visual resource) and that requires a bit more 'umpf' than a typical USB device. As discussed previously on this blog, there is a school of thought about internal vs external PSUs. I am very much a fan of an external PSU at this enclosure scale, as although the external power brick simple cumbersome, having it outside reduces internal heat and vibration when the device is in operation, as well as making it easier to change the PSU in the event of a power issue.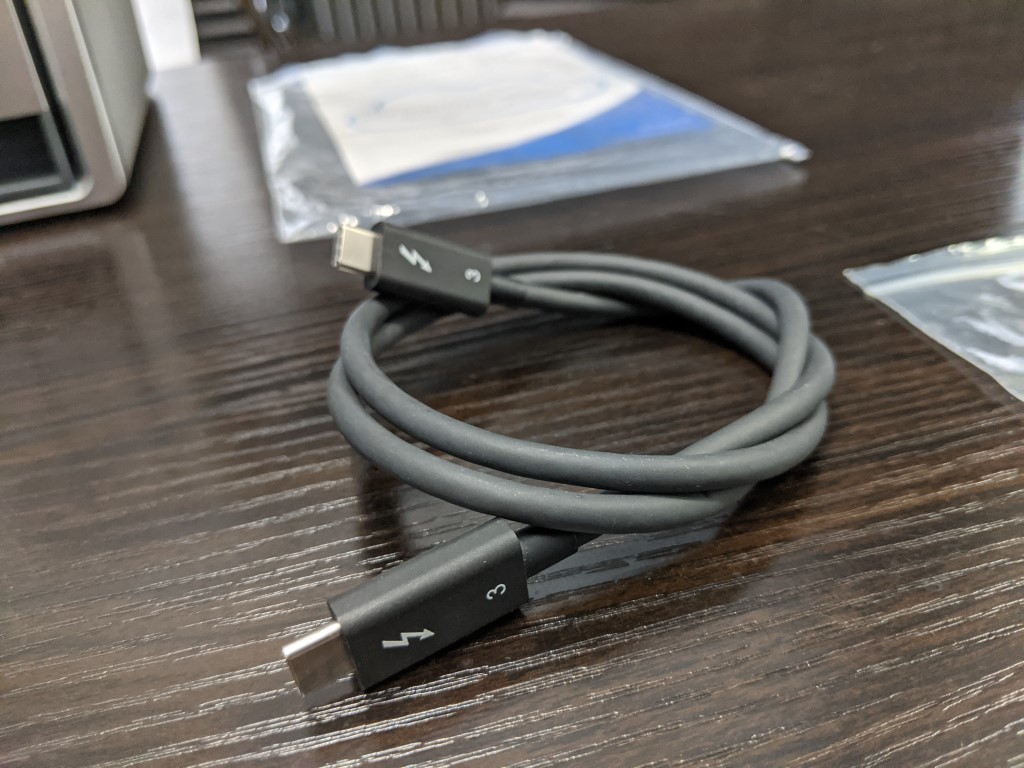 Overall, the contents of the Terramaster TD2 retail kit is pretty standard and leaves me happy.
TerraMaster TD2 Thunderbolt 3 2-Bay – Design
Design is one area of storage where you can see Terramaster is changing, but not as fast as some might like. First-generation terramaster NAS and DAS 2-Bay devices where is much more dated and unappealing rounded chassis. These were often a point of derision at reviews and shortly afterwards you could see Terramaster change it – gradually. The drives went from Horizontal to vertical, the edges change from circles to straight, the handle altered from low and flat, too tall and arched. The result is a much more modern design that still keeps alot of the features of the early days, but makes them far more current and appealing to creatives and those that will be in close proximity to the TD2 DAS via Mac or Windows.
| | |
| --- | --- |
| | |
Design in this device is alot more important in a Thunderbolt DAS, than in a NAS or USB devices, as Thunderbolt 3 cables are notoriously short (to maintain that high speed) and even at under 5 metres, are expensive, lose their throughput unless serious PREMIUM models and therefore means that you will actually be comparatively close to this Thunderbolt RAID DAS, as opposed to as you would to a NAS. It's a clean chassis, a little taller than it's G-Tech and LaCie alternatives, but not ugly. A combination of Aluminium casing, with a plastic front panel and rear.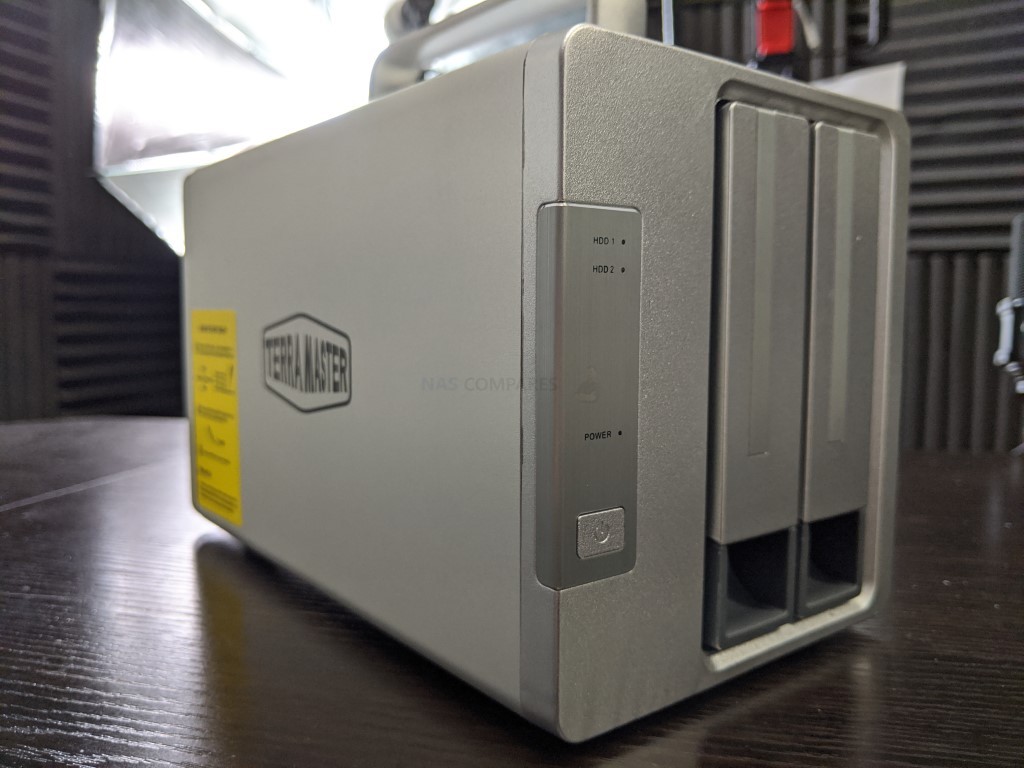 The front of the Terramaster TD2 is a little sparse, but it as you would expect from a Thunderbolt 3 RAID DAS, it should be. The front of the chassis only features 3 LED lights, which cannot be dimmed/deactivated. They denote the access and activity of the individual HDD/SSD installed inside, as well as another LED that is simply for denoting that the device is powered on. It is worth highlighting that much like any other Thunderbolt 3 DAS, this device will NOT power on unless a Thunderbolt cable is connected to the device and a host Mac/Windows system.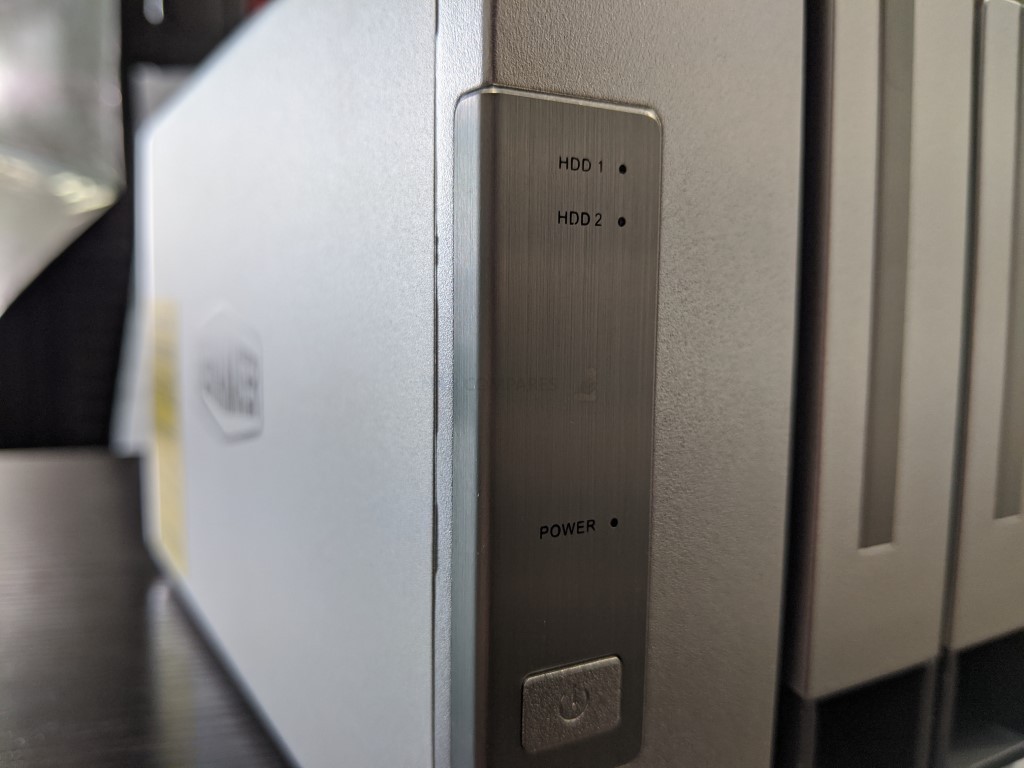 The sides of the aluminium chassis have the TerraMaster logo printed on, though they are not ventilated (as found in bigger NAS and DAS brands like G-Tech and Synology). However, this is not the end of the world and if it only compromises like this that mean a more affordable TB3 RAID solution, that's fine.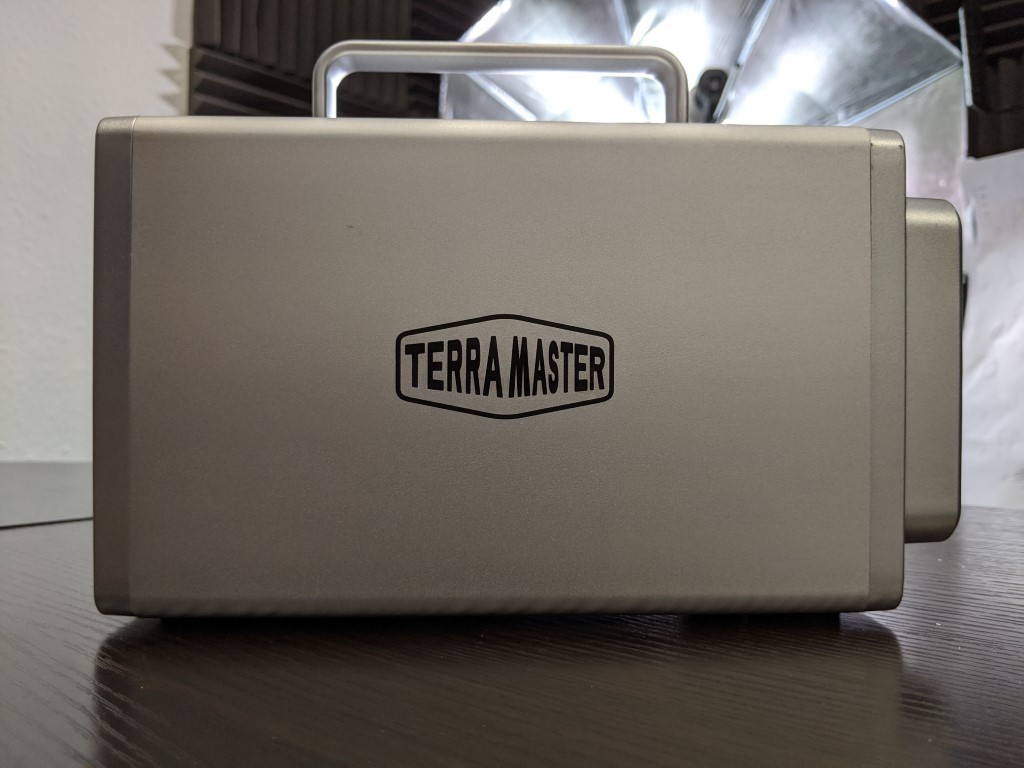 The handle on the top of the Terramaster TD2 is an odd thing. Because I do not work in the white-hot heat of offsite production (the occasional video overseas for YouTube doesn't quite count!) the need for my storage to be portable is less of a concern. However, I do acknowledge that there are alot of users who need their DAS storage to be portable (with some like Areca including direct to interface DC power ports on the rear). The hand is pretty sturdy and is not going to come off, so yes – it's a handle.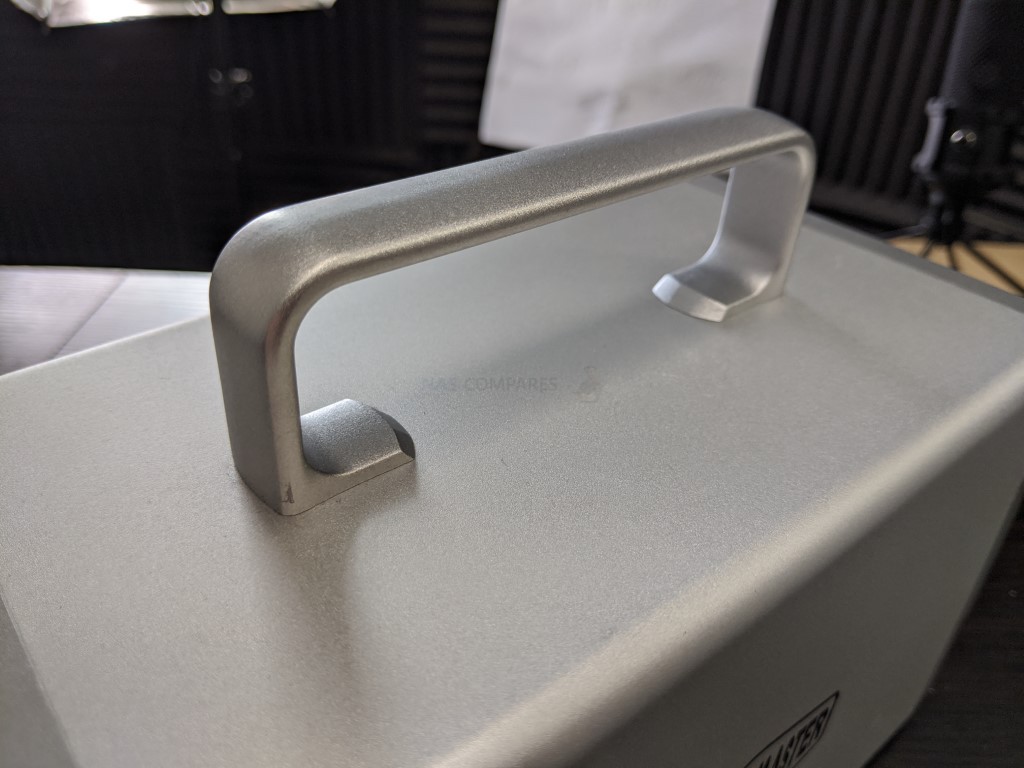 The individual media bays of the Terramaster TD2 is an area that has probably seen the most improvement over the early generations of their NAS and DAS series of storage devices, in early generations we saw very poorly constructed plastic arms that you kind of wrapped around the HDD. However, in the newer TD2 Thunderbolt DAS (in a device that is going to be in close proximity and using much faster and expensive storage media) vibration, noise and stability are a much higher concern at the design level and I am pleased to say the trays look pretty good.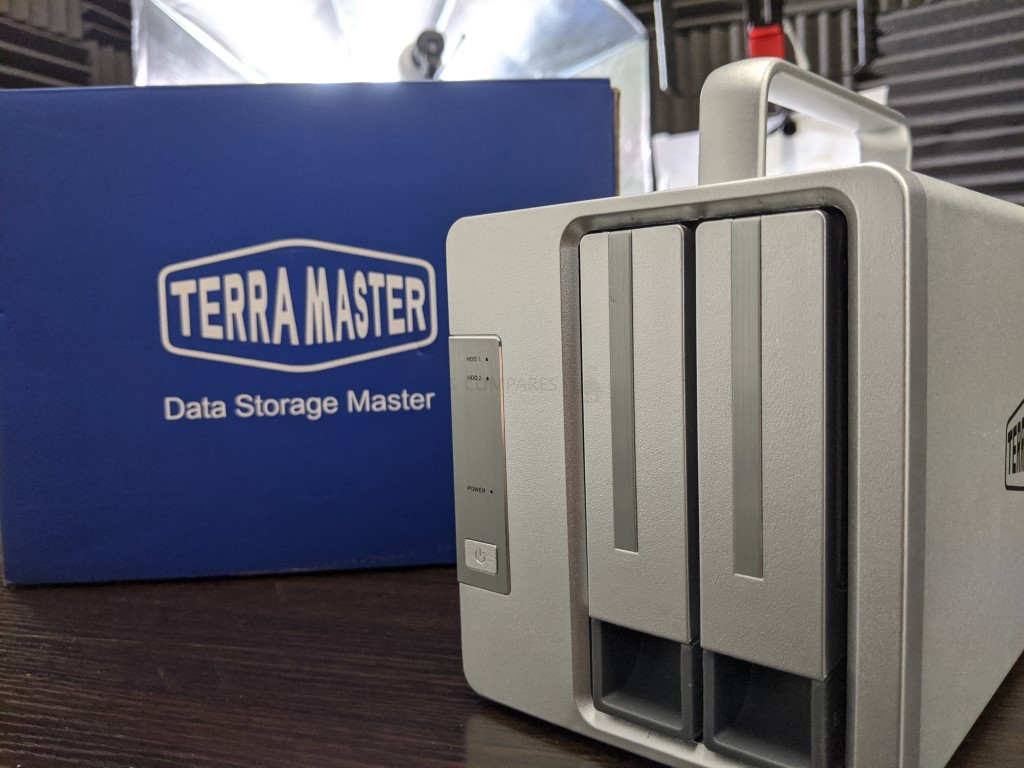 The trays themselves are non-lockable, feature screwholes for 3.5″ and 2.5″ media (so HDD and SSD are possible), as well as the device functioning with a single drive (so no need to fully populate it from day 1 – though maybe factor your RAID transition into this too). The trays are plastic in design and are not spring-loaded. It's in smaller areas like this that you see the economies that have been made to ensure the price point is far less than their top tier competitors. These are the tiny quality of life downgrades that I think most users would not even notice and if they do, just on day 1 and never after.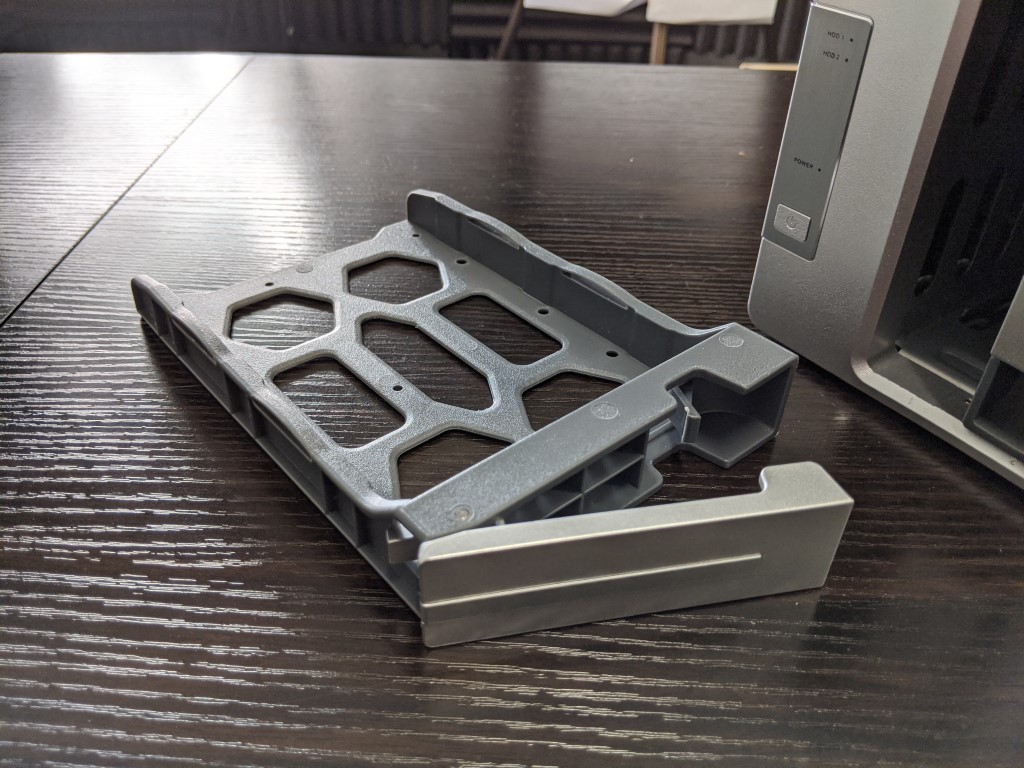 The inside of the chassis is remarkably well ventilated and alongside the tray runners, we can see a whole area of passive cooling vents for the HDD/SSD media, as well as just behind the two SATA bays on the board, you have clear airflow from the active fan.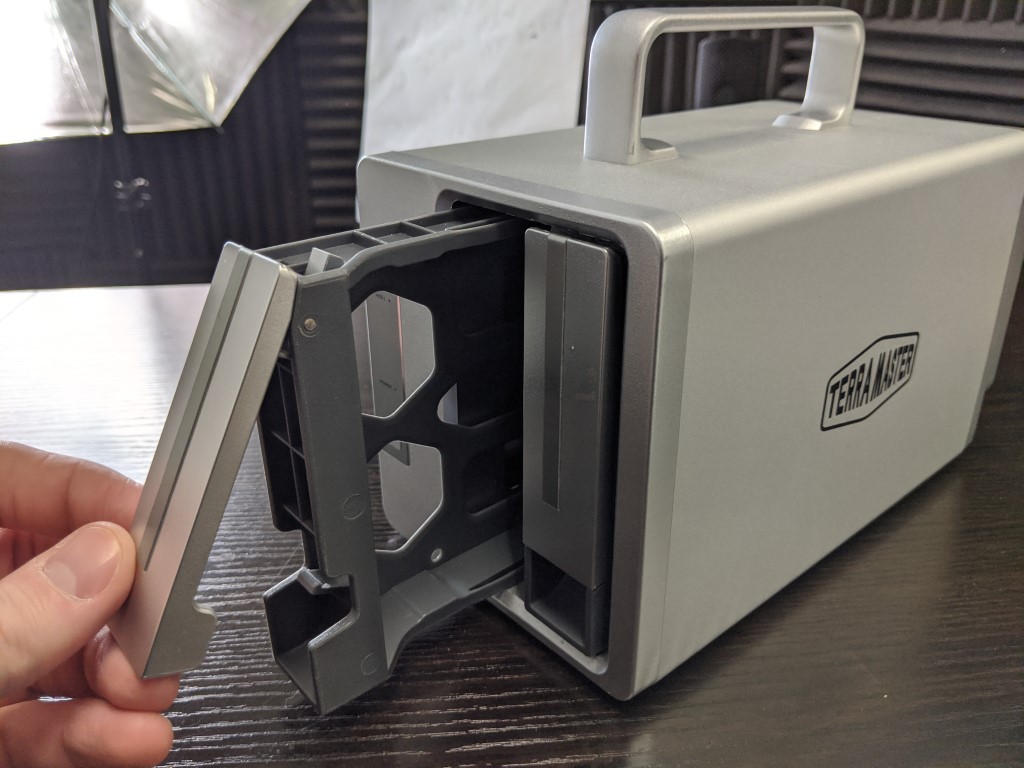 TerraMaster TD2 Thunderbolt 3 2-Bay – Ports and Connections
The business end of the Terramaster TD2 is, of course, the rear of the device where to ports and connections live. Though this is a Thunderbolt DAS solution with RAID inbuilt, it does factor some design choices that will please some and annoy others. This is still a more cost-effective solution and only one of a small handful of 2-Bay Thunderbolt 3 solutions that are 1, Hardware RAID enabled (so it is handled by the enclosure, not your Mac/Windows system), arrives unpopulated (so you aren't forced to buy the HDD/SSD that the manufacturer chooses and includes at a higher price) and features a visual output. But, first off, let's take a look at it.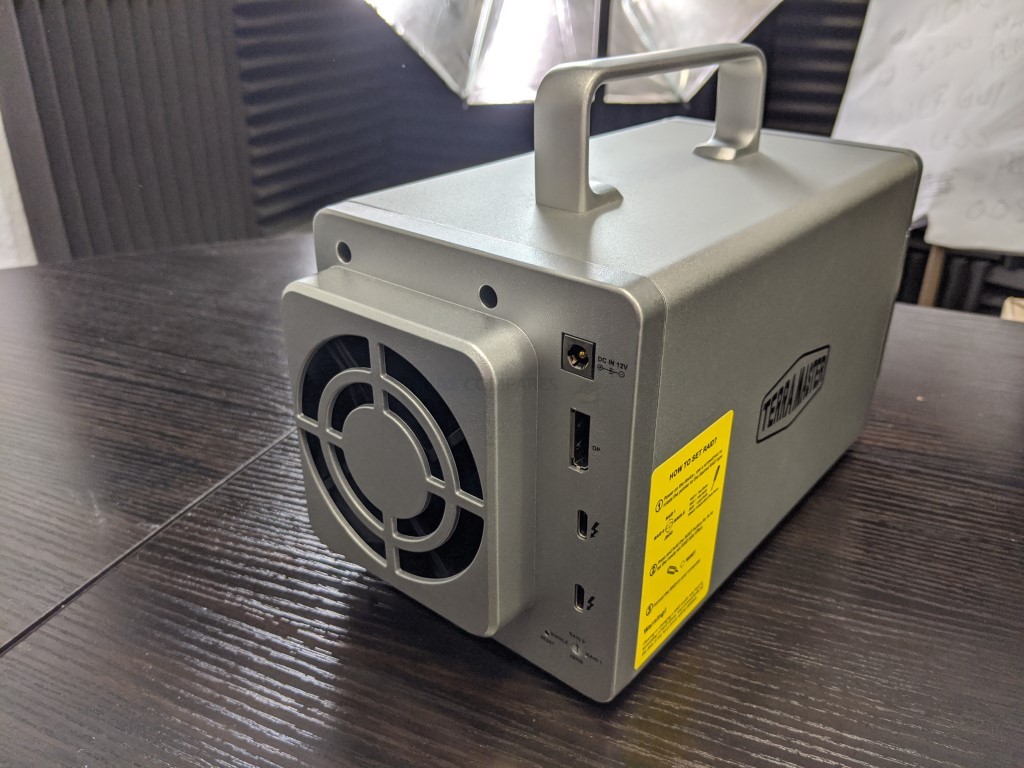 Before we get to the obvious TB3 stuff, let's take a look at the additional port for use in daisy-chaining a visual device, namely that DisplayPort. This is featured so that those that use a DP monitor or want to connect it via a Thunderbolt connection, still can, even though the Terramaster TD2 is occupying possibly the only USB-C TB3 port on your host PC/Mac system. I am surprised we have not seen HDMI output be featured instead, given it has appeared on Thunderbolt Docking stations and on the Terramaster NAS series, but I guess this would be an area of cost that would make it less competitive with LaCie and G-Tech on this 2-Bay RAID level.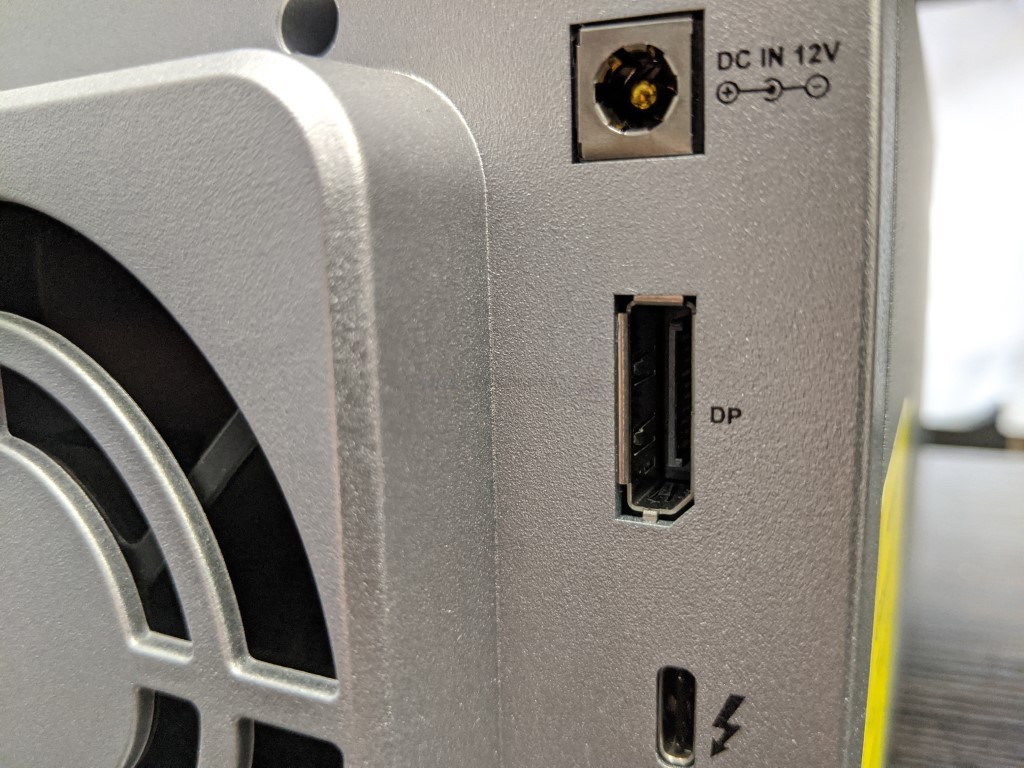 Of course, the main draw is the use of Thunderbolt 3 over USB-C on this device. There are two ports available and each can be used for the heavily documented 40Gb/s connection of Thunderbolt 3. However, it is always worth remembering that this is a theoretical MAXIMUM and relies on ALOT of factors. This applies to ALL thunderbolt 3 direct-attached storage brands (including Terramaster, LaCie and G-Tech) that unless you have media (HDD or preferably SSD) in enough quantity and internal connection (so SAS, NVMe, U.2) to push through that speed, you are NEVER going to see 40Gbps. In a two-bay SATA device like this, even using SSD, you are still going to struggle to hit the high 700-800MB/s without a decent CPU (and even GPU) in your connected host Mac/PC system. That said, this still delivers a good speed threshold, even compared with those bigger brands – though a pinch lower in Write speeds. The 2nd Thunderbolt 3 port allows daisy-chaining of even more Thunderbolt devices to all be connected to the host PC/Mac system and this is where that 40Gb/s from Thunderbolt3 CAN happen, as the daisy chain of visual, audio, storage and powered devices will be able to all be pushed through together at their each maximum bandwidth together through that single TB3 USB-C connection.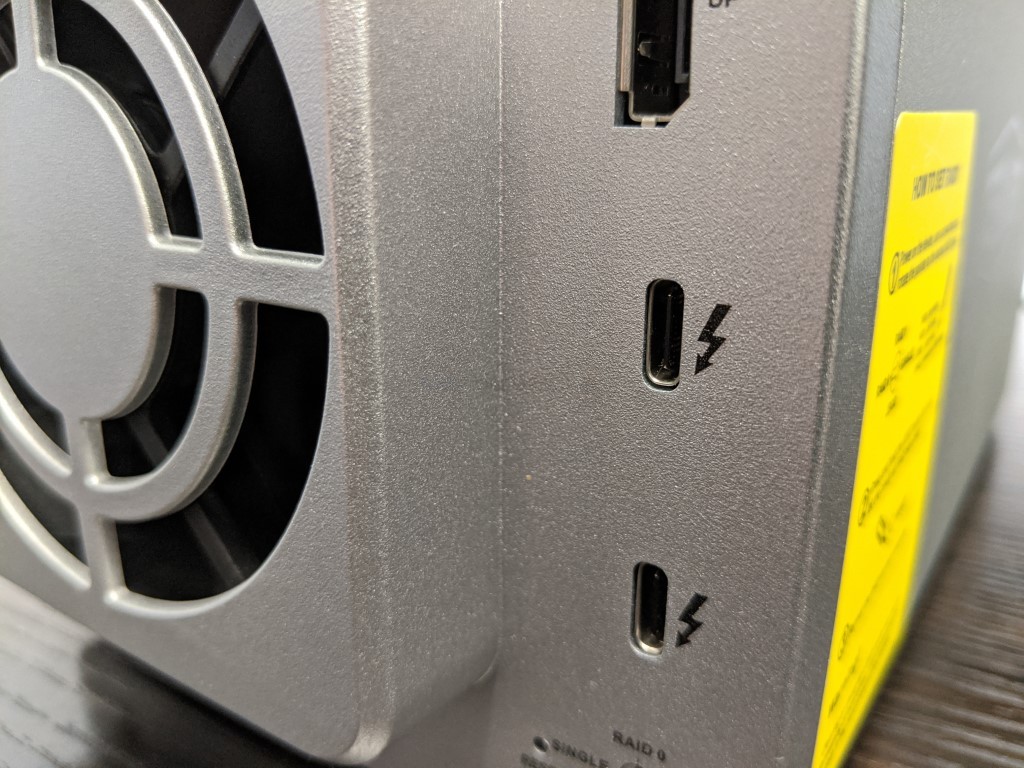 The other reason that this device can comfortably be labelled as good value, is that the Terramaster TD2 arrives with a hardware RAID option. This means that it offloads the hassle of your PC/Mac system having to build and support the RAID whilst in use, as well as significantly lower the potential for the RAID to collapse if the device is disconnected poorly/unsafely. External RAID handling is always a preferred method of storage by content creators and those in post-production, as they would rather 100% of the system resources are being used on their content, not supporting the enclosure that is storing it. However, it is the method of selecting your RAID configuration that will divide a number of potential buyers markets.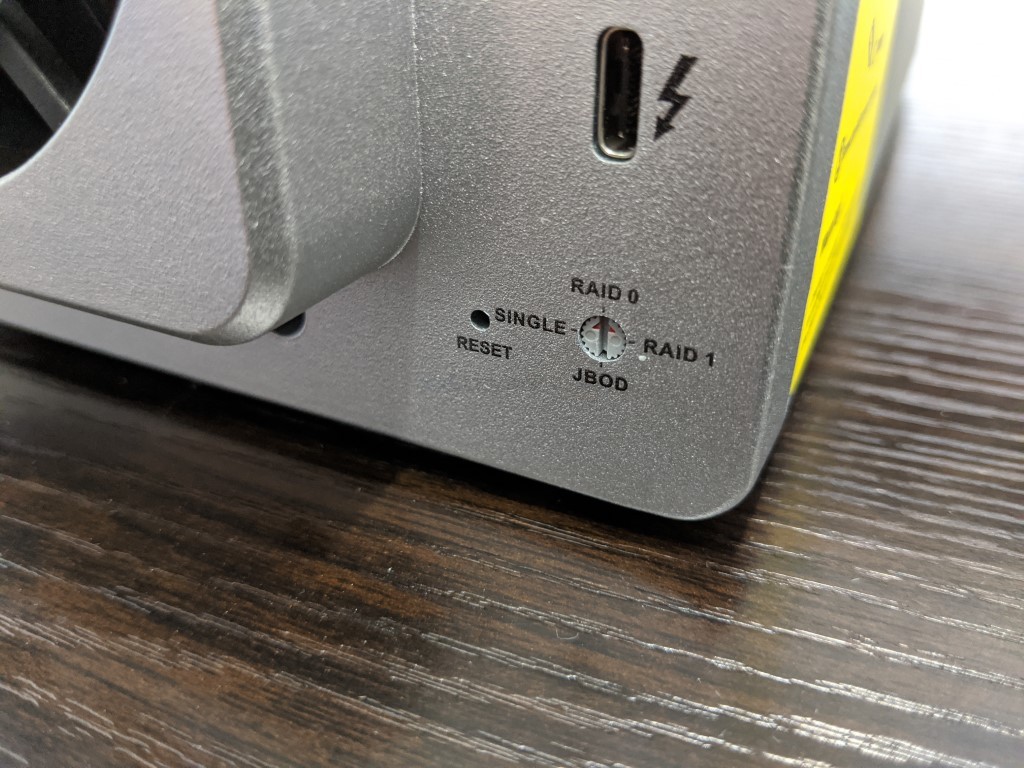 A hardware RAID and all its benefits is all good, but the means with which you set and/or adjust your RAID on the Terramaster TD2 is by using the small RAID rotational switch on the rear of the NAS. Tucked in the corner, this dial allows you to flick between JBOD (just a bunch of Drives – so single drives), RAID 0 (where the drive capacity is pooled together into one big drive of storage) or RAID 1 (where the data are written and read from both brides happens at the exact same time, on each drive). This may seem straight forward, but after making your selection on the wheel, you need to press in the reset pin and it will reinitialize your storage. This may seem a tad 'caveman' for some, who are used to the device arriving with a client software tool that can configure the device remotely – but then again, it IS remarkably easy to set up the right RAID on this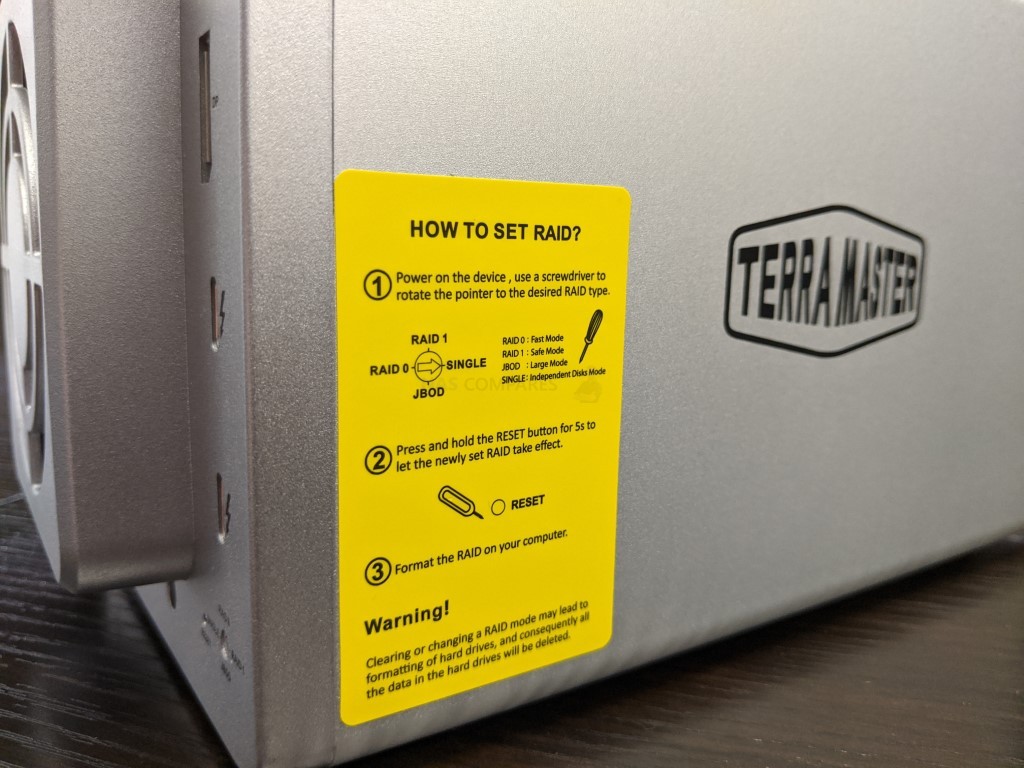 This is all pretty clear, though it does seem a little old hat in terms of modern storage and certainly something that has put a few buyers off. I can see their point, physical dip switches on RAID storage devices are pretty ear;y-mid 2000s in terms of design and feel less stable. There is no real grounding fro this and in fact in most regards are actually likely to be much, MUCH safer than software operated RAID configs. But it is worth highlighting this physical choice nevertheless.
TerraMaster TD2 Thunderbolt 3 2-Bay – Performance
Much like any other storage device, the Terramaster TD2 Thunderbolt 3 DAS achieves whatever it can thanks to the hardware components. Here is how those official specifications breakdown:
Disk Slot Number
2
Compatible Disk Types
3.5″ SATA HDD
2.5″ SATA HDD
2.5″ SATA SSD
File System
FAT 32, FAT 16, NTFS, and EXT4
Maximum Internal Raw Capacity
32TB (16 TB drive x 2) (Capacity will vary along with the RAID type)
RAIDs Supported
SINGLE DISK,JBOD,RAID 0,RAID 1
Hardware RAID
√
RAID Auto-rebuilding
√
Drive Hot Swap
√
HDD Sleep
√
Thunderbolt
40Gb Thunderbolt 3 x 2
DP Interface
DP 1.2 x 1
Power Socket
DC IN 12V
Reading Speed (max.)
Read: 760MB /sec , (Use SSD under RAID 0 mode)
Writing Speed (max.)
Write: 390MB /sec, (Use SSHD under RAID 0 mode)
Size (H*W*D)
227 x 119 x 173 mm
Packaging Size (H*W*D)
258*220*200 mm
Weight
Net Weight: 1.4Kg  Gross Weight: 2.2Kg
System fan
80 mm x 80 mm x25mm (x 1)
Fan mode
Smart
Noise Level
18.6dB(A)
Power Supply
40W
AC Input Voltage
100V – 240V AC
Current Frequency
50/60 Hz, single frequency
Power Consumption
25.6W
2.0W  (hard drive dormancy)
Supported OS

Windows OS

、

Mac OS

Warranty
2 years
As mentioned previously, the closest DAS branded competitor to this terramaster TD2 was the LaCie 2Big Dock which we reviewed well over a year ago. They're both Thunderbolt, both have internal fans, both have two Thunderbolt 3 ports, both require external power, and both support the latest SATA 16TB HDDs and 4TB SSDs.
The LaCie is certainly more compact and operates a bit more quietly. The TerraMaster is easily twice as tall, especially when you take into consideration the additional handle. The TerraMaster's fan, isn't loud by any large means, but it is also relatively noticeable in a quiet room if you tend to use quieter HDDs (less than 6TB per bay). The LaCie is software RAID, the TerraMaster is hardware RAID. But the TerraMaster TD2, even if you include the cost of the two 4TB drives purchased separately, is much cheaper than the LaCie 8TB bundle model in retail, at almost £120 difference. That's a big margin, even if you are considering the ace that the LaCie includes a few ports on the front of the device which expand its connectivity. If you just want a 2-bay external Thunderbolt hard drive though, that price difference is compelling and understandable why you would take it into consideration. But what about speed? I tested the Thunderbolt performance in RAID 1 and RAID 0 on the TerraMaster with the following results, using two 4TB Hard Drives. It is IMPORTANT to note that because this test is with HDDs in a RAID 0/1, you are NOT going to get earth-shattering speed here.
TerraMaster D2, RAID 0 and RAID 1 Speeds Tests with Seagate Ironwolf 5400RPM HDD, 7200RPM and 3D NAND SSD Configurations
The Terramaster TD2 hits an impressive 386MB/s write, 426MB/s read, and that may well be more than fast enough for many of you, especially if all you're storing is photos. In video, they are also respectable numbers. But the fact still remains that these results are based on HDD use, not SSD in a RAID, which would be a very, VERY different ball game with reported speeds of around 760MB/s Read. But then, SSD use is a great deal more expensive and perhaps outside the budget of the average buyer of this more cost-effective solution.
TerraMaster TD2 Thunderbolt 3 2-Bay – Review Conclusion
The TD2 RAID DAS from Terramaster that is not trying to be more than it appears. It presents itself as an affordable alternative to much, MUCH bigger names – suggesting that you can get something near identical and spend alot less – and in this, they almost succeed! There is the obvious inclusions towards thunderbolt 3 enabled buyers who need that large storage and once they start to see costs mount up (hard drives, cables, enclosure, etc) they will look at the TD2 and want to know simple – is this as good as the expensive one? And I have to say that Yes it is. It still has a little room for improvement and the chassis still still not to everyone's taste. But aside from that, would you have here is a functional and robust storage solution that I recommend.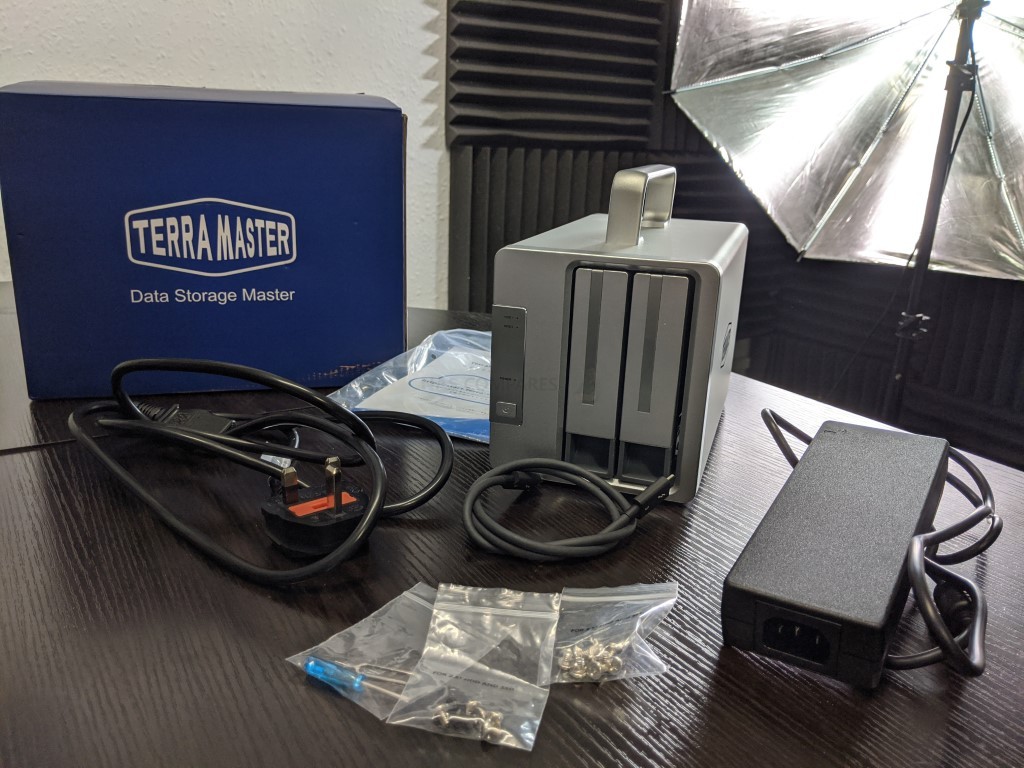 If you need external storage but on a tight budget, then it's hard to argue at the value of the Terramaster TD2 thunderbolt box. Alongside hardware RAID, it is also one of a diminishing number of Thunderbolt brands that provide unpopulated solutions, or uncomplicated storage that the most modest and novice data storage enthusiast will like the sound of. However, with certain design choices that won't please everyone, along with a read and write speed a touch below what the top end competitors are offering, there are reasons why it arrives at this price point.
TerraMaster TD2 Thunderbolt 3 2-Bay PROS
TerraMaster TD2 Thunderbolt 3 2-Bay CONS

Good Price Point
Hardware RAID
DisplayPort Support
Daisy-Chaining Support
Mac and Windows Compatible
Easy to Setup

Bit Plastic-y, despite large amount of aluminium in chassis design
Performance below LaCie & G-Tech 2-Bays
A Quick Request to You – Yes, you reading this!
If you plan on buying your NAS Drive from Amazon, please use the links below for the best prices and Availability
📧 LET ME KNOW ABOUT NEW POSTS 🔔
Join 1,582 other subscribers
Get an alert every time something gets added to this specific article!
This description contains links to Amazon. These links will take you to some of the products mentioned in today's content. As an Amazon Associate, I earn from qualifying purchases. Visit the NASCompares Deal Finder to find the best place to buy this device in your region, based on Service, Support and Reputation - Just Search for your NAS Drive in the Box Below
Need Advice on Data Storage from an Expert?
We want to keep the free advice on NASCompares FREE for as long as we can. Since this service started back in Jan '18, We have helped hundreds of users every month solve their storage woes, but we can only continue to do this with your support. So please do choose to buy at Amazon US and Amazon UK on the articles when buying to provide advert revenue support or to donate/support the site below.

Finally, for free advice about your setup, j
ust leave a message in the comments below here at NASCompares.com and we will get back to you.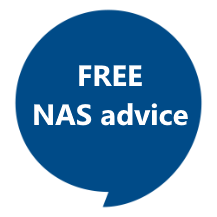 Need Help? Where possible (and where appropriate) please provide as much information about your requirements, as then I can arrange the best answer and solution to your needs. Do not worry about your e-mail address being required, it will NOT be used in a mailing list and will NOT be used in any way other than to respond to your enquiry.
Support What We Do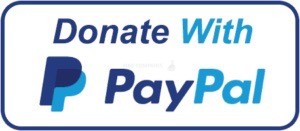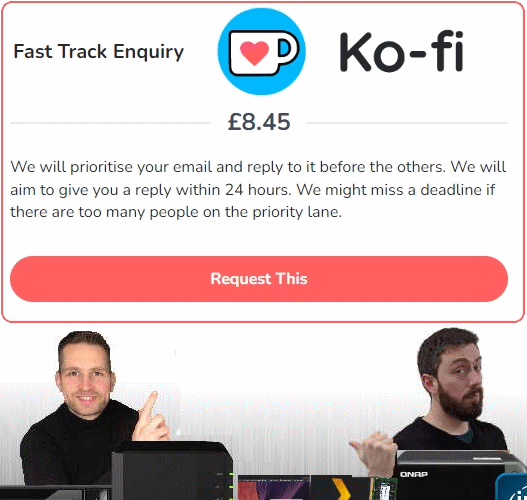 Terms and Conditions Alternatively, why not ask me on the ASK NASCompares forum, by clicking the button below. This is a community hub that serves as a place that I can answer your question, chew the fat, share new release information and even get corrections posted. I will always get around to answering ALL queries, but as a one-man operation, I cannot promise speed! So by sharing your query in the ASK NASCompares section below, you can get a better range of solutions and suggestions, alongside my own.
This description contains links to Amazon. These links will take you to some of the products mentioned in today's video. As an Amazon Associate, I earn from qualifying purchases
Summary
Reviewer
Review Date
Reviewed Item
TerraMaster TD2 Thunderbolt 3 2-Bay Hardware Review
Author Rating