What is the
QNAP QNA-UC5G1T

and Why Should You Buy it NOW?

For those that have followed both this blog and my YouTube channel for a while, you will know that one of the biggest hurdles that a NAS user will need to overcome is that of upload and download speeds. With the majority of NAS drives in the market today utilising one-gigabit ethernet, this means that regardless of the number of hard drives and the power of the CPU inside, the top speed you will get is 100MB's or so tops. The people that just want to stream movies or back up mobile phones, this is more than enough and will never really think about this problem. However, with NAS devices becoming ever more popular with content creators, post-production and even gamers, this bottleneck will not do. It is for this reason that when I first heard about the QNAP QNA-UC5G1T, I got really excited. It is more than the fact that it promises five times the traditional network speed available on most devices, but moreover that it achieves this in possibly the easiest way we have ever seen. With most ethernet network upgrades relying on costly PCIe cards or thunderbolt3 adapters as a means of connectivity, the 5-gigabit ethernet enabled QNA-UC5G1T device from QNAP does it with good old-fashioned USB 3.0. This coupled with its fantastically modest price tag of under £100, means that many existing NAS owners will look at this as their next upgrade. But does the new adaptor do what it promises, or is it just too good to be true, let's find out.
The
QNAP QNA-UC5G1T

5Gbe Adapter – Design
The retail box that the QNAP QNA-UC5G1T arrives in is a good blend of Mac and Windows aesthetic. The clean white and grey retail box will appeal to the straightforward mac user, where is the plethora of specifications will appeal to the windows buyer.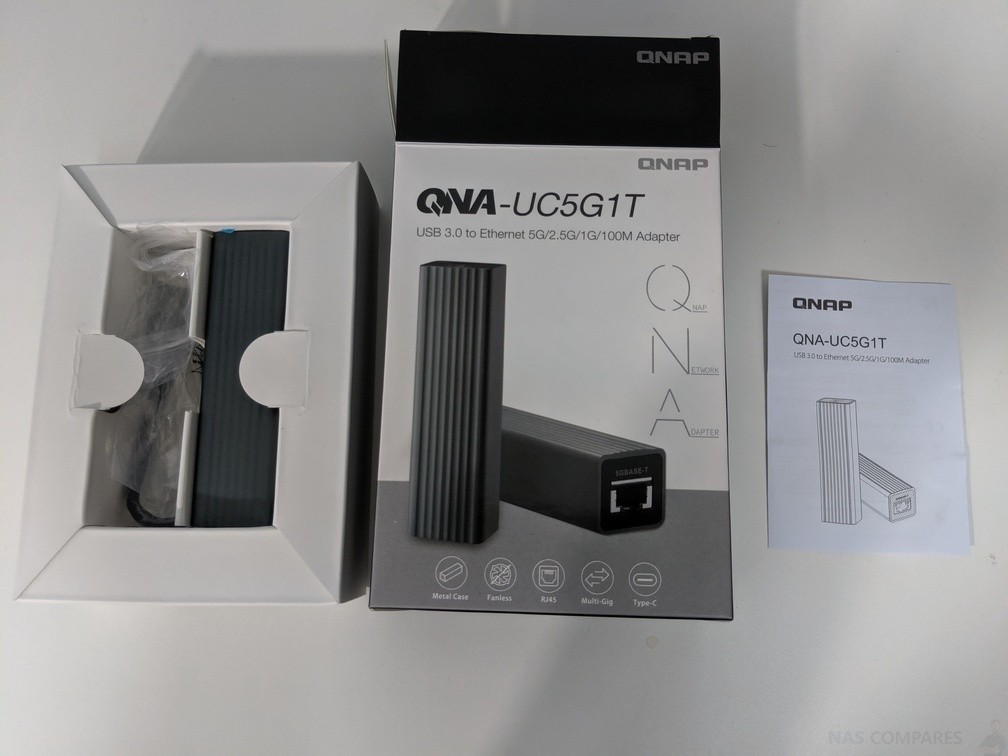 Inside we find very little in terms of accessories and in fact the QNA-UC5G1T, as it is USB bus-powered, requires almost no other parts and simply arrives with the following inside its packaging:
QNA-UC5G1T Adapter
0.2M USB 3.0 Type-C to Type-A cable
Installation guide
Once we removed all the packaging, we can take a good look at the QNA-UC5G1T adapter itself and see what all the fuss is about.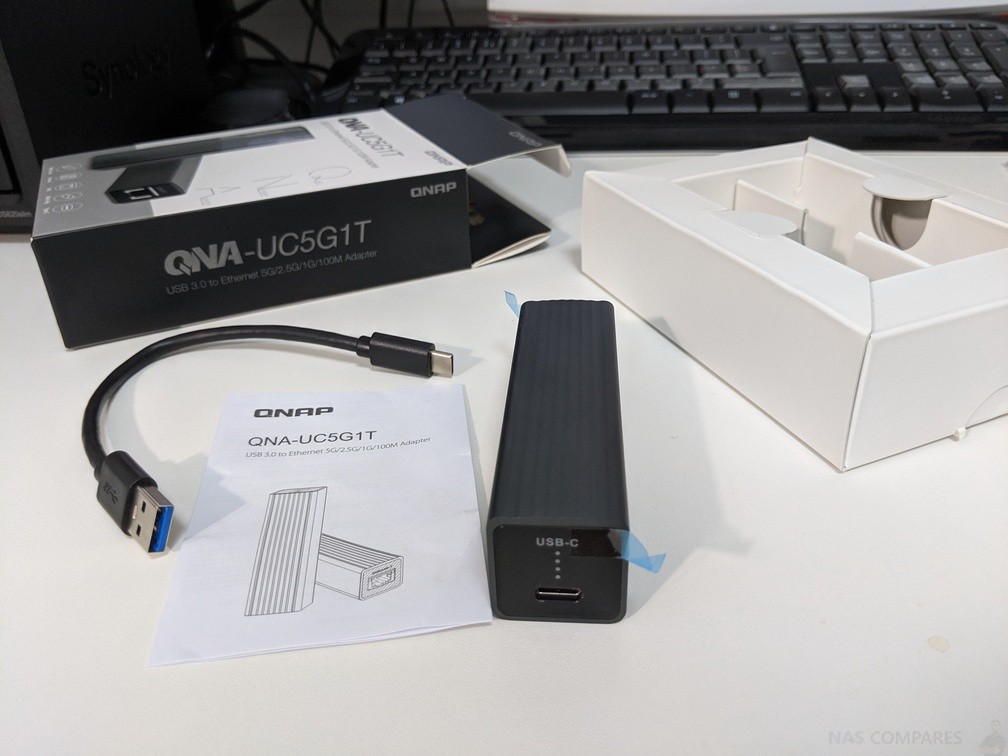 Arriving in a sleek aluminium casing, this cool little adapter is incredibly discrete and on the face of it does not seem to promise much. However, and I will try to keep my enthusiasm in check, you really need to appreciate how much work has gone into developing this incredibly useful tool.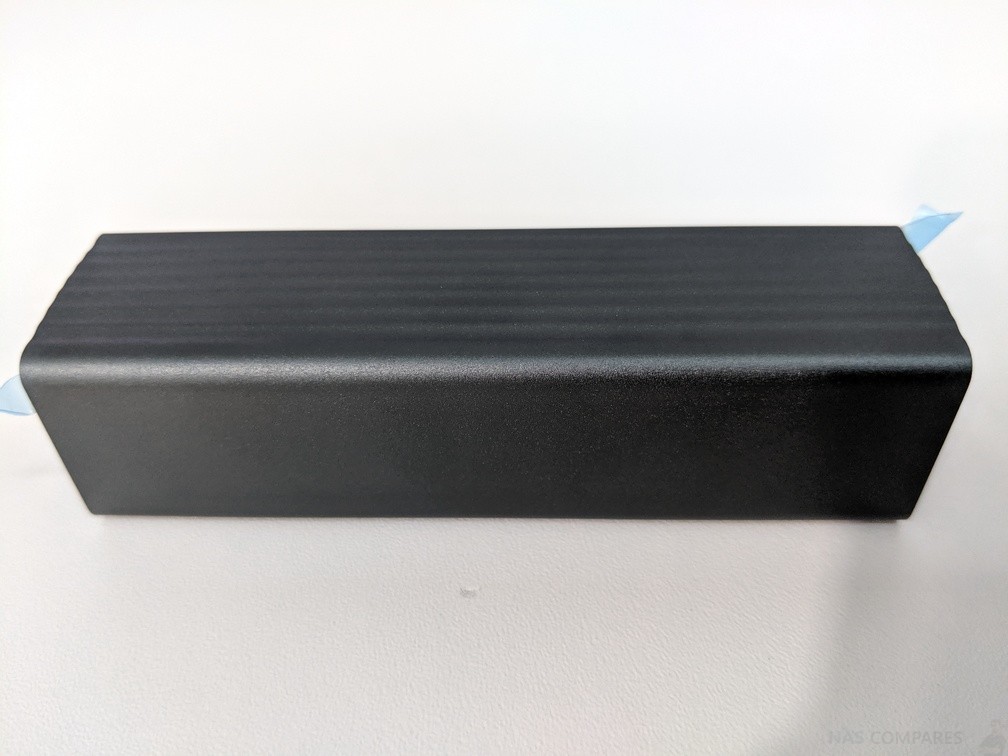 The
QNAP QNA-UC5G1T

5Gbe Adapter – Hardware
Whether you have experience of using a NAS or are reliant on cloud platforms such as Dropbox and Google Drive, all of us have experience of trying to edit a file over the network or internet. The one gigabit (1Gbe LAN) ethernet available to most users results in system hanging, products stalling and generally not getting the job done. Likewise, with file sizes becoming bigger and bigger in the photo and video editing world, as well as mobile phones producing bigger and bigger photos, 1 gigabit (100MBs) network speeds just isn't ok anymore. Conversely, despite file sizes getting bigger, the devices we use to interact with these files are getting smaller and smaller. Portability is always good, but this significantly limit the ability to upgrade our hardware, given that the majority of external upgrade options require PCIe cards and addons that do not plug and play options. I know I am sounding like a bit of a broken record here, but this is the first truly convenient and usable upgrade from 1Gbe that we have seen within the industry that has little to no learning curve.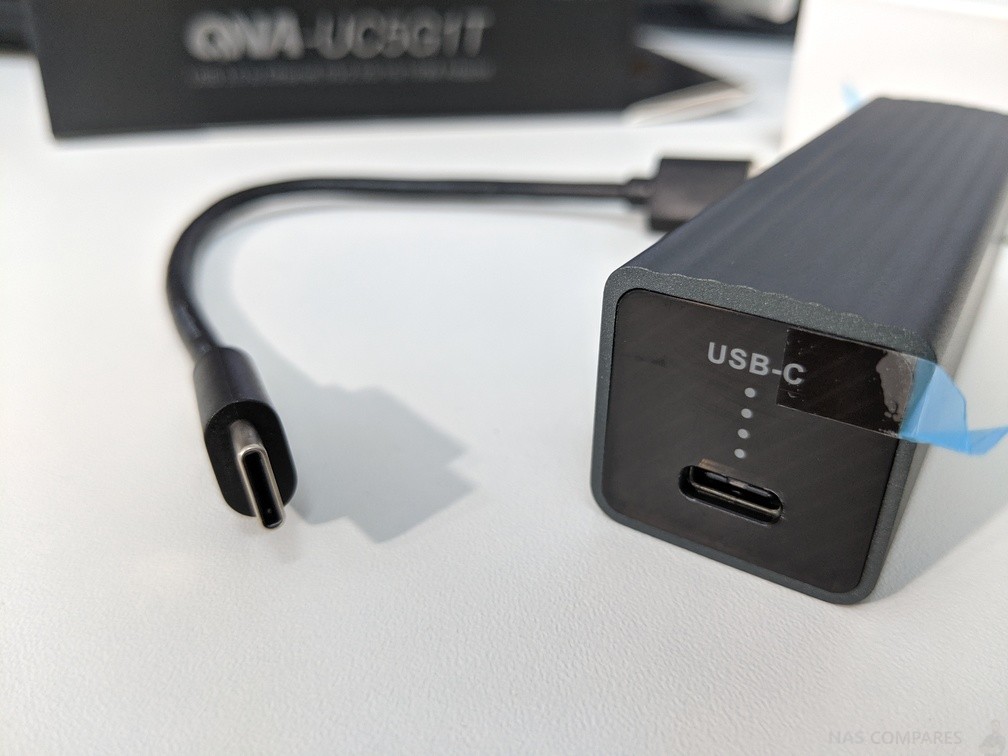 The QNA-UC5G1T takes all these hardware and software Innovations onboard and provide you with a USB enabled ethernet adaptor, providing 5 times (upto 500MB/s) the speed of regular RJ45 (100MB/s) and does this with a simple USB connection. Alongside this, it is supported by both Mac and Windows systems, is plug and play and best of all, requires almost no technical knowledge.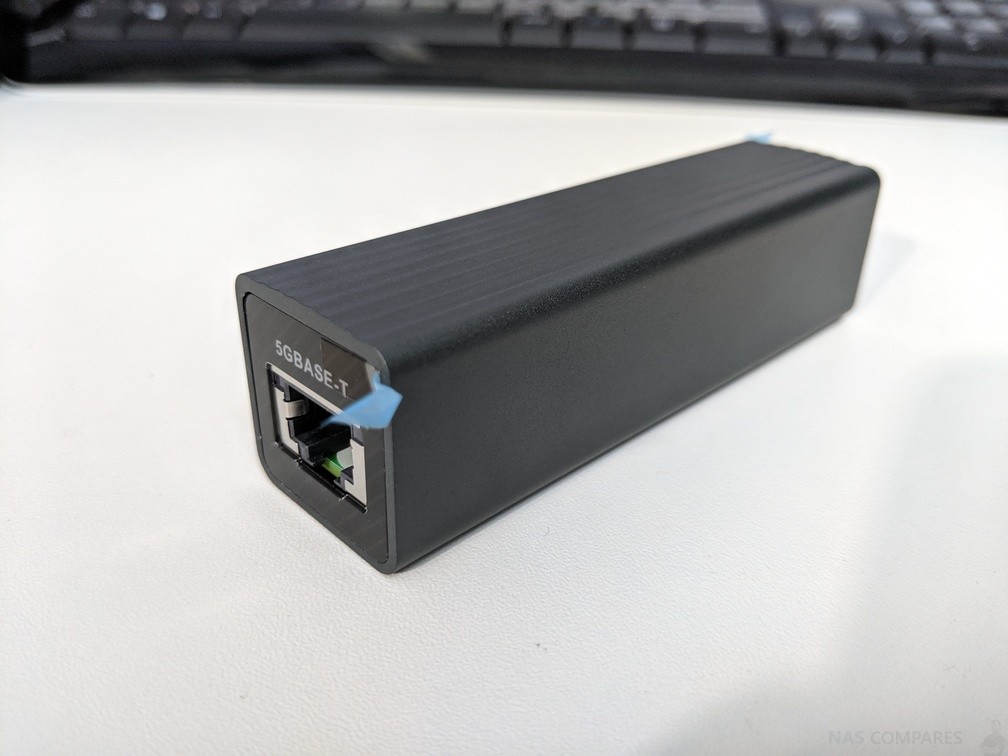 Faster than 1Gbe network speeds are not new and in fact, 10-gigabit ethernet has been around for a number of years now. However, these speeds are achieved in much more expensive or hardware prohibitive ways and have never been available in simple methods such as USB. In the last year or so we have seen several Thunderbolt3 to 10Gbe adaptors appear on the market from QNAP, sonnet, Akitio and more, but Thunderbolt is both a fantastically expensive connection and one that is subject to significantly more strict usage policies between hardware vendors and Intel, the technology owners. Because the QNA-UC5G1T enables faster connectivity with a simple and affordable USB port (something available on everything from laptops to MacBooks, to PCs, to Chromebooks, to mobiles and more), it makes it remarkably affordable as a means to upgrade your connectivity.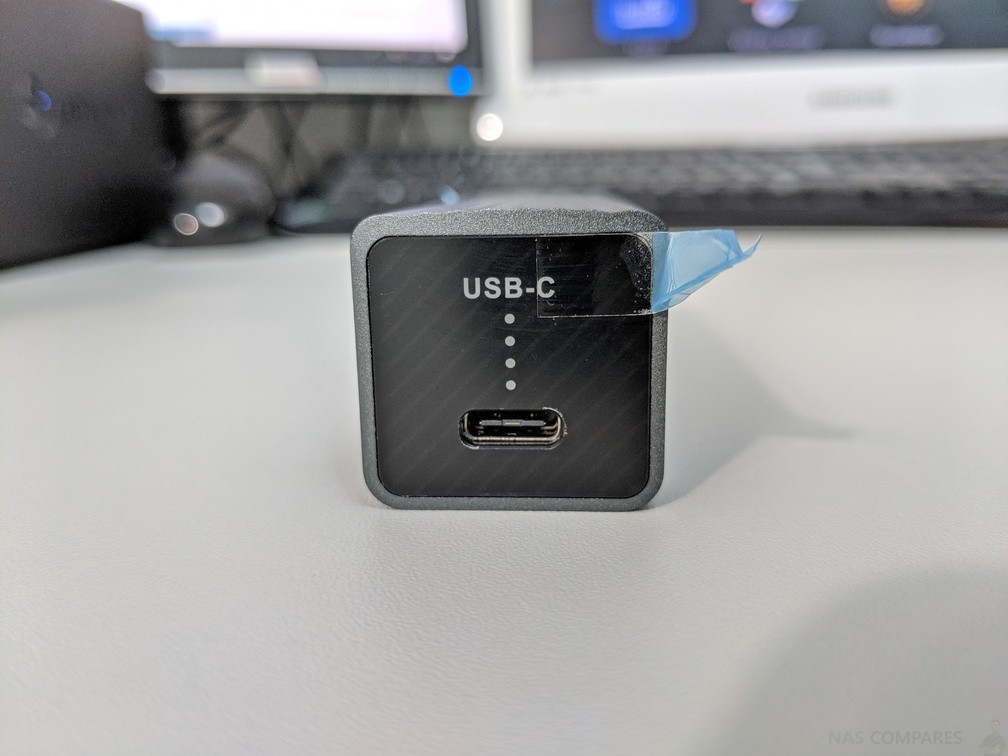 Still not convinced yet about the potential for a device such as this? Let me go one step further. The QNAP QNA-UC5G1T 5Gbe adaptor can be connected both to your computer and an additional unit can be connected to your NAS via available USB ports, to increase your connectivity even further. In future testing, we will see if the QNA-UC5G1T is supported by other popular known as platforms, but for now, we can 100-per cent confirm that this device is supported by my QNAP NAS and its network and virtual switch software to make a normally 1Gbe NAS, 5Gbe connected!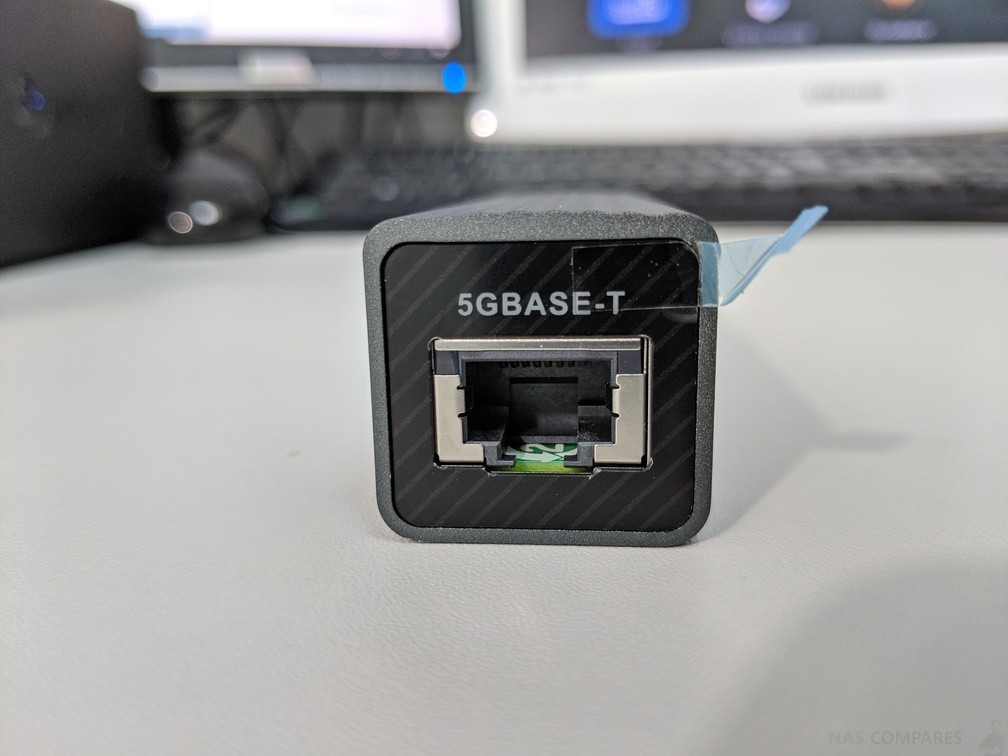 Besides from utilising two of these devices to form a stable 5-gigabit connection between your QNAP NAS and editing machine, the QNA-UC5G1T also allows you to connect your PC or Mac system to an existing 10GBASE-T network and still get 5Gbe connection speeds. Given that, until now, you would need to either upgrade your desktop computer with a PCIe NIC, buy a £200 thunderbolt adaptor or have to buy a whole new computer to do this, the QNA-UC5G1T at £100+ (don't forget your local tax) is a fantastically affordable and easy alternative over USB. Also, it allows you to gradually upgrade the network connectivity in your home or business environment , at a much more affordable level at the start.
Inside the QNAP QNA-UC5G1T, we find and the Aquantia AQC111U controller. For a brand that I had never heard of 2 years ago, they have really been exceptionally busy over the last 18 months with their incredibly affordable and capable ethernet controller chips and now in 2019, appear on almost every single NAS, affordable switch or networking platform as the de facto best chip for improved network speeds. This new controller featured inside the QNAP QNA-UC5G1T is what makes the magic happen and although most Windows or Mac systems will need to download the free driver the first time, after that, it is plug and play all the way.

Another cool feature of the QNAP QNA-UC5G1T is that it is fabulously discreet in design and will not produce any noise whilst in use. In order to counter any generated heat from that aquantia controller, the QNA-UC5G1T features shallowly grooved aluminium casing, that allows efficient heat dissipation whilst the device is in use, as well as LEDs that denote network access and activity at all times. We will be conducting full speed tests shortly to see how well this device works with both a QNAP NAS, connected to a PC and Mac system. With 2.5Gbe and 5Gbe NAS devices arriving on the market to provide affordable alternatives to 10Gbe, we can see the popularity of the QNAP QNA-UC5G1T only getting higher and therefore, will, of course, be testing this device with other NAS brands (Synology, Asustor, Netgear and more) to ensure compatibility.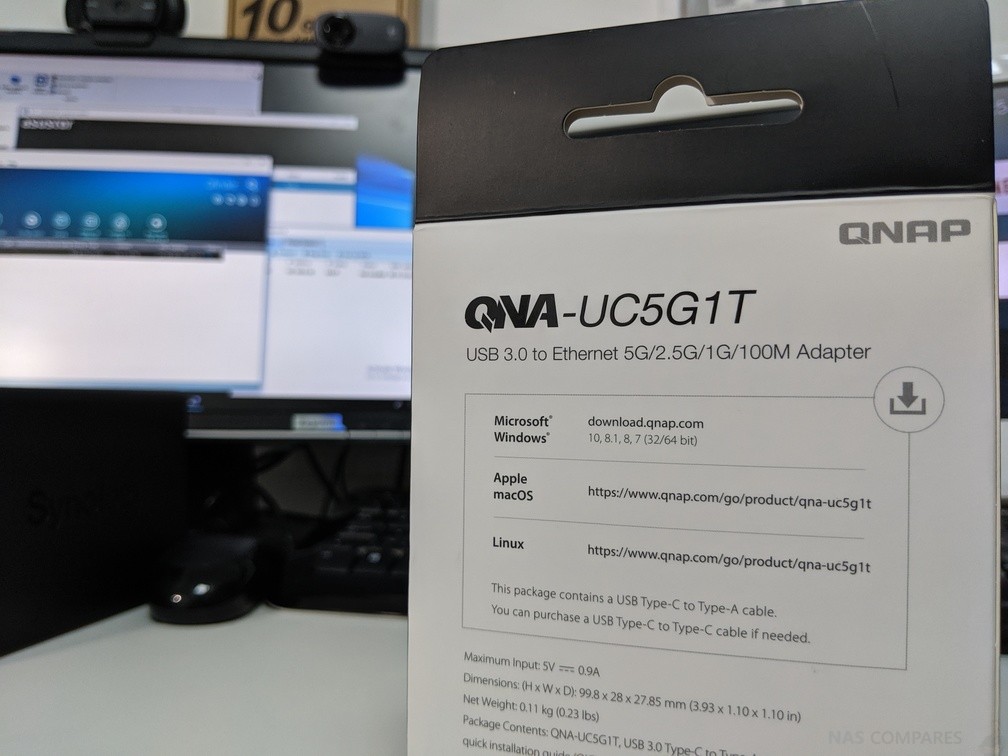 Bottom line, the QNA-UC5G1T adapter may well be one of the most innovative products we have seen in 2019. We are seeing QNAP evolve into more than just a NAS brand and feature more and more across our network environments, with devices like the QNA-UC5G1T that ensure that whether your NAS drive is a QNAP or not, there is still space for the brand on your desktop and storage environment. It will be interesting to see where they take this technology next (USB 3.1 Gen 2 = 10Gbs?) and how soon we will see them produce a 5Gbe enabled NAS that complement this adapter, till then I seriously recommend you get hold of one of these devices whilst you can.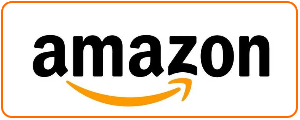 Articles Get Updated Regularly - Get an alert every time something gets added to this page!
This description contains links to Amazon. These links will take you to some of the products mentioned in today's content. As an Amazon Associate, I earn from qualifying purchases. Visit the NASCompares Deal Finder to find the best place to buy this device in your region, based on Service, Support and Reputation - Just Search for your NAS Drive in the Box Below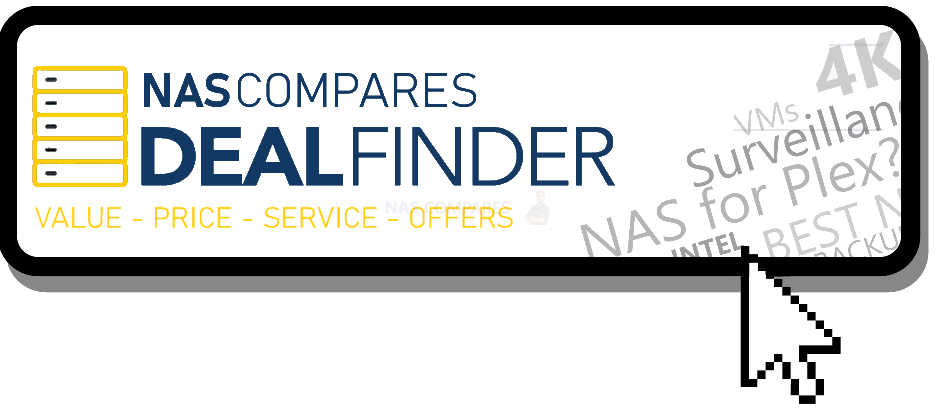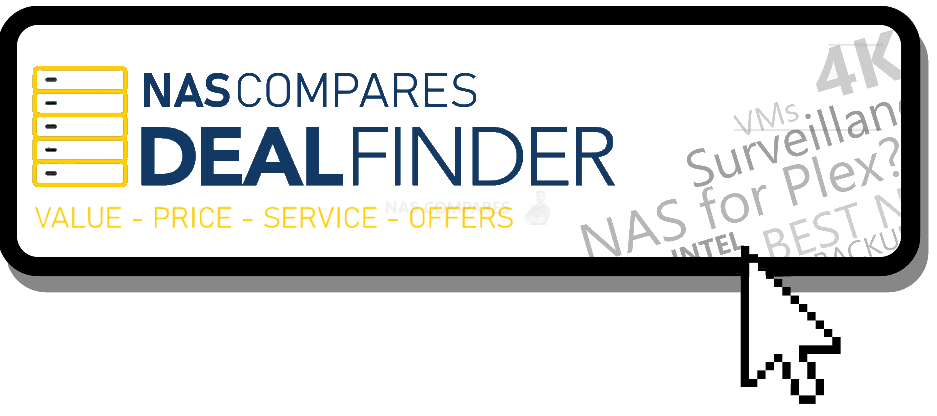 SEARCH IN THE BOX BELOW FOR NAS DEALS
Need Advice on Data Storage from an Expert?
We want to keep the free advice on NASCompares FREE for as long as we can. Since this service started back in Jan '18, We have helped hundreds of users every month solve their storage woes, but we can only continue to do this with your support. So please do choose to buy at Amazon US and Amazon UK on the articles when buying to provide advert revenue support or to donate/support the site below.


Finally, for free advice about your setup, j
ust leave a message in the comments below here at NASCompares.com and we will get back to you.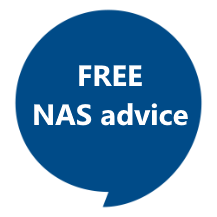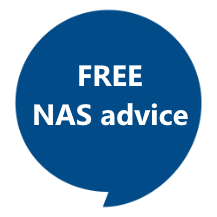 Need Help?
Where possible (and where appropriate) please provide as much information about your requirements, as then I can arrange the best answer and solution to your needs. Do not worry about your e-mail address being required, it will NOT be used in a mailing list and will NOT be used in any way other than to respond to your enquiry.
Terms and Conditions
Alternatively, why not ask me on the
ASK NASCompares forum
, by clicking the button below. This is a community hub that serves as a place that I can answer your question, chew the fat, share new release information and even get corrections posted. I will always get around to answering ALL queries, but as a one-man operation, I cannot promise speed! So by sharing your query in the
ASK NASCompares
section below, you can get a better range of solutions and suggestions, alongside my own.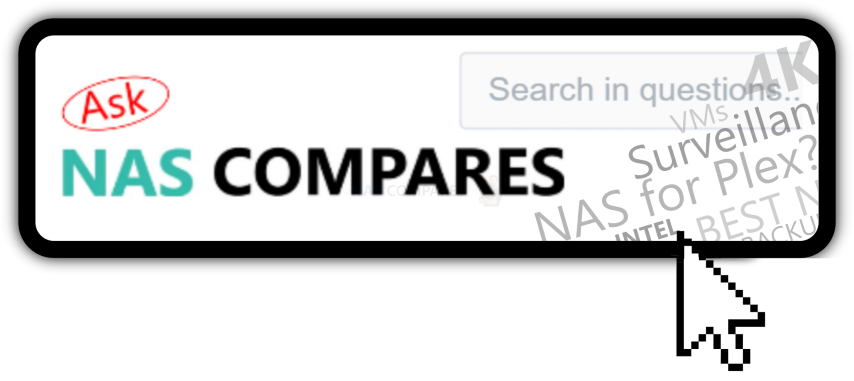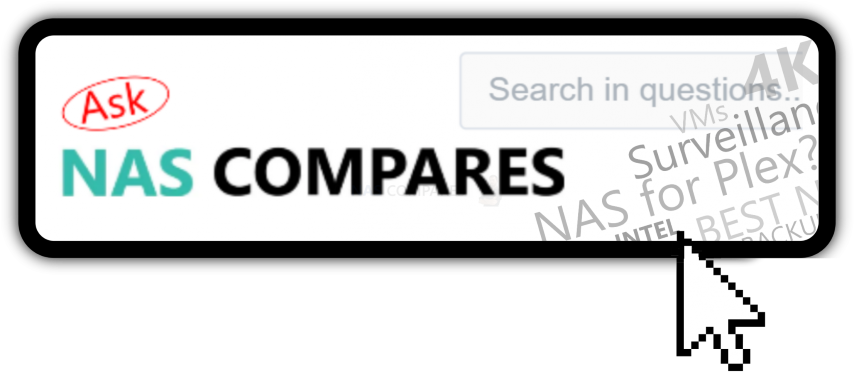 This description contains links to Amazon. These links will take you to some of the products mentioned in today's video. As an Amazon Associate, I earn from qualifying purchases