The Best SSD for Upgrading your PS5 Storage – Get It Right First Time
Finally, more than half a year after the release of the PlayStation 5, Sony has FINALLY enabled the ability to increase your PS5 Storage with that expansion slot. In this guide, I will explain some important things to consider before buying any compatible PS5 M.2 SSD, why it is different to a hard drive, and then recommend some drives that you should choose to upgrade your Playstation 5 Storage. We have waited a long time and although the ability to add USB storage for PS4 games has always been available, many of us have been crying out for the ability to add additional space for premium PlayStation 5 games on our system storage (that 825GB was getting pretty full!). The process of physically installing a new M.2 SSD inside your PS5 is actually surprisingly easy to do and will not invalidate your warranty. We already released a guide back in Nov 2020 to show users how to physically install an NVMe M2 solid-state drive, even before the feature was enabled by Sony in the latest firmware update. However, not all SSD are created equal and it is very important that you choose a compatible and high-performance SSD for your PS5, to make sure that it does not reduce your PlayStation 5 gaming experience, increase loading times or affect online multiplayer latency for the worse. Today I'm going to list several recommended SSD drives to install in your PlayStation 5 that can be used to store and play PS5 games directly.
If you are looking for the perfect Heatsink for your PS5 SSD, use my Guide here to PS5 Compatible SSD Heatsinks HERE. Or I have listed the Best M.2 NVMe SSDs for your PS5 Storage upgrade Below:
Here are the Recommended M.2 NVMe SSDs to Upgrade Your PS5 When the Software Update comes out of Beta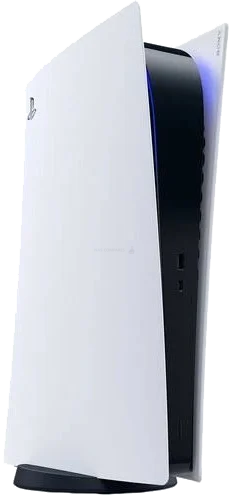 FASTEST – Seagate Firecuda 530 – Find it Here
2ND FASTEST – Sabrent Rocket 4 Plus – Find it Here
MOST AVAILABLE – Samsung 980 PRO – Find it Here
BEST PRICE – WD Black SN850 (Confirmed) – Find it Here
AORUS Gen4 7000s SSD – Find It Here
Inland Performance Plus 1TB SSD – Not Available
MSI SPATIUM M480 – Find it Here
Corsair MP600 NVMe SSD (TBC) – Find it Here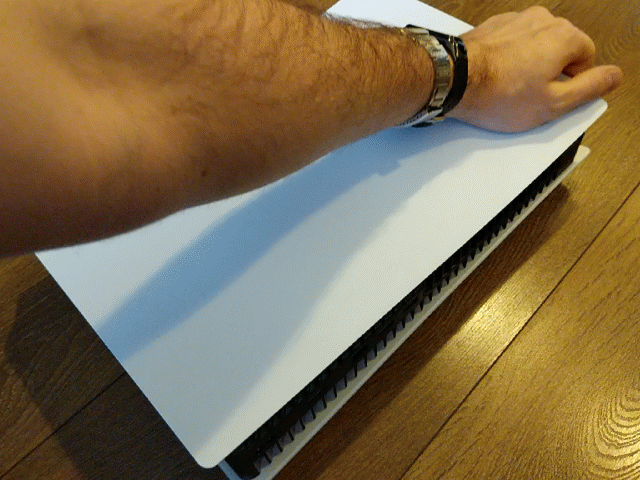 Sony Themselves state that your selected M.2 NVMe SSD should be:
Interface: PCIe Gen4 x4 M.2 NVMe SSD
Capacity: 250GB – 4TB
Cooling structure: Using an M.2 SSD with your PS5 console requires effective heat dissipation with a cooling structure, such as a heatsink. You can attach one to your M.2 SSD yourself, either in a single-sided format, or double-sided format. There are also M.2 SSDs that have cooling structures (such as heatsinks) built in.
Sequential read speed: 5,500MB/s or faster is recommended
Module width: 22mm width (25mm width is not supported)
Form Factor: M.2 type 2230, 2242, 2260, 2280 and 22110.
These numbers can be found on retail listings for M.2 SSD devices. The first two digits refer to the width, the remaining digits to the length.
Socket type: Socket 3 (Key M)
Total size including cooling structure:
In millimeters: smaller than 110mm (L) x 25mm (W) x 11.25mm (H).
In inches: smaller than 4.33in (L) x 0.984 in (W) x 0.442in (H).
See below for full requirements.
Length
The following M.2 SSD lengths are compatible with PS5 consoles:
30mm, 42mm, 60mm, 80mm, 110mm (corresponding to the form factor type, per above).
Width
A 22mm-wide M.2 SSD module is required.
The total structure (including an added cooling structure) cannot exceed 25mm (0.984in).
Height
The total height of the M.2 SSD and its cooling structure (such as a heatsink) – whether built-in or separate – must be less than 11.25mm (0.442in).
The height must also be in the right place, in relation to the M.2 SSD's circuit board:
The size below the board must be less than 2.45mm (0.096in).
The total size above the board must be less than 8mm (0.314in).
Playstation 5 SSD Upgrades – Important Buying Tips First!
Modern high-performance M2 SSD are much more expensive than the hard drives that previous generations of PlayStation console arrived with. It is important to remember that the price per gigabyte of an SSD is around 4 to 5 times more expensive than a hard drive, but also that there are many different kinds of SSD in the consumer market and if you buy the wrong type, you will either be unable to install the drive in your PS5, or you risk installing an inappropriate SSD for use in the system and put your data at risk. So, here or three important buying tips when looking at any SSD to increase your PlayStation 5 storage. 
Tip 1

– Buy M.2 NVMe, not M.2 SATA
The format of a more modern SSD in 2020/2021 in terms of physical size have favoured the M.2 interface of drives. In its most basic form, M2 is a much more compact and direct connection between the storage media drive and the PC or console. However M2 has been around a long time and in fact, when it comes to getting an SSD for your PS5, you need to make sure you get an M.2 SSD that is NVMe or PCIe based. More cost-effective (i.e lower price) M2 SSD arrive in SATA format, which is considerably slower than NVMe M.2 Key and is also unsupported by the PlayStation 5. So when looking at an SSD to increase your PS5 storage, if it looks incredibly cheap, there is a good chance that it is SATA and not NVMe PCIe.
Tip 2

– Avoid QLC NAND and Choose TLC and 3D TLC NAND SSD
Another major change in SSD technology in recent years that has allowed much larger capacity options in gigabytes and terabytes is the improvement of the chips inside that hold the storage inside. The actual storage inside an SSD is contained on multiple cells known NAND, which depending on the quantity and quality chosen by the manufacturer, result in a larger capacity, faster access and improved durability. The majority of gamer and prosumer SSD used in modern consoles utilise TLC or MLC grade NAND. These provide a great balance between storage, speed and endurance. Recently the new QLC (Quad Layer Cell) quality of NAND in SSD has provided huge capacity options, allowing between 4tB and 8TB capacity. However, this larger capacity comes at a big drop in performance and endurance, therefore QLC NAND SSD is NOT recommended for use in PlayStation 5 storage upgrades. I strongly recommend buying M.2 NVMe SSD with TLC or 3D TLC memory.
Tip 3

– PCIe Gen 4 Vs PCIe Gen 3 SSD
Finally, make sure you buy an M2 SSD that is rated at PCIe Gen4 x4 or higher. More modern SSD make a point of highlighting that they are PCIe Gen4, as these are the SSD that can provide at least 4000-5000MB/s, getting theoretically as high as 8000MB/s. This has resulted in the cost of PCIe Gen 3 SSD falling in price and in some cases be as much as 50% cheaper than PCIe gen 4 SSD. Do not buy a PCIe Gen 3 NVMe SSD for your PlayStation 5, as this will severely bottleneck the performance of the PS5 when storing and accessing your game data. Both types of M2 SSD look identical, but if the specifications or retail box do not clearly state PCIe Gen 4, avoid them!
Recommended SSD Upgrades for PS5 Storage Expansion
So now you know that in order to upgrade your PS5, you need to buy an M.2 SSD that is NVMe supported, is PCIe Gen 4 and one that uses TLC or 3D TLC NAND. That narrows the list of SSDs that you can buy in 2021 from around 100,000 down to about 5,000. That is still ALOT to choose from, arriving in multiple brands, capacities, reported speeds and endurance. So, now I will break the choice down even more for you. Below I have highlighted the PS5 Compatible SSDs (remember not PS5 Hard Drives – VERY important) that you can install in your Playstation 5 to increase your storage. Each of the M.2 SSD below is available in at least 500GB, 1TB, 2TB and 4TB options, along with why I recommend them (based on Price, Speed, Endurance, Build Quality and more). Let's take a look at the best SSD for PST Upgrades below.
Important!!! – Remember, Sony is still yet to fully complete and confirm the full specification list of supported SSDs that will be supported with the PS5 Storage Expansion Bay when enabled, so although I am 95% certain that all of the SSD below will be supported, you should double-check the Playstation 5 Compatibility list when it is published before you buy! Sony reserves the right to change the list of compatible M.2 NVMe SSD that they support.

RECOMMENDED – PS5 Storage Upgrade – Seagate Firecuda 530
Optional Heatsink ($55+), Max Reported Read/Write – 7,300MB/s & 6,900MB/s, Capacity Available 500GB – 4TB, Warranty 5yrs + 3yrs Data Recovery Services , $140-950
Newest Generation of Phison E18 Controller and Premiered on the Seagate Firecuda 530 Series

Insane performance, increasing at each capacity between 500GB, 1TB, 2TB and 4TB that is faster than the PS5 uncompressed performance speed

Included 3 years of Data Recovery services with the 5yr Manufacturer's Warranty

Reported 1,000,000 Random Read/Write IOPS at the 4TB model

Included Enterprise Heatsink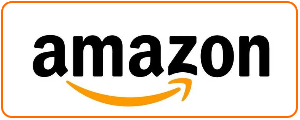 ---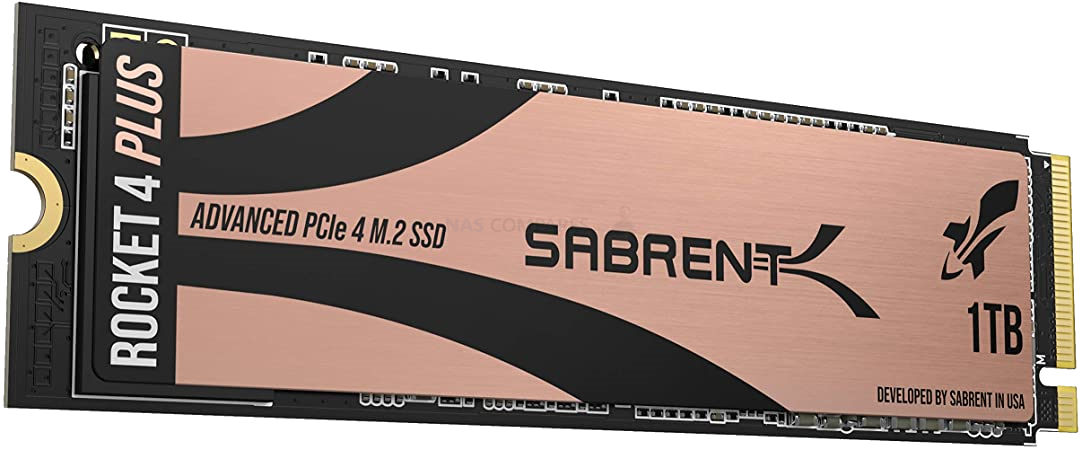 Best Reviewed PS5 Storage Upgrade – Sabrent 1TB Rocket NVMe SB-ROCKET-NVMe4
Does Not Include Heatsink, Max Reported Read/Write – 5,00MB/s & 4,400MB/s, Capacity Available 500GB – 2TB, Warranty 5yrs, $199-999
NVMe M.2 PCIe Gen4 x4 Interface. PCIe 4.0 Compliant / NVMe 1.3 Compliant.

Power Management Support for APST / ASPM / L1.2.

Supports SMART and TRIM commands. Supports ONFi 2.3, ONFi 3.0, ONFi 3.2 and ONFi 4.0 interface.

Advanced Wear Leveling, Bad Block Management, Error Correction Code, and Over-Provision.

All Sabrent SSDs come with FREE Sabrent Acronis True Image for Sabrent Software for easy Cloning.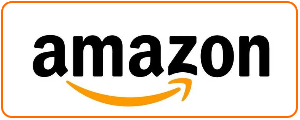 ---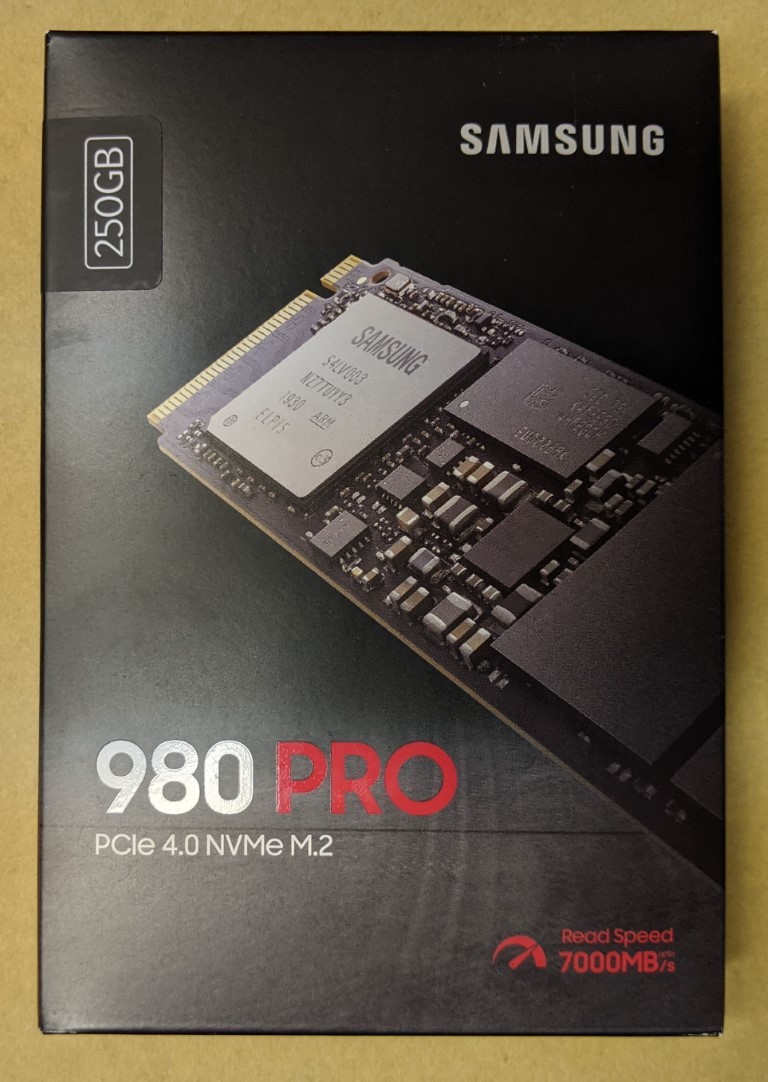 Cheapest PS5 Storage Upgrade – Samsung 980 Pro MZ-V8P2T0B – Still TBC!
Does Not Include Heatsink, Max Reported Read/Write – 7,000MB/s & 5,500MB/s, Capacity Available 500GB – 2TB, Warranty 5yrs, $119-399
Unleash the power of Samsung 980 PRO PCIe 4.0 NVMe SSD for next-level computing

980 PRO is raising the bar for NVMe SSDs, delivering read speeds up to 6,900 MB/s

To ensure stable performance, the 980 PRO uses nickel coating to help manage the controller's heat level and a heat spreader label to deliver effective thermal control of the NAND chip

Embedded with Samsung's cutting-edge thermal control algorithm, 980 PRO manages heat on its own to deliver durable and reliable performance, while minimizing performance fluctuations during extended usage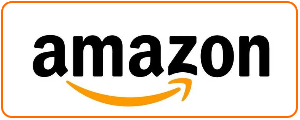 ---
PC Gamer SSD for PS5 Storage Upgrades – The MSI SPATIUM M480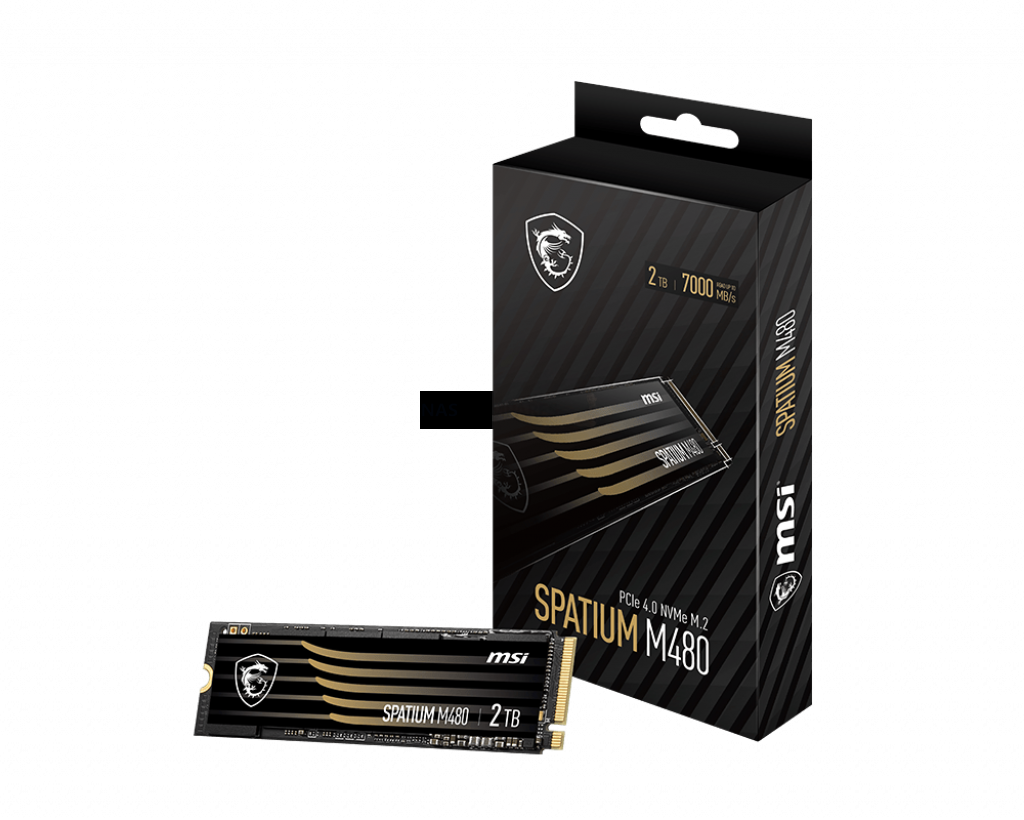 Does Not Include Heatsink, Max Reported Read/Write – 7,000MB/s & 5,500MB/s, Capacity Available 500GB – 2TB, Warranty 5yrs, $TBC
Latest Gen NVMe SSD from Gamer/Mobo Giants MSI, supporting PCIe 4.0 NVMe 1.4 SSD

Peaking at 7,000MB/s Read and 6,850MB/s Write, thanks to the powerful Phison E18 Controller

Optional Heatsink available

PCIe Gen4x4 interface and complies with the NVMe 1.4 standard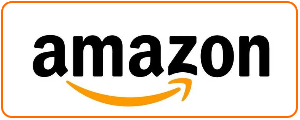 ---

FASTEST PS5 Storage Upgrade – PNY XLR8 CS3140 M280CS3140
Optional Heatsink ($25+), Max Reported Read/Write – 7,500MB/s & 5,650MB/s, Capacity Available 1TB – 2TB, Warranty 5yrs, $199-399 
Upgrade your M.2 PCIe Gen4 enabled computer to enjoy the extreme performance you demand​

The NVMe PCIe Gen4 x4 interface delivers exceptional performance of up to 7,500MB/s seq. read and 5,650MB/s seq. write speeds; slower when equipped in PCIe Gen3 x4 motherboards​

The enhanced bandwidth of the NVMe Gen4 interface allows for extreme performance and low latency, making it superior to SATA based SSD's​

Ultra-high performance is ideal for demanding applications, high-end games, and intense workloads​

Backed by a 5 Year Warranty with support from our US-based technical support team​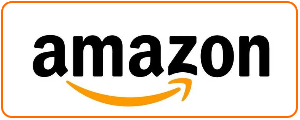 ---
PS5 SSD Expansion Test – Step By Step Walkthough
Here is a installation Guide, originally made last year in this article HERE. The NVMe SSD installation took place on a completely uninitialised PlayStation 5, as I did not want the latest firmware update affecting any potential results in this installation. I unboxed the system and prepared the console for drive installation. The installation of the NVMe was pretty straightforward and only required a Phillips head screwdriver and around 5-minutes.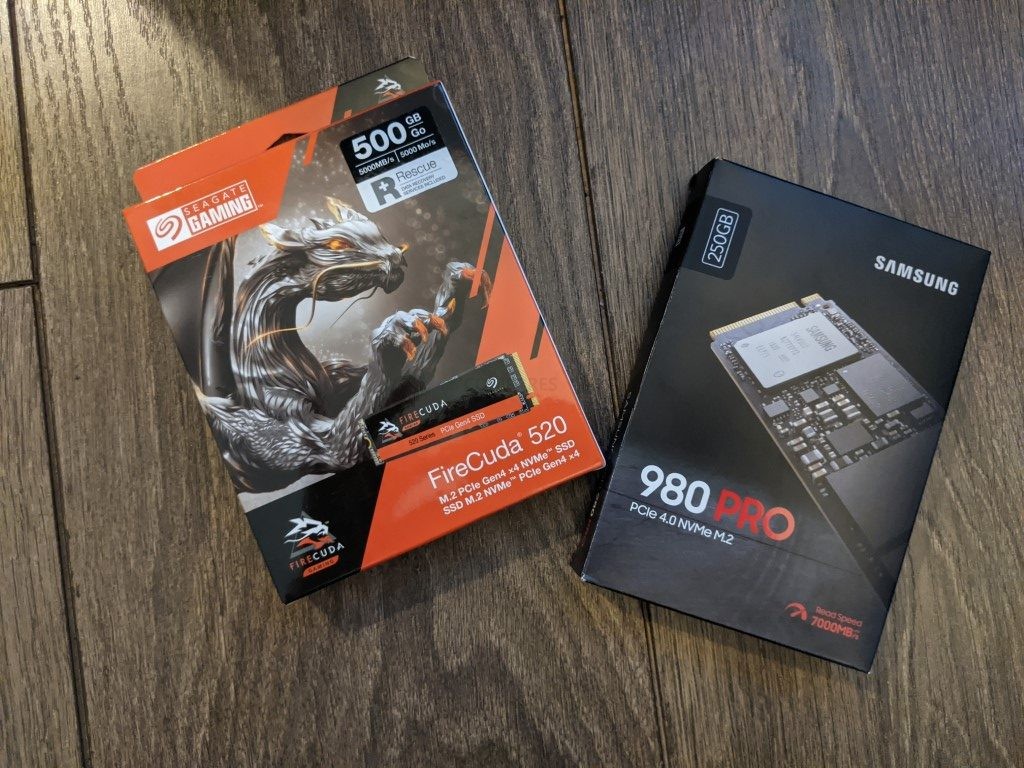 The drives I wanted to test were Seagate ironwolf 520 and Samsung 980 Pro, both NVMe PCIe Gen4 X4 drives that promise between 5,000-7,000 MB/s. This is still lower than the potential maximum performance of the PlayStation 5 internal storage(9,000MB/s+) and likely the disparity between current NVMe controllers and the core Playstation system is likely the reason for this upgrade option currently being disabled in the software. Until the likes of the Phison E18 PCIe 4 SSD controller being mass-produced or WD/Samsung getting there alternative out there, this will significantly slow down drive testing by Sony. Nevertheless, these two drives are two of the fastest NVMe available in the world right now and ideal for testing in the base PS5 right now.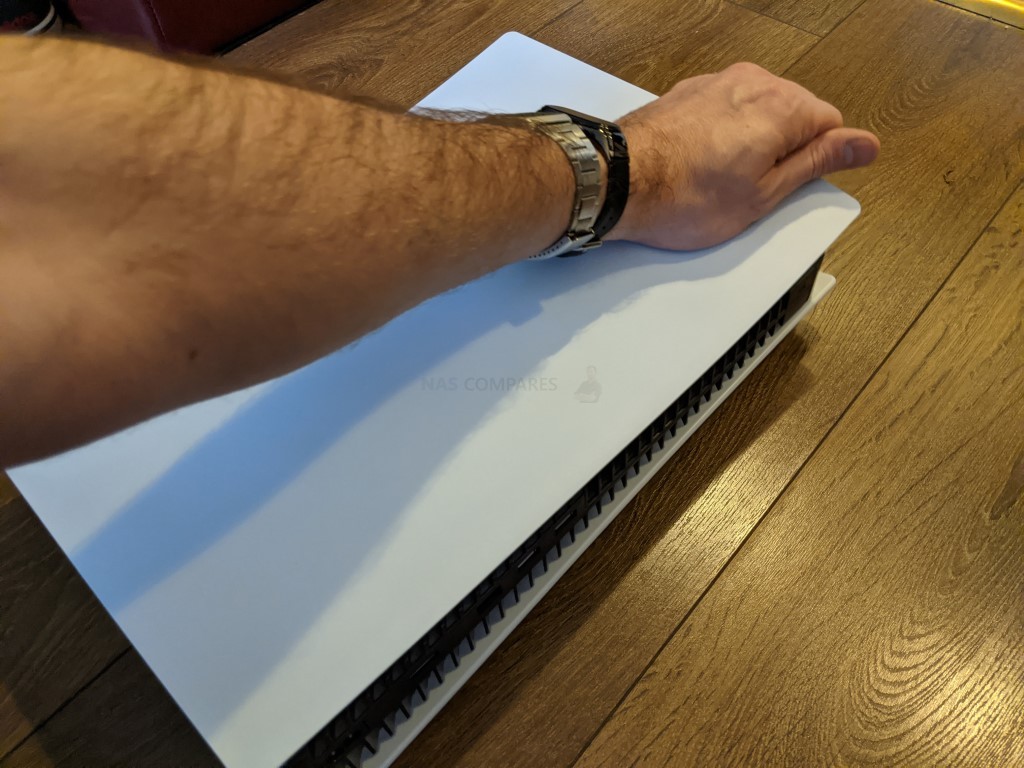 Removing the lid of the PS5 is incredibly straight-forward and does not require tools. most first-time users may be quite hesitant to mess around with this plastic plate for fear of breaking or damaging them, but the removing of the plate (the side that does not have the PlayStation logo, but rather the side with the optical disc input if you purchased that version) is incredibly straight-forward.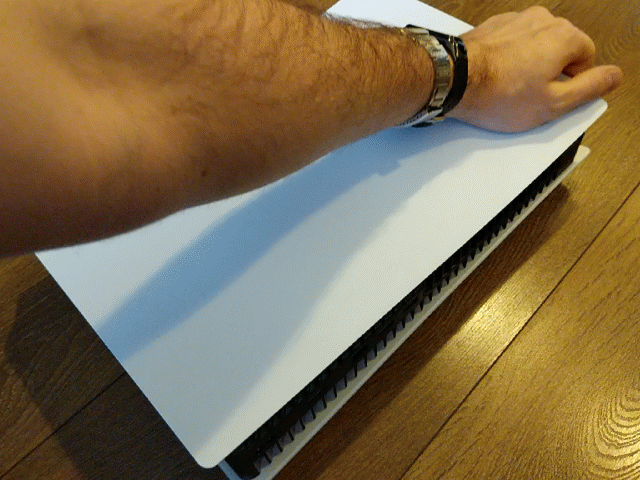 First, you need to slightly lift the top right corner as shown in the images below, then you need to slide the plate down and it comes off exceptionally easily, revealing the internal cooling fan and that small metal module where we install NVMe SSDs.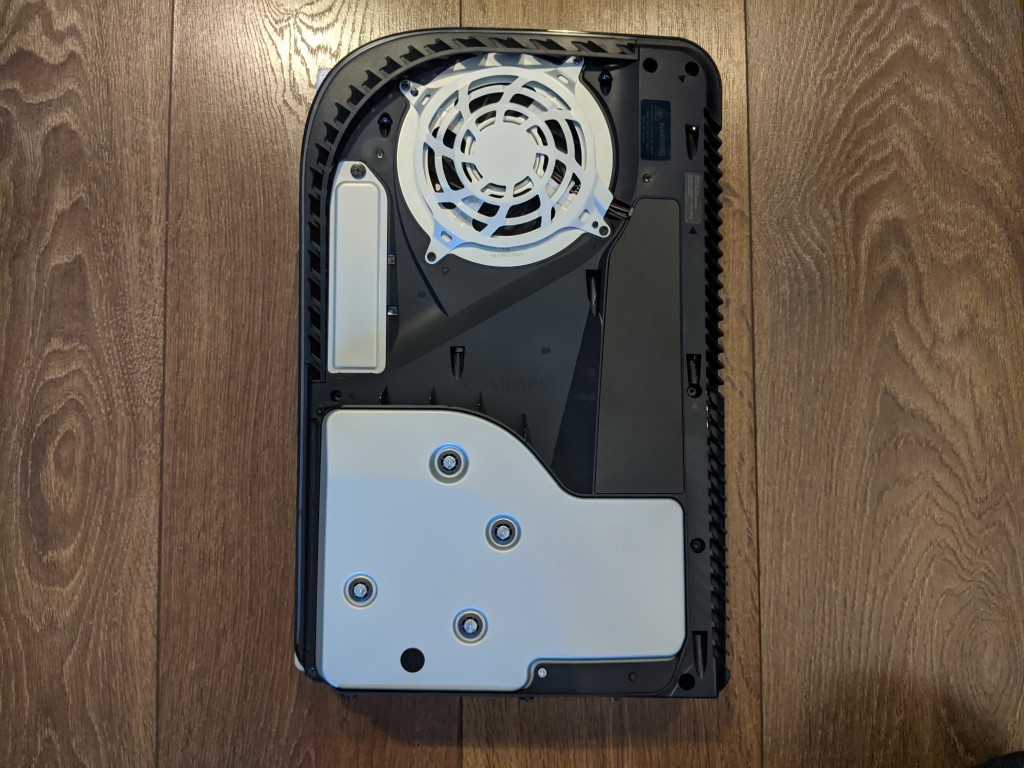 Next, you will need a small cross screwdriver to remove the single screw that keeps this expansion port cover in place. Remember, lefty loosey, righty tighty!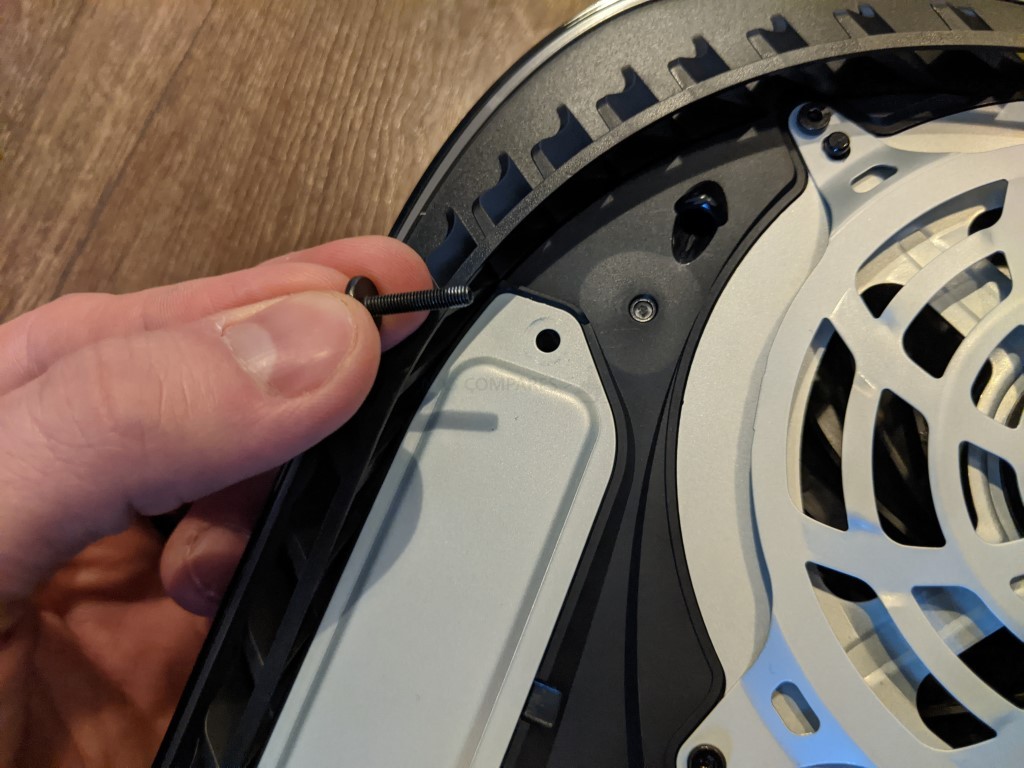 Upon removing this plate, you will see the full-length NVMe SSD m 2 bay.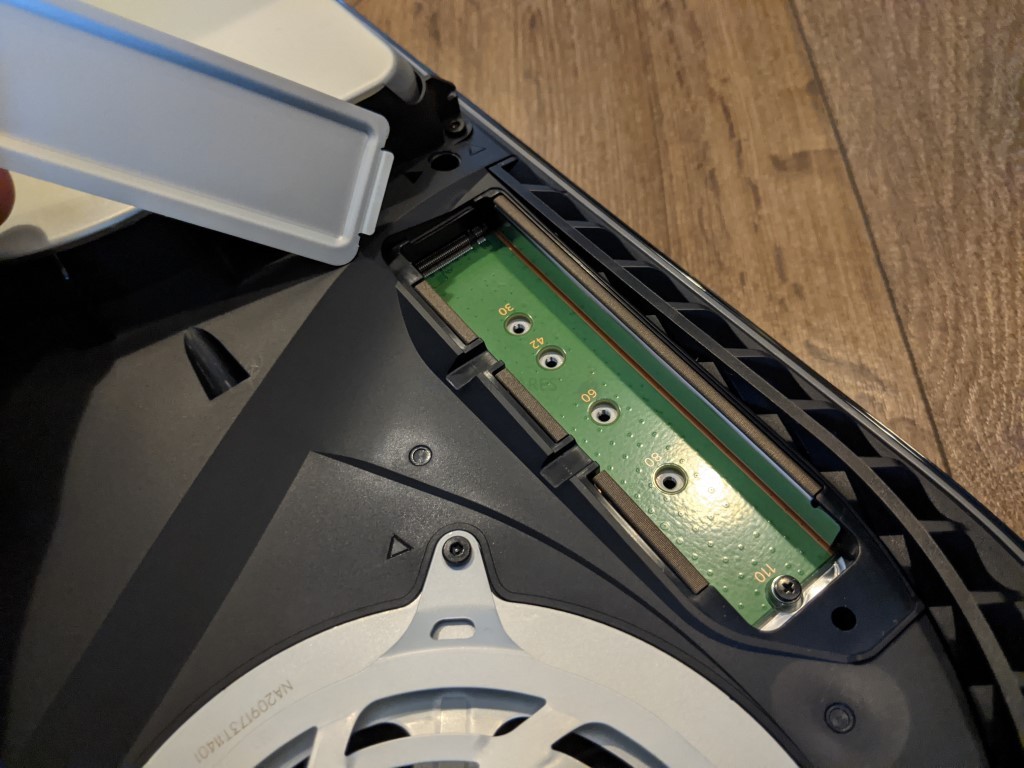 Mixed install the NVMe in the available bay. Don't worry about getting it the wrong way round, just be gentle and the notched groove in the SSD media drive can only go in one way.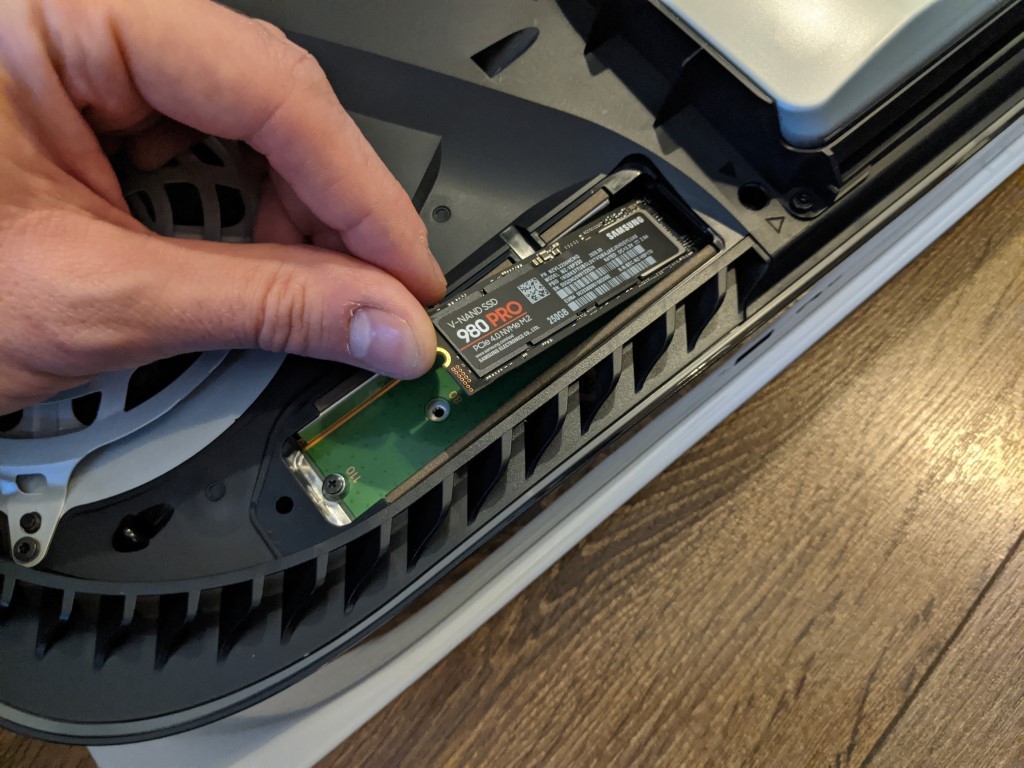 Once the drive is slotted inside, remove the screw at the top end of the NVMe day, as this is the holding bracket for the in NVMe M.2 Drive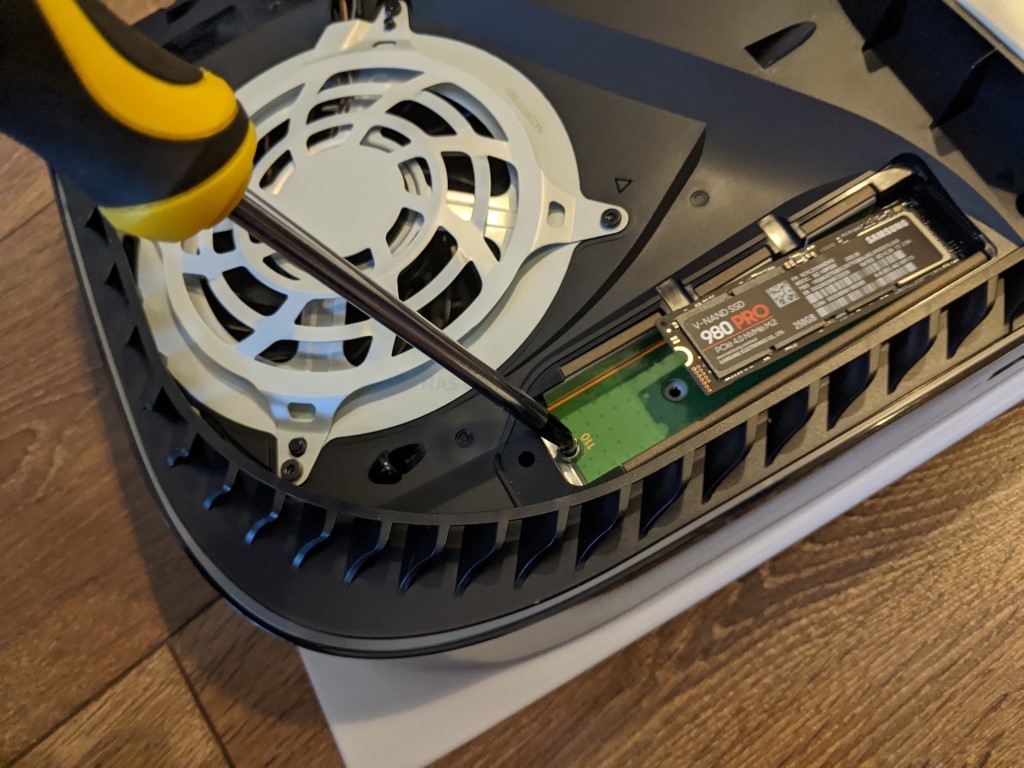 Ensure that the circular silver metal bolt is in the correct circle groove of the controller board, then place the NVMe flat, thin screw the top of the bracket to secure the NVMe in place.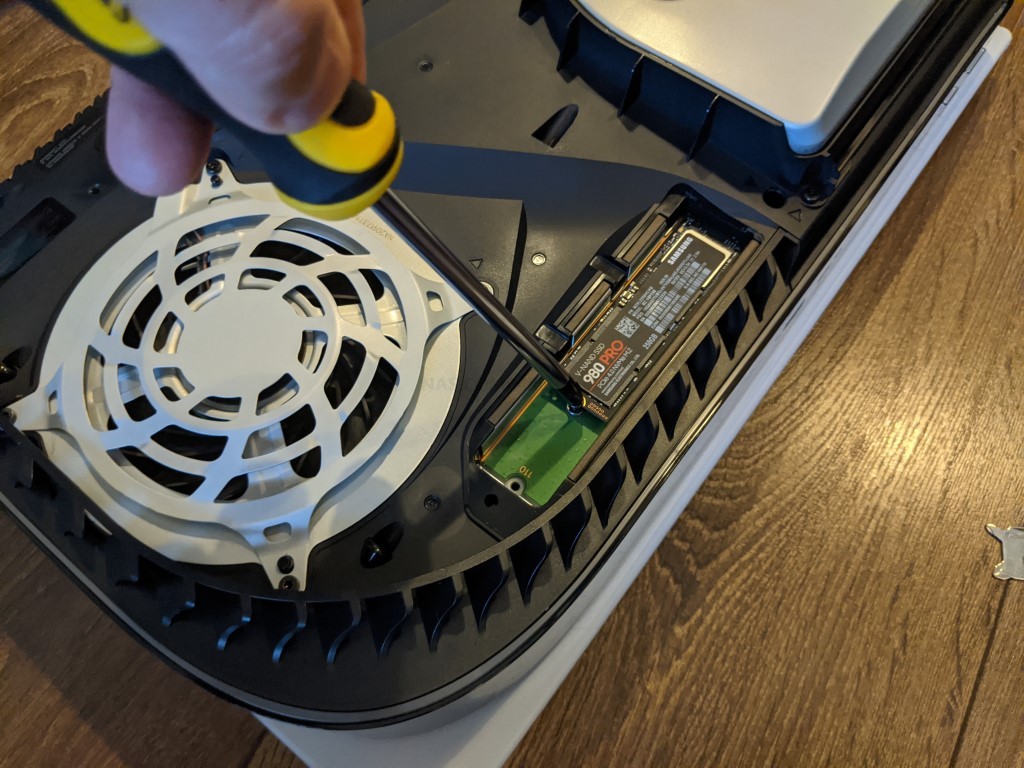 Now you need to replace the metal into covering and reinsert the screw to secure it in place.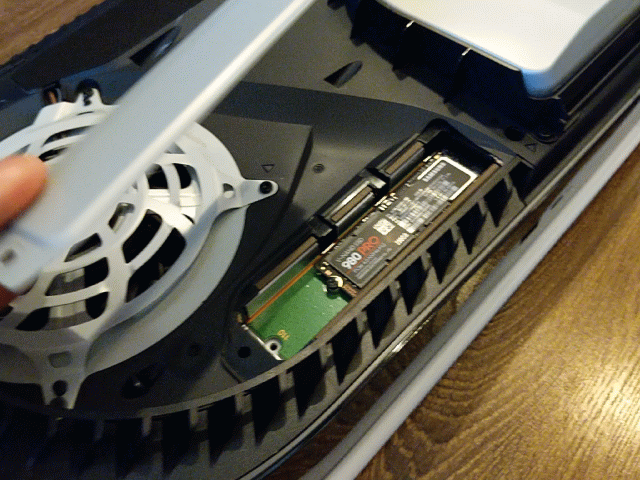 Now I reconnect the base stand, ethernet cable and power connector for the PS5. Then simply boot the device with the power button, insuring I have already synced the controller or have it connected via USB.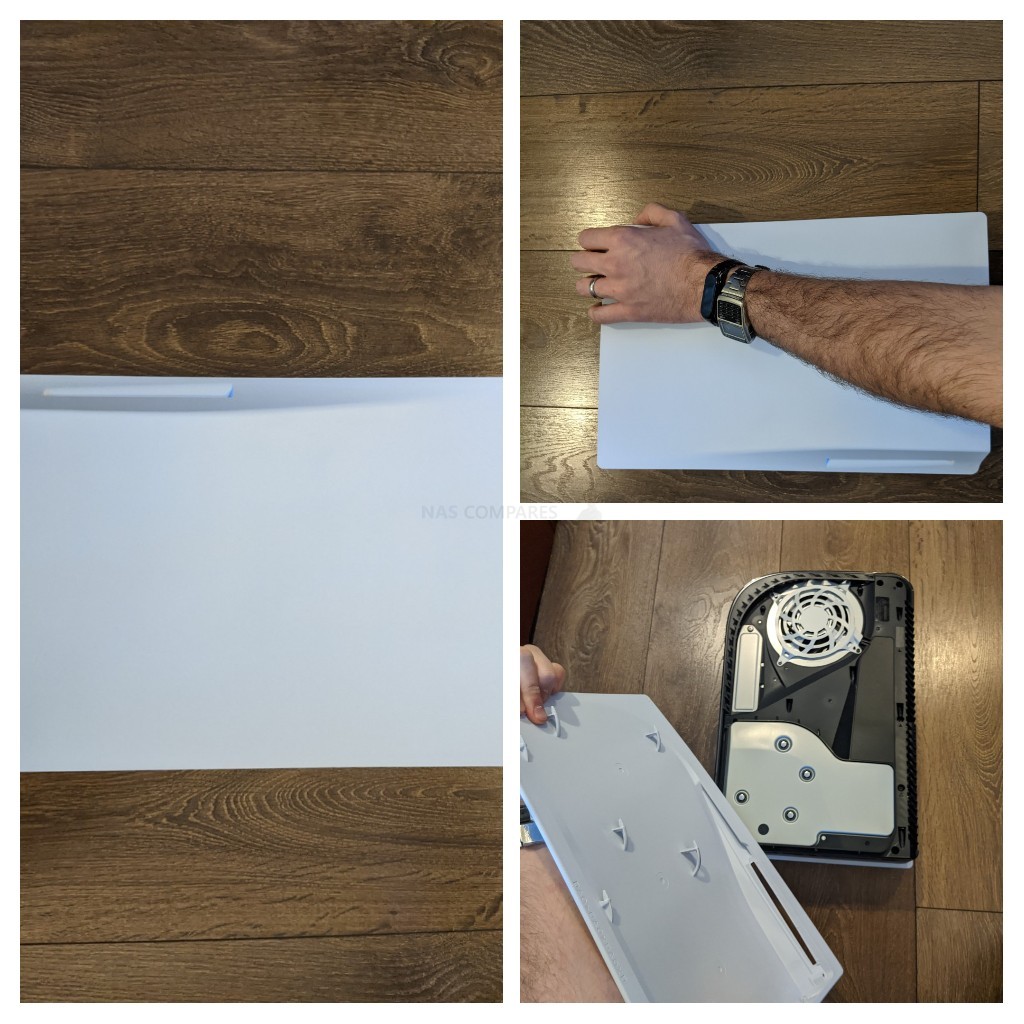 As we can see, this is the limit to which you can currently utilise an NVMe on the PS5, as they have ensured that the system will not boot with this media expansion by populated with an SSD. This will change once the latest PS5 System Update is out of beta. You can find out more below: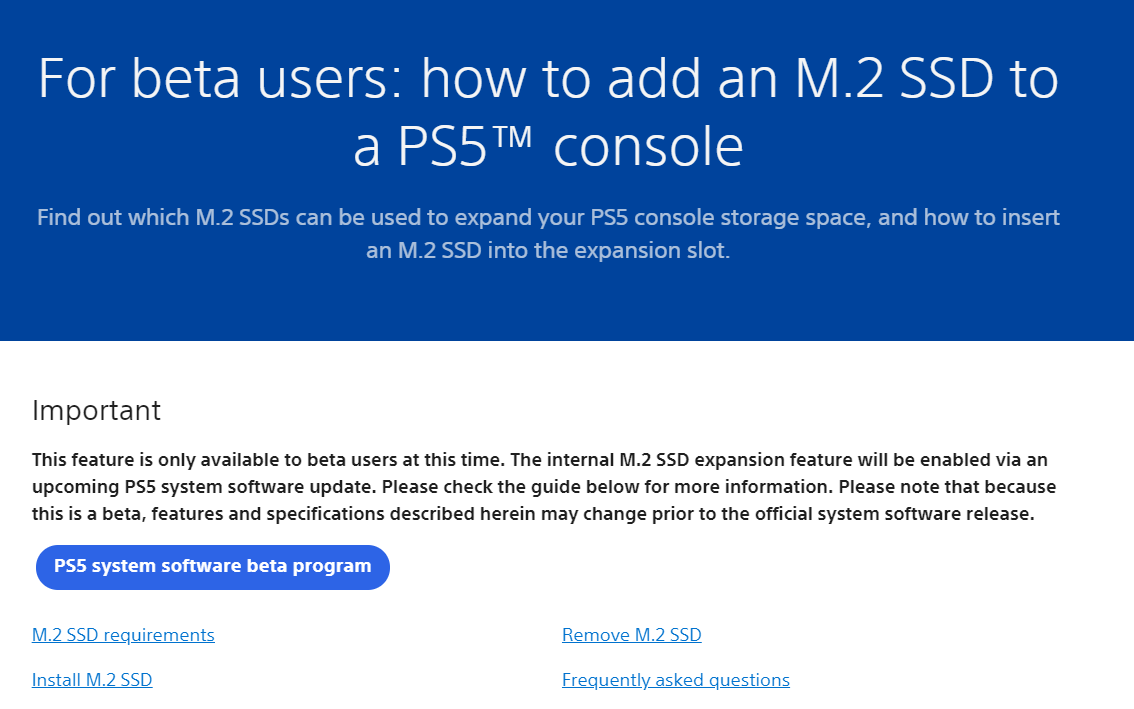 Frequently asked questions
Can I insert a SATA drive into the PS5 console?
No. 
Should I remove the M.2 SSD if I send my PS5 console for repair?
Yes. Please remove the M.2 SSD before sending it for repair. 
Can I format part of the M.2 SSD for use on the PS5 console?
No, you must format the entire M.2 SSD.
Is it okay to install a heatsink on an M.2 SSD with a built-in heatsink?
No. If your M.2 SSD has a built-in heatsink, we recommend against adding any additional heatsinks. Doing so may reduce the effectiveness of the built-in heatsinks.
How is an M.2 SSD different to USB extended storage on PS5 consoles?
PS5 games are playable on M.2 SSD storage.
PS5 games can be downloaded directly to M.2 SSD storage. 
PS5 games can be updated on M.2 SSD storage. 
Is it possible to store part of a game on M.2 SSD storage?
No.
What should I do if I experience gameplay issues when I play games stored on an M.2 SSD?
Press the PS button on your controller to go to the control center, and then select Downloads/Uploads. Pause any ongoing downloads

If you are trying to play a game on disc, please wait for the full installation to finish. 

If you are still having issues, please move the game from M.2 SSD storage to console storage.
Do PS5 consoles support Host Memory Buffer?
No. Additionally, M.2 SSD devices that support HMB (Host Memory Buffer) may see slower-than-expected performance because the PS5 does not support HMB.
📧 LET ME KNOW ABOUT NEW POSTS 🔔
Join 1,468 other subscribers
Get an alert every time something gets added to this specific article!
This description contains links to Amazon. These links will take you to some of the products mentioned in today's content. As an Amazon Associate, I earn from qualifying purchases. Visit the NASCompares Deal Finder to find the best place to buy this device in your region, based on Service, Support and Reputation - Just Search for your NAS Drive in the Box Below
Need Advice on Data Storage from an Expert?
We want to keep the free advice on NASCompares FREE for as long as we can. Since this service started back in Jan '18, We have helped hundreds of users every month solve their storage woes, but we can only continue to do this with your support. So please do choose to buy at Amazon US and Amazon UK on the articles when buying to provide advert revenue support or to donate/support the site below.

Finally, for free advice about your setup, j
ust leave a message in the comments below here at NASCompares.com and we will get back to you.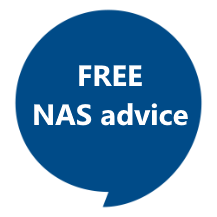 Need Help?
Where possible (and where appropriate) please provide as much information about your requirements, as then I can arrange the best answer and solution to your needs. Do not worry about your e-mail address being required, it will NOT be used in a mailing list and will NOT be used in any way other than to respond to your enquiry.
Support What We Do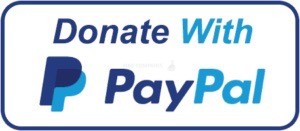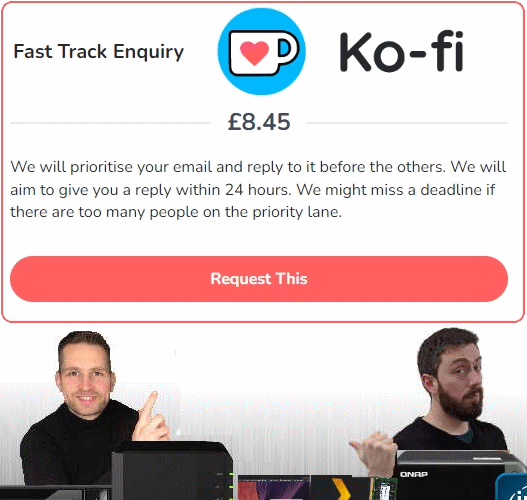 Terms and Conditions
Alternatively, why not ask me on the
ASK NASCompares forum
, by clicking the button below. This is a community hub that serves as a place that I can answer your question, chew the fat, share new release information and even get corrections posted. I will always get around to answering ALL queries, but as a one-man operation, I cannot promise speed! So by sharing your query in the
ASK NASCompares
section below, you can get a better range of solutions and suggestions, alongside my own.